Celebrating Seniors - Phil Collins is 65 pt2of2
Phil Collins – Part Two: Another Day in Paradise (1986-2016)
Including 3 vintage Phil Collins songs – Invisible Touch, A Groovy Kind of Love, Another Day in Paradise
On a roll, baby boomer Phil Collins reunited with Genesis members to write and record songs for the next Genesis album, Invisible Touch (1986). The title song lyrics were written by Collins and the single went to #1 in 1986. Below, drummer Phil Collins and Genesis performing Invisible Touch in the official music video for the song.
The soundtrack for the 1988 British feature film Buster yielded two #1 hits for Phil Collins in 1988 – A Groovy Kind of Love, and Two Hearts. Below, Phil Collins sings A Groovy Kind of Love in the official music video.
The single Another Day in Paradise (1989) on Collins' …But Seriously album that same year, reached #1, Collin's last #1 US hit single (thus far). Below, Phil Collins performs Another Day in Paradise in the official music video.
Jill and Phil Collins' daughter Lily (now a model and actress) was also born in 1989. 
The hit single We Can't Dance (1991) written by Tony Banks, Phil Collins, and Mike Rutherford, from the We Can't Dance album, made it to #3 in 1991. Below from left, Tony Banks, Phil Collins, and Mike Rutherford as the three faces of Genesis in 1991.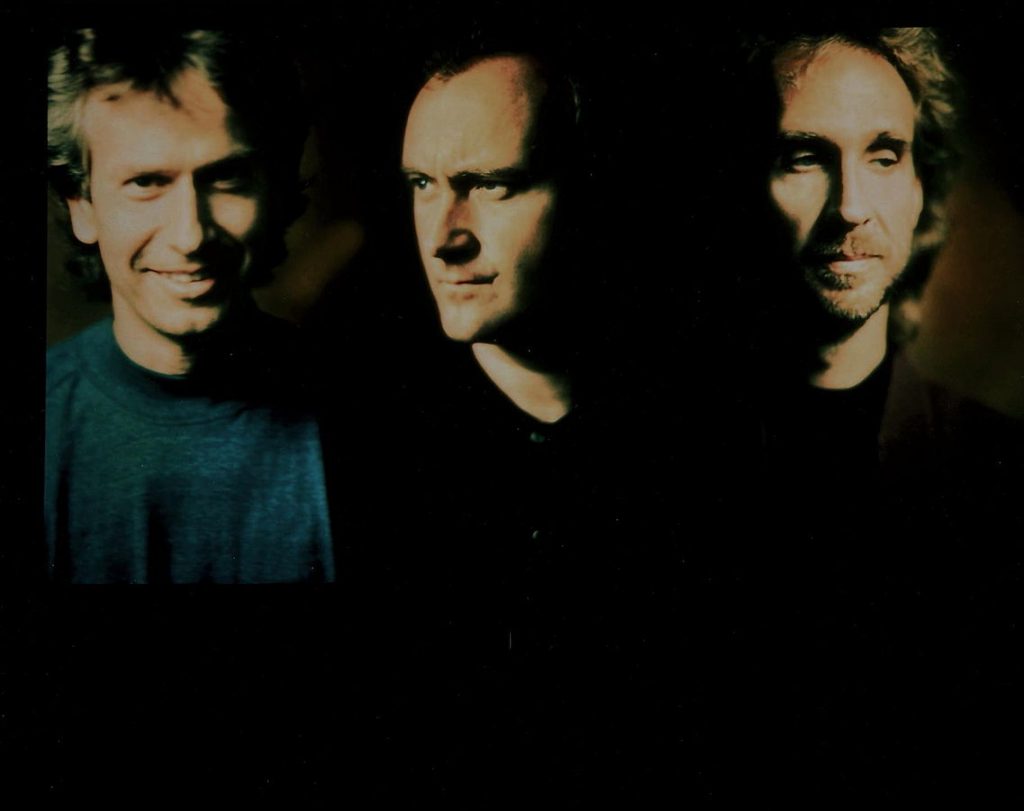 (1991 Photo: David Scheinmann | Wikimedia Commons CC 3.0)
By 1994 Phil's second marriage was over, with Jill and Lily living in Los Angeles. Collins has said he was touring and during divorce discussions while on the road, he sent a fax concerning visitation arrangements with his daughter; although he did not request a divorce by fax, as has been claimed in the press over the years.
Phil Collins met future 3rd wife Orianne Cevey, 24 years his junior, that same year when she worked as a translator on his European tour, and he moved to Switzerland to live with her near her family.
Collins left Genesis in 1996 (the same year his divorce from wife Jill was finalized) to focus on his solo career, and formed The Phil Collins Big Band. Although Collin's solo records continued to be produced through the 1990's, his albums have failed to yield top chart hits and have unsuccessful commercially and critically. An exception was the single You'll Be in My Heart (1999) from the soundtrack of the Disney movie Tarzan (1999). You'll Be in My Heart made it to 1 on the US Adult Contemporary Chart and #27 on the pop charts, and won Collins an Academy Award for Best Original Song. 
Phil Collins married Orianne Cevey in 1999 and the couple lived in Switzerland, near her family. Orianne and Phil Collins founded the nonprofit Little Dreams Foundation in 2000 to provide financial, mentoring and other support to children pursuing careers in music. As Collins entered his 50+ years, he celebrated the births of their sons Nicholas Collins (b. April 2001) and Mathew Collins (b. December 2004), both of whom were born in Geneva, Switzerland.
Accounts have said that Orianne suffered from post-partum depression after Matthew's birth, which was a contributing factor to their separation in 2006. After divorcing in 2008, Orianne Collins moved to Miami, Florida with their two sons.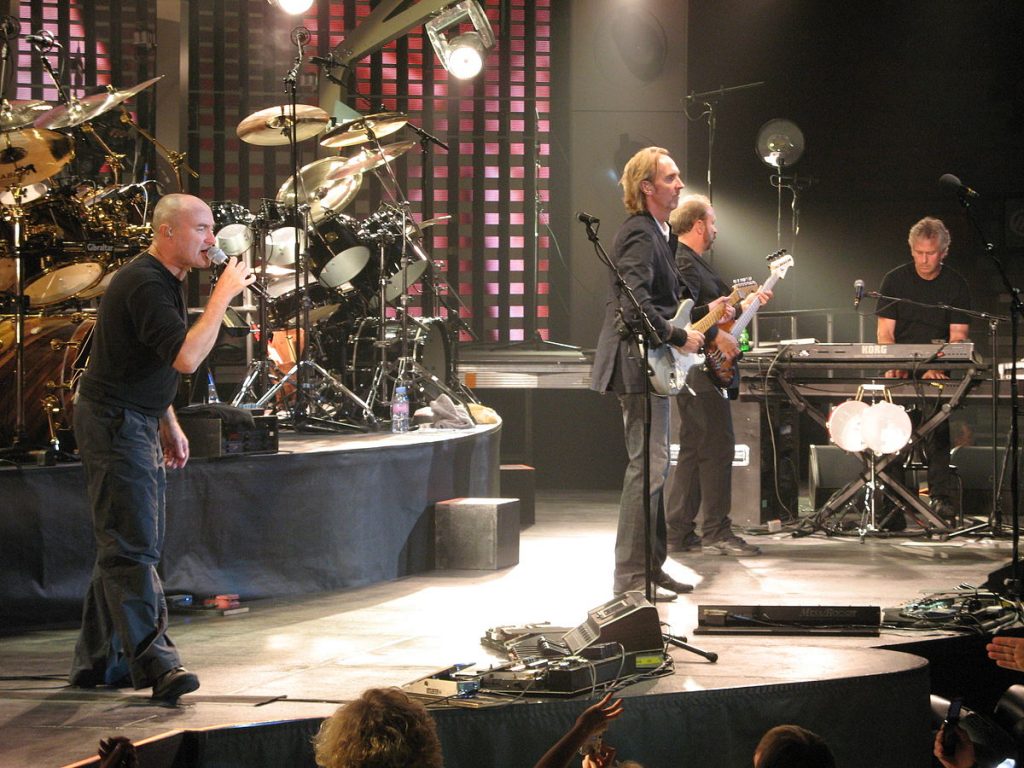 Above, Phil Collins with Genesis in a 2007 concert. (Photo: Andrew Bossi | Wikimedia Commons CC 2.5)
Phil Collins had begun to have difficulty playing the drums and piano after dislocating a vertebrae in his neck during a brief Genesis reunion tour in 2007, and in 2009 he issued a statement saying that although neck surgery had been successful, he did not know if or when he would ever be able to play drums again. Despite this, Collins was able to complete recording on his Motown cover album Going Back (2010), before announcing his retirement. Genesis and band members including Collins, were inducted into the Rock and Roll Hall of Fame that same year. Collins has said depression and alcoholism around this time almost killed him, until he sought help from professionals and quit drinking in 2013.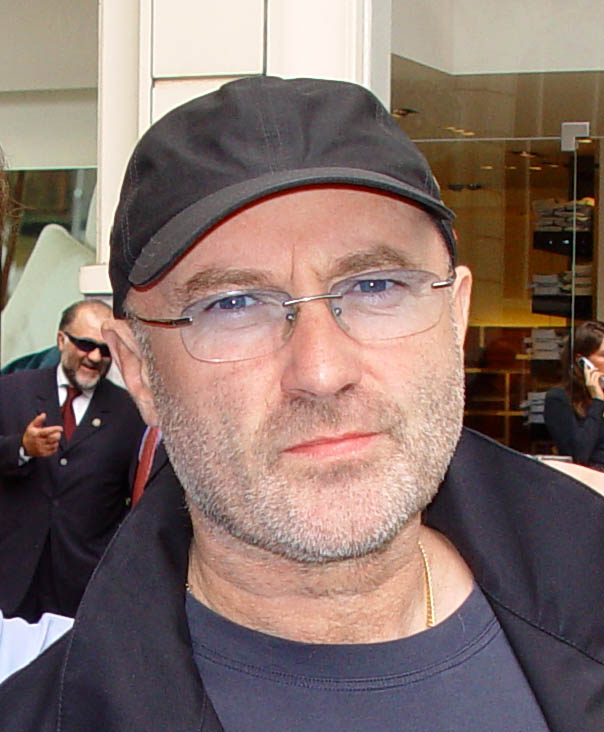 (Phil Collins 2007 Photo: Dicknroll | Wikimedia Commons CC 3.0)
According to various sources, Phil Collins has remained on friendly terms with all of his ex-wives; in fact, as of January 2016 it seems that after a romance with Dana Tyler (they first met in 2006 and were linked in the press as a "couple" beginning 2011), Collins is back with Orianne. People Magazine reported that Collins bought a house in Miami in mid-2015 after Orianne had spine surgery and was paralyzed, so he could be closer to his family. While recovering from back surgery himself last October, Phil Collins fell and broke bones in his right foot; after surgery to repair the broken bones, he fell again and did further damage, leaving his right foot numb.
Orianna and Phil Collins are now living and recovering together (Orianne can walk again), enjoying Another Day in Paradise? Collins said they started over with a clean slate.
"We both thought we made a mistake and we fixed it."
Previously: Phil Collins – Part One: The Genesis of it All (1951-1985)