Vintage Inspired Valentines
These Valentine's Day greetings may inspire you to send a Valentine to someone(s) special. As a lover of history, poetry, and art, I found my inspiration for these customized greeting cards from several sources – vintage paintings, romantic or funny poems and songs, and the lives of some famous artists and writers from the last 300 years
Then it must be admitted that I went a little crazy, and ruthlessly mixed and modified the original texts and artwork from some glorious masters of their craft (I've identified them where known). So scroll on down to take a tour of my Vintage Valentines based on the historical eras that they best represent.
Georgian Age (1698-1830s)
The reign of England's King George I began in 1698, and so began a period of history known today as the Georgian Age.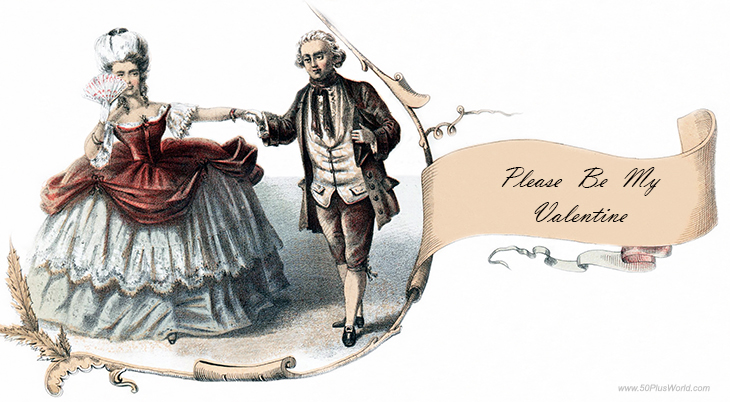 A Georgian Age Valentine c. 1700s, based on an 1800s Polka Elégante song sheet illustration.
 His successors – son King George II, grandson King George III, and great-grandson King George IV, held the throne until 1830.
A 1700s-style Valentine, inspired by a 1896 painting by W. Holyoake Cassell in Comfort magazine. 
England's Georgian Age overlapped the Napoleonic Era in France (Napoleon Bonaparte's rise & fall, 1799-1815), and the Regency Era (1811-1820). 
The Regency era covers the timeframe when King George III's son George IV ruled as the Prince Regent, while his father was incapacitated due to mental illness. Fans of the recent Netflix series The Bridgerton's (2020) saw a little of this history alluded to in the first season of the show.
During the Regency period several people aspired for the position of top romantic poet, among them John Keats (b. 1795-d. 1821), and Percy Bysshe Shelley. However, there was likely no poet whose romantic and narrative poems were more widely read or popular, than Shelley's friend, Lord Byron.
Nee George Gordon Byron in 1788, Byron's most well-known romantic poem, or at least one of my favorites, is She Walks in Beauty (1814-1815).
She walks in beauty, like the night
Of cloudless climes and starry skies;
And all that's best of dark and bright
Meet in her aspect and her eyes;
Thus bellowed to that tender light
Which heaven to gaudy day denies.
One shade the more, one ray the less,
Had half impaired the nameless grace
Which waves in every raven tress,
or softly lightens o'er her face;
Where thoughts serenely sweet express,
How pure, how dear their dwelling-place.
And on that cheek, and o'er that brow, so soft, so calm, yet eloquent,
The smiles that win, the tints that glow,
But tell of days in goodness spent,
A mind at peace with all below,
A heart whose love is innocent!
Lord Byron was described by Glenarvon (1816) novelist Lady Caroline Lamb as "mad, bad, and dangerous to know", which may have summed up his adult life, as well as their affair (she was married to the Hon. William Lamb at the time). Letters and journals examined by scholars indicate Byron had romantic relationships with men and women, and the scandal from his failed marriage, extra-marital affairs, and mounting debt, caused him to leave England for the last time in 1816. He continued to live a colorful life abroad in Italy and then Greece, until his death in 1824.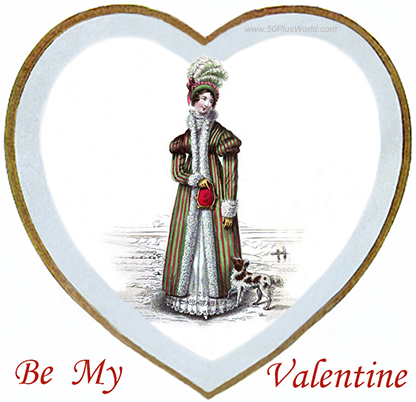 An Regency period Valentine wish, inspired by an 1818 fashion sketch in La Belle Assemblée .
During the Regency era, women's fashions slimmed down and became high-waisted.
In addition to being mentioned in almost every Regency Romance novel ever written, Lord Byron's poems have formed the basis for several plays and movies. He is featured as a character in many films set during the Regency, including: 
Beau Brummell (1924), starring John Barrymore, Mary Astor, Carmel Myers, and Irene Rich, with George Beranger as Lord Byron.
The Bad Lord Byron (1949), with Dennis Price as Byron, and Joan Greenwood as Lady Caroline Lamb.
Beau Brummell (1954), with a star-studded cast that includes Stewart Granger as Brummell,  Elizabeth Taylor, Peter Ustinov (as the Prince of Wales), Robert Morley (as King George III), and Noel WiIllman as Byron.
Lady Caroline Lamb (1972), starring Sarah Miles as Lady Caroline, Jon Fin as her husband William Lamb, and Richard Chamberlain as Lord Byron. John Mills, Ralph Richardson, Peter Bull, and Laurence Olivier are also in the cast. 
Byron (2003), a TV movie starring Jonny Lee Miller as Byron.
Beau Brummell: This Charming Man (2006), a made-for-television film starring James Purefoy as Brummel and Hugh Bonneville as the Prince Regent. Matthew Rhys plays Lord Byron. 
Military commander Jean Lannes, Duke of Montebello, was one of France's ablest commanders during the French Revolution and Napoleonic Wars. He divorced his first wife Paulette Meric in 1800 after five years of marriage, for infidelity (she had a baby while he was away at war in Egypt; a dead giveaway).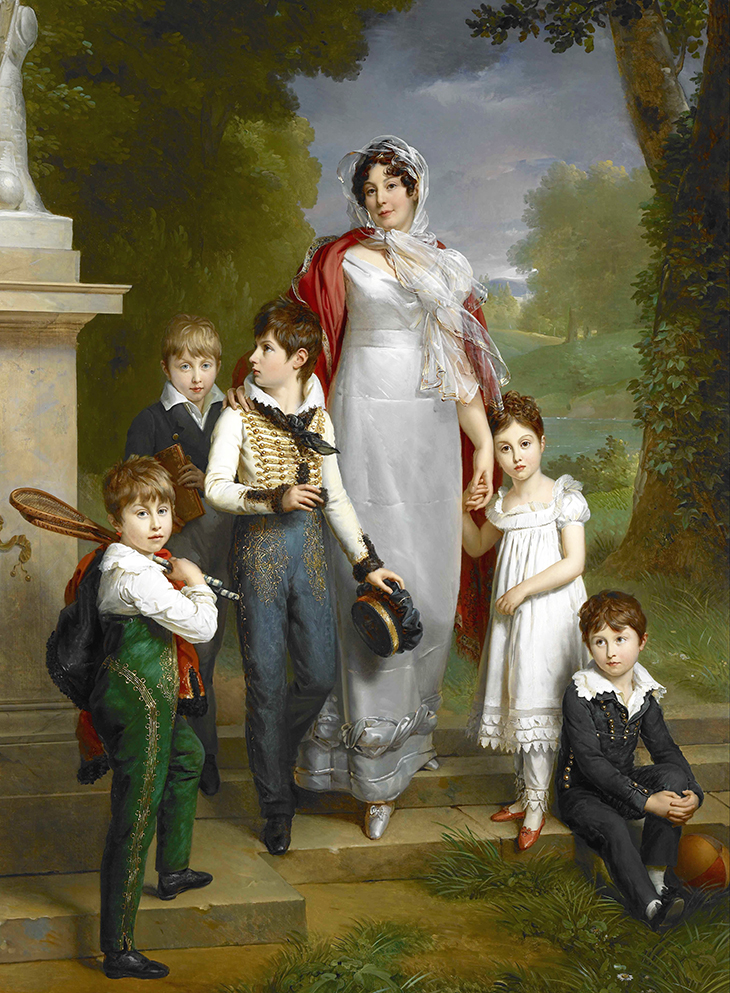 (Duchess of Montebello Louise Antoinette de Guéhéneuc with her children, 1814 portrait by Francois Pascal Simon Gérard)
Later that same year the 31-year-old Duke married his second wife, 18-year-old Louise Antoinette de Guéhéneuc (1st Duchess of Montebello).
They had five children between 1801-1806 – Louis Napoléon (b. 1801), Alfred Jean (b. 1802), Jean-Ernest (b. 1803), Gustave-Olivier (b. 1804), Josephine-Louise (b. 1806). 
Jean was a personal friend of Emperor Napoleon Bonaparte, and Louise was a member of Empress Marie Louise's court. Napoleon created the title of Duke of Montebello for Jean Lannes in 1808.
Jean died in 1809 at the age of 40, from wounds received in the Battle of Essling; Louise died in 1856 at the age of 74. Their oldest son Louis Napoleon Lannes succeeded to the title in 1809 and became the 2nd Duke of Montebello..
A Napoleonic-Regency inspired Valentine, paraphrasing Lord Byron's poem, with the Duchess and 1st Duke of Montebello.
Notes:
The original oil painting of the Duchess of Montebello is by Pierre-Paul Prud'hon and most likely dates to the early 1810s, while the painting of Jean Lannes was done by Julie Volpeliere (based on a bust by Antoine-Francois Gerard) in 1834.
Philippe de Montebello, the New York Metropolitan Museum of Art Director from 1977-2008, is a descendant of the first Duke and Duchess of Montebello.
Victorian Era (1837-1901)
Queen Victoria of England was born in 1837 and died in 1901; styles changed dramatically during the 60 years that she reigned. Crinolines were in style in the first half of Victorian era (1837-1860s).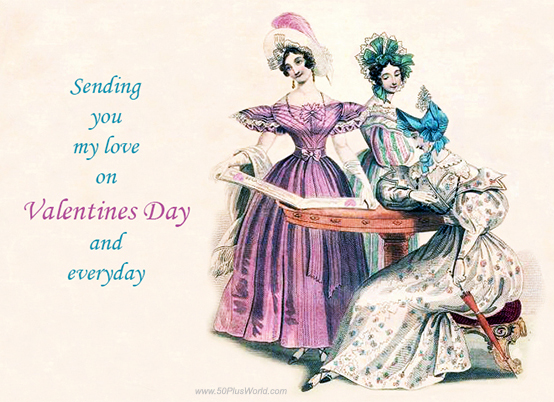 Valentine based on an 1833 fashion illustration from Godey's Lady's Book, in the early Victorian era .
In the U.S., this period is also known as antebellum (ante meaning after the War of 1812), and usually signals the timeframe of 1812 until the start of the Civil War in 1861.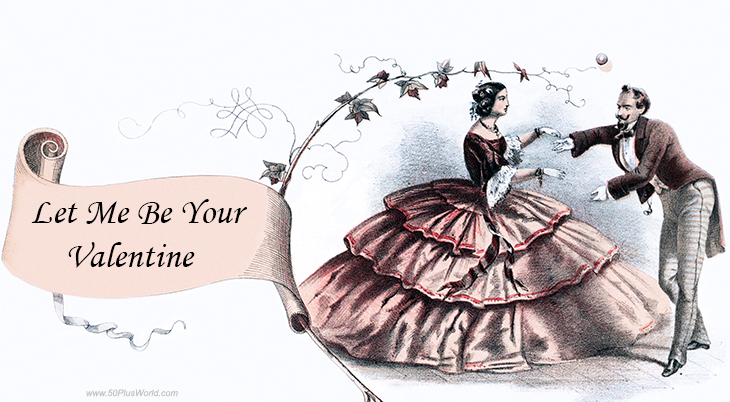 A Victorian-Era 1860s Valentine greeting, based on an 1800s "Polka Elégante" song sheet..
The greatest romantic poets of the Victorian age are generally considered to be Alfred, Lord Tennyson, Oscar Wilde, Robert Browning, and Elizabeth Barrett Browning. Elizabeth Barrett of course married fellow poet Robert Browning, and they played out their own love story.
At the time, Robert Browning's poetry was better known, but over the decades since then, Elizabeth Barrett Browning's poetry has risen in stature – thanks to beautiful poems such as How Do I Love Thee?, published in 1850.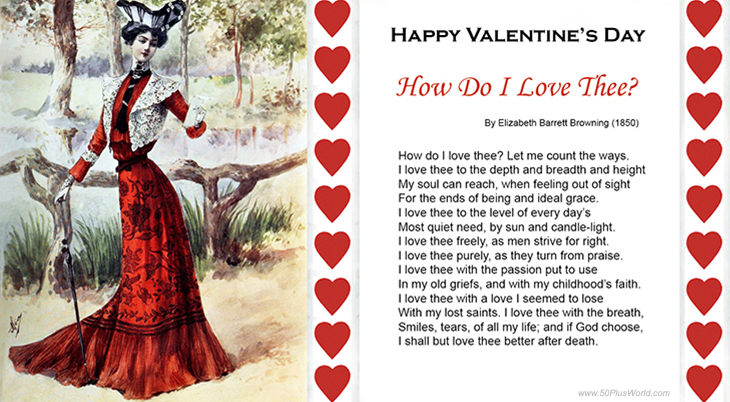 A late Victorian-Era inspired Valentine, from an illustration in Latest Paris Fashions (1877).
By the late 1800s, women's styles were more streamlined again; crinolines were out and bustles were in.
Rudolph Besier turned the story of Elizabeth Barret's life into the 1930 play The Barrett's of Wimpole Street. The play has been turned into a feature film of the same name twice:
The Barrett's of Wimpole Street (1934), starring Norma Shearer as sickly poetess Elizabeth Barrett, Fredric March as her steadfast lover Robert Browning, and Charles Laughton as her controlling and repressive father, Edward Moulton-Barrett. Maureen O'Sullivan, Ralph Forbes, Una O'Connor, Leo G. Carroll and others are also in the cast.
The Barretts of Wimpole Street (1957), with Jennifer Jones as Elizabeth, Bill Travers as Robert Browning, and John Gielgud as Edward Mouton-Barrett. 
Valentine card inspired by M. Ellen Edward's 1885 "Dreaming" painting in The Girl's Own Paper.
Overlapping the Victorian Era and the Silent Film Era, were the Gilded Age (1870s-1900) and La Belle Epoque (1880-1914).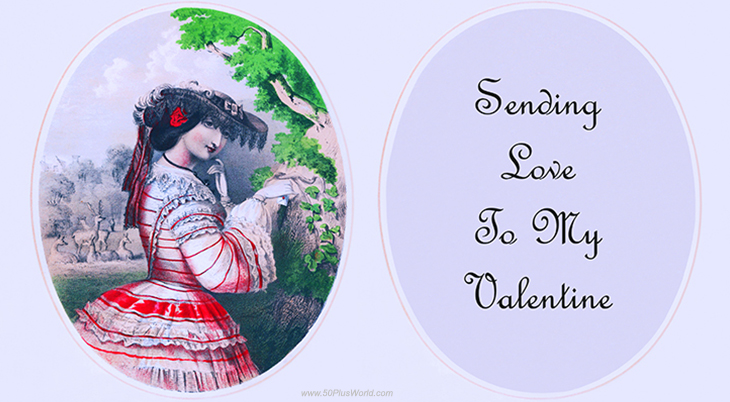 Valentine card inspired by a 1900 "The Lover's Letter Box" song sheet.
Sending Valentines started to grow in popularity by the late 1800s, and romantic love as a theme expanded to include friends and family, around the turn of century – thanks to commercialization and mass-production.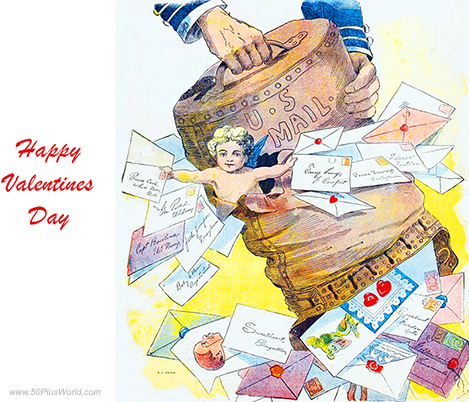 An 1896 Valentine based on a cover of Comfort magazine. 
Silent Film Era (1900s-1929)
The Silent Film Era encompasses the Belle Epoque, the Edwardian Age (1901-1910) during the reign of King Edward VIII, and the Roaring Twenties / Jazz Age, as captured by the works of F. Scott Fitzgerald.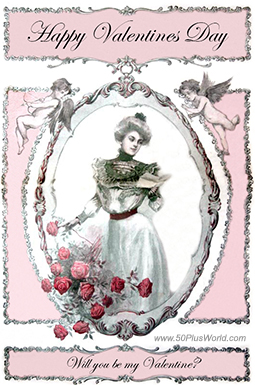 An Edwardian-era Valentine greeting, inspired by a cover of Ladies World (1902).
Modern artistry began to change the face of magazine covers and Valentine's Day cards. American magazine cover artist Coles Phillips began experimenting with the use of negative space, below.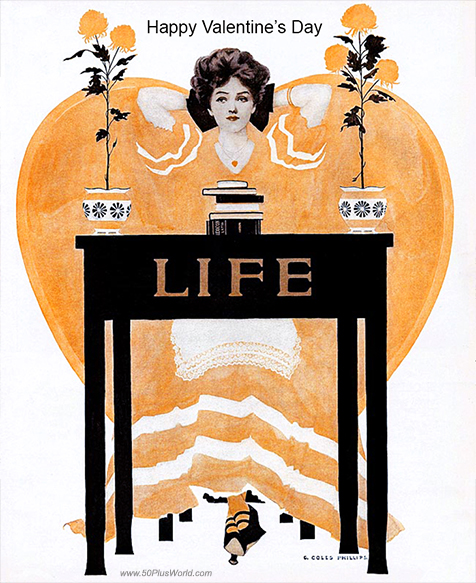 A card based on Coles Phillips 1908 Valentine's Day cover for Life magazine.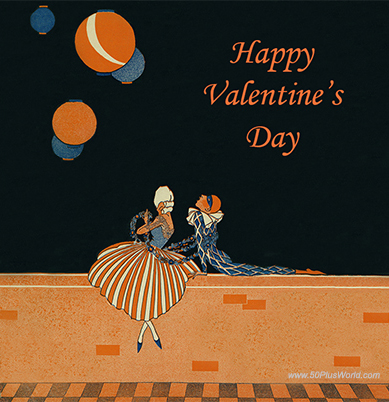 A Valentine greeting based on a 1910 "Let Me Call You Sweetheart" song sheet painting by Mary F. Kidder.
Brantford Six Nations native performer and poet E. Pauline Johnson's (b. 1861) poetry and recitals were popular in Canada, the United States, and Great Britain from the 1890s until (and after) her death in 1913. The independent Johnson never married, although she had many romances and marriage proposals.
Despite her popularity, and publication of her works in magazines and collected poetry volumes such as The White Wampum (1895) and Feather and Flint (1912), E. Pauline Johnson never achieved financial success from writing during her lifetime.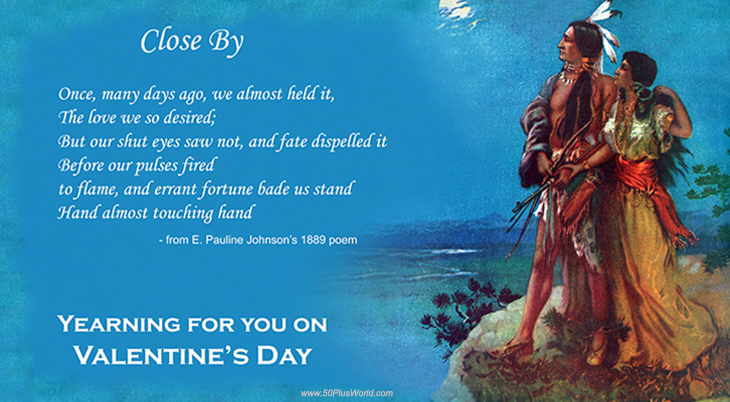 A native-themed Valentine, based on "Silver Bell" song sheet & E. Pauline Johnson's poem "Close By".
Prolific songwriter Irving Berlin's works (1500+ songs) are a staple of the Great American Songbook. One of his early global hit songs was Alexander's Ragtime Band (1911), which sparked a world-wide ragtime music and dance craze. Although many of Irving Berlin's songs are deeply romantic ballads such as Blue Skies (1926), and Always (1925), he also had a lighter side, with up-tempo jazzy tunes like Puttin' On the Ritz (1928).
In 1913, he had a hit with the funny Snookey Ookums song, which was later performed by Judy Garland while she and Fred Astaire dance to it in the 1948 film Easter Parade (another Berlin hit song).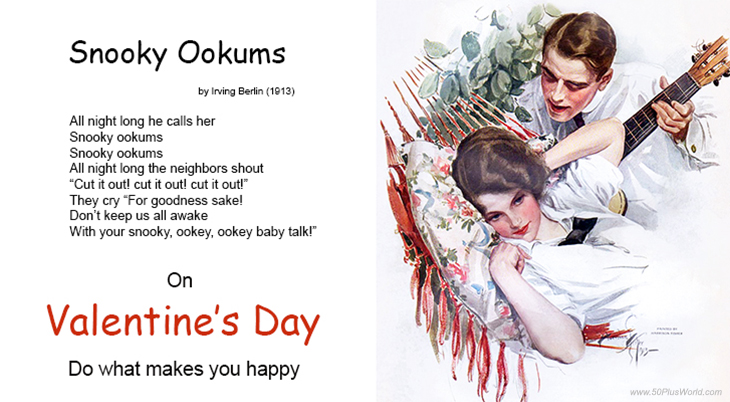 Valentine sentiments inspired by Irving Berlin's song, and a 1913 Ladies' Home Journal cover painted by Harrison Fisher.
Berlin's songs were (and still are) featured in countless stage musicals (Ziegfeld Follies) and films (The Jazz Singer, 1927), and have been favored by recording artists from Bessie Smith and Al Jolson to Kate Smith (God Bless America) and Bing Crosby (White Christmas). When the 101-year-old Irving Berlin died in 1989, the lights were dimmed on Broadway.
As the 1920s ushered in the Jazz Age, it wasn't just the arts and entertainment magazines like Shadowland that sought to capture that era mood on their covers.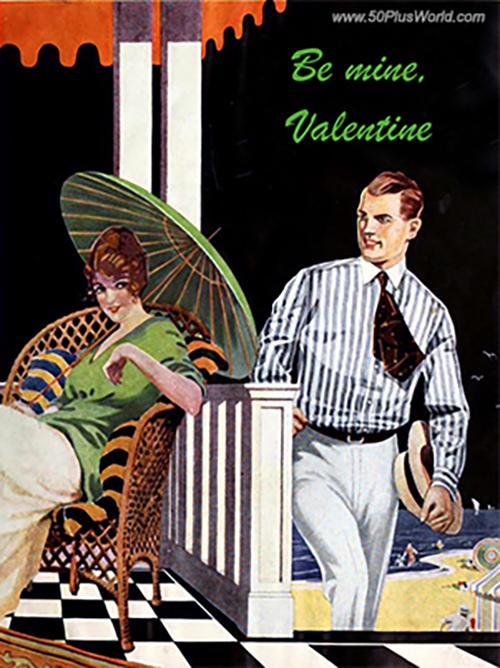 An Jazz Age Valentine greeting based on a 1921 Forsyth Shirt cover of Men's Wear Review.
And so ends my vintage Valentine tour through the last 300-odd years of fashion and history. For more vintage-inspired Valentine's Day greetings, check out our Facebook and Pinterest pages (you can share right from there too).
Check out these Vintage Film Star-inspired Valentines greetings:
Vintage Silent Film Stars Valentine's Day Cards
Vintage 1930s-1940s Film Star Valentines
1950s-1960s Vintage Celebrity Valentines
And if you're a fan of Valentine's Day and movies or history in general, you  may also like these articles:
When Valentine's Day Traditions Began
Best Romance Films With Older Actors
Surviving Valentine's Day: Tips for 50+ Singles
Happy Valentine's Day!
*All original works of art and literature that these Valentines are based on are believed to be in the public domain and/or Creative Commons licensed & sourced via Wikimedia Commons.*