Regency Romance Writers & Fashions
Just in time for fans of the Bridgerton series on Netflix (season two starts soon). I've heard some people say they watch it for the Regency fashions; others, not so much. There are literally (pun intended) thousands of romance writers, and hundreds who set their novels specifically in the Regency era. Bridgerton's author Julia Quinn's books, which the TV series is based on (similar but different to the TV show), meets my exacting criteria.
Here's a look at some vintage Regency-era fashion plates, and my take on the best modern Regency romance authors and books that will surprise and delight you.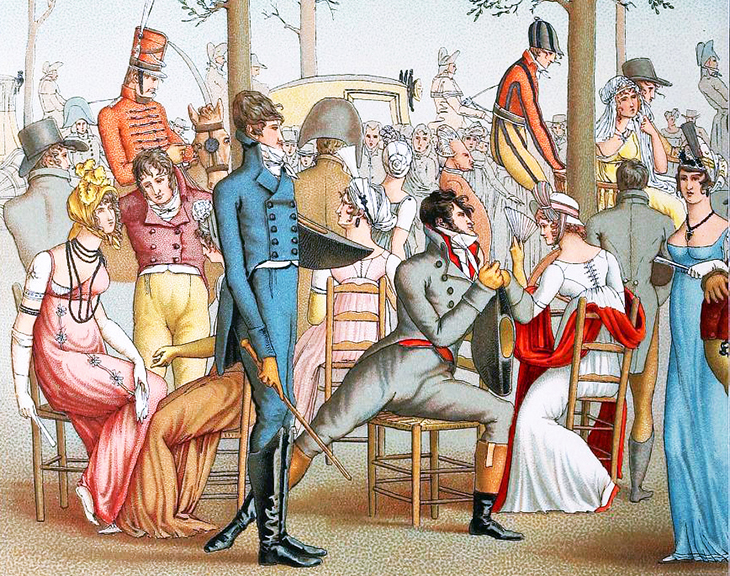 (Promenade de Longchamp 1802 Fashions: Le Costume Historique, 1888)
Not all authors and novels grouped in this genre fit my criteria for a "true Regency romance", in my opinion. While romance is a given, there are some other must-have's on my list to make a particular author and their novel stand above the crowd:
Well written, with complex characters that leap off the page and drive the plot.
Historical accuracy for the particular period (it doesn't have to be 100% accurate, but there should be no glaring faux pas). 
Characters should plumb some heights and depths (it's ok for a hero or heroine to suffer a little, not necessarily for love).
Humor in the form of wit – either witty dialogue, or in the author's narrative. This last requirement (of mine) is often missing from books that are described as Regency romances, and that are otherwise top-notch (a separate list!).
Regency Fashions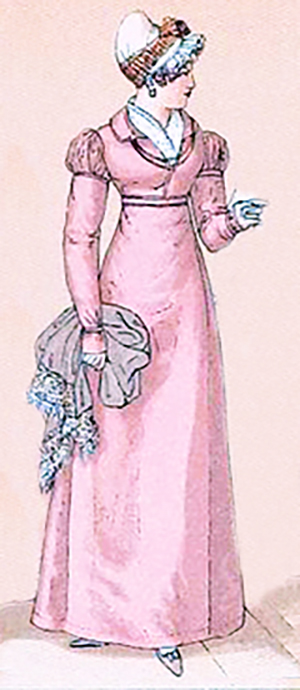 (Regency Era French Fashion: Le Costume Historique, 1888)
High-waisted dresses with narrow skirts and low necklines for evening wear, are good examples of Regency fashion between the years of 1800 to 1825. Before and after that, although the era might still be called Regency, women's dress styles were markedly different, with wide skirts set at the natural waist.
The Regency period in history is named for Britain's Prince Regent. However, Regency fashions transcended country borders, and began in the decades before the Prince of Wales (Prince George) was made Regent in 1811, and continued after he was crowned King George IV in 1820.
During the Regency era, fashionable women of the English ton would pounce on a new edition of the women's magazine La Belle Assemblée, a periodical magazine published between 1806-1837 in Britain. The magazine was chock-full of articles, but it was the fashion plates that the ladies went gaga over.
French fashion designers were considered "de rigueur" or "a la mode" (to use terms of the time), hence the French name for an English magazine, and French names for the styles. Subscribers would then either make dresses themselves, or have their dressmaker(s) whip up a copy for them.
Women would change their dresses several times a day, depending on the season, the time of day, and the activity they'd be participating in. 
Anita's Top Twelve Regency Romance Writers
Interspersed with some prime examples of Regency fashions below, are my recommendations for a few of my favorite Regency romance writers and novels, and the audiobook narrators that bring their books to life in a whole new way.
Audiobook Tip: Audiobooks are a great hands-free way to enjoy a favorite author's novel while you're driving the car, working around the house, or just relaxing. Listening to a really great author / narrator's book at bedtime may keep you awake, while a slower storyline is perfect to drift off to sleep to.
RITA Awards: The Romance Writers of America (RWA) is an industry association for romance authors, with international chapters. The RITA Awards given by the RWA, were established in 1982 to recognize the top novels / authors in a given year for a particular category. 
1. Georgette Heyer, The Queen of Regency Romances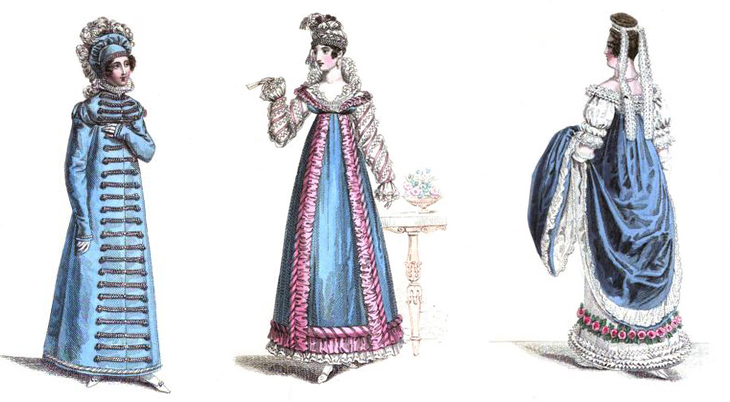 (French Carriage Dress; Evening Dress; French Court Dress: La Belle Assemblée, 1818)
I didn't give her that title myself; English writer Georgette Heyer was crowned the Queen of Regency Romances soon after she first invented the genre in 1936 with her novel Regency Buck. Most of her novels are great examples of my 4 most important criteria for a great Regency romance. She began writing novels in the 1920s and her books still being reprinted today, more than 45 years after her death in 1974.
Heyer was still alive and writing new books when I first began reading her Regency romances as a teenager in the early 1970s, and I was hooked. Over the remaining decades of the 20th century, I gradually acquired paperback copies of almost every book she ever wrote (she also wrote mysteries & other historical fiction and non-fiction). Even though I stopped reading romance novels per se in the 1980s (switching allegiance to mysteries), I'd still read Georgette Heyer books over again periodically; like old friends, they become more beloved with age. 
Almost any Georgette Heyer Regency romance will perfectly demonstrate all 4 aspects I look for in a great book, especially witty dialogue. Heyer had 2 great advantages over many of today's Regency writers:
She lived in England, with easier access to original letters, periodicals, and other works by or about the historical figures she wove into her storylines.
The Regency era was in the much less distant past for Heyer when she began writing about it, as she was born only 70 years after it ended.
If you haven't read any Georgette Heyer books yet, some of my favorite Regency romances by her are: The Grand Sophy (1950), Frederica (1965), Arabella (1949), Black Sheep (1966), and her last Regency romance, Lady of Quality (1972).
Georgette Heyer's novels have been published as audiobooks as well, some of them several times over, with different narrators. Listen to the audiobook sample before purchasing, as there are so many different narrators to choose from.
2. Laura Kinsale
Audiofile and RITA Award-winning American author Laura Kinsale has only 2 problems, IMO. The first is that – like Game of Thrones author George R. R. Martin – there's a looooong wait between books; however, they are well worth the wait. The second, is the occasional disconnect between her book title and/or book cover, with the fantastic book content. I can only conclude that in the early days, she must have been at the mercy of her publishers.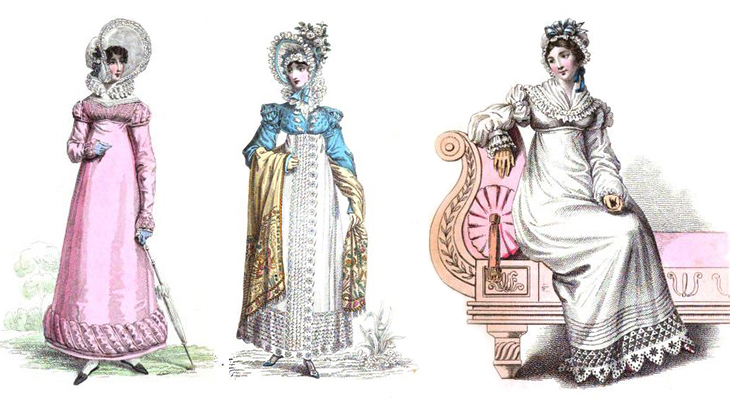 (Parisian Walking Dress; Walking Dress; Morning Dress: La Belle Assemblée, 1818)
However, if you haven't yet discovered a Laura Kinsale book or audiobook, the first problem won't be an issue for you – she has a small catalog dating back to when her first book Seize the Fire (1985) was published. My recommendations here may help you to look beyond the book cover and title so you can enjoy her fascinating, thought-provoking stories with multi-faceted characters, presented in an original writing style.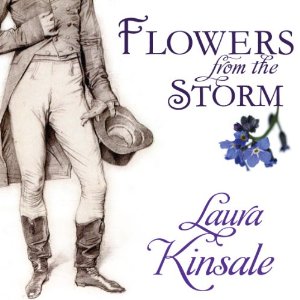 (Flowers From the Storm Audiobook Cover: Audible.com)
Laura Kinsale is the author whose audiobook Flowers From the Storm (1992), narrated by Nicholas Boulton, double-hooked me. Not only did Flowers From the Storm get me started back into reading historical fiction and Regency romances, it got me hooked on listening to audiobooks.
One of the past paperback covers for this book would make you think it's a bodice-ripper, complete with a bare-chested Fabio type. This Audible audiobook cover is a much better representation of the story.
I know Kinsale works the rationale for the title Flowers From the Storm somewhere into the book, but it does her no favors for anyone who hasn't already read her novels. Still, this is the book I'd recommend to anyone who has in the past scorned the idea of reading a romance novel of any kind, and dismissed the genre as formulaic. Flowers From the Storm is a brilliant read / listen.
Like many of the best romance authors, not all of Laura Kinsale's novels fit neatly into one genre. Other Laura Kinsale books that are best described as a Regency-style romance, are Midsummer Moon (1987), My Sweet Folly (1997), Uncertain Magic (1987), and her most recent book, Lessons in French (2010). Both The Prince of Midnight (Best Romance of 1990 RITA winner) and The Dream Hunter (1994) are evocative of the Regency era / genre. Unfortunately, Kinsale has confessed to writer's block in the past decade, and her website appears to have been emptied of content. 
Perhaps because she was blocked (or maybe a contributing factor in her blockage, lol), Kinsale turned her attention to having her back catalog of novels made into audiobooks, all read by actor-narrator Nicholas Boulton. She even started her own audiobook company (Hedgehog Inc.) to produce her audiobooks, and that of other authors (i.e., Elizabeth Kingston). The combination of a Laura Kinsale book with Nicholas Boulton as narrator has been nominated more than once by AudioFile Magazine for awards, winning for Midsummer Moon, My Sweet Folly, and a Victorian-era historical fiction novel, The Shadow and the Star (1991).
Kinsale also won the 2005 RITA Award for Long Historical Romance for Shadowheart (2004). Her medieval romance For My Lady's Heart (1993) won the Audie Award for Romance in 2014.
Read / listen to just one of her books, and you'll likely be hooked too. You can thank me later!
Many modern romance writers bow to author Loretta Chase (a pseudonym) as among the top authors in the field today, and she's got the RITA Awards (Romance Writers of America) to prove it.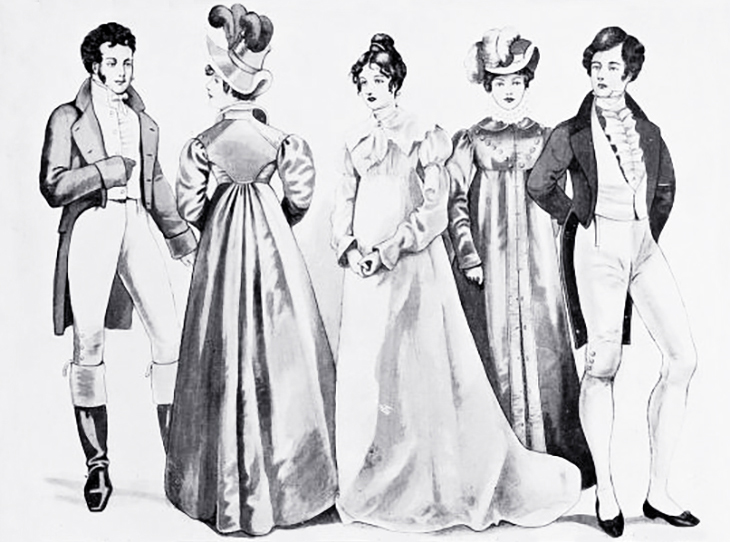 (Mens & Ladies Regency-Era Fashions c. 1812-1828)
Her writing and research skills are top-notch, and when reading a Loretta Chase book, you can depend upon it that you will a) laugh, b) learn something, and c) not want to put the book down until you have finished it. She's also written several historical romance series, set in different eras. Her books will occasionally take you out of England into other countries, while staying true to the period in time.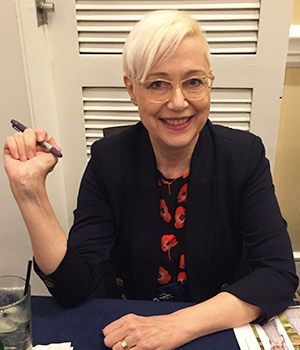 (Loretta Chase 2018: Used by Permission)
A favorite sampling from among her many Regency book series are Carsington Brothers (Miss Wonderful; and Lord Perfect come to mind); Trevelyan Family; Regency Noblemen; Difficult Dukes (A Duke in Shining Armor starts off the series). While perhaps not strictly set in the Regency era, Don't Tempt Me from her Fallen Women series made me laugh out loud. Lord of Scoundrels (1995) from her Scoundrels series, won the 1996 RITA for Short Historical, and her standalone romance novel The Sandalwood Princess (1990) won the 1991 RITA for Regency Romance.
Chase is hard at work on her next book in the Difficult Dukes series.
Audiobook narrators for the works of Loretta Chase are Stevie Zimmerman and Kate Reading, both of whom are make for an enjoyable listening experience.
The Bridgerton's American author Julia Quinn (a pseudonym) is a great example of a true Regency writer. Like the Netflix series, her books are fictional, funny, and hone in on characters from the British upper classes. However, Quinn's books are much closer to the realities of life in Regency-era England than the TV series might have you think.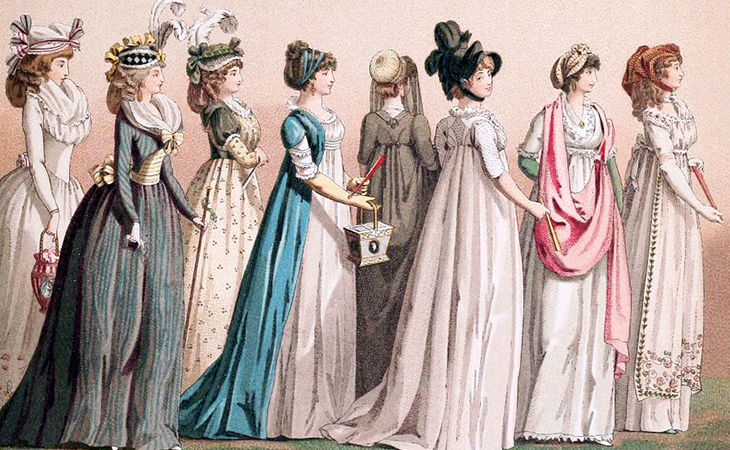 (Ladies Dresses c 1794 – 1800 Styles: Le Costume Historique, 1888)
Almost all of her romance novels are set in the Regency time period, and she has several different book series to enjoy. Quinn won RITA Regency Historical Romance Awards for her first two novels in the Bevelstoke series –The Secret Diaries of Miss Miranda Cheever (2007), and What Happens in London (2009). Her Bridgerton's book #8, On the Way to the Wedding (2006), won the RITA for Long Historical Romance.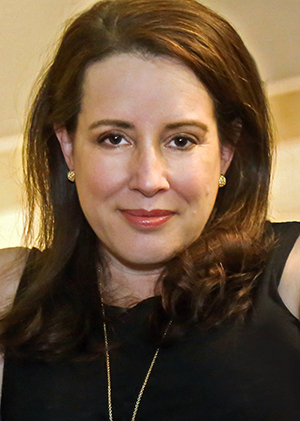 (Julia Quinn Photo: Roberto Filho)
All four books from her Smythe-Smith Quartet series – Just Like Heaven (2011), A Night Like This (2012), The Sum of All Kisses (2013), & The Secrets of Sir Richard Kenworthy (2015) – get my firm nod as top-notch Regency romances with lots to make you smile (for different reasons).
Julia Quinn's most recent novel is First Comes Scandal (2020), from her Rokesbys series; settings in this series range fom England to America. The COVID-19 pandemic and the phenomenal success of the Bridgerton TV series seems to have slowed down her output a trifle (understandably).
Rosalyn Landor ably narrates most of the Bridgerton series, and all of the Smyth-Smith books.
Best-selling and award-winning romance novelist Eloisa James (a pseudonym) was destined to become a writer, with a short-story-writing mother (Carol Bly), award-winning poet father (Robert Bly), and Pulitzer Prize-winning godfather (poet James Wright). Like many other historical and Regency romance authors, James was a fan of Georgette Heyer.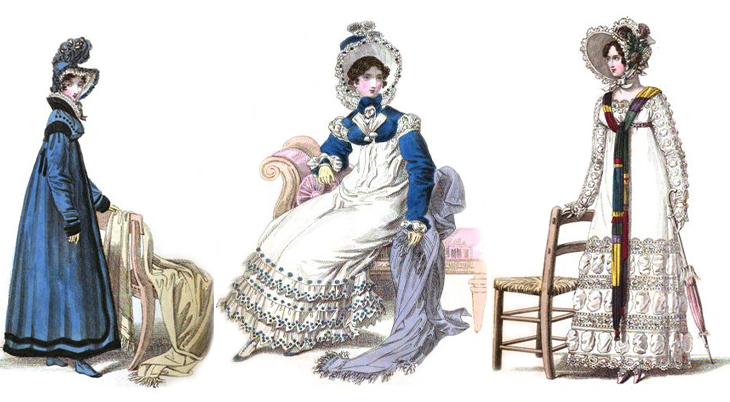 (Walking Dress; Autumnal Half Dress; Promenade Dress: La Belle Assemblée, 1818)
James is an academic researcher and Shakespearean professor at Fordham University under her own name (Mary Bly). As author Eloisa James, she won the 2013 RITA for Romance Novella with Seduced by a Pirate (2012), from her Fairy Tales series. As you might expect, her books have authentic period details, although she doesn't bludgeon you over the head with minutiae.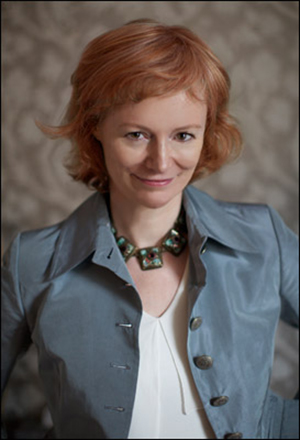 (Eloisa James Photo: Bryan Derballa)
Eloisa James' novels don't stick strictly to the Regency era in the timeframe they are set in, but otherwise fit all of the criteria for a Regency romance (by my criteria).
Her unconventional heroes, heroines, and storylines make for an interesting and entertaining read. The Fairy Tales series are books that twist familiar children's fairy tales into adult stories – The Ugly Duckling becomes The Ugly Duchess (2012); Once Upon a Tower (2013) a take on Rapunzel, etc.
You'll also like her series The Essex Sisters, Desperate Duchesses, Duchess in Love / Duchess Quartet, Pleasures Trilogy, and Wildes of Lindow Castle.
James is working on a new book/series, set for release in late 2022.
Narrator Susan Duerden reads most of Eloisa James' audiobooks, with a few exceptions for one-offs from Moira Quirk and Kate Reading, and the Duchess Quartet series, narrated by Justine Eyre.
Witty and charming characters people American author Julie Anne Long's Regency romances. It's always satisfying when you find a cast of characters that you like in series that has a lot of books.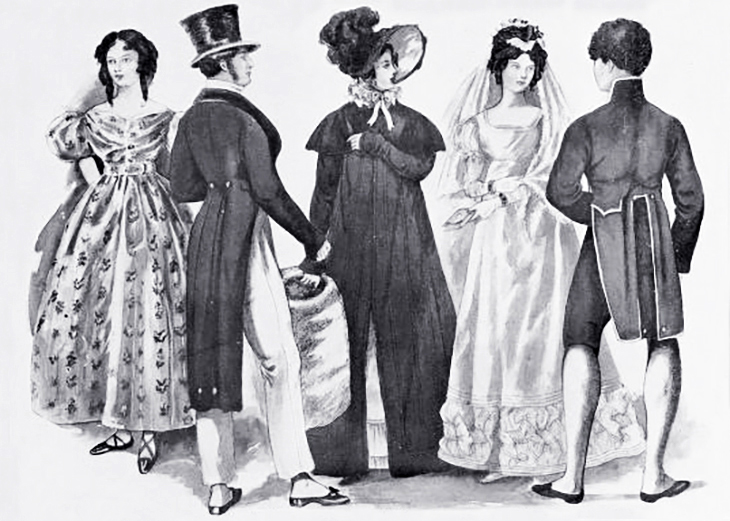 (Mens & Ladies Regency-Era Fashions c. 1812-1828)
Julie Anne Long credits writers Jane Austen and Amanda Quick for her interest in writing Regency romances. Long's first book The Runaway Duke was published back in 2004, and since then she's written over 25 more books (mostly historical, with a few contemporary romances too).
My favorite series by Julie Anne Long is Pennyroyal Green, which to date has 11 books. Start with the first (The Perils of Pleasure, 2008), and work your way through to the last (The Legend of Lyon Redmond, 2015). Book #10 from the Pennyroyal Green series It Started with a Scandal (2015), won the 2016 RITA Award for Historical Romance: Short…the full book is not short though, so THAT's confusing, lol.
Other Regency romance series by Long include her latest/ current series Palace of Rogues, and Holt Sisters Trilogy.
Julie Anne Long's books only began to be available in audiobook format in 2019, when her back catalogue of Pennyroyal Green books came out. As of March 2022, all of her Palace of Rogues series audio books are also available. Justine Eyre does the narration for Long's Regency / historical romance audiobooks.
Barbara Metzger's delightfully quirky writing style, characters, and Regency romance storylines, will keep you interested from beginning to end. She won the 2003 RITA Regency Romance Award for A Debt to Delia (2002), set against the backdrop of the Napoleonic wars.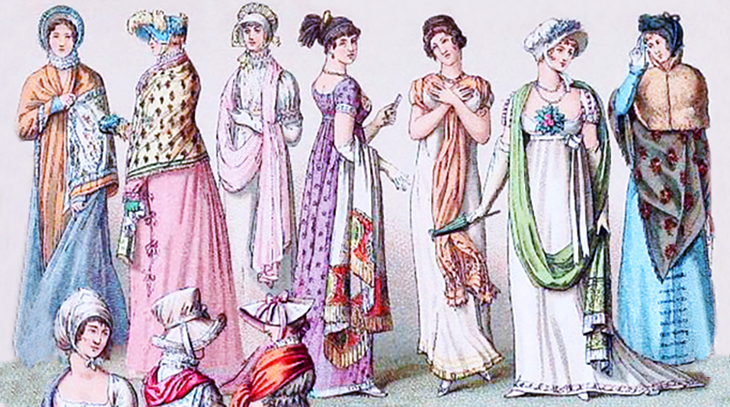 (Ladies Dresses c 1794 – 1800 Styles: Le Costume Historique, 1888)
Unlike many of the most popular historical and Regency romance authors, Metzger usually does not write series. Most of her novels are stand-alone books, which means if  you've just discovered Barbara Metzger, it doesn't matter what book you start with. If you like to read things sequentially anyway, you could begin with her first book, written in 1981 – Bething's Folly (1981)
Here's an example of her quirkiness: A Loyal Companion (1993), is partially told from a dog's point of view….totally unexpected and entertaining.
Metzger's website doesn't indicate that she's retired from writing books, but her most recent novel was The Bargain Bride (2009). Thankfully, there's an impressive back catalogue of her novels to enjoy, and at least 20 of them area readily available as audiobooks. The most frequent narrators of her books include Steve Zimmerman and Jenny Sterlin – two of my favorite audiobook narrators, and Pippa Rathborn (whom I haven't heard yet).
RITA Award-winning American author Tessa Dare has written – so far – at least 3 great Regency romance series you can dive into.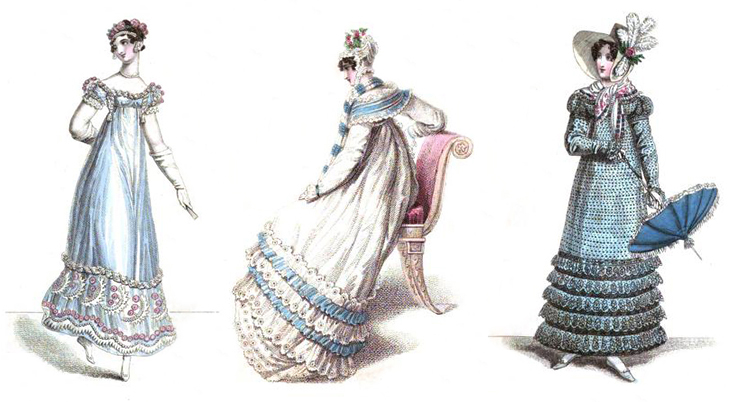 (Ball Dress; Summer Dress; Parisian Walking Dress: La Belle Assemblée, 1818)
Romancing the Duke (from the Castles Ever After series) was the 2015 RITA winner for Historical Romance: Short (it was a full length book, so confuse much?).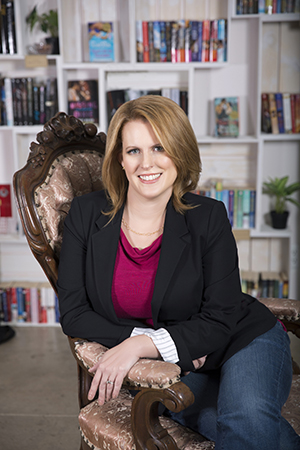 (Tessa Dare Photo: Jenn LeBlanc for Studio Smexy)
A Night to Surrender (2011), the first book in her Spindle Cove series, won the RITA for Regency Historical Romance.
The locale of this series is actually a feature of the book plotlines, as it's set in a small seaside resort town with a reputation for being a refuge for spinsters. 
Other enjoyable Regency romance series from Tessa Dare include Toby and Isabel, and Stud Club. The next novel in the Girl Meets Duke series, The Bride Bet, is expected to be published in 2022.
Tessa Dare won the 2018 Audie Award in the Romance Category for The Duchess Deal (from her Girl Meets Duke series), narrated by Mary Jane Wells.
Dare's books are read by a variety of able voice over actors, including Rosalyn Landor, Carolyn Morris, Justine Eyre, Carmen Rose, Gabrielle Baker, Eve Kaminsky, and James Cavanaugh.
American author Elizabeth Boyle's first romance novel Brazen Angel (1997) won the RITA for Best First Book.  
Books from her Rhymes With Love series – Along Came a Duke (2012); And the Miss Ran Away With the Rake (2012); If Wishes Were Earls (2013); The Viscount Who Lived Down the Lane (2014); The Knave of Hearts (2016); Six Impossible Things (2017) – are Boyle at her witty Regency romance best. Six Impossible Things is Boyle's most recent book; she may have retired from the field.
Other recommended series from Elizabeth Boyle are Danvers Family and Bachelor Chronicles.
Boyle's available audiobooks typically feature narration by Susan Duerden.
10. Claudia Dain
Bestselling historical romance novelist Claudia Dain (a pseudonym) is yet another American author that excels in crafting sharply drawn characters that leap off the page. Her storylines tend to stretch the boundaries and norms of the Regency era, but Dain is such a skilled writer that the 'somewhat implausible' becomes the 'utterly believable'. 
Her Regency romances form the extended Courtesan Chronicles series, beginning with The Courtesan's Daughter (2007), and ending with the most recent in the series, the novella Chasing Miss Montford (2015). Unfortunately Dain seems to have put her Regency romance writings on hold since then, although there is a Claudia Dain Facebook page for fans.
Writing under both her maiden name of Marion Chesney, and the pseudonym M.C. Beaton, Scottish author Marion Gibbons was a prolific historical romance and regency romance author from 1979 through 1997.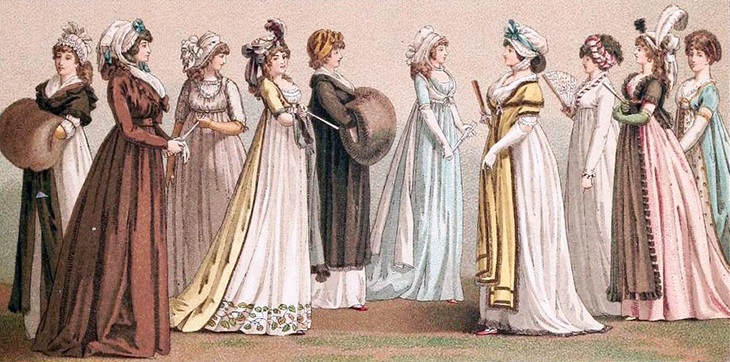 (Ladies Dresses c 1794 – 1800 Styles: Le Costume Historique, 1888)
After 1997, Marion switched her focus to writing the humorous Hamish Macbeth mystery series, and the Agatha Raisin mysteries, both under the pseudonym M.C. Beaton.. A sad loss for her romance novel fans back then, and more recently for all fans when she died in 2019. Marion also wrote historical and regency romances under other pseudonyms.
If you read a Marion Chesney or M.C. Beaton Regency romance book or audiobooks, you'll enjoy a very light-hearted rom-com type of story with sly humor and (mostly) lovable characters. Her books tend to be a little shorter than some of the other authors named above, making for a fast read. 
Most of Marion Chesney's / M.C. Beaton's books are available in audiobook format, narrated by a wide variety of voice actors; Charlotte Anne Dore has done quite a few. Among these are many titles from her Regency period romances. Representative books from a particular series:
The Miser of Mayfair, from the A House for the Season series. 
The First Rebellion, and The Love Match, both from The Waverly Women series
Duke's Diamonds, from the Endearing Young Charms series
Henrietta, from the Daring Debutantes series
Refining Felicity, from the School for Manners series
Lady Fortescue Steps Out, from the Poor Relation series
Penelope Goes to Portsmouth, from the Traveling Matchmaker series
Minerva, from the Six Sisters series
The Westerby Inheritance from the Changing Fortunes series
Prolific romance writer Lisa Kleypas has written many contemporary and historical romances. Worth Any Price (2003) from her Bow Street Runners series, won the  2004 RITA for Short Historical Romance. 
I particularly enjoyed her Wallflowers, Gambler of Craven's and Bow Street Runners series, which are Regency romances with quick-witted heroes and heroines. For a change of pace, her Dreaming of You (Gambler of Craven's) hero is not from the upper echelon of British society, but from the working class. Her other enjoyable historical romance series include Hathaways, and Ravenels (Victorian era)
Narrated by Mary Jane Wells, Devil's Daughter (2019) from Julie Anne Long's Ravenels series, won the 2020 Audie Award for Romance.
Want more Regency stuff?
You may also like Vintage Inspired Valentines, in which I ramble on about different eras in history beginning with the Georgian Age, up to the Silent Film Era. Sandwiched in there are some more fashions, poetry from the likes of Lord Byron, the King of Regency-era poetry (She Walks in Beauty), and of course, some unique Valentines inspired by vintage illustrations and paintings from each of these periods in history.