3 Outdoor Activities as Retirement Hobbies
Retirement is often considered a time to slow down. Yes, it can certainly be a valuable opportunity to relax after decades of intense work and family commitments. But this doesn't mean you want or should be expected to stay indoors and watch the world go by. You know you're capable of exploring enriching opportunities, and your retirement offers you the most valuable resource of all: free time.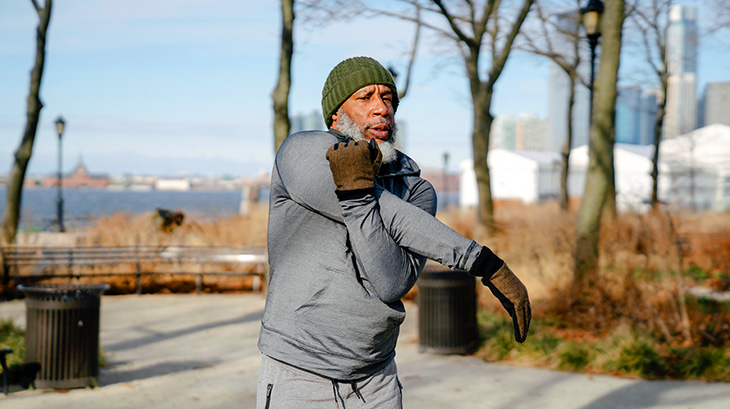 (Senior Man Exercising & Stretching in a City Park: Barbara Olsen via Pexels.com)
The many hobby choices at your disposal can be a little overwhelming. It's worth focusing on trying out some hobbies or activities that best meet your physical and emotional needs.
Intentional Walking
Walking may not be the first activity many people consider to be a good hobby, but it is certainly impactful. Taking a daily walk is proven to be beneficial to your physical and mental health. It strengthens muscles, can improve immune functions, and reduces symptoms of depression which some older adults and seniors are prone to. Not to mention that walking outdoors can enhance your appreciation for the outside world and give you some space for creative thought for your other hobbies and interests.
That said, you may find walking as a more fulfilling hobby if you walk with intention. Look for local neighborhoods you can visit for a simple half-an-hour stroll. This can help expose you to the diverse features of your community. Alongside daily walks, you might choose a different hiking trail to visit once or twice a week to explore fresh environments and have a more challenging physical experience.
Choosing a specific time of day for your walk – for example, when you can observe a sunrise or sunset, or simply people-watch, can bring an added element of anticipation to the experience, AND help you to make your walk a part of your daily schedule rather than an exception to the norm.
Walking can be a great reason to connect with your friends on a regular basis, as it's an activity that's generally accessible to all. Not to mention you can have enjoyable conversations along the way and end the session with a visit to a local coffee shop or restaurant. Joining a local walking group can also be a positive approach to meeting new people.
Listening to music or an audiobook while you're walking is a another way to up the enjoyment and anticipation of your walking routine. Choose a route and a complementary book or song that will take you from beginning to end. 
There are lots of other things you can do while walking to transform it from an exercise activity you feel you "have" to do to for your health, into a fun hobby that boosts your happiness and self esteem, too.
Yoga
In recent years, yoga has seen a rise in popularity among retirees. A recent study reported that 38% of those who practice yoga were aged 50+. This shouldn't be surprising. It's an exercise activity that can boost holistic well-being for older adults. It can also be a challenging pastime while still being a fun low-impact hobby that can be adapted to suit the specific needs or physical limitations of seniors.
Importantly, yoga's not something that you have to limit to a room in your home, a gym, or a studio. Many people utilize their practice to also connect with the outside world. This might involve performing some daily yoga routines in your backyard, or heading to a local area of natural beauty for a session. You'll find you benefit from the fresh air and peaceful surroundings as well as the physical workout of yoga stretches.
You may also find it worthwhile to seek outdoor yoga groups. Many communities have sunrise yoga sessions in outdoor areas that are geared toward preparing you for the day with a sense of mindfulness. These types of groups also allow you to recharge in nature while being guided by experienced professionals. If you're concerned about your mobility, it may be wise to start out with yoga sessions that have gentler routines, or talk to your instructor about how to modify the poses to suit your abilities.
Urban Exploration
When people think of outdoor activities to try in retirement, many imagine visiting National Parks or spending time in areas of outstanding natural beauty. It's important to recognize that there are city spaces, too, that are enriching and accessible. As a result, local urban exploration can be a good choice of activity for retirees, older adults, and seniors.
This can be a chance to travel to interesting city attractions in your local town, or farther afield. Capture observations of your walk in some way, such as quick notes, voice memos, or taking photographs of interesting architecture or street art.
You might consider posting these outcomes from your urban hike on a social media account (Instagram, facebook, or a YouTube channel), or creating a scrapbook or journal of your experiences and interactions with people you meet along the way. This may evolve into you writing a blog or a book, though it's equally valuable just to pursue this for your own pleasure and creative fulfilment.
There are enriching ways to interact with nature without leaving the city, too. Consider scouting for local birds or wildlife, perhaps participating in citizen science programs to document your results. If there are rivers or canals in your city, you could try paddleboarding or kayaking. Keep a lookout for local outdoor festivals and events in parks, too, as these can combine cultural experiences with nature present in the urban landscape. 
Conclusion
Starting an outdoor hobby during retirement can have many benefits. There are health advantages related to walking and yoga, and these can bolster connections with the natural world. You may also find urban exploration activities that provide you with richer perspectives on the city or town you live in. Take the time to establish what hobbies fit your personal needs while also allowing you to step outside of your comfort zone. The years of your retirement offer you so many opportunities to discover new aspects of the world around you and your relationship to it.