Fun Low Impact Hobbies & Sports
Low-impact hobbies and exercise opportunities for health-conscious older adults and seniors, are more plentiful than you might think. You won't need to go to the gym every day or have a special fitness routine to enjoy these fun leisure activities. These options are also a great fit if you're an explorer at heart, and are looking for something fun that you can do on your own, with a friend, or even the grandkids.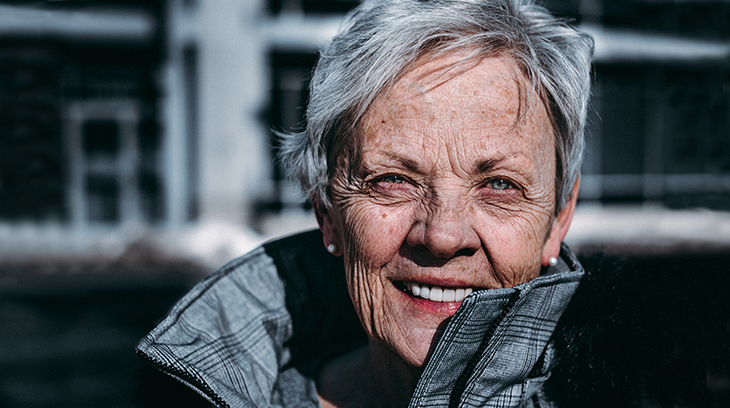 (Older Woman Photo: Ravi Patel via Unsplash)
Taking care of your mind and body is important at any age. As you get older, being more health-conscious can improve your quality of life and may even increase your lifespan. Because older adults and seniors are often at a greater risk of developing illnesses, losing muscle, and even decreased brain function, it's essential to stay active.
It's also not uncommon for older adults and seniors to deal with aches and pains, especially in the joints. So, most 50+ people who want to stay active need to find ways to do so that won't cause them more discomfort.
Some of the hobbies you already enjoy, or a few that you've been interested in trying, can keep you physically and mentally active while going easy on your joints.
Bird Watching
Bird watching is one of the best low-impact hobbies around, because it can combine several activities into one category. Bird watching requires you to spend time outdoors, which can positively impact your mood and mental health. Being in nature can also give you an energy boost and keep you from feeling fatigued. 
If you really get into bird watching, you might need to go off the beaten path to find the species you're looking for. As a result, you may find yourself hiking in certain circumstances. You can discover great trails in local wooded areas or parks, and you can either go on your own or join a bird-watching club. This way you can share your interests with others, but you can also create new friendships!
The great thing about bird watching is that it can be as intense or as relaxed as you choose (even bird-watching in your backyard can be fun). If you do plan on spending a lot of time outside, make sure you're prepared for each trip by packing things like:
Water
Sunscreen
Healthy, portable snacks
Camera 
Phone
Notebook & pen (or Smartphone notes or other bird-watching app)
It's also a good idea to protect yourself from the harmful UV rays of the sun by wearing a sunhat and sunglasses or UV-blocking contact lenses. The safer you care, the more time you can spend outside immersed in your new hobby.
A great movie to pick up some tips from that might get you into the spirit of birding, is the comedy The Big Year (2011), starring Steve Martin, Owen Wilson, and Jack Black. They travel around the world in an attempt to out-do each other and set a record for most birds watched in one year.
These other films won't necessarily impart any great bird-watching expertise, but may tickle your funny bone: 
The Love God (1969), with Edmond O'Brien, Anne Francis, and Don Knotts as an avid birder whose underperforming bird-watching magazine has been bought…and is about to be turned into a nudie magazine.
Carry On Up the Jungle (1970), where the irrepressible Carry On gang of regulars – Sid James, Joan Sims, Charles Hawtrey, Kenneth Connor, and Frankie Howerd as an ornithologist in search of the elusive and rare Oozlum bird – are on an expedition that Tarzan might have envied.
Treasure Hunting
Have you ever wondered what it would be like to be a real treasure hunter? You don't need to become a pirate to figure it out! Modern-day treasure hunting takes a few forms. One of the most popular ways to discover hidden gems is to go geocaching. 
There are over 3 million active geocaches worldwide (all seven continents!) –  just waiting to be discovered at any moment. So whether you live in or travel to Australia, New Zealand, Asia, Africa, South America, Europe & the the United Kingdom, and even Antarctica, you can enjoy this hobby. All you need to do is download the geocaching app (there are free and paid versions) on your phone. It will immediately show you any geocaches in your area and tell you how to get there. Some are easy to find, while some take a bit of work. The idea is that you find the "treasure", and replace it in the same location with something of your own, so the hunting never ends for others as well. 
The very popular Pokémon Go mobile game is a spin on geocaching, using your smartphone or other mobile device – it's also suitable for all ages.
Another fantastic option for finding hidden treasure is to take up metal detecting. An initial investment is required to purchase a metal detector. But, after that, you can take it almost anywhere! Whether you go "hunting" at the beach, a park, or in your backyard, it's a great way to stay active. It also gives you a few benefits you might not initially expect, including:
Teaching patience
Keeping your mind focused
Using problem-solving skills
Allowing you to use your imagination
One of the reasons each of these treasure hunting hobbies are so wonderful is that you can go at your own pace. You can do them as often as you'd like, whenever you get the urge to be outside or the desire to "dig up" something new! 
Cycling
If you want to get in a physical workout without adding extra stress to your joints, consider cycling. Whether you hit some famous trails and bike for miles with company, or you choose to do indoor cycling, it's a wonderful cardiovascular workout that is extremely low-impact. No matter their age, most people with no underlying health conditions can enjoy a bike ride without feeling any pain or doing damage to their muscles or joints.**  
It's also the perfect way to strength train. By biking outdoors, going up hills, or over rough terrain, your muscles will work harder to utilize your strength. If you do indoor cycling, you can set the level of resistance you want. Some spin bikes even come with small hand weights, so you can strengthen your upper and lower body at the same time. Strength training will keep your body from becoming frail, and help to maintain your bone density and balance.
There are lots of mobile apps and tools to enhance your biking experience indoors or out. And of course, don't start off on a 20 mile bike ride if you haven't been on a bicycle for the past 30 years, and/or your body already has aches and pains. Start with short trips (I could only manage to the end of our street the first time back on a bike) and work your way up as your fitness, expertise, and energy levels grow.
These hobbies are just the tip of the iceberg when it comes to low-impact ways to stay healthy. If you're making a serious effort to take care of yourself as you head toward or further into your golden years, consider these ideas, and think outside the box when it comes to things you would enjoy trying. Keeping your mind and body fit can be a lot of fun when you're doing things you enjoy.
**This article is for informational purposes only and is not intended as medical or mental health advice, nor is it a substitute for professional medical or mental health advice, diagnosis, or treatment. Always seek the advice of a qualified physician or mental health provider with any questions you may have regarding a medical or mental health condition. In the event of a medical emergency, call a doctor or 911 immediately. This website does not recommend or endorse any specific tests, physicians, products, procedures, opinions, or other information that may be mentioned on the Site or on other websites it links to. Reliance on any information provided by this website or other websites it links to, is solely at your own risk.**