Celebrating Seniors - Steve Martin Turns 70 - Pt 1of2
Steve Martin: 1945-1979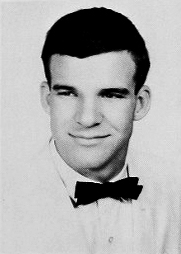 Stand-up comic, actor, writer, musician and baby boomer Steve Martin was born August 14, 1945 in Waco, Texas. Steve Martin grew up in California and while still in high school, sold guidebooks in front of Disneyland at age 10.
(Steve Martin 1963 Garden Grove High School Photo: Wikimedia Commons / Public Domain)
When he turned 15 he got a job at the Disneyland Main Street Magic Shop, where he demonstrated tricks to customers. He began playing the banjo with help from his Magic Shop co-worker and musician John McEuen, who would go on to become a founding member (in 1965) of the Nitty Gritty Dirt Band.
Martin attended Santa Ana Junior College after graduating from high school, and dabbled in comedy with a local theatre, a comedy troupe, and girlfriend Stormie Sherk. 
In 1964, 19-year-old Steve Martin enrolled at California State University Long Beach as a philosophy major, where he met and began dating Nina Goldblatt, a dancer, in 1965. Martin was continuing to get gigs as an opening act, but they were closer to Los Angeles, so he transferred to UCLA in 1967 for his senior year and switched to theatre; by this time his romantic relationship with Nina was over as well.
Steve Martin's time at UCLA didn't last long, because his career as an actor, comedian and writer was taking up more and more of his time; he was doing stand-up at local venues, and appeared on The Dating Game in a couple of episodes. Like a lot of other baby boomers, Steve Martin never did graduate from university, but it hasn't seemed to hold him back. Below, some clips from a very young and dark-haired Steve Martin on The Dating Game:
Former girlfriend Nina Goldblatt had submitted his work to the head writer at The Smothers Brothers Comedy Hour, and Steve Martin was hired as a writer for the series. Martin won his first Emmy Award in 1969 at age 23, for his contribution (along with the other writers) to The Smothers Brothers Comedy Hour.
He was also writing for other television variety shows by then (The Sonny and Cher Comedy Hour, The Glen Campbell Goodtime Hour, etc.), and opening for larger musical acts (The Carpenters, Toto, etc.). Martin had a small acting role in the movie Another Nice Mess (1972), and earned a second Emmy nomination for his writing on Van Dyke and Company (1976).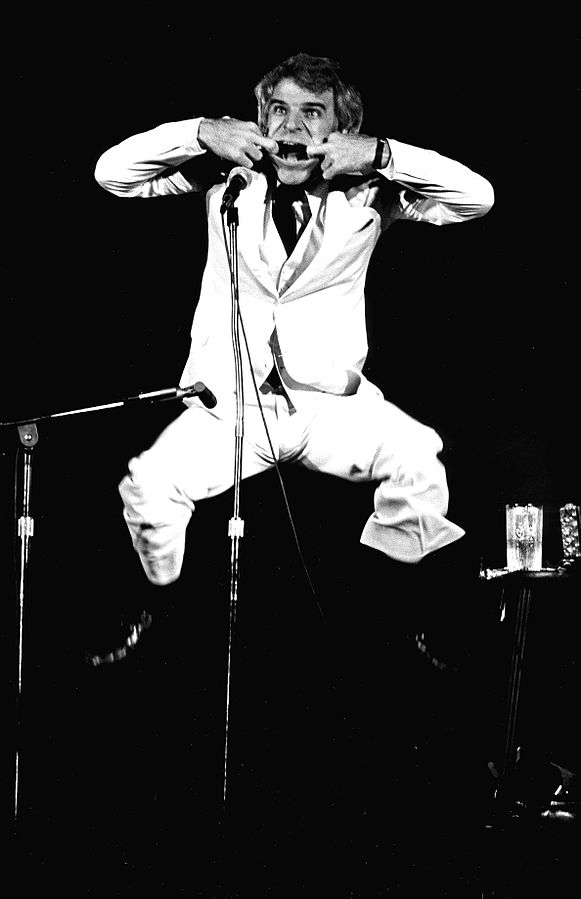 By 1970, Steve Martin had acquired a manager (John McEuen's brother) and was well on his way to a career as a successful stand-up comic, opening for bigger musical acts (including the Nitty Gritty Dirt Band), incorporating his banjo playing into his act and on his albums.
He began appearing on late night talk shows and Saturday Night Live (he's appeared on SNL 27 times and guest-hosted 15 times), becoming good friends with Gilda Radner and many of the other SNL cast members.
(Steve Martin 1977 Photo: Jim Summaria | Wikimedia CC 3.0)
Steve Martin started releasing best-selling comedy albums – Let's Get Small (1977) and A Wild and Crazy Guy (1978), which both won a Grammy for Best Comedy Recording for the year of their release. The song King Tut on the A Wild and Crazy Guy album features Martin singing the song, backed up by members of the Nitty Gritty Dirt Band, whom he had opened for back in the 1960's; his accompanying King Tut SNL skit is one of his most popular comedy sketches, below.
Having conquered the comedy world and achieved success on writing for television, Martin turned his attention to the big screen. He wrote and starred in the short film The Absent-Minded Waiter (1977), which was nominated for a Best Short Film, Live Action Academy Award.
Next he starred alongside two of the biggest musical acts of the 1970's – the Bee Gees and Peter Frampton – singing Maxwell's Silver Hammer, in Sgt. Pepper's Lonely Hearts Club Band (1978). 
Prior to beginning a relationship with comedic actress Bernadette Peters in 1978, in the 70's Steve Martin's name was linked with singers Linda Ronstadt and Karen Carpenter. Steve Martin had girlfriend Bernadette Peters in mind when he co-wrote The Jerk (1979) movie with Michael Elias and Carl Gottlieb. The Jerk was a financial and popular success; below, co-stars Bernadette Peters and Steve Martin (playing banjo) singing Tonight You Belong to Me from The Jerk:
In the 1980's, Steve Martin's focus on his movie career intensified. He began to take acting lessons from Herbert Ross (a director), and learned how to tap dance for his role in the 1981 serious musical Pennies From Heaven (1981), a flop in which he again co-starred with girlfriend Bernadette Peters.
Steve Martin met actress Victoria Tennant in 1982 after he and Bernadette Peters broke up. Victoria Tennant co-starred with Steve Martin in 1984's hit movie All of Me before they eloped to Rome in 1986. Co-stars Steve Martin, Lily Tomlin, Victoria Tennant are featured in the movie trailer for All of Me.
All told, Steve Martin appeared in 12 movies in the 1980's (several of which he also wrote), including these box office hits:
Dead Men Don't Wear Plaid (1982), which he co-wrote with co-star and pal Carl Reiner, and George Gipe. 
Little Shop of Horrors (1986) had Steve Martin playing a wacky dentist. His co-stars in Little Shop of Horrors were Rick Moranis, Ellen Greene, Vincent Gardenia, and fellow Saturday Night Live alumni James Belushi, John Candy, Christopher Guest, and Bill Murray.
Planes, Trains and Automobiles (1987) teamed John Candy and Steve Martin in what might be their funniest movie, set at Christmas. The movie trailer for Planes, Trains and Automobiles features Steve Martin and John Candy.
Roxanne (1987), based on the classic romantic tragedy Cyrano de Bergerac. In Steve Martin's hands, the film is transformed into a romantic comedy, which he also co-wrote and produced; Steve Martin won a Writers Guild of America Award for his writing work on Roxanne.  His Roxanne co-stars included Daryl Hannah, Rick Rossovich, Shelley Duvall, Fred Willard, Michael J. Pollard, and Damon Wayans.
Parenthood (1989) had a star-studded cast, in which Martin co-starred with Mary Steenburgen, Dianne Wiest, Jason Robards, Rick Moranis, Tom Hulce, Martha Plimpton, Keanu Reeves, Harley Jane Kozak, Dennis Dugan, Joaquin Phoenix, and others. Below, Steve Martin and his on-screen wife are featured in a clip from Parenthood.
While filming the movie Three Amigos in 1986, Martin had begun to experience tinnitus (ringing in the ears, which many senior citizens experience as they get older) after a pistol-shooting scene; he has said he has no choice other than to cope with it. Although he was only in his 30's, his hair had already turned white making him appear more senior than his peers.