What Was New in July 1952?
News Headlines & Entertainment Trivia from July, 1952 – Gary Cooper Stars in the Classic Western Movie High Noon; The 1952 Helsiniki Summer Olympic Games Begin; Vera Lynn's Auf Wiederseh'n Sweetheart is the #1 Hit Song
Western Classic Movie Debut: Gary Cooper in High Noon
Producer Stanley Kramer's Academy Award-winning iconic western film High Noon, starring Gary Cooper, premiered in New York City on July 24, 1952.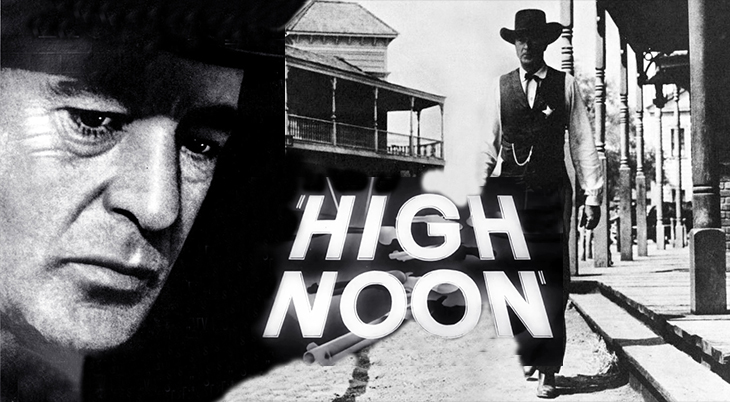 (Gary Cooper 1952 High Noon)
Screenwriter Carl Foreman purchased the rights to author John W. Cunningham's short story The Tin Star (1947), and adapted it for the screenplay of High Noon. His production partner for the film was Stanley Kramer, but that ended when Foreman was called before the HUAC Committee (House Un-American Activities Committee) and refused to name names. Both men realized that Foreman would be likely be blacklisted by HUAC and the film studios. Kramer insisted their partnership be dissolved, and Carl Foreman sold his partnership share to Kramer before the movie was released. He moved to England because of the blacklist, and was living there when he was nominated for an Academy Award for Best Screenplay.
Actor John Wayne turned down the offer to star in High Noon, realizing the symbolism of the storyline was anti-McCarthyism and blacklisting. Wayne was, at that time, the President of the Motion Picture Alliance for the Preservation of American Ideals (MPA), which supported HUAC. Among the other stars offered a chance at starring in High Noon were Gregory Peck, Marlon Brando, Charlton Heston, and Montgomery Clift. In the end, it was John Wayne's friend Gary Cooper – also a conservative, and a friendly witness for HUAC (Cooper didn't name anyone to the committee) – who accepted the role of conflicted Marshal Will Kane. Although he remained friends with John Wayne, Gary Cooper later became an outspoken opponent of blacklisting. 
Below, Gary Cooper confers with Director Fred Zinneman (seated), and Director of Cinematography Floyd Crosby, A.S.C. (behind camera) on the set of High Noon.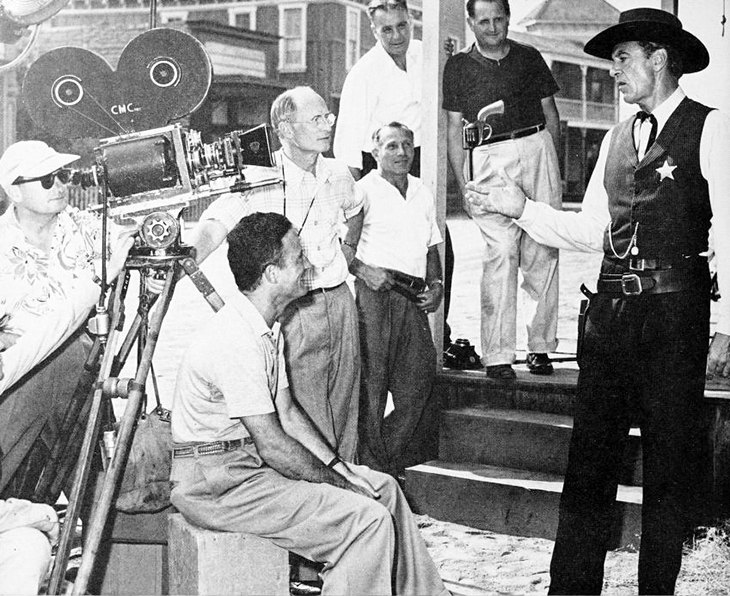 (Floyd Crosby, Fred Zinneman, Gary Cooper 1952 High Noon Set Photo: American Cinematographer)
Stanley Kramer cast Grace Kelly as Amy Fowler Kane, Marshal Kane's Quaker wife, who is anti-gun violence. As the film begins – and it runs in real time – Marshall Will Kane is about to retire and move from Hadleyville to become a storekeeper in another small town. He learns that a criminal he'd sent to jail (played by Ian MacDonald) has been released from prison, and is set to arrive in Hadleyville on the noon train with his gang (actors Lee Van Cleef, Sheb Wooley, & Robert J. Wilke), intent on revenge.
Amy wants them to leave town before the train arrives, but Marshal Kane refuses to go. He attempts to engage other townspeople to form a posse, to no avail. Saloon keeper and former lover Helen Ramirez (Katy Jurado) is sympathetic, but, the judge (Otto Kruger) runs away and his Deputy Marshal Harvey Pell (Lloyd Bridges) resigns. The suspense builds to a climactic showdown at High Noon.
This trailer for High Noon features Gary Cooper, Grace Kelly, Katy Jurado, and Lloyd Bridges.
High Noon received an additional 6 Academy Award nominations, including Best Director (Fred Zinneman) and Best Picture (Stanley Kramer), losing to Cecil B. DeMille for The Greatest Show on Earth. The film won a total of 4 Oscars – Elmo Williams & Harry W. Gerstad, Best Film Editing; and Dimitri Tiomkin, who won Best Scoring of a Dramatic or Comedy Picture, and shared the Best Song Oscar (The Ballad of High Noon) with Ned Washington. Gary Cooper won Best Actor in a Leading Role, and his pal John Wayne accepted the award on his behalf (Cooper was filming a movie overseas). 
High Noon has become an iconic western film, and although John Wayne never changed his opinion of the movie "The most un-American thing I've ever seen in my whole life", several U.S. Presidents have praised the film. Ronald Reagan said High Noon was his favorite movie because of the hero's commitment to the law and duty. 
The 1952 Summer Olympics Open in Helsinki, Finland
The Summer Games of the XV Olympiad began on July 19th in Helsinki, Finland. Helsinki won the host city bidding war over Amsterdam and 4 American cities (Los Angeles, Philadelphia, Minneapolis & Chicago). This decision was likely heavily influenced by the cancellation of the 1940 Summer Olympic Games which were to have been held in Helsinki before WWII began.
Over the next 15 days, 69 countries participated in 149 events (17 sports). Czechoslovakian long-distance runner Emil Zátopek, who won the 5,000 KM and 10,000 KM races, also won the marathon (26 miles) gold medal in record-setting time, shaving 6 minutes of the previous record.
The Helsinki Summer Olympics were the first Games that Germany and Japan could participate in after having been banned from the 1948 Games for their role in the start of World War II. Countries participating in their first Olympic Games were China (PRC), Hong Kong, Israel, Nigeria, Vietnam, Thailand, Indonesia, Guatemala, Gold Coast (Ghana), Netherlands Antilles, the Bahamas, and the Soviet Union (USSR).
The flag-bearer for the Soviet Union was Ukrainian world record-setting heavyweight weightlifter Yakov Kutsenko, who was not allowed to compete at the 1952 Games because Soviet officials expected the flag bearer to win a gold medal, and Yakov had only previously won silver medals at world championships.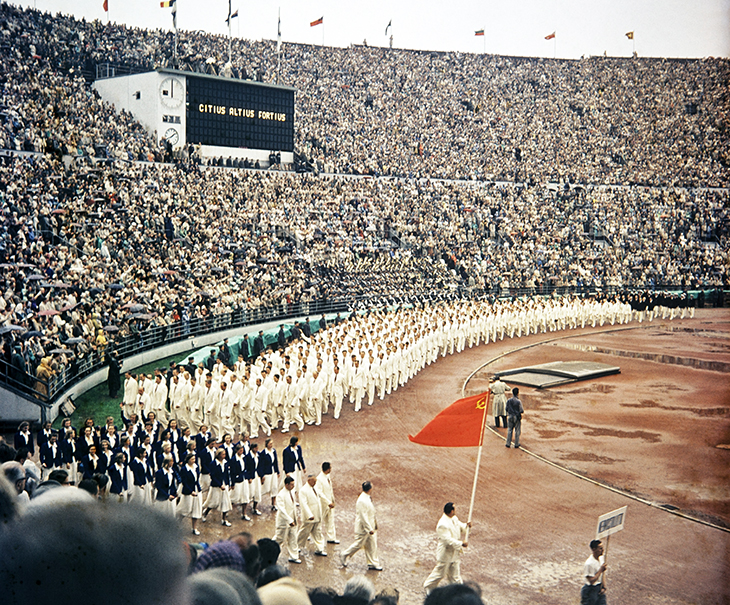 (Soviet Union 1952 Olympic Team & Flag Bearer Yakov Kutsenko Photo: Olympia-kuva Oy / CC BY)
The Soviet Union female gymnasts won the women's team gymnastics competition, starting a 40-year unbroken winning streak for that event that only ended when the Soviet Union broke up in 1991.
The 1952 Helsinki Olympics were also the first Olympic Games that women could complete against men in mixed events.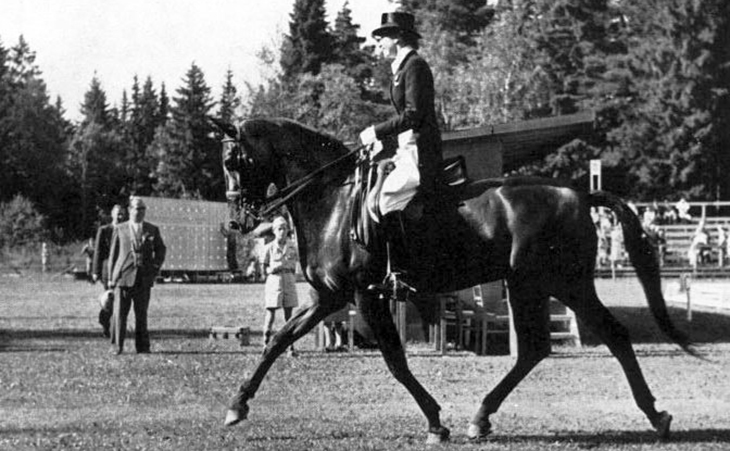 (Lis Hartel on Jubilee, 1952 Helsinki Olympic Games Photo: Photographer of IOC)
Danish equestrienne Lis Hartel, who was paralysed below the knees and hand to be helped on and off her horse, won silver in the dressage event. 
The United States won the most gold medals, and the most medals overall at the 1952 Helsinki Summer Olympics.
Vera Lynn's Hit Single Auf Wiederseh'n Sweetheart
The Billboard & Cash Box #1 hit single beginning the week of July 12th was Auf Wiederseh'n Sweetheart, sung by English vocalist Vera Lynn.
"Auf wiedersehen, auf wiedersehen
We'll meet again, sweetheart,"
Auf Wiederseh'n Sweetheart German composer Eberhard Storch and/or the English language lyricists John Turner and Geoffrey Parsons, may have been inspired by Vera Lynn's earlier World War II hit song and film We'll Meet Again (1943). In the movie, Vera Lynn plays a young singer-dancer trying to climb to the top in WWII London. 
Supposedly Vera Lynn was vacationing in Switzerland when she heard Storch's song being sung in beer parlors. She sourced the songwriters and recorded her version, which promptly climbed to the top of the U.S. music charts in July 1952 and stayed there for 9 weeks – a record for a British single that wouldn't be matched until the Beatles Hey Jude (1968). 
During the 1960s, several artists covered Auf Wiederseh'n Sweetheart, including Connie Francis, Jim Reeves, and Jerry Vale.
Dame Vera Lynn died on June 18, 2020 at the age of 103.
*Images are believed to be in the public domain and/or Creative Commons licensed & sourced via Wikimedia Commons, Vimeo, YouTube, or Flickr, unless otherwise noted*