October 1947 Headlines
News Headlines & Baby Boomer Entertainment Trivia From October 1947: Kukla, Fran and Ollie children's TV show debuts; Hollywood Ten are under fire in HUAC hearings; Classic Film-Noir Lured premieres, starring Lucille Ball & George Sanders. 
Classic Movie Premiere – Lured, Starring Lucille Ball and George Sanders
On October 14, 1947, the classic film-noir movie Lured, starring Lucille Ball and George Sanders, premiered in Los Angeles, California.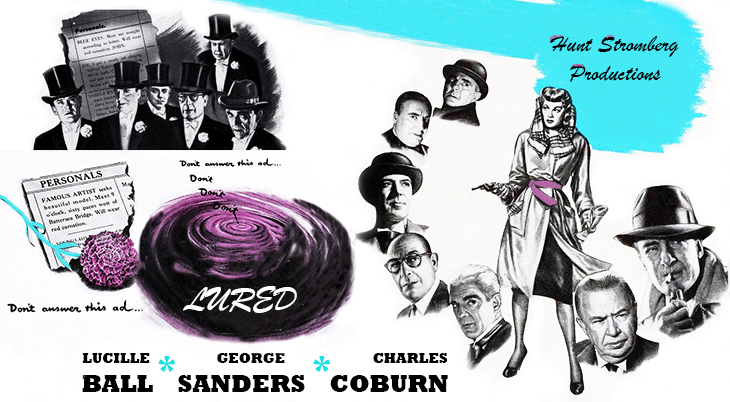 (October 1947 Lured)
Directed by Douglas Sirk, Lured is a Hunt Stromberg Productions remake of the French movie Pieges (1939).  Although Lured is set in London, England, it was filmed entirely at the General Service Studios in Hollywood. Nicolai Remisoff provided production design and art direction to recreate foggy London exteriors and stately home interiors on soundstages.

(Lucille Ball, Cedric Hardwicke & George Sanders 1947 Lured Photos: United Artists Pressbook)
Lucille Ball plays Sandra Carpenter, an American performer in London reduced to working as a taxi dancer in a club with her friend Lucy Barnard (actress Tanis Chandler). A killer is stalking London women via newspaper personals columns, and Inspector Harley Temple (Charles Coburn) believes he's influenced by the French poet Baudelaire, dubbing him "the poet killer". When Sandra's friend Lucy goes missing, Sandra agrees to act as bait for the killer. 
Ever-suave George Sanders plays Robert Fleming, a London theatre impresario who shares his home with Julian Wilde (Cedric Hardwicke), his friend and business partner. He crosses paths with Sandra and is smitten, but she's cool to him.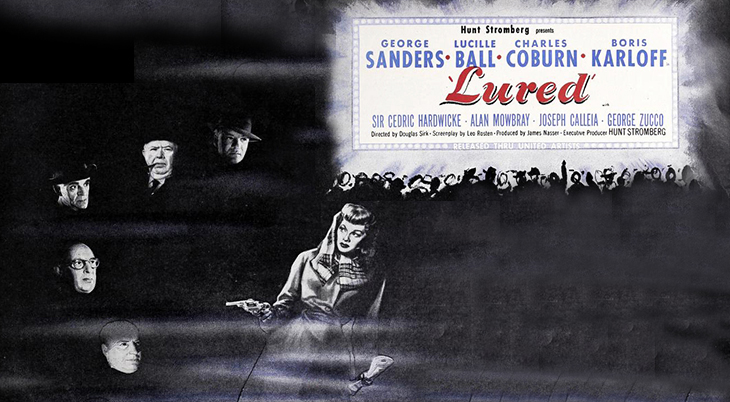 (Lucille Ball, George Sanders, Charles Coburn, Boris Karloff, Cedrick Hardwicke 1947 Lured)
Meanwhile, "bait" Sandra has to be rescued from a crazed former fashion designer (Boris Karloff) by quirky Officer H.R. Barrett (George Zucco). Later, Fleming comes to Sandra's rescue when her next mission involves a white slavery ring led by Mr. Moryani (Joseph Calleia). 
Sandra and Robert Fleming fall in love and all is going well until damning evidence is found in his desk at home by Sandra. Robert is deeply hurt by her suspicions, and denies any knowledge of the killer or victims, including her friend Lucy. Inspector Temple is still on the job though, and despite a "confession" by Fleming, isn't ready to declare the case closed.
This is a more light-hearted type of film-noir, leavening moments of suspense with humor – a great vehicle for the talents of stars George Sanders and Lucille Ball, as well as supporting actor George Zucco. Other notable actors in Lured are Alan Mowbray, Robert Coote, and Alan Napier.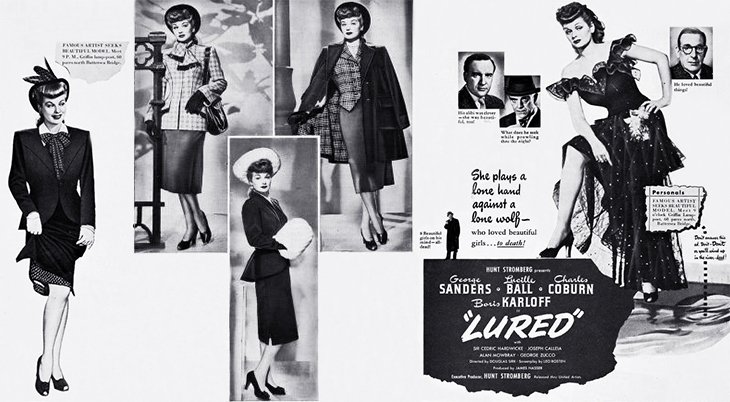 (Lucille Ball 1947 Lured Fashions / Ads: United Artists Pressbook)
Lucille Ball wears some truly beautiful suits and gowns in the film, created for her by costume designer Elois Jenssen.
Hollywood Under Fire in HUAC Hearings
On October 20, 1947, the House Un-American Activities Committee (HUAC) hearings began, based on the Hollywood Ten list published the previous month in The Hollywood Reporter.
Conservative Southerner Martin Dies Jr. was the co-founder of the House Committee Investigating Un-American Activities (originally known ad the Dies Committee, and later as HUAC). The Dies Committee was formed in 1946 to investigate both right-wing and left-wing "subversives" in the Cold War era, but instead focused on left-wing communist infiltrators and sympathizers. The committee was also supposed to mainly target German American involvement in the Ku Klux Klan and Nazi activity in America, but did not. Dies had chastised studio head Jack Warner for making anti-Nazi films in the late 1930s, and Dies Committee member John E. Rankin (a white supremacist from Mississippi) commented,
"After all, the KKK is an old American institution" 
The Hollywood Reporter publisher William R. Wilkerson published his first list of communist sympathizers in the film industry – The Hollywood Ten – comprised of industry filmmakers, directors, and screenwriters, in July 1947. In subsequent months he wrote more columns and added more names of suspected communist supporters to the list. The thrust of his argument was that filmmakers were seeding communist propaganda in American movies.
Forty-three Hollywood film industry executives, actors, writers, and directors were subpoenaed to appear before the HUAC committee, chaired by Parnell Thomas. Richard Nixon was among the other 4 committee members present.
The first witnesses called were HUAC "friendly", beginning with studio heads Louis B. Mayer and Jack Warner, director Sam Wood, writer Ayn Rand, and actor Adolphe Menjou, who voiced his vehement opposition to communism. Actor Robert Taylor named actor-director Howard Da Silva as a suspected communist and said he believed the Communist Party should be outlawed.
SAG (Screen Actors Guild) President Ronald Reagan (married to actress Jane Wyman at the time) stated he was aware of "communist-like tactics" by some SAG union members to change union policy. However, he named no names, and said he didn't think it was out of control, nor could he confirm if those members were in fact communist. Reagan went on to say that he wouldn't like to see any political party banned because of it's ideology, because democracy was strong enough to fight for itself.
Studio head Walt Disney's HUAC testimony was that he suspected some Communist party members had been behind an earlier strike that affected his studio. He was not only more forceful in declaring this as a threat to the industry, he gave specific names of people whom he suspected of being communists – namely, Hollywood union organizer Herbert Sorrell "if he isn't a communist, he sure should be one", business agent Maurice Howard, and animators William Pomerance and David Hilberman. Hilberman had left Disney studios to form the rival animation studio UPA; Disney said of him, 
"I looked into his record and I found that, No. 1, that he had no religion, and No. 2, that he had considerable time at the Moscow Art Theatre Studying art direction, or something."
The general thrust of Walt Disney's testimony was that labour unions and strikes were equivalent to communism, and were therefore un-American.
Other friendly witnesses called by HUAC included actors Robert Montgomery and George Murphy, and screen idol Gary Cooper. In response to being asked
"During the time that you have been in Hollywood [since 1924], have you ever observed any communistic influence in Hollywood or in the motion picture industry?",
Gary Cooper answered "I believe I have noticed some." He went on to explain that he'd turned down some scripts (but refused to name any scripts/writers) where he felt the contet might be "communistic", and that only evidence he had observed of attempts to spread communist ideology had been through "word of mouth" at social gatherings. Cooper described statements he'd heard which he felt were communistic:
"Don't you think the Constitution of the United States is about a 150 years out of date?"
"Perhaps this would be a more efficient government without a Congress."
Cooper went on to say he never took "any of this pinko mouthing very seriously, because I didn't feel it was on the level."  Cooper would later take on the role of the Sheriff in High Noon, an opportunity turned down by staunch anti-communist and pro-McCarthy best friend John Wayne, because of the film's anti-blacklist symbolism.
According to the HUAC hearings records, the witness called most frequently by HUAC was staff investigator Louis J. Russell. Russell was a former FBI special agent from 1937-1944 who had been requested to resign from the FBI; Russell then worked for HUAC from 1944-1953. He investigated Hollywood industry figures for the 1947 hearings, and later, suspected spy Alger Hiss.
In the late 1960s, Louis Russell became a private detective and was hired by Richard Nixon to spy on investigative reporter Jack Anderson. His security firm was linked to the Watergate offices and the Republican National Committee in 1971.
The Hollywood Ten – Dalton Trumbo, Edward Dmytryk, John Howard Lawson, Herbert Biberman, Alvah Bessie, Ring Lardner, Jr., Albert Maltz, Adrian Scott, Samuel Ornitz, and Lester Cole – began testifying before the HUAC Committee on October 27, 1947. When asked if they were or had every been a member of the Communist Party, each of them cited the Fifth Amendment and refused to answer the question.
The Committee for the First Amendment was comprised of industry professionals that included writer-directors John Huston, William Wyler, Billy Wilder, Vincente Minnelli; composer Ira Gershwin; actors Joseph Cotten, Melvyn Douglas, Henry Fonda, John Garfield, Sterling Hayden, Burt Lancaster, Spencer Tracy, Groucho Marx, Burgess Meredith, Edward G. Robinson, Frank Sinatra, Robert Ryan; and actresses Myrna Loy, Lucille Ball, Dorothy Dandridge, Judy Garland, Bette Davis, Katharine Hepburn, Kay Thompson, and others.
On October 26, 1947, several members of the Committee for the First Amendment chartered a plane and flew to Washington to protest the treatment of their industry and The Hollywood Ten, during the HUAC hearings. Among them were Humphrey Bogart, Lauren Bacall, Paul Henreid, Danny Kaye, Marsha Hunt, June Havoc, Evelyn Keyes, Richard Conte, Geraldine Brooks, Jane Wyatt, Gene Kelly, Ira Gershwin, and Sterling Hayden and his wife.
The HUAC hearings wrapped up on October 30th, 1947. The fate of The Hollywood Ten would be determined the following month. Flush with the publicity engendered by these initial hearings, HUAC continued to investigate allegations of communism.
Kukla, Fran & Ollie Classic TV Show Premiere
The children's television show Kukla, Fran and Ollie began airing on Chicago TV station WBKB on October 13, 1947 as Junior Jamboree. The name was changed to Kukla, Fran and Ollie a month later. One of the first TV shows to air, when it began only 350 Chicago homes had television sets; ten years later when it went off the air, it had become a household name across America and Canada.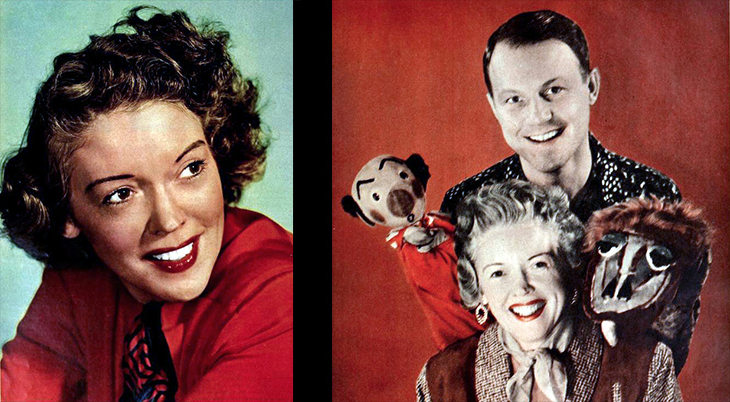 (Fran Allison in 1950, & with puppets Kukla, Ollie, and Puppeteer Burr Tillstrom in 1955)
The cast of Kukla, Fran and Olllie were on live television 5 days a week beginning in October 1947, working from a plot and adlibbing without a script (Broadcasting, 1949). Puppeteer Burr Tillstrom had met comedian-singer-actress Fran Allison while they were doing bond shows on stage during WWII, and remembered her when the series was picked up for television.
Kukla, Fran and Ollie won a Peabody Award in 1949, two Emmy Awards (1954 & 1971), and was TV Radio Mirror's Favorite TV Children's Program for 5 straight years from 1950-1955.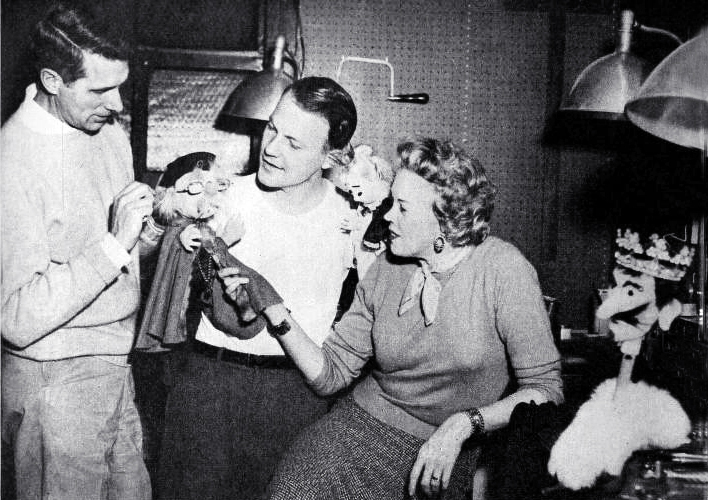 (Assistant Joe Lockwood, Burr Tillstrom, Fran Allison, 1955 Puppet Workshop Photo: TV Radio Mirror)
Below, Fran Allison sits in front with Ollie and Kukla; behind from left, series assistant Joseph Lockwood, pianist Carolyn Gilbert, puppeteer Burr Tillstrom, and producer Beulah Zachary.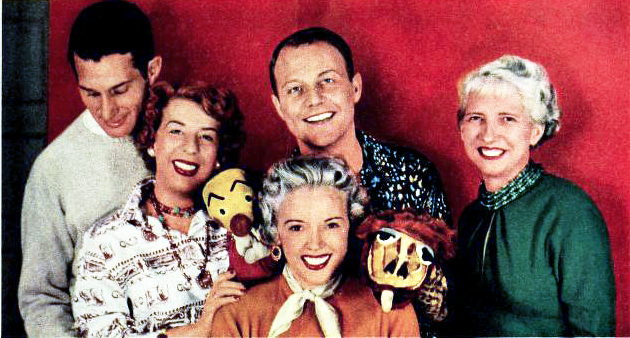 (Kukla, Fran and Ollie Cast and Crew 1955 Photo: TV Radio Mirror)
Kukla, Fran and Ollie's pioneering TV producer Beulah Zachary died in the American Airlines crash of Feb. 4, 1959. 
Fran Allison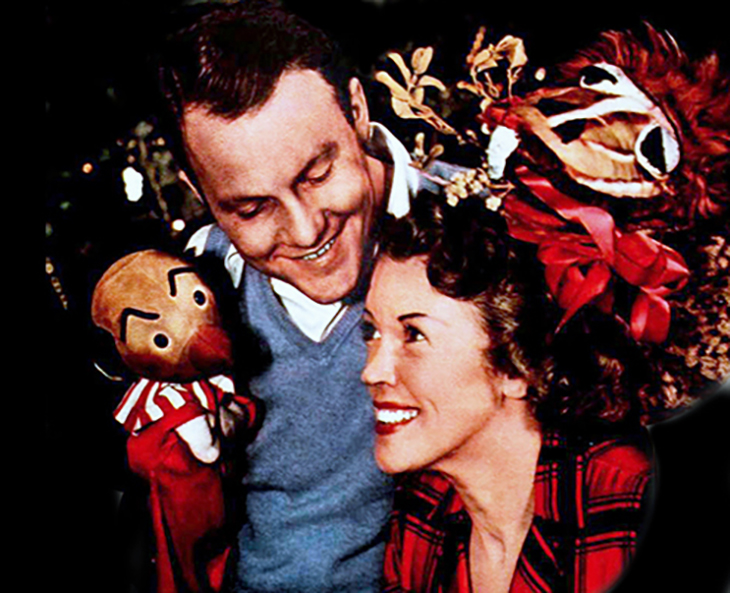 (Fran Allison with Kukla, Ollie & Burr Tillstrom 1951 Photo: Radio Television Mirror)
Radio comedian, recording artist, and actress Fran Allison (nee Frances Helen Allison on Nov. 20, 1907), was the only "live human" character on the series, interacting with puppets Kukla (a boy) and Ollie (Oliver J. Dragon), manned by (mostly) unseen puppeteer Burr Tillstrom.
Allison's husband Archie Levington wrote a column for Radio-TV Mirror in 1952 and summarized her long history as a radio performer – Chicago was the daytime radio serial capital and in 1942, and Fran played many characters on different series. She voiced small-town gossip Aunt Fanny on radio host Don McNeill's Breakfast Club (a role she'd begun in 1937 and continued to do for 25 years); hosted her own series Sunday Dinner at Aunt Fanny's, and sang on Club Matinee.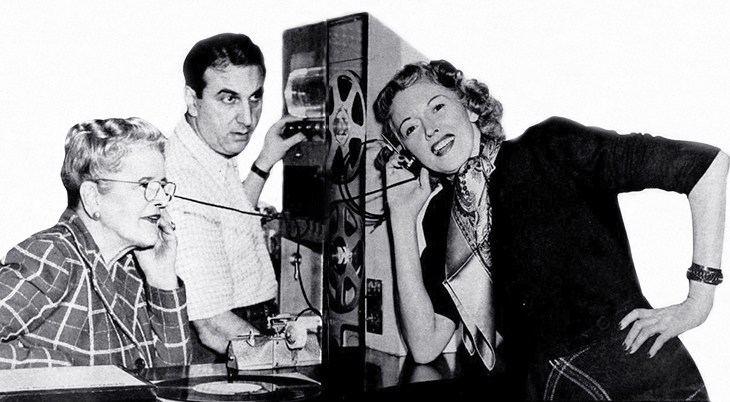 (Anna Allison, Archie Levington & Fran Allison 1952 Photo: Radio TV Mirror)
Archie Levington and Fran Allison co-owned a song publishing company, and when Fran's father died (before the TV show began), her mother moved in with them. Fran Allison was 81 when she died in 1989.
Burr Tillstrom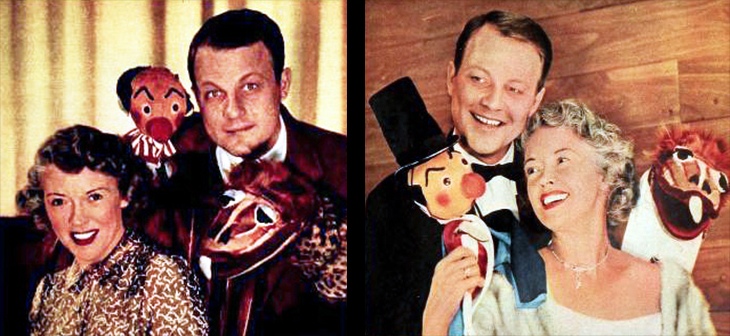 (Kukla, Fran & Ollie with Burr Tillstrom in 1950 and in 1952)
Long before there was Kukla, Fran and Ollie on TV, there was Kukla and the Kuklapolitan Players. Puppeteer Burr Tillstrom had first created the unnamed puppet in 1936 while he was working with a Chicago Park District puppet project. Russian ballerina Tamara Toumanova called the puppet kukla (doll in Russian) and the name stuck. Tillstrom was invited to perform for television demonstrations at the New York World's Fair in 1939 with his "Kuklapolitan Players".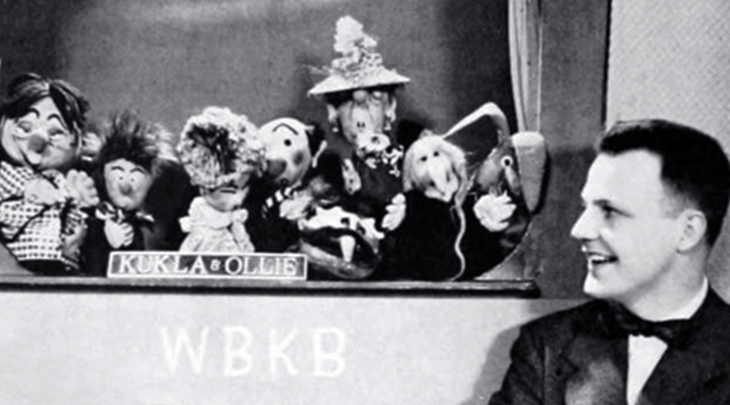 (Burr Tillstrom with the Kuklapolitan Players 1948 Photo: Radio Age)
Tillstrom was the creator, voice, and puppet-master of all the other puppets that appeared occasionally on the TV series – hook-nosed retired opera star Madame Ophelia Oglepuss, Madame's crush Colonel Cracky, (WBKB's director at the time was Captain William Crawford Eddy, and a Colonel was opening a rival TV station), dumb bunny mailman Fletcher Rabbit, Ollie's cousin Dolores Dragon, motherly Mrs. Buff-Orpington, stagehand Cecil Bill (named for the series station manager Bill Ryan), Mercedes, North Pole resident and former coo-coo clock performer Madam Clara Coo Coo, and Buelah Witch (in honor of the show's producer Beulah Zachary), among others.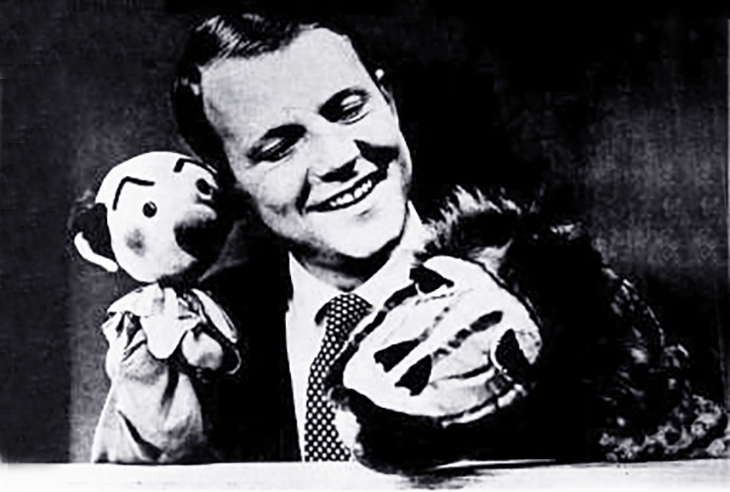 (Burr Tillstrom, Kukla and Ollie 1954 Photo: Radio TV Mirror)
Radio Age described Tillstrom's talents: 
"Burr goes backstage and becomes the busiest man in television. In addition to being the puppeteer, he watches the show on a television receiver, notes time, switches characters and voices with lightning speed. Hundreds of props are stored within his convenient reach. Agile, adept, and versatile, Tillstrom has gained a reputation as the nation's top puppeteer from these superlative performances."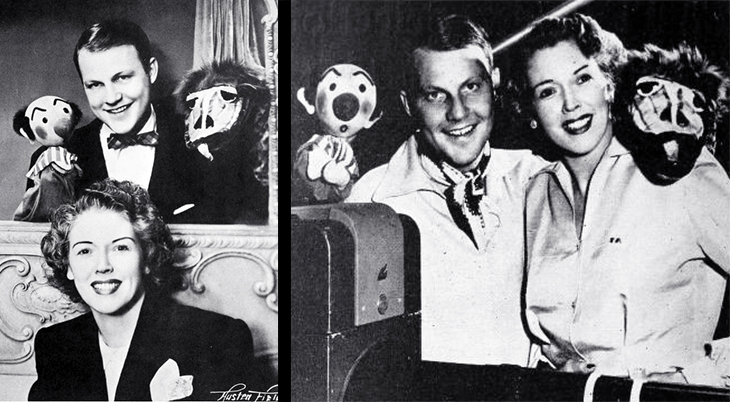 (Kukla, Fran and Ollie with Burr Tillstrom 1950 Photo: AFRA Antics)
Tillstrom was seen live on air only a few times during the Kukla, Fran and Ollie series run. 
Although the original Kukla, Fran and Ollie TV series went off the air in 1957, puppeteer Burr Tillstrom continued to appear with his puppets in shorts on NBC and on Broadway.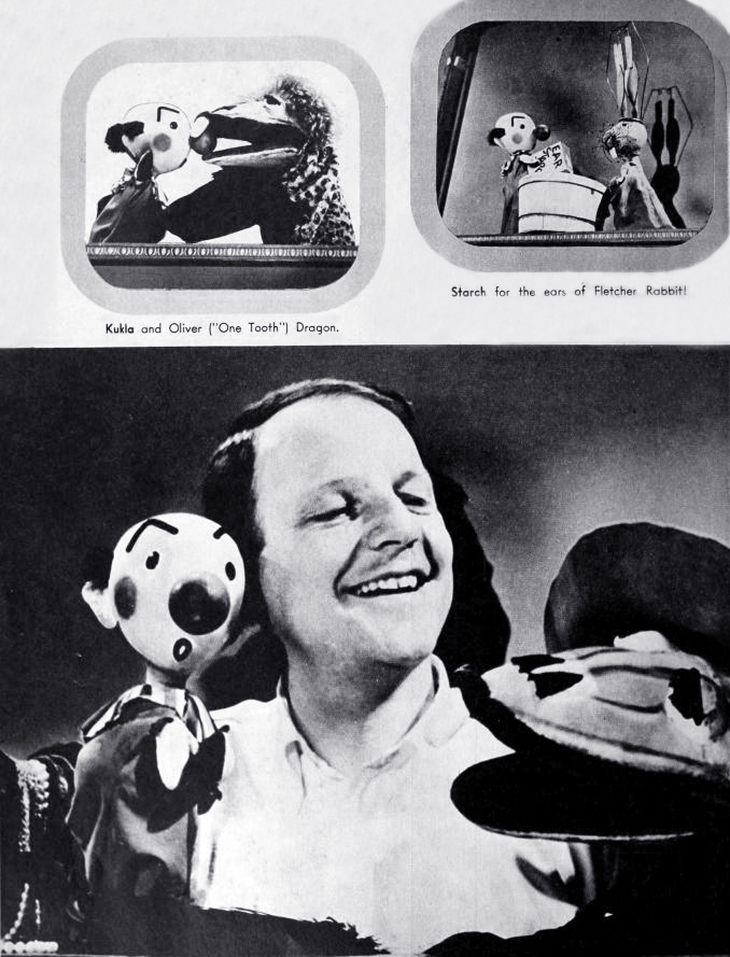 (Burr Tillstrom's Kukla and Ollie 1961 Radio TV Mirror)
In the early 1960s, the new series Burr Tillstrom's Kukla and Ollie found a place on network TV. In an interview with Radio TV Mirror that year, Tillstrom (then in his 40s) talked about living with his parents, his brother Dick, and remarked that he had wanted to become a teacher before going into puppeteering. He commented, 
"Things I was then too young and ignorant to dare say for myself, Kukla said for me."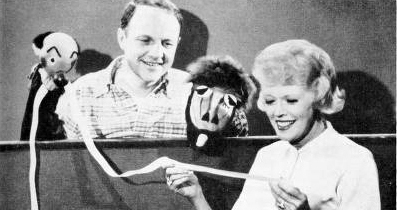 (Burr Tillstrom, Kukla & Ollie, with Fran Allison 1964 Photo: Sponsor)
Burr Tillstrom was a mentor other puppeteers (Jim Henson, Shari Lewis), and was inducted into the Television Academy Hall of Fame for his contributions to TV in 1986.
*Images are believed to be in the public domain and/or Creative Commons licensed (Flickr, YouTube, Wikimedia, Vimeo) or used by permission, unle