TV Trivia: The Bob Newhart Show
Q1. Comedian Bob Newhart played psychologist and straight man Dr. Bob Hartley on the 1972-1978 sit-com The Bob Newhart Show. He starred in two other TV's shows (1961-62 & 1982-1990). What were they called?
Q2. Which recurring guest star on The Bob Newhart Show married actress Suzanne Pleshette (she played Bob's wife Emily) in 2001, 23 years after the show ended?
(The Bob Newhart Show Cast 1977 Photo: CBS Television)
Clockwise from top left: Actors Bill Daily (Howard Borden), Marcia Wallace (Carol Kester), Peter Bonerz (Jerry Robinson), Suzanne Pleshette (Emily Hartley) & Bob Newhart (Bob Hartley).
Baby boomers and seniors will recall the other regulars from The Bob Newhart Show – Bob & Emily's neighbour, pilot Howard Borden (played by Bill Daily); orthodontist Jerry Robinson (Peter Bonerz); and receptionist Carol Kester, played by Marcia Wallace. Sadly, Marcia Wallace passed away in 2013 at age 70.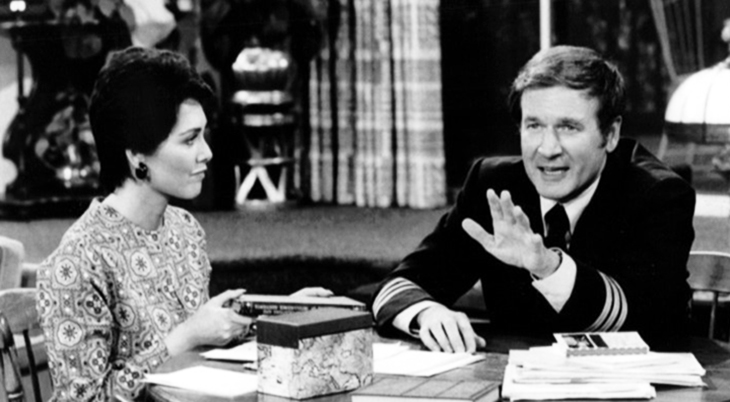 (Suzanne Pleshette & Bill Daily 1973 The Bob New Hart Show Photo: CBS)
It's a toss-up as to whether dedicated television fans will remember Bill Daily best for his turn as Howard Borden on The Bob Newhart Show (140 episodes), or as Major Roger Healey on that earlier, equally popular sitcom I Dream of Jeannie (131 episodes). His long acting career was spent mostly on television screens, although he did some stand up comedy as well. Bill Daily left us in 2018 at the age of 91. 
Beginning in the mid-1970s through the 2000s, Peter Bonerz worked primarily behind the cameras as a television director. Bonerz even directed 29 episodes of The Bob Newhart Show between 1974-1978, and Pleshette's later series Suzanne Pleshette is Maggie Briggs (1984). He directed many episodes of Foley Square, Alf, My Sister Sam, Wings, Friends, and Home Improvement, but may be best known for his talents in this area for the 93 episodes he directed of Murphy Brown (1991-1998).
Peter Bonerz didn't give up acting either, appearing as Franklin HArt on the TV sitcom Nine to Five with Dolly Parton (1982-1983), and was a regular on the Dyan Cannon sitcom Three Sisters (2001-2002).
Between the series regulars and recurring guest stars such as Jack Riley (he played neurotic Elliot Carlin for 76 episodes), characters from The Bob Newhart Show appeared on 8 other subsequent tv shows in the 80′, including Alf, St. Elsewhere, Newhart, Murphy Brown, and Saturday Night Live.
In The Bob Newhart Show's final episode, Bob & Emily move to Oregon because Bob has accepted a teaching position there. In the final episode of the 1980's series Newhart (starring Bob Newhart as Vermont inn owner and author Dick Louden), Bob wakes up from a dream next to Suzanne Pleshette in the bedroom set of The Bob Newhart Show – and viewers realize that the entire Newhart series had been Bob's dream.
A1. The networks weren't very original; Bob Newhart's 1961-62 variety show was called The Bob Newhart Show; and the 1982-1990 sit-com was titled Newhart.
A2. Actor Tom Poston played Bob's college roommate and friend from Vermont, Cliff Murdock; in reality, Poston was in fact a long-time friend of Bob Newhart (he also starred with him on Newhart). In the late 1950's, while Tom was married to his first wife, he co-starred with Pleshette in a play on Broadway, and they had a brief affair which ended in 1959.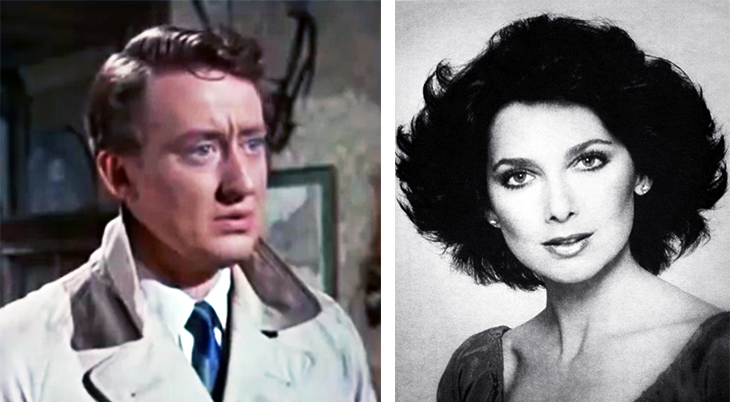 (Tom Poston 1963 The Old Dark House Trailer | Suzanne Pleshette 1978 Photo: UPI)
Tom Poston was 80 and Suzanne Pleshette was 64 when they finally married in 2001 (his 4th marriage and her 3rd). Sadly both of them are now gone; Poston died in in 2007 and Pleshette in 2008.
Note: This article was first published on April 15, 2015. It has been updated with new / additional content.
*Images are public domain or Creative Commons licensed & sourced via Wikimedia Commons or Flickr, unless otherwise noted*