February 16th Birthdays
If you were born on February 16th you share a birthday with these famous people: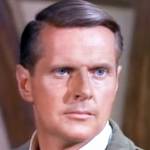 David Frankham is 93
Nonagenarian British BBC news producer, actor of TV (The F.B.I.; Matinee Theatre; Thriller; Gomer Pyle: USMC; Dr. Kildare; Alfred Hitchcock Presents; The Beverly Hillbillies; The Bold and the Beautiful) and movies (Return of the Fly; Ten Who Dared), born February 16, 1926. (David Frankham 1966 12 O'Clock High)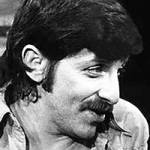 Barry Primus is 81
American director, screenwriter, actor of stage, TV (Cagney & Lacey), movies (Puzzle of a Downfall Child; New York, New York; The Rose; Boxcar Bertha; Avalanche; Absence of Malice; Denial; Big Business), and senior born February 16, 1938. (Barry Primus 1976 Photo: Kramer-Jos. Abeles Studio)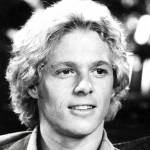 William Katt is 68
American senior, actor of movies (Carrie; First Love; Big Wednesday; Piranha; Butch and Sundance: The Early Days; Baby: Secret of the Lost Legend; Daddy's Girl; Descendant; Desperate Motive) and TV (The Greatest American Hero; Perry Mason TV movies), born February 16, 1951. (William Katt 1977 Photo: UPI)
Hunt Block is 65
Sixty-plus American actor of stage, TV (Peter Hollister on Knots Landing; Ben Warren on Guiding Light; Lee Ramsey on One Life to Live; Craig Montgomery on As the World Turns; The First Olympics: Athens 1896) and movies (Salt; My Best Dayl Waitress!), born February 16, 1955.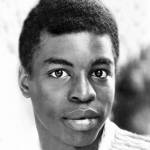 LeVar Burton is 62 (nee Levardis Robert Martyn Burton Jr.)

Emmy Award-winning 60+ American producer, director, host & actor of TV (Roots; Reading Rainbow; Star Trek: The Next Generation; Perception) and movies (Star Trek: Generations; Looking for Mr. Goodbar; Star Trek: First Contact), born February 16, 1957. (LeVar Burton 1978 Photo: PBS)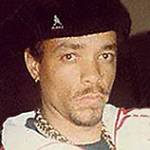 Ice-T is 61 (nee Tracy Lauren Marrow)
American 60+ actor of TV (Odafin Tutuola on Law & Order: Special Victims Unit), movies (The Wrecking Crew; Breakin'; New Jack City; Tank Girl; Johnny Mnemonic), hip-hop & rap producer, songwriter & singer (Colors; O.G. Original Gangster), born February 16, 1958. (Ice-T 1992 Photo: Diamondthadimepiece)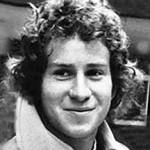 John McEnroe is 60 (nee John Patrick McEnroe Jr.)
American retired 55+ professional tennis player, 17 Grand Slam singles, doubles, & mixed doubles wins (1979-1992), 3-time ITF World Champion, TV host & tennis analyst (Breakfast at Wimbledon), born February 16, 1959. (John McEnroe 1979 Photo: Colgate Grand Prix Masters)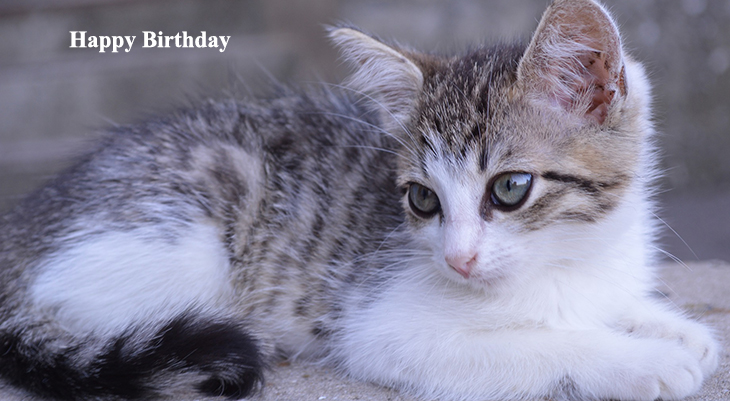 (Photo: Pixabay)
Happy Birthday to everyone celebrating their birthday on February 16th!
And remembering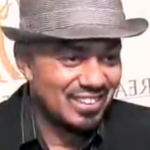 James Ingram
Grammy Award-winning American producer, musician, and singer-songwriter (Somewhere Out There; The Day I Fall in Love; Yah Mo B There; I Don't Have the Heart; Baby, Come to Me) (born Feb. 16, 1952 - died Jan. 29, 2019; age 66). James Ingram died of brain cancer. (James Ingram * Dream Believe Achieve Inspiration Gala 2008 Screenshot: RealTVfilms)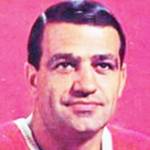 Bernie Geoffrion (nee Joseph Bernard André Geoffrion; "Boom Boom")
Canadian Hockey Hall of Fame NHL forward (Montreal Canadiens; New York Rangers) known for his slapshot, 1952 Calder Memorial Trophy, 1955 Art Ross Trophy, and 1961 Hart Memorial Trophy winner (born Feb. 16, 1931 - died Mar. 11, 2006; age 75). Bernie Geoffrion died of stomach cancer. (Boom Boom Geoffrion c 1963-1964 Chex Cereal Photo)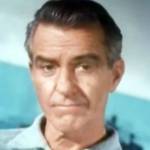 Hugh Beaumont (nee Eugene Hugh Beaumont)
American director and actor of TV (Ward Cleaver on Leave it to Beaver; Racket Squad narrator) and movies (Michael Shayne in Murder is My Business, The Blue Dahlia & other Mike Shayne films; The Racket Man; The Lady Confesses; Hell's Horizon) (born Feb. 16, 1909 - died May 14, 1982; age 73). Hugh Beaumont died of a heart attack. (Hugh Beaumont 1966 Lassie Screenshot)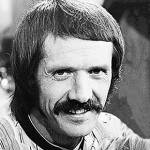 Sonny Bono (nee Salvatore Phillip Bono)
American singer-songwriter solo & with wife Cher (I Got You Babe; The Beat Goes On), actor of movies & TV (The Sonny and Cher Show), Palm Springs Mayor (1988-1992), & U.S. House of Representatives Member (1995-1998) (born Feb. 16, 1935 – died Jan. 5, 1998; age 62). Sonny Bono died in a skiing accident. (Sonny Bono 1974 Photo: CBS TV)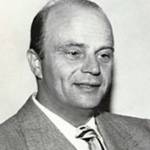 Edgar Bergen (nee Edgar John Berggren)
American comedian, ventriloquist (Charlie McCarthy, Mortimer Snerd) & actor of stage, radio (The Chase and Sanborn Hour; The Charlie McCarthy Show), TV, and movies (Charlie McCarthy, Detective; I Remember Mama; Rogue's Gallery) (born Feb. 16, 1903 - died Sept. 30, 1978; age 75). Edgar Bergen died of kidney disease. (Edgar Bergen 1947 Photo: NBC Radio)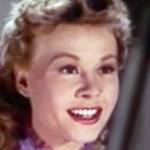 Vera-Ellen (nee Vera-Ellen Westmeier Rohe)

American dancer and actress of Broadway stages, TV, and movies (White Christmas; Wonder Man; Carnival in Costa Rica; Words and Music; Love Happy; On the Town; Three Little Words; The Belle of New York; Call Me Madam; Big Leaguer, Let's Be Happy) (born Feb. 16, 1921 - died Aug. 30, 1981; age 60). Vera-Ellen died of cancer. (Vera-Ellen 1951 Happy Go Lovely Screenshot)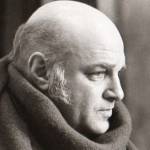 John Schlesinger
English actor and Academy Award-winning movie director (Midnight Cowboy; Darling; Sunday Bloody Sunday; Marathon Man; Yanks; Pacific Heights; The Falcon and the Snowman) (born Feb. 16, 1926 - died July 25, 2003; age 77). John Schlesinger never fully recovered from a stroke 3 years before his death. (John Schlesinger c. 1971 Sunday Bloody Sunday Photo: United Artists)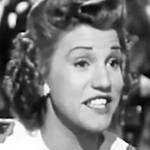 Patty Andrews (nee Patricia Marie Andrews)
American swing, jump blues, R & B singer with sisters LaVerne and Maxene, as the Andrews Sisters big band trio (Boogie Woogie Bugle Boy; Don't Sit Under the Apple Tree; Beer Barrel Polka; Beat Me Daddy, Eight to the Bar; Rum and Coca Cola) (born Feb. 16, 1918 - died Jan. 30, 2013; age 94). Patty Andrews died of natural causes. (Patty Andrews 1942 Private Buckaroo Screenshot)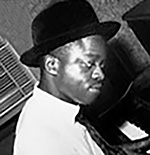 Otis Blackwell (aka John Davenport)
American Songwriters and Rock & Roll Hall of Fame pianist, singer, and R&B songwriter (Fever; Great Balls of Fire; Breathless; Don't Be Cruel; All Shook Up; Return to Sender; You're The Apple of My Eye; Hey Little Girl) (born Feb. 16, 1931 - died May 6, 2002; age 71). Otis Blackwell died of heart attack. (Otis Blackwell Photo: Estuardo Lomas)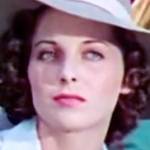 Faith Brook
English actress of stage, TV (Claudia; Angels; War & Peace; The Two Mrs. Grenvilles) and movies (Uneasy Terms; Violent Stranger; Eye of the Needle; The Sea Wolves; The 39 Steps; To Sir, with Love; Finger of Guilt; Wicked as They Come; Walk a Crooked Path) (born Feb. 16, 1922 - died Mar. 11, 2013; age 90). Cause of death for Faith Brook is unknown. (Faith Brook 1942 The Jungle Book)
Jill Kinmont Boothe
Paralysed American former national slalom downhill skier, teacher and painter, inspiration for the movies The Other Side of the Mountain (1975) and The Other Side of The Mountain Part 2 (1978) (born Feb. 16, 1936 - died Feb. 9, 2012; age 75). Cause of death for Jill Kinmont was not given.
*Images are public domain or Creative Commons licensed & sourced via Wikimedia Commons, Flickr or Vimeo, unless otherwise noted*