Boomer TV Trivia: Barnaby Jones
Q1. During the 7 years (from 1973-1980) that the mystery television series Barnaby Jones was on the air, star Buddy Ebsen's real-life daughter Bonnie Ebsen appeared on the show 6 times. What character did she play?
Q2. Since Barnaby was an older man/senior citizen during the series, Barnaby Jones wasn't an action-oriented show. Where and how did Barnaby come up with the vital clues that ended up solving many of his cases?
In the pilot episode of Barnaby Jones titled Requiem For a Son, retired private investigator Barnaby Jones' (actor Buddy Ebsen) detective son Hal is killed while working on a murder case. Barnaby comes out of retirement and works with Hal's widow Betty Jones (actress Lee Meriwether) to track down his son's murderer. This first episode of Barnaby Jones featured guest star William Conrad as Frank Cannon in a crossover from Conrad's series Cannon; both Cannon and Barnaby Jones were Quinn-Martin Productions and they would both have more crossover episodes during their runs. Barnaby Jones was cancelled in 1980 due to low ratings and Buddy Ebsen's desire to move on.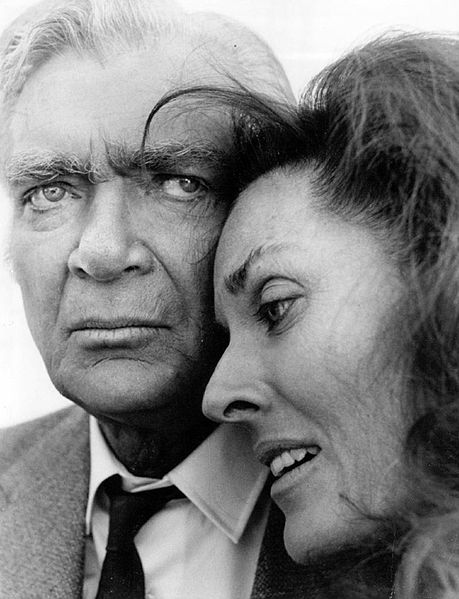 Buddy Ebsen and Lee Meriwether in Barnaby Jones. (Photo: CBS Television)
Buddy Ebsen was already beloved by TV-watching baby boomers, their parents, and seniors before Barnaby Jones started. Prior to Barnaby Jones, Buddy Ebsen was known for his previous starring roles as patriarch Jed Clampett in the long-running The Beverly Hillbillies 1962-1971, and as Hunk Mariner in the western adventure series Northwest Passage from 1958-1959.
Ebsen was a frequent guest star on many of the most popular television series during the 1950's and 1960's, appearing more than once on Walt Disney's Wonderful World of Color in the Davy Crockett series as the character of George Russell; and as different characters in Maverick, Gunsmoke, Bonanza, Alias Smith and Jones, and others. 
64-year-old Buddy Ebsen was on the cusp of becoming a senior citizen himself when Barnaby Jones started, and in the book Quinn Martin, Producer (2003), stories are told of Ebsen falling asleep frequently between takes during the long days on set. After Barnaby Jones went off the air in 1980, septuagenarian senior citizen Buddy Ebsen continued to act in feature films and on television. Ebsen was a regular in the last season of the TV series Matt Houston, starring Lee Horsley, as Matt's uncle Roy Houston. 95-year-old nonagenarian senior citizen Buddy Ebsen died in 2003 at the age of 95 and was survived by his wife Dorothy and six children. 
Ebsen and his co-stars, actress Lee Meriwether, and Mark Shera (nee Shapiro), who joined the series in the 5th season in 1976 as Barnaby's distant cousin J. R. Jones, reportedly were on great terms during and after their time on Barnaby Jones. Actor Mark Shera was also a familiar face to baby boomers, having previously been a regular as Officer Dominic Luca on the TV series S.W.A.T. before joining Barnaby Jones.
Mark Shera's now a senior citizen himself, and his last on-screen appearance was in an episode of Taken in 2002. His LinkedIn profile says he been doing voice acting and working behind the scenes as ADR Loop Group Coordinator (voiceovers in movies and television) for the past 21 years.
A1. Bonnie Ebsen appeared in 6 different episodes of Barnaby Jones between 1974-1980, each time playing a different character. She now goes by the name Bonnie Ebsen-Jackson and lives in Arizona, working with horses, coaching, and writing.
A2. Barnaby Jones would often conduct experiments in his crime lab, that ended up producing the key to solving the crime.
*Images are public domain or Creative Commons licensed & sourced via Wikimedia Commons, Vimeo, YouTube, or Flickr, unless otherwise noted*