Celebrating Seniors - Phil Collins is 65 pt1of2
Phil Collins – Part One: The Genesis of it All (1951-1985)
Including 4 vintage Phil Collins songs – In The Air Tonight, You Can't Hurry Love, Against All Odds, One More Night
New senior citizen and singer-songwriter, musician,  producer, actor & author Phil (Philip David Charles) Collins was born January 30, 1951 in Chiswick, England. A self-taught drummer starting at age 5, baby boomer Collins was inspired by drummers like Ringo Starr (The Beatles) and Buddy Rich (Buddy Rich Big Band).
Phil's mother enrolled him in the Barbara Speake Stage School as a child, and his early success in acting with major roles on stage – at age 13, he was the Artful Dodger in the London Oliver! production – and smaller parts in movies such as an extra in A Hard Day's Night (1964) starring The Beatles might have derailed his career in music, but his love of music won out.
In an interview with Western Daily Press in 2011, actress Andrea Bertorelli described first meeting Phil Collins at the Barbara Speake Stage School when they were both 11 years old. Collins and Andrea were dating by age 18, but broke up when her parents moved with her to Canada.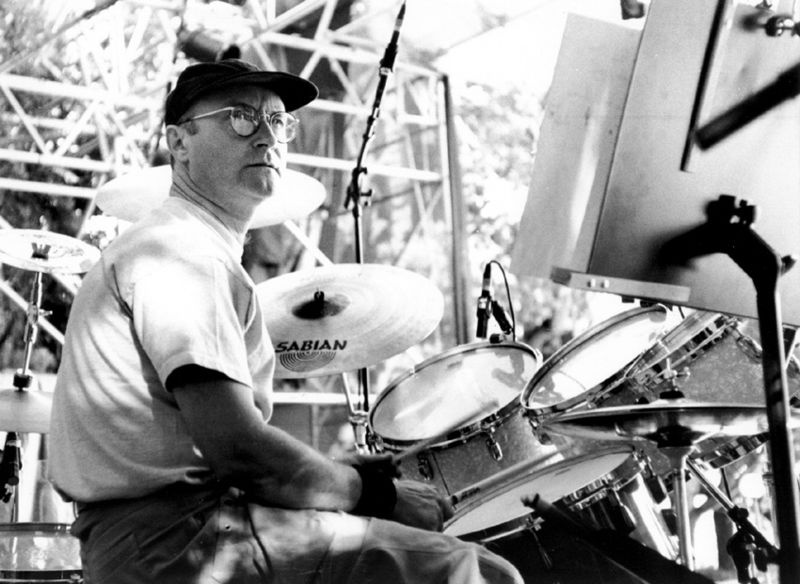 (Phil Collins 1996 Photo: SongLyrics | Flickr SRR | Public Domain)
Phil Collins had a brief stint with his first professionally-signed band Flaming Youth in 1969, but the group flamed out after their album and tour. By August 1970, 19-year-old Phil Collins had successfully auditioned for the rock band Genesis, replacing departing Genesis drummer John Mayhew. When Genesis lead singer Peter Gabriel left the band in 1975, Phil Collins became the new lead singer, as well as the drummer. From 1975 until he left Genesis in early 1996, in between breaks to record & touring to promote solo albums and pursue other projects, Phil Collins and Genesis also continued to record and tour.
When Genesis toured in Canada and played Vancouver, Collins and Andrea Bertorelli reunited. By this time Andrea had a young daughter – Joely – whom Collins adopted when they got married in 1975 at age 24. Their son Simon Collins (now a Canadian drummer and lead vocalist like his dad, for Sound Contact) was born in September 1976. According to Andrea, the couple had begun having problems the year before when Collins became lead vocalist for Genesis, and intensified when he left her alone at their Surrey, England home to go on tour shortly after Simon's birth. Lonely Andrea somewhat infamously had a brief affair with a friend of the man decorating their house, and says she told Collins when he returned. Despite attempts to reconcile and a hiatus on touring for Genesis while Collins moved to Vancouver where Andrea was now living with their two children, the marriage never recovered and Phil Collins returned to England in 1979. Their divorce was finalized in 1980.
A younger Phil Collins, below in the 1980's at the Comedy Store with comedian Sam Kinison and musical pal Eric Clapton.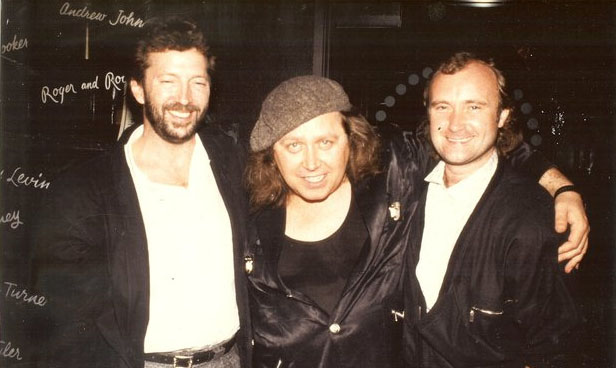 (Photo: The World Famous Comedy Store | Flickr Some rights reserved)
Phil Collins turned his depression over the failure of his marriage to Andrea into a musical triumph for his solo career. Lyrics based on his heartbreak informed the songs on his solo albums Face Value (1981) and Hello, I Must Be Going (1982). His hit song In The Air Tonight and I Missed Again from the Face Value album, both made it to #19 on the Billboard Hot 100 in the US.
Below, Phil Collins performing his signature song In The Air Tonight (1981) in the official music video.
You Can't Hurry Love (1982) on the Hello, I  Must Be Going Album (1982), made it to #10 (#1 in the UK); I Don't Care Anymore (1983) made it to #39. Below, Phil Collins singing You Can't Hurry Love live in the official music video for the song, in 1982.
Meanwhile, Phil Collins had met American Jill Tavelman in 1980 after a Genesis concert in Los Angeles, and they married in 1984. The movie Against All Odds (1984) soundtrack that year included the title song as written and recorded by Phil Collins. Against All Odds (1984) was a #1 US hit and won Collins the Grammy Award for Best Pop Vocal Performance, Male. Below, Phil Collins performing Against All Odds live in the official music video:
1985 will go down in history as Phil Collin's most successful year professionally. His Easy Lover (1985) duet with Philip Bailey was a #2 US chart hit.
Collins' solo album No Jacket Required (1985) was a #1 album on the US charts and produced two #1 US hit singles – Sussudio, and One More Night, before going on to win Album of the Year at the Grammy Awards. Below, the official music video for One More Night, by Phil Collins.
That same year, the movie White Nights (1985) soundtrack album included his duet with Marilyn Martin, Separate Lives, which was also a #1 US hit that year.
Next: Phil Collins – Part Two: Another Day in Paradise (1986-2016)