Done in January 1951
Baby Boomer Trivia From January 1951: Tennessee Waltz #1 Hit, Storm Warning Premieres, Extinct Cahow Discovered

American singer Patti Page's hit single Tennessee Waltz went to #1 for the first time the week of January 1, 1951. Tennessee Waltz lyrics were written by Redd Stewart, with music by Pee Wee King, in 1948. When Patti Page recorded it in 1950 and released it, it became a multi-million seller. Although numerous other artists have recorded the Tennessee Waltz, it remains the signature song for Patti Page. 
Patti Page was born Clara Ann Fowler on Nov. 8, 1927 in Claremore, Oklahoma. By age 18 she was singing on the radio in Tulsa, Oklahoma, sponsored by the Page Milk Company, which contributed to her new professional name of Patti Page. Page toured and sang with different bands including Benny Goodman, and recorded singles during the late 1940's. She married Jack Skiba in May 1948, but divorced in 1949. Her first #1 hit single was All My Love (Bolero), written by Paul Durand and released in August 1950, followed by the Tennessee Waltz.
Right, the beautiful singer Patti Page circa 1940's-1950's. (Photo: Pinterest)
Patti Page would go on to marry two more times, and accumulate a total of 110 hit singles (4 of which reached #1 on Billboard between 1950-1953). Page was an 85-year-old octogenarian when she died in January 2013.
The thriller Storm Warning was released on January 17, 1951. Starring Ginger Rogers, Ronald Reagan, Doris Day, and Steve Cochran, Storm Warning tackled the topic id KKK mob violence and murder in small-town America. Ronald Reagan plays D.A. Burt Rainey, who investigates the case; Ginger Rogers is model Marsha Mitchell who witnesses the murder; Doris Day is her sister Lucy Rice, married to Steve Cochran as Hank Rice.  
Actress Lauren Bacall was suspended by Warner Bros. when she refused to played the lead role of Marsha in Storm Warning. 
On January 28, 1951, the first Pterodroma Cahow (Bermuda Petrel) was re-discovered. Thought to have been extinct for 330 years (since 19621), the Cahow was discovered near Western Bermuda.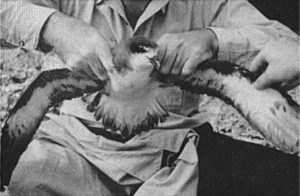 An expedition composed of American ornithologist Robert Cushman Murphy, his wife, Bermudian naturalist Louis S. Mowbray, and 15-year-old Bermudian ornithologist David Wingate discovered 18 pairs of nesting birds in narrow tunnels. Excerpts from the ornithological journal The Auk Vol. 68 by authors R. C. Murphy and L. S. Mowbray: 
"Incubating Cahow, extracted from the first nest discovered, January 28, 1951." (Photo: R. C. Murphy)
"The period of field work extended from January 25 to February 10…The first proof of Cahows in residence was found on January 28, 1951…We scrambled ashore in the forenoon, accompanied by a youthful Bermudian ornithologist, David B. Wingate."
David Wingate would go on to complete university and other work while remaining focused on saving the Cahow from extinction (again). David Wingate became Bermuda's first conservation officer in 1966, and retired in 2000. As of 2016 there are now approximately 300 Bermuda Petrels in existence, making it one of the rarest birds in the world.
More "Done in 1951":