Done in January 1951
Baby Boomer Trivia From January 1951: Patti Page's Tennessee Waltz is #1, Classic film-noir Storm Warning premieres, and the previously thought extinct Cahow is discovered.

Patti Page has the #1 Hit with Tennessee Waltz
American singer Patti Page's hit single Tennessee Waltz went to #1 for the first time the week of January 1, 1951. Tennessee Waltz lyrics were written by Redd Stewart, with music by Pee Wee King, in 1948.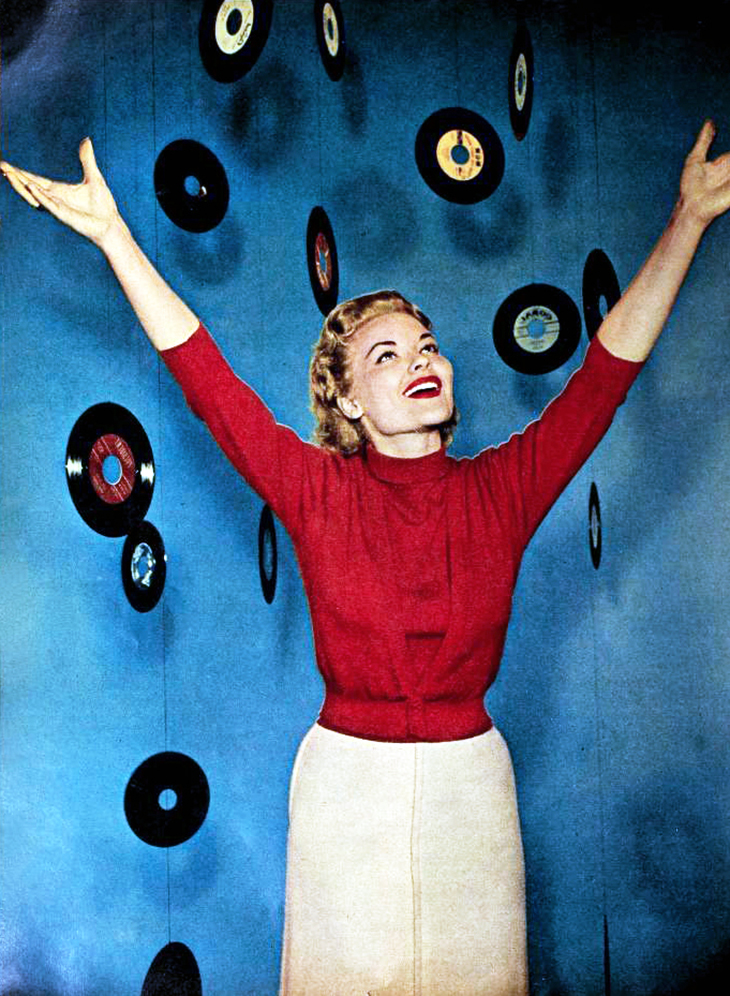 (Patti Page 1957 Photo: Radio TV-Mirror)
When Patti Page recorded Tennessee Waltz in 1950 and released it, it became a multi-million seller in 1951. Although numerous other artists have recorded the Tennessee Waltz, it remained Page's signature song. 
Patti Page (nee Clara Ann Fowler) was born on November 8, 1927 in Claremore, Oklahoma. By age 18 she was singing on the radio in Tulsa, Oklahoma, sponsored by the Page Milk Company, which contributed to her new professional name of Patti Page.
Page toured and sang with different bands including Benny Goodman, and recorded singles during the late 1940's. She married Jack Skiba in May 1948, but they divorced in 1949.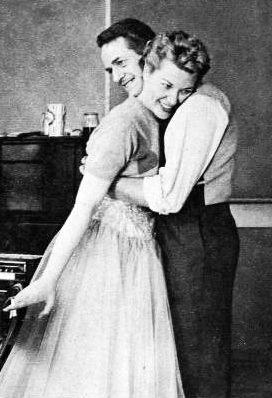 (Patti Page & Charles O'Curran 1959 Photo: Screenland Plus TV-Land)
Her first #1 hit single was All My Love (Bolero), written by Paul Durand and released in August 1950, followed by the Tennessee Waltz. In 1952, she was at the top of the carts again with I Went to Your Wedding, and again the next year with (How Much is That) Doggie in the Window.
Patti Page married her choreographer-manager Charles O'Curran (ex-husband of Betty Hutton) at the Las Vegas home of Wilbur Clark, owner of Desert Inn, on December 28, 1956.
They adopted two children before divorcing in 1972. She married again in 1990.
Page had heart and lung disease when she died in January 2013 at the age of 85, leaving behind a song legacy of 110 hit singles.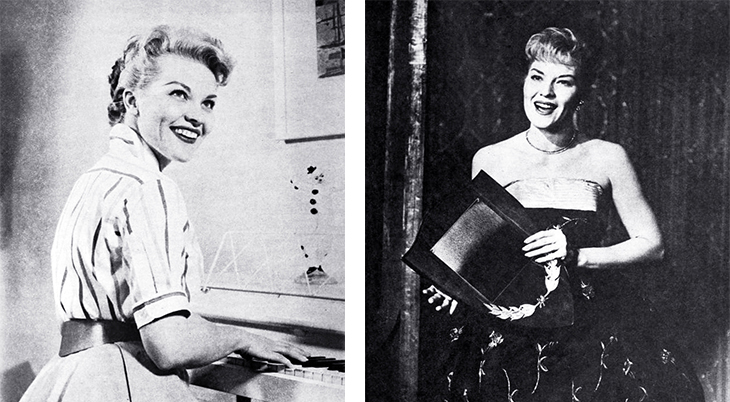 (Patti Page 1959 & 1958 Photos: Screenland Plus TV-Land)
Classic Film-Noir Movie – Storm Warning
The film-noir thriller Storm Warning premiered on January 17, 1951, in Miami Beach, Florida. Starring Ginger Rogers, Ronald Reagan, Doris Day, and Steve Cochran, Storm Warning was a rare non-musical film for both leading ladies Doris Day and Ginger Rogers, who play sisters in the film.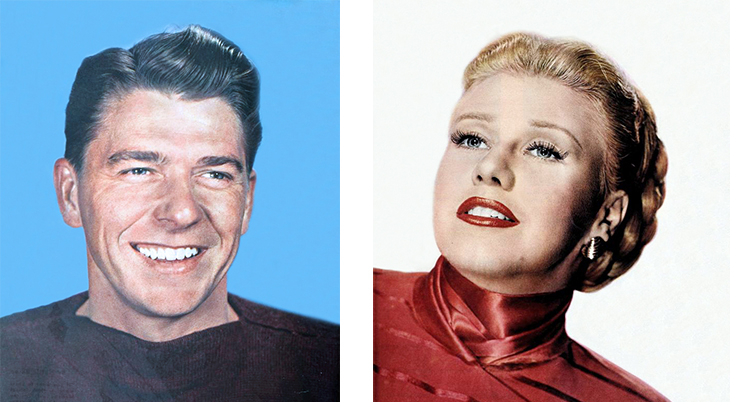 (Ronald Reagan 1946 & Ginger Rogers 1949 Photos: Screenland / Photoplay)
Storm Warning tackled the topic of KKK mob violence and murder in small-town America. Ronald Reagan plays D.A. Burt Rainey, who investigates the case. Ginger Rogers is traveling model Marsha Mitchell, who witnesses a KKK mob murder when she stops in the town of Rock Point to see her sister Lucy (Doris Day).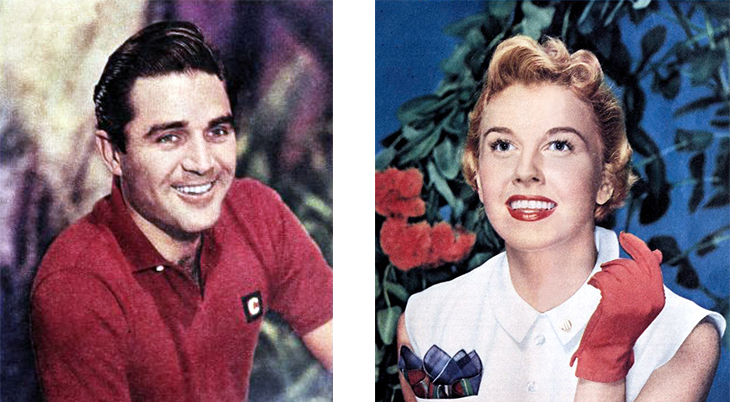 (Steve Cochran 1952 & Doris Day 1951 Photos: Photoplay)
Lucy (Doris Day) has recently married Hank Rice (Steve Cochran), and when Lucy takes Marsha to home and introduces her to Hank, Marsha instantly recognizes him from the mob. The fear of hurting her sister, threats, and violence ,almost succeed in getting Marsha to leave town immediately, but D.A. Rainey forces her to testify.
Storm Warning co-stars Ginger Rogers and Steve Cochran first met while filming the movie in 1950. At the time, Rogers was in a relationship with Greg Bautzer and refused Cochran's request for a date. Fast forward several months and Rogers had broken up with Bautzer; after she met Cochran again at the Storm Warning January 1951 premiere, they began dating, according to a Photoplay interview by Louella Parsons.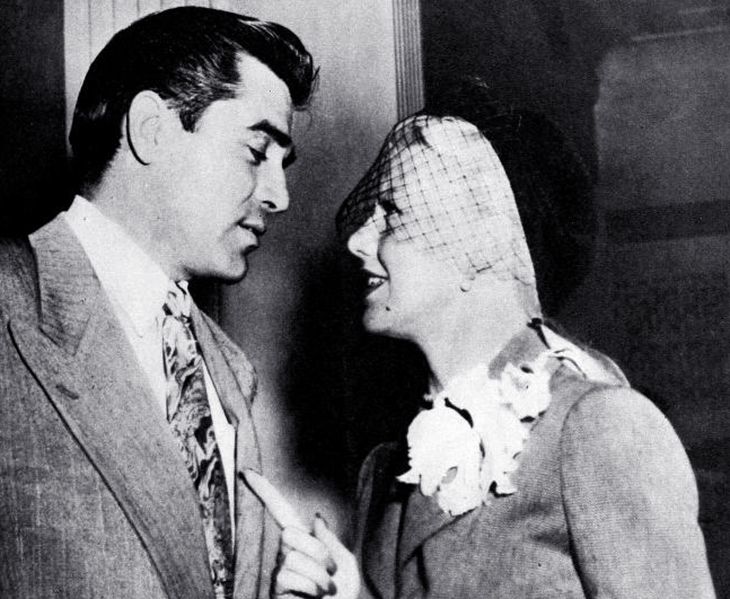 (Steve Cochran & Ginger Rogers 1951 Photo: Photoplay)
Storm Warning's producer Jerry Wald worked with director Stuart Heisler, screenplay writers Daniel Fuchs and Richard Brooks, and veteran cinematographer Carl E. Guthrie. Brothers Frank and Perc Westmore (of the famous Hollywood make-up artist Westmore family) and composer Max Steiner, contributed their talents to Storm Warning. Filming took place at Studio City, the Warner Brothers Burbank Studios, and on location in Corona, California (standing in for Rock Point).
Also in the cast of Storm Warning are Hugh Sanders, Lloyd Gough, and Ned Glass. Prolific character actors Ross Elliott, Gene Evans, Paul Panzer, Dabbs Greer and Richard Anderson all have uncredited roles in the film.
Actress Lauren Bacall was suspended by Warner Bros. when she refused to played the role of Marsha, a smart move on her part. The film didn't resonate with film critics or fans at the time, and not much has changed in the decades since then, except now Storm Warning appears very dated. I recommend giving it a miss, unless you are a die-hard fan of any of the leading actors – Doris Day, Ginger Rogers, Ronald Reagan, and Steve Cochran.
Extinct Pterodroma Cahow Is Re-Discovered
Thought to be extinct for over 300 years, on January 28, 1951, a Pterodroma Cahow (Bermuda Petrel) was found. The Cahow was re-discovered near Western Bermuda, the first such living bird to be sighted since 1621. 
An expedition composed of American ornithologist Robert Cushman Murphy, his wife, Bermudian naturalist Louis S. Mowbray, and 15-year-old Bermudian ornithologist David Wingate discovered 18 pairs of nesting birds in narrow tunnels. 
Excerpts from the ornithological journal The Auk Vol. 68 by authors R. C. Murphy and L. S. Mowbray: 
"Incubating Cahow, extracted from the first nest discovered, January 28, 1951."
"The period of field work extended from January 25 to February 10…The first proof of Cahows in residence was found on January 28, 1951…We scrambled ashore in the forenoon, accompanied by a youthful Bermudian ornithologist, David B. Wingate."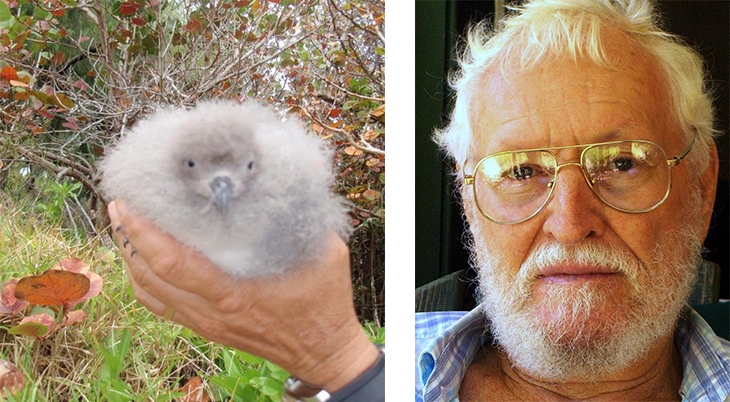 (David Wingate 2008 Photo: Vzjp / Bermuda Petrel / Cahow Chick 2009 Photo: Depotgrl)
David Wingate went on to complete university and other work, while remaining focused on saving the Cahow from extinction (again). He became Bermuda's first conservation officer in 1966, and retired in 2000. As of spring 2020, there are over 300 Bermuda Petrels (134 nesting pairs of birds) i existence, making it one of the rarest birds in the world.
Note: This article was first published in 2016. It has been updated with new / additional content.
*Images are believed to be in the public domain or Creative Commons licensed & sourced via Wikimedia Commons or Flickr, unless otherwise noted*