Farewell, Mary Tyler Moore
American actress Mary Tyler Moore has died at the age of 80 today on January 25, 2017. Born in Brooklyn, New York City on December 29, 1936, Mary Tyler Moore married for the first time at the age of 18 in 1955, to Richard Carlton Meeker. Their son Richard Meeker Jr. was born in July 1956, and Richard Meeker and Mary Tyler Moore divorced in 1961.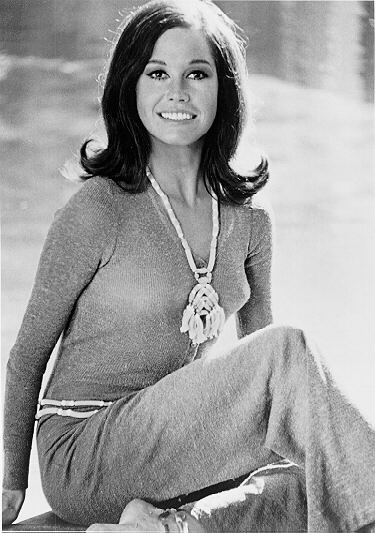 (Photo: Dave Winer | Flickr)
Mary Tyler Moore had broken into television beginning in 1959 with small roles in popular series such as Riverboat, and 77 Sunset Strip.
From 1961-1966 she played housewife Laura Petrie on The Dick Van Dyke Show, opposite Dick Van Dyke as Rob Petrie. Co-stars Rose Marie, Morey Amsterdam, Larry Mathews (as son Richie) and Carl Reiner (who was also the series creator) rounded out the cast of The Dick Van Dyke Show. 
While The Dick Van Dyke Show was airing, Mary Tyler Moore married CBS executive Grant Tinker in 1962. Grant Tinker and Mary Tyler Moore were good friends with Betty White and her husband, Allen Ludden. 
Around the time that The Dick Van Dyke show ended in 1966, Marty Tyler Moore was diagnosed with Type 1 diabetes. Undeterred, she began appearing in movies, including Thoroughly Modern Millie (1967) and Change of Habit (1969) co-starring with Elvis Presley. She and husband Grant Tinker formed the TV production company MTM Enterprises. 
Below from left, actors Ted Knight (Ted Baxter), Edward Asner (Lou Grant), and Mary Tyler Moore (Mary Richards) on the last episode of the The Mary Tyler Moore show.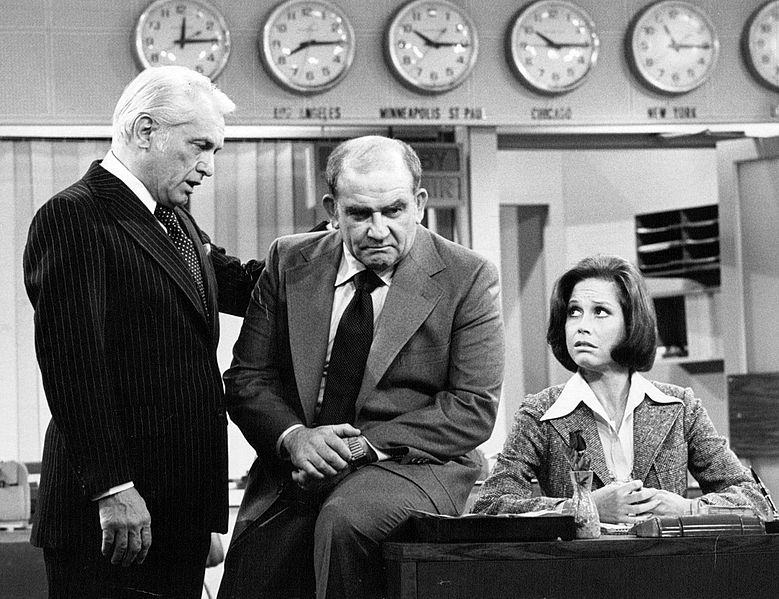 (1977 Photo: CBS Television)
From 1970-1977 she starred as single career woman Mary Richards in her own television sitcom The Mary Tyler Moore Show, produced by MTM Enterprises. Her supporting cast members on The Mary Tyler Moore Show included Gavin MacLeod as news writer Murray Slaughter, Edward Asner as boss Lou Grant, Ted Knight as Ted Baxter, Georgia Engel as shy, naive Roxanne, Cloris Leachman, and Betty White.
After The Mary Tyler Moore Show went off the air, Moore returned to television with the variety series Mary (1978), television movies (Mary and Rhoda, 2000) and miniseries (Lincoln, 1988), and guest-starring roles on television series. 
She co-starred in the feature film Ordinary People (1980), directed by Robert Redford and co-starring Donald Sutherland, Timothy Bottoms, and Judd Hirsch. Mary Tyler Moore won the Golden Globe Award for Best Actress in a Drama for her performance as an uptight mother in Ordinary People.
That same year, Mary Tyler Moore's only child, son Richard Meeker Jr. accidentally killed himself while handling a shotgun. Moore and Grant Tinker divorced the following year, in 1981. 
In November 1983 Mary Tyler Moore married cardiologist Dr. Robert Levine. They celebrated their 32nd wedding anniversary in 2016. 
Most recently Mary Tyler Moore reunited with friend and former co-star Betty White on White's sitcom Hot in Cleveland, in guest-starring appearances in 2011 and 2013. 
In public speaking appearances and her memoirs After All (1995) and Growing Up Again: Life, Loves and Oh Yeah, Diabetes (2009), Mary Tyler Moore spoke about being a recovering alcoholic and a diabetic. She was an International Chairwoman of the Juvenile Diabetes Research Foundation (JDRF), and supported various diabetes and animal rights causes.
In addition to these personal struggles, Mary Tyler Moore survived 2011 surgery to remove a benign brain tumour and since 2014 had been having problems with her vision, kidneys, and heart.She had been on a respirator since mid-January 2017. Below, a look badk at Mary Tyler Moore in the 1960's & 1970s's – from left, as a regular on The Dick Van Dyke Show, on The Mary Tyler Moore Show, and as a guest star on Johnny Staccato in 1960.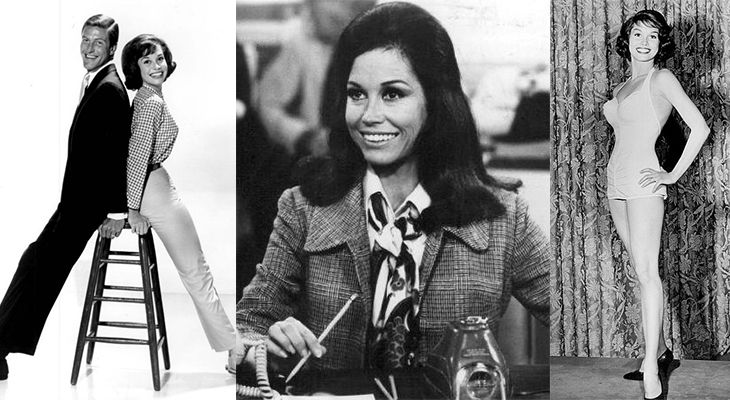 (Photo Montage: A Hamilton )
Farewell, Mary Tyler Moore. You will be missed.