Farewell, Dick Gautier
Dick Gautier, the actor who so memorably played Hymie the Robot on Get Smart, has died on January 13, 2017 away after a long illness at the age of 85, his daughter Cris told The Hollywood Reporter.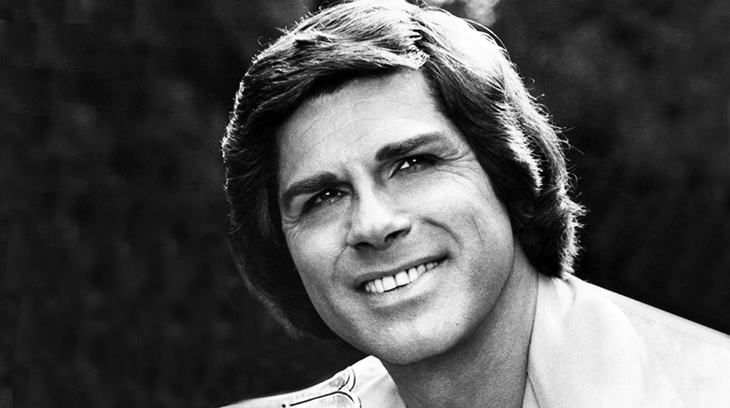 (Dick Gautier 1975 When Things Were Rotten Photo: ABC Television)
Dick Gautier's most recent appearance onscreen was as an octogenarian senior citizen, guest-starring role on Nip/Tuck in a 2010 episode with fellow veteran actors Joan Van Ark and Donna Mills (Knots Landing), and Robert Davi. 
He was born Richard Gautier on October 30, 1931 in Culver City, California, and thanks to his French-Canadian father, spent time in Montreal while he was growing up.
Dick Gautier was married to first wife Beverly Gerber in 1954, with whom he had three children – Denise Michelle Gautier, Rand Robert Gautier, and Diane Christine Gautier (married name Chormicle). 
After serving in the U.S.Navy, Dick Gautier got his start in the entertainment industry as a stand-up comedian and singer in 1959. He would go on to star on Broadway as Conrad Birdie in the original 1960 production of Bye, Bye Birdie, appearing on stage with Chita Rivera, Dick Van Dyke, Paul Lynde, Michael J. Pollard and Charles Nelson Reilly. 
Before appearing in 6 episodes of Get Smart as Hymie the Robot between 1966-1968, Dick Gautier had co-starred in the television comedy series Mr. Terrific (1967). In a interview with Classic Television ShowBiz in 2015, Gautier said his performance on The Patty Duke Show had impressed the Mr. Terrific producers so much they hired him without an audition, but he wasn't a fan of the Mr. Terrific series, which ended after 13 episodes.
One positive outcome of Mr. Terrific was meeting actress Barbara Stuart when she guest-starred in an episode. Dick Gautier married Barbara Stuart (nee Barbara Ann McNeese) in 1967. In addition to stage and guest-starring work on television, Dick Gautier was a frequent game-show panelist and appeared on Tattletales with wife Barbara Stuart before they divorced in 1979. Ex-wife Barbara Stuart was an octogenarian senior citizen when she died in May 2011. 
Gautier had also acquired some episodic television credits, guest-starring on popular baby boomer series such as Bewitched, The Patty Duke Show, and Gidget starring Sally Field.  
More familiar to baby boomer audiences for his television appearances, Dick Gautier also acquired several film credits, most notably in the movies:
Ensign Pulver (1964), a war comedy starring Robert Walker Jr., Burl Ives, Walter Matthau, Tommy Sands, Millie Perkins, Larry Hagman, Peter Marshall, Jack Nicholson, James Farentino, and James Coco. Peter Marshall and Dick Gautier became friends and later co-wrote the script for a movie called Maryjane.
Divorce American Style (1967), a comedy starring his Bye-Bye Birdie co-star, Dick Van Dyke. Also in Divorce American Style were Debbie Reynolds, Jason Robards, Jean Simmons, Van Johnson, Lee Grant, Tom Bosley, Tim Matheson, and Eileen Brennan.
Dick Gautier and Peter Marshall co-wrote the comedy Wild in the Sky (1972) about anti-war activists hijacking a B-52 bomber. Wild in the Sky starred Georg Stanford Brown, with Gautier playing a diver. Also in the cast of Wild in the Sky were Tim O'Connor (Peyton Place) and Bernie Kopell in the cast. 
Fun with Dick and Jane (1977) starring Jane Fonda, George Segal, Ed McMahon and Fred Willard.
Sex and the Married Woman (1977) comedy starring Barry Newman, Joanna Pettet, Nita Talbot, and F. Murray Abraham.
Marathon (1980), a TV movie comedy co-starring with Bob Newhart, Leigh Taylor-Young, John Hillerman, and Anita Gillette.
Throughout the 1960's and 1970's, Dick Gautier continued to guest-star on sitcoms and variety series. Sharp-eyed baby boomer viewers may have seen him on popular series such as The Mary Tyler Moore Show starring Mary Tyler Moore; Banacek; Marcus Welby, M.D.; Wonder Woman; Man from Atlantis; The Eddie Capra Mysteries; The Love Boat; and The Debbie Reynolds Show with Debbie Reynolds. Dick Gauthier guest-starred 6 times between 1971-1973 on Love, American Style and appeared twice on The Doris Day Show. He was in a two-part episode of The Flying Nun, another series starring Sally Field. 
Dick Gautier was a series regular on the comedy Here We Go Again (1973), co-starring with Larry Hagman, Diane Baker, Nita Talbot, and child actress Kim Richards.
On the comedy series When Things Were Rotten (1975), Dick Gautier starred as Robin Hood.
His fellow cast members in When Things Were Rotten included Dick Van Patten as Friar Tuck, Bernie Kopell as Alan-a-Dale, and Ron Rifkin as Prince John. Writer-director Mel Brooks created both Get Smart and When Things Were Rotten. 
Left, Dick Gautier as Robin Hood and Misty Rose as Maid Marian in When Things Were Rotten. (Photo: ABC Television | Wikimedia Commons / Public Domain)
Below, The cast of When Things Were Rotten with Dick Gautier in center, Bernie Kopell on the right beside him, and Dick van Patten on the far left.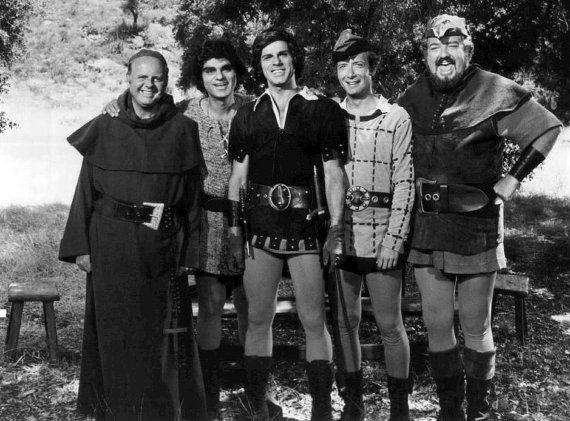 (When Things Were Rotten Cast 1975 Photo: ABC Televisionn)
More episodic television work followed in the 1980's and 1990's, with Dick Gautier guest-starring on Charlie's Angels, Happy Days, Trapper John, M.D.; Quincy M.E.; Fantasy Island; Matlock; Murder, She Wrote; Silk Stalkings; and The Golden Palace with Betty White of the prequel series The Golden Girls.
Dick Gautier began doing voice acting for television series and animated movies beginning in 1985, and can be heard on G.I. Joe, The Transformers, Foofur, and an animated versions of The Addams Family, to name a few. As his career wound down, his on-screen roles dwindled. Gautier was in the TV movie This Wife for Hire (1985) starring Pam Dawber, Robert Klein, Laraine Newman, and Ann Jillian, and appeared as a bartender in the feature film comedy The Naked Truth (1992). His The Naked Truth co-stars included M. Emmet Walsh, Yvonne de Carlo, Erik Estrada, Lou Ferrigno, and Zsa Zsa Gabor. 
In his later years, Dick Gautier married for a third time, to Tess Hightower in 2003; and became a grandfather and great grandfather thanks to his children from his first marriage. He began writing and illustrating books, primarily about drawing and creating comic characters which he had a gift for. In the introduction to his book The Creative Cartoonist (1989) he said
"Cartooning has been my hobby, my therapy, a delicious pastime and on occasion my salvation — it got me through some tight financial spots when I was a struggling actor." 
*Images are public domain or Creative Commons licensed & sourced via Wikimedia Commons, Vimeo, YouTube, or Flickr, unless otherwise noted*