Boomer TV Trivia: Banacek
Q1. What 1968 movie starring Steve McQueen, was the 1972-1974 Banacek television series based on?
Q2. In what American city does the main character Thomas Banacek, live and work in?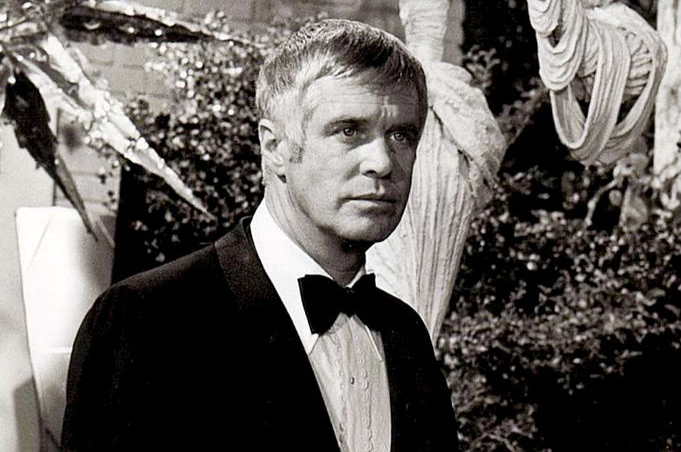 (George Peppard 1973 Banacek Photo: NBC Television)
Veteran movie and television actor George Peppard was wealthy Polish-American insurance investigator Thomas Banacek. Banacek was prone to saying, "There's an old Polish proverb that says…", and then sharing a fictitous quote. Some were easy to understand:
"A wise man never tries to warm himself in front of a painting of a fire."
"When an owl comes to a mouse picnic, it's not there for the sack races."
Others were more cryptic:
"You can read all the books in the library my son, but the cheese will stink after four days"
"A duck with three wings and a loaf of bread is brother to the turkey."
More Banacek quotes:
Which would prompt Banacek's chauffeur Jay Drury (played by actor Ralph Manza) to ask, "What does it mean, Boss?" Drury would offer his own theories in each case, which Banacek would instantly debunk.
Drury usually drove Banacek around in a 1973 Cadillac Fleetwood limousine equipped with a mobile phone – as all of Banacek's cars were, very unusual and expensive at the time. Occasionally the limo would be quixotically substituted with a Ford, a Jeep, or an Italian-made De Tomaso Pantera sports car. Other featured cars included a 1941 antique Packard 180 convertible, an AMX-400 (a customized 1969 AMX), and Banacek's rival insurance investigator Carlie Kirkland drove a 1973 Corvette.
By the time 44-year-old blue-eyed actor George Peppard starred in Banacek, he'd already served 2 years in the U.S. Marine Corps (1946-1948), and been acting on television and in the movies for 15 years. George Peppard married first wife Helen Davies in 1954 and they had two children together, son Bradford and daughter Julie. Below, it was Peppard's co-starring role in Breakfast at Tiffany's (1961) with Audrey Hepburn that made him a "star".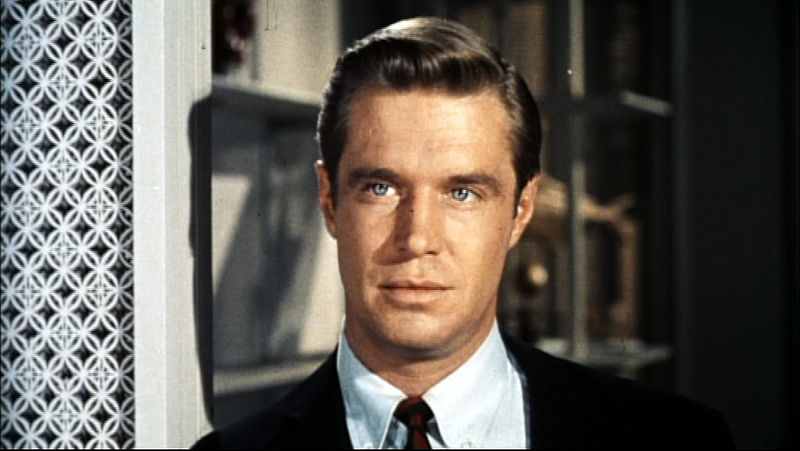 (George Peppard 1961 Breakfast at Tiffany's Movie Trailer)
While starring as Jonas Cord in The Carpetbaggers (1964) with Arthur Franz, Alan Ladd, Carrol Baker, Robert Cummings, Lew Ayres, Martin Balsam, and Martha Hyer, Peppard met and began an affair with actress Elizabeth Ashley, who was married to actor James Farentino at the time. The affair ended both their marriages. 
For his starring role as a German fighter pilot in the World War I film The Blue Max (1966), George Peppard took flying lessons and got a private pilot's license, doing some flying in the movie before buying a Learjet and learning to fly it in 1966 while honeymooning with his new wife, actress Elizabeth Ashley.
Their son Christian Peppard was born in 1968. George Peppard divorced Elizabeth Ashley in 1972, the same year Banacek began. Peppard quit the series in 1974 to prevent Ashley from receiving a bigger divorce settlement.
George Peppard would go on to star in more movies, television movies and series such as Doctor's Hospital (1975-1976) and The A-Team (1983-1987). After overcoming alcoholism himself, Peppard helped other alcoholics. He was a heavy smoker for most of his life, but quit smoking in 1992 after a lung cancer diagnosis, the same year he married for the fifth time, to mental health counselor Laura Taylor.  George Peppard was a 65-year-old senior citizen when he died from pneumonia in 1994 at the age of 65.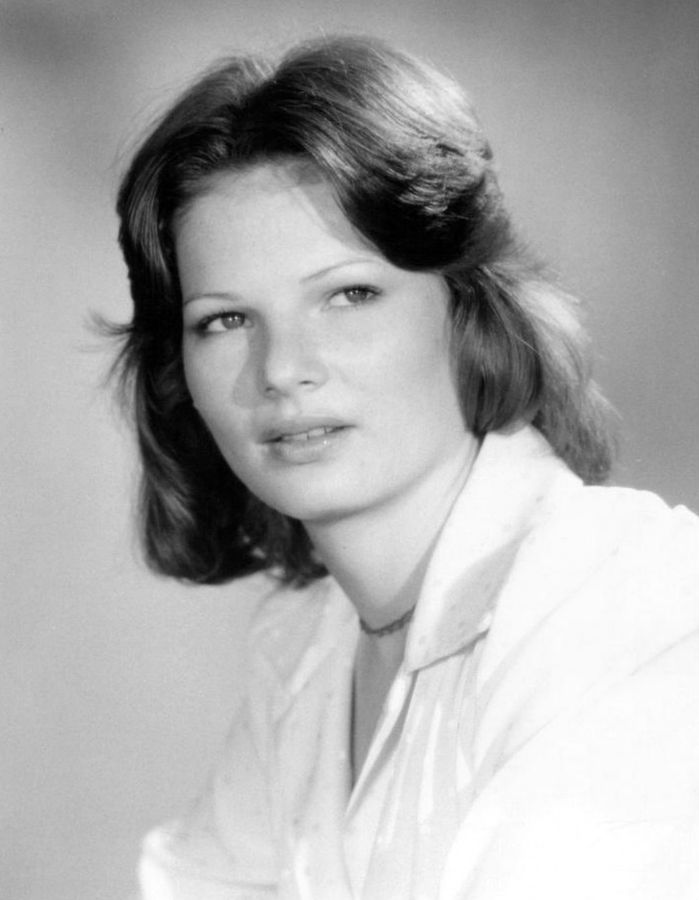 (Christine Belford 1973 Banacek Photo: NBC Television)
Baby boomer co-star Christine Belford was just starting out as an actress when she played Thomas Banacek's romantic interest and professional antagonist, Carlie Kirkland on the series. Belford also co-starred with George Peppard in the movie The Groundstar Conspiracy (1972).
After Banacek ended, she continued acting in episodic television work and had a recurring role on Dynasty as a baby nurse (1982-1983). Christine Belford has been married to movie actor Nicholas Prior since July 1993, and although she became a senior citizen in 2014, she is still acting (primarily voice-over work) today.
Actor Ralph Manza was  50+ when he began playing Banacek's chauffeur in 1972 (Photo: Movie-Dude.co.uk).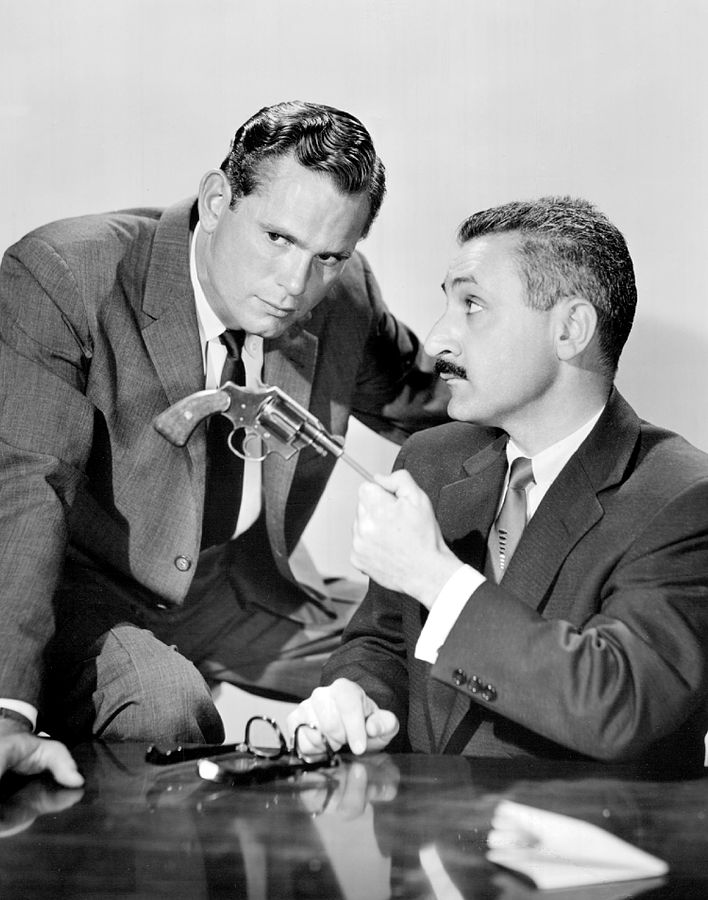 (John Compton & Ralph Manza 1959 The D.A.'s Man Photo: NBC Television)
Like George Peppard, Manza been acting since the mid-1950's. His frequent appearances on popular baby boomer television series included McHale's Navy (1965-1966), Get Smart (1967-1970), and Adam-12 (1969-1971), among others. 
Ralph Manza originated the role of Mike Costello and was a regular cast member on the daytime soap opera General Hospital when it debuted in 1963. Married since 1948, Ralph Manza was a septuagenarian senior citizen when he died in January 2000 at the age of 78, leaving his wife of 52 years (Catherine Manza) and their 4 grown children. 
The character of Felix Mulholland, a bookstore owner and informant for Banacek, was portrayed by 60+ Australian actor Murray Matheson. Banacek was the biggest television role of Matheson's career; he died a 76-year-old septuagenarian senior citizen in 1985.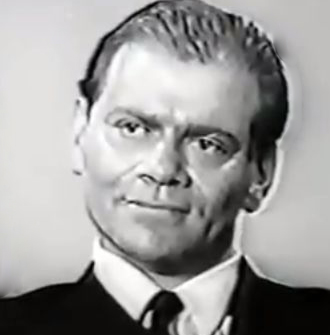 (George Murdock 1961 Shannon) 
Veteran character actor George Murdock had acquired extensive television credits including Gunsmoke, The Untouchables, 77 Sunset Strip, Ben Casey, Tarzan, and Bonanza, before appearing on Banacek in the recurring role of Cavanaugh. After Banacek ended, his episodic TV work included baby boomer favourite television series such as The Mod Squad, The Streets of San Franciso, Police Woman, Lou Grant, The Rockford Files, Trapper John, M.D., T.J. Hooker, Hill Street Blues, L.A. Law, Seinfeld, and many others.
Baby boomers would most likely recall George Murdock in his regular cast member roles as NYPD Internal Affairs officer Lt. Scanlon in Barney Miller, and Dr. Salik in Battlestar Galactica in the 1978-1979 season. Octogenararian senior Murdock died from cancer in April 2012 at the age of 81.  
A1. Both the location, character, and storyline of The Thomas Crown Affair (1968) movie starring Steve McQueen as a wealthy Boston businessman and Faye Dunaway as a rival insurance investigator, were incorporated into Banacek.
A2. Banacek was set in Boston, Massachusetts. Although a variety of background scenes for Banacek were shot on location in Boston, the majority of the episodes were filmed in California, either on the Universal Studios lot.or at places that could double for Boston & surrounding areas. Banacek leading man George Peppard directed these Boston location shots. Banacek's home was the Second Harrison Gray Otis House, a historic home in the Beacon Hill area of Boston; this was the same house shown in The Thomas Crown Affair movie.
*Images are public domain or Creative Commons licensed & sourced via Wikimedia Commons, Vimeo, YouTube, or Flickr, unless otherwise noted*