The Lust for Life of Kirk Douglas
RIP Kirk Douglas….dead at the age of 103…Kirk Douglas passed the centenarian mark back in 2016 – his remarkable longevity was proof of his lust for life. An actor whose film career began in 1946, Douglas survived a 1996 stroke at the age of 80, and by force of will recovered to return to acting for another 10 years. Six decades of magic on screen and behind the scenes as a producer isn't all…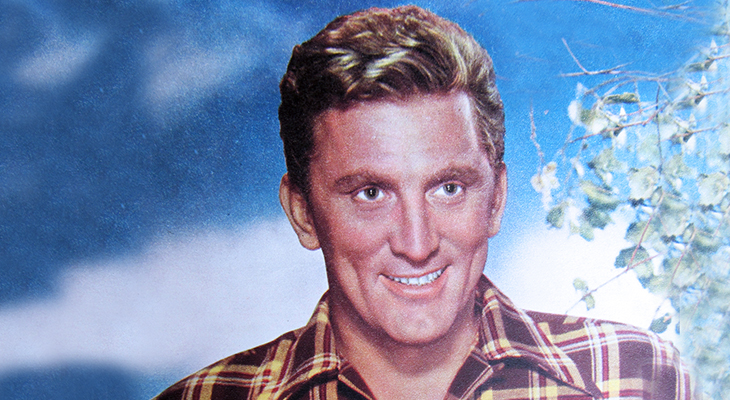 (Kirk Douglas 1950s Photo: tiffany terry)
Broadway and 1940s Films
Kirk Douglas grew up speaking Yiddish at home and has said in his memoirs that he wanted to be an actor since childhood. He began attending the American Academy of Dramatic Arts (AADA) in New York and it was as a 24-year-old senior that he met fellow AADA acting students Betty Joan Parker (Lauren Bacall) (16 years old), and Bermuda native Diana Dill (17 years old). 
He graduated from AADA and legally changed his name to Kirk Douglas in 1941 before enlisting in the U.S. Navy during World War II. When Kirk Douglas saw Diana Dill on the May 1943 cover of Life magazine, he told his Navy buddies he knew that girl, and was going to marry her.
Douglas arranged to meet Diana Dill in New York, and they were married in November 1943. Diana Douglas lived with her sister in New Jersey while Kirk returned to Navy duty, serving as a communications officer during WWII until his medical discharge in June 1944.
Diana and Kirk Douglas' oldest son Michael Douglas was born in September 1944 and their youngest son Joel Douglas was born in January 1947. Although both sons followed their parents into the entertainment business, only Michael Douglas became an actor; Joel is a producer. 
Kirk and Diana Douglas lived in New York's Greenwich Village while he resumed pursuing a career in acting on radio and stage. He'd already gotten his first Broadway break in 1943, when he took over for actor Richard Widmark in a production of Kiss and Tell. In 1945, Kirk Douglas returned to Broadway (twice) in the role of Steve in Alice in Arms, and as a soldier in The Wind is Ninety. His last Broadway role before breaking in to movies, was in Woman Bites Dog (1946) with E. G. Marshall.
Kirk Douglas has credited friend Lauren Bacall with recommending him to movie producer Hal Wallis, who cast him as Walter O'Neill in the romantic drama The Strange Love of Martha Ivers (1947). He went to Hollywood in 1945 to begin filming the movie in the middle of a labor strike by set dressers. The cast of this first movie for Kirk Douglas includes Barbara Stanwyck as Martha Ivers, with Van Heflin, Lizabeth Scott, prolific character actress Ann Doran (Longstreet), and future director Blake Edwards. Douglas has said The Strange Love of Martha Ivers is one of the movies he is most proud of.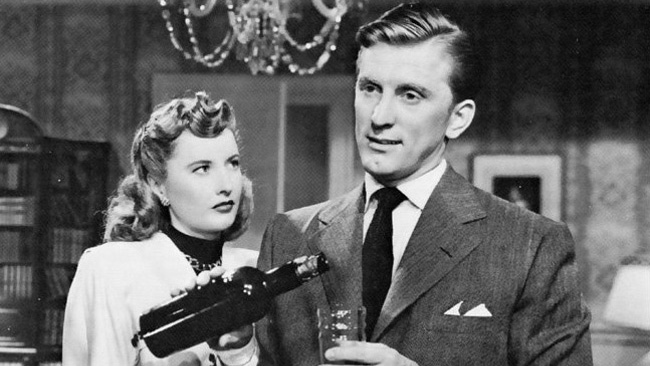 Barbara Stanwyck and Kirk Douglas in The Strange Love of Martha Ivers (1947).
Thanks to the studio system, Kirk Douglas and Burt Lancaster teamed up in the first of 7 movies they would make together, for the crime drama I Walk Alone (1948). Burt Lancaster plays a recently released prisoner and Douglas is his  former bootlegging partner in crime. Co-starring with them in I Walk Alone are actress Lizabeth Scott from The Strange Love of Martha Ivers, and Wendell Corey.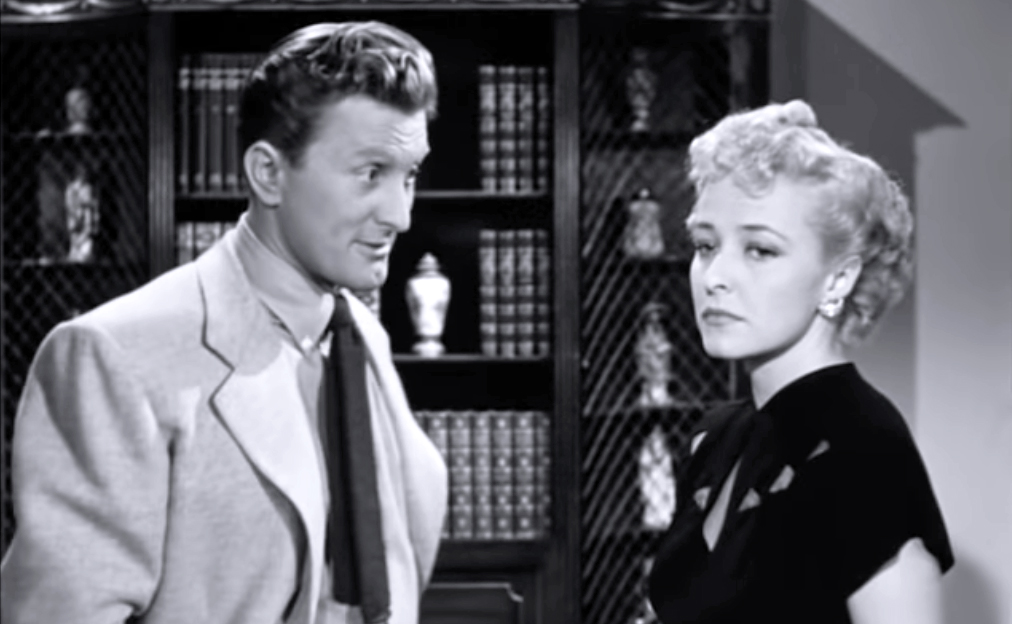 (Kirk Douglas &  Laraine Day 1948 My Dear Secretary)
The romantic comedy My Dear Secretary (1940) has Kirk as successful but easily distracted author Owen Waterbury, romancing secretary and would-be novelist Stephanie Gaylord (Laraine Day). Keenan Wynn plays his pal and neighbor in the film (Ronnie Hastings), while Irene Ryan (best known as Granny on The Beverly Hillbillies) is his housekeeper Mary.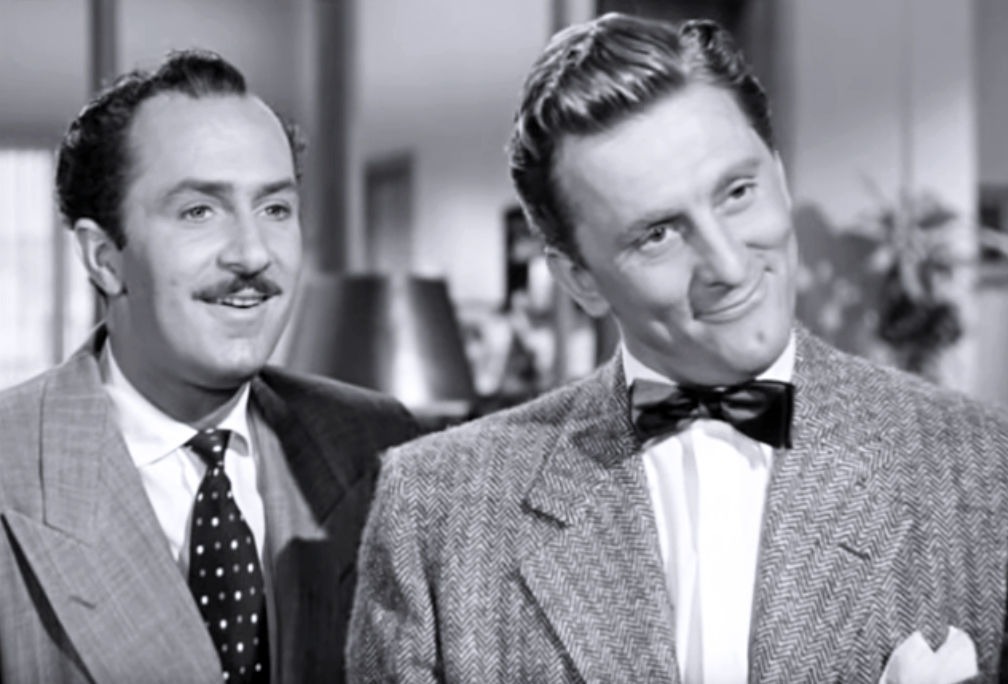 (Keenan Wynn & Kirk Douglas 1948 My Dear Secretary)
Linda Darnell co-starred with Kirk Douglas in The Walls of Jericho (1948), with Anne Baxter, and Ann Doran in an uncredited role as a gossip.
The next year, Douglas and Linda Darnell would appear onscreen together again in the popular romantic drama A Letter to Three Wives (1949). In A Letter to Three Wives, Kirk Douglas plays the husband of actress Ann Sothern; also in the cast are Jeanne Crain, and character actors Thelma Ritter and Carl "Alfalfa" Switzer (The Little Rascals/Our Gang) in uncredited roles. Years later, Thelma Ritter would appear in another Kirk Douglas movie, For Love or Money (1963), with Julie Newmar.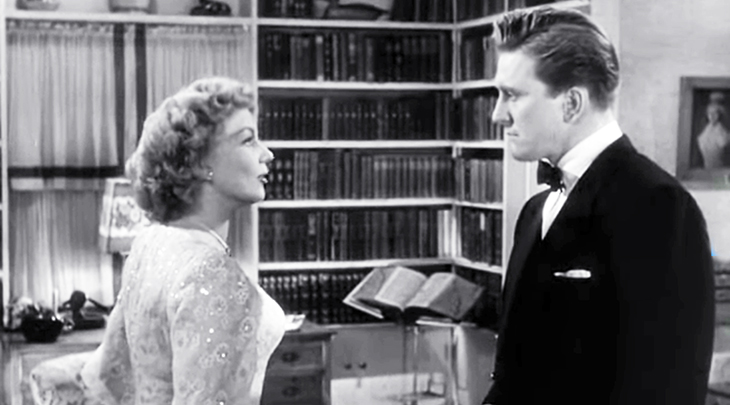 (Ann Sothern & Kirk Douglas 1949 A Letter to Three Wives Trailer)
Champion (1949) was a starring role for Kirk Douglas, playing self-centered boxer Midge Kelly. His supporting cast members include Arthur Kennedy, Lola Albright, and Polly Bergen. Douglas received his first Academy Award nomination for Best Actor for his performance in Champion. Arthur Kennedy and Kirk Douglas would appear onscreen again the following year in the drama The Glass Menagerie (1950), co-starring Jane Wyman.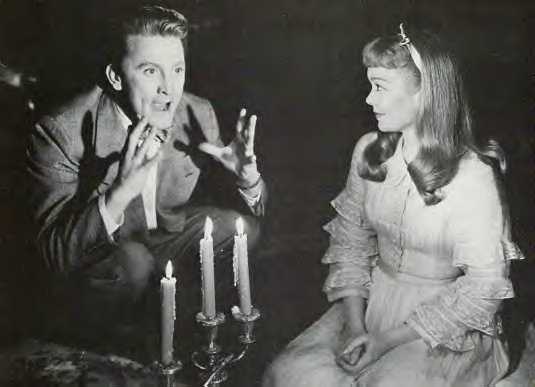 (Kirk Douglas & Jane Wyman 1950 The Glass Menagerie Movie Trailer)
Divorce and Romances
(Kirk Douglas & Lauren Bacall 1950 Young Man with a Horn Photo: Photofest)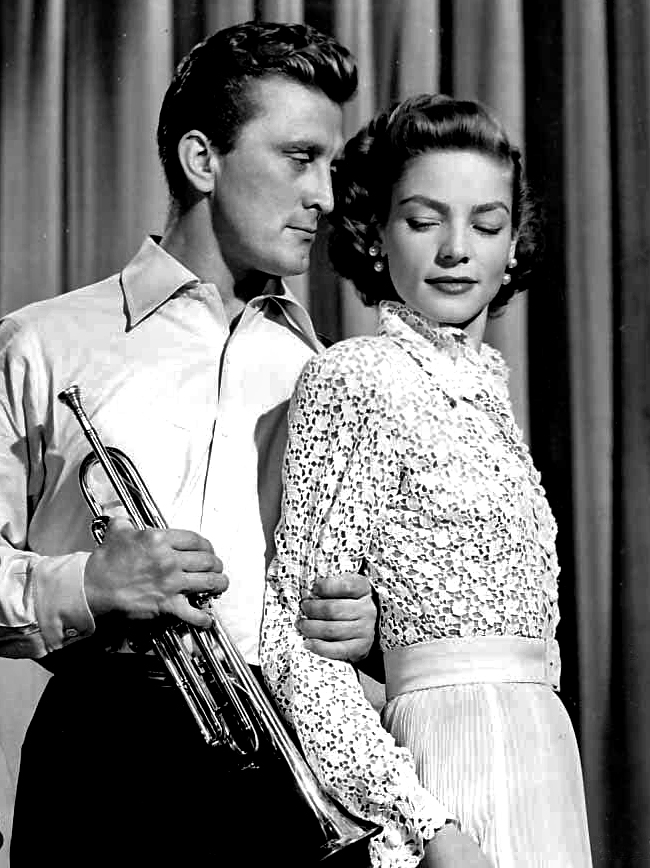 Friend Lauren Bacall co-starred with Kirk Douglas and Doris Day in the musical biographical movie Young Man with a Horn (1950).
Douglas played gifted youth Rick Martin, and his love interests were Lauren Bacall as quasi-lesbian student Amy North, and Doris Day as singer Jo Jordan who ultimately saves him and finds true love.
The storyline of trumpeter Rick becoming an alcoholic was deja vu for Doris Day, whose abusive first husband Al Jorden was an alcoholic trombonist.
Reportedly neither Doris Day nor Kirk Douglas enjoyed the experience of working together on Young Man with a Horn.
In the drama Detective Story (1951), Kirk Douglas played a police detective married to actress Eleanor Parker's character Mary. Actress Lee Grant, who had played in Detective Story on Broadway to wide acclaim, played a shoplifter in the film.
By the time Detective Story was released in November 1951, Lee Grant had been blacklisted in Hollywood. Lee Grant wouldn't find film work for many years, despite being nominated for an Academy Award for Best Actress in a Supporting Role for her performance in Detective Story.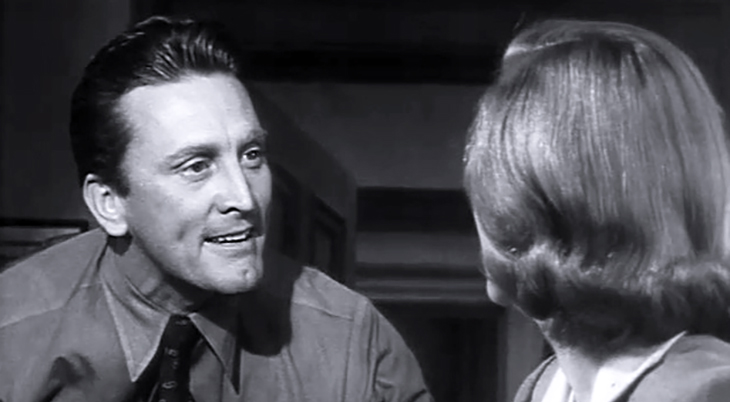 (Kirk Douglas 1951 Detective Story Trailer)
Diana and Kirk Douglas had moved to Hollywood for his career, and were divorced amicably by the end of 1951. She would much later describe him in her memoir as "sexually voracious". Years later, Douglas admitted to numerous affairs during, before, and after his marriage to Diana Douglas in his memoirs. Among the many, many names on his list of conquests (according to him), are movie legends Marlene Dietrich, Gene Tierney, Joan Crawford, and Rita Hayworth. 
He continued acting in movies such as The Bad and the Beautiful (1952), a romantic drama produced by John Houseman, and directed by Vincente Minnelli, co-starring Lana Turner, Dick Powell,  Barry Sullivan, and Gloria Grahame. Kirk Douglas received another Academy Award nomination for Best Actor for his performance as a ruthless movie producer in The Bad and the Beautiful.
In the 3-part romantic fantasy The Story of Three Loves (1953), Kirk Douglas was paired with Pier Angeli and American actor Richard Anderson in the segment titled Equilibrium. Also in the cast of The Story of Three Loves, but in other segments, were James Mason, Leslie Caron, and Zsa Zsa Gabor, Farley Granger, Ricky Nelson, and Agnes Moorehead.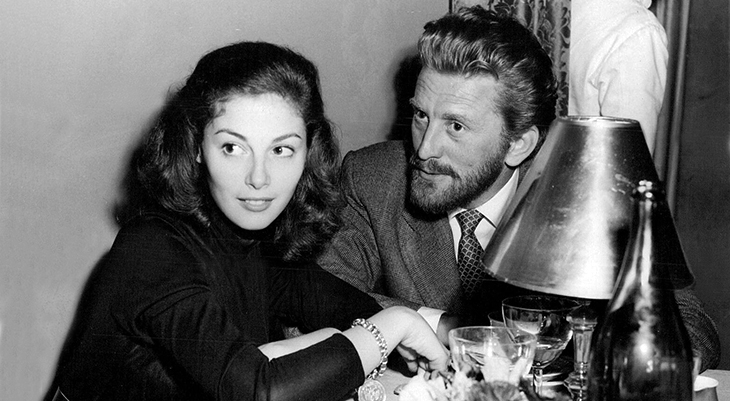 (Kirk Douglas & Pier Angeli 1953 Photo: Wide World Photo)
In his memoir I Am Spartacus (2012), Kirk Douglas described his experience with Pier Angeli.
"falling…head over heels in love with a twenty-year-old Italian actress named Pier Angeli. Or so I thought. We got engaged soon after we met. She was all that I thought about, morning, noon, and night. (Only later did I discover that while Pier might have been thinking about me in the morning, she was also thinking about several other men in the afternoon and evening."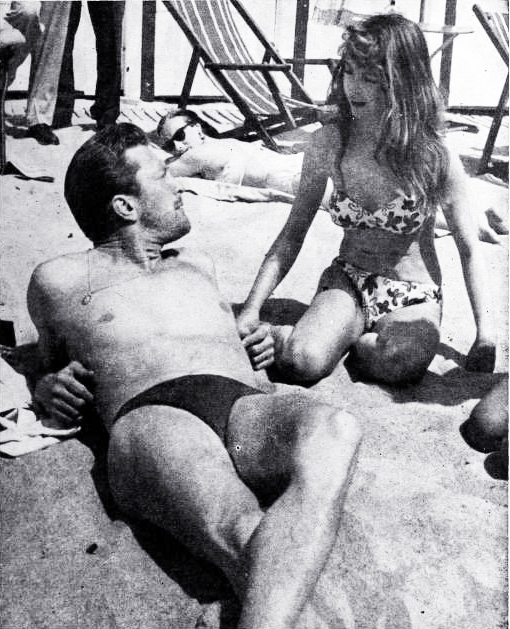 (Kirk Douglas & Brigitte Bardot c 1953 Photo: Top Secret)
Kirk Douglas filmed the WWII drama The Juggler (1953) in the newly formed state of Israel, and 2 more movies in Europe: Ulysses (1954) had Kirk as the title character and co-starred Anthony Quinn; it was filmed in Rome.
Act of Love (1953), another WWII drama, was filmed in Paris and co-starred Dany Robin, Robert Strauss, Sydney Chaplin, and new young French actress Brigitte Bardot.
Of his time filming movies in Europe, Kirk said in his memoir, 
"I did meet the love of my life in Europe. But it wasn't Pier Angeli. Her name was Anne Buydens. She was born in Germany and grew up in Belgium and Switzerland.
We met in Paris while I was shooting Act of Love, and we were married in the United States on May 29, 1954. I have never loved anyone more than I do Anne. In fact, she is my life. She's saved it in more ways than I can count and continues to do so every day. "
Bryna Productions, Westerns, and Lust for Life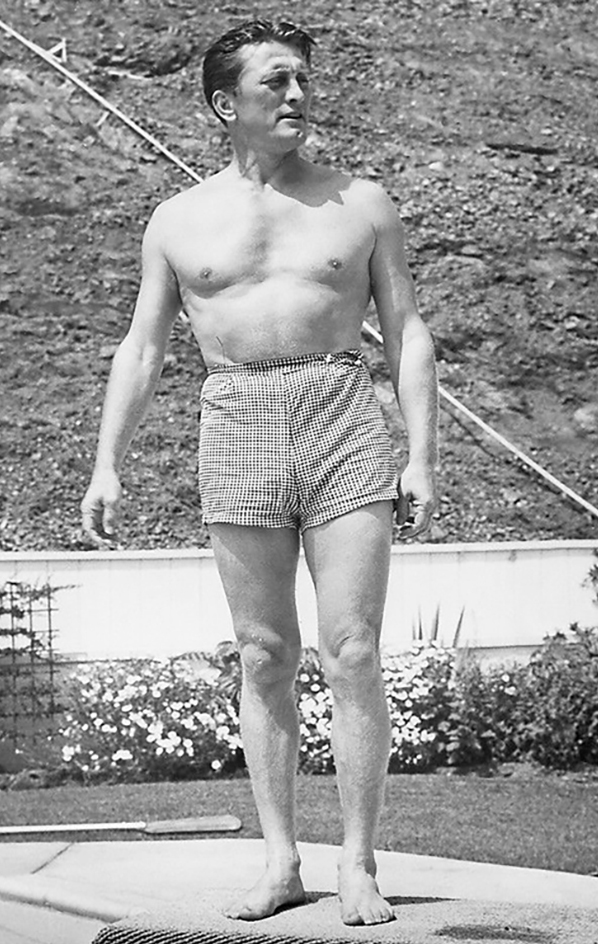 (Kirk Douglas 1954 Photo: United Press Photo)
James Mason, Kirk Douglas, Peter Lorre, and a young and uncredited actor called Charles Grodin, co-starred in the Walt Disney family adventure-fantasy 20,000 Leagues Under the Sea (1954). 20,000 Leagues Under the Sea was a critical and box office hit when it was released in December 1954.
Frustrated with Hollywood movie studios, Kirk Douglas formed his own movie production company in the mid-1950s and called it Bryna Productions, after his mother. 
The first movie for Bryna Productions was a western called The Indian Fighter (1955), in which Kirk Douglas co-starred with Italian actress Elsa Martinelli, Walter Matthau, Alan Hale Jr., and his ex-wife Diana Douglas. Alan Hale Jr. and Kirk Douglas had worked together in the Quaker movie The Big Trees (1952).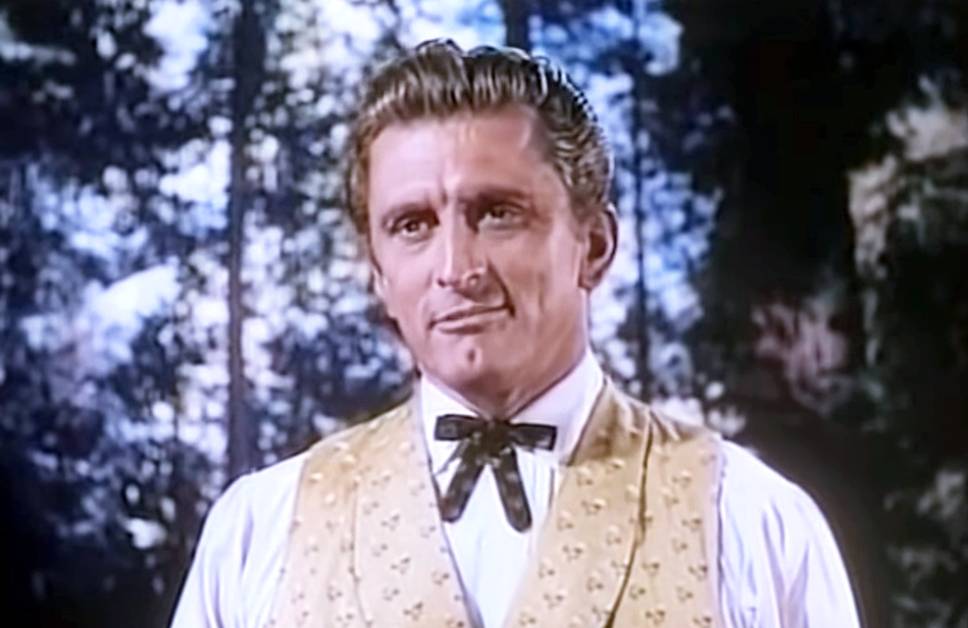 (Kirk Douglas 1952 The Big Trees)
Not only was Kirk's new wife Anne Douglas supportive of The Indian Fighter film, casting his ex-wife Diana, and her husband going to Oregon to film the movie on location, Anne stayed at home in Los Angeles and took care of Kirk and Diana's sons Joel and Michael Douglas.
(Anne and Kirk Douglas with son Peter Vincent Douglas in 1956 Photo: Warner Bro. Pictures, Inc.)
Anne and Kirk Douglas' oldest son Peter Douglas was born November 1955 in Los Angeles; youngest son Eric Douglas born June 1958 Los Angeles. 
Kirk Douglas and actor Jack Elam would appear in 5 movies together, beginning with The Racers (1955). The other 4 movies to star both Jack Elam and Kirk Douglas were all westerns, a genre that suited both the classic "heroic" leading man Douglas and character actor Elam. 
In Gunfight at the O.K. Corral (1957) Kirk Douglas co-starred with Burt Lancaster (their second film together), Rhonda Fleming, Earl Holliman, Jack Elam & Lee Van Cleef. This clip from Gunfight at the O.K. Corrall, features Kirk Douglas, Burt Lancaster, and Lee Van Cleef.
Earl Holliman and Kirk Douglas would both appear in another western, The Last Train from Gun Hill (1959).
The remaining 3 films with both Kirk Douglas and Jack Elam are: 
The Last Sunset (1961) with Rock Hudson, Dorothy Malone (Peyton Place), Joseph Cotten, and Carol Lynley – a Bryna Productions film.
The Way West (1967) with Robert Mitchum, Richard Widmark, Lola Albright, and Sally Field.
The Villain (1979) with Arnold Schwarzenegger, Ann-Margret, and country singer Mel Tillis.
The next film project for Kirk Douglas was playing Vincent Van Gogh in the biographical drama, Lust for Life (1956).
His co-stars in Lust for Life were Anthony Quinn, and Marion Ross in an uncredited role as Sister Clothilde. Douglas' The Bad and the Beautiful director Vincente Minnelli and producer John Houseman, repeated these roles in Lust for Life. 
Kirk Douglas was nominated a third time for an Academy Award for Best Actor, for his performance as mentally ill painter Vincent Van Gogh in Lust for Life. This official Lust for Life movie trailer is courtesy of Warner Movies on Demand.
Lust for Life was the second movie to co-star Kirk Douglas and Anthony Quinn (the first was 1954's Ulysses). Three years later, Douglas and Quinn would co-star in their third and final movie together, The Last Train from Gun Hill (1959) with Carolyn Jones and Earl Holliman.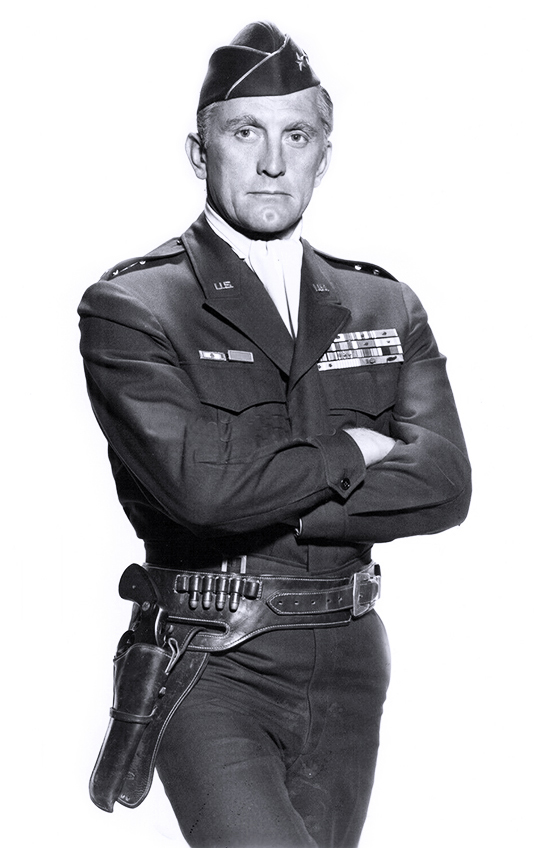 (Kirk Douglas 1957 Top Secret Affair Photo: Warner Bros.)
Kirk Douglas plays Major General Melvin Goodwin in Top Secret Affair (1957), a drama about a General being considered for an appointment to an atomic energy committee. His co-star Susan Hayward plays the head of publishing company, and opposes his appointment.
Stanley Kubrick co-wrote, directed, and co-produced the United Artists World War I anti-war movie Paths of Glory (1957) starring Kirk Douglas.
Paths of Glory was one of the first feature films written and directed by Stanley Kubrick, and co-starred Adolphe Menjou and character actors Richard Anderson and Bert Freed.
Bryna Productions was involved in Paths of Glory, and both Kirk Douglas and Stanley Kubrick were uncredited co-producers on the movie.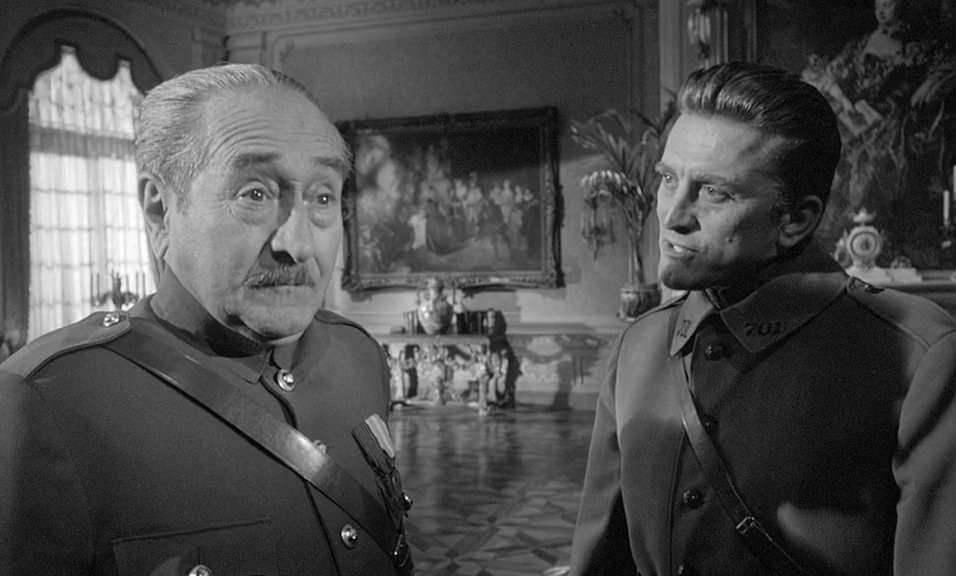 (Adolphe Menjou & Kirk Douglas Photo: Paths of Glory 1957 Trailer)
The Love of His Life Saves His Life
In 1958 Kirk Douglas narrowly escaped being killed in the same private airplane crash that killed Elizabeth Taylor's husband, Broadway and movie producer Mike Todd. In his memoir I Am Spartacus, Douglas recounted how Todd had invited Kirk to fly with him, but Kirk's wife Anne insisted he not, precipitating a bitter argument (which Anne won).
Later that year, Bryna Productions released the historical adventure movie The Vikings (1958) co-starring Kirk Douglas, Ernest Borgnine, Tony Curtis, and Janet Leigh, in November 1958. Tony Curtis and then-wife Janet Leigh and were married at the time, and portrayed a couple onscreen as well in The Vikings. Despite being 2 months younger than Kirk Douglas, actor Ernest Borgnine plays his father in The Vikings.
Spartacus Ends the Blacklist
Kirk Douglas filmed his third movie with Burt Lancaster in London – The Devil's Disciple (1959), another project from Bryna Productions. In this Revolutionary War film set in America, Douglas plays a Puritan who's arrested when he's mistaken for minister Anthony Anderson (Burt Lancaster). Laurence Olivier is the British General Burgoyne (Gentleman Johnny) who wants to hang Douglas's character. Douglas has said he was determined to recruit Laurence Olivier for his upcoming movie Spartacus, while filming The Devil's Disciple.
This movie trailer for The Devil's Disciple features Burt Lancaster, Kirk Douglas, Laurence Olivier, and Janette Scott as the wife of Anthony Anderson.
With his producer hat firmly in place by now, Kirk Douglas and Bryna Productions served as co-producers again for the drama Strangers When We Meet (1960). Kirk Douglas co-stars with Kim Novak in Strangers When We Meet, along with Ernie Kovacs, Walter Matthau, Kent Smith, and Roberta Shore (The Virginian). Kirk is cheating architect Larry Coe, who is designing a house for writer Roger Altar (Ernie Kovacs) and having an affair with attractive neighbor Maggie Gault (Kim Novak). Walter Matthau plays nosy neighbor Felix Anders, who threatens to expose their affair.
The screenplay for the gladiator epic drama Spartacus (1960) was written by blacklisted screenwriter Dalton Trumbo and based on the novel by blacklisted novelist Howard Fast (also known by pseudonyms E. V Cunningham and Walter Ericson). Both Dalton Trumbo and Howard Fast had spent time in prison for contempt of Congress charges by the HUAC (House Committee on Un-American Activities) and were struggling financially thanks to the blacklisting.
Bryna Productions produced Spartacus, which starred Kirk Douglas as Spartacus and John Gavin as Julius Caesar. Also in the cast of Spartacus were Laurence Olivier, Jean Simmons, Charles Laughton, Peter Ustinov, and Tony Curtis.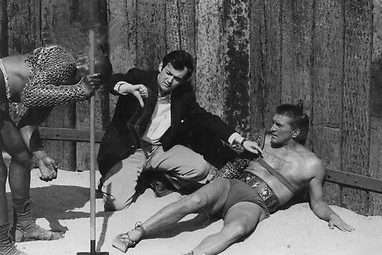 (Stanley Kubrick directs Kirk Douglas on the Spartacus set in 1960 Photo: Bryna Productions)
Although Douglas has said he had several battles with both director Stanley Kubrick and actor Charles Laughton during the filming of Spartacus, after filming ended, Douglas continued to enjoy lifelong friendships with Tony Curtis and John Gavin.
Kirk Douglas' announcement that blacklisted screenwriter Dalton Trumbo had written the script for Spartacus is credited with helping to end the Hollywood blacklist, enabling many talented actors and writers to (openly) practice their craft again.
Two years later, Bryna Productions hired Dalton Trumbo again to write the screenplay for Lonely Are The Brave (1962). Kirk Douglas co-starred with Gena Rowlands, Walter Matthau, Carroll O'Connor, and George Kennedy. Lonely Are The Brave was the third movie to co-star Walter Matthau and Kirk Douglas, after 1955's The Indian Fighter and 1960's Strangers When We Meet.
1960s Kirk Douglas Movies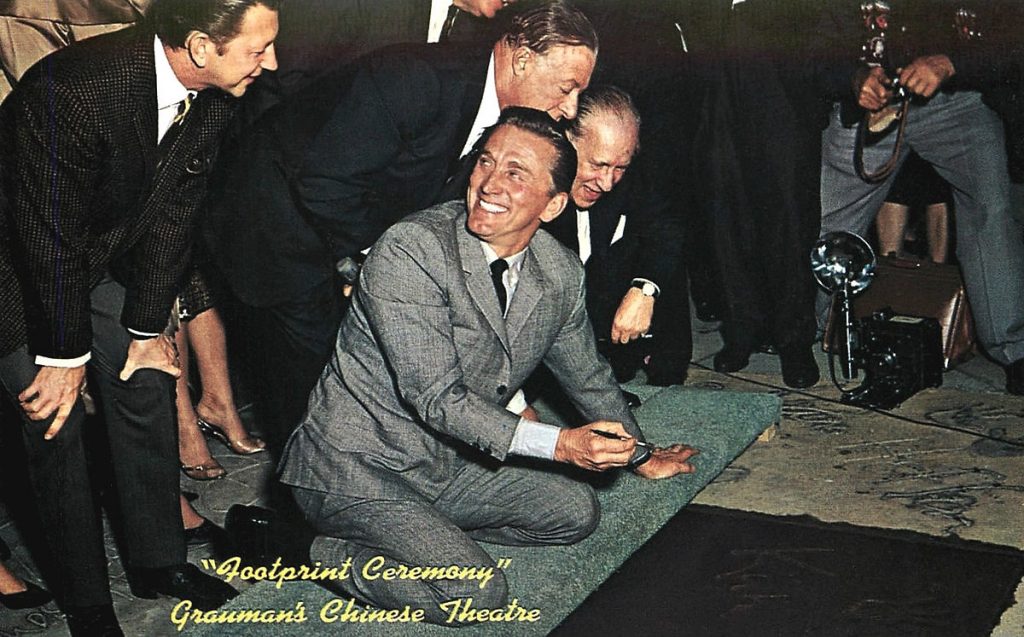 (Kirk Douglas with Donald O'Connor looking on. at Grauman's Chinese Theatre, 1962 Photo: Mitock and Sons)
In the crime drama Town Without Pity (1961) about soldiers in a German village, Kirk Douglas co-starred with E. G. Marshall and Robert Blake. E. G. Marshall and Kirk Douglas had appeared on Broadway together in 1946, and would re-team again another war movie a few years later, the star-studded Is Paris Burning? (1966) with Jean-Paul Belmondo, Leslie Caron, George Chakiris, Alain Delon, and Jean-Louis Trintignant, among others.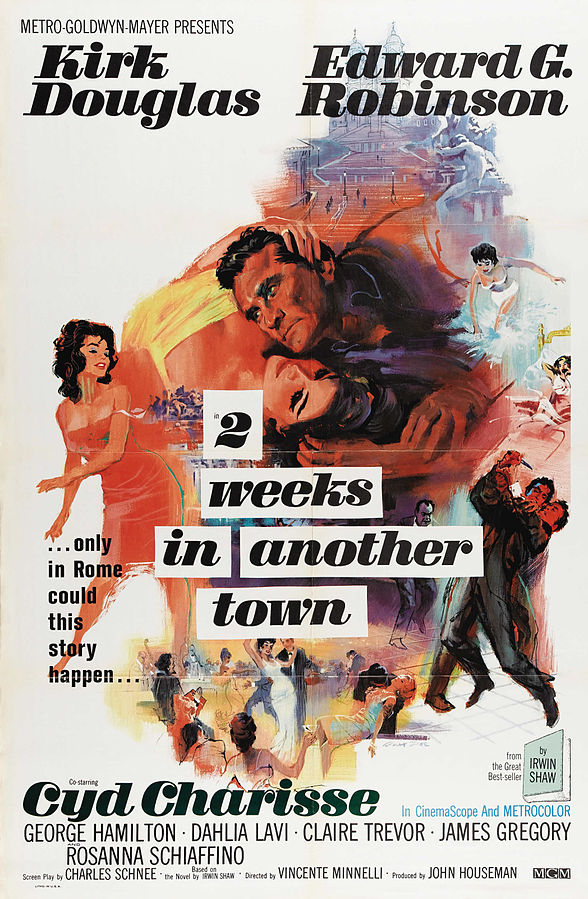 (Two Weeks in Another Town 1962 Photo: Employees of MGM)
Director Vincente Minnelli, producer John Houseman, and actor Kirk Douglas worked together for a third time (The Bad and the Beautiful; Lust For Life) on the Italian drama Two Weeks in Another Town (1962). 
Kirk Douglas plays former movie star Jack Andrus, recently recovered from a mental breakdown and alcohol addiction, who is persuaded by his old director friend Maurice Kruger (Edward G. Robinson) to work on a movie in Rome. Kruger's wife is played by Claire Trevor, while Jack's ex-wife Carlotta is played by Cyd Charisse. Douglas falls for Veronica (Daliah Lavi), who herself is in love with Davie Drew (George Hamilton). 
Also in the cast of Two Weeks in Another Town are James Gregory, George Macready, Vito Scotti, Leslie Uggams, and Erich von Stroheim Jr.
In The List of Adrian Messenger (1963), Kirk Douglas played 4 different characters. His supporting cast members in The List of Adrian Messenger included Frank Sinatra, Robert Mitchum, George C. Scott, and Dana Wynter. His friend Tony Curtis (in his third movie with Kirk Douglas after The Vikings and Spartacus) and Burt Lancaster (his fourth movie with Douglas) have cameos in the film.
Director John Huston also had a cameo in The List of Adrian Messenger.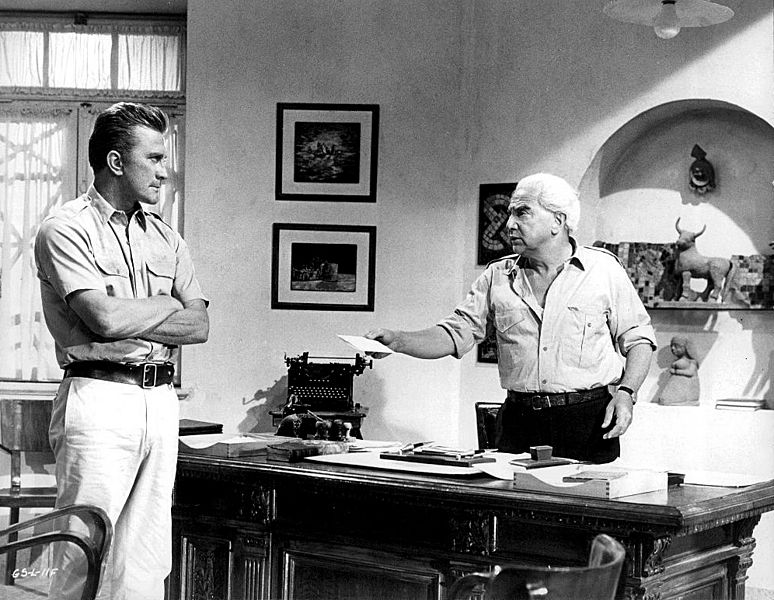 (Kirk Douglas and Luther Adler 1966 Cast a Giant Shadow)
Frank Sinatra and Kirk Douglas would co-star again in the movie Cast a Giant Shadow (1966) with John Wayne, Austrian actress Senta Berger, and Angie Dickinson. Douglas' company Bryna Productions produced both Cast a Giant Shadow (actually, co-produced, with Wayne's company Batjac Productions) and The List of Adrian Messenger. 
 (Kirk Douglas & Yul Bryner 1965 Cast a Giant Shadow Set Photo: David Eldan National Photo Collection of Israel)
Actor Robert Walker Jr. appeared in the Korean War movie The Hook (1963) with Kirk Douglas, as did character actor Nehemiah Persoff. The Hook stars Robert Walker Jr. and Douglas worked together again on the western movie The War Wagon (1967). The War Wagon was also the third and last movie to co-star both John Wayne and Kirk Douglas. Rounding out the cast of The War Wagon were Howard Keel, Bruce Dern, and Hal Needham.
Two years earlier, Hal Needham and John Wayne had both appeared in the World War II film In Harm's Way (1965), along with Paula Prentiss, Burgess Meredith, Patrick O'Neal, James Mitchum, Henry Fonda, and Hugh O'Brian in an uncredited role. Both Carroll O'Connor & George Kennedy had co-starred in 1962's Lonely Are the Brave with Kirk Douglas, and they did so again in In Harm's Way. 
Seven Days in May (1964) was the fifth movie co-starring Burt Lancaster and Kirk Douglas. Burt Lancaster plays a rogue general and Douglas is the Colonel tells the President (Fredric March) what's going on. Their fellow cast members in Seven Days in May are Ava Gardner, Edmond O'Brien, Martin Balsam, Andrew Duggan, Hugh Marlowe, Whit Bissell, and Richard Anderson. Seven Days in May was Richard Anderson's third and last movie with Kirk Douglas, after 1953's The Story of Three Loves and 1957's Paths of Glory.
The crime thriller A Lovely Way to Die (1968) co-stars Douglas, Sylvia Koscina and Eli Wallach. In addition to Sharon Farrell, David Huddleston, and Ali MacGraw, a raft of now-familiar faces from television have supporting roles in A Lovely Way to Die – Doris Roberts (Everybody Loves Raymond; Remington Steele), Ron Hale & Leslie Charleson (both from General Hospital), Conrad Bain (Maude, Diff'rent Strokes), Dolph Sweet (Gimme a Break) Dana Elcar (MacGuyver; Black Sheep Squadron & Dark Shadows), and Ralph Waite (The Waltons).
Other movies of note for Kirk Douglas during the latter half of the 1960's as he headed into his 50+ years, were:
The Heroes of Telemark (1965) with Richard Harris and Michael Redgrave. Another WWII movie, this time about the Norwegian resistance. 
The Arrangement (1969), a romantic drama that saw Kirk Douglas starring as suicidal advertising exec Eddie Anderson, Deborah Kerr as his wife, and Faye Dunaway playing his mistress. Hume Cronyn, a young Steve Bond (General Hospital) in an uncredited role as young Eddie, and Ann Doran as an uncredited nurse in her third movie starring Kirk Douglas, were also in the cast of The Arrangement.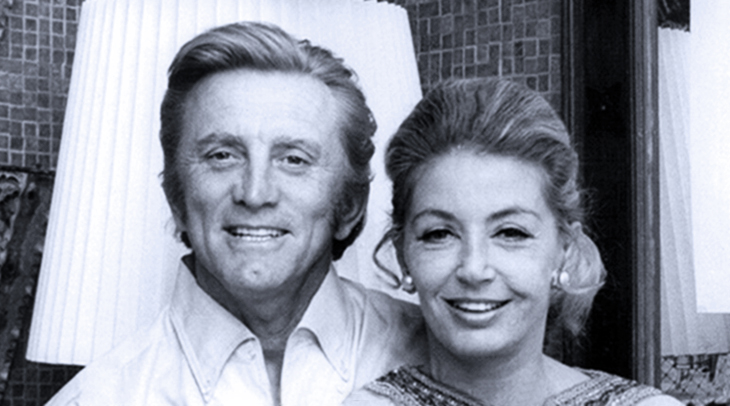 (Anne and Kirk Douglas 1969 Photo) 
The prison break movie There Was a Crooked Man… (1970) stars Kirk Douglas as bank robber Baris Pitman Jr., and Henry Fonda as the idealistic new prison warden. There Was a Crooked Man…  reunited Kirk Douglas with several former co-stars, including Lee Grant (1951's Detective Story): 
Henry Fonda and Burgess Meredith from In Harm's Way (1965). 
Hume Cronyn and Ann Doran, from The Arrangement (1959). This was actually Ann Doran's fourth movie with Kirk Douglas, having also appeared in his first movie The Strange Love of Martha Ivers (1947), and The Walls of Jericho (1948). 
Alan Hale Jr. (The Big Trees, 1952; The Indian Fighter, 1955).
Kirk Douglas kept it in the family with A Gunfight (1971), in which plays saloon owner and retired gunslinger Will Tenneray. Actress Jane Alexander is his wife Nora Tenneray, and his youngest son Eric Douglas made his film debut in A Gunfight as Bud Tenneray. Country singer and actor Johnny Cash is the mysterious gunfighter Abe Cross. Karen Black and Keith Carradine, billed as "The Young Gunfighter" and appearing in one of his first movies, are also in A Gunfight. The Jicarilla Apaache Tribe financed A Gunfight, and Douglas' company Bryna Productions produced it.
Kirk Douglas Begins Directing, and His 1970s Films
Turning his hand to directing for the first time, Kirk Douglas also co-wrote and starred in the pirate film Scalawag (1973) as Peg, with Mark Lester, Don Stroud, Lesley-Anne Down, and Danny DeVito. A couple of years later, he repeated these dual roles in the western Posse (1975) with Bruce Dern, Bo Hopkins, and James Stacy. Bryna Productions was also involved with the production of Scalawag, and Kirk Douglas had the part of newspaperman Harold Hellman in Posse specially written for James Stacy. Thanks to a drunk driver, James Stacy had lost his left arm and leg in a horrific 1973 motorcycle accident that also resulted in the death of his girlfriend; Posse was his acting comeback. 
Kirk Douglas improbably appeared in the TV musical movie The Special London Bridge Special (1972) as "The Indian Fighter", starring Tom Jones, Jennifer O'Neill, and The Carpenters (Karen and Richard Carpenter) as themselves. Also appearing in The Special London Bridge Special were Lorne Greene (Bonanza), Charlton Heston, Engelbert Humperdinck, and Elliott Gould.
Between 1970-1980, 50+ Kirk Douglas appeared in 19 movies, but by the mid-1970's, his star was beginning to fade and he wasn't always first-billed in the movie credits; an exception was the drama Once is Not Enough (1975) with David Janssen, George Hamilton, and Brenda Vaccaro. In his sixth movie with Burt Lancaster, Victory at Entebbe (1976) their co-stars included Linda Blair, Richard Dreyfus, Helen Hayes (The Snoop Sisters), Elizabeth Taylor, Anthony Hopkins, and Jessica Walter.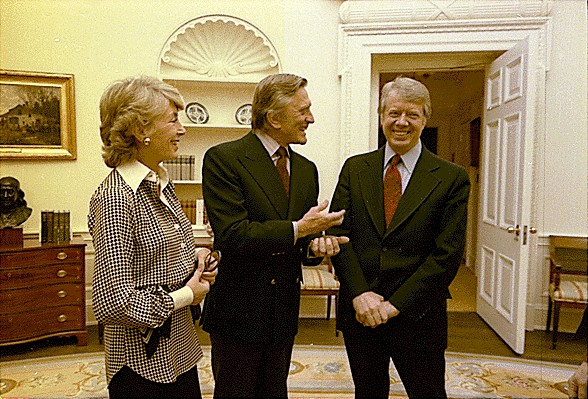 (Anne and Kirk Douglas with President Jimmy Carter 1978 Photo: White House Staff Photographers)
That same year, Victory at Entebbe co-stars Kirk Douglas and Helen Hayes, along with Lorne Greene and Patrick O'Neal, were reunited in the TV mini-series Arthur Hailey's The Moneychangers (1976). Also in the cast of The Moneychangers were Christopher Plummer, Timothy Bottoms, Susan Flannery, Joan Collins, and Hayden Rorke. 
As the 1980's came to a close, Kirk Douglas appeared in 3 sci-fi movie thrillers. 
The Fury (1978), with Carrie Snodgress, Charles Durning, Amy Irving, Andrew Stevens, Melody Thomas Scott, Dennis Franz, Gordon Jump (WKRP in Cincinnati), Daryl Hannah, and Jim Belushi as an uncredited beach bum.
The Final Countdown (1980), co-starring with Martin Sheen, Katharine Ross, James Farentino, and Charles Durning again. The Final Countdown was produced by his son Peter Douglas and Bryna Productions.
Saturn 3 (1980) a space thriller co-starring Kirk Douglas, Farrah Fawcett (Charlie's Angels), and Harvey Keitel. Saturn 3 was a commercial flop. The trailer below for Saturn 3 features Farrah Fawcett, Kirk Douglas, Harvey Keitel, and a rogue robot/precursor to The Terminator. 
Philanthropy, and Cheating Death Again (Twice)
In 1981, Kirk Douglas became a senior citizen and received the Presidential Medal of Freedom for his goodwill efforts. In addition to donating to various philanthropic causes, Kirk Douglas had flown to Egypt in 1980 to talk to President Anwar Sadat, and in later years, testified about elder abuse in Congress. Kirk and his wife have continued to give generously, donating approximately $40 million since the early 1990's to the Harry's Haven Alzheimer's Disease treatment centre for patients from the motion picture and television industry. 
Kirk Douglas continued acting in feature films as a new senior citizen. He appeared in the drama The Man from Snowy River (1982) with Tom Burlinson. The following year, Kirk Douglas played a Holocaust survivor that travels to Israel for a reunion, in Remembrance of Love. His co-stars in Remembrance of Love included Robert Clary (Hogan's Heroes) and Pam Dawber. The TV drama Amos (1985) was set in a nursing home and produced by his company Bryna Productions. Douglas' co-stars in Amos were Elizabeth Montgomery (Bewitched), Dorothy McGuire, James Sloyan, and Ray Walston (My Favorite Martian). 
Tough Guys (1986) was the last of 7 movies for frequent co-stars Kirk Douglas and Burt Lancaster. They play two elderly gangsters released from prison in Tough Guys, supported by actor Charles Durning in his third movie with Kirk Douglas. Tough Guys was one of the last movies to be produced by Bryna Productions. 
New septuagenarian senior citizen Kirk Douglas appeared in the TV mini-series Queenie (1987). His Queenie co-stars included veteran actors Joss Ackland, Claire Bloom, Joel Grey, Sarah Miles, Mia Sara, Topol, and Martin Balsam. Martin Balsam and Douglas had last acted onscreen together over 20 years earlier in in 1964's Seven Days in May.
Douglas was once again on social terms with the President of the United States, now Ronald Reagan. Below, Anne and Kirk Douglas with President Ronald Reagan in 1987 at the Eldorado Country Club in Rancho Mirage, California.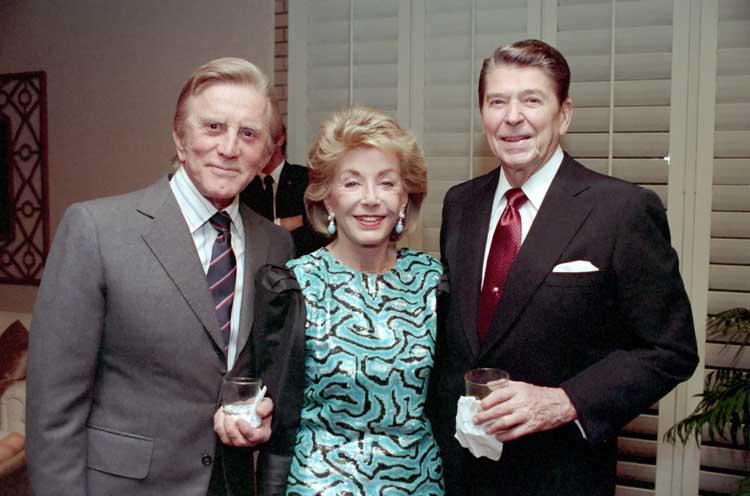 (Photo: White House Photographers | Wikimedia Commons / Public Domain)
Other film projects of note for Kirk Douglas in his septuagenarian senior years were:
Inherit the Wind (1988), a TV movie co-starring Jason Robards, Darren McGavin, Megan Follows, Kyle Secor, and Jean Simmons. Jean Simmons and Kirk Douglas had last co-starred in his 1960 epic Spartacus, 28 years earlier; they had remained friends off-screen. 
A guest-starring appearance in a 1991 episode of Tales from the Crypt, with his youngest son Eric Douglas, Lance Henriksen, and Dan Aykroyd.
The Secret (1992), a TV drama about a grandfather (Kirk Douglas) and his grandson, who both struggle with dyslexia. The Secret co-stars Bruce Boxleitner, Laura Harrington, and Richard Donat.
Greedy (1994), a comedy co-starring Michael J. Fox and featuring Kirk Douglas as his rich old Uncle Joe.
Memoirs and Writing
Kirk Douglas began writing memoirs as a septuagenarian senior, beginning with his first autobiography, The Ragman's Son (1988); followed by his second memoir Dance With the Devil (1990). After being injured in a February 1991 helicopter crash that was fatal for the two passengers in a plane it collided with, Kirk Douglas embraced his Jewish faith; he later chronicled this journey in another memoir Climbing the Mountain: My Search for Meaning (2001).
In his earlier autobiography, The Ragman's Son (1988), he recalled, "Years back, I tried to forget that I was a Jew," but later in his career he began "Coming to grips with what it means to be a Jew," which became a theme in his life. Other books written by Kirk Douglas during the 1990's include The Gift (1992) and Last Tango in Brooklyn (1994).
In January 1996 Kirk Douglas suffered a severe stroke that impaired his speech. Undeterred, he began what would eventually become years of voice and speech therapy, which was partially successful. Two months later, he accepted an Honorary Academy Award in March 1996 "for 50 years as a creative and moral force in the motion picture community", and was able to thank the audience. He has said his subsequent memoir My Stroke of Luck (2003) was meant to be a guide to help families support someone who has had a stroke. 
Kirk Douglas closed out 1996 celebrating his 80th birthday and became a new octogenarian senior citizen. Three years later, he made a return to the big screen. He was an elderly former prizefighter taking speech lessons while recovering from a stroke, in the mystery-comedy movie Diamonds (1999). Diamonds was a reunion onscreen for Kirk Douglas and Lauren Bacall, his longtime friend since the 1940's. Other co-stars in Diamonds included Dan Aykroyd, Kurt Fuller, and John Landis. This Diamonds movie trailer from Lionsgate features Kirk Douglas, Dan Aykroyd, Corbin Allred, Jenny McCarthy, and Lauren Bacall.
The romantic family comedy It Runs in the Family (2003) co-starred Kirk Douglas, his son Michael Douglas, grandson Cameron Douglas, and his ex-wife Diana Douglas. It Runs in the Family was produced by sons Michael and Joel Douglas. Diana Douglas had remarried (twice) after divorcing Kirk Douglas; she was a 92-year-old nonagenarian senior citizen when she died in July 2015.
Illusion (2004), a romantic drama co-starring Michael A. Goorjian and Bryan Cranston, was the last feature film for Kirk Douglas. In Illusion he plays an aging former movie director nearing death. That same year, Kirk and his wife Anne Douglas lost their 46-year-old youngest son Eric Douglas, who died from an accidental drug overdose.
Kirk Douglas has continued to write into his nonagenarian senior citizen years, with 11 books (mostly memoirs) published, as well as two children's books. His last appearance onscreen was in the TV crime docu-drama Empire State Building Murders (2008). Empire State Building Murders features many Golden Ager Hollywood icons, with Cyd Charisse, Anne Jeffreys, and Marsha Hunt making appearances, and archive footage cameos of former co-stars such as Lizabeth Scott and Lauren Bacall. His friend Lauren Bacall was herself a long-lived 89-year-old octogenarian senior when she died from a stroke in August 2014.
The last project from Bryna Productions was the documentary Kirk Douglas: Before I Forget (2009), based on 4 performances of his autobiographical one-man show performed by Kirk Douglas in 2009.
In May 2016, Kirk Douglas and his wife Anne (also now a centenarian) celebrated their 62nd wedding anniversary, and on December 9, 2016, he joined the centenarian club on his 100th birthday. He referred to his ongoing philanthropy when he told Closer Weekly that
"I am always asked for advice on living a long and healthy life. I don't have any. I do believe, however, that we have a purpose for being here. I was spared after a helicopter crash and a stroke to do more good in the world before I leave it,"
With over 90 film credits, Kirk Douglas has amassed a legacy that fans and film buffs can enjoy in the years to come.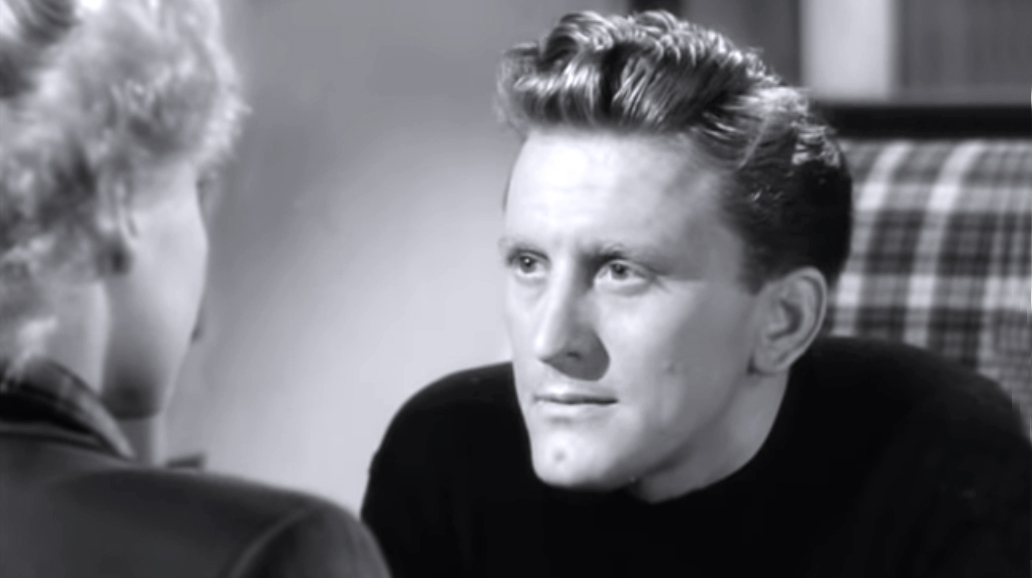 (Kirk Douglas 1948 My Dear Secretary)
Note: This article was originally published in 2017 as 3-part series – Kirk Douglas, His Lust for Life (1916-1958); Spartacus Ends Blacklist (1959-1985); and Movies, Memoirs, Before I Forget (1986-2017). It has been updated with new & additional content. 
*Images are public domain or Creative Commons licensed & sourced via Wikimedia Commons, Vimeo, YouTube, or Flickr, unless otherwise noted*