Folks, Facts & Fun From May 1931
News, Headlines, Entertainment & Trivia from May, 1931:  Construction is completed on the Empire State Building; Decorated Canadian hero and daredevil William Red Hill rides the deadly Niagara River Gorge rapids in a barrel for the third time; Woolworth heiress Barbara Hutton inspires the hit song I Found a Million Dollar Baby.
Empire State Building Construction Completed
On May 1, 1931, construction was completed on the Art Deco Empire State Building at 350 Fifth Avenue, New York City, at a cost of almost $41 million.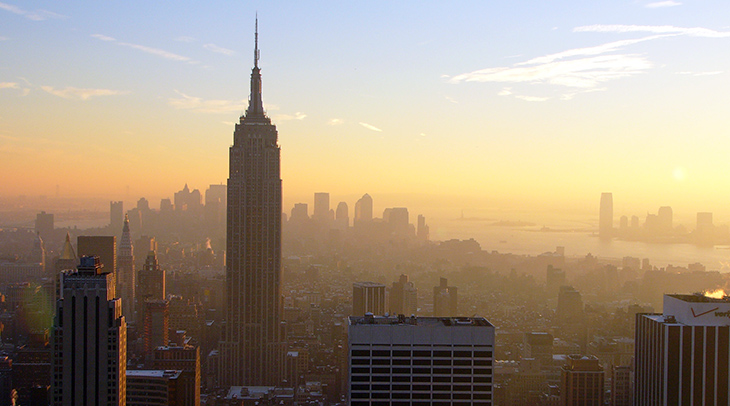 (Empire State Building 2005: robertpaulyoung)
For 39 years, it was the tallest building in the world at 1454 feet tall, with 85 stories of commercial space, topped by 1 story of observation level, and 16 stories devoted to the spire. 
The legendary Waldorf-Astoria Hotel that had stood on the site since 1893, was closed in May 1929 and torn down to make room for construction to begin on the Empire State Building in 1930. In October 1931, a new Waldorf-Astoria Hotel opened at 301 Park Avenue..
(Empire State Building "Icarus" Construction Worker 1930 Photo: Lewis Hine)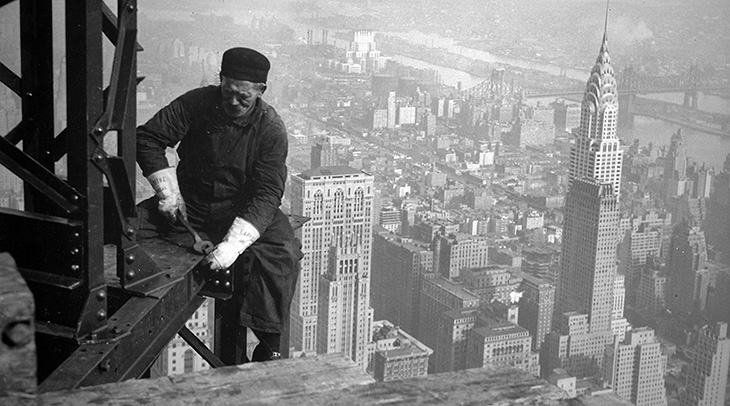 (Empire State Building worker with Chrysler Building at the right c. 1941 Photo: by Lewis Hine)
Despite the onset of the Great Depression triggered by the stock market crash in October 1929, construction on the Empire State Building forged ahead and was completed in only 18 months. During the same timeframe, a new Waldorf-Astoria was built at 301 Park Avenue in Manhattan.
Below left, stage actors & film stars James Dunn & Sally Eilers pose with a architect's building model that stood in the lobby of the Empire State Building, in 1931.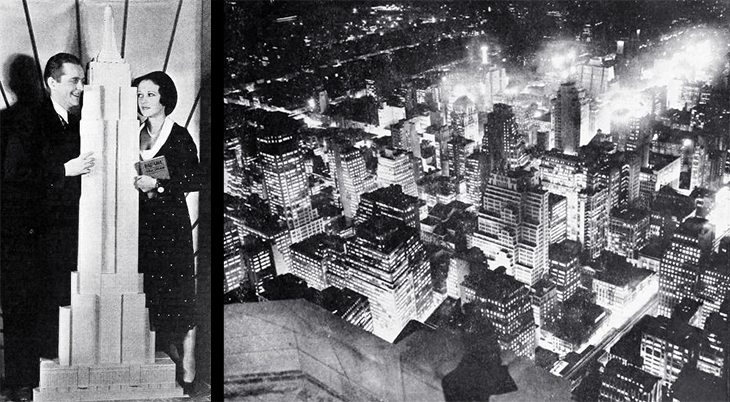 Above right, view of the bright lights of Broadway from the Empire State Building in 1933.
Originally plans were to have mail and passenger-carrying dirigibles (blimps) dock at the Empire State Building's spire.
This plan for blocking blimps or dirigibles was jettisoned after an unsuccessful attempt by a U.S. Navy airship to dock later in 1931, which almost caused a crash.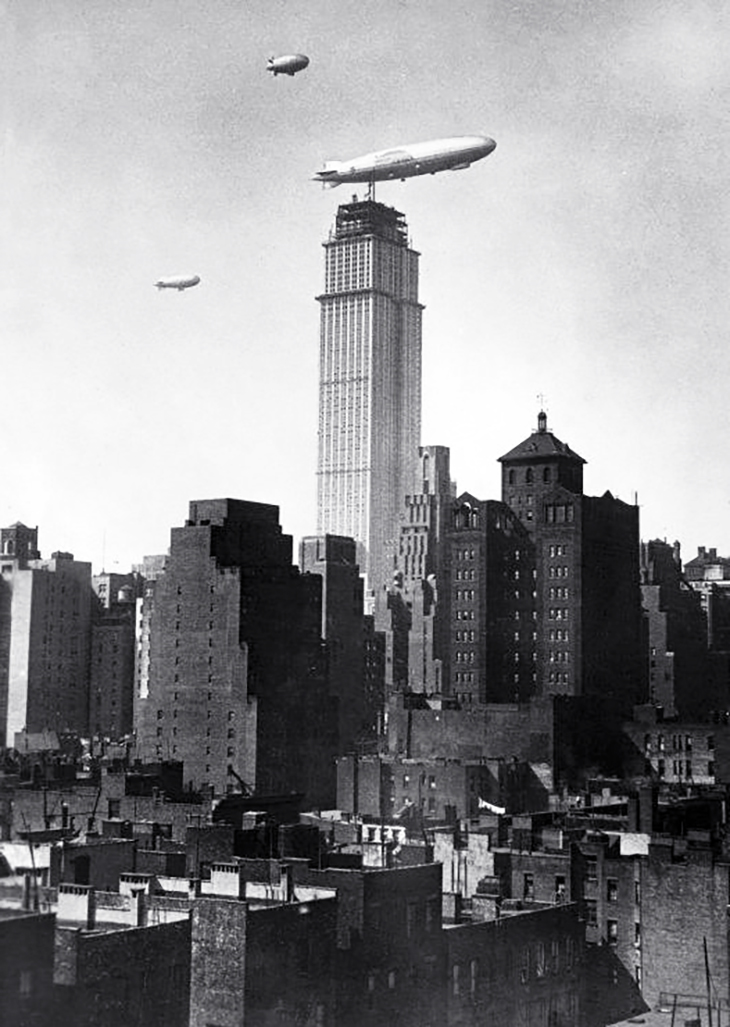 (ZR 3 Los Angeles Airship & Blimps Flying Near Empire State Building Under Construction, 1930)
In 1945 during WWII, in heavy fog an American Mitchell B-45 bomber airplane accidentally crashed in between the 78th and 79th floors of the Empire State Building, killing 14 people and injuring 26.
The building not only survived the crash, it was open for business again two days later.
Early commercial occupants – which during the Depression and WWII years were slow to trickle in – included large companies such as B.V.D. NBC and RCA were the first broadcasters to call the Empire State Building home in 1931, and they began transmitting radio and experimental television broadcasts from there.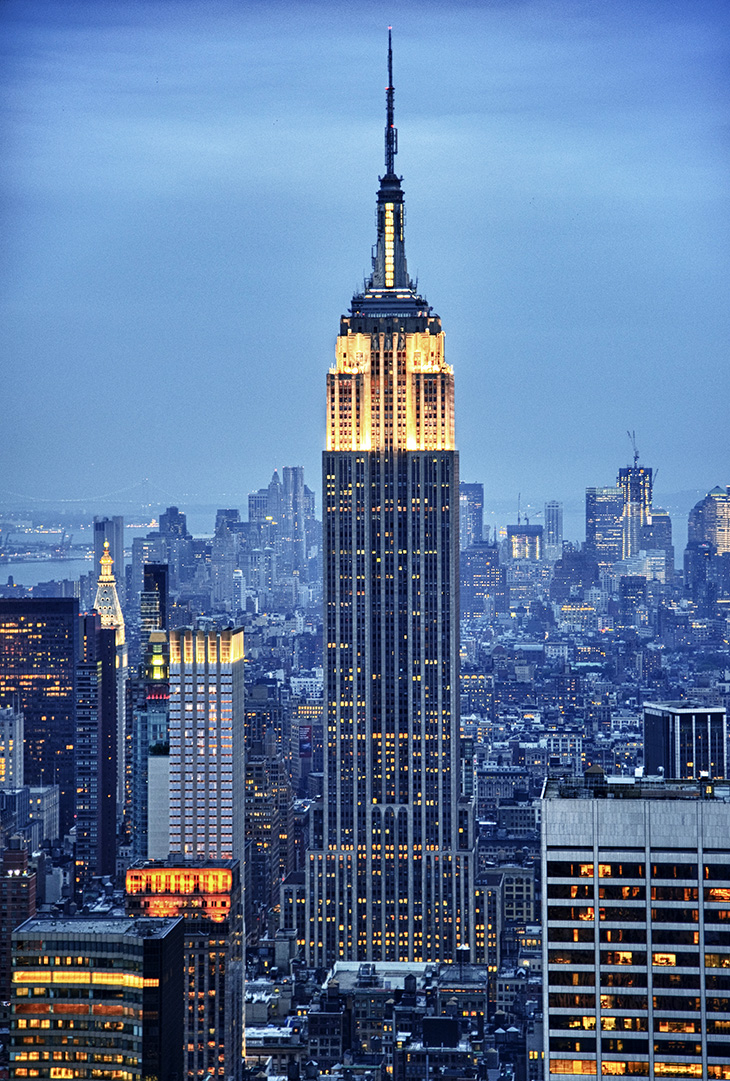 (Empire State Building 2011: Eric Kilby)
Although the World Trade Center surpassed it as the World's Tallest Building in 1970, the Empire State Building continues to be a top tourist destination for visitors to Manhattan and New York City.
Almost from the year it opened, the Empire State Building has been featured in movies. In Madame Racketeer (1932), actress Alison Skipworth stars as a con woman that sells the Brooklyn Bridge and the Empire State Building to the gullible. A drama about the impacts of the stock market crash and the onset of Depression on the lives of people working in an office building, Manhattan Tower (1932) stars Mary Brian and Irene Rich, and includes vintage interior and exterior footage of the building.
Perhaps the most famous early film to portray the Empire State Building is the adventure thriller King Kong (1933), which has the great ape climbing the tower, Canadian actress Fay Wray clutched in his hairy fist.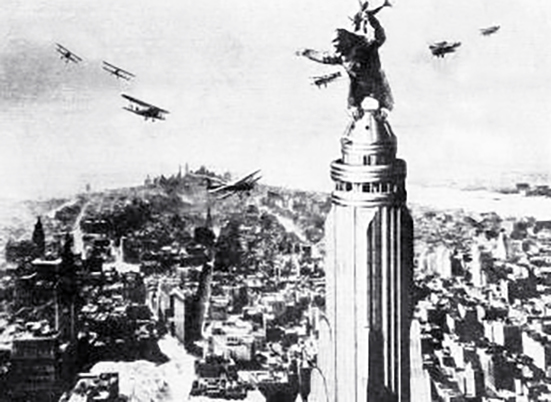 (King Kong Atop The Empire State Building 1933: Movie Classic)
The Empire State Building is an integral part of the storyline in three of the best New Year's Eve films / romance movies for adults ever made – Love Affair (1939) starring Irene Dunne and Charles Boyer; the remake A
n Affair to Remember (1957) with Cary Grant and Deborah Kerr; and Sleepless in Seattle (1993) starring Tom Hanks, Meg Ryan, Bill Pullman, Victor Garber, Rita Wilson, and Ross Malinger, which gives a tribute to those earlier films.
More recently, the 2000's Spider-Man movies have all included shots of the building. The TV mocumentary-drama Empire State Building Murders (2005) is an homage to film noir and New York in the 1930s-40s; in addition to featuring actors Marsha Hunt, Richard Erdman, Anne Jeffreys, Mickey Rooney, Cyd Charisse, Ben Gazzara, and Kirk Douglas, there is archive footage from film clips with many other vintage stars of that era. Doubtless many more movies will too, as this beautiful Art-Deco masterpiece continues to light up the Manhattan / New York City skyline.
Hero William "Red" Hill Sr. Rides Niagara River Rapids in a Barrel
Canadian life-saving hero, WWI decorated veteran, daredevil, and stuntman William Red Hill rode the Niagara River Whirlpool Rapids in a barrel on May 30, 1931, for the third time.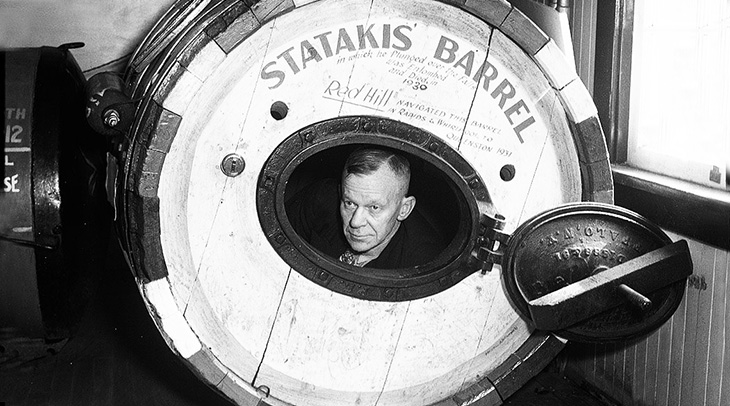 (William Red Hill c. 1935 in George Stathakis Barrel: Alexandra Studio)
Born on November 17, 1888, in Niagara Falls, Ontario, red-haired William Thomas Hill grew up in the area. He spent his formative years throwing objects into the Niagara River, watching them float over the falls, and noting where they finally lodged. These habits and observations that would shape his life. According to "Why Red Hill Did It" (1951) author Sidney Katz, the Hills had lived beside the Niagara River for 200 years and family members knew the twists and turns, currents and rapids like the back of their hands.
Red Hill doesn't seem to have known what fear is; at the age of 9, in 1897 he pulled his 2-year-old sister Cora from their burning house, earning the first of several life-saving medals for the man often referred to as "The Master Hero of Niagara Falls".
The first time Red Hill Sr. went through the Niagara River rapids below Niagara Falls in a barrel, was in July 1911 at the age of 22. He rescued bruised former circus stuntman turned daredevil Bobby Leach from the steel barrel that Leach had just gone over Horseshoe Falls in. Leach was second person to go over Niagara Falls and survive; the first was a woman, Annie Taylor, in October 1901.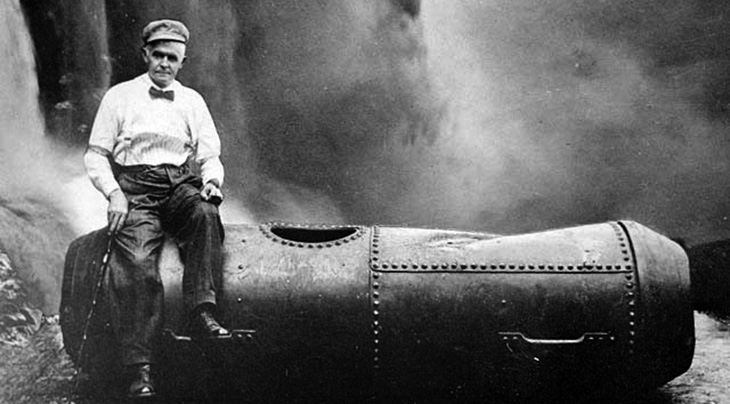 (Bobby Leach and Steel Barrel 1911 Niagara Falls Photo): 
Hill Sr. then hopped into Leach's battered barrel and rode the dangerous whitewater rapids the 6 miles from Niagara Falls to Queenston, Ontario. Where rapids are classed between I to VI, with I being very easy and VI being a threat to life with little or no chance tor rescue, the Niagara River rapids are a Class V. 
In 1912, the 24-year-old Red Hill was manning an ice fishing hut serving drinks and snacks to tourists visiting the ice bridge below the Falls. He heard a rumbling that he realized meant the ice was breaking up, and alerted/chase 30+ people exploring the ice bridge, to safety on shore.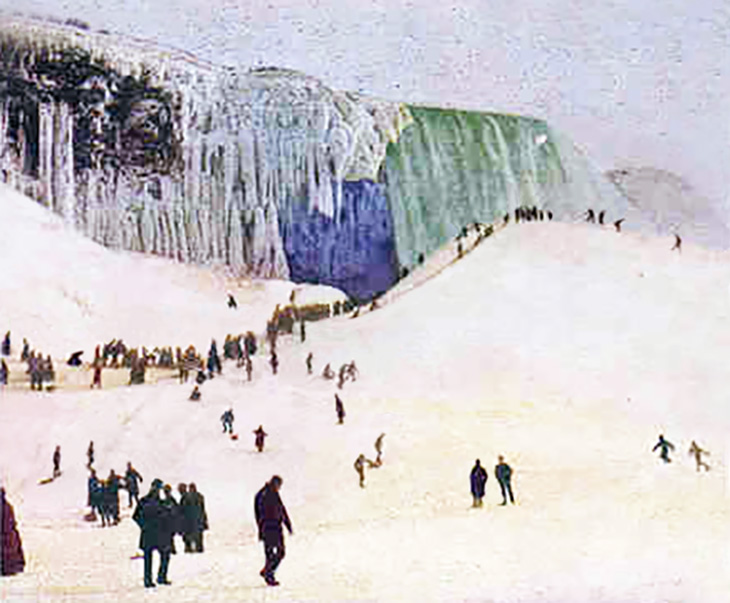 (Niagara Ice Bridge 1903: Truman Ward Ingersoll / Freshwater and Marine Image Bank)
Four people were reluctant to leave, and Hill ended up rescuing one of them, dragging and finally carrying 17-year-old Ignatius Roth ashore through chest-deep freezing water and icy slush. A honeymooning husband and wife, and another young man that ignored him; they were swept away in the river and died. Hill was given his second Canadian medal for bravery, and since this tragedy, people are not permitted to walk on the winter ice bridge at Niagara Falls.
William Hill served in the army in France for four years during WWI (1914-1918). He was wounded and gassed, injuries which weakened him and had long-term effects on his health. When Hill returned to Canada in August of 1918 with two additional wartime medals for bravery, he was very underweight.
Just a few days later, Red Hill earned a Carnegie Hero Fund Carnegie Medal for rescuing two men from The Niagara Scow. The boat had become caught on rocks 2500 feet upriver from the Falls. A rope rescue device shot to them by the Coast Guard had become tangled. Over the course of the next 24 hours, Hill braved the current of the river to help the men on the boat untangle it, so they could abandon the scow and make their way to safety.
The iron scow remained stuck in the rocks above Niagara Falls for over 100 years, until gale-force winds in 2019 dislodged it; the scow flipped over and traveled about 50 metres closer to the falls before becoming lodged again – who can say for how long this time? Red's great-grandson Kip Finn talked to CBC about the scow, his grandfather, and the grueling 1918 rescue.
In 1925 Red Hill swam across the choppy Niagara River from the American to the Canadian side – a half mile – in eleven minutes, Three years later, in 1928 he earned his fourth Canadian medal for bravery when he rescued Niagara Falls daredevil Jean Lussier after the man survived going over them in a giant rubber ball. .
Niagara Falls Info.com and many other sources note that among William Red Hill Sr.'s other 28 live human rescues (he also rescued many animals and birds), and recovery of over 175 bodies from the Niagara river, were those of other foolhardy souls who dared to go over Niagara Falls in a barrel.
In May of 1930 and again in May, 1931, Red Hill went down the lower rapids from below Niagara Falls to Queenston, in a barrel for this second and third times, respectively.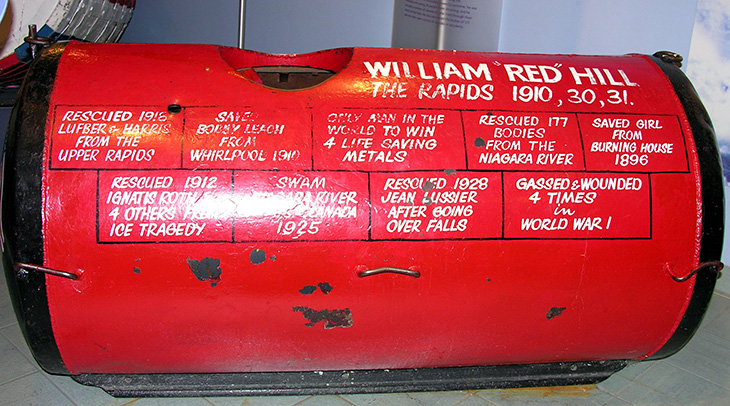 (William Red Hill 1930 Rapids Barrell Photo: noelweathers)
The third trip in 1931 was in steel barrel that weighed almost a ton, and was built by George Stathakis. George had gone over Niagara Falls in this barrel with his pet turtle in the summer of 1930. His turtle survived, but Stathakis suffocated inside the barrel.
When Red Sr. used the Stathakis barrel for his 1931 rapids trip, he was caught in a huge whirlpool below Niagara Falls, and bashed about for hours. Hill's oldest son, 18-year-old William "Red" Hill Jr., jumped into the the water with a rope and fought the currents and waves to get to the barrel. Once there he tied one end of the rope to it; it took 12 men on the shore to pull William Hill Jr. and the barrel with his father still inside, back to safety.
William "Red" Hill Sr. died an uneventful death at the age of 56 in 1942. His sons were all rivermen themselves. William "Red" Hill Jr. in particular followed in his father's footsteps; not only did he participate in many of his father's rescues and body recoveries while he was alive, he did many of his own, and rode down the rapids himself successfully twice after his father's death (1945 & 1948). William Red Hill Jr. lost his life in an attempt to go over Niagara Falls in 1951, at the age of 38.
Barbara Hutton Inspires I Found a Million Dollar Baby
Fanny Brice sang I Found a Million Dollar Baby (in a Five and Ten Cent Store) for the first time in the Broadway musical Billy Rose's Crazy Quilt in May 1931. Probably the most memorable recent recorded version is that of Barbra Streisand, who sang I Found a Million Dollar Baby when she played Fanny Brice in Funny Lady (1975).
With Lyrics by "Broadway" Billy Rose & Mort Dixon, and music by Harry Warren, I Found a Million Dollar Baby was an instant hit from May of 1931. That same month, the Boswell Sisters with Victor Young and his orchestra also recorded the song.
Bing Crosby's version of I Found a Million Dollar Baby came out the following month.
Other artists who have recorded I Found a Million Dollar Baby include Bobby Darin's rockin' version in 1957, Nat King Cole, Perry Como, and Dizzy Gillespie.  The song can be heard in films such as Bicentennial Man (1999) starring Robin Williams, City Heat (1984) with Clint Eastwood and Burt Reynolds, Paper Moon (1973) starring Ryan O'Neal & daughter Tatum O'Neal, and Million Dollar Baby (1941) with Priscilla Lane, Jeffrey Lynn, and Ronald Reagan.
I Found a Million Dollar Baby (in a Five and Ten Cent Store) can be heard in the made-for-TV movie Poor Little Rich Girl: The Barbara Hutton Story (1987), starring Farrah Fawcett as the Woolworth heiress.
Born on November 14, 1912, Barbara Hutton's maternal grandfather was Frank W. Woolworth, founder of the five and ten cent store retail chain; her father Franklyn Laws Hutton a co-founder of the E.F. Hutton banking & investment firm. Barbara Hutton and Dina Merrill (daughter of cereal heiress Marjorie Merriweather Post & one-time wife of E.F. Hutton) were first cousins. 
When Barbara Hutton's mother died of suffocation in 1917 at the age of 33 (most likely an infection, although poison was rumored; no autopsy was ever performed), it was 4-year-old Barbara that found her mother's body. Her father left her to live a lonely childhood, raised by a governess and living with different relatives. When her wealthy grandmother Jennie Woolworth died in 1924, 12-year-old Barbara Hutton inherited $28 million dollars in trusts. Her 18th birthday in 1930 was marked by a lavish $60,000 débutante ball attended by the elite of New York society, and subsequent public outrage – this WAS the Great Depression, with millions of people out of work, standing in bread lines. 
(Barbara Hutton c. 1931 | With son Lance Reventlow 1957 Photo: AP Wirephoto)
The song title may have captured Barbara Hutton's story to that point in 1931, and the lyrics optimistically hint at a bright future "Love comes along like a popular song".
But Barbara really was a poor little rich girl in matters of the heart. After losing her mother at a young age and being abandoned by her father, she never found lasting love as an adult either, although she tried hard. Barbara Hutton was married and divorced 7 times – mostly to European, Russian, and Asian minor royals, as well as playboy Porfirio Rubirosa (one of Zsa Zsa Gabor's ex-boyfriends, who made a habit of dating and marrying actress and wealthy women). Let's not forget her fourth husband, film star Cary Grant (m. 1942-1945). Her last marriage ended in divorce in 1966.
Barbara Hutton died of a heart attack in May 1979 at the age of 66. Her only child, race-car driver Lance Reventlow (from her second marriage, to Danish Count Haugwitz-Hardenberg-Reventlow), had pre-deceased her in a plane crash. Hutton had given away most of her fortune and was living alone at the Beverly Wilshire Hotel at the time of her death.
*Images are believed to be in the public domain or Creative Commons licensed & sourced via Wikimedia Commons, Vimeo, YouTube, or Flickr, unless otherwise noted*