Dancing & More at the Waldorf-Astoria
Built in 1893 and expanded in 1897, the magnificent Waldorf-Astoria hotel on Fifth Avenue in Manhattan was torn down in 1929 to make way for the Empire State Building. A couple of years later, a luxurious new Art Deco-style Waldorf Astoria New York hotel was built at 301 Park Avenue in Manhattan, opening in 1931.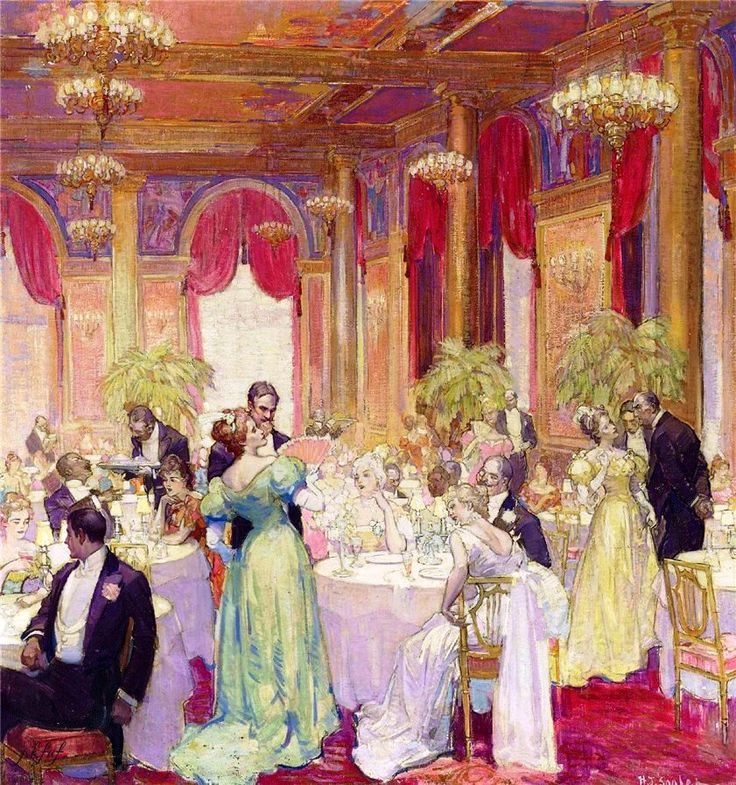 (Dancing at the Waldorf-Astoria 1896 Painting by Henry James Soulen)
William Waldorf Astor & The Waldorf Hotel
In 1859, wealthy financier John Jacob Astor III (oldest son of New York real estate mogul William Backhouse Astor Sr.) and his wife Charlotte (nee Gibbes) built a modest, square red brick family mansion at 338 Fifth Avenue, at the intersection of Fifth Avenue and 33rd Street.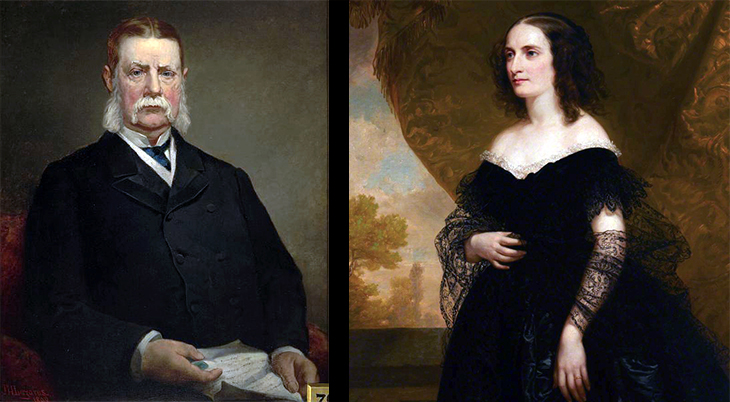 (John Jacob Astor III 1890: Jacob Hart Lazarus | Charlotte Astor 1860: Thomas Sully) 
John Jacob's younger brother William Backhouse Astor Jr. and his wife Caroline "Lina" Astor (nee Schermerhorn), built their own mansion on the other corner of the same Fifth Avenue block (at the corner of 34th Street), at 350 Fifth Avenue.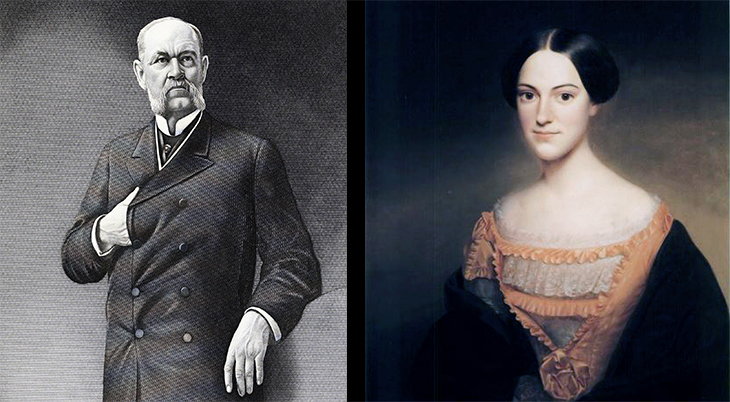 (William B. Astor Jr.  | Caroline Schermerhorn Astor 1860) 
Despite their in-law status and the proximity of their Fifth Avenue homes, the two wives did not get along.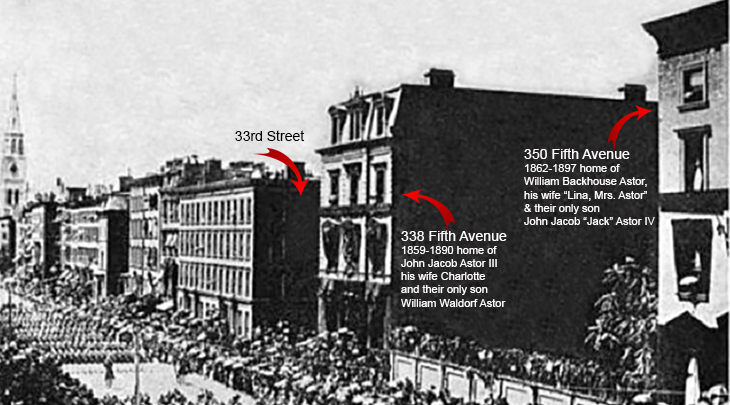 (5th Avenue Astor Family Homes c. 1885)
The very confident and strong-willed Mrs. Lina Astor was wealthy in her own right and descended from one of the Dutch founding families of New York City. Over time during her marriage she established herself as the gatekeeper of the social scene for New York's "old money" families. Her husband William B. Astor Jr. often absented himself from New York, leaving Lina free reign to lord it over New York society.
John Jacob Astor's only child (b. 1848) was his son William Waldorf Astor, a lawyer and politician. William married Mary "Mamie" Dahlgren in 1878.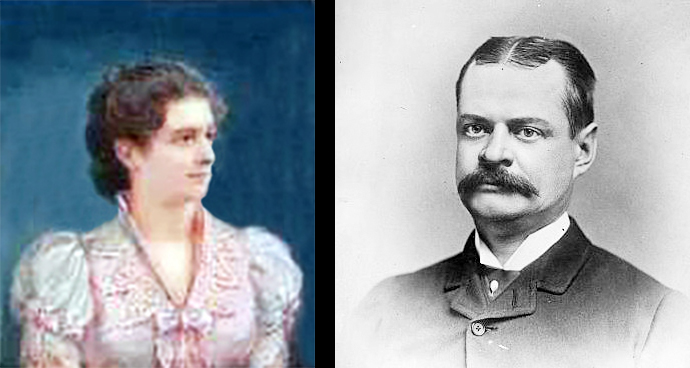 (Mary "Mamie" Dahlgren Paul Astor 1890: Fernand Paillet | William Waldorf Astor c. 1880s-1890s)
William ran for political office and was successful in being elected to the New York State Assembly in 1878, and was a member of the New York Senate from January 1880-December 1881. His bid for re-election was defeated in part due to his extreme shyness and inability to handle criticism in the press. However, U.S. President Chester A. Arthur handed him a plush appointment as the American Minister to Italy from 1882-1885. 
After his mother Charlotte Astor died in 1887, a dispute simmered between William Waldorf Astor and his Aunt Lina as to who should be referred to as "Mrs. Astor" (as in, "The Mrs. Astor"). William felt that since his father was the oldest of the two Astor brothers, the "title" of Mrs. Astor should go to his wife Mamie.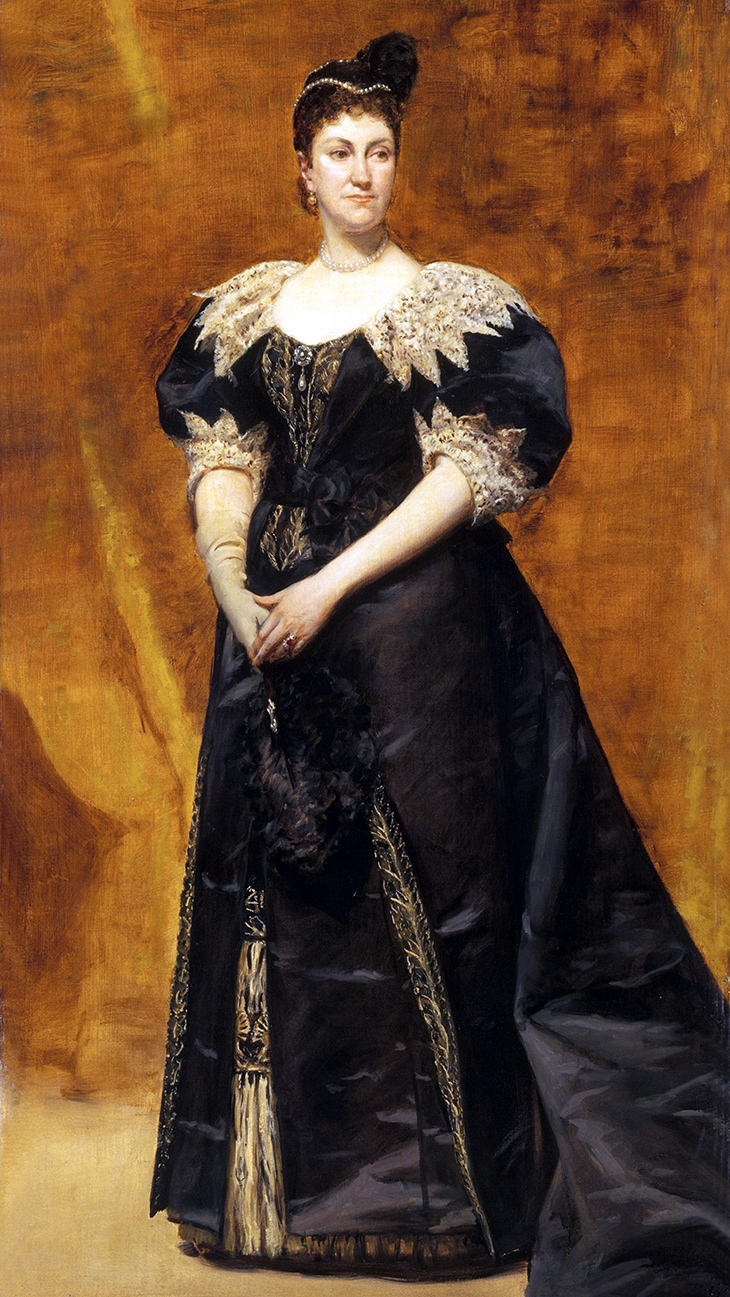 (Caroline "Lina" Astor c. 1890 Portrait: Carolus-Duran)
Lina felt that as the oldest living Mrs. Astor in their family, she should be "The" Mrs. Astor….a battle that was eventually won by the more forceful and socially connected Lina.
When William Astor's father John Jacob Astor died in 1890, William became the richest man in America. Knowing it would infuriate his Aunt Lina, William promptly tore down the modest family residence his father had built at 338 Fifth Avenue, and began building the luxurious 13-story high German Renaissance-style Waldorf Hotel to the specifications of hotelier George Boldt.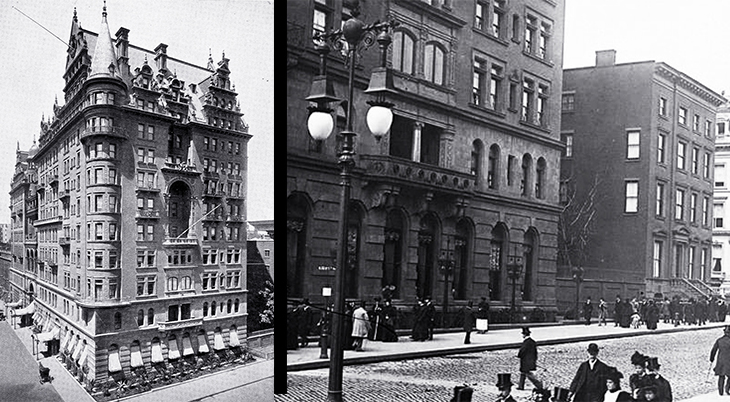 (Fifth Avenue Waldorf Hotel Beside Lina Astor Mansion in 1890 & 1893) 
The Waldorf Hotel opened to the public in March 1893, kicking off with a huge charity ball the following day. It quickly became a preferred destination for travellers, as well as a center of business and social events for the elite of New York society. The luxurious suites were home away from home for European princes, heads of state, and American presidents, as well as kings of industry and finance.
The deepening rift between Lina Astor and William Waldorf Astor, coupled with disappointments in his American political career, resulted in William moving his family to England before the hotel had even opened. Wanting privacy from the press, he had his staff report that he'd died from pneumonia in the summer of 1892, a move that backfired with bad publicity.
An additional 5 stories were added to the New York Waldorf Hotel in 1895, making it 18 stories tall. 
Waldorf maître d' Oscar Tschirky 's cookbook (The Cook Book by "Oscar" of the Waldorf  – 1896) featured Waldorf Hotel recipes for popular menu items Waldorf Salad and Thousand Island Salad Dressing  – famous at the time, and still sold world-wide today.
John Jacob Astor IV & The Astoria Hotel
Caroline "Lina" and William B. Astor's only son John Jacob Astor IV (aka Jack Astor) was born in 1864. He was a science-fiction novelist, inventor, and a millionaire real estate developer like his cousin William Waldorf Astor.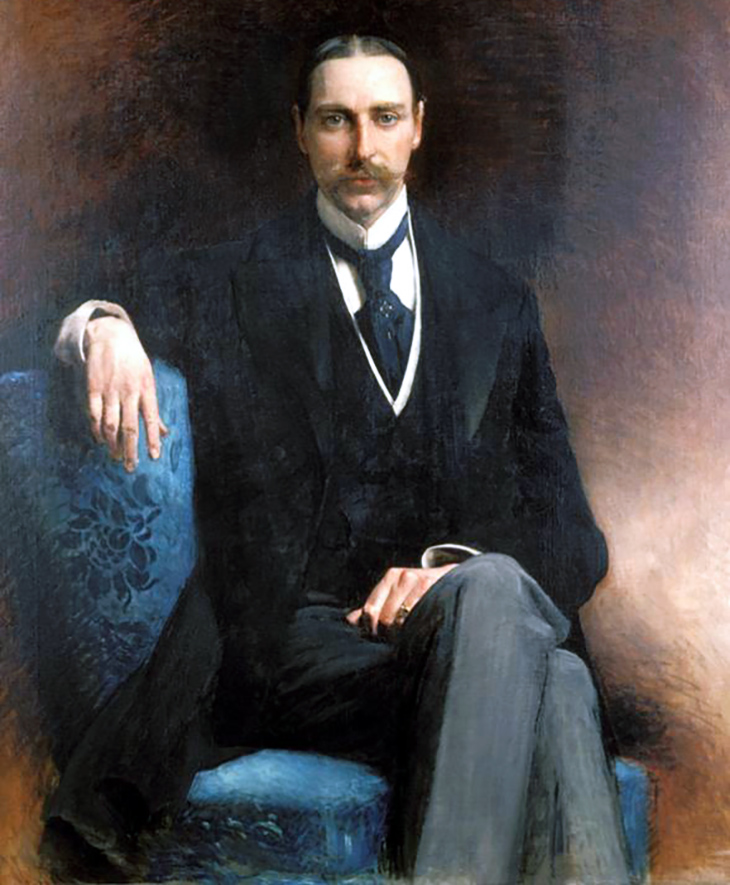 (John Jacob Astor IV 1896 Portrait: New York Public Library)
Lina Astor was indeed disgruntled by the Waldorf Hotel overshadowing her Fifth Avenue residence, and disparagingly referred to it as "the tavern next door". Her son finally persuaded her to move in 1897, and they built new homes for themselves at 840 & 841 Fifth Avenue. Caroline Astor died in 1908, after suffering from periodic dementia during her final years.
Jack Astor built the competing, larger German Renaissance-style Astoria Hotel where his parent's mansion had stood, right next to the Waldorf Hotel.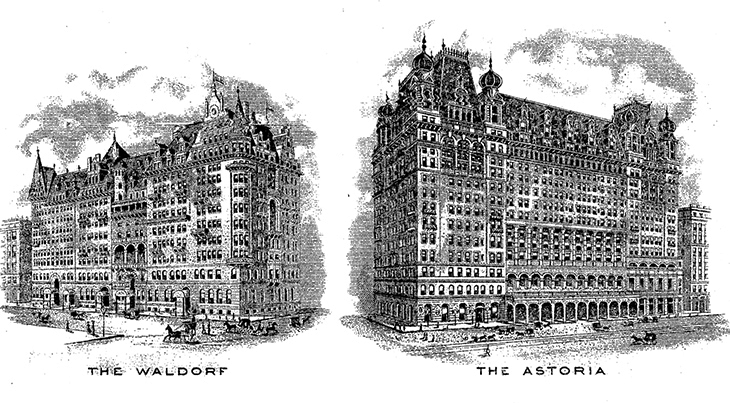 The Astoria Hotel boasted of 450 guest rooms and a showcase Louis XIV style ballroom, with a seating capacity of 700.
George Boldt, Oscar, and The Waldorf-Astoria Hotel
(George Boldt c. 1900-1916 before 1916 Photo: )
Hotelier George Boldt was the original proprietor of the Waldorf Hotel, and he leased John Jacob Astor IV's new Astoria Hotel as well in 1897. Boldt negotiated between the two Astor cousins to merge the two hotels into the Waldorf-Astoria, under his management. 
After the merger, the new Waldorf-Astoria Hotel on Fifth Avenue was the largest hotel in the world, with a 300′ long hallway ("Peacock Alley") connecting the two hotels.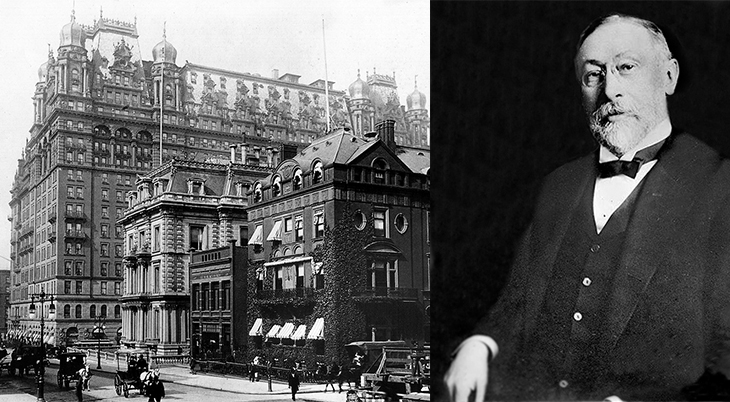 (Waldorf-Astoria Hotel 1899 | George Boldt c. 1900-1916)
Above, the Waldorf-Astoria Hotel on Fifth Avenue in 1899, with the Astoria in front and the Waldorf just visible on the left behind it; in front of the hotel from left are the Alexander T. Stewart mansion, Avery Art Gallery, and the New York Club.
When newspaper publisher William Randolph Hearst married Millicent Willson in April 1903, Waldorf-Astoria chef Oscar whipped up a celebratory wedding breakfast for them at the hotel.
In 1900 George Boldt began the construction of Boldt Castle on Hart Island (renamed Heart Island) in the Gananoque/Thousand Islands area of New York, as a present for his wife Louise. When she died in 1904 at the age of 43, Boldt ordered construction on the castle to be stopped. George Boldt never returned to Hart Island after his wife's death; he died in December 1916 at the age of 65 leaving the castle to stand empty and exposed to the elements for over 70 years. His son George Charles Boldt Jr. became the President of the Waldorf-Astoria Hotel Company upon his father's death, but sold his interest in the company in two years, donating the profits to Cornell University. This decaying monument to the memory of Louise Boldt was purchased by the Thousand Islands Bridge Authority in 1977 and restored at at cost of approximately $15 million, and is usually open to the public.
Meanwhile, the Waldorf-Astoria Hotel continued to be haven for tourists and visiting celebrities from around the world. On staff according to Tavern Topics (June 1922) were a concierge, a House Dentist, caterers for privately hosted affairs in suites, and the Waldorf-Astoria Candy Shop for steamer baskets and favors for those lucky guests arriving or leaving by cruise ship.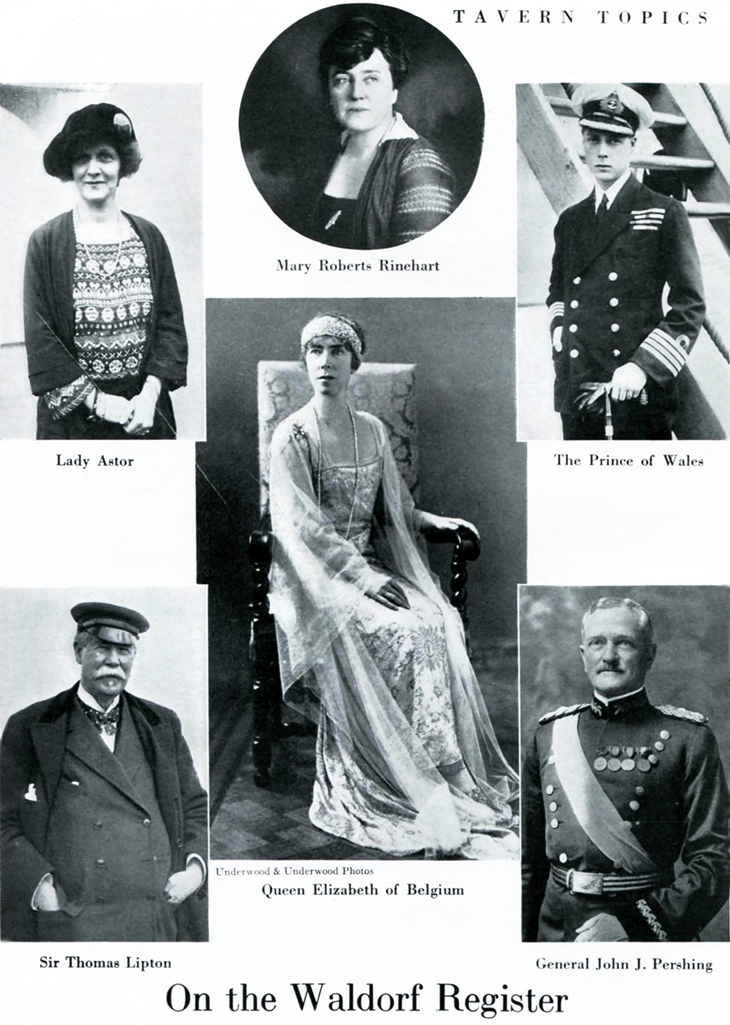 Tavern Topics Columnist Winifred Willson spoke to maître d' hotel Oscar Tschirky in 1922, who confirmed these recent hotel guests at the original Waldorf-Astoria Hotel on Fifth Avenue:
Virginia railroad magnate and former Confederate Colonel Chiswell "Chilley" Langhorne often stayed at the Waldorf with his family of 8 surviving children during the latter part of the 1800s. One of his six daughters – Irene – married illustrator Charles Dana Gibson (creator of the "Gibson Girl" sketchs); another, Nancy "Nanny", divorced her first husband Robert Gould Shaw II in 1903. She and moved to England with her sister Phyllis in 1905, and the following year married Waldorf Astor, son of William Waldorf Astor.
King Albert of Belgium stayed more than once at the Waldorf-Astoria, beginning in the early 1900s when he was still third in line for the throne. During an early 1920s stay, he brought with him his wife Queen Elizabeth of Belgium, their son Crown Prince Leopold, and an entourage of 40.
Short story writer, mystery novelist, WWI war correspondent, and playwright Mary Roberts Rinehart (The "American Agatha Christie").
The future King Edward VIII, then Prince of Wales, also stayed at the hotel – long before he met American divorcee Wallis Simpson. After abdicating and marrying her, the Duke and Duchess of Windsor stayed at the new hotel on Park Avenue frequently between 1936-1961. Other Crown Princes to stay at the Waldorf Astoria included royal sons from Siam, Abyssinia, Roumania, Russia, and Poland.
General John "Black Jack" Pershing and the Anglo-French and Italian War Commission headquartered at the Waldorf-Astoria in New York after WWI.
South American Presidents who stayed at the Waldorf-Astoria included Presidents Pessoa of Brazil, Diaz of Mexico, Mathieu of Chili, Calderon of Bolivia, Chamorro of Nicaragua.
Sir Thomas Lipton (Scottish-Irish creator of the Lipton Tea brand); electrical engineer and radio inventor Guglielmo Marconi; and Canada's Prime Minister Sir Robert Borden.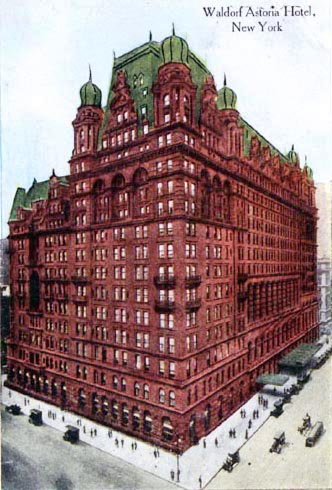 (Waldorf-Astoria Hotel 1915)
The Waldorf-Astoria Orchestra, established in the 1890s, provided dinner music for patrons to dine and dance by at both the Fifth Avenue location until it closed in 1929, and again at the new location when it opened in 1931 on Park Avenue.
The band was often recorded, and with the commencement of radio in the early 1920s, was one of the first to broadcast live performances from the hotel's Empire Room.
Radio Digest reported that Waldorf-Astoria bandleader Jack Denny's Debutante Hour featuring gilded age high-society debutantes from New York, Boston, and Washington singing along with the orchestra, was broadcast from the Empire Room of the Waldorf Astoria beginning in October 1932.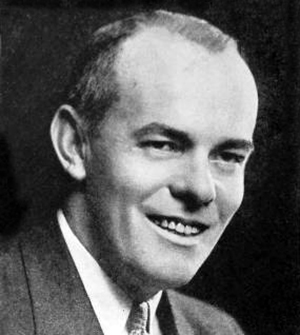 (Jack Denny 1932 Photo: The New Movie Magazine)
Denny and the Waldorf-Astoria Orchestra also appeared in the Busby Berkely choreographed musical Moonlight and Pretzels (1933), filmed in New York City with actors Leo Carrillo and former silent movie film stars Mary Brian, Herbert Rawlinson, and William Frawley. Over 40 feature films and documentaries have been set and/or filmed at, the "new" Waldorf-Astoria Hotel on Park Avenue since the 1930s.
Among the other famous bandleaders of their day for the Waldorf-Astoria Orchestra, was Xavier Cugat (off and on from approx. 1933-1949). 
During the 1940s, the Luncheon at the Waldorf radio program was broadcast live from the Empire Room with announcer Bert Parks and actress-hostess Ilka Chase, along with guest stars. 
The Waldorf-Astoria Lounge Cafe and Tony Sarg's Oasis were covered with murals by that famed New York City artist and filmmaker. 
Oscar Tschirky stayed on as maître d' at the Waldorf-Astoria Hotel until it closed in 1929, prior to being torn down to make way for construction of the Empire State Building. He died in 1950 at the age of 84.
The May 1, 1929 program for the "Final Dinner" held at the Waldorf-Astoria Hotel on Fifth Avenue in New York features photos of George Boldt and Oscar on the cover, an exterior of the hotel, and a glimpse of the grand dining room.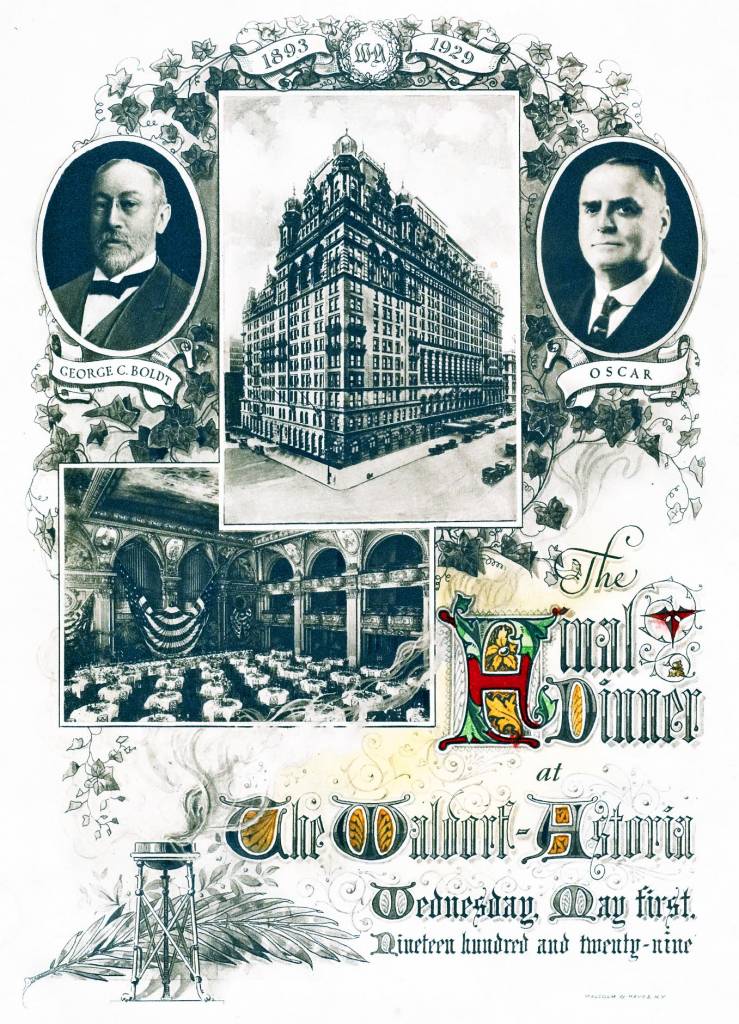 (May 1, 1929 Waldorf-Astoria Menu & Program Photo: New York Public Library)
On the menu that final evening in 1929? Cherrystone Clam Cocktail, Clear Green Turtle Soup, Celery, Salted Almonds, and Olives. Patrons had a choice of Crown of Bass in Lobster Sauce with Potatoes Parisienne Persillade, Mignon of Spring Lamb (Chasseur) with New Green Peas Saute in Butter, or Supreme of Guinea Hen (Tyrolienne) and Salade Diplomate. Dessert was Bombe Mercedes Ice Cream, and a selection of macaroons and assorted cakes.
William Waldorf Astor, 1st Viscount Astor
Meanwhile, over in England, William Waldorf Astor had purchased the Cliveden estate in Taplow from the Duke of Westminster in 1893. In 1896 he built a $1.5 million gothic mansion on London's Victoria Embankment overlooking the Thames. That house did double duty as an office, which William Astor needed as he was busy buying and establishing various British publications (The Pall Mall Gazette; The Pall Mall Magazine; The Observer).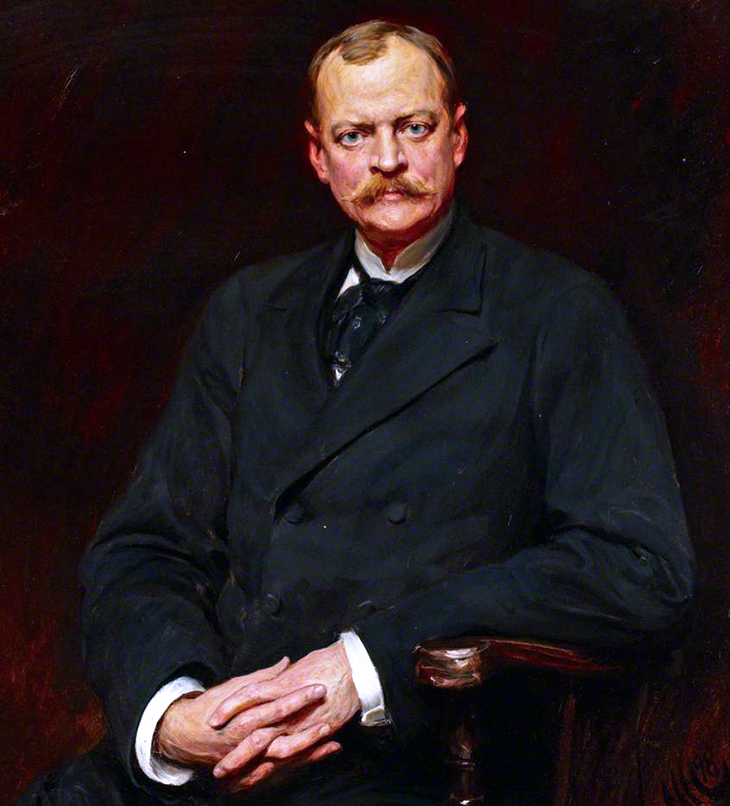 (William Waldorf Astor 1898 Portrait: Hubert Von Herkomer) 
William Waldorf Astor became a British citizen in 1899 and acquired the historic 3,500 acre Hever Castle Estate in Kent in 1903 (Hever Castle dated back to 1270 and was the childhood home of Anne Boleyn). In addition to many philanthropic contributions in Great Britain, Astor continued his property development, building the Waldorf Hotel in the West End of London.
He was made Baron Astor of Hever Castle in January 1916 in recognition of his charitable works, a title that was upgraded the following year to Viscount Astor. Unfortunately William Astor didn't have long to enjoy his newfound status as a member of the British nobility; he died of heart failure on October 18, 1919 at the age of 71. He left his children somewhere in the range of $200 million when he died.
His son Waldorf Astor became the 2nd Viscount Astor, and after standing as the British MP for Plymouth / Plymouth Sutton (1910-1919), was a member of the British House of Lords until his death in 1952. Waldorf's wife Nancy Astor took his place as the Plymouth Sutton MP, an office she held from 1919-1945. Today William Waldorf Astor's great-grandson William Astor is the 4th Viscount Astor and is a Member of the British House of Lords.
John Jacob Astor IV and The Titanic
When the Spanish-American War broke out in 1898, Jack Astor served as an officer in the Volunteer Army during the war and was promoted to colonel. In 1909, 47-year-old John Jacob Astor IV scandalized New York society when he divorced his socialite first wife Ava (the mother of his two children), in order to marry 18-year-old Madeleine Talmadge Force.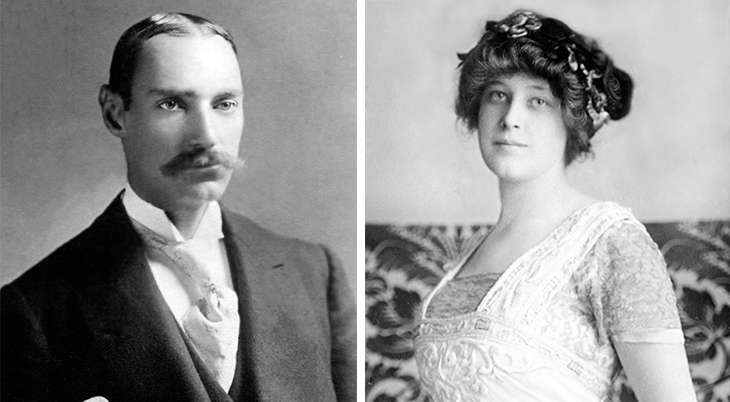 (John Jacob Astor IV c. 1895 & wife Madeleine Astor c. 1910)
The couple married in September 1911 and left for an extended tour of Egypt and Europe to avoid the scandal-mongers. The newlyweds met and befriended fellow American nouveau-riche European traveler Margaret Brown, separated from her Leadville, Colorado husband and travelling on her own.
When Madeleine was 5 months pregnant, they decided to return to the U.S. so their child would be born in America; Margaret Brown decided to return to the United States as well. These three adults were the wealthiest passengers on the ship when their entourage boarded the RMS Titanic on April 10, 1912 in Cherbourg, France.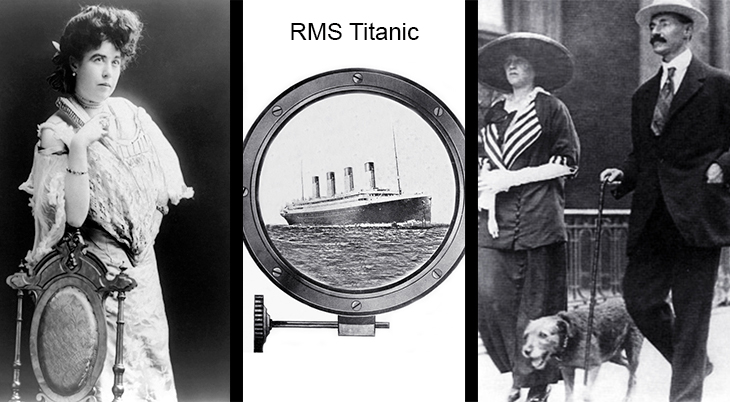 (Margaret Brown c. 1890s-1910s | Madeleine & John Jacob Astor IV and dog c. 1912)
Margaret "Molly" Brown and Madeleine Astor were put into lifeboats and survived the sinking of the Titanic on April 15, 1912, but John Jacob Astor IV was among the 1500+ passengers that died. His personal wealth when he died was estimated at $87 million – proof that money can't buy everything. The U.S. Senate Committee inquiry into the sinking of the Titanic was held at the Waldorf-Astoria Hotel in 1912. Years later The Unsinkable Molly Brown (1964) movie starring Debbie Reynolds and Harve Presnell, was inspired by Margaret Brown and the Titanic.
Madeleine Astor gave birth to son John Jacob Astor VI in August 1912. She inherited $100,000 and a trust fund of $5 million, which would be forfeit if she remarried. Five years later, she did remarry and lost her trust fund income. She had two more children from her second marriage to a banker, before divorcing again in 1933. Her third marriage to a boxer, lasted from 1933-1938. She died in March 1940 at the age of 46. Her son John Jacob Astor VI fought with his older half-brother Vincent Astor for years over their father's fortune, finally settling with Vincent's widow after Vincent's 1959 death, for a paltry $250,000. The remainder of Vincent Astor's multi-million dollar fortune stayed with his widow – author, socialite, and philanthropist Brooke Astor – and the Vincent Astor charitable foundation.
Waldorf-Astoria Hotel on Park Avenue Sold
The new, 47-story Art Deco Waldorf-Astoria New York built in 1931 on Park Avenue was the world's tallest hotel until 1963. Every American President since and including President Herbert Hoover, has stayed in the hotel's presidential suite, according to the New York Times. Queen Elizabeth and Prince Philip stayed at the hotel in 1957 and a ball was held there in their honor.
Hotelier Conrad Hilton acquired the management rights in 1949 and Hilton Hotels Corporation bought the hotel in 1972. A $150 million renovation was completed in the 1990s.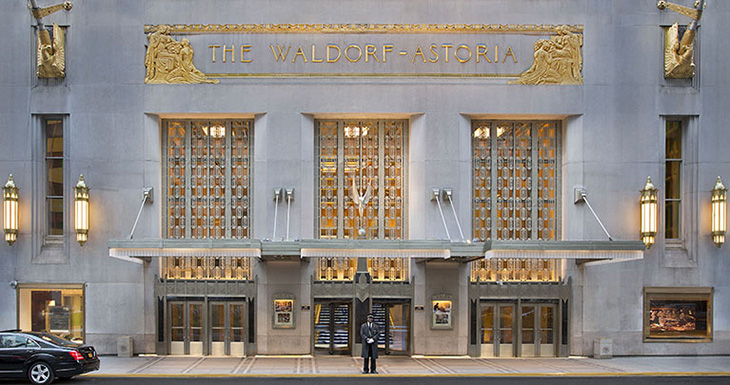 (Waldorf Astoria Hotel Park Avenue Front Entrance 2013: Hennem08)
More recently The New York Waldorf-Astoria's interior and exterior were designated as New York City landmarks, and it was sold to the Anbang Insurance Group of China for $1.95 billion dollars in 2015. The hotel and it's restaurants were closed in 2017 for renovations expected to take 3-4 years. The renovations will refurbish the hotel, keeping 350 hotel rooms, Peacock Alley, and the hotel's restaurants, and create 375 condos. As of January 2021 the Waldorf-Astoria Hotel has not yet reopened, and is now not anticipated to reopen until 2022-2023.
*Images are believed to be in the public domain or Creative Commons licensed & sourced via Wikimedia Commons, Vimeo, YouTube, or Flickr, unless otherwise noted*
Other Resources:
Radio and Television Mirror, May 1940.
Moving Picture News, 1912