Folks, Facts & Fun From October 1931
News, Headlines, Entertainment & Trivia from October, 1931: Chicago gangster Al "Scarface" Capone is convicted of tax evasion; 3 Hollywood celebrity weddings take place; and the "new" Waldorf Astoria opens on Park Avenue
Mobster Al Capone Sentenced to 11 Years for Tax Evasion
Chicago organized crime boss "Scarface" Al Capone was convicted of 5 counts of tax evasion on October 17, 1931. A week later, Federal Judge James H. Wilkerson sentenced Capone to 11 years imprisonment, fined $50,000, and ordered him to pay prosecution fees of another $100,000. Wilkerson had also denied motions for freedom while the case was being appealed.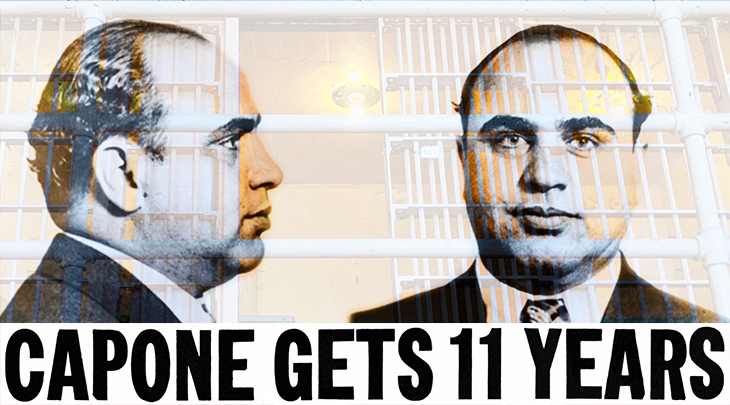 (Source Photos – Al Capone's Alcatraz Cell 181: Tres calcetines & 1931 Mug Shot: US Bureau of Prisons)
On October 28 1931, Wilkerson had also sentenced Capone's bodyguard Phil D'Andrea to six months for carrying a loaded gun into federal court on October 10th. D'Andrea confessed he had carried it every day he had been in court.
"Judge Wilkerson said the presence of an armed man during the trial of Capone's income tax evasion case was a direct menace to the court itself and adjudged D'Andrea guilty of contempt of court….Before sentencing D'Andrea, Judge Wilkerson said it was clear he was a member of an "outlaw gang" which not only tried to intimidate government witnesses in the Capone trial but also caused defense witnesses to perjure themselves. "This gang," the court said, "experienced a control over people with whom it came in contact that resembled nothing less than insurrection against the laws of the U.S. I would have been totally blind had I not noticed the intimidation of witnesses. Time and again I noticed witnesses faltering on t he stand." – 'Gun Toting' Bodyguard to Serve Term, The Brownsville Herald, October 28, 1931
Nee Alphonse Gabriel Capone when he was born on January 17, 1899, Al Capone's criminal empire over the next 30-some years encompassed bootlegging, racketeering, bribery, murder, and more. He'd acquired the nicknames of Scarface, Big Al, and Public Enemy No. 1 by the time of his sentencing in October 1931.
Capone's Chicago Outfit had carried out the Saint Valentine's Day Massacre of February 14, 1929. Capone was at his home in Florida at the time. Nevertheless, this bloodbath spurred a grand jury summons for federal Prohibition violations by Capone in March 1929. Al Capone pled guilty in May 1929 and was sentenced to a year in prison (Leavenworth).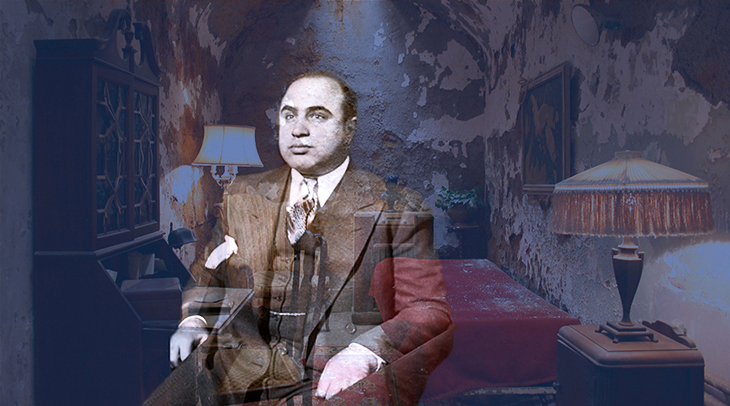 (Al Capone Eastern State Penitentiary Cell: Thesab & 1930 Chicago Bureau / FBI / Wide World Photos Blend: A. Hamilton)
After his 1931 sentencing for tax evasion, Al Capone returned to Leavenworth Prison. He was transferred to the Atlanta Penitentiary in May 1931 and from there, sent to Alcatraz in August 1934.
Due to his poor mental and physical health – he had a cocaine addiction, gonorrhoea, and syphilis of the brain – Capone's last year at Alcatraz was spent in the prison hospital. He was released from prison on parole in November 1939 because of the progression of his disease(s) and his reduced mental and physical capacity.
Although the discovery and mass production of penicillin in 1942 slowed down the progression of his paresis (paralytic dementia) caused by the syphilis, Al Capone died at his Florida home in January 1947 at the age of 48.
New Waldorf-Astoria Hotel Opens
The 625′ tall, 47-story Waldorf-Astoria Hotel reopened at it's new location at 301 Park Avenue Midtown Manhattan, New York on October 1, 1931. From the 70′ by 50′ hand-tufted one-piece rug in the black and gold marble main lobby, to the individual rooms – each with it's own radio AND television (in 1931!) – it was a marvel for the age.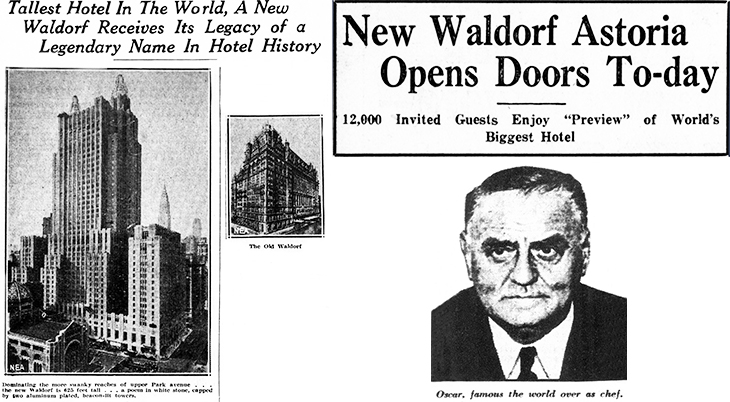 (Waldorf-Astoria Hotel Opening Headlines: The Waterbury Democrat)
The original Waldorf-Astoria Hotel was comprised of two separate hotels built side-by-side on Fifth Avenue by feuding family members – the Waldorfs and the Astorias. It had closed in 1929 in order to make way for construction of the Empire State Building.
"The new Waldorf opens with a telephone service that would serve a city of 25,000; with a train siding from Grand Central station from which guests can step, if riding in a private car, directly into an elevator…2,253 rooms and 47 floors. The main ballroom occupies almost a square block, and is outfitted like a theater, with boxes and a mechanically operated stage, which can be removed from sight by the pressure of a button and brought back by the pressure of another. There is a roof garden that removes its roof automatically in nice weathers, and covers it over again with a ceiling of stars and skies…There is a Don Quixote room, done by Sert  [Josep Maria Sert], the famous artist…There are some 30 ball rooms." – Tallest Hotel in the World, a New Waldorf Receives it's Legacy of a Legendary Name in Hotel History, by Gene Cohn, NEA / Waterbury Evening Democrat, September 30, 1931.
President Herbert Hoover spoke at the gala preview for 12,000 invited guests, held on the 30th of September 1931 and hosted by the famous Waldorf chef, Oscar Tschiry "Oscar of the Waldorf".  Hoover actually lived in the Presidential Suite of the "new" Waldorf Astoria Hotel from the end of his presidency in 1933, until he died there in 1964.
October 1931 Hollywood Weddings
There were 3 notable Hollywood celebrity weddings in October 1931 – actress Arline Judge married director Wesley Ruggles; movie star Richard Dix married Winifred Coe; and dancer-actress Lina Basquette married Theodore Hayes.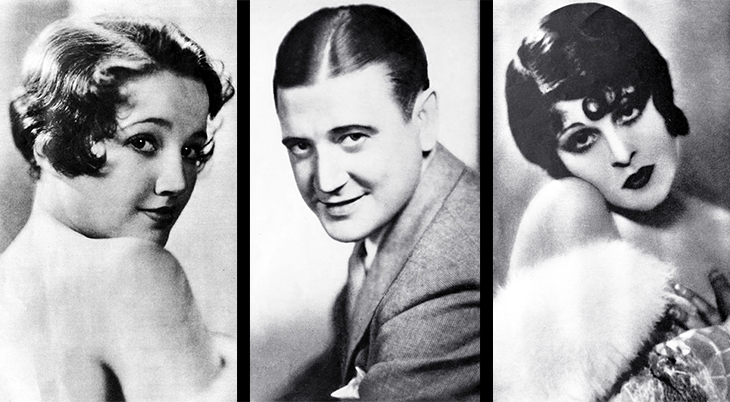 (Arline Judge 1932: Bachrach | Richard Dix 1930: Bachrach | Lina Basquette 1929)
Arline Judge's wedding to Wesley Ruggles was on October 15, 1931, and it lasted the longest of these 3 celebrity marriages.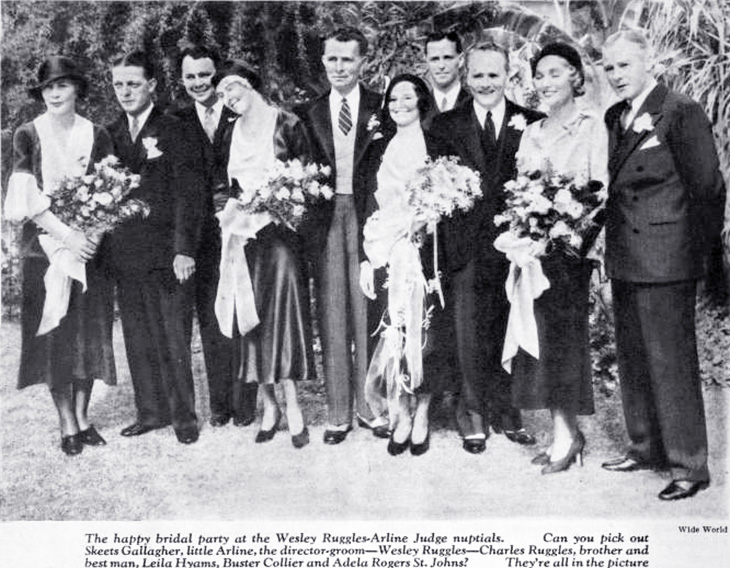 They had son Wesley Ruggles Jr. together before divorcing in April 1937. This was Ruggle Sr.'s 2nd wedding, and he married for the third and final time in 1940 to Marcelle Rogez. They were still married when Wesley Ruggles died in 1972.
Although this had been Arline Judge's first wedding (and divorce), she was not done with racing in the matrimonial stakes. Judge married (and divorced) another 6 times – once to millionaire Dan Topping (who promptly married skater-actress Sonja Henie in July 1940), and later to his brother Bob Topping. She dropped out of the wedding and divorce business in 1960, after shedding husband #7. Arline Judge was single when she died in in 1974.
The October 20, 1931 of Richard Dix and Winifred Coe was the first marriage for both the bride and the groom. Dix had starred in the January 1931 film Cimarron, which was been directed by Wesley Ruggles.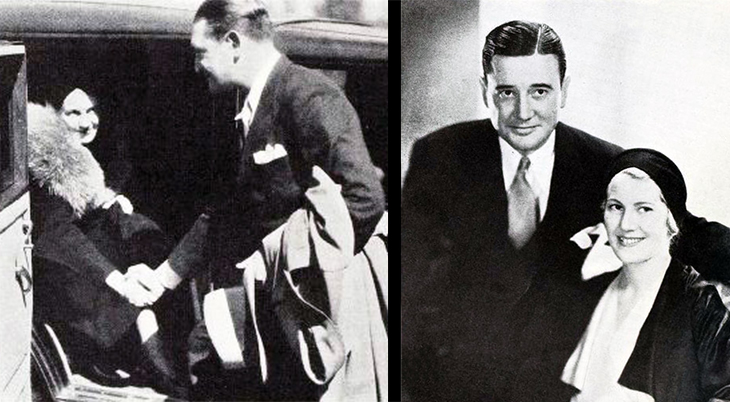 (Richard Dix & bride Winifred Coe Photo: 1932)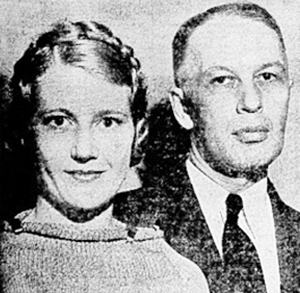 (Winifred Coe & Dr. Harley J. Gunderson in 1934: Associated Press Photo)
Winifred and Richard Dix had daughter Martha Mary Ellen before divorcing in June 1933. 
Winifred Coe married again in 1934, to Dr. Harley J. Gunderson.
Richard Dix also remarried, this time staying married to bride #2 (with whom he had twin sons and adopted another daughter) until his death in 1949. 
Pretty dancer Lina Basquette married Theodore Hayes on October 31, 1931. Despite being only 24 years old, she'd already been widowed twice (Sam Warner in 1927, and Roy Hallam in 1931) and divorced once (Peverell Marley, September 1931). This fourth marriage to Theodore Hayes ended in divorce in 1932; they took another stab at it, re-marrying in 1934, but divorced again in 1935. More weddings and divorces ensued. Lina Basquette had been separated died in 1994 at the age of 87, having been separated from 7th husband Frank Mancuso since 1959.
*Images are believed to be in the public domain, used by permission, or Creative Commons licensed via Wikimedia*