Creative Uses for Moroccan-Style Tiles in Your Home
Moroccan tiles are a classic fixture in any house. They have been popular since medieval times and are still quite popular today. These tiles are usually handmade with intricate patterns, then  moulded twice before they are fired to create stunning and contrasting designs. Moroccan tiles are versatile and can change the look of any room. Available in a variety of colours, designs, and patterns, they can be installed inside and outside your home. They are artistic, bold, and beautiful.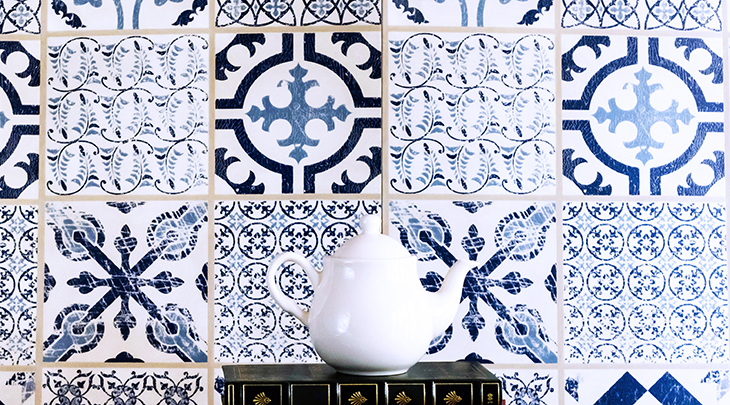 (Moroccan-Style Tile Wall Backsplash: Image by Freepik)
We'll explore the pros and cons of Moroccan-style tiles, delve into creative applications for homeowners, and offer insights into where they could shine in your living space.
Pros of Moroccan-Style Tiles
Can be used in different places
Moroccan style tiles can be used in a variety of rooms inside your home, and even outdoors on your property. For instance, you can use them as a kitchen backsplash or as stair risers. Moroccan tiles are suitable for many different spaces and are a must for any area that needs some editing and rework. You are limited only by your creativity. Once installed, people will not stop talking about these tiles thanks to their unique charm and beauty.
Complement any style of home
While Moroccan-style tiles may look better in some locations than others, but with proper planning, you can use them almost anywhere. Experiment freely to create wild, bold, and beautiful patterns and combinations that will add a rustic touch to any room. T
Moroccan tiles are versatile
Kitchen walls and backsplashes are the most common uses of these tiles, but you aren't limited to that. They can grace fireplaces, bathroom walls, floors, and even serve as wainscoting, window frames, or stair risers. You can even create a beautiful mural-like effect, providing a plethora of ideas for how to use Moroccan tiles in your home. 
They can be timeless
One of the classic tile options that ages well is natural stone. The subtle patterns of Moroccan-style tiles can not only add an amazing accent to any room, they can work well with other materials such as wood and natural stone to create stunning combinations of textures  and color that will stay fresh forever. 
Moroccan design tiles are durable
Highly durable, these tiles are also easy to clean and be wiped down quickly. Their aesthetic appeal and durability makes them ideal for areas that have a lot of foot traffic, and where spills and leaks are common. Install Moroccan-style tiles in bathrooms, kitchen floors and backsplashes, or in the foyer, to add upscale appeal to your home. 
Cons of Moroccan-Style Tiles
Along with many pros, Moroccan tiles also have some drawbacks.
They require maintenance
Moroccan tiles are encaustic and they are not protected by any glaze (unless noted by the retailer). Many Moroccan-style tiles are made out of concrete, which is a naturally porous substance, leaving it highly susceptible to staining. It's recommended to treat these tiles as if they were natural stone tiles, and periodically seal them. For the same reasons, clean these tiles of any stains as soon as you see them. Avoid installing Moroccan tiles where they will stay moist all of the time.
Susceptible to staining
As mentioned, these tiles have a high susceptibility to staining. Serious stains may even prove impossible to remove. Similarly, if the tiles are not maintained properly, they may develop a yellowish tint which is permanent and cannot be removed. 
Hard to install
While it is possible to install Moroccan tiles on your own, this task make take a long time and consume a lot of labour. Hiring a professional to install tiles may end up saving you a lot of money, time, and effort. 
Moroccan-style tiles cost more
The opulence they infuse your home decor with comes at a cost, since they are more expensive than other categories of tiles.
Pros and Cons Summary:
Moroccan tiles can add a dramatic look to any space, are durable, and easy to clean, they do require a certain amount of maintenance to preserve their beauty and ensure their longevity. As the tiles re not covered by a glaze, they could get stains that might seep through the layers and thus never disappear. It's recommended to periodically seal the tiles, and to remove any stains promptly. 
Creative Applications of Moroccan Tiles for Craft Enthusiasts
Mosaic Art
Retirees with a penchant for crafts can use Moroccan tiles to create stunning mosaic art pieces. Whether it's a functional piece or a decorative wall art project, these tiles offer endless possibilities for artistic expression.
Garden and Outdoor Accents
Craft enthusiasts can use Moroccan-style tiles by making colorful mosaic planters and other gardening accent pieces for use inside their home, or enhance your outdoor space. 
Custom Coasters
Sealed Moroccan tiles make beautiful, functional coasters that can be personalized – great gifts for friends and family.
Mirror Frames
Transform plain mirrors into works of art by framing them with Moroccan tiles. This creative project can add an elegant touch to your home.
Tabletops and Trays
Craft a one-of-a-kind tabletop or serving tray using Moroccan tiles. These functional pieces can serve as conversation starters during gatherings.
Takeaway
Moroccan-style tiles are not just for traditional use as wall and floor coverings. They offer endless opportunities for creative expression, both in your home's decor, and in craft projects. Whether you're looking to enhance the aesthetics of your living space or embark on artistic endeavours during retirement, Moroccan tiles provide lots of versatility.
Remember to maintain and care for them to ensure their lasting beauty and functionality. With Moroccan-style tiles, your home can become a canvas for artistic expression, and a sanctuary of timeless elegance.