James Darren & Evy Norlund, Forever Cool
James Darren had already packed a lot into his young life by the end of 1959. He'd eloped with his childhood sweetheart (they were both underage in his home state of Pennsylvania), and kept his marriage secret for a year while he tried to break into acting. In the space of a week, at the age of 20 he'd gotten professional photographs taken, met an agent, been signed to a movie contract, finally told his parents that he was married, and moved across the country to Hollywood.
He'd gone from being an unknown kid singing in a mobster's club in Philly, to having hit records played on the radio when his film Gidget (1959) co-starring Sandra Dee and Cliff Robertson, became a hit. There had been joy from becoming a father, and pain from his first love ending in divorce.
Darren was poised to begin the next big thing professionally and personally, and life didn't disappoint him.
Continued from James Darren – The Gidget Years
Evy Norlund Becomes Mrs. James Darren
On February 6, 1960 23-year-old James Darren married 21-year-old Evy Norlund (nee Evy Norlund Larsen, born on April 3, 1938 in Copenhagen, Denmark), at St. Patrick's Cathedral, New York.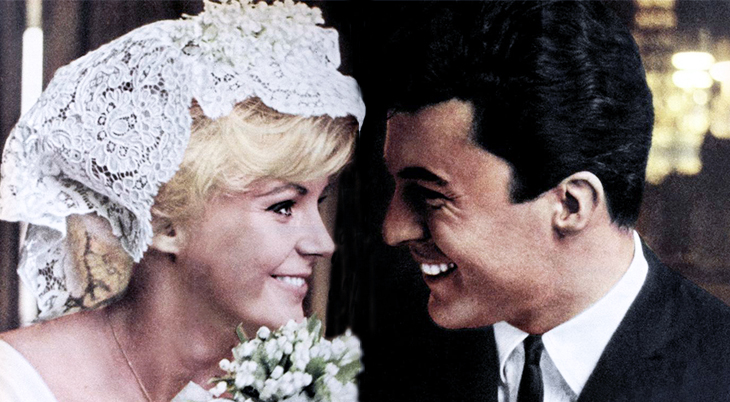 (Evy Norlund & James Darren February 1960 Wedding)
Soon after his separation from Gloria in 1958, James Darren had met model-Evy Norlund at a studio acting class. Norlund had come to Los Angeles as Miss Denmark 1958, a finalist for the Miss Universe Pageant, and although she'd lost the contest, she was signed to a contract by Columbia Pictures. An attraction when they met in class was soon followed by a drive in Darren's Porsche.
Evy and Darren dated for a year while his divorce from Gloria was being finalized, during which time Evy co-starred in The Flying Fontaines (1959) with Michael Callan and Joan Evans. The film features Evy as one of the Flying Fontaine's, trapeze artists; others in the cast are Joe De Santis, Roger Perry, and John Van Dreelen.
Evy also returned briefly to Denmark that year to wrap up some loose ends she'd left behind:
 "Evy "'Miss Denmark' Norlund took a quick trip back to her native land and while there broke her engagement to a Danish actor. It was all very amicable and he gave her a gold ring as a parting gift. Since her return she's been seeing Jimmy Darren, who's getting a divorce." Hollywood Love Life by Dorothy O'Leary, 1959 Screenland Plus TV-Land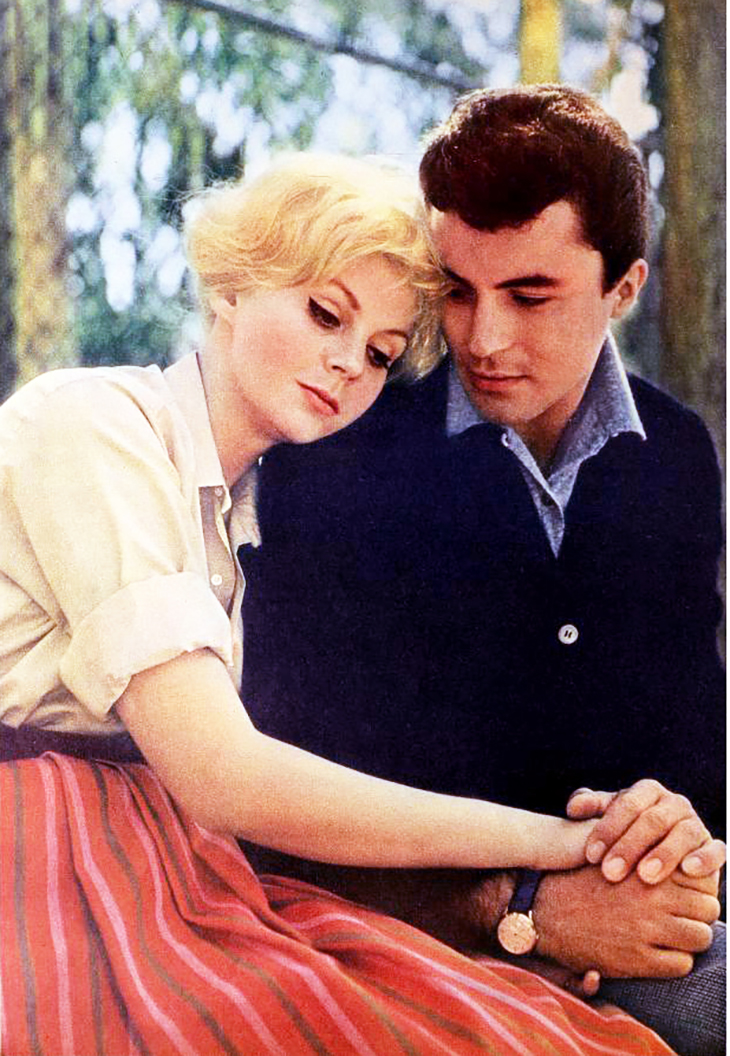 (Evy Norlund & James Darren 1959)
Darren was busy filming The Gene Krupa Story (1959), a bio-pic of the jazz drummer starring Sal Mineo as Krupa. Susan Kohner is Mineo's on-screen love interest, and James Darren plays his friend. Yvonne Craig, Susan Oliver, and Bobby Troup (as Tommy Dorsey) also appear. Darren would become friends with Troup and his wife Julie London, who married that year.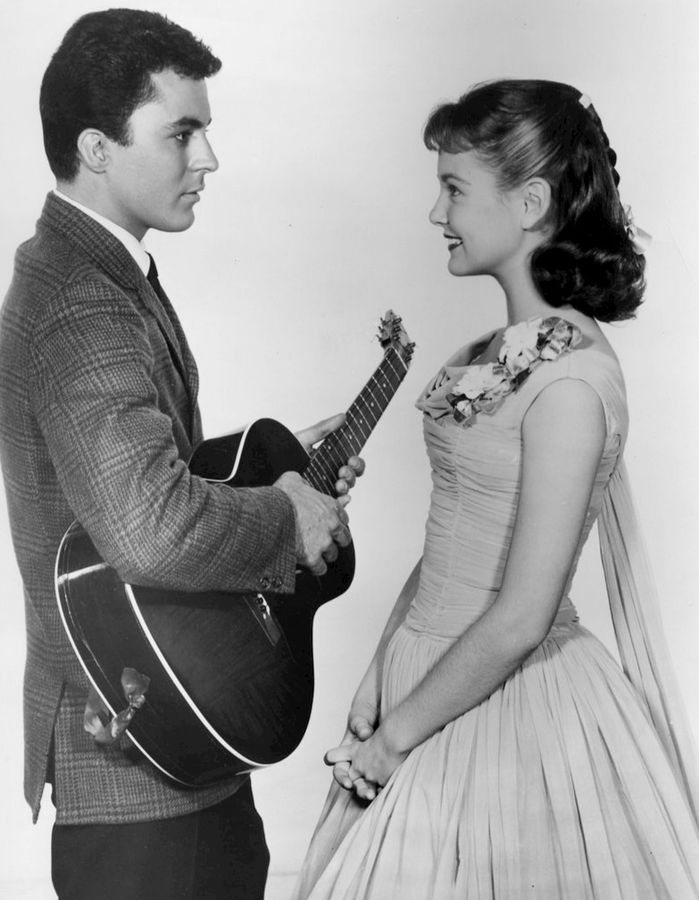 (James Darren as Buzz Berry & Shelley Fabares 1959 The Donna Reed Show Photo: ABC Television) 
James played different characters when he guest-starred twice on The Donna Reed Show, starring Donna Reed as Donna Stone and Shelley Fabares as Mary Stone. 
As 1959 drew to a close, James went on location to the White Mountains in Arizona, and Glacier National Park in Montana, to film the Korean War drama All the Young Men (1960). Darren sang the title track All The Young Men and had co-starring credits with Alan Ladd and Sidney Poitier in a racially-charged story-line. Glenn Corbett, Paul Richards, Richard Davalos, and actor-comedian Mort Sahl are also in the cast of All the Young Men.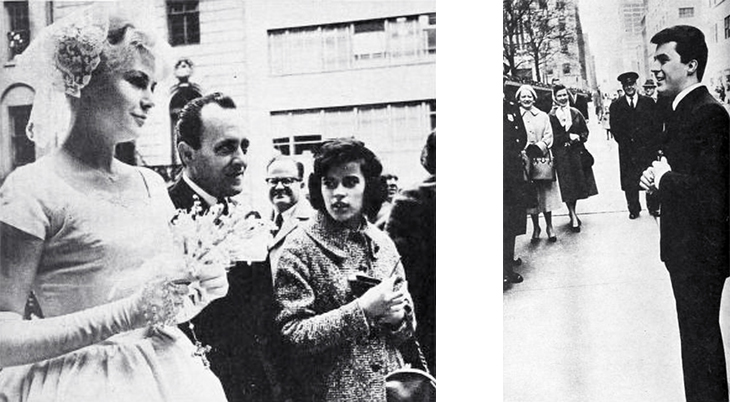 (Evy Norlund & William Ercolani | James Darren 1960 Wedding)
Darren's father William Ercolani walked the bride down the aisle, as Evy's parents couldn't make it for the wedding, which was fit in between acting jobs for James.
Honeymoon in Rhodes & The Guns of Navarone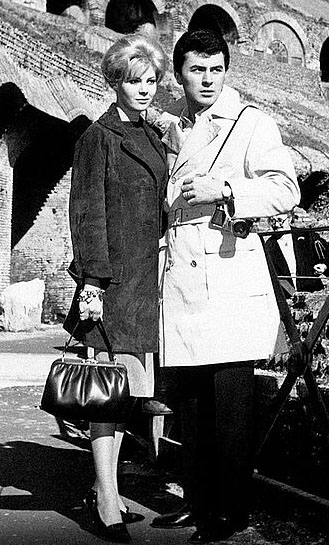 (Evy Norlund & James Darren 1960 Photo: Mondadori Publishers)
A few days after their February 1960 wedding, Evy and James Darren flew to Copenhagen, Denmark so he could meet her parents and extended family – all 3 sisters, 2 brothers, 16 aunts and uncles, and 30 cousins.
Next came a week in Italy, and meeting Darren's relatives.
From there, Evy accompanied James in March 1960 when he went to Rhodes, Greece to shoot the WWII action-drama The Guns of Navarone on location.
She wasn't the only actor's wife on the island whose husband was working long hours on the location shoot, but she was the only newlywed.
"The other wives, Veronique Peck and Hjordis Niven and Dorothy Quayle, were all busy with their children" – Evy and James Darren's Honeymoon, 1960 Photoplay
James Darren fit in well with The Guns of Navarone stars Gregory Peck, David Niven, Anthony Quinn, Stanley Baker, Anthony Quayle, and Richard Harris. He plays a Greek-American native of Navarone working with an Allied commando unit, and sings the Greek song Yalo, Yalo. Irene Papas and Gia Scala are the movie's leading ladies.The Guns of Navarone is still one of the highest-rated of all of Darren's movies.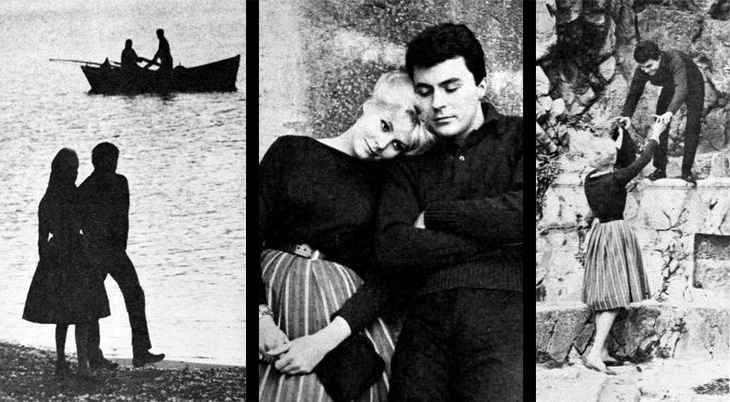 (James Darren & Evy Norlund Honeymoon, Rhodes 1960 Photos)
Before their honeymoon was over, Evy was pregnant with their first child, son Christian. She'd also been in a 5-minute short filmed to promote Guns of Navarone. Honeymoon on Rhodes (1961) features Evy Norlund, James Darren, his Guns co-stars Anthony Quinn and David Niven, and screenwriter Carl Foreman.
James and Evy spent part of that late summer in London, England while location shooting continued for Guns of Navarone. Having been gone for 9 months – a long time to be away from Darren's five-year-old son Jimmy – they made it back to the U.S. in time for the birth of their son Christian in November, 1960.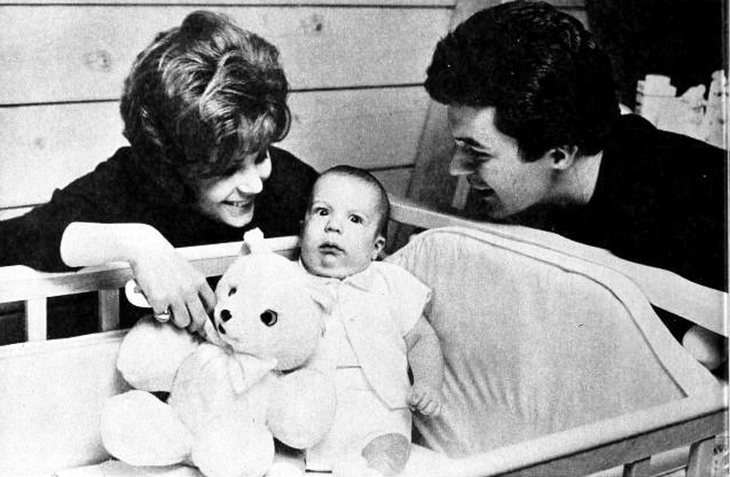 (Evy Norlund, Christian & James Darren 1961)
"Seven weeks after Chris [Christian} was born [1960], I had to go to Honolulu on location for 'Gidget Goes Hawaiian'. This was the acid-test for Evy, since I wanted her to accompany me and the baby was too young to travel. We left him in the capable hands of my brother and his wife, who also have a young son….We counted the days and hours, until we thought we'd never get back to holding him close to our hearts again!… Although Jimmy Jr. lives with his mother, his famous father sees him every possible weekend." – Second Time Winner by Jerry Asher, 1961 TV Radio Mirror  
By this time, Gloria had also remarried. James and Evy and lived in a rented house in the Hollywood Hills with Christian, saw Jimmy Jr. every second weekend, and socialized with actor-friends John Saxon and Mort Sahl. Their second son Anthony was born in 1964. 
Recording Artist
James Darren's biggest hit on the Billboard charts was Goodbye Cruel World (1961), a #3 hit single that sold over a million copies, and was nominated for a Grammy in 1961.
He's joined by his younger brother John Darren (who chose the same stage name as his brother for this appearance), as he sings Goodbye Cruel World in a guest-starring scene from The Donna Reed Show (1961).
Evy and James Darren spent three weeks in Bellport, Long Island in a 1961 summer theatre stage production of Under the Yum Yum Tree. Darren co-starred in with Deborah Walley and Nancy Kovack, while their infant son Christian stayed with his Ercolani grandparents in New Jersey. James sings the title track behind the credits for the film version of Under the Yum Yum Tree (1963), starring Jack Lemmon, Carol Lynley, Edie Adams, Imogene Coca, Dean Jones, Paul Lynde, and Robert Lansing.
The early road to lasting marital bliss may not have been all smooth sailing for Evy and James Darren, as gossip columnist Cal York noted there were fireworks a few times.
"Evy Norlund let James Darren back into the house." – Photoplay January 1963
Evy and James Darren purchased a house on Kimridge Road in the Beverly Hills canyon of Los Angeles, California, in 1966; as of 2016, they were still living there. The house was previously owned by film star Audrey Hepburn, and their neighbours over the years included his friend Frank Sinatra (James and Evy are godparents to Angela J. Lambert, Nancy Sinatra's daughter), Ernie Kovacs, and singer Peggy Lee. James also enjoyed a close friendship with Sammy Davis, Jr. for many years.
The following year, James Darren's single Her Royal Majesty (1962) made it to #6 on the Billboard chart. Because You're Mine (1965) was James Darren's last Top 30 Pop hit. 
Note the 1960's swimsuit fashions as Darren sings Because You're Mine.
Darren did make the charts again with a Top 4 Adult Contemporary hit, All (1967). 
1960s Movies & Television
Darren preferred acting to performing live, and focused on his movie career. He starred in several feature films during the 1960s which were popular with audiences and film critics.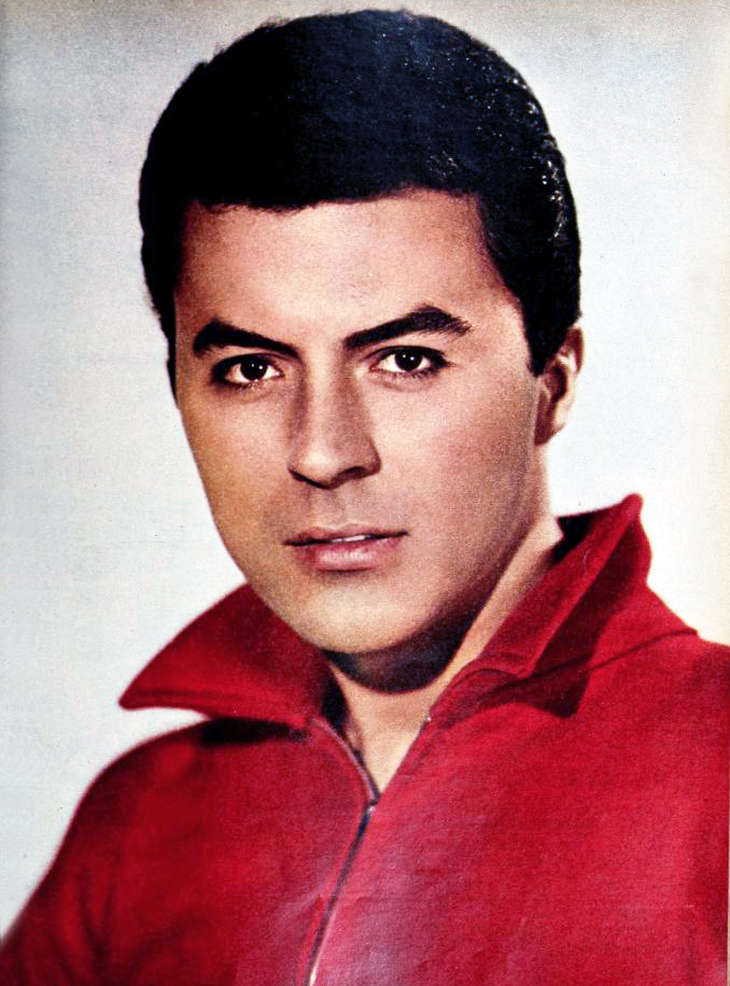 (James Darren 1961)
Let No Man Write My Epitaph (1960), a highly acclaimed drama filmed in November 1959 and starring Burl Ives as Judge Bruce Sullivan, Shelley Winters as matriarch Nellie Romano, and James Darren as her son Nick Romano, Jr.  With Ricardo Montalban, Ella Fitzgerald, Jean Seberg, Bernie Hamilton, and Jeanne Cooper.
In the Hawaiian drama Diamond Head (1963), James Darren and actor George Chakiris play native Hawaiian brothers Paul and Dr. Dean Kahana. Paul is love with Sloane Howland (Yvette Mimieux), sister of the wealthy, widowed farmer Richard 'King' Howland (Charlton Heston). Despite his own affair with Mai Chen (France Nuyen), King disapproves of the mixed-race romance between Sloane and Paul. Once again, Darren sang the film's title track. Also in Diamond Head are Elizabeth Allen, Philip Ahn, former silent film star Billie Dove, and Kam Fong, who had been in Gidget Goes Hawaiian.
Darren was back to acting in lighter fare when he co-starred with actress Pamela Tiffin in both The Lively Set (1964), the first of a 7-picture movie deal with Universal, and For Those Who Think Young (1964). Frank Sinatra's production company was involved in For Those Who Think Young, and Sinatra's daughter Nancy made her acting debut in the movie. And yes, James Darren sings the For Those Who Think Young title track.
This movie trailer for The Lively Set features James Darren, Doug McClure, sportscars, and his movie love interest Pamela Tiffin.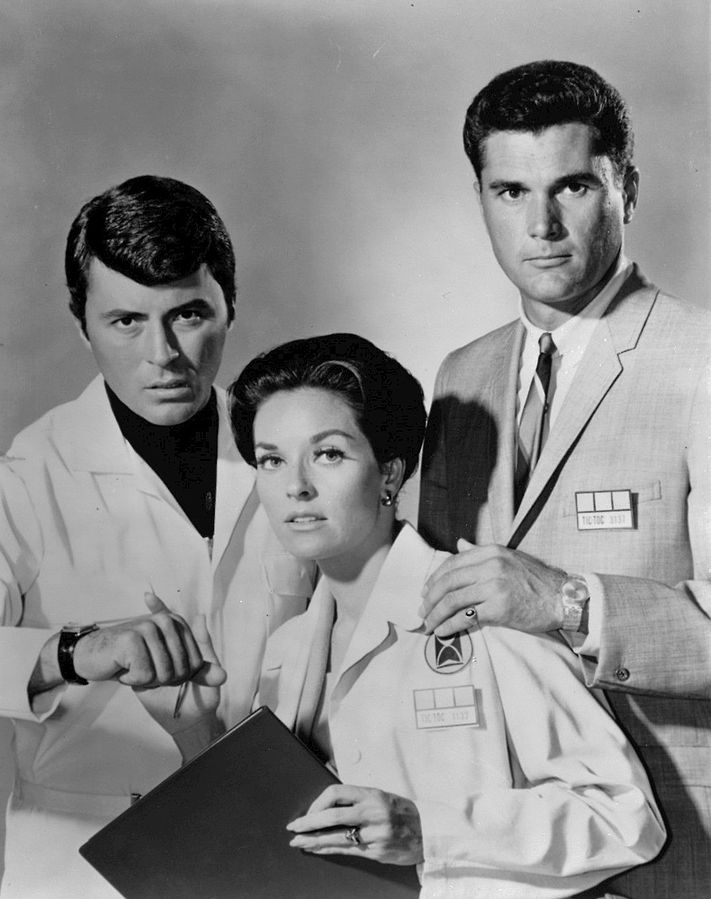 (The Time Tunnel Cast 1966 Photo: ABC Television)
James Darren starred in the Irwin Allen sci-fi television series The Time Tunnel (1966-1967) along co-stars Robert Colbert, Whit Bissell, John Zaremba, and Lee Meriwether.
The Time Tunnel lasted one season, long enough for guest-stars John Saxon, James T. Callahan, John Doucette, Carroll O'Connor, Michael Rennie, John Hoyt, Robert Duvall, Victor Jory, Robert Walker Jr., Ellen Burstyn, Tom Skerritt, Warren Stevens, Gary Merrill, and many others, to make an appearance..
In 1969, Darren appeared on 10 episodes of the TV game show It Takes Two, hosted by Vin Scully. In 5 of the episodes, he was paired with his ex-wife Gloria Terlitsky, and in another 5, with his current wife Evy Norlund.
This episode of It Takes Two features host Vin Scully, announcer John Harlan, couples Evy and James Darren, Norm Crosby and his wife Joan Crane, and Ken Berry and his wife Jackie Joseph.
Evy's acting career had been shelved after she married Darren in 1960. The It Takes Two game show appearance with James in 1969, and another with him in the early 1970s on It's Your Bet, were her final curtain calls in front of the camera.
Exes Gloria and James Darren had remained on good terms for the sake of Jimmy. Shortly after Jimmy turned 13, Darren gave his permission for Gloria's husband to legally adopt him; a decision he later told Jimmy was the biggest mistake of his life. 
1970s-2010s Stage, TV, Films & Directing
By 1970, television and movie roles were getting scarcer for former teen idol James Darren. He co-starred with Vincent Price, Jill St. John, Jim Backus, and a dog in the 1971 family comedy Mooch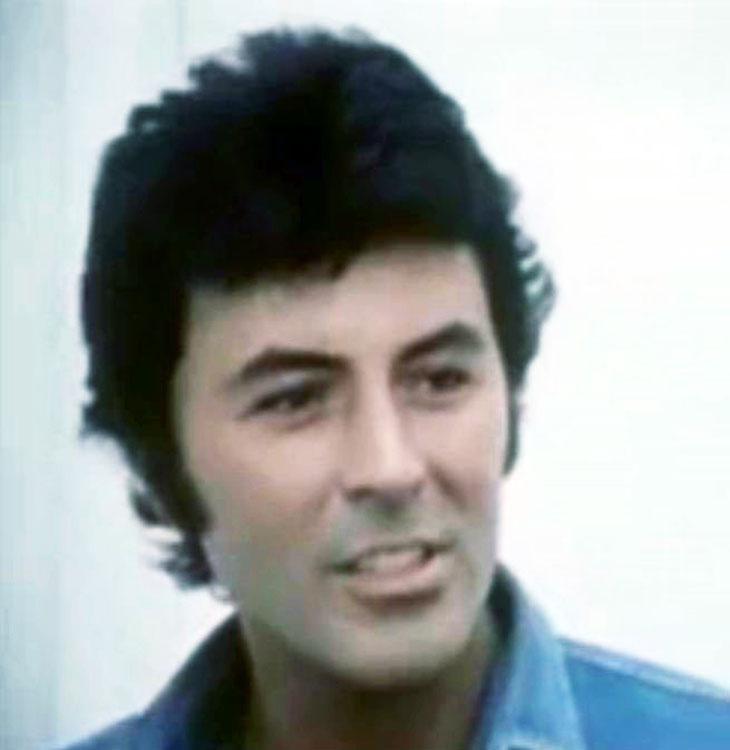 (James Darren 1971 Mooch aka Mooch Goes to Hollywood)
Darren met comedian and actor Buddy Hackett at a Nancy Sinatra show at the Cocoanut Grove in 1970, and they became fast friends. Darren accepted an offer from Hackett to perform with him as his "straight man". They toured together from 1970-1982 and did shows at the Sahara Hotel in Las Vegas for most of the year.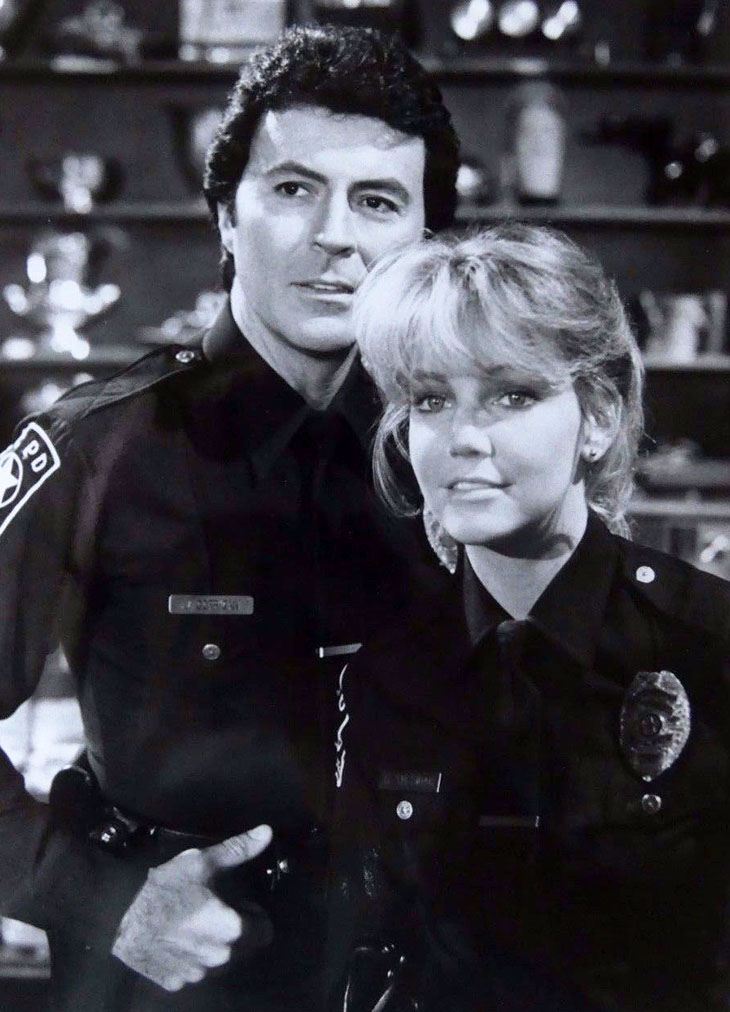 (James Darren & Heather Locklear 1983 T. J. Hooker Photo: ABC TV)
The 1980s police procedural TV series T. J. Hooker starring William Shatner as the title character, was in it's second season when James Darren was cast as actress Heather Locklear's on-screen partner, Officer James Corrigan.
Darren appeared on T. J. Hooker for 4 years until it ended in 1986, and directed the last episode – thereby launching a new career for himself as a director. 
James Darren went on to direct many other popular television shows such as Melrose Place, Beverly Hills, 90210, Hunter, Silk Stalkings, Werewolf, and Walker, Texas Ranger.
James Darren doesn't look as if he's aged very much from his younger days as Officer Jim Corrigan in 1983 on T. J. Hooker (left), compared to 2015 (right).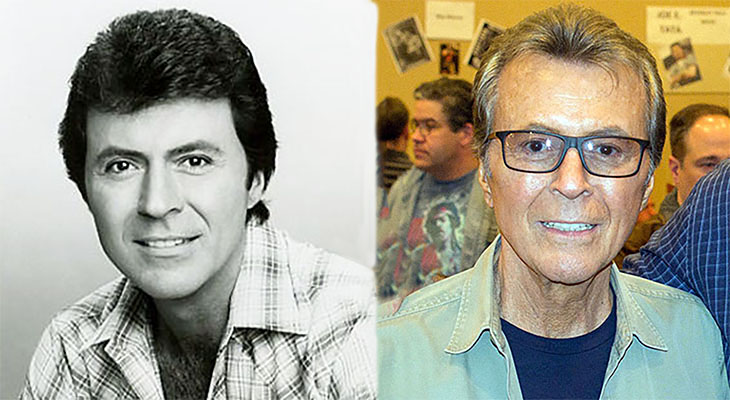 (James Darren Photos: 1983 ABC TV | 2015 Rob DiCaterino)
James Darren was cast as holographic lounge singer Vic Fontaine in the sci-fi series Star Trek: Deep Space Nine in the 1998/1999 seasons. Initially Darren didn't want to do the part of a lounge singer on principle, but was persuaded by his wife and agent to read the script after he'd turned it down three times unread.
As Tony Marlin on Melrose Place in 1999, Darren played a devious millionaire in 5 episodes, guest-starring in with Rena Sofer, Jamie Luner, Jack Wagner, Thomas Calabro, and Heather Locklear, his co-star from the 1980s T.J. Hooker series.
These two popular series exposed Darren to a new audience – the children and grandchildren of his baby boomer fans from the 1950's, 60s, 70s, and 80's. 
Meanwhile, James' oldest son Jim Moret had graduated from law school in 1981. In 1983 he emulated his father when he embarked on a career in front of the cameras – but as a television news journalist, not an actor. Moret hosted CNN news shows and covered high-profile murder trials. In 2009, a father himself and now in his 50s, facing financial ruin after a job loss, he contemplated taking his own life. Moret turned the crisis into a catharsis by writing an autobiography, The Last Day of My Life (2020).
He and James had maintained a relationship well into Moret's adult years, although Moret distinguished between James Darren as his father and his adoptive father as Dad. In the book, Moret forgave Darren for agreeing to the adoption, which he said had "haunted me for years" and stirred feelings of abandonment and rejection whenever he thought of it. 
"I forgave my father. By doing so, I finally let go of the pain that event caused me throughout my life. That single act of forgiveness was never meant to accuse my father of doing anything wrong. It was a pivotal event from my past and I no longer wanted it to shape my present, or my future. My father's reaction was swift and definitive. He immediately cut off all contact with me and with my wife and children." – Not My Father's Son by Jim Moret, June 2011, HuffPost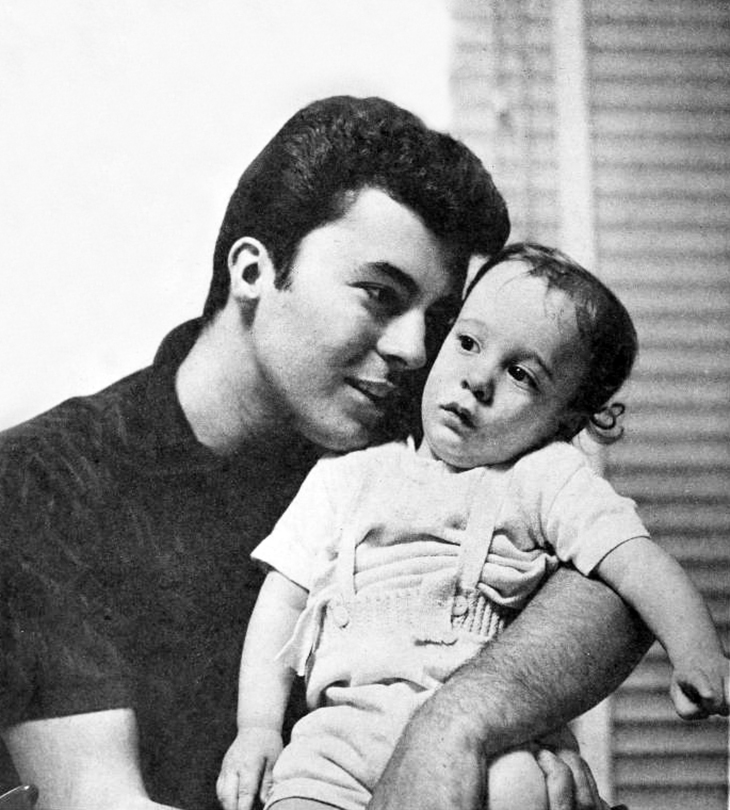 (James Darren & son Jimmy Darren Jr. 1958)
As of 2011 when he wrote the above article, Jim had not spoken to his father James Darren for over 2 years, but expressed his love and appreciation for both his dad and his father, ending,
"As for my father, the silence between us grows more pronounced and I realize our precious commodity of time is dwindling. I still have hope."
James Darren and wife Evy celebrated their 61st wedding in February 2021.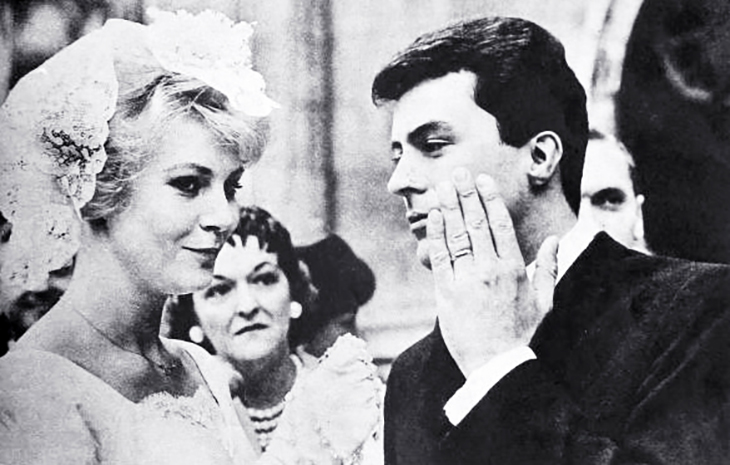 (James Darren & Evy Norlund 1960 Wedding)
He continued to perform in limited concert appearances, and fans may have caught his cameo in the film Lucky (2017), starring Harry Dean Stanton, David Lynch, Ron Livingston, and Ed Begley Jr.
A still cool senior, James Darren treasures his rare, vintage 1958 Porsche 1600 Super Speedster, which he's had for 40+ years; his friend James Dean purchased the exact same model (Dean died in a different Porsche car, a 550 Spyder).
Due to the COVID 19 pandemic, scheduled concert gigs in 2020 were cancelled. But Darren continues to rehearse to keep his vocal chords in shape, saying,
"I'm never going to retire. I don't know what I would be retiring to do. I spent years riding my motorcycles. I miss that, but how much can you do? When you get older a lot of friends either moved or are gone, and the groups you used to ride with are not riding anymore. So I have to abandon that little escape. I will be working until they close me out." – James Darren interview by John Soltes, Hollywood Soapbox, July 17 2020
Continued from James Darren – The Gidget Years
Note: This article was first published in 2016 as part of Celebrating Seniors – James Darren Turns 80. It has been updated, with new & additional content. 
Additional Resources:
The Patient Lovers by Alison Carter, 1959 Modern Screen
A New Kind of Love by Mark Dayton, 1960 Screenland Plus TV-Land
*Images are public domain or Creative Commons licensed & sourced via Wikimedia Commons or Flickr, unless otherwise noted*