Babe Ruth At Bat and In Movies
Babe Ruth's 21-year major league baseball career began in 1914 with the Boston Red Sox – the same year the 19-year-old future Baseball Hall of Famer married his 16-year-old first wife, Helen Woodford.
(Babe Ruth 1919 Red Sox Photo: George Grantham Bain)
The Cast of Characters
Born February 6, 1895, George Herman "Babe" Ruth Jr. was the only one of seven children born to his parents Katherine and George Herman Sr., that survived infancy. The family lived in an apartment over a saloon that his father ran during Babe's childhood.
Ruth would later admit that as a youth he lacked discipline and was already drinking beer when he was sent to the orphanage/reformatory St. Mary's Industrial School For Boys at the age of seven. It was during the years he was at St. Mary's that Ruth began playing baseball under the mentorship of St. Mary's Prefect of Discipline, Brother Matthias.
After being signed to a contract by minor league baseball's Baltimore Orioles owner-manager Jack Dunn in 1914, Ruth gained a reputation as a star pitcher and hitter. Although the New York Giants, Philadelphia Athletics, and Cincinnati Reds were interested, it was The Boston Red Sox that finally signed him to his first MLB contract.
Babe Ruth's tenure with the Boston Red Sox saw him begin as a rookie pitcher who was infrequently used; as a result he was sent down to the minor league farm team Providence Grays, where he honed his pitching skills. When recalled to Boston late in his first MLB season, he had more success pitching and hitting. By the end of his second MLB season with the Red Sox in 1915, Ruth's pitching and home run hitting successes were gaining attention; the Red Sox won the World Series that Year. In 1916, his third season, Babe Ruth lead the American league in both hitting, and pitching (9 shutouts), helping the Red Sox win a second World Series.
World War I upset the 1917 MLB season, but gave an opportunity for Babe Ruth to play outfield in games when he wasn't pitching, thus giving Ruth more games to play in and hit home runs. WWI again disrupted the 1918 MLB season, but Babe's record-setting pitching and hitting successes helped the Red Sox won their third World Series in four years.
Babe Ruth's history-making home run in April of 1919 was analyzed in 2019, below.
The 1919 baseball season saw Babe Ruth's pitching much reduced, but his home run hitting was smashing records and drawing fans to the stadium whenever he played. Ruth's tenure as the American League home run champion began in 1918 and continued unbroken until 1924; resuming from 1926-1931. 
The New York Yankees bought Babe Ruth's contract from the Boston Red Sox for the record-setting sum of $100,000, in time for the beginning of the 1920 MLB season.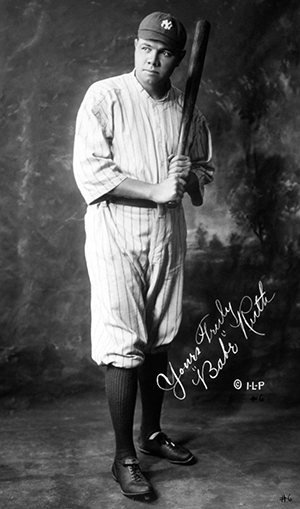 (Babe Ruth 1920 New York Yankees Photo: Irwin, La Broad & Pudlin)
The Red Sox didn't win another World Series until 2004, a drought some called the "Curse of the Bambino".
During Babe Ruth's playing career with the New York Yankees (1920-1934), the Yankees won four World Series (1923, 1927, 1928 & 1932). Ruth was part of the "Murders Row" New York Yankees power team of 1927, playing with other legendary greats such as Lou Gehrig. 
Record crowds flocked first to the Yankees / Giants shared Polo Grounds stadium to watch Ruth play outfield and hit home runs out of the ball park, and later to Yankee Stadium "The House That Ruth Built", after it was built in 1923 for the Yankees.
"The Babe's" larger-than-life record-setting hitting accomplishments on the baseball diamond were rivaled by his OTT lifestyle (drinking, partying until late at night, and infidelity) off the field.
So given to excesses was Ruth that he was required to sign a morals clause addendum to his new 3-year contract with the New York Yankees in 1922.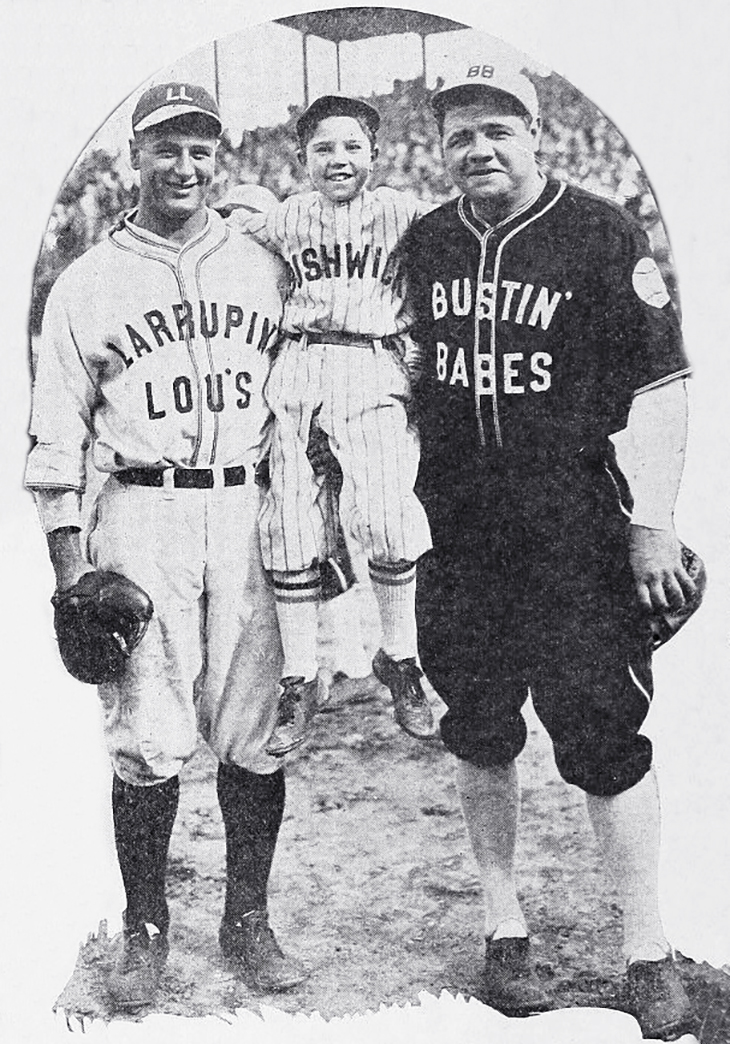 (Lou Gehrig, Yankees Mascott & Babe Ruth 1927 Photo: Cine-Mundial) 
Both Babe Ruth and Yankees teammate Lou Gehrig were struck out by 17-year-old Jackie Mitchell (a girl!) in an April 1931 exhibition game. They were getting on in years by then, but it must have been embarrassing. Babe Ruth redeemed himself in August 1931 by hitting his 600th career home runs.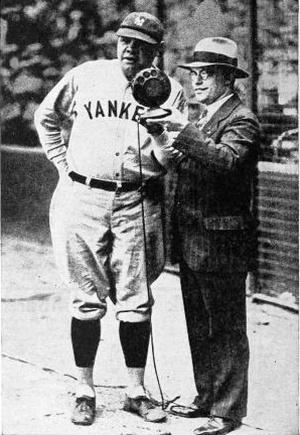 (Babe Ruth & Announcer Hal Totten c. 1924 Photo: Radio Mirror)
By the time Ruth ended his years with the Yankees in 1934, his lifestyle had severely affected his health; although he couldn't run or play outfield, he still hit 22 home runs that year. 
Babe Ruth was traded to the Boston Braves as a player-assistant manager for his final playing season in 1935.
His play on the field began well but quickly deteriorated and a frustrated Babe Ruth retired in June of that year.
Ruth's reputation for carousing is said to have been the reason the legendary player was never offered his dream job of managing a MLB team. 
Helen and Babe adopted an infant girl, Dorothy, in 1921.
In Dorothy's biographical book My Dad, The Babe (1988), she claimed that her birth mother Juanita Jennings, had told Dorothy that she had been Babe's mistress, and that Dorothy was Babe's biological daughter. When Helen Ruth died in a 1929 house fire, she had been separated from Babe since 1925 and was living with dentist Edward Kinder. 
After Babe Ruth married for the second time in April 1929 to Claire Merritt Hodgson, he adopted her daughter Julia. Ruth was never faithful to either of his wives, but he remained married to Claire until his death.
Babe Ruth Movies and Film Stars
In 1920, Babe Ruth was in court fighting against having still photos of him in action on the playing field, cobbled together without his permission, to make documentary film shorts. He unsuccessfully sued the producers of Babe Ruth – How He Knocks His Home Runs (1920).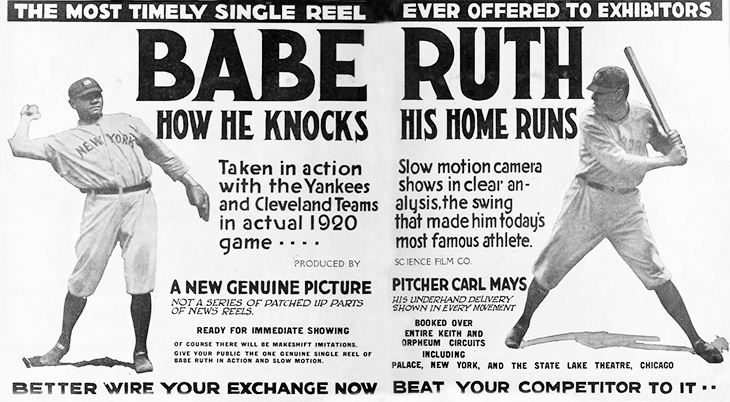 Consequently, Ruth took out full page ads in trade magazines to warn theatre owners and patrons these films were not sanctioned, while promoting Headin' Home (1920), the feature film he did star in.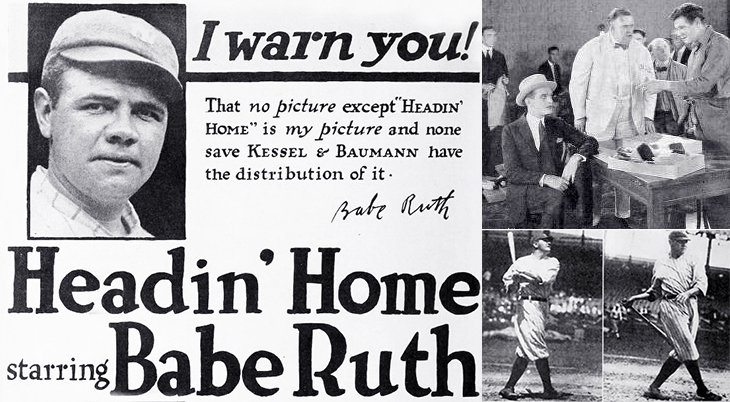 (Babe Ruth 1920 Headin' Home Ad & Movie Stills)
Headin' Home, stars George Herman Babe Ruth as himself, in his "life story". A little premature, as at the time Ruth was only 25 years old – but a testament to the phenomenon that Ruth had become on and off the baseball field. Success in all avenues of life and work, was termed "a Babe Ruth".
Movie stars were happy to have their pictures taken with Babe, whether in the Yankees dugout or when he paid a visit to the movie lots.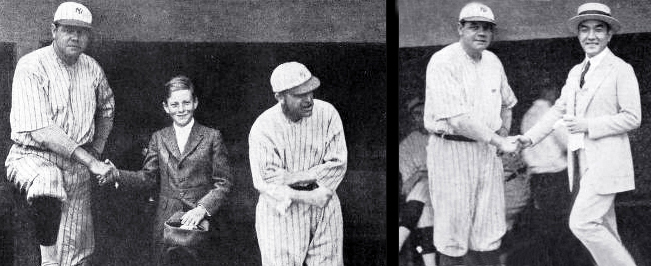 (Babe Ruth 1920 with Wesley Barry Photo: Arthur C. Davis | and with Sessue Hayakawa)
Below, Helen and Babe Ruth visited Fox studios in 1920 and had a photo snapped with Fox silent film star William Farnum and Fox lot superintendent Sol M. Wurtzel.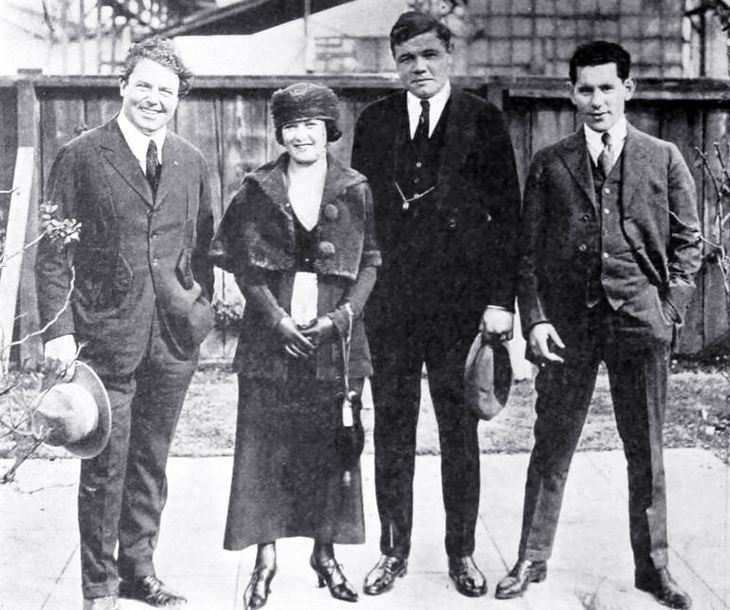 (William Farnum, Helen Woodford Ruth, Babe Ruth & Sol M. Wurtzel 1920 Photo: Exhibitors Herald)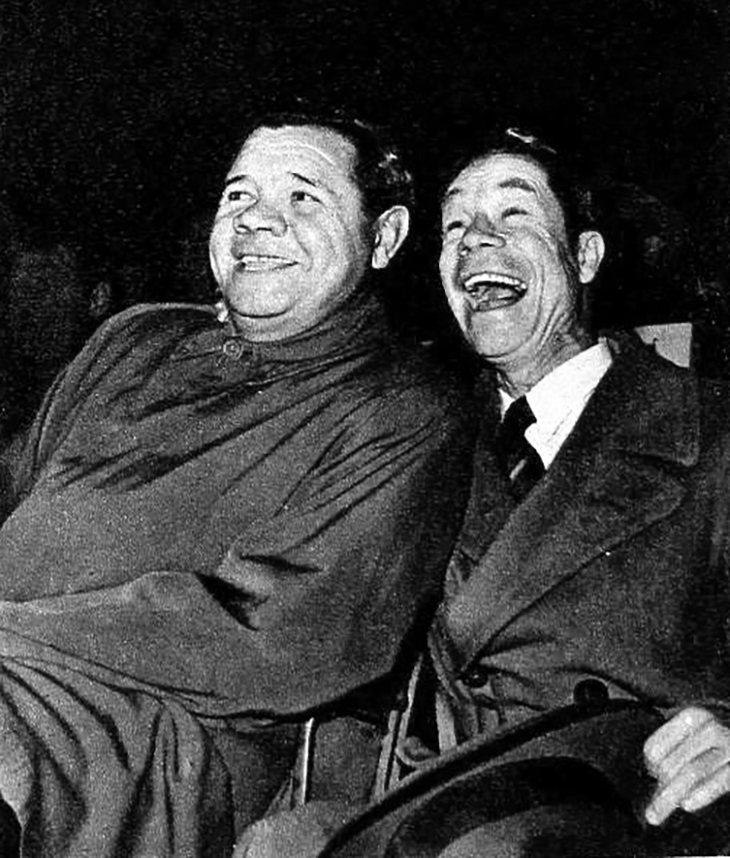 (Babe Ruth & Joe E. Brown 1927 Hollywood Ball Park Opening Photo: Modern Screen)
Other films that Babe Ruth appeared in, usually starring as himself or a similarly-named fictional character, include Babe Comes Home (1927), Speedy (1928), and four 1932 film shorts.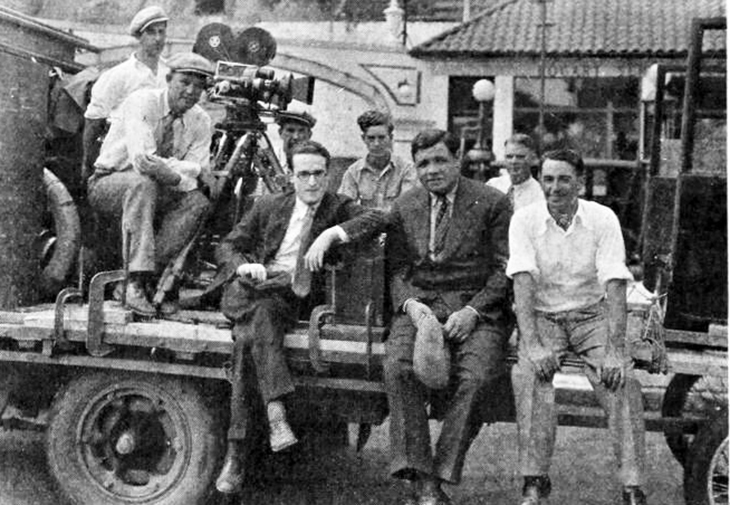 (Harold Lloyd & Babe Ruth 1927 Speedy Set Photo: Motion Picture News)
The action-comedy silent movie Speedy was directed by Ted Wilde, with comedy star Harold Lloyd playing the title character of Speedy, who's a fan of Babe Ruth and the New York Yankees. At the time Speedy was filmed, Lloyd was as big a comedy film star as Ruth was a baseball icon. Filming at Coney Island had to be done secretly to avoid mobs of fans. On the first day of filming, during the second inning of a live New York Yankees game, Ruth hit a home run – captured in timely fashion for the movie.
Below, Babe Ruth presents Harold Lloyd with the bat he used to hit his world record-setting 60th home run, while John L. Murphy (left) and Speedy director Ted Wilde (right), look on.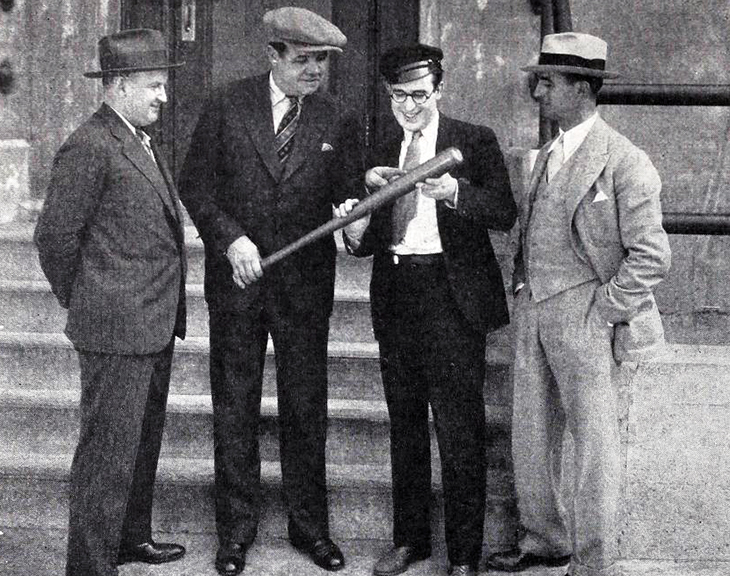 (John L. Murphy, Babe Ruth, Harold Lloyd & Ted Wilde 1927 Photo: Exhibitors Herald) 
Babe Ruth wasn't the main character in The Pride of the Yankees (1942) starring Gary Cooper as Lou Gehrig, but he did had a significant role playing himself in the film. Teresa Wright, Walter Brennan, and Dan Duryea have supporting roles in the movie. Unfortunately Ruth's health – never robust due to his hard-charging lifestyle – had steadily deteriorated after his 1935 retirement from baseball, and he was in quite poor health by the time filming ended on The Pride of the Yankees. Despite this, and the fact that Gary Cooper was technically too old to play a pro ball player (and didn't like baseball), The Pride of the Yankees was and continues to be, popular with critics (nominated for 10 Academy Awards) and audiences alike. 
Based on writer Bob Considine's 1948 biography with the same title, The Babe Ruth Story (1948) premiered in July 1948. Ruth visited the set but does not appear in the film himself.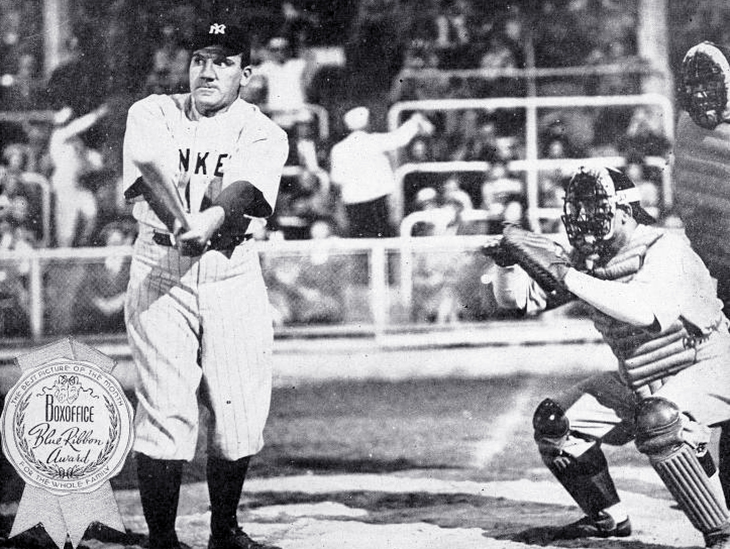 (William Bendix as Babe Ruth 1948 The Babe Ruth Story Photo: Box Office Barometer)
Although Box Office Barometer gave The Babe Ruth Story a "blue ribbon award" in the fall of 1948, most critics at the time and since, have panned the movie's highly sentimental tone and over-idealistic portrayal of Ruth's character. This may be because the film was quickly released upon the announcement that Babe Ruth was gravely will with cancer. In any event, some contemporary reviews have gone so far as to say it's one of the worst films of all time.
MIA in the film are the Babe's first wife Helen and a balanced picture of Ruth's personality (he was no saint or miracle-worker). When actor Jack Carson (who does bear some slight resemblance to Babe Ruth) was unavailable, actor William Bendix was chosen to star in the film, and he bears little resemblance to Babe Ruth. Appearing with Bendix are Claire Trevor as Claire Hodgson (Babe's second wife), Charles Bickford as Brother Matthias, and William Frawley as Jack Dunn. Some scenes were filmed on location at Yankee Stadium and in the city of Chicago.
Below, Babe Ruth demonstrates his swing to William Bendix and cast during filming of The Babe Ruth Story in 1948; inset, actress Claire Trevor with Babe's wife Claire Hodgson Ruth.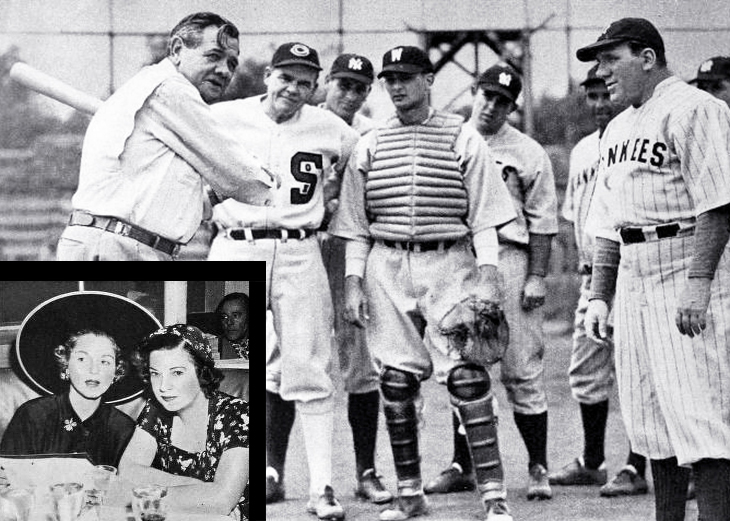 (1948 Photos: Screenland)
Closing Credits
Even death didn't keep Babe Ruth out of the limelight. He's been featured in subsequent feature films, made-for-television movies, biopics, and documentaries. A few of the more notable efforts include:
The Babe (1992), a biographical feature film starring John Goodman as Babe Ruth, Kelly McGillis as Babe's second wife Claire, Trini Alvarado as his first wife Helen, James Cromwell as Brother Mathias, and J.C. Quinn as Jack Dunn. With Bruce Boxleitner, Peter Donat, Richard Tyson, Robert Swan, and Michael Papajohn in supporting roles.
Babe Ruth (1998), a documentary narrated by Liev Schreiber, with archive footage of boxer Jack Dempsey, sports announcer Ben Bentley, sportswriter Heywood Hale Broun, Lou Gehrig, and other figures from Babe's life.
*61 (2001), an excellent TV movie about Roger Maris (Barry Pepper) and Mickey Mantle (Thomas Jane), and their race to beat Babe Ruth's home run record. Ruth himself is played by E.E. Bell, although he isn't a major character in the film. With Anthony Michael Hall, Richard Masur, Bruce McGill, Christopher McDonald, Seymour Cassel, Pat Crowley, Michael Nouri, and Charles Esten.
The End
George Herman "Babe" Ruth was discovered to have inoperable cancer in his neck and at the base of his skull in late 1946. He began undergoing experimental drug and radiation treatments, and lost 80 pounds in a few months. Upon returning from a convalescent trip to Florida, he was present at Yankee Stadium for Babe Ruth Day in April 1947.
After a period of remission during the middle months of 1947, the cancer returned and Ruth began to rapidly deteriorate. One of his last public appearances was on July 26th, 1948, when he attended the premiere of The Babe Ruth Story. Babe Ruth died in his sleep 3 weeks later, on August 16, 1948. 
Although it was the end of Babe Ruth's life on earth, his legend lives on with baseball fans today, who fondly recall "The Babe" – "The Sultan of Swat" – "The Bambino".
*Images are believed to be in the public domain and/or Creative Commons licensed & sourced via Wikimedia Commons or Flickr, unless otherwise noted*