100 Years Ago: 1920 At A Glance
Although people haven't really changed that much in the past 100 years, our modes of transportation, the hairstyles, fashion, the film stars and movies we liked to watch, appliances, houses, the work we do, voting rights, and the every day items we rely on today, are different. For example, Prohibition was passed into law in the U.S.A. in 1920, and not repealed until 1933. 
In 1920, dapper man about town (Hollywood, that is) Charlie Chaplin looked much different than his familiar on-screen "Tramp" image.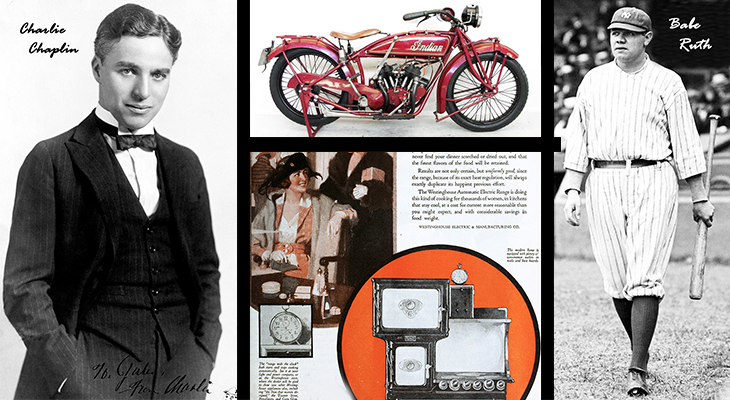 (1920 Montage – Charlie Chaplin | Westinghouse Stove Ad | Babe Ruth)
Motorcycles and stoves with clock timers were becoming more popular. Baseball great Babe Ruth began playing for the New York Yankees in 1920, and three years later a new Yankee Stadium became known as "The House That Ruth Built".
1920 Fashion & Hairstyles
Fashion in 1920 was influenced much as it is today – fashion designers and what we saw on our movie screens. Fur wasn't frowned upon, and signified instant glamor and wealth.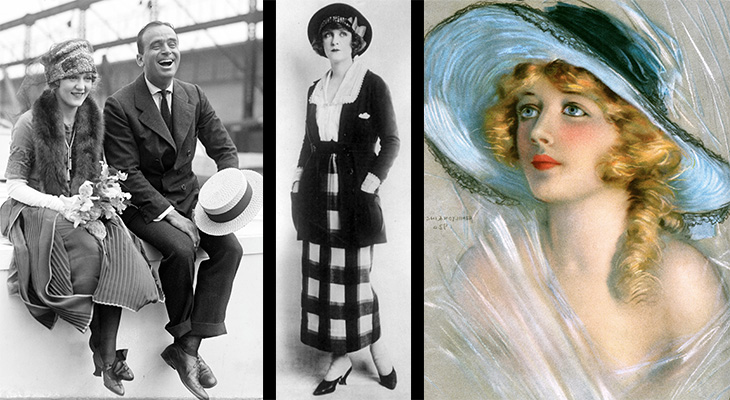 (1920 Fashion & Hairstyles: Mary Pickford & Douglas Fairbanks; Woman's Suit Model; Marion Davies / Hat)
1920 hairstyles for women ranged from a shorter cut (Louise Brooks and her "bob" was still to come), to the long ringlets that Mary Pickford and other actresses like William Randolph Hearst's mistress Marion Davies (above) had popularized in the previous decade, and continued to wear in the movies. Men wore strictly "above the ear" hairstyles. No self-respecting man or woman would be seen in public without a hat, and women usually wore white gloves. 
1920 Transportation
Automobiles
Cars had already come a long way by 1920, but the black Ford Model-T "Tin Lizzie" (first produced in 1909) was still a popular model that year.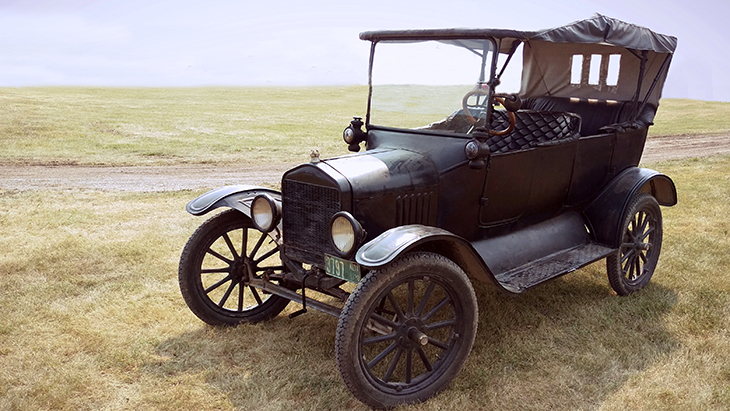 (1920 Ford Model T Photo: dave_7)
In 1920, a colour other than black for an automobile was highly unusual and daring, suited for sportier vehicles like the Bell Touring Car, below.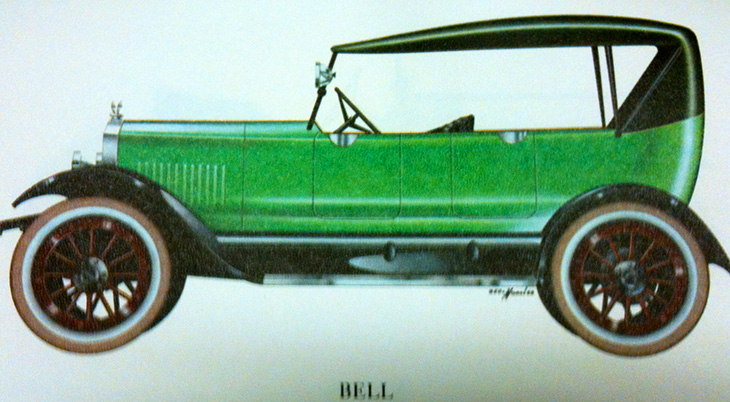 (1920 Automobile: Bell Touring Car)
Streetcars
Buses hadn't yet been invented in 1920, but their precursor was the streetcar. Originally pulled by horses in the 1800s, by 1920 streetcars were electric.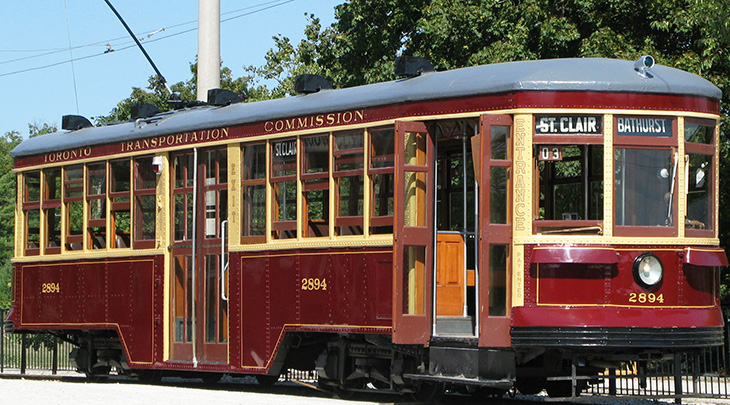 (1920 Restored TTC Streetcar Photo: DavidArthur | Gosport Aircraft Company 1920 Ad)
Aircraft
Commercial airlines flying fixed-wing airplanes ("flying boats" as in the 1920 ad below) had started after the end of WWI. 
(Gosport Aircraft Company 1920 Ad | 1920 LZ121 Nordstern Zeppelin)
Before then, the only passenger "airships" were rigid dirigibles – otherwise known as Zeppelins (named for the pioneering German Count Ferdinand von Zeppelin). The 1920 Nordstern airship above was used in commercial flights until 1926, but other zeppelins remained in heavy use during the 1920s, even completing around the world flights (with stops). Wide-spread commercial use of Zeppelins was curtailed after the disaster of the Hindenburg explosion in 1937 – although updated models are still being made today. 
1920 Silent Movies & Film Stars
In 1920 Rudolph Valentino hadn't yet had his big breaks in Camille and The Sheik, but other notable talents such as Douglas Fairbanks, John Barrymore, and Buster Keaton, all enjoyed film success that year.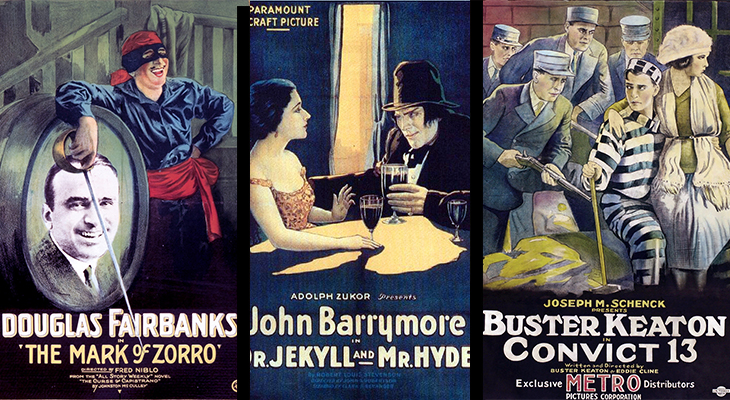 (1920 Movie Posters: The Mark of Zorro / Dr. Jekyll and Mr. Hyde / Convict 13)
Actresses such as Mary Pickford, Lillian Gish, Gloria Swanson were already darlings of the silver screen by 1920. Their success continued through the 1920s.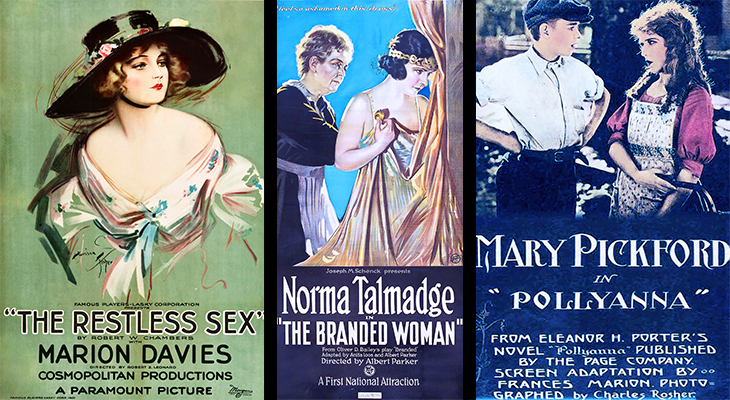 (1920 Movie Posters: The Restless Sex / The Branded Woman / Pollyanna)
Mary Pickford was "America's Sweetheart" when she married fellow film star Douglas Fairbanks in 1920, and moved into the 18-acre Beverly Hills estate and mansion Fairbanks had purchased the previous year for them to live in – "Pickfair". 
Pickfair itself became a cultural icon; after Mary Pickford and Fairbanks divorced in 1936, Pickford continued to live there until her 1979 death. Pia Zadora & her husband Meshulam Riklis purchased Pickfair in 1988 and tore it down alleging termites and later, ghosts, were to blame.
1920 Sports
"Big Bill" Tilden was a major tennis champion, ranked World #1 from 1920-1926. The Winnipeg Falcons from Canada were the 1920 Antwerp Olympics ice hockey gold medalist, and the Akron Professionals were the first national football champions in 1920.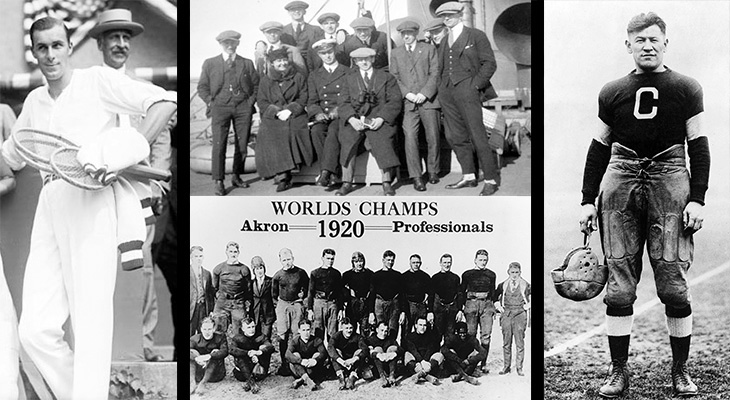 (1920 Sports: Tennis – Bill Tilden | Hockey – Winnipeg Falcons |Football – Akron Pros | Baseball &Football – Jim Thorpe)
Olympic pentathlon and decathlon gold medalist (1912 Stockholm Games) Jim Thorpe was possibly the best all-around athlete of amateur and professional sports. In 1920 he was the first president of the APFA (precursor to the NFL). Before and after 1920, Jim Thorpe played pro baseball as an outfielder for the New York Giants, and pro football for the Canton Bulldogs and Cleveland Indians. 
1920 House and Home
Kit Homes From Catalogs
DIY wanna-be's could order an entire house kit from a catalog in 1920, thanks to Sears Roebuck and other home manufacturers such as Harris Brothers / Harris Homes.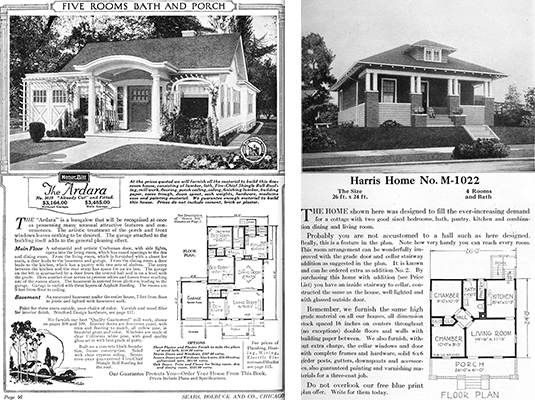 (1920 Catalog Homes – Harris Homes / Harris Brothers & Sears, Roebuck and Co.)
The Adara home kit advertised by Sears included lumber, shingles, siding, eavestrough, hardware, and paint – but cement, brick, plaster, plumbing, heating, wiring, electric fixtures, and shades were extra. 
Home Entertainment, Communications & Radio
Television was still about 30 years away, but by the end of the 1920s in North America, landline home telephones, radios, and phonographs were found in many homes.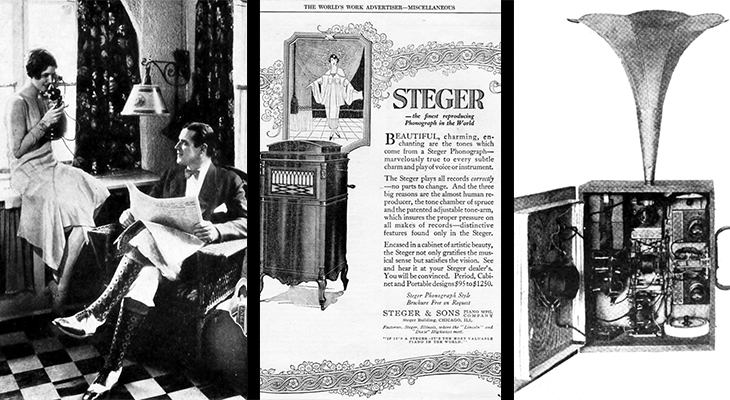 (1920 Telephone, Phonograph, and Portable Radio)
The first radio news program premiered in 1920, and by the end of the decade home radios were a common household item.
Stoves, Refrigerators & Vacuums
Although the first home refrigerator was invented back in 1913, by 1920 it was becoming a more common household item. The Kelvinator advertisement below promotes "Refrigeration without ice" in a cooling unit that can be installed in the ice compartment of any refrigerator. It also promotes the novelty of "cubes of pure, clear ice frozen in pans".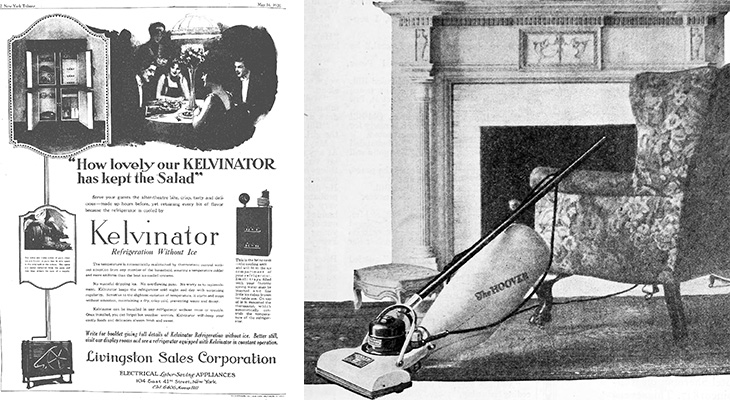 (1920 Kelvinator Refrigerator and Hoover Vacuum Ads)
The Hoover Vacuum ad above identifies that it's made in both North Canton, Ohio, and in Hamilton, Ontario, and tells readers to write the company for their booklet, How to Judge an Electric Cleaner.
Clothes Washing Machines
I can clearly remember slipping my arm through the spinning barrels of the wringer washing machine my mom was still using back in the 1960s to wash our clothes. A quick trip to the local emergency room where I was given a small square pillow to rest my wrung-out arm on (they must have had a supply on hand for curious kids that did just that), and I was as good as new.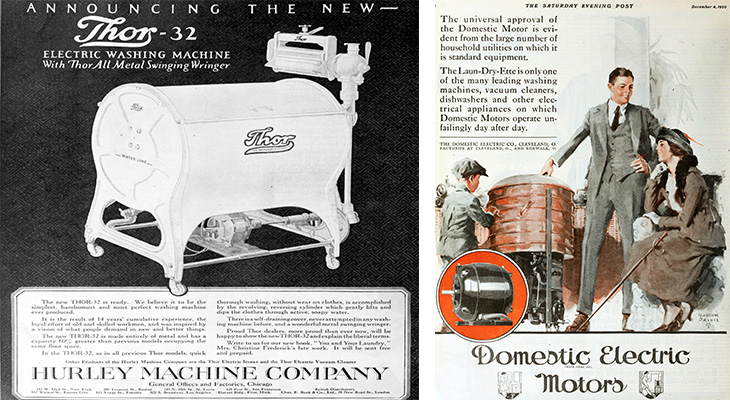 (1920 Hurley Machine Company Thor-32 & Domestic Electric Motors Laun-Dry-Ette Ads)
Hurley and Domestic Electric Motors each introduced new electric washing machines in 1920.
Personal Grooming and Hygiene
American Safety Razor Company came out with a complementary line of shaving products including shaving foams, soaps, brushes, and more, to market along with their "Ever-Ready" safety razor blades, and began advertising them in 1920.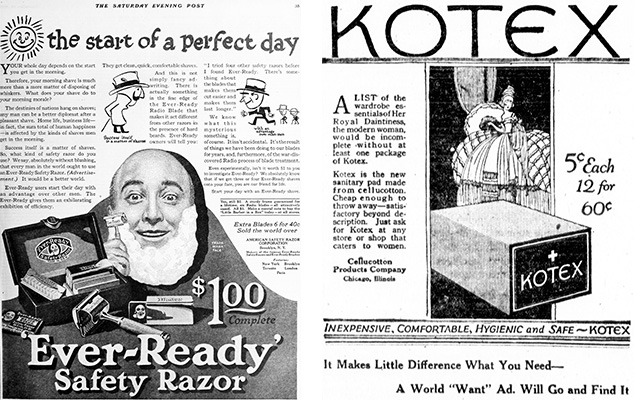 (1920 Telephone, Phonograph, and Portable Radio)
Kotex brand napkins were a brand-new 1920 invention for women, although disposable menstrual pads had already been on the market since the 1890s. 
Voting Rights for Women and Minorities
America – White American women won the right to vote in 1920 with the 19th Amendment, but it took a while to be fully implemented. Sadly, it wasn't until 1965 that the Voting Rights Act allowed racial minorities the right to vote in the USA.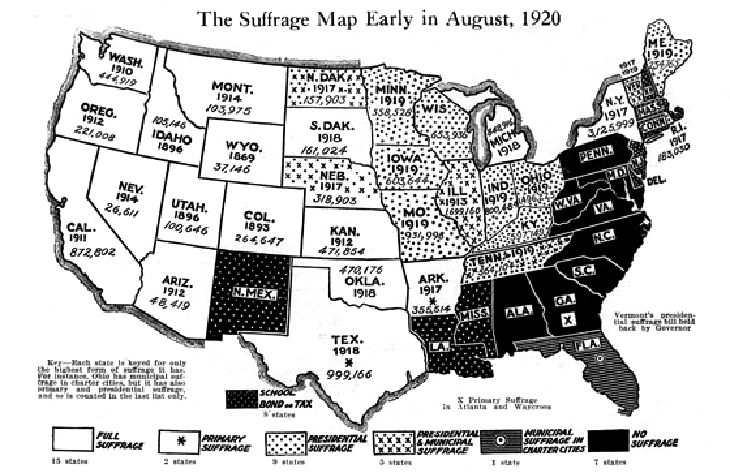 (1920 Women's Suffrage Laws USA Map: Marjorie Shuler / The Woman Citizen)
Canada – Black men could vote when slavery was abolished in Canada in 1834. By 1920, almost all the Canadian Provinces with the exception of PEI, Newfoundland, Quebec, and the Northwest Territories, had granted women (black and white) the right to vote; Newfoundland followed suit in 1925, but it wasn't until 1940 that women could vote in Quebec, and 1961 in the Northwest Territories. Sadly, it wasn't until after WWII that Asian men and women could vote in Canada; Inuit people in 1950; and First Nations people in 1960.
1920 Jobs and Work
Perhaps the biggest change in the past 100 years has been the types of jobs the people have. 
The industrial age which began in the late 1700s had already changed a worldwide largely agriculture and farming-based economy to introduce manufacturing and increased mechanized production for the textile industry. Quite often jobs were separated into more male or female-centric roles, although World War I had resulted in changes to the workforce because of supply and demand pressures.
Jobs for Men – By 1920 there were still many people working as farmers, and as service workers, but the relatively new automobile industry and introduction of the assembly-line production model, combined with the associated new businesses (creation of highways, steel, new services) had begun to provide even more non-farming jobs. 
Jobs for Women – In 1920 most married women were stay-at-home wives and mothers, with only 9% working outside the home (Slate.com statistics); although it was more acceptable for single women to do so. Many women worked on farms, or as maids, laundresses, cooks or waitresses in restaurants or private homes. Outside the home and farm, women could teach, nurse, work in stores as a sales clerk or cashier, hold the new job of a telephone operator, stenographer, typist, or clerk in business.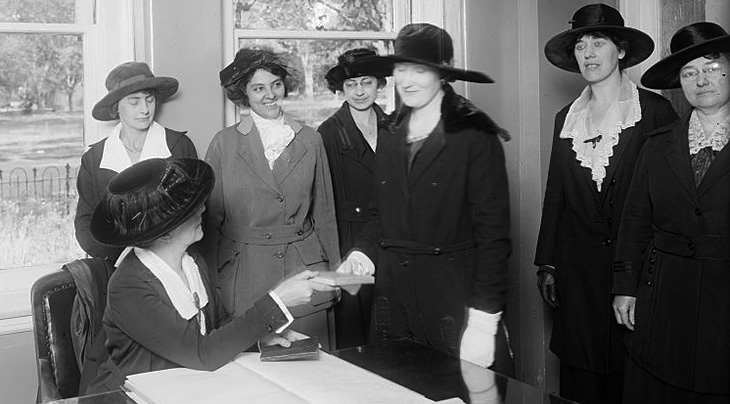 (United States Women's Bureau 1920 Police Department Photo: National Photo Company)
The United States Women's Bureau was establish in 1920 to focus on policies and standards to promote employment opportunities, working conditions, wages, and efficiency, for women.
Top professional service occupations based on a 1920 census:
Teachers (athletics, dancing, etc.)
Nurses
Doctors
Technical engineers
Musicians and music teachers
Legal profession (lawyers, judges, etc.)
Clergymen
Dentists
Draftsmen
Artists, sculptors, and teachers of art
Photographers
Editors and reporters
College presidents and professors
Chemists, assayers, and metalurgists
Actors
1920 Jobs That Are Now (Almost) Obsolete
Blacksmiths, hostlers, stable hands, and most jobs related to horse and buggy days (carriage makers, buggy whips, saddlers, etc.)
Messenger, errand, and office boys and girls
Shoemakers 
Milliners (hat makers)
Newsboys
Coopers (barrel makers)
Bootblacks
Many new jobs that didn't exist in 1920, have been created in the subsequent decades of the rising Information Age. Science, healthcare and medicine (speech language pathologist, occupational therapist, etc.), IS/IT, etc. 
1920 saw the beginning of some new cultural trends and the ending of others. It's now 2020 – one hundred years later, although the celebrities and other people we admired from 1920 are long gone, their legacy of fashions, sports, movies, household & personal grooming products and services, their suffrage and human rights protests, have helped shape our world and lives on in memory (and media) today. 
**This article is for general informational purposes only. Images and video are believed to be in the public domain or Creative Commons licensed & sourced via Wikimedia Commons, Vimeo, YouTube, or Flickr, unless otherwise noted**