Celebrating Seniors - Willie Mays Turns 85
The "Say Hey Kid" Baseball Hall of Famer and center fielder Willie Mays Jr., was born on May 6, 1931 in Westfield, Alabama and turns 85 today on May 6 2016.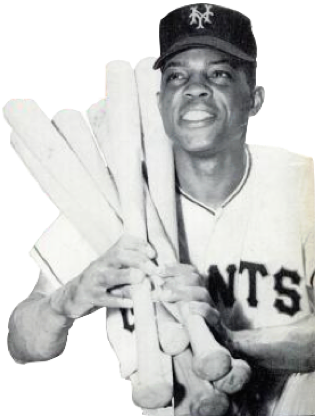 (Willie Mays 1954 Photo: Baseball Digest)
Mays' parents were athletes themselves and his father Willie "Cat" Mays Sr., played for a Negro League baseball team. Willie's parents never married and he was raised by his teenage aunts on his mother's side, but Willie and his father played baseball together from early in his childhood.
Although it was the era of the Great Depression, racism and segregation, Willie has said that white and black children would play pickup baseball games in the neighborhood during his childhood.
Mays said in the 2010 biography Willie Mays: The Life, The Legend (2010) by James S. Hirsch, that his desire for privacy and positive outlook came from his father.
In high school Willie Mays played basketball and football for school teams (there was no baseball team). While still in high school, Mays began playing semi-pro baseball for different Negro league teams in Chattanooga and Birmingham (the Birmingham Barons) starting in 1947, and was scouted by several Major League baseball teams.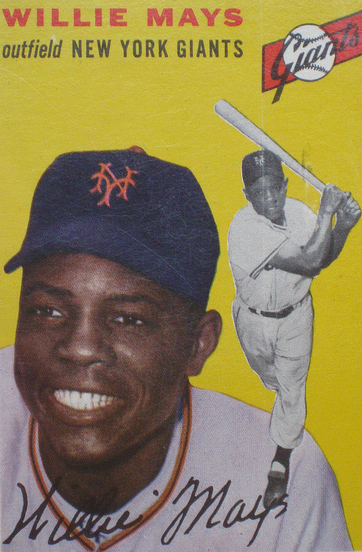 (Willie Mays New York Giants Baseball Card Photo: Baseball Collection)
Willie signed with the New York Giants and made his debut with their minor league team in Trenton, New Jersey in June 1950.
The following year Willie Mays was assigned to the AAA Mineapolis Millers, but was soon called up to the New York Giants on May 24, 1951.
He signed an autograph for Mae Louise Allen, a "little girl in pigtails", according to his biography Say Hey (1988) written by Lou Sahadi.
Mays moved to Harlem and played with the New York Giants from 1951-1957, and won Rookie of the Year in 1951.
Although the Giants made it to the 1951 World Series, they lost to the New York Yankees.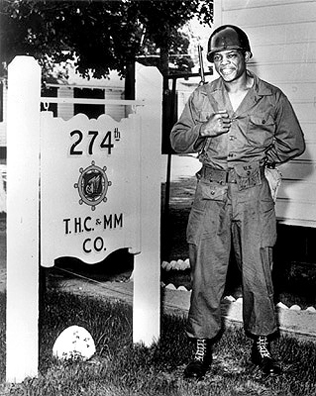 (Willie Mays in his Army uniform; Photo: Achievement.org)
During his time with the Giants, Willie Mays was drafted by the U.S. Army during the Korean War and missed most of the 1952 and 1953 baseball seasons playing baseball at Fort Eustis in Virginia. The two years he lost in the major leagues during his time in the U.S. Army may have have cost him the opportunity to break Babe Ruth's all-time home-run record during his career; the Babe's record was broken instead by Hank Aaron in 1974.
After the Korean War ended, Willie Mays returned to the New York Giants in 1954 and won MVP; the Giants won the World Series that year.
Mays made an outstanding catch "The Catch" and throw, and scored the winning run in the first game of the 1954 World Series.
Baby boomer favorite Willie Mays was selected as an All-Star in 1954 and the next 18 seasons in a row (he won 20 in all); leading the league with the most home runs in the 1955 season. In 1957 Willie Mays won the first Golden Glove Award; he'd end up winning the Golden Glove Award for 12 consecutive years.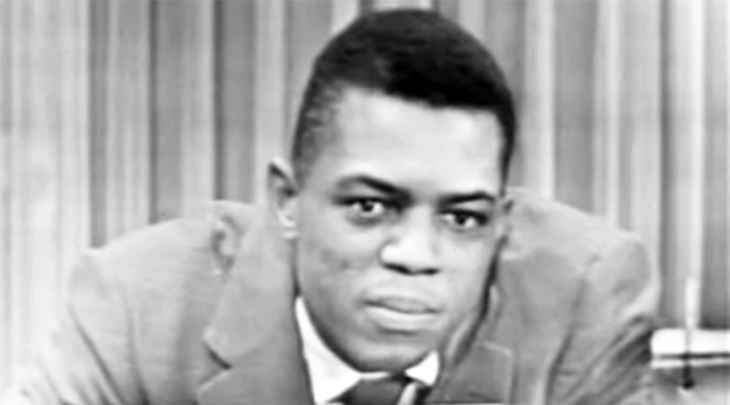 (Willie Mays 1954 What's My Line)
Willie Mays married divorcee Marghuerite Wendell Chapman in February 1956; Marghuerite had a daughter (Billie, age 9) from her first marriage. Marghuerite and Willie Mays moved with the team when the New York Giants moved to San Francisco, California in 1957. The Mays' house hunting efforts in the all-white Sherwood Forest area of San Francisco were frustrated when the house they wanted to buy was taken off the market after they'd made a down payment because of complaints from neighbors. The discrimination made headlines in San Francisco, leading Mayor George Christopher to offer the Mays' a bedroom in his own house. The owner of the property decided to sell to the home to the Mays the next day, and the NAACP sought legislation to make such racial discrimination illegal.
Mays began playing for the San Francisco Giants in 1958. He and Marghuerite adopted their infant son Michael in San Francisco in 1959.
After a bottle with a hate note was thrown through their front window, the Mays' sold their San Francisco home at the end of the 1959 season and moved back to New York. Their marriage soon began to break down and they were separated by 1961.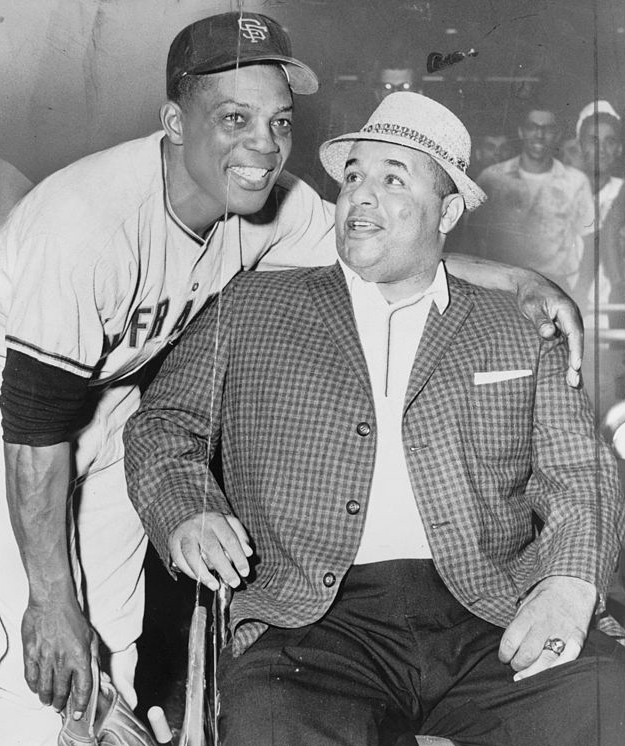 Willie Mays stands beside fellow MLB baseball player Roy Campanella in 1961. (Photo: William C. Greene, New York World-Telegram and Sun)
Willie Mays was named team captain at the beginning of the 1961 baseball season by new Giants manager Alvin Dark. 
On April 30th of 1961 year, he scored 4 home runs in a game against Milwaukee, and was flown by Ed Sullivan to New York to appear on The Ed Sullivan Show. Mays visited his old home grounds in Harlem and went to Small's Paradise, a nightclub owned by basketball star Wilt Chamberlain. Chamberlain gave Willie Mays the telephone number for a now grown-up Mae Louise Allen and suggested Mays meet her.
By the end of 1961, Marghuerite Mays had filed for divorce (she died in 2010) and Willie Mays was dating Mae Louise. He moved back to San Francisco and lived in a large home in the exclusive Forest Hill area. Right-fielder Bobby Bonds joined the San Francisco Giants in 1964 and Bonds and Mays became fast friends; Mays is godfather and friend to Bobby's son Barry Bonds, also a major-league baseball player. Bobby Bonds died in 2003.
Below, Willie Mays appeared for a 2nd time on popular quiz show What's My Line? in 1962. What's My Line? panelists Tom Poston, Arlene Francis, Bennett Cerf, and moderator John Charles Daly chatted with him after Arlene Francis guessed his identity.
Willie Mays won his second MVP Award in 1965, the same year he scored 52 home runs and achieved his 500th career home run.  Earlier in the year, Mays had rushed to help Brooklyn Dodgers catcher John Roseboro, when San Francisco pitcher Juan Marichal's bat hit Roseboro in the head and triggered a bench-clearing brawl. Mays and the Dodger's pitcher Sandy Koufax were credited as peacemakers in the incident.
Off the field, according to Willie Mays (2011) by Matt Doeden, Mays was still dating Mae Louise Allen, and in the off-season had his adopted son Michael living with him. Mays had also begun thinking ahead to life after baseball, and started an insurance company – the Willie Mays Agency. He began working with author Charles Einstein on his "as told to" autobiography, Willie Mays: My Life In and Out of Baseball (1966).
Willie Mays' last year for 100 RBI's (runs batted in) was in 1966 with the San Francisco Giants. By the end of 1969, Willie Mays had moved from San Francisco to Atherton, California, and achieved his 600th home run during a season when he battled several injuries. Sporting News magazine named Willie Mays 1960's Player of the Decade. Although only in his 40's, for professional sports he was now a senior.
During the 1960's, Mays had begun to make guest appearances playing himself on popular baby boomer television series such as The Donna Reed Show (1964 & 1966), and Bewitched (1966). Below from left, Maury Wills, Milton Berle, Jimmy Piersall and Willie Mays on a baseball tribute episode of The Hollywood Palace in 1967.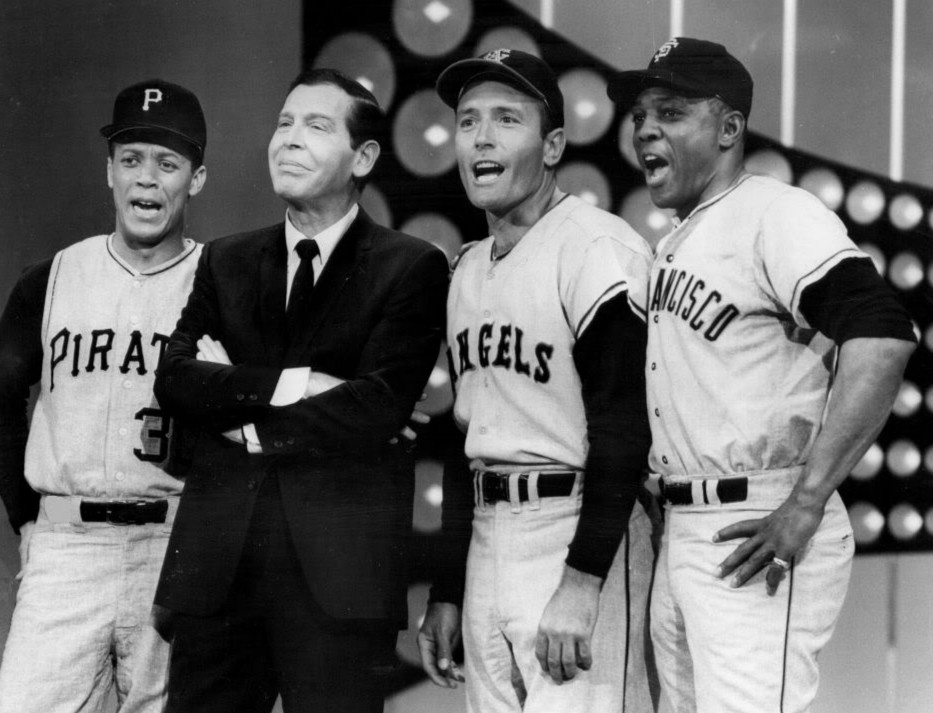 (1967 Photo: ABC Television)
Willie Mays married Mae Louise Allen in November 1971, and the next year the money-losing San Francisco Giants traded him to the New York Mets for a pitcher and money.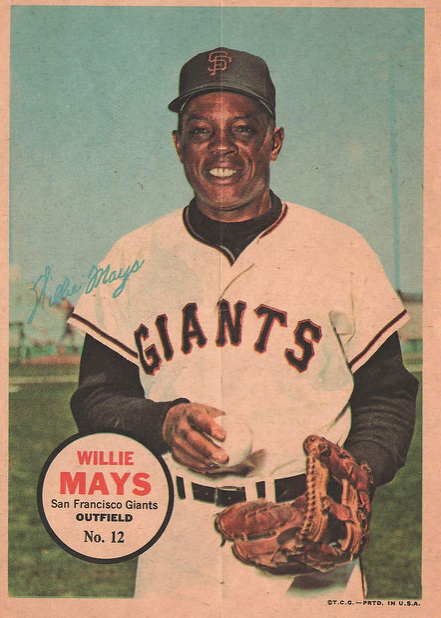 (Willie Mays San Francisco Giants Baseball Card Photo: Ted Van Pelt)
By then, Mays was the oldest regular position player in baseball, and the deal included a guaranteed retirement coaching position with the Mets.
Willie Mays hit his 660th and last home run in August 1973 while playing for the New York Mets.
The New York Mets made it to the World Series and Mays retired when the series ended.
Willie Mays continued as the hitting instructor for the New York Mets until the end of the 1979 baseball season.
He was elected to the Baseball Hall of Fame in 1979.
In his 50+ years and retirement, Willie Mays enjoyed playing golf frequently; he also took a paid position for a while in Atlantic City for the Park Place Casino. In 1986 Mays returned to the San Francisco Giants as a Special Assistant to the team's president. Singer-songwriter John Fogerty paid tribute to Willie Mays and fellow baseball legends Ty Cobb and Joe DiMaggio in his song Centerfield (1985).
Mays lost his wife Mae Louise in 2013 after a long battle with Alzheimer's Disease; she was first diagnosed in 1997 when she was only 59. Since entering his senior citizen years, Willie Mays has weathered the ravages of aging; due to hearing loss he wears hearing aids, and now uses a wheelchair.
Octogenarian senior citizen Willie Mays was been awarded the Presidential Medal of Freedom by U.S. President Barack Obama in 2015. President Obama said of Mays that
"He helped carry forward the banner of civil rights…It's because of giants like Willie that someone like me could even think about running for president."  
 (President Barack Obama & Willie Mays on Air Force One 2009 Photo: Pete Souza / The White House)
*Images are public domain or Creative Commons licensed & sourced via Wikimedia Commons, Vimeo, or Flickr, unless otherwise noted*