Fantasy Faves Mercedes Lackey & Larry Dixon
Prolific fantasy fiction author (140+ novels) and baby boomer Mercedes Lackey (nee Ritchie) was born in Chicago, Illinois (June 24, 1950). Her occasional co-author & fantasy illustrator – and second husband – Larry Dixon (born July 28, 1966), is an expert at drawing raptors and birds of prey, and has also illustrated works for the Dungeons & Dragons source books.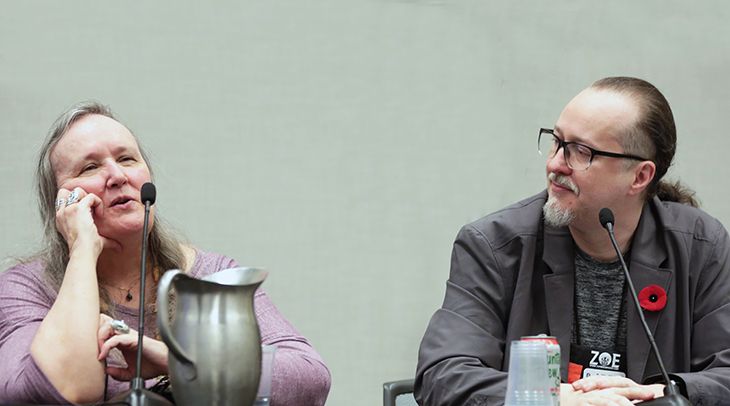 (Author Mercedes Lackey & Illutrator/Husband Larry Dixon 2018 Photo: Gage Skidmore)
Mercedes Ritchie became a science fiction fan as a pre-teen; sci-fi author Andre Norton was a favourite and would later become a mentor for her, and began writing stories for her own amusement. In 1972 she graduated from Purdue University and married first husband Tony Lackey (they divorced in 1990). She worked as a computer programmer and wound up working for American Airlines in Tulsa, Oklahoma.
Faced with extra free time on her hands after her computer programming day ended (she didn't know anyone in Tulsa), Mercedes began writing fan fiction  (fans of an author, writing about characters and/or settings from the author's original work of fiction), and submitted short stories to different magazines.
She also became interested in filk (which she describes as science fiction folk music), writing filk lyrics and getting them published. Below, and example of her filk sonwriting skills (singer is unknown).
Mercedes Lackey's first published story was in a Marion Zimmer Bradley anthology. In 1987 her first full-length novel Arrows of the Queen (in the Heralds of Valdemar series) book was published, soon followed by many others (over 140 so far). She continued writing in every free moment, eventually becoming a full-time writer (fantasy and filk). 
Larry Dixon's website The Gryphon King outlines his backstory: An Army brat (his Dad a Delta Force commando), he travelling across Europe and America as a child. Like Lackey, he too had an early interest in writing (and illustrating). Dixon's interest & talents in art and role-playing games was cemented in the 1970s, during his high school (North Carolina School of the Arts) and college (Savannah College of Art and Design) years.
Mercedes (Misty) Lackey & Larrry Dixon married in 1992. In addition to Larry Dixon illustrating many of her book covers, the couple have collaborated on authoring books as well (The Mage Wars Trilogy). 
Below, Mercedes Lackey and Larry Dixon talk about their books at the 2010 Dragon Con:
Larry Dixon and Lackey still live near Tulsa, Oklahoma and share interests in birds (falconry), sci-fi/fantasy & gaming conventions (ie, Dragon Con), and participation in role-playing groups, all of which have influenced her/their writing.
In 2016 they told DragonConTV that they're no longer actively rehabilitating falcons, owls & hawks, after successfully returning 400+ birds of prey to the wild:
"We're old…and free climbing into trees is not a good idea at our age".
Mercedes Lackey has collaborated with her mentors Andre Norton and Marion Zimmer Bradley, as well as other fantasy authors (Piers Anthony, Anne McCaffrey, etc.), on many novels. Her newest book Collision: Book Four of the Secret World Chronicle, is set for publication in October 2015 and is a collaboration with authors Veronica Giguere, Cody Martin and Dennnis Lee.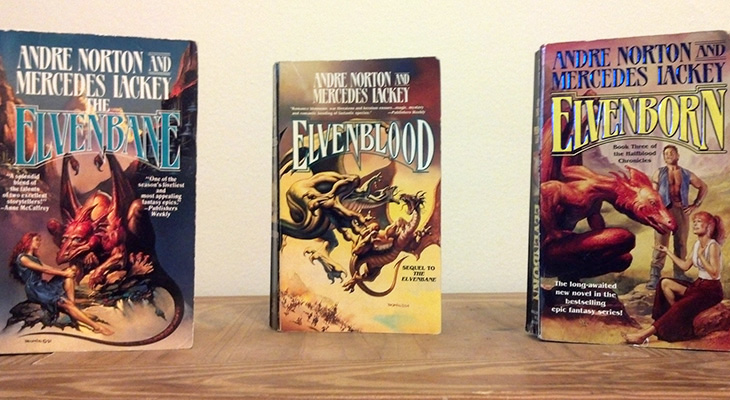 (Photo: WNJohnson)
Mercedes Lackey on why she writes (mercedeslackey.com):
"I began writing out of boredom; I continue out of addiction."
Here's hoping this fantastic duo of continue their fantasy collaboration for many more years.
*Images are public domain or Creative Commons licensed & sourced via Wikimedia Commons, Vimeo, or Flickr, unless otherwise noted*
Note: This article was first published in 2015 under the title Celebrating Seniors – Mercedes Lackey Turns 65. It has been updated with new / additional content.