On the Cover During WWI
During World War One, publishers – courtesy of talented magazine cover artists – conveyed messages of unity, patriotism, nostalgia, and hope, with arresting magazine cover paintings and illustrations that offered something to appeal to every sensibility.
America at War
Center, The Saturday Evening Post magazine July 1914 cover by J. C. Leyendecker anticipated America's entry into WWI (it came 3 years later, in 1917)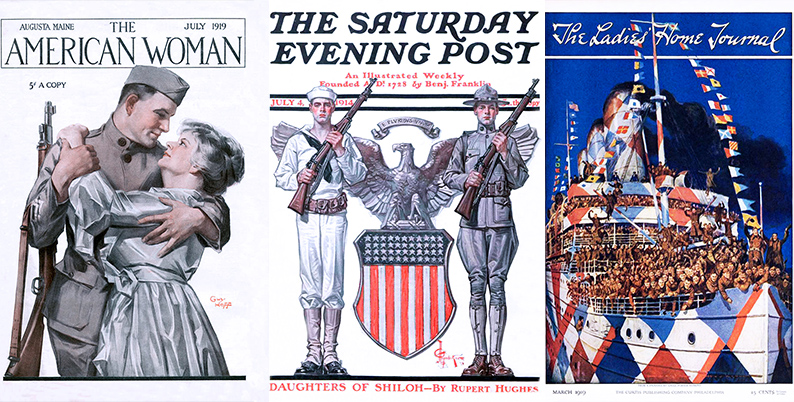 Magazine covers of The American Woman (July 1919, by artist Guy Hoff) and The Ladies Home Journal (March 1919, based on a painting by Gayle Porter Hoskins) anticipated joyous scenes of homecoming soldiers at the end of the war.
General interest magazine Collier's had several WWI-themed magazine covers between 1914-1919.
Artist Herbert Paus' work was on the cover of the October and November 1916 issues.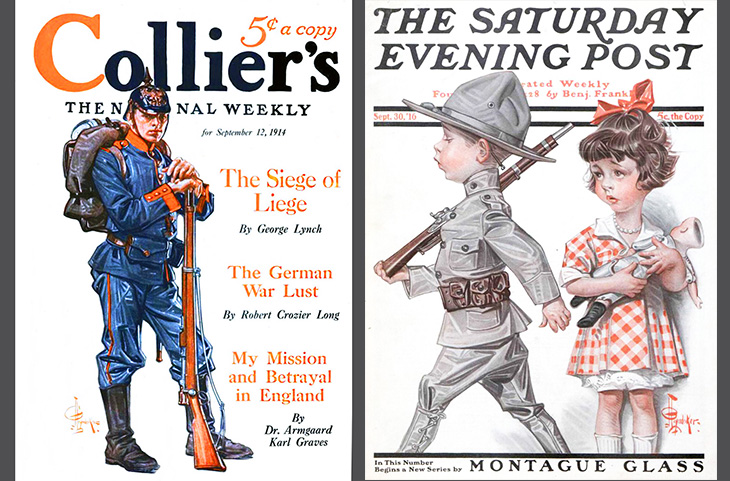 Artist J.C. Lendecker created quite different WWI-themed cover paintings for Collier's (1914) and The Saturday Evening Post (1916) 
Both J.C. Leyendecker and Herbert Paus – and more of their vintage magazine covers – are featured in our article A Vintage American Thanksgiving.
The Romantic
These Life and McClures's magazine covers literally paint a romantic image of serving in the military during wartime.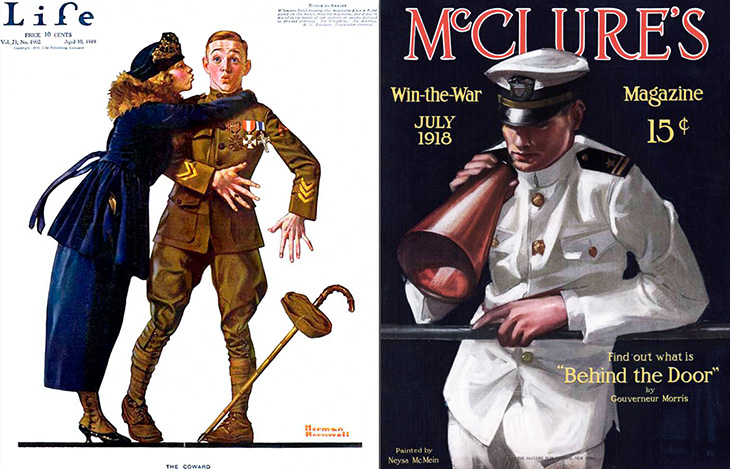 Norman Rockwell's April 1919 cover of Life magazine had an awkward kissing couple; while a solo dashing Navy officer adorned artist Neysa McMein's July 1918 cover of McClure's. 
Women in Wartime
Quite a contrast in magazine cover themes to pump up the patriotic fervor of women wanting to do their part in WWI, whether that be in the skies or keeping the home fires burning: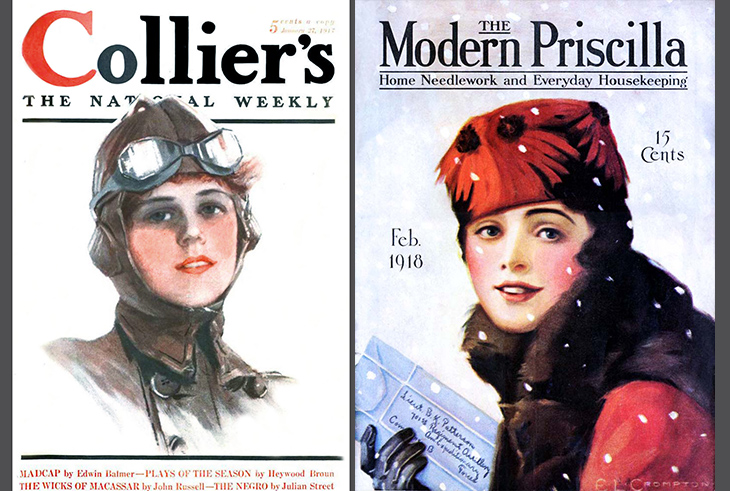 Collier's February 1917 featured a female aviator on the cover (artist most likely Dean Cornwell), while Modern Priscilla's woman (by artist Edna L. Crompton) is mailing a letter to a soldier on it's February 1918 cover.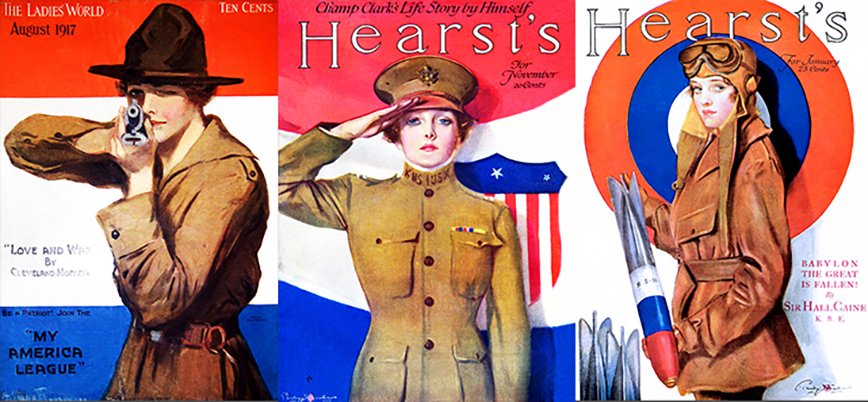 More forceful themes portraying women as modern warriors, adorned the magazine covers Ladies' World (courtesy of artist Clarence F. Underwood July 1918) and Hearst's magazine.(1919 January & November, by Penhryn Stanlaws).
Clarence Underwood's works are also featured in our article A Vintage Magazine Cover Christmas. 
Poking Fun at the War
Film Fun magazine covers during WWI expressed the underlying emotions beneath a facade of light-heartedness.
The United States entered WWI in 1917, and the September 1917 cover "We Three" conveys the partnership of the Allies – USA, France, and Great Britain.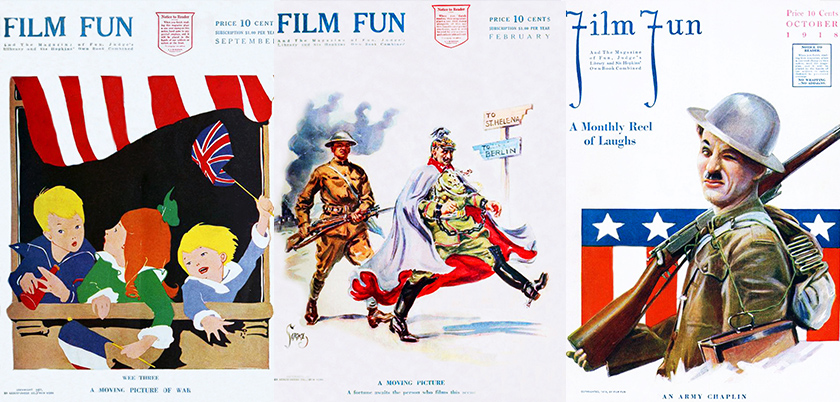 On the February 1918 cover "A Moving Picture – A fortune awaits the person who films this" by Sarkey, a determined Allied soldier marches a German officer out of Berlin. And lovable silent movie actor & famous "tramp" film star, Charlie Chaplin is "An Army Chaplin" winking soldier on the October 1918 cover of Film Fun. 
Technology & Science
Scientific advances and innovations that could help to win the war, were splashed across the covers of magazines like Popular Mechanics & Popular Science.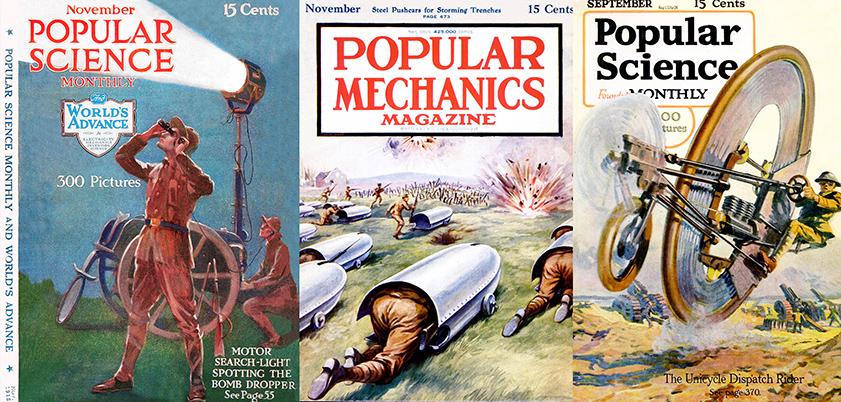 Bomb spotters using search lights (Popular Science cover, 1915 November) were definitely a thing, while a British inventor's wheeled body shield (Popular Mechanics cover, November 1915) may have seen limited use. A unicycle dispatch rider (adorning the September 1917 cover of Popular Science) was the product of fevered imaginations, and never came to fruition.
Something for every interest tempted readers to buy a magazine, open the cover, and either immerse themselves in current events, lose themselves for a few minutes to dreams of better days.
More About WWI, Veteran's Day & Remembrance Day:
Leviathans of Sea & Air – WWI Flying Boats
Most Decorated Canadian: William George Barker
Heroic Pigeon Patrols of WWI & WWII