Celebrating Seniors - Barbara Bain Turns 85
Octogenarian senior citizen and actress Barbara Bain (nee Mildred Fogel) Bain was born on September 13, 1931 in Chicago, Illinois. Bain told TV Radio Talk in 1977 that she attended the University of Illinois and got involved with a dance group called Orchesis. With her mind set on a career as a dancer, after graduating Barbara moved to New York City and after a year of of dance classes with Martha Graham's school, decided modeling would be a better career path for her.
(Barbara Bain 1966 Photo: CBS Television)
Barbara Bain began modeling with the Frances Gill Agency in 1955 and enrolled in acting classes with Curt Conway at Theater Studio.
She met Conway's teaching assistant Martin Landau, and it was dislike at first sight. However, over a dinner party a few weeks later, a better relationship bloomed; Barbara Bain and Martin Landau got married in 1957.  By then, both Martin and Barbara were students at the New York Actor's Studio under Lee Strasberg.
Barbara Bain and Martin Landau toured in a national production of the play Middle of the Night beginning in October 1957, and when the tour landed in California they stayed and made a home in Malibu.
Landau and Bain's first daughter, Susan Meredith Landau, was born while they were living in Malibu in August 1960; today Susan is a producer and sometimes goes by her married name, Susan Finch. Their second daughter,  actress/director/producer Juliet Landau (b. March 1965), is best known for her role as Drusilla on the cult classic television series Buffy the Vampire Slayer and the spinoff series Angel.
Barbara appeared in episodes of popular baby boomer television series in the late 1950's and early 1960's such as Tightrope (1959) starring Mike Connors, The Dick Van Dyke Show (1963), Hawaiian Eye (1963) with Connie Stevens, Empire (1963) with Ryan O'Neal, Perry Mason (1960, 1964), and Get Smart (1965) with Don Adams and Barbara Feldon. In 1959, Bain had a recurring role as Karen Wells on Richard Diamond, Private Detective starring David Janssen.
Landau and his wife Barbara Bain both appeared in co-starring roles with Greg Morris and Steven Hill (and Hill's replacement Peter Graves) in the very popular baby boomer television series Mission: Impossible from 1966-1969. Bain played former model and now IMF agent Cinnamon Carter, while Landau was agent Rollin Hand (Man of a Thousand Faces). Mission: Impossible series writer /creator Bruce Geller had taken acting classes with Landau in Los Angeles and wrote the roles with them in mind. 
 (Barbara Bain & Alf Kjellin 1969 Mission: Impossible Photo: CBS Television)
Barbara Bain won the Emmy Award for Best Dramatic Actress 3 years in a row (1967, 1968, 1969) for performance as Cinnamon Carter on Mission: Impossible, and was nominated for a Golden Globe Award in 1968. When her husband Martin Landau got into a contract dispute with Mission: Impossible producers over salary in 1969, he walked out; Bain was subsequently fired, right around the same time she accepted her 3rd Emmy Award.
After leaving Mission: Impossible in 1969, Barbara Bain continued to find work on television, primarily in made-for-TV movies during the early 1970's. She co-starred once again with husband Martin Landau in the TV movies Savage (1973), and Journey Through the Black Sun (1976), and Alien Attack (1976).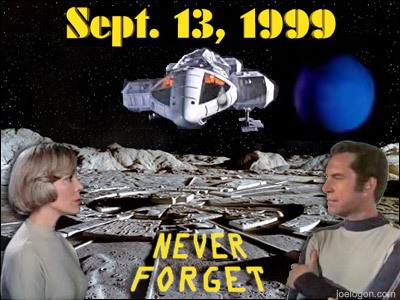 (Barbara Bain & Martin Landau Space: 1999 Photo: Joe Loong | Flickr)
Barbara Bain's character Dr. Helena Russell from Journey Through the Black Sun was resurrected in the sci-fi series Space: 1999 (1975-1977), which also co-starred Martin Landau. Landau and Bain would co-star in more TV movies based on their Space: 1999 characters after the series ended; Destination Moonbase-Alpha (1978), and Cosmic Princess (1982).
While Barbara and Martin starred in Space: 1999, they lived in London, England with their teenage daughters. The couple were long time best friends with Estelle and Carl Reiner and their two families remained close despite being on different continents; Estelle and Carl's son Lucas Reiner stayed with Martin and Barbara in London for a while.
By the end of the 1970's, Barbara and Martin had moved back to the U.S. and were living in a 1906 Tudor style home in Beverly Hills they called Sous Les Arbres. In the early 1980's, Landau and Bain split but remained friends and neighbors, according to a 1996 People article. After approximately 10 years apart, Barbara Bain and Martin Landau divorced in 1993 and ended 36 years of marriage.
During the 1980's and early 1990's in her 50+ years, Barbara Bain began appearing in feature films such as the time-travel comedy The Spirit of '76 (1990) directed by Lucas Reiner and starring Carl Reiner and David Cassidy. She guest-starred on the TV series Moonlighting starring Cybill Shepherd and Bruce Willis, Scarecrow and Mrs. King starring Kate Jackson and Bruce Boxleitner, Murder, She Wrote starring Angela Lansbury, and on an episode of Diagnosis Murder starring friend Dick Van Dyke called Discards (1997), her character's name was Cinnamon Carter.
Among her film and television roles after becoming a senior citizen in 1996, are appearances in the feature films Gideon (1998) starring Christopher Lambert, Charlton Heston, and Carroll O'Connor (All in the Family, Archie Bunker's Place), Mike Connors, Shirley Jones, and Harvey Korman (The Carol Burnett Show); Panic (2000) starring William H. Macy and Donald Sutherland; and American Gun (2002) with James Coburn, Virginia Madsen, and Martin Kove. Below, the movie trailer for American Gun features senior actors James Coburn, Barbara Bain, and Virginia Madsen.
A septuagenarian Barbara Bain once again played Dr. Helena Russell in the short Space: 1899 (2004) opposite co-star Martin Landau. In the thriller Haunted Echoes (2008), she was in a cast that included Sean Young, and Bain's younger daughter Juliet Landau.
Since becoming an octogenarian senior citizen in 2011, most recently Bain has appeared as Roxanne, an older woman struggling with Alzheimer's Disease in Lost Music (2014); with friend Edward Asner in the short comedy Pacific Edge (2015); and with George Hamilton, Valerie Perrine, Mariette Hartley and Howard Hesseman in the retirement residence comedy Silver Skies (2015). A short film Grace (2015) once again examines the impacts of Alzheimer's Disease. Below, Barbara Bain in an interview which touches on her life and the film Silver Skies.
Barbara Bain continued to be a member of the Actor's Studio and was still teaching a private class for younger actors there as recently as 2012; in 2016 she is mentoring young writers and directing their plays with the Blank Theatre's Young Playwrights Festival. Bain received a star on the Hollywood Walk of Fame in April 2016, accompanied by friends Dick Van Dyke and Ed Asner. Today on September 13, 2016, she turns 85 years old.