Boomer TV Trivia: Mission: Impossible
Q1. What married couple were co-stars on the original Mission: Impossible TV series which aired from 1966-1973?
Q2. Which two regular cast members from the first season (below top row, from left – Steven Hill, Barbara Bain, Martin Landau, and Greg Morris; missing: Peter Lupus) remained through the entire 7-year run of Mission: Impossible?
 (Mission: Impossible Cast – Top 1970, Bottom 1966 – Photos: CBS | Montage: 50PlusWorld)
Mission: Impossible was set in the Cold War era and featured the Impossible Missions Force (IMF), a small team of secret agents that carried out covert missions. At the beginning of each episode the IMF leader would usually look at a dossier on the proposed mission and listen to a tape recording with what became a catch phrase,
"Your mission…(name) should you choose to accept it."
Mission: Impossible won 8 Emmy Awards between 1967-1969, including
Best Dramatic Series (1967 & 1968 winner, and nominated in 1969)
Best Actress in a Leading Role in a Dramatic Series (Barbara Bain won in 1967, 1968, and 1969)
Outstanding Writing Achievement in Drama (Bruce Geller).
Martin Landau was nominated for Best Actor in a Leading Role in a a Dramatic Series in 1967, 1968, and 1968.
Co-stars Peter Graves and Greg Morris were both nominated in 1969, with Landau and Graves competing against each other in the category of Best Actor in a Leading Role. Martin Landau won the Golden Globe Award for Actor in a Television Series – Drama in 1968 and Peter Graves won it in 1971 (and was nominated each year from 1969-1971).
DU2622hU
Below, Mission: Impossible cast members in 1966 from left: Steven Hill as Dan Briggs, Barbara Bain as Cinnamon Carter, Martin Landau as Rollin Hand, and Greg Morris as Barney Collier.

Actor Steven Hill (born Solomon Karkowsky) began his acting career on Broadway in 1946 and began acting on television and in the movies in 1949.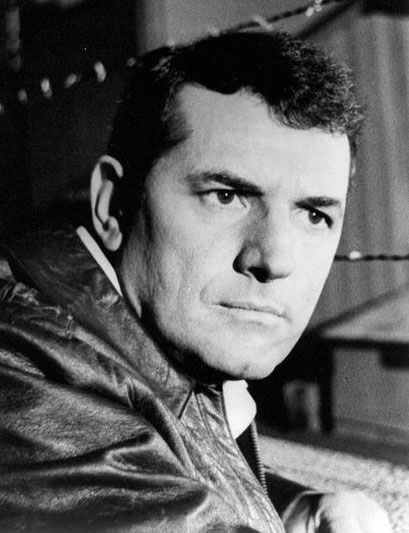 (Stephen Hill 1966 or 1967 Mission: Impossible Photo: CBS Television / Desilu Productions / McFadden Strauss Eddy & Irwin PR )
Hill had been married to first wife Selma Stern, had 4 children, and gotten divorced in 1964, plus acquired a long string of acting credits in popular baby boomer TV series like Dr. Kildare (1962), Naked City (1963), Rawhide (1965), The Fugitive (1966), and many others, before he landed the role of IMF Leader Dan Briggs on Mission: Impossible in 1967.
Stephen Hill's contract allowed for his religious observances as an Orthodox Jew from Friday 4pm until Saturday night, but proved difficult for the production schedule to work around. He was replaced by actor Peter Graves playing the new character of Jim Phelps in the second season of Mission: Impossible.
Steven Hill took a 10-year break from acting to work at writing and in real estate, before returning to his craft and focusing on feature film work in the later 1970's, as he began his 50+ years. During the early 1980's Hill appeared in movies such as Rich and Famous (1981) starring Jacqueline Bisset and Candice Bergen; Yentl (1983) starring Barbra Streisand; Teachers (1984) starring Nick Nolte; Legal Eagles (1986) starring Robert Redford; and Heartburn (1986) starring Meryl Streep and Jack Nicholson.
DU2622hU
Beginning in his septuagenarian senior citizen years, Hill became best known as District Attorney Adam Schiff on Law & Order during the first ten seasons of the series, from 1990-2000. Steven Hill was 78 when he retired from acting in 2000. At the time of his death on August 23, 2016 he was a 94-year-old nonagenarian senior citizen. Steven Hill left behind his second wife Rachel Schenker (m. 1967 until his death) with whom he had another five children.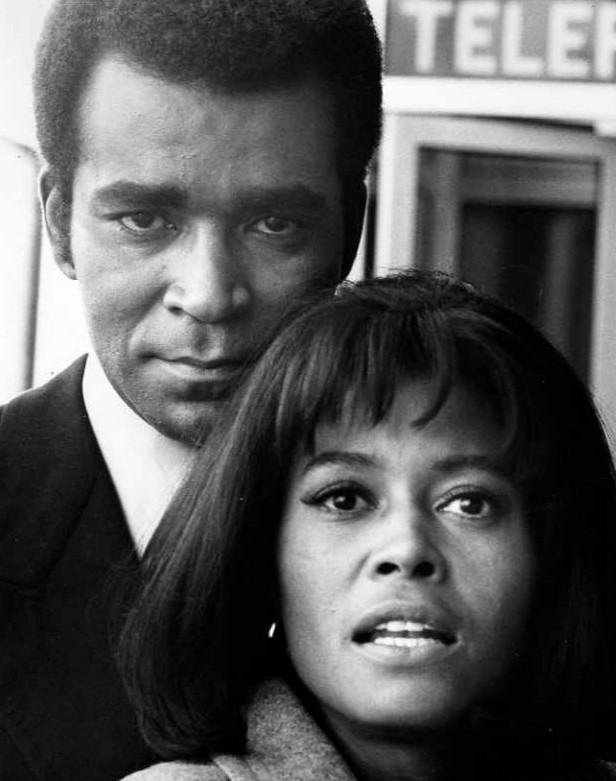 (Greg Morris as Barney Collier & guest-star Abbey Lincoln 1970 Mission: Impossible Photo: CBS TV/ Desilu Productions / McFadden Strauss Eddy & Irwin PR)
Actor Greg Morris (b. 1933) played electronics expert Barney Collier on Mission: Impossible beginning with the 1966 pilot, through to the last episode in 1973. Greg Morris and his wife Leona Keyes were married in 1956 and had three children; he told People in May 1996 that they had separated in 1995 after 38 years together. 
Before, during, and after his role on Mission: Impossible, Morris had a recurring role as policeman "Officer Frank" on Peyton Place (1965-1966), and was a frequent guest-star on popular baby boomer series such as The Twilight Zone (1963), The Dick Van Dyke Show (1963, 1965), I Spy (1966), The Six Million Dollar Man (1974), The Snoop Sisters (1974), and The Streets of San Francisco (1975), to name only a few. 
During his 45+ years, Greg Morris appeared in the mini-series Roots (1979) and was a regular cast member of Vega$ from 1978-1981. On the sitcom The Jeffersons, a 50+ Morris guest-starred in a 3-part episode titled Mission: Incredible (1983) as an electronics expert.
DU2622hU
Greg Morris was 55 when he reprised his character of Barney Collier in a recurring role on the Mission: Impossible TV series remake from 1988-1989. Morris' son Phil Morris was a regular on the remake series as Barney's son Grant Collier, which starred Peter Graves as the original Mission: Impossible leader Jim Phelps. Greg Morris was 62 years old when he died of brain cancer in August 1996; he had previously beaten lung cancer in 1960, and had radiation and surgery on a brain tumour that was discovered in 1991 and had been in remission.
Below, the Season Five 1970 Mission: Impossible cast from left: Leonard Nimoy (Paris), Greg Morris, Lesley Ann Warren (Dana Lambert), Peter Lupus (Willy Armitage), & Peter Graves (Jim Phelps).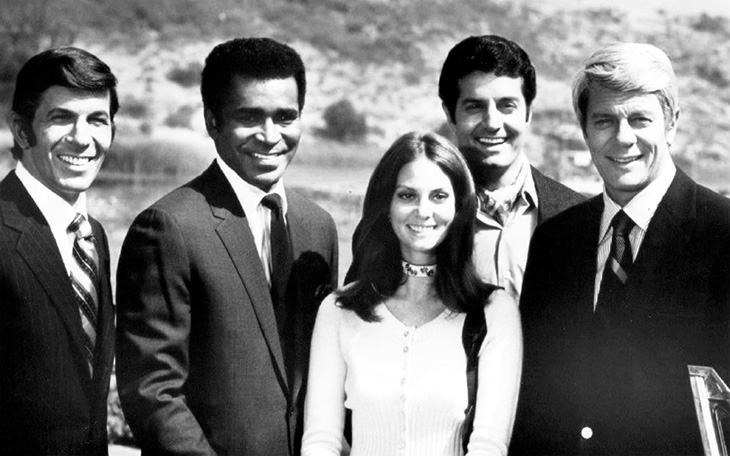 (Photo: CBS TV / Desilu Productions / McFadden Strauss Eddy & Irwin PR)
6'4″ Indianapolis native and bodybuilder Peter Lupus played muscle man Willy Armitage on all 7 seasons of Mission: Impossible. Peter Lupus has been married to his wife Sharon Hildebrand since 1960; they celebrated their 56th wedding anniversary in November 2016.
Before finding acting work, Peter Lupus won bodybuilding titles that included Mr. Indianapolis (1954) and Mr. Hercules. His imposing build and strong facial features (obvious in the photo below) made him a perfect character actor and fit for his role on Mission: Impossible.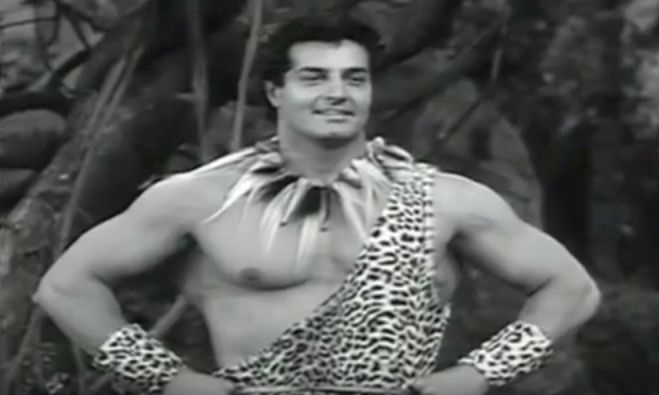 (Peter Lupus 1962 The Jack Benny Program Screenshot)
Peter Lupus began finding episodic acting work on popular baby boomer TV series beginning in 1962, and made his movie debut under his other professional name of Rock Stevens in Muscle Beach Party (1964) starring Frankie Avalon and Annette Funicello. More movie strong man roles followed for Peter Lupus; he was an un-credited slave in The Brass Bottle (1964) which starred Tony Randall, Burl Ives, and Barbara Eden, and as Rock Stevens, he was the star of several "B" action-adventure movies in 1965. 
DU2622hU
After Mission: Impossible ended, Lupus found some work as Superman in some U.S. Air Force commercials, before his full-frontal nudity spread in Playgirl magazine in 1974.
Peter Lupus had a starring role in the Italian adventure feature film, Hercules and the Tyrants of Babylon (1964).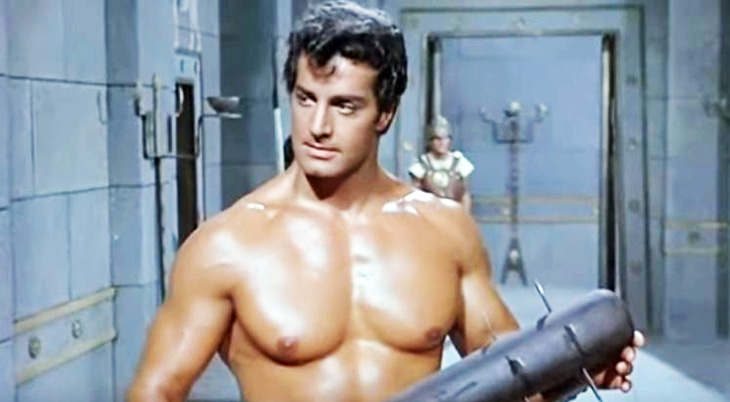 (Peter Lupus 1964 Hercules and the Tyrants of Babylon)
During his 50+ years Peter Lupus did more episodic television work, including a recurring role in as Norberg in the sitcom Police Squad! (1982). Peter Lupus was an octogenarian senior citizen when he appeared in action-comedy movies based on Mission: Impossible – Mission: Irreparable (2012) and Mission: Imposter (2014).
Maintaining his dedication to physical fitness as a senior citizen, 75-year-old septuagenarian Peter Lupus set a world weightlifting endurance record in 2007, breaking his record from 5 years earlier when he was only 70. Lupus and his wife have a son, Peter Lupus III, also an actor. 
Lynda Day George joined the cast of Mission Impossible in 1971 as Lisa Casey. George has said that her MI co-star actor Peter Graves was a mentor for her. She left Mission: Impossible mid-way through it's final year 1973 to go on maternity leave. Her husband Christopher George guest-starred with Lynda Day George (below) on an episode of the series in her debut year.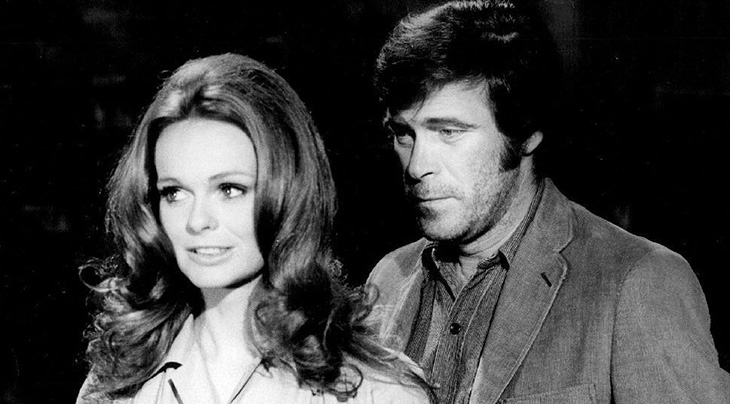 (Lynda Day George & Christopher George 1971 Mission: Impossible Photo: CBS Television)
A1. Actress Barbara Bain (Agent Cinnamon Carter) and actor Martin Landau (Agent Rollin Hand) were married from 1957-1993, and throughout their run on Mission: Impossible from the first season in 1966 until the end of the third season. Martin Landau left the series after a salary dispute, and Barbara Bain was subsequently fired.
A2. Greg Morris as Barney Collier and Peter Lupus as Willy Armitage were the only two cast members to appear in every season of Mission: Impossible. Only Greg Morris appeared in more episodes of Mission: Impossible (171) than Lupus (161).
Note: This article was first published in September 2014. It has been updated with new & additional content.
DU2622hU
*Images are public domain or Creative Commons licensed & sourced via Wikimedia Commons, Vimeo, or Flickr, unless otherwise noted*