Bill Murray's Extra Innings
Perennial funnyman and sports enthusiast Bill Murray is enjoying his extra innings of life, stardom, golf & baseball these days as he travels across America. His life journey started back in 1950…
Second City
Baby boomer and new senior citizen Bill Murray was born September 21, 1950 in Evanston, Illinois and grew up in the Chicago area. Bill was the middle of 9 children in his Irish Catholic family; his sister Nancy is a nun and three of his brothers (Brian, Joel & John) are also actors.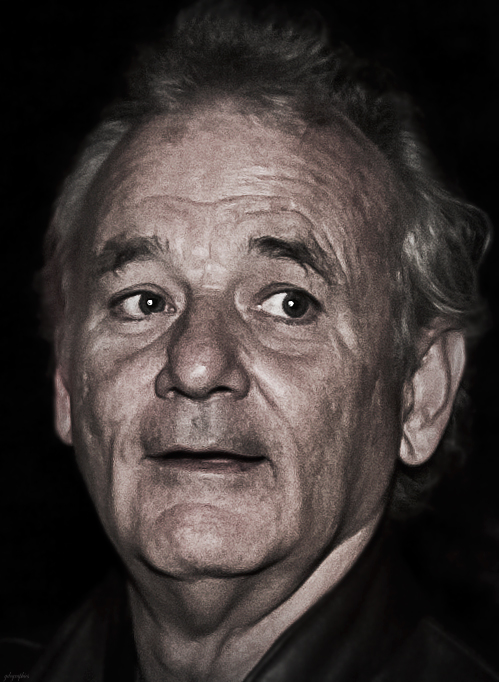 (Bill Murray 2010 Photo: Gordon Correll)
As a teenager Bill was ambitious, working as a golf caddy to help pay for his education at Loyola Academy (a private Roman Catholic Jesuit high school) and was the lead singer of the Dutch Masters, a rock band.
Bill Murray attended Regis University, a private Roman Catholic Jesuit school in Denver, Colorado with the vision of being a surgeon.
At the beginning of his second year of Regis University in September of 1970, Murray was arrested at O'Hare airport in Chicago on his 20th birthday for drug possession (marijuana). 
Released on probation as a first-time offender, he dropped out of university before getting kicked out.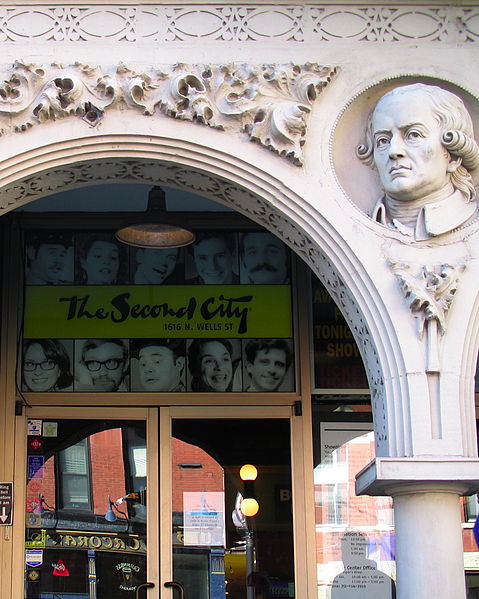 (Photo: Gorilla Jones at wts wikivoyage)
The Second City Chicago Old Town building had Bill Murray's picture in the top right of the banner over the entrance door. 
Murray worked odd jobs before deciding in 1972 to try stand-up comedy, something his older brother Brian was beginning to have some success with. 
He soon joined Brian in the cast of Chicago's now-famous The Second City improv group, where he met fellow comedian John Belushi.
Below, Bill Murray is featured in a Second City comedy skit "The Waiting Room"; he's joined by George Wendt (Norm on Cheers), among others.
In 1974 Bill Murray, Brian Doyle-Murray, and John Belushi moved to New York and joined the National Lampoon Radio Hour, working alongside Gilda Radner, Richard Belzer, Chevy Chase, Christopher Guest, and Harold Ramis.
Below, a look at a rehearsal for the National Lampoon Radio Hour that features future SNL stars John Belushi, Brian Doyle-Murray, Joe Flaherty, Bill Murray, Gilda Radner, and Harold Ramis.
Saturday Night Live
The next year, television producer Lorne Michaels started recruiting comedians for a new show to be filmed in New York City starting in October 1975, called NBC's Saturday Night. John Belushi , Dan Aykroyd, Chevy Chase, Gilda Radner and a few other comedians were hired for the first season.
At the same time, ABC started a new variety show called Saturday Night Live with Howard Cosell, hiring Bill Murray, Brian Doyle-Murray and Christopher Guest as a regular comedy act. The Cosell show lasted only 18 episodes. 
Part way through the second season of NBC's Saturday Night, Chevy Chase quit and Bill Murray was hired to take his place. Soon after, NBC changed the name of the show to Saturday Night Live (SNL). On Saturday Night Live (1977-1980), Murray created the SNL sketch comedy characters Nick the Lounge Singer and The Nerds; he was nerd Todd DiLaMuca (dating Gilda Radner's nerdy Lisa Looper). Bill Murray's real-life romance with Gilda Radner ended in 1979.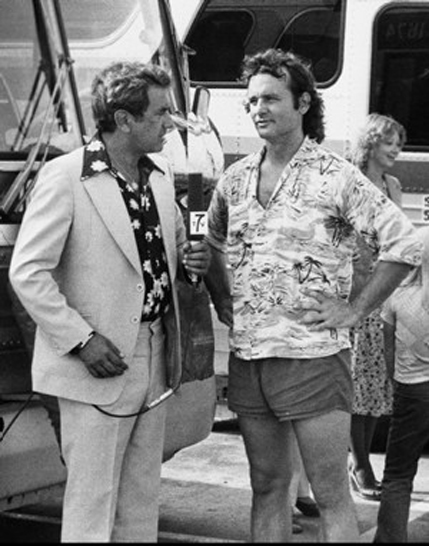 (Larry Solway & Bill Murray 1979 Meatballs Photo: Jbyoung15)
Bill Murray's movie career started before his time on SNL – back in 1976 with an uncredited role in Next Stop, Greenwich Village.
After a few parts in unsuccessful movies, he landed a starring role in the comedy film Meatballs (1979), directed by Ivan Reitman and written by (among others), his old National Lampoon Radio Hour buddy Harold Ramis.
Below, a clip from Meatballs featuring Bill Murray "coaching" some soccer-playing campers.
The following year Bill Murray, along with Lorne Michaels and most of the original SNL cast left Saturday Night Live.
Caddyshack and Movie Stardom
After the flop Where the Buffalo Roam (1980), Murray appeared in Caddyshack (1980) as greenskeeper Carl Spackler, intent on decimating a rogue gopher invasion at a golf course. Caddyshack was based on his brother Brian Doyle-Murray's experiences as a golf caddy, and was written by Brian, Douglas Kenney and Harold Ramis (who also directed).
Bill Murray co-starred in Caddyshack alongside fellow comedians Chevy Chase and Rodney Dangerfield. Bill & Brian's younger brothers Brian Murray had the supporting role of Lou Loomis, and John Murray had a bit part (uncredited) as a caddy. Caddyshack was a financial success and has a cult following even today.
The trailer for Caddyshack (above) features the stars Rodney Dangerfield, Chevy Chase, Bill Murray, Michael O'Keefe, Brian Murray, Ted Knight, Cindy Morgan, and of course, "Mr. Gopher".
Next up for Bill Murray was the role of failure John Winger, who joins the US Army in the hit comedy Stripes (1981), co-starring and co-written by Harold Ramis. He plays an amorous cook in the Stripes clip below, wackily romancing co-star P.J. Soles.
Bill Murray married Margaret Kelly in Las Vegas in January 1981 and their son Homer Murray was born in 1982. The couple primarily lived in the Hudson River Valley area of New York State during their marriage.
Murray followed his success in Stripes with the part of Jeff Slater in Tootsie, about a writer that rooms with an unsuccessful actor named Michael Dorsey that transforms himself into actress Dorothy Michaels, played by the movie's star Dustin Hoffman. Tootsie (1982) was a hit with audiences and Murray's acting career was on a roll.
Bill Murray co-starred in three movies in 1984, one of which he also wrote – The Razor's Edge (1984) – based on the novel by W. Somerset Maugham. To finance the filming of his The Razor's Edge movie, Murray agreed to appear in Ghostbusters (1984). The Razor's Edge was a rare non-comedic role for him, and an equally rare box-office flop.
The Ghostbusters Phenomenon
In sharp contrast to The Razor's Edge, Ghostbusters (1984) was a monster financial and critical success, spawning film sequels, television series, and video games. 
Directed and produced by Ivan Reitman, Ghostbusters stars Bill Murray, Dan Aykroyd and Harold Ramis, who co-wrote the movie together. Also in the cast of Ghostbusters are Ernie Hudson, Sigourney Weaver, Rick Moranis, Annie Potts, William Atherton, and David Margulies.
In the movie clip from Ghostbusters below, Bill Murray demonstrates his sadistic (and funny) ESP test.
Bill Murray took a break from acting for a while after Ghostbusters was released. He moved to France with his family, studied history and philosophy at the Sorbonne, and spent time with his young family in the Hudson River Valley. Margaret and Bill's Murray's youngest son Luke was born in Paris in 1985.
Bill Murray returned to acting in time to appear in 15 more movies during the rest of the 80's and 90's, starting with Scrooged (1988). The huge cast of Scrooged included Karen Allen, John Forsythe, Carol Kane, Robert Mitchum, Michael J. Pollard, Alfre Woodard, Wendie Malick, Jamie Farr as Jacob Marley, and cameos for Mary Lou Retton, Robert Goulet, Buddy Hackett, John Houseman, and Lee Majors. Murray's brothers Joel Murray and Brian Doyle-Murray also appear in Scrooged.
While filming Scrooged, Bill met costume designer Jennifer Butler. Butler also served as costume designer on Ghostbusters II (1989) and Groundhog Day (1993).
Below, a frustrated Bill Murray (as weatherman Phil Connors) experiences déjà vu (for the first time) in a scene from Groundhog Day. Angela Paton is inn manager Mrs. Lancaster.
Butler gave birth to her and Murray's sons Caleb (1993) and Jackson (1995), before Margaret and Bill Murray divorced in 1996.
Bill Murray and Jennifer Butler got married in 1997, and promptly had sons  – Cooper (1997) and Lincoln (2001). Jennifer and Bill Murray resided in the Hudson River Valley area and Murray occasionally coached the boys Little League baseball teams.
Murray finished out the 1980's with critical acclaim for his role in Rushmore (1998). In his 50+ years, he co-starred as John Bosley in the hit movie Charlie's Angels (2000).
Below, Bill Murray in a scene from Charlie's Angels, trying to escape. Crispin Glover stands guard outside while the Angels (Cameron Diaz, Lucy Liu, and Drew Barrymore) and a bird, try to rescue him.
Almost Lost in Translation
Bill Murray appeared in another 17 movies during his fifties, including Lost in Translation (2003), a critically acclaimed movie and role for which he was nominated for an Academy Award for Best Actor.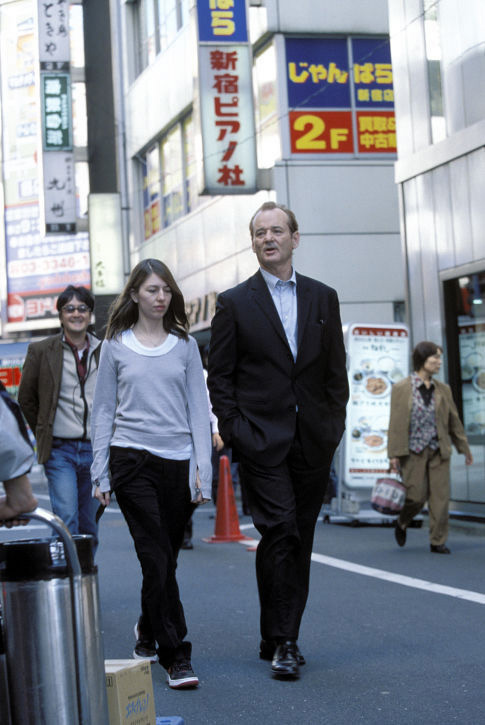 (Sofia Coppola and Bill Murray on the set of Lost in Translation, c. 2003 Photo: L )
Murray and his Lost in Translation romantic leading lady Scarlett Johansson each won a BAFTA Award for their performances in the movie.
Lost in Translation screenwriter and director Sofia Coppola received an Academy Award for Best Original Screenplay, and a nomination for Best Director and Best Picture. She said that she had always wanted to work with Bill Murray and wrote the movie with him in mind.
After many months of trying to track down the elusive star she enlisted his friends and finally got Bill Murray to agree to star in the film, which was filmed on location in Tokyo. 
Below, Bill Murray in a scene near the beginning of Lost in Translation, playing an actor filming a commercial. What the director is saying to him seems to be getting lost in translation…
Murray traveled to Italy to make Wes Anderson's off-beat comedy The Life Aquatic with Steve Zissou (2004), filming scenes in Naples, Rome, the Ponziane Islands, and Florence. His co-stars in The Life Aquatic are Owen Wilson, Cate Blanchett, Willem Dafoe, Michael Gambon, Anjelica Huston, and Jeff Goldblum.
When Jennifer Butler filed for divorce from Bill Murray in May 2008, her divorce petition indicated the couple had been separated for a couple of years. She initially alleged (and then withdrew) that Murray's infidelity, addictions to sex, marijuana and alcohol, and domestic violence were at fault. A settlement was quickly reached and their divorce finalized in June 2008.
Extra Innings in The 60+ Years
In his sixty-plus years, Bill Murray has made numerous television guest-starring appearances, and been featured in 11 movies (starring & supporting roles, and cameos).
He was nominated for a Golden Globe for Best Actor for his starring role as the senior Franklin D. Roosevelt in Hyde Park on Hudson (2012), and another Golden Globe Best Actor nomination for his role as Vincent MacKenna in St. Vincent (2014).
Also in 2014, he appeared as Jack Kennison in the television miniseries Olive Kitteridge (2014), and was nominated for an Emmy Award for Outstanding Supporting Actor in a Limited Series or a Movie. 
Murray joined other SNL alumni on the 40th Anniversary Special for Saturday Night Live TV show in 2015 , and voiced Baloo in the live-action film The Jungle Book (2016).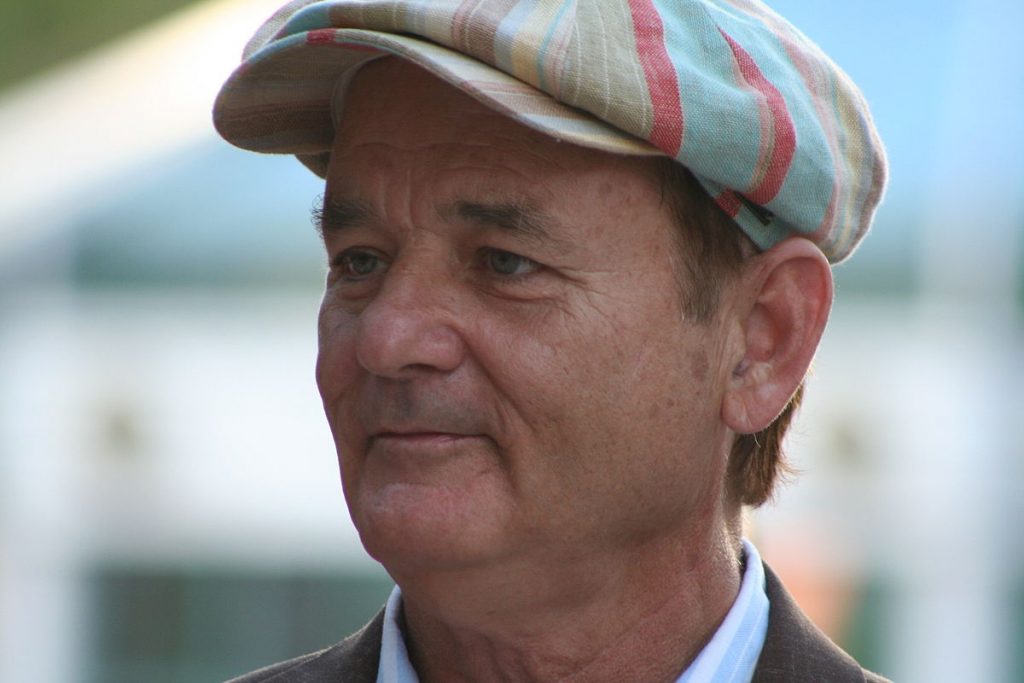 (Bill Murray 2009 Toronto International Film Festival Photo: Paul Sherwood)
Bill Murray has homes in Los Angeles, California; Martha's Vineyard, Massachusetts; Palisades, New York, but currently lives primarily in Charleston, South Carolina. He and his brothers are partners in Murray Bros. Caddy Shack restaurant near St. Augustine, Florida.
His philanthropy has helped fund a home that provides affordable housing for low-income seniors in the Chicago, Illinois area.
A lover of baseball, golf and other sports, Murray is part-owner of the St. Paul Saints independent semi-pro baseball team and other semi-pro and minor league sports teams in different cities. 
Most recently Bill Murray has been seen on television screens in the reality-TV comedy series Extra Innings, which debuted in 2017. Extra Innings features baseball fans Murray with his brother Brian Doyle-Murray, as they visit with minor league baseball teams while traveling across America. 
Note: This article was first published in 2015 under the title Celebrating Seniors – Bill Murray Turns 65. It has been updated with new & additional content. 
*Images are public domain or Creative Commons licensed & sourced via Wikimedia Commons, Vimeo, YouTube, or Flickr, unless otherwise noted*