May 16th Birthdays
If you were born on May 16th you share a celebrity birthday with these famous people: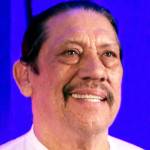 Danny Trejo 
American character & voice over actor of TV (Sons of Anarchy; King of the Hill) and action movies (Con Air; Heat; Desperado; From Dusk Till Dawn; The Replacement Killers; Six Days Seven Nights; Reindeer Games; Spy Kids films; Machete), born May 16, 1944. (Danny Trejo 2016 Photo: Gage Skidmore)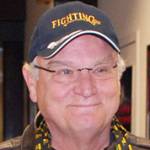 Bill Smitrovich (nee William Stanley Zmitrowicz Jr.)
American actor of TV (Drew  Thatcher on Life Goes On; Danny Krychek on Crime Story; A Nero Wolfe Mystery; The Practice; Without a Trace; Millenium; Miami Vice) & films (Iron Man; November Man; Her Alibi; Eagle Eye; Ted), born May 16, 1947. (Bill Smitrovich 2010 Photo: Staff Sgt. Daniel Martinez, U.S. Air Force)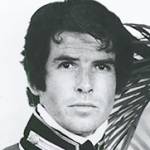 Pierce Brosnan (married Cassandra Harris, Keely Shaye Smith)

Irish-American actor of TV (Remington Steele; The Manions of America; The Son; Noble House; Nancy Astor) & films (GoldenEye; Tomorrow Never Dies; Dante's Peak; Robinson Crusoe; Mamma Mia!; The Fourth Protocol; The Thomas Crown Affair; Laws of Attraction), born May 16, 1953. (Pierce Brosnan 1989 Photo)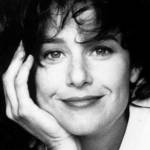 Debra Winger (married Arliss Howard; ex of Timothy Hutton)
American actress of movies (Urban Cowboy; Cannery Row; An Officer and a Gentleman; Terms of Endearment; Legal Eagles; Black Widow; The Sheltering Sky; Wilder Napalm; Forget Paris; Radio; French Postcards) and TV (The Ranch), born May 16, 1955. (Debra Winger 1984 Photo: Alice Attie / The Gersh Agency)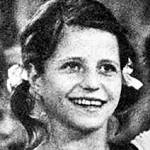 Olga Korbut ("Sparrow from Minsk")
International Gymnastics Hall of Fame Belarusian gymnast, six-time Olympic Games medal winner (1972 Munich: team, balance beam & floor exercise gold; uneven bars silver | 1976 Montreal: team gold; balance beam silver), born May 16, 1955. (Olga Korbut 1972 Photo: Klaus Zaugg)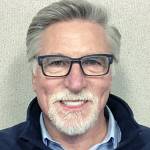 Jack Morris (nee John Scott Morris)
Baseball Hall of Fame American baseball player, MLB 5-time All-Star pitcher (Detroit Tigers – 1984 World Series Champs; Minnesota Twins – 1991 World Series Champs & MVP; Toronto Blue Jays -'92 & '93 World Series Champs; Cleveland Indians), born May 16, 1955. (Jack Morris 2016: apardavila)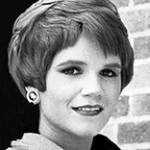 Mare Winningham (nee Mary Megan Winningham)
Emmy-winning American actress of TV (American Horror Story; ER; The Affair; Grey's Anatomy; Boston Legal; Amber Waves; The Outsider) & movies (St. Elmo's Fire; Turner & Hooch; Georgia), born May 16, 1959. Married Anthony Edwards; ex of A. Martinez. (Mare Winningham 1983 The Thorn Birds: ABC)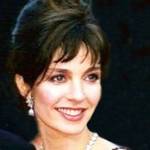 Anne Parillaud (ex of Luc Besson, Jean-Michel Jarre)
French actress of TV & movies (La Femme Nikita; Map of the Human Heart; The Man in the Iron Mask; Frankie Starlight; Innocent Blood; Gangsters; Deadlines; Promised Land; Shattered Image; What the Day Owes the Night), born May 16, 1960. Ex-partner of Alain Delon. (Anne Parillaud 1998: Georges Biard)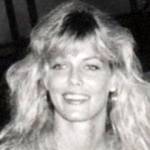 Nina Arvesen
Norwegian-American model, dancer, and actress of commercials and daytime television soap operas (Cassandra Hall Rawlins on The Young and the Restless & The Bold and the Beautiful; Angela Raymond Cassidy on Santa Barbara), born May 16, 1961. (Nina Arveson 2013 Photo: F Drake JRZzspeed)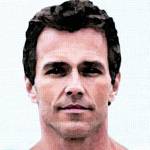 Scott Reeves (nee Gregory Scott Reeves; married Melissa Brennan Reeves)
American actor of TV (Noel Laughlin on Nashville; Ryan McNeill on The Young and the Restless; Steve Webber on General Hospital; Jake Hogansen on Days of Our Lives), movies (Edge of Honor), & country music singer-songwriter (Made in America), born May 16, 1966. (Scott Reeves Painting: A. Hamilton)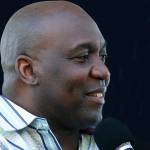 Thurman Thomas
College Football Hall of Fame & Pro Football Hall of Fame American football player, NFL running back (Buffalo Bills – 1991 NFL Offensive Player of the Year, 5X Pro Bowl; Miami Dolphins 2000), and philanthropist (Thurman Thomas Foundation), born May 16, 1966. (Thurman Thomas 2010: Jeff Kem)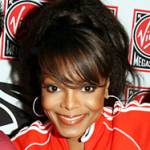 Janet Jackson (sister of Jermaine, Randy, La Toya & Michael Jackson)
Grammy-winning American singer (What Have You Done For Me Lately; Miss You Much; Rhythm Nation), actress of TV (Good Times; Fame; The Jacksons) & movies (Poetic Justice; Nutty Professor II: The Klumps), born May 16, 1966. Ex of James DeBarge. (Janet Jackson 2007: Aladdin82 at English Wikipedia)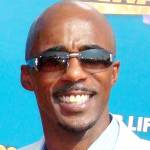 Ralph Tresvant
American actor, record producer, songwriter, and singer solo (Sensitivity; Do What I Gotta Do) & with New Edition (Candy Girl; Cool It Now; If It Isn't Love; Hit Me Off: I'm Still in Love With You; Can You Stand the Rain; Mr. Telephone Man), born May 16, 1968. (Ralph Tresvant 2007 Photo: eternalconceptspr)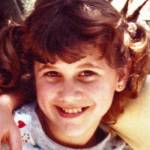 Tracey Gold (nee Tracey Claire Fisher; sister of Missy Gold)
American hostess & actress of TV (Carol Seaver on Growing Pains; Incredible Sunday; Shirley; Goodnight, Beantown; Trapper John, M.D.; Captains and the Kings) and movies (She's No Angel; Shoot the Moon; Wanted; Solar Flare; All Hallows' Eve), born May 16, 1969. (Tracey Gold 1983 Photo: Louise Palanker)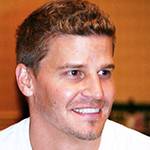 David Boreanaz
American producer, director, & actor of TV (Angel on Buffy the Vampire Slayer & Angel; Seeley Booth on Bones; Jason Hayes on SEAL Team; Full Circle) and movies (Valentine; Mr. Fix It; Officer Down; The Hard Easy; I'm with Lucy; The Mighty Macs), born May 16, 1969. (David Boreanaz 2004: Raven Underwood)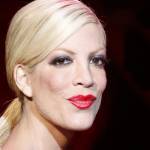 Tori Spelling (daughter of Candy & Aaron Spelling)
American personality & actress of TV (Donna Martin-Silver on Beverly Hills, 90210 & BH90210; Tori & Dean: Inn Love; Entertainment Tonight) & films (Trick; The House of Yes; Scary Movie 2; Kiss the Bride), and author (Mommywood), born May 16, 1973. Married Dean McDermott. (Tori Spelling 2009)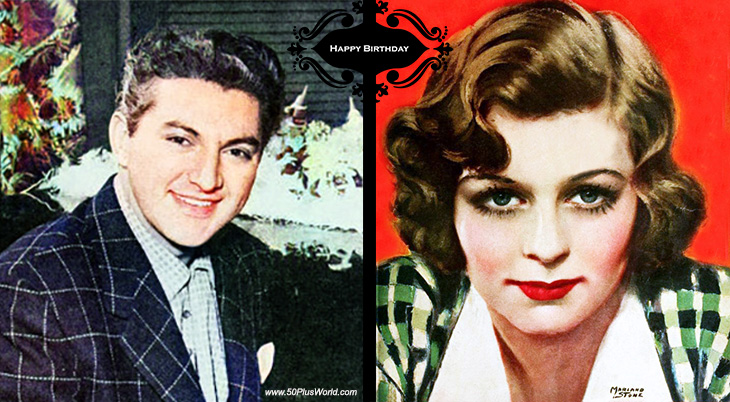 (Liberace 1954 | Margaret Sullavan 1934: Marland Stone)
Happy Birthday to everyone celebrating their birthday on May 16th!
Remember These May 16th Famous Birthdays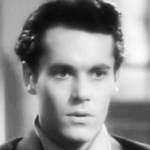 Henry Fonda ("Hank"; father of Peter Fonda, Jane Fonda)
Oscar & Tony-winning American actor (Jezebel; The Lady Eve; The Grapes of Wrath; My Darling Clementine; Mister Roberts; 12 Angry Men; How the West Was Won; The Cheyenne Social Club; On Golden Pond; Midway; Wings of the Morning) (born May 16, 1905 – died Aug. 12, 1982; age 77). Ex of Margaret Sullavan, Susan Blanchard; grandfather of Bridget Fonda. (Henry Fonda 1935)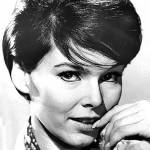 Yvonne Craig
American actress of TV (Batgirl on Batman; The Many Loves of Dobie Gillis; Olivia) & movies (Gidget; The Gene Krupa Story; How to Frame a Figg; Kissin' Cousins; Ski Party; By Love Possessed; It Happened at the World's Fair; One Spy Too Many; Eighteen and Anxioius) (born May 16, 1937 – died Aug. 17, 2015; age 78). Yvonne died of liver & breast cancer. (Yvonne Craig 1960s Photo: ABC)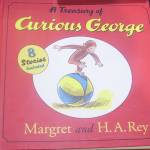 Margret Rey (nee Margarete Waldstein)
German-American children's picture book co-illustrator, writer & creator with husband H.A. Rey, of the Curious George series (Curious George Takes a Job; Curious George Rides a Bike; Curious George Goes to the Hospital; Curious George Gets a Medal) (born May 16, 1906 – died Dec. 21, 1996; age 90). Margret Rey died of a heart attack. (Curious George Cover Photo: HiMY SYeD)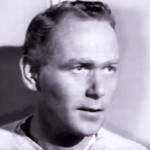 Harry Carey Jr. (nee Henry George Carey Jr.)
American actor of TV (The New Adventures of Spin and Marty; Have Gun – Will Travel) & movies (Red River; She Wore a Yellow Ribbon; Wagon Master; Gun the Man Down; Rio Grande; Mister Roberts; The Searchers; Big Jake; The River's Edge; 3 Godfathers) (born May 16, 1921 – died Dec. 27, 2012; age 91). Son of Olive & Harry Carey; son in law of Paul Fix. (Harry Carey Jr. 1954 Public Defender)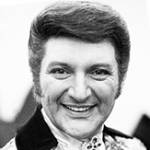 Liberace (nee Wladziu Valentino Liberace; "Mr. Showmanship")

Emmy Award-winning American entertainer – singer, concert pianist, actor and guest star of stage, radio, TV (The Liberace Show; Batman) and movies (Sincerely Yours; When the Boys Meet the Girls), & cookbook author (Liberace Cooks) (born May 16, 1919 – died Feb. 4, 1987; age 67). Liberace was HIV positive and died of pneumonia. (Liberace 1968 Photo: Allan Warren)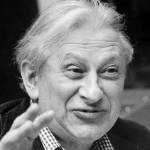 Studs Terkel (nee Louis Terkel)

1985 Pulitzer Prize-winning American writer ("The Good War"; Giants of Jazz; And They All Sang; Working; Hard Times; Race; Division Street), broadcaster, historian, host & actor of stage, radio (The Studs Terkel Program), TV (Studs' Place; The Civil War) and movies (Eight Men Out) (born May 16, 1912 – died Oct. 31, 2008; age 96). Studs Terkel died after a fall.(Studs Terkel 1977: UPI)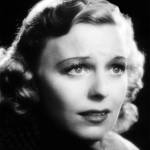 Margaret Sullavan (ex of Henry Fonda, William Wyler, Leland Hayard)
American film actress (Only Yesterday; The Good Fairy; Next Time We Love; The Mortal Storm; The Moon's Our Home; Three Comrades; The Shining Hour; The Shop Around the Corner; Cry 'Havoc') (born May 16, 1909 – died Jan. 1, 1960; age 50). Mother of Brooke Hayard. Margaret Sullavan died of an accidental barbiturate overdose. (Margaret Sullavan 1938 The Shopworn Angel)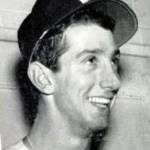 Billy Martin (nee Alfred Manuel Martin)
American professional baseball player, MLB second baseman (New York Yankees), 1956 All Star, MLB AL manager (New York Yankees; Detroit Tigers; Texas Rangers; Oakland Athletics), with 5 World Series championships (player – 4; manager – 1) (born May 16, 1928 – died Dec. 25, 1989; age 61). Billy Martin died from a car accident (Billy Martin 1954 Photo: Baseball Digest)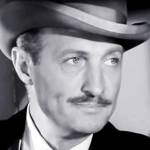 John Holland (nee Harold Boggess)
American actor of TV (Perry Mason; Adam's Rib; Wagon Train; Hawaiian Eye; Maverick; Death Valley Days; The Wackiest Ship in the Army) and films (Air Patrol; The Naked Brigade; Gentleman from Dixie; Dangerous Lady; Phantom of Chinatown) (born May 16, 1908 – died May 21, 1993; age 85). Cause of death for John Holland is unknown. (John Holland 1959 Tombstone Territory)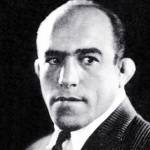 Bull Montana (nee Luigi Montagna)
Italian-American wrestler and silent film actor (The Two Twins; Palooka from Paducah; Victory; On the Front Page; Bashful Buccaneer; The Timber Queen; Manhattan Madness; The Lost World; Laughing at Danger; How to Handle Women; Dick Turpin; Breaking Into Society; Held to Answer; The Show of Shows) (born May 16, 1887 – died Jan. 24, 1950; age 62). (Bull Montana 1925: Evans)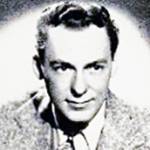 Woody Herman (nee Woodrow Charles Herman)
American "Boy Wonder of the Clarinet" musician, singer, big band leader, recording artist (Blues in the Night; Woodchopper's Ball; Laura; Caldonia; Sabre Dance; Blue Flame; Amen; Do Nothin' Till You Hear From Me; A Kiss Goodnight) & film performer (Wintertime; Earl Carroll Vanities; New Orleans (born May 16, 1913 – died Oct. 29, 1987; age 74). (Woody Herman 1942: The Radio Annual)
Barbara Lee
American singer with 1960s girl group The Chiffons (He's So Fine / My Sweet Lord; One Fine Day; Will You Still Love Me Tomorrow; I Have a Boyfriend; Sailor Boy; Easy to Love; Nobody Knows What's Going On In My Mind But Me; Tonight I'm Gonna Dream; Sweet Talkin' guy; My Boyfriend's Back; Stop, Look and Listen) (born May 16, 1947 – died May 15, 1992; age 44). 
*Images are public domain or Creative Commons licensed & sourced via Wikimedia Commons, Vimeo, or Flickr, unless otherwise noted*