Boomer TV Trivia: Perry Mason
Q1. Were any of the 271 episodes of the original Perry Mason television series which ran for 9 seasons (1957-1966), ever filmed in colour?
Q2. Which of the series main stars – Raymond Burr (Attorney Perry Mason), Barbara Hale (Secretary Della Street), William Hopper (Private Investigator Paul Drake), William Talman (District Attorney Hamilton Burger) – had a child in real life, who appeared as Paul Drake, Jr. in the made-for-TV Perry Mason movies of the 1980's?
 (Perry Mason 1961 Look Magazine Cover Photo: Robert Vose, Cowles Communications, Inc.)
Perry Mason was set in Los Angeles, California and on-location shots were filmed in and around the city. Perry Mason was Hollywood's first weekly one-hour television series.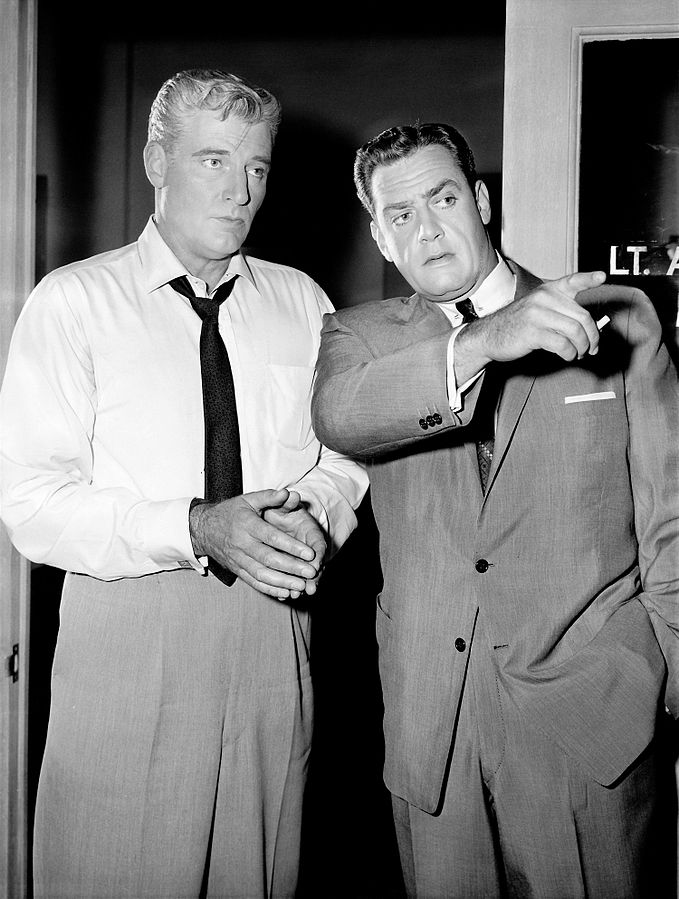 (William Hopper as P. I. Paul Drake & Raymond Burr as Perry Mason 1959: CBS Television)
Casting the lead character of defense attorney Perry Mason proved difficult due to budget limitations, but eventually 42-year-old Canadian actor Raymond Burr – after losing 100 pounds – won the role over Efrem Zimbalist Jr. (The F.B.I.), William Holden, Mike Connors, and Fred MacMurray (My Three Sons).
Actors Barbara Hale, William Hopper, William Talman, and Ray Collins as Lt. Tragg, rounded out the regular cast members of Perry Mason. 
Although Barbara Hale also won an Emmy (Best Supporting Actress – 1959), Raymond Burr was the undisputed star of Perry Mason.
Burr appeared in almost every scene of every episode of Perry Mason, with the exception of 4 episodes he missed in 1963 due to dental surgery. He had been a (literally) heavy-weight radio and movie star before being cast in Perry Mason.
Raymond Burr received two Emmy Awards for Outstanding Leading Actor (1959 and 1961) for his work on Perry Mason. Burr has said that he pretty much lived on the set during the 9 seasons while the show was filming; by the time the show ended he was in his 50+ years.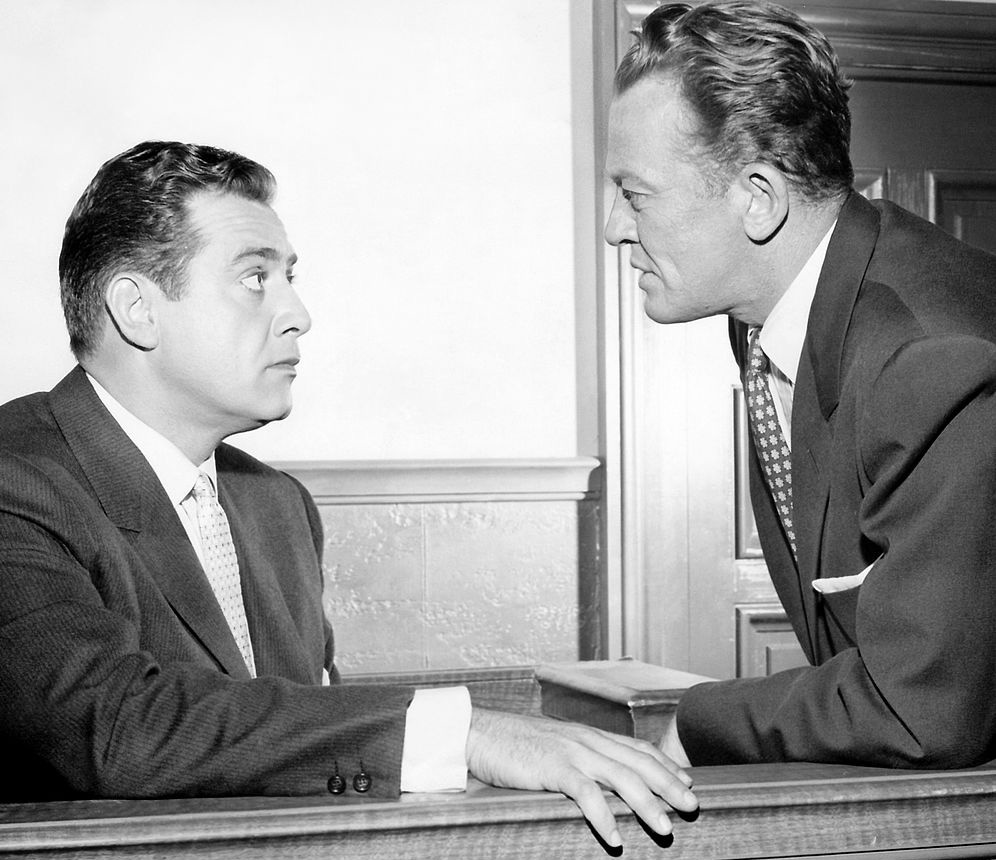 (Raymond Burr & William Talmon 1958 Perry Mason Photo: CBS Television)
Raymond Burr used his clout to ensure many of his former radio co-stars got roles on Perry Mason, and is credited with helping restore actor William Talman to the role of Hamilton Burger in 1960, after Talman got suspended for violating a morals clause (he was charged with engaging in indecent activities – nudity and possession of marijuana – at a party he'd attended).
The Perry Mason television show might have ended after five years, when Raymond Burr wanted to quit; thankfully for series fans, Burr was persuaded each year to extend his contract. During the 9th season, the series executives had just gotten him to agree to filming a 10th season in colour, when they cancelled the show. As a nod to the production crew, they were all offered an opportunity to appear in the last episode of Perry Mason, and many of them took up the offer including Executive Producer Gail Patrick, who cast all the major roles in the series.
After the original Perry Mason series ended, Raymond Burr starred in another long-running popular show, Ironside (1967 to 1975), as a disabled police officer in a wheelchair. Now that he was no longer starring in almost every scene of Perry Mason, Burr gained weight again; his weight was an issue for most of his life.
In 1985 Burr, now a senior citizen, agreed to star in the Perry Mason made-for-television movies – providing Barbara Hale would also return as his secretary Della Street (the rest of the original Perry Mason cast had all been older actors, and had since died). Burr would star in a total of 26 Perry Mason movies during his senior years, but by 1993 due to illness (he was now a septuagenarian senior citizen), he was in a wheelchair full-time in real life. Raymond Burr died in September 1993.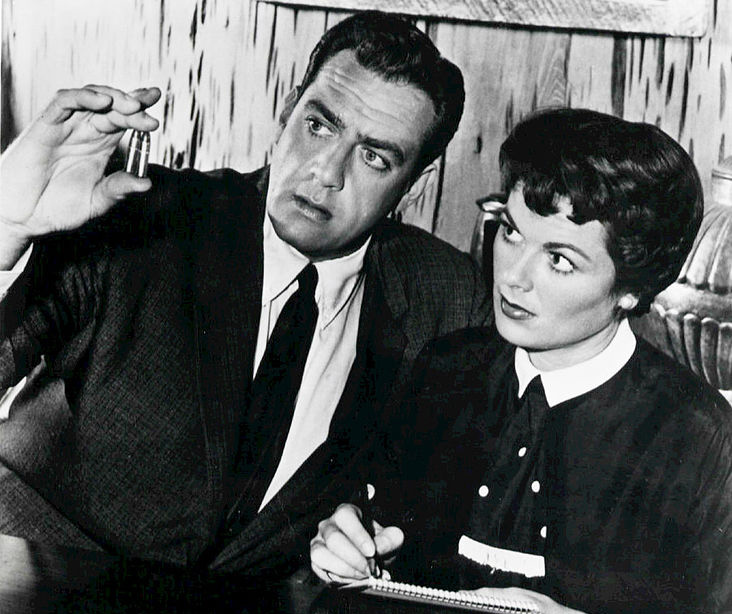 (Raymond Burr & Barbara Hale 1958 Perry Mason Photo: CBS Television)
A1. With the exception of one episode in the 9th and final season of Perry Mason (The Case of the Twice-Told Twist), all of the Perry Mason episodes were black and white.
A2. Actress Barbara Hale's son, actor William Katt was born in 1951 and starred as attorney Paul Drake, Jr., in 9 Perry Mason television movies between 1985-1988, alongside his mother Barbara (playing Della Street).
Note: This article was first published in 2015. It has been updated.
*Images are public domain or Creative Commons licensed & sourced via Wikimedia Commons, Vimeo, or Flickr, unless otherwise noted*