Director Laurence Trimble's Strongheart
Long before movie dogs Benji, Beethoven, Hooch, Old Yeller, and Lassie came to fame on the big screen, Strongheart was the top dog in films and in the hearts of his fans.
Thanks in large part to silent movie director and gifted animal trainer Laurence Trimble, Strongheart took top billing on movie marquees, with human actors like Gary Cooper and Clark Gable playing supporting roles in his films.
Writer and Film Director Laurence Trimble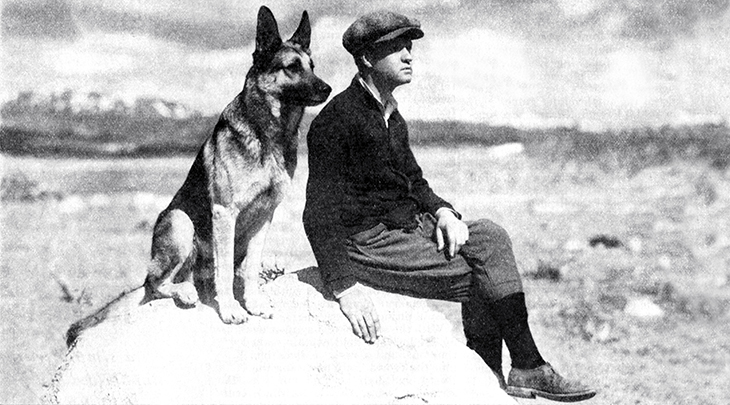 (Laurence Trimble & Strongheart c 1921 Photo: American Boy Magazine)
Red-headed silent film writer and director Laurence (usually spelled Lawrence, often called Larry) Trimble had gotten his start in the movies while researching a magazine article about the emerging film industry. At that time the major film studios were all located on the East Coast, primarily New York City and Long Island area. Trimble visited the Vitagraph Studios in Flatbush, and after successfully volunteering to train a dog to perform a movie scene, he was promptly hired by the studio.
In addition to owning and training the very first "movie star" dog – Jean, the Vitagraph Dog – who often appeared in movies with the first silent screen star, actress Florence Turner, "The Vitagraph Girl", Laurence was soon made a director at the studio. He also occasionally wrote scenarios (screenplays). Between 1910-1913, he directed 65 silent films for Vitagraph, and aside from Florence Turner, directed many other famous film stars of their day – people like John Bunny, Edith Storey, Maurice Costello, Wallace Reid, Norma Talmadge, Earle Williams, Anita Stewart, Clara Kimball Young, Lillian Walker, Leo Delaney, and Tom Powers. 
From 1913-1916, Trimble and his family (his opera singer wife Louise, toddler Janet, and dog Jean) lived in Walton On Thames in England, where he continued directing and writing films for Turner Studios. Turner Films was a joint venture between Trimble and Florence Turner, who moved to England at the same time as Trimble and another Vitagraph actor, Tom Powers, in 1913. Trimble directed 29 films for Turner Studios – many of which also featured his dog Jean. When WWI began to make things uncomfortable in England, Florence Turner and Laurence Trimble moved back to the United States in late 1916. Trimble brought Jean and his young daughter Janet with him, but his wife Louise stayed behind to pursue her singing career.
Soon after returning to America, Jean the Vitagraph Dog died at the age of 14, and Florence Turner disappeared from making movies for a few years.
Laurence Trimble resumed his directing career, beginning with The Auction Block (1917), starring Rubye de Remer for author Rex Beach's production company, and the Goldwyn Pictures movie The Spreading Dawn (1917) starring Jane Cowl. Cowl was a friend of playwright and former Vitagraph writer and producer Jane Murfin, who would soon become important in Trimble's life.
Jane Murfin (nee Macklem, born October 27, 1884) had married lawyer James Murfin in 1907, and they were divorced in 1912. She'd begun working as a "scenarist" at the Vitagraph studios that year, and likely met Laurence Trimble at that time. Some reports even have it that Jane Murfin followed Laurence Trimble to England in 1912, but she soon returned to the U.S.
At any rate, Laurence Trimble continued directing for different companies, including his old employer, Vitagraph Pictures (Vengeance – and the Woman, 1917). He worked with actress-producer Olga Petrova's film company in 1918 and directed silent film stars Mae Marsh, Wallace MacDonald, and Mary Thurman in Spotlight Sadie (1918) for Selznick Pictures. When Florence Turner returned to acting in films in 1919, he directed her in Fool's Gold (1919). He directed two more films for Selznick Pictures in 1920, both starring Olive Thomas – Darling Mine, and Everybody's Sweetheart. 
Etzel von Oeringen Becomes Strongheart
Strongheart was a male German Shepherd police dog who started out with the moniker Etzel von Oeringen in Berlin, Germany. Born in October 1917 during the last year of World War I, Etzel served in the German Red Cross.
By the early 1920s, Laurence Trimble and his daughter (now around 8 years old) were living near Hollywood on his 10,000 acre Diamond Bar ranch. Particular family friends were Charlie Chaplin, and neighboring ranchers W.K. Kellog (of Kellogg's Corn Flakes) on one side, and silent movie idol Rudolph Valentino on the other side. Janet remembers meeting director D.W. Griffith, publisher William Randolph Hearst, actresses Gloria Swanson, Pearl White, Marion Davies, and Pola Negri, and author Paul Gallico (her Independent obituary notes she later had an affair with Gallico). She noted that as a pre-teen, "Rudolph Valentino was my very special friend," who came out to the ranch to learn how to ride for the movie The Sheik (1921).
Laurence Trimble was also involved with American playwright and screenwriter-producer Jane Murfin. The extent of their personal relationship in 1920 is unclear, but when Trimble saw Etzel at a dog show and recommended to Jane that she buy the dog so he could appear in silent movies, she bought him.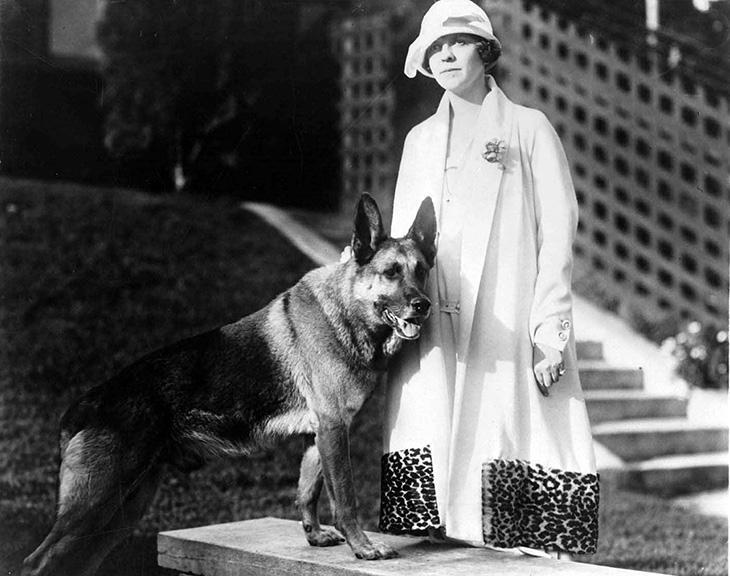 (Jane Murfin & Strongheart 1922 Photo: Runt97)
Jane Murfin would later be referred to in some articles as Trimble's wife, and others as his business partner. It doesn't appear they were legally married, although according to Murfin's biography on Women Film Pioneers Project, they lived together for a time on Trimble's ranch.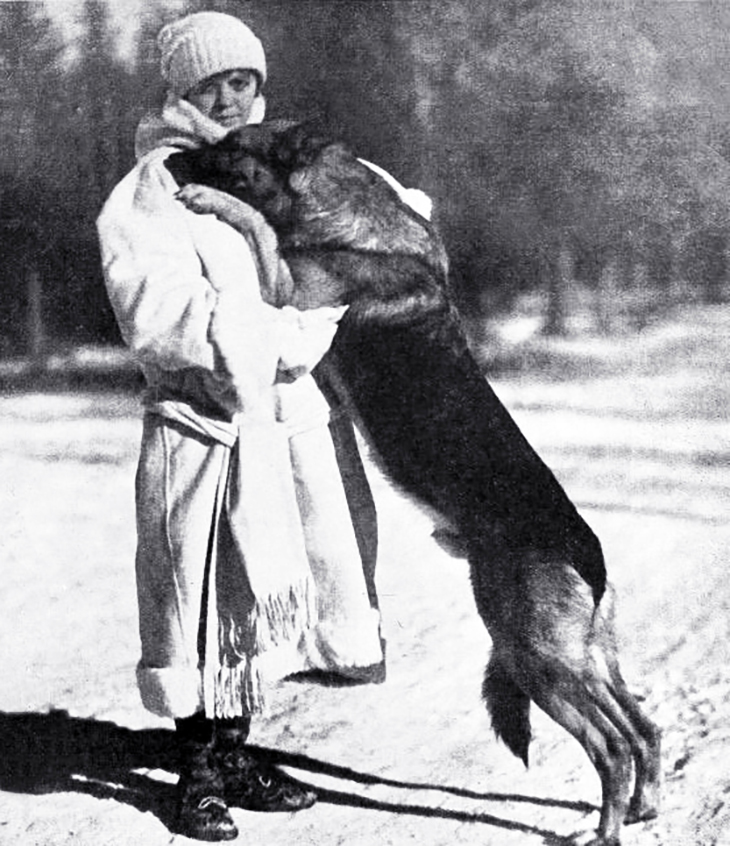 (Jane Murfin & Strongheart 1924 Photo: Wid's Weekly)
Young Janet Trimble was soon engaged in the family business as an uncredited stunt double. She recalled her father working not just with dogs, but also training panthers, tigers, and bears for film work. 
"I grew up with sixty wolves and if anybody had to be chased by wolves it would be me in the heroine's costume." 
Laurence Trimble and Jane Murfin began a filmmaking partnership, intent on featuring their dog – now called Strongheart – in films. They began producing and co-writing movies for Strongheart, with Trimble directing.
Movie Magic With Strongheart
The Silent Call (1921)
The top movie dog of 1921 was Strongheart, not because of the quantity of pictures he made, but because of the impact of his film debut in the dramatic silent movie, The Silent Call (1921).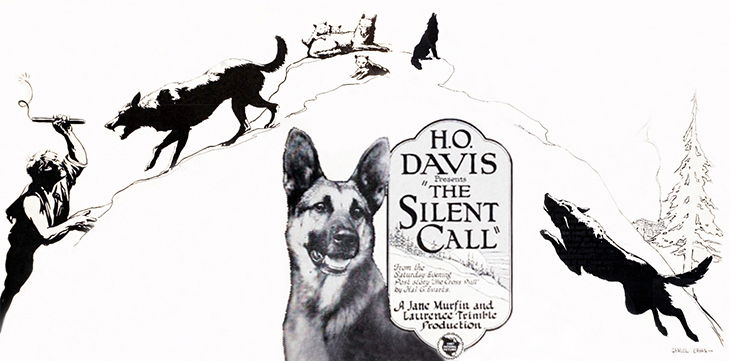 (Strongheart 1921 The Silent Call, Silhouette Illustrations by Samuel Cahan / First National Pictures)
Artist Samuel Cahan created a series of silhouette illustrations (two pictured above, and two more below) for a series of advertisements for the film.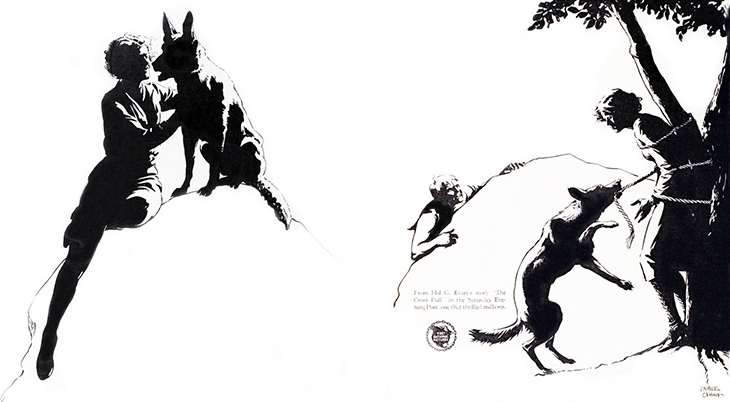 Jane Murfin adapted a story by Hal G. Evarts, Laurence Trimble directed, and Strongheart starred as part-wolf Flash in The Silent Call.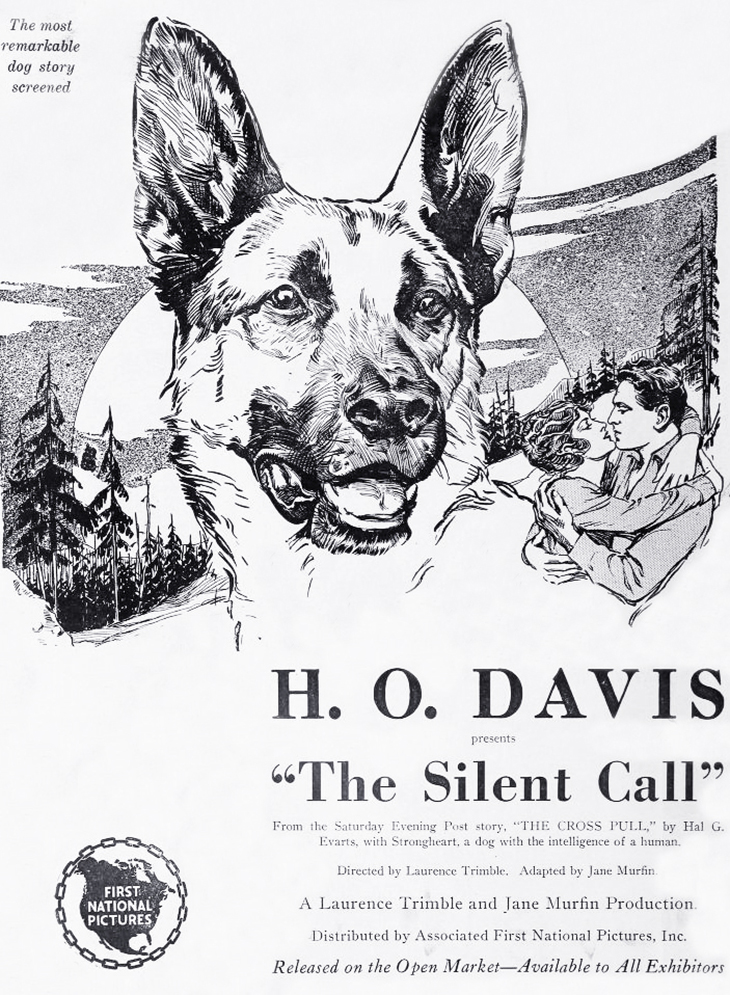 Just how did Trimble make movie magic with Strongheart in this and his subsequent films? The dog's owner Jane Murfin shared this insight:
"When Laurence Trimble who directs Strongheart, wants the dog to "register despair," he tells him to do something, but before Strongheart can do it he tells him to do something quite different, following with commands to do any number of things, all given before the dog can possibly do any of them. The result is first amazement and finally despair."
Brawn of the North (1922)
(Strongheart, Irene Rich & Lee Shumway 1922 Brawn of the North Poster: First National Pictures)
Strongheart's second movie Brawn of the North (1922) is now considered lost. Murfin and Trimble co-produced, co-directed, and co-wrote the screenplay with Philip Hubbard. Strongheart starred as Brawn of the North, and was supported by actors Irene Rich and Lee Shumway.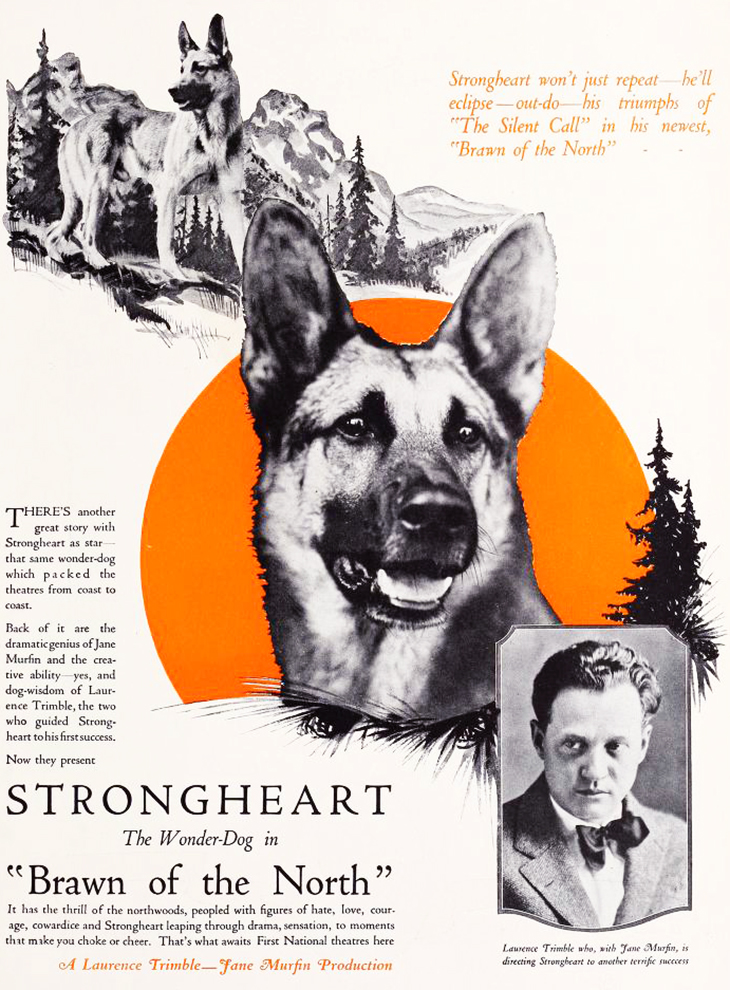 Brawn of the North was filmed in California's Sierra Mountains, and according to IMDB Trivia, twelve adult wolves and three baby wolves were used in the movie. 
Murfin shared the difficulty of filming doggy love scenes when Cupid isn't cooperating, as happened when the script for Brawn of the North called for Strongheart to fall in love with a lady wolf.
"Some dogs may like lady wolves. Strongheart doesn't and nothing can persuade him to be even polite to them. So we had to re-write the scene and instead of the dog making love to the wolf, it was the other way about. The wolf took a violent fancy to Strongheart and vamped him all over a snow-clad slope of the High Sierras. To please Mr. Trimble, Strongheart submitted to her attentions, but it was impossible to hide his unmistakable expression of "Please, Larry, get me out of this."
The Love Master (1924)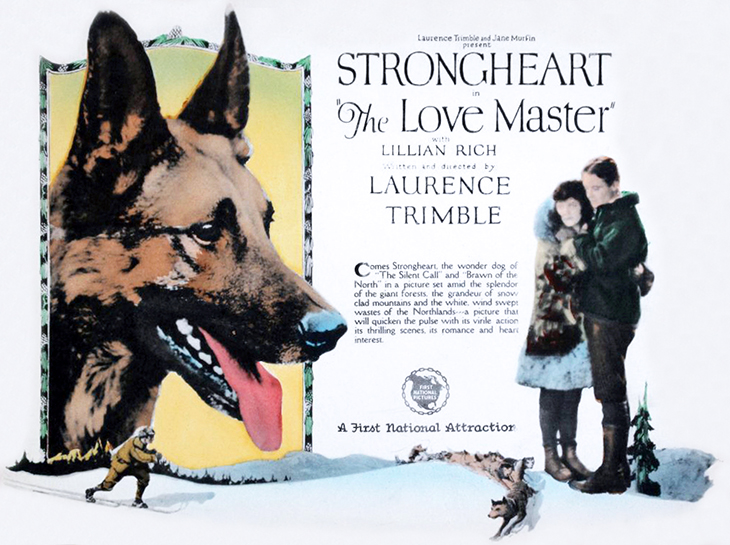 (Strongheart, Lillian Rich & Harold Austin 1926 The Love Master 1924 Lobby Card)
Cupid was out in full force when Strongheart's third movie The Love Master (1924) was being filmed, because Murfin and Trimble had learned from the previous experience. The plot has Strongheart seeking a mate:
"Recently we let Strongheart choose his leading lady from some forty odd dogs and he picked Lady Jule, a perfect specimen of his own breed – an imported shepherd dog who is two years his junior and behaves like a flapper. She runs him ragged but he adores her and we have no difficulty in getting our domestic scenes played true to continuity."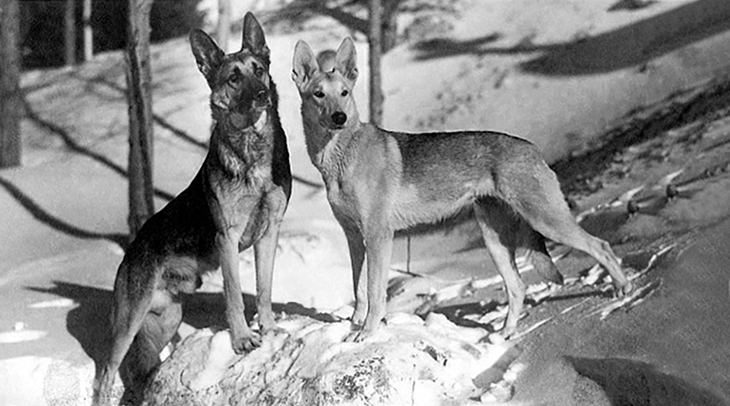 (Strongheart & Lady Jule 1924 The Love Master Photo: Trimble-Murfin Productions)
The Love Master was filmed in Banff National Park, Alberta, and apparently being on location was so romantic that according to Picture Play (1930), Lady Jule returned home from filming and gave birth to ten puppies.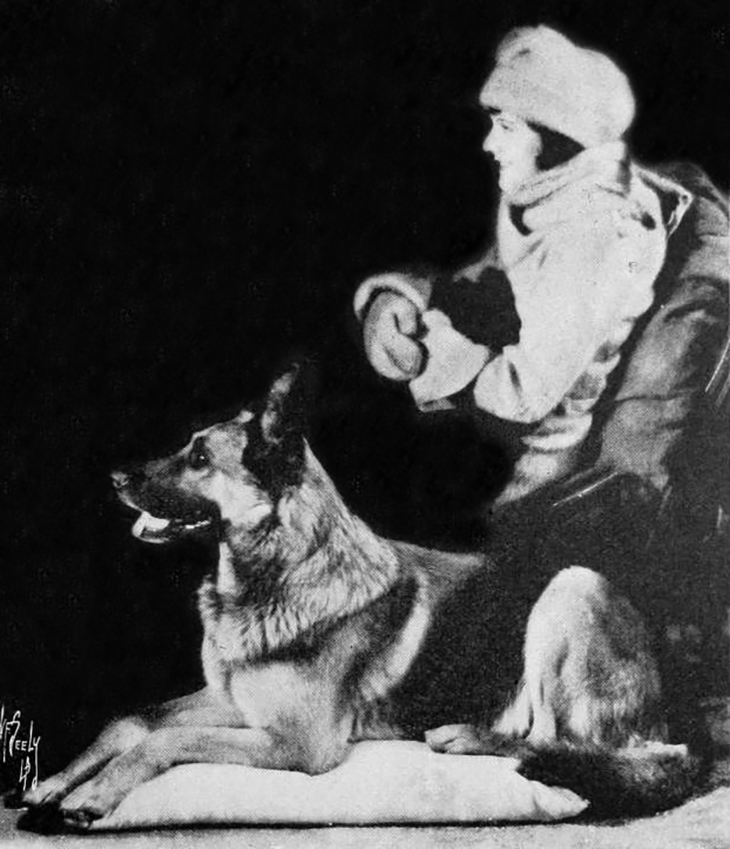 (Lillian Rich & Strongheart 1924 The Love Master Photo: W.F. Seeley)
Actors Lillian Rich, Harold Austin, and Hal Wilson have supporting roles in The Love Master. Once again Laurence Trimble directed and wrote the screenplay, with story input from Jane Murfin, and writers Donna and Joseph Berrell.
That same year, Strongheart's son Brawn had a strong supporting role in the movie Flapper Wives. Flapper Wives was produced by Laurence Trimble and Jane Murfin, based on a play written by Murfin and her friend Jane Cowl, and directed by Murfin. The movie stars May Allison and Edward Horton.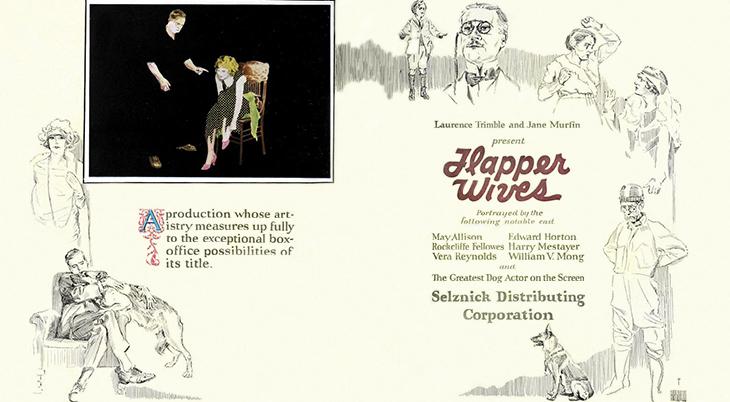 (Flapper Wives 1924 Ad Illustration: possibly Al Hirschfeld / Selznick Distributing Corporation)
White Fang (1925)
Based on author Jack London's best-selling 1906 adventure novel White Fang, written from the dog's point of view, Strongheart's 1925 depiction of the title character for the first time on film was a success.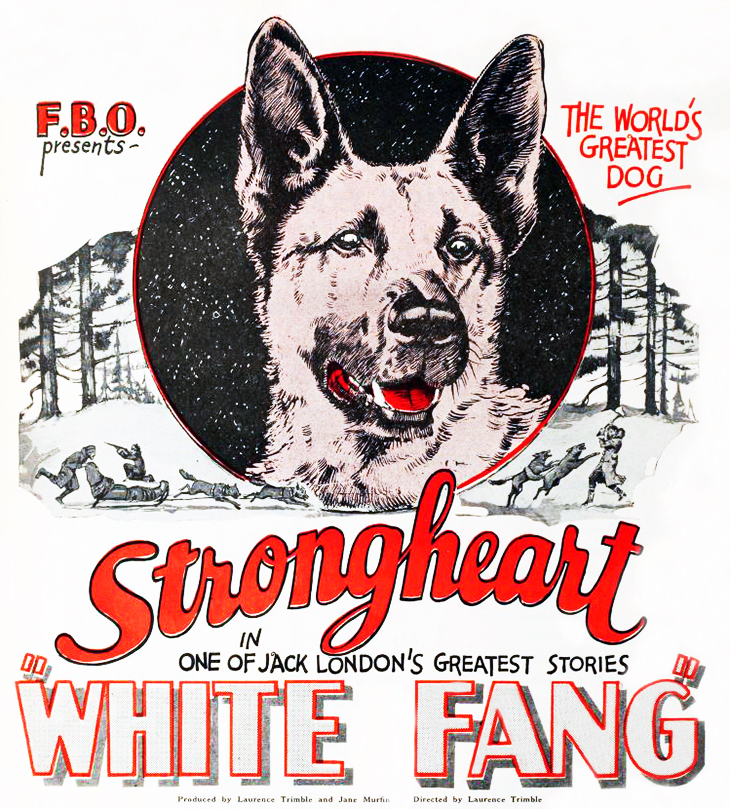 (Strongheart 1925 White Fang Ad: FBO)
Notice that the human actors in White Fang – Theodore von Eltz, Ruth Dwyer, Matthew Betz, and Charles Murray – aren't even mentioned in the above ad.
During a promotional tour for White Fang, Strongheart posed for a photo opp with Mrs. Jack London (the author's widow; Jack London died in 1916), below left, and actress Evelyn Brent.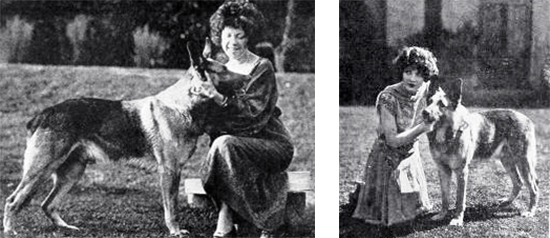 (Strongheart 1925 Photos: Exhibitor's Herald | Exhibitor's Trade Review)
In November 1924, while in the midst of filming White Fang (1925) based on Jack London's classic adventure novel, The Film Daily reported that Jane Murfin had bought out Trimble's interests in Trimble-Murfin Productions, and Strongheart's future films would be made by Murfin. This may have marked the beginning of a personal and professional rift between Murfin and Trimble. Jane Murfin was becoming increasingly busy, and was elected along with actor Donald Crisp, as a Vice-President of the Writers Club of Holllywood.
North Star (1925)
This was the first Strongheart film – of what was planned to be many – for Howard Estabrook Productions.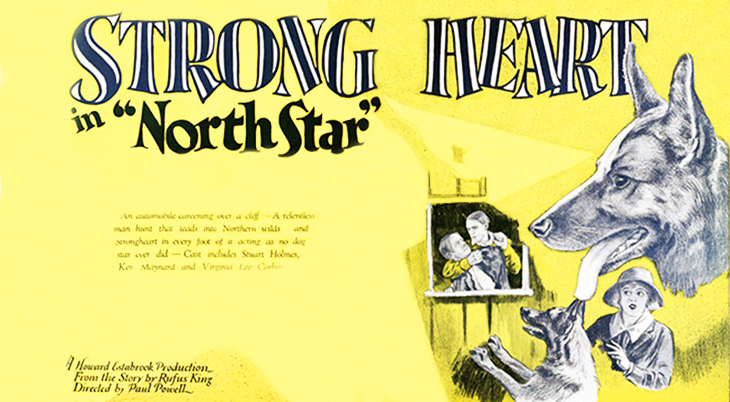 Clearly, Strongheart was the star of the film. The director was Paul Powell, and neither Laurence Trimble nor Jane Murfin are credited in North Star in any capacity.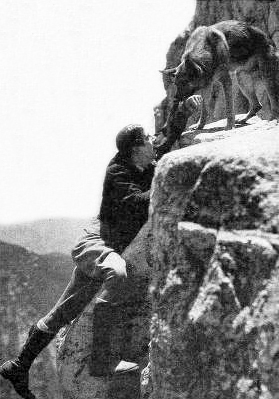 (Stuart Holmes & Strongheart 1925 North Star Movie: Picture-Play)
North Star (1925) saw Strongheart working with primary supporting actors Stuart Holmes, Harold Austin, western cowboy star Ken Maynard, and actress Virginia Lee Corbin. 
Stuart Holmes played "heavy" Dick Robbins, a blackmailer who makes Wilbur Gale (Harold Austin), the "weakling youth" owner of North Star (Strongheart) believe he's killed a friend. Wilbur runs away to the wilderness and newspaperman Noel Blake (Ken Maynard) rescues North Star from tramps. Virginia Lee Corbin is Wilbur's sister Marcia and a love interest for actor Ken Maynard. 
Two then-unknown actors – Clark Gable in a minor role, and an uncredited Gary Cooper as a townsman – were also in North Star.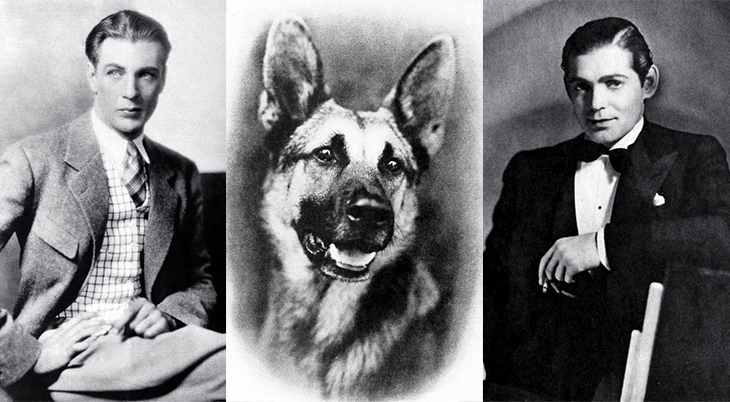 (North Star actors Gary Cooper c 1927, Strongheart 1922 & Clark Gable 1931)
Both Gary Cooper and Clark Gable began their film career in 1923, in uncredited roles. North Star was Clark Gable's first and only credited movie role of the 1920s; he didn't become a leading man until 1931. Gary Cooper wasn't credited in a movie until 1926, when he co-starred in two films – Lightnin' Wins (1926), another movie starring a dog (Lightning the Dog); and The Winning of Barbara Worth, with Ronald Colman and Vilma Banky.
The Return of Boston Blackie (1927)
Strongheart's last credited starring film role was in the crime drama The Return of Boston Blackie (1927), for Chadwick Pictures. Supporting actors included Shadowland Fortune and Fame Contest winner actress Corliss Palmer, and Bob Custer as the title character. The Return of Boston Blackie is the only one of Strongheart's movies which have survived the decades.
So popular was the dog that Laurence Trimble wrote a children's picture book about him, Strongheart; The Story of a Wonder Dog (1926). At the height of his fame, Strongheart earned about $750 a week. According to Picture Show Annual, by 1928 near the end of his career, he was appearing in Hal Roach comedies and making $500/week; if that's correct, he was uncredited in those films.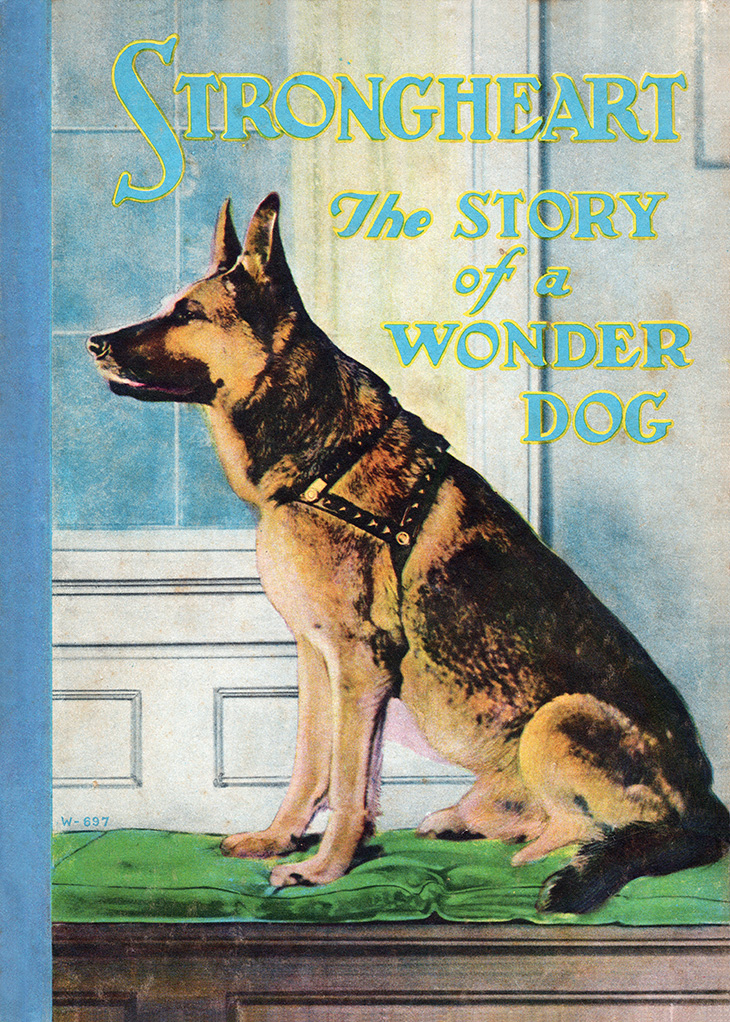 Strongheart died at owner Jane Murfin's home at the age of 13 in 1929, of a tumor which had formed after he was burned by a studio light while filming earlier that year. By this time, Murfin and Trimble had gone their separate ways personally and professionally. 
Jane Murfin After Strongheart
Strongheart's owner Jane Murfin went on to work for RKO and MGM, and continued writing film screenplays throughout the 1930s and 1940s. She was nominated for an Academy Award for What Price Hollywood? (1932).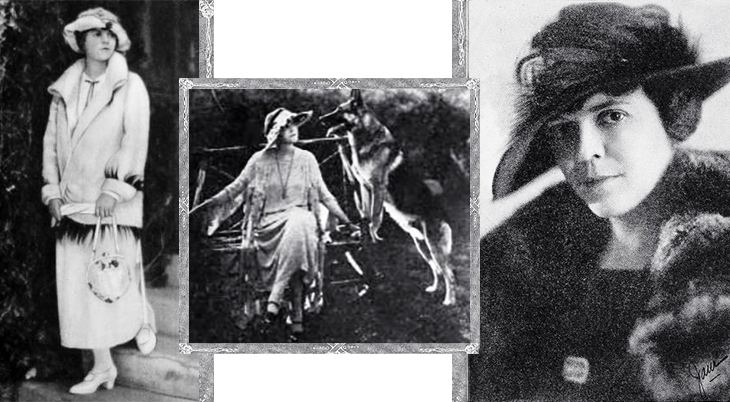 (Jane Murfin with Strongheart in 1922, and in 1924 Portraits)
Jane Murfin married actor-director Donald Crisp in 1932. Donald Crisp was himself a pioneer of film, having acted in movies beginning in 1908, and working as a director-actor between 1914-1930.
Jane Murfin and Donald Crisp were associated with 4 films produced by RKO Radio Pictures that she wrote the screenplays for: 
The Runaway Bride (1930), starring Mary Astor, Lloyd Hughes, and Natalie Moorhead; directed by Donald Crisp.
The Little Minister (1934), starring Katharine Hepburn, John Beal, Alan Hale, Donald Crisp, and Andy Clyde. Movie music by Max Steiner, directed by Pandro S. Berman.
The Life of Vergie Winters (1934), starring Ann Harding, John Boles, Frank Albertson, Lon Chaney Jr. Ben Alexander, and Donald Crisp. 
The Crime Doctor (1934), starring Otto Kruger, Karen Morley, Nils Asther, Judith Wood, William Frawley, and Donald Crisp. Note: The 1940s radio serial Crime Doctor written by Max Marcin, is not associated with this film at all.
In addition to their obvious common interests in films, writing, and movie-making, Murfin and Crisp likely also shared a mutual love of dogs. Donald Crisp starred in one of the most beloved films ever to star a dog – Lassie Come Home (1943) with Roddy McDowall, May Whitty, Edmun Gwenn, Elsa Lanchester, Nigel Bruce, a very young Elizabeth Taylor, and of course, Pal the Rough Collie as Lassie. Crisp and Pal both appeared in the sequel Challenge to Lassie (1949). Among Donald Crisp's last films were A Dog of Flanders (1960) with David Ladd and Spike, a mixed Labrador/Mastiff dog; and Greyfriars Bobby: The True Story of a Dog (1961), featuring a Skye Terrier called Bobby.
Jane Murfin and Donald Crisp were divorced in 1944; neither of them ever remarried. Murfin died in 1955 at the age of 70, and Crisp was 91 when he died in 1974.
Laurence Trimble After Strongheart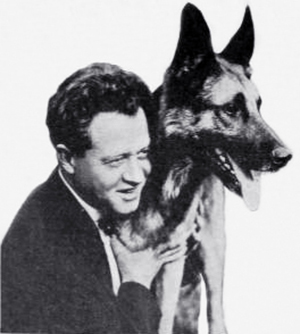 (Laurence Trimble & Strongheart 1923 Photo: Exhibitor's Herald)
After Jane Murfin and Laurence Trimble broke up in the mid-1920s, according to Women Film Pioneers Project Trimble had a two-year relationship with author and scenarist (screenwriter for silent movies) Bradley King.
Born on July 8, 1889 as Josephine McLaughlin, Bradley King had started out writing short stories for romance magazines, graduated to silent movie scenarios and screenplays for Thomas Ince, then began freelancing for other film studios.
Author Kathy Dettwyler (The Remarkable McLaughlin Sisters) notes that King was married 4 times. Her first, early marriage to Earl Miller in 1916, ended in the early 1920s. After breaking up with Laurence Trimble, she married Ince's former director John Griffith Wray in October 1928. Tragically, she was left a widow less than a year later when Wray died of appendicitis in July 1929, at only 47 years of age.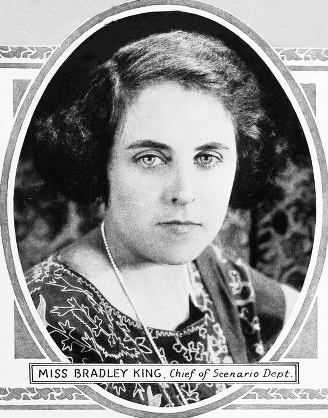 (Bradley King 1924 Photo: Exhibitor's Herald)
Bradley King married again in 1930 to businessman George Boyd, and they lived in Encino on her six-acre estate El Ranchito.
She wrote, co-wrote, or adapted many classic 1930s films, including East Lynne (1931) and Westward Passage (1932). After her screenplay Maid of Salem (1937), there were no further film credits for King for 10 years.
In those 10 years, she left film work, sold El Ranchito to Mickey Rooney in 1938, divorced George Boyd in 1940, worked as a clerk during WWII, married former cartoonist turned sign painter Albert Windley in 1944, and by 1946 was dabbling in real estate sales.
King came out of screenwriting retirement to co-write That's My Man (1947), which was the last film she worked on. Bradley King died at the age of 88 in 1977.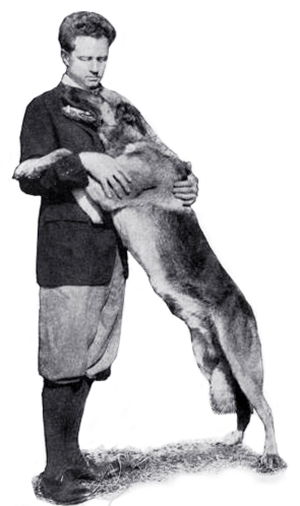 (Laurence Trimble & Strongheart 1921 Photo: Photoplay)
When the stock market crashed in 1929, Laurence Trimble and his daughter Janet were living on Hog Island near Gananoque (Ontario).
They lost all of their savings overnight and continued living on the island (which she loved). After falling through the ice in winter and being rescued by a young man, Janet married him.
Janet Trimble was married and divorced twice before meeting politician and author Konni Zilliacus in London, England. They lived together and had a child; although they never married, she took his last name. Janet Trimble Zilliacus died in London on May 2, 1999 at the age of 86.
Laurence didn't think "talkies" were going to catch on, and retired from writing and directing. For the remainder of his life he pursued his passion of training Seeing-Eye Dogs for the Blind. Laurence Trimble died in 1954 at the age of 69. His Variety obituary noted he was survived by his second wife Marion Blackton Trimble (daughter of Vitagraph Studios founder J. Stuart Blackton and Isabelle MacArthur), whom he had married in 1941.
The 1936 re-make of White Fang starring Jean Muir, Slim Summerville, Charles Winninger, John Carradine, and Jane Darwell, stars Strongheart's grandson Lightning the Wonder Dog as White Fang. Lightning was in at least 7 other movies between 1934-1937, although he wasn't always credited. Some of his more noteworthy films and co-stars were The Case of the Howling Dog (1934), starring Warren William and Mary Astor; When Lightning Strikes (1934) with Francis X. Bushman Jr. and William Desmond; Wings in the Dark (1935) starring Myrna Loy, Cary Grant, Roscoe Karns, and Dean Jagger; A Dog of Flanders (1935); and his last movie, Renfrew of the Royal Mounted (1937).
To make matters a little more confusing, several movie dogs during the 1920s were called Lightning. Strongheart's half-brother was also called Lightning, although whether he ever appeared in a movie is unknown; he was owned and trained by Gloria Gould Bishop, and was bought by Jesse J. Goldberg (Independent Pictures Corp. President in 1925).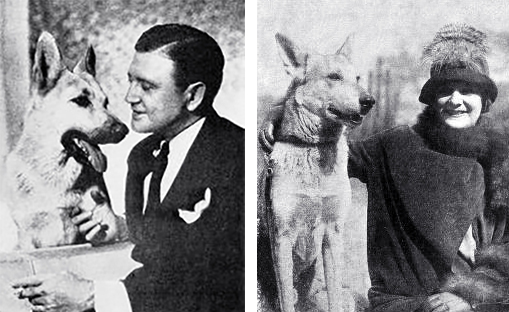 (Ace the Wonder Dog & Richard Dix 1938 | Lightning & Gloria Gould Bishop 1925)
Another grandson of Strongheart, Ace the Wonder Dog, started out in films for RKO, then Republic Pictures and Columbia Pictures. Between 1938-1946 Ace the Wonder Dog acquired 15 film credits. Ace appeared in several movies with "name" actors, such as Blind Alibi (1938) starring Richard Dix; The Rookie Cop (1939) with Tim Holt and Virginia Weidler; Girl From God's Country (1940) starring Chester Morris, Jane Wyatt, and Charles Bickford; The Girl from Alaska (1942) with Jean Parker, Jerome Cowan, and Raymond Hatton; War Dogs (1942), with former silent film stars Herbert Rawlinson and Bryant Washburn; Silent Witness (1943) starring Frank Albertson, Evelyn Brent, and Milburn Stone; and The Adventures of Rusty (1945) with Margaret Lindsay and Conrad Nagel. Ace the Wonder Dog's last movie was God's Country (1946), starring William Farnum, Robert Lowery, and Helen Gilbert.
Presumably inspired by the original 1920s canine star, Doyle Packing Company of Newark began advertising Strongheart dog food in 1937. The Strongheart dog food brand has been sold by different companies in the decades since then (Esmark, Beatrice, Simmons).
Strongheart's major competitor for dramatic roles in feature films was Rin-Tin-Tin, who broke into pictures a year after Strongheart did. Rin-Tin-Tin's career lasted longer (he didn't die until 1932) and he was in more films; plus, his more successful descendants all carried his name, keeping Rin-Tin-Tin's name alive for fans into the 1950s.
"Rinty" and many other dogs in films during the 1920s (Wolf, Thunder the Marvel Dog, Ranger the Dog, Dynamite the Wonder Dog, etc.) were either Belgian or German Shepherds, thanks in part to Strongheart and Rin-Tin-Tin paving the way for the breed in American after WWI. Other popular breeds and dogs in 1920s dramatic movies include Rough Collies Pal the Dog, and Rex the Dog; Huskies Ilak the Wolf Dog and Balto; and Buck the Dog, St. Bernard star of Call of the Wild.
However, none of these worthy canine actors approached the level of silent movie stardom achieved by Strongheart and Rin-Tin-Tin. Strongheart is still inspiring children's stories and biographies:
Other Resources:
Industry & trade magazines of the 1920s & 1930s – Motion Picture Story, The Moving Picture World, Moving Picture News, Motion Picture News, Exhibitor's Herald, Exhibitor's Trade Review, Picture Show Annual.
The Story World and Photodramatist (1923) "Writing Continuity For a Dog", by Jane Murfin
The Great Selection: First National First Season (1922-1923), Associated First National Pictures
The Theatre of Science (1914), by Robert Grau
The Truth About the Movies, by the Stars (1924), Editor Laurence A. Hughes
Screenland (1924) "Animal Actors of the Screen", compiled by Eunice Marshall
Picture Play (1924) "Animal Actors – New Faces in the Menagerie", by Caroline Bell
*All Strongheart source movie posters were distributed by First National Pictures. Source images are believed to be in the public domain or Creative Commons licensed & sourced via Wikimedia Commons, Vimeo, YouTube, or Flickr, unless otherwise noted. Image modifications are copyright 50+ World*