How Brewster Made and Lost Millions
or, The Millionaire Publisher and the Movie Star
Lawyer and pioneering publisher Eugene V. Brewster made his millions publishing early movie fan magazines such as Motion Picture Magazine, SHADOWLAND, and Motion Picture Classic.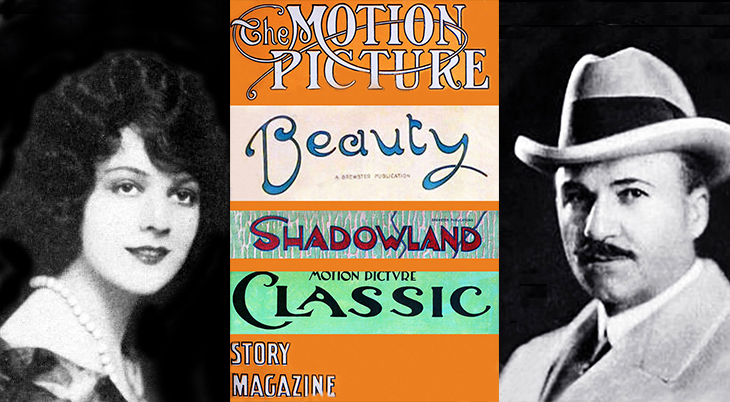 (Corliss Palmer 1922 & Eugene V. Brewster 1924)
A Fame and Fortune Contest sponsored by his magazines discovered future film star Mary Astor, and a "Georgia Peach" called Corliss Palmer –  and thus Brewster's success story took a twist.
Eugene Valentine Brewster, "The Grand Smatterer"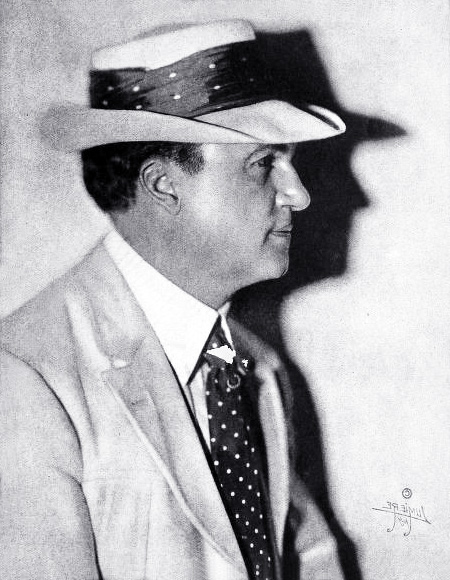 (Eugene V. Brewster 1919 Photo: Samuel Lumiere / Shadowland)
Eugene Valentine Brewster was born on September 7, 1869 in Bay Shore, New York, to Henry and Clothilde Brewster.
The oldest of four children, he grew up in affluent Bay Shore, Long Island. The Brooklyn Daily Eagle (January 8, 1939), a newspaper that Brewster wrote a column for as a young man, referenced Brewster's upbringing "in a home where the Bible was read daily".
In 1889 Eugene became a student at Princeton University, and was voted "Boy Orator" of Grover Cleveland's successful 1892 Democratic presidential campaign.
Brewster married first wife Emilie C. Churbuck on May 10, 1893, the same year he graduated from Princeton. He was admitted to the New York State Bar in 1894, and for the next 17 years practiced law while dabbling in politics, painting, and writing books, before turning to publishing. Later in life he referred to himself as the "grand smatterer" because of his diverse business ventures and interests.
Eugene and Emilie Brewster lived in Brooklyn on Long Island, where they raised three children – Ruth Bryan Brewster (Feb. 21, 1895 – Oct. 5, 1976), Rafael Churbuck Brewster (Apr. 8, 1898 – Aug. 30, 1979), and Marie Theresa Brewster (Sept. 17, 1900 – ?). Emilie's own interests included painting, writing, and the women's suffrage movement in the U.S.
The Princeton Alumni Weekly of January 1916 had this to say about Eugene V. Brewster, Class of 1893:
"For a time he edited The Caldron, and for the past five years has been the managing editor of the Motion Picture Magazine, a periodical with a circulation of half a million copies per month. He is the author of several books, and adds to his versatility an ability to paint. In "Who's Who", we also find that Brewster sometime ago was active politically and was nominated for Attorney General." 
Not only did Eugene V. Brewster edit The Caldron, he was the publisher as well beginning in 1909. Among the other books and brochures he wrote and published, were biographies (Napoleon), 100 Helps to Live 100 Years, Jesus Comes to Hollywood, a book of musings in What's What in America (1919), and Success Secrets, which was advertised in his Motion Picture Story Magazine as 
"Bright, breezy, snappy, full of epigrammatic expressions, replete with ideas for all who are engaged in, or about to engage in, the struggle for existence."
The multi-talented Brewster was a good enough painter to be exhibited in Manhattan art galleries, and be mentioned in American Art News (March 1920). He liked to copy the masters, such as French landscape and portrait painter Jean-Baptiste-Camille Corot. 
Partnership With J. Stuart Blackton
Eugene v. Brewster was fascinated by the developing motion picture industry and movies or "photoplays" as they were called at the time (film actors were called photoplayers); he was also very interested in meeting pretty actresses and dancers. At some point Eugene met James Stuart Blackton, the man with whom he'd co-found M.P. Publishing.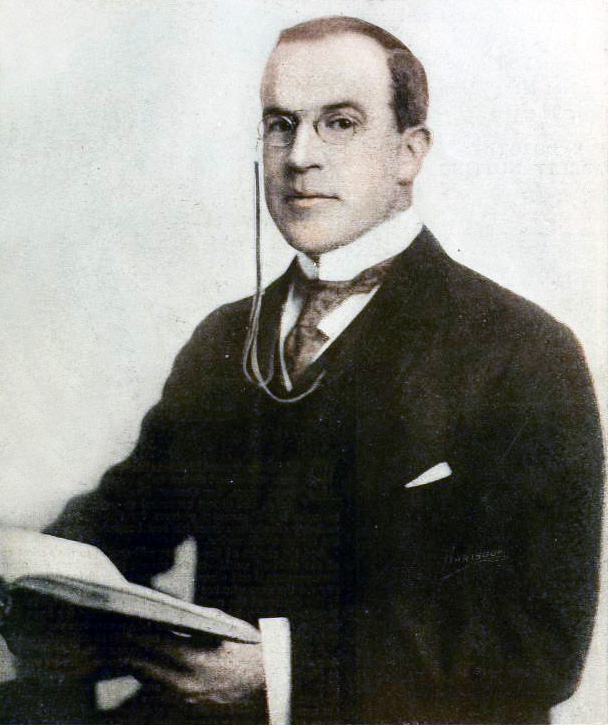 (J. Stuart Blackton 1918 Photo: Motion Picture Magazine)
Born James Stuart Blacktin on January 5, 1875 in Sheffield, England, James had emigrated with his family to the U.S. in 1885; the spelling of his surname was then changed to Blackton. Blackton worked for the New York Evening World as an illustrator and reporter. An interview with inventor Thomas Edison in 1896 about his latest creation, the Vitascope film projector, would ultimately change the lives of both Blackton and Brewster.
Blackton already had a background in stage performance with magician Albert Smith, and together Smith and Blackton bought a Vitascope and founded the American Vitagraph Company in 1897 so they could start making movies. 
J. Stuart Blackton and Eugene Brewster founded M.P. Publishing in December of 1910, and began producing the pioneering movie fan mag The Motion Picture Story Magazine in 1911. Brewster's publishing background and Blackton's film industry connections were a perfect match for the fan magazine business. 
Making a Fortune With Silent Movie Fan Magazines
Beginning in February 1911, M.P. Publishing produced the first film magazine for silent movie fans, The Motion Picture Story Magazine. Although the movie studios had been reluctant to promote the concept of film stars out of fear their costs for talent would rise, this changed. Advertising in the magazine, and subscription sales, were brisk from the start.
Each edition of the magazine included 3 or more "dramatized novels" (short stories based on silent films), accompanied by black and white movie stills.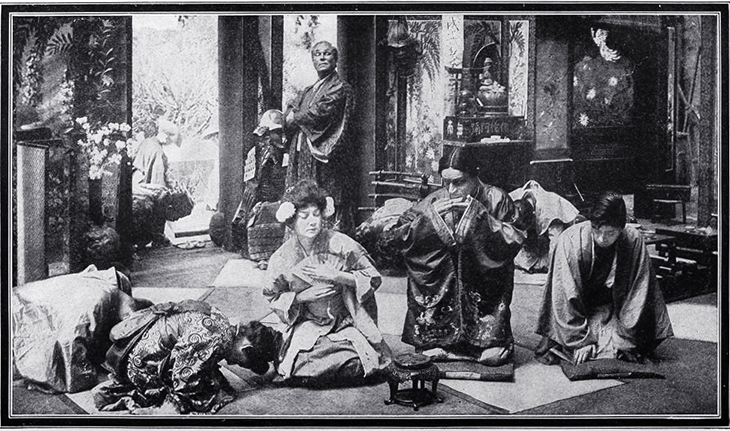 (Norma Talmadge 1910 The Love of Chrysanthemum: Vitagraph Company of America)
"The Wedding of Chrysanthemum"
Captions accompanied each picture, similar to what might have flashed across the screen for audiences watching the film in a movie theatre.
Photographs on the cover and inside the magazine had hand drawn borders around them, some more elaborate than others.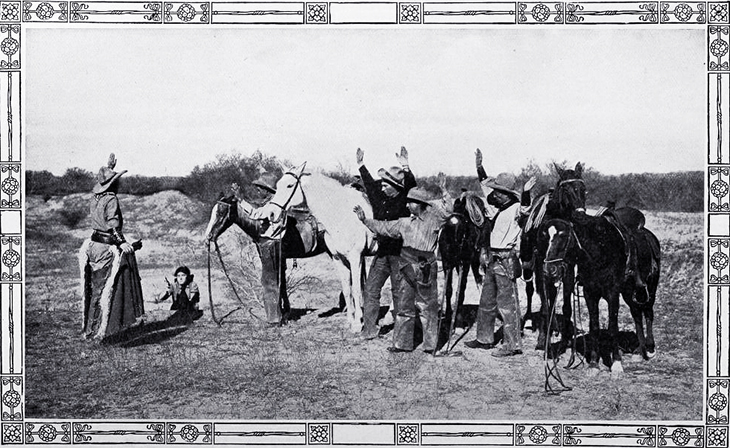 (Edith Storey 1911 How Mary Met the Cowpunchers: G. Méliès / Star Film Company)
"Bring me my skirt, or I'll shoot," demanded Mary.
As well, there were guest columns by, or interviews with, filmmakers – producers and early movie studio founders, directors, scenario writers (silent movies, so no scripts per se), and cameramen (later called cinematographers) such as D. W. Griffith, Jesse Lasky, Thomas Edison, and Cecil B. DeMille, etc.
Although the early covers had black and white photographs on the front, there was color in the form of hand-drawn illustrations.
Because everything was hand-drawn, the fonts and layout of every magazine cover were different, including the magazine banner.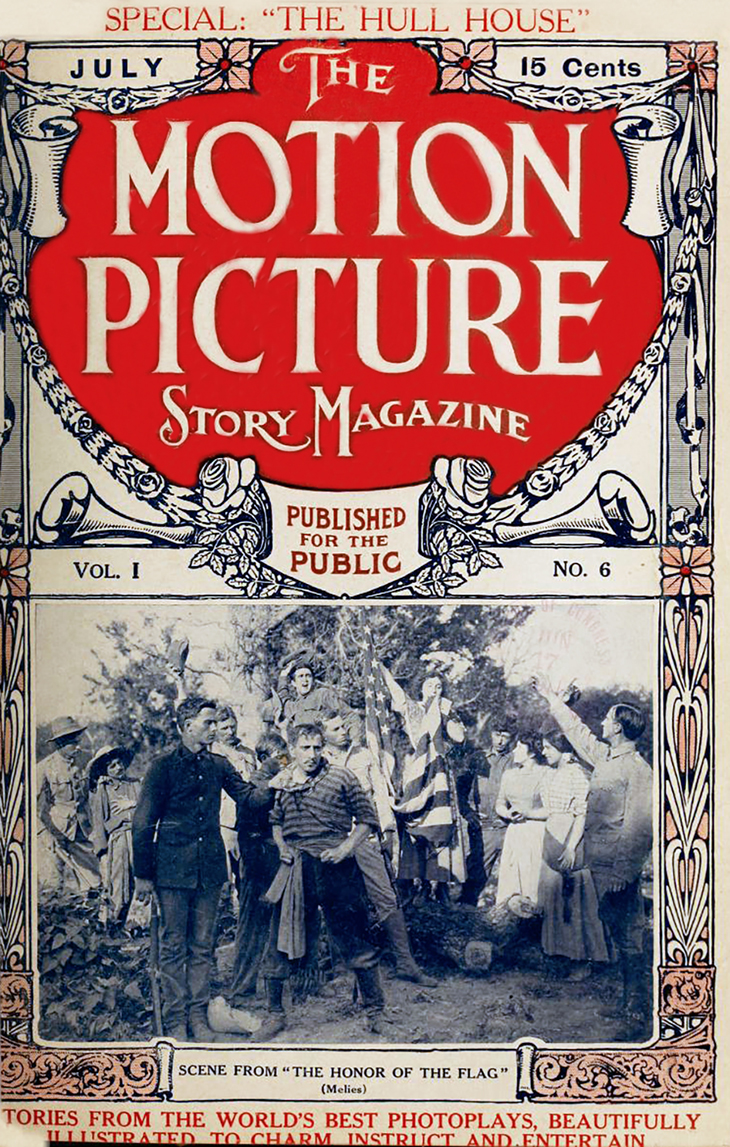 Originally, studio portraits of the movie stars and notables from the world of film were minimal. As time went on, the importance of the actors in the minds of the magazine-buying fans became apparent.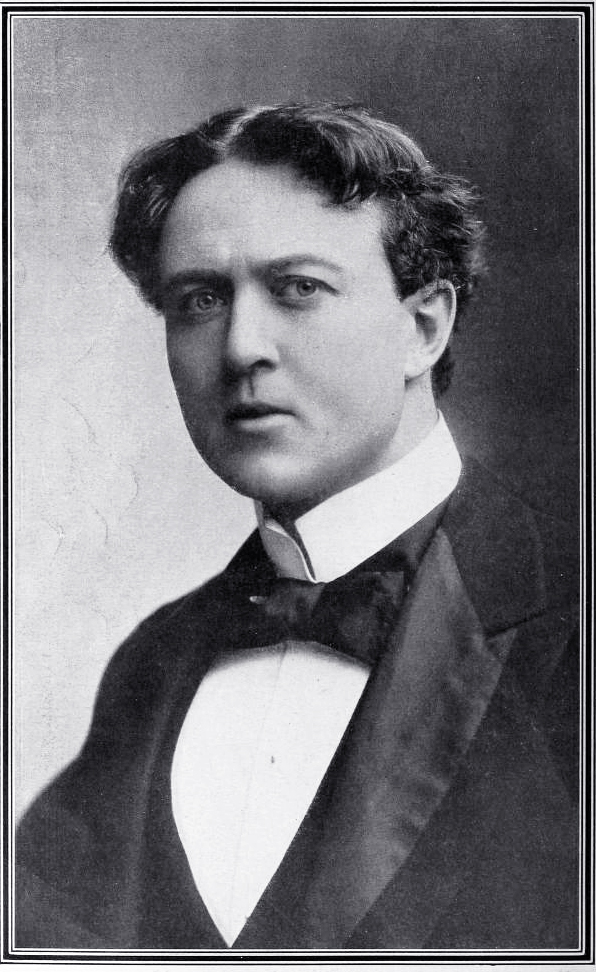 (Silent Film Star Hobart Bosworth 1911 Photo: Selig)
Later in 1911, a competing movie fan magazine was launched by rival publisher Macfadden Publications – Photoplay, which would continue being published until 1980.
Below, Eugene and his daughter Ruth Brewster visited the Kalem Company film studio in New York in 1912 and had their photo taken with some of Kalem's silent film stars – Anna Q. Nilsson, Marion Cooper, and Alice Joyce.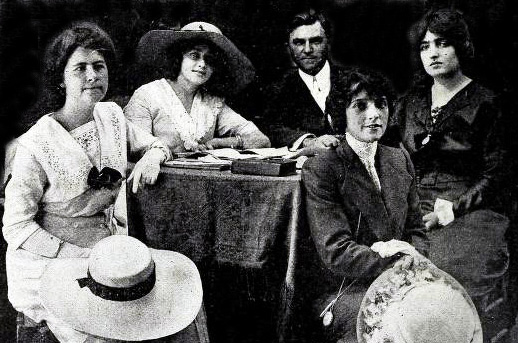 (Ruth Brewster, Anna Q. Nilsson, Eugene V. Brewster, Marion Cooper & Alice Joyce 1912 Photo)
Ruth also wrote articles for the magazine.
Gradually, The Motion Picture Story Magazine's content shifted to providing less stories, and more photographs, presented throughout the magazine as well as in a special portrait gallery section. The magazine sponsored a "Popular Player" contest for fans to vote on their favourite film stars. 
Readers sent in their questions about the films or movie stars, and "The Answer Man" (at first a woman, and later Eugene V. Brewster himself) published replies, another publishing innovation.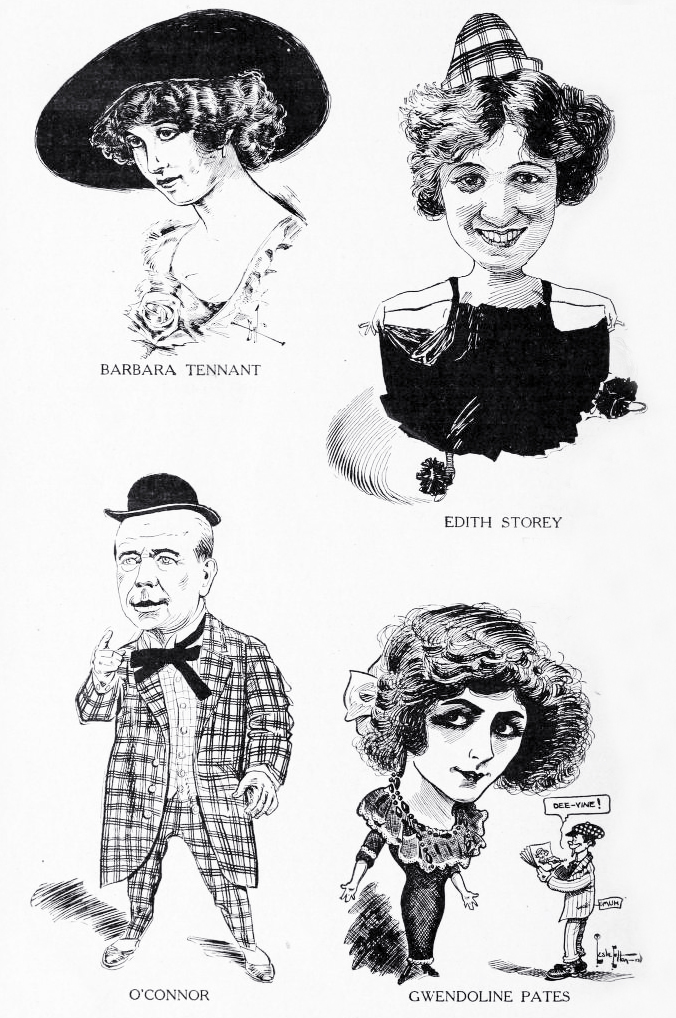 (1913 Penographs of Barbara Tennant, Edith Storey, Edward O'Connor & Gwendoline Pates)
Poetry, comic illustrations, "penographs" (caricatures), and complete star profiles and articles written by the silent movie stars, began to appear – along with more color on the magazine cover and less intricate illustrated borders.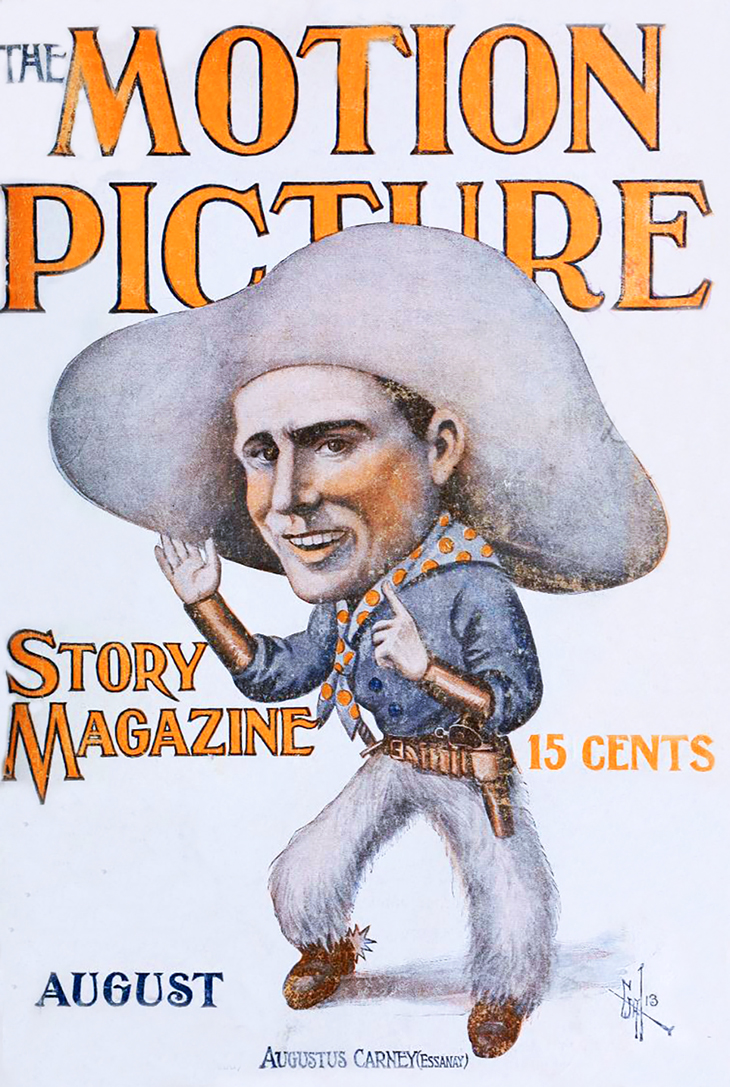 (Augustus Carney 1913 August Cover, The Motion Picture Story Magazine) 
More realistic color portraits of silent film stars began to appear on the cover of The Motion Picture Story Magazine, a trend followed by Photoplay and other emerging movie fan magazine rivals.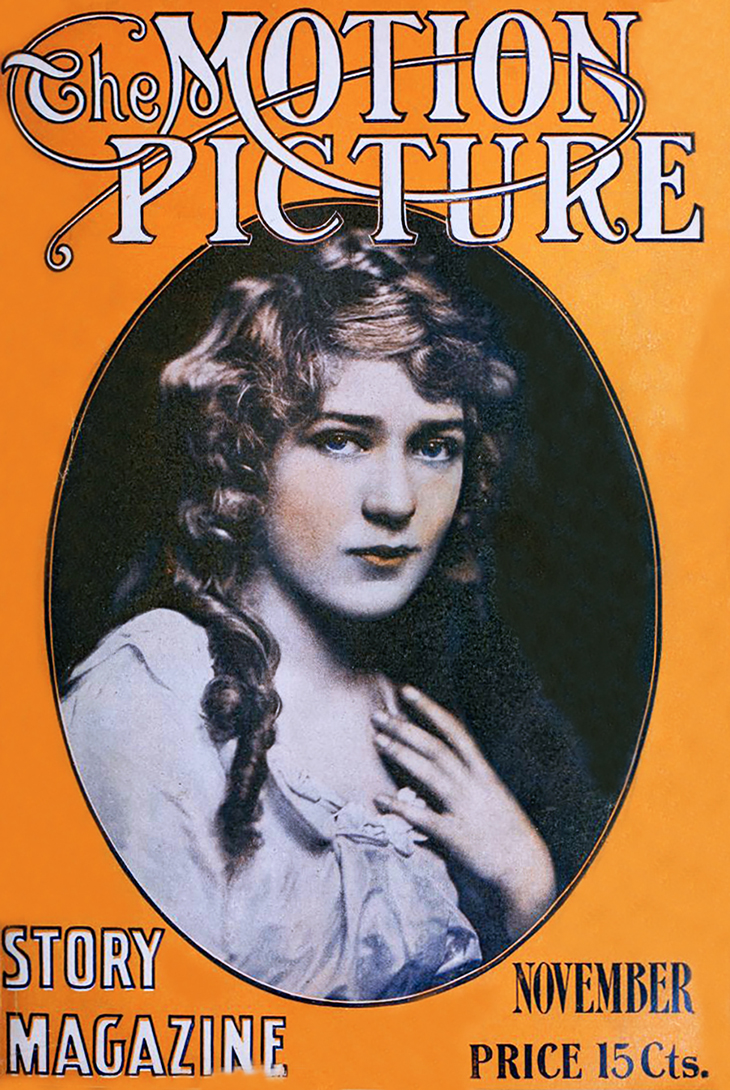 (Mary Pickford 1913 November Cover, The Motion Picture Story Magazine) 
The magazine was successful from the start and the major film studios were happy to advertise and promote their films in it
By March 1914, the magazine name was shortened to Motion Picture Magazine. On December 8th of that year, Eugene's wife Emilie Brewster divorced him, citing an unnamed other woman in her filing. 
Business was booming, and in September 1915 M.P. Publications launched another highly successful magazine for film fans, Motion Picture Classic.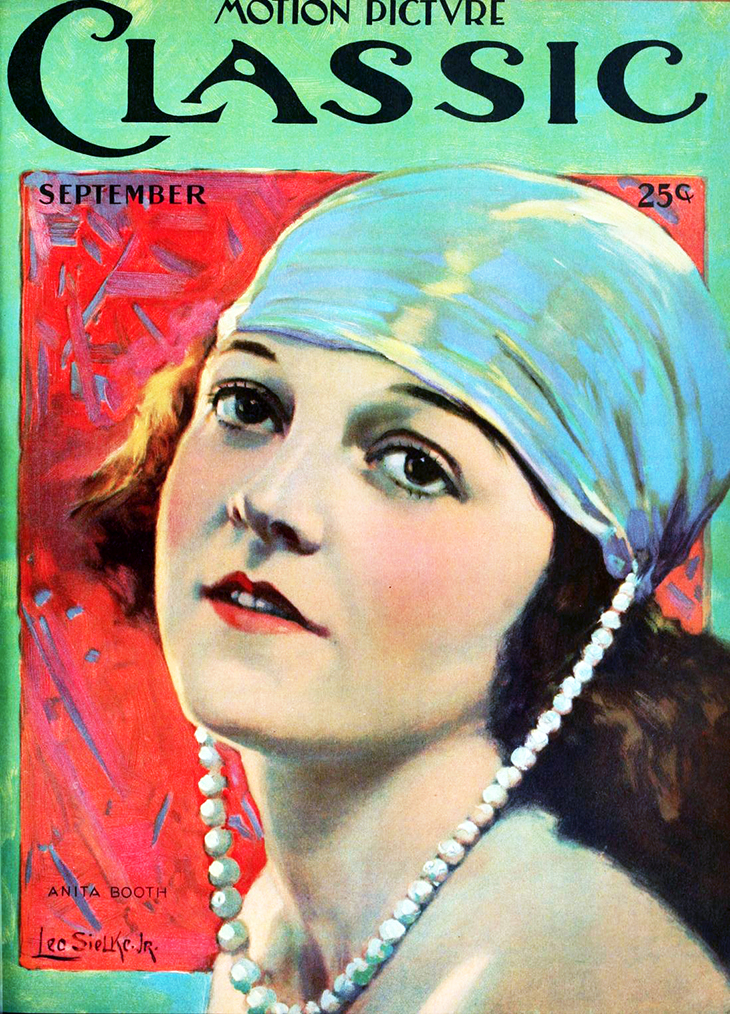 (Anita Booth 1920 September Cover Motion Picture Classic: Leo Sielke Jr., based on photo by Apeda) 
M.P. Publishing staff artist Leo Sielke Jr. painted many of the cover portraits of silent film stars for Motion Picture Classic, and for Motion Picture Magazine.
Eleanor V. Brewster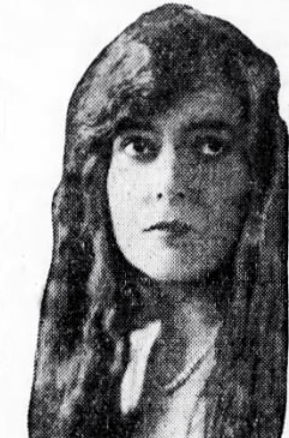 (Eleanor V. Cator Brewster c. 1915 Photo: Harrison Photo / Brooklyn Daily Eagle)
Two years after Emilie divorced Eugene V. Brewster, the 47-year-old Brewster married for the second time. His bride was 25-year-old Eleanor Cator, daughter of Senator Thomas Cator of New Jersey. Because of the scandal of Eugene's divorce, the couple eloped. A fruitless search for a witness in Newark, New Jersey caused a brief delay in their plans, but they were finally married on December 27, 1916 in Stamford, Connecticut.
The Brooklyn Daily Eagle described Eleanor as a beautiful and accomplished opera singer, from the wealthy Hervey family (Eleanor's step-father).
Eugene claimed to have known Eleanor's sister first, and stated that he had only met Eleanor until July of 1915.
A few years later Emilie told the Brooklyn Daily Eagle a slightly different story: "Eleanor Cator knew me before I divorced my husband…She and my former husband went to three States before they could get married." 
Beginning in August 1917, Eleanor V.V. Brewster was listed as the Treasurer for M.P. Publishing, and later Brewster Publications.
Literature & The Great Gatsby Connection
A few years later, a third innovative fan magazine was launched in 1919 – SHADOWLAND, "The Handsomest Magazine in the World", which focused on covering the arts and artists from the world of literature, visual arts, dance, theatre, film, music. Celebrated photographers Abbe and Alfred Cheney Johnston shot portraits for the three magazines.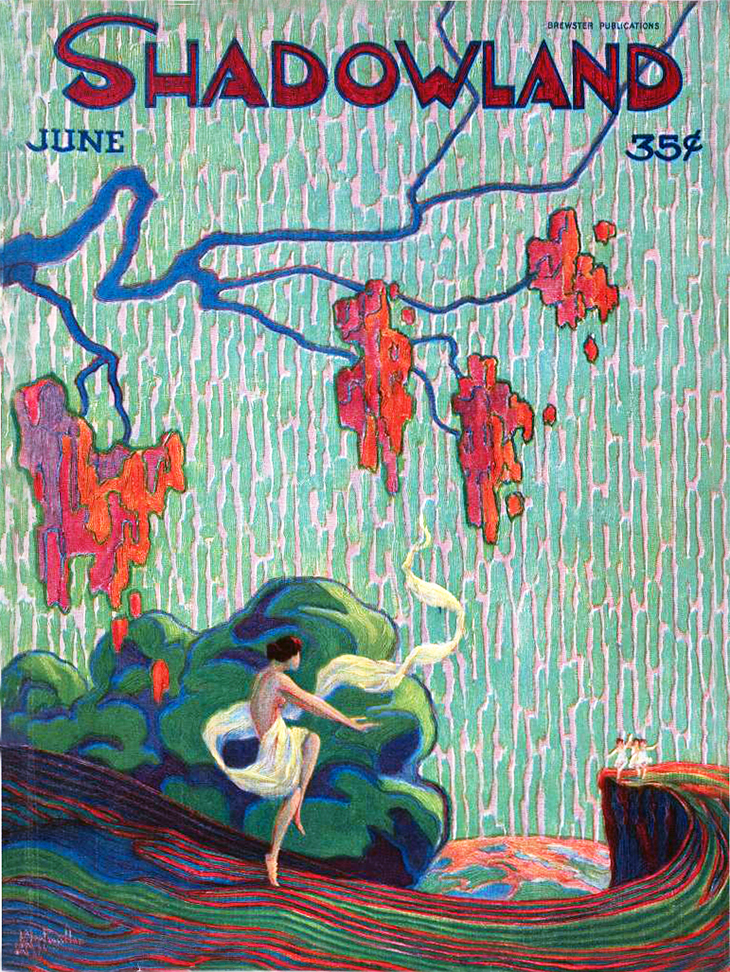 The magazine covers became increasingly colorful – and in the case of SHADOWLAND, with it's art deco paintings by Art Director A.M. Hopfmuller – artistic in design. 
With the launch of SHADOWLAND, Eugene V. Brewster was listed as the President of M.P. Publishing in that magazine, and there was no reference to co-founder J. Stuart Blackton. Blackton continued to be listed as a board member of M.P. Publishing in the other fan magazines, but by July 1920 all three magazines – Motion Picture Classic, Motion Picture Magazine, and SHADOWLAND, reflected the new corporation name as Brewster Publications. 
Blackton was still mentioned in Motion Picture Magazine as the founder, and he had some minimal involvement – but his primary focus had always been on making films, which he continued to do throughout most of the 1920s.
The fan magazine business was proving to be very lucrative. Eleanor and Eugene V. Brewster and their son Virgil lived in Chalet des Lacs, their mansion at Roslyn, on the north shore of Long Island.
One of the many literary figures featured in SHADOWLAND (more than once), was author F. Scott Fitzgerald, who had been to parties on Long Island in the early Roaring Twenties, was inspired to write The Great Gatsby (1925) based on his experience of the opulent homes and lifestyle of wealthy North Shore inhabitants during the Jazz Age.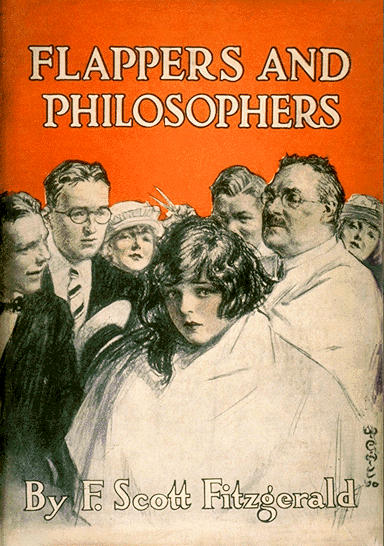 (Flappers and Philosophers 1920 Cover: W.E. Hill / Scribners)
F. Scott Fitzgerald first burst on the public consciousness in March 1920 when his debut novel This Side of Paradise, and then his short story collection Flappers and Philosophers, were published.
An excerpt from This Side of Paradise was included in the article Little Old Babylon by Heywood Broun in the July 1920 edition of SHADOWLAND, and journalist Frederick James Smith interviewed the author for his article Fitzgerald, Flappers and Fame, published in the January 1921 edition of SHADOWLAND.
Fitzgerald, who had married Zelda Sayre soon after his book novel was published, said he was working on his next novel (The Beautiful and the Damned, 1922), and commented,
"I married the heroine of my stories. I would not be interested in any other sort of woman."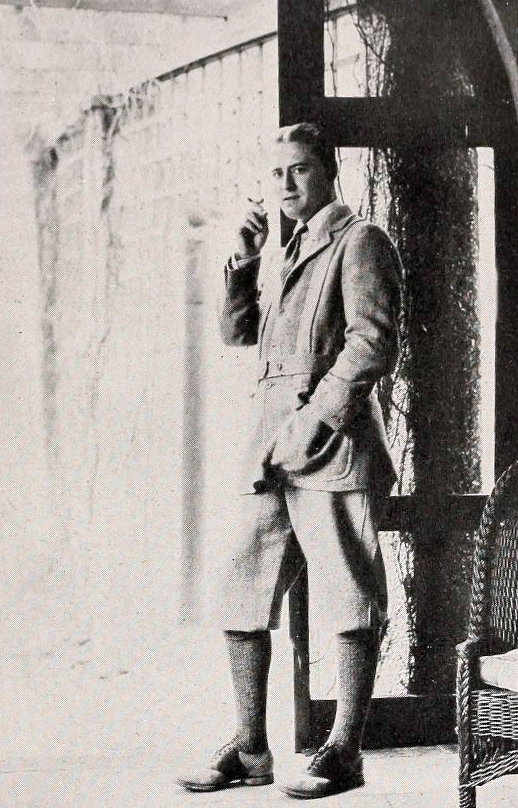 (F. Scott Fitzgerald 1923 Photo: Royal Atelier / SHADOWLAND)
An un-attributed New Books in Brief Review article in the August, 1923 edition of SHADOWLAND reviewed Fitzgerald's latest new short story/play The Vegetable in 1923.  
Did F. Scott Fitzgerald and Eugene V. Brewster ever meet at some fabulous party on Long Island in the early 1920s? We'll never know, but I'd like to think they crossed paths in real life.
This quote from Fitzgerald's next short story collection Tales of the Jazz Age (1922), could have been used to describe SHADOWLAND:
"It was an age of miracles, it was an age of art, it was an age of excess, and it was an age of satire"
And SHADOWLAND, much more so than the other fan magazines he published, was a reflection of millionaire publisher Eugene V. Brewster.
Fame and Fortune for Corliss Palmer
The October 1920 edition of SHADOWLAND proclaimed Corliss Palmer, a former Georgia Peach beauty contest winner, as having captured first place in the 1920 Fame and Fortune Contest sponsored by Brewster Publications, the second such contest. The contest was heavily promoted in all 3 Brewster Publications – SHADOWLAND, Motion Picture Classic, and The Motion Picture Magazine – throughout the year.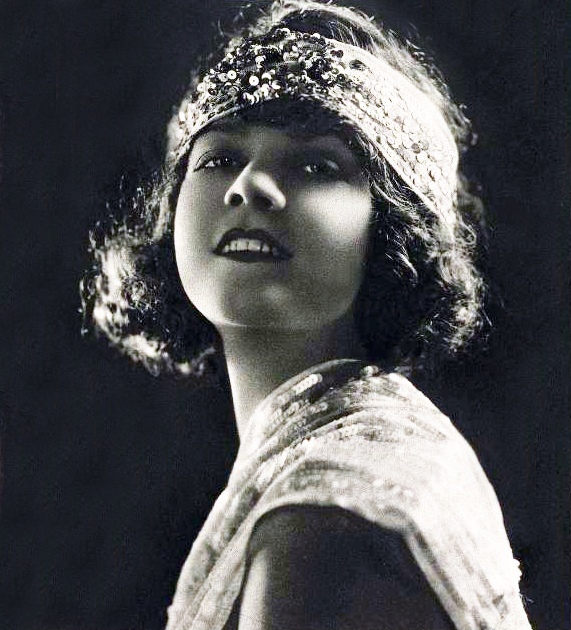 (Corliss Palmer 1920 Photo: Apeda / SHADOWLAND)
Motion Picture Classic explained in their December issue, that Corliss Palmer and Allene Ray were the Top Two Winners, since fellow contestant Lucille Langhanke had already won her Fame and Fortune. Lucille had been signed to a 5-year movie studio contract with Famous Players-Lasky, and changed her name to Mary Astor (who became a film legend). 
Both Allene Ray and Corliss Palmer were late and lucky selections after the contest closed in August 1920. Their photographs were only selected after a second review of the thousands of entries received.
When he saw Palmer's "funny looking" photo, Eugene Brewster had it put on the top of the pile of contest entrants. 
Allene Ray had been in a few film shorts before the contest began. By the time of her last movie Gun Cargo (1949), starring Rex Lease, William Farnum, and John Ince was released, Allene Ray had acquired 34 movie credits and a respectable film career.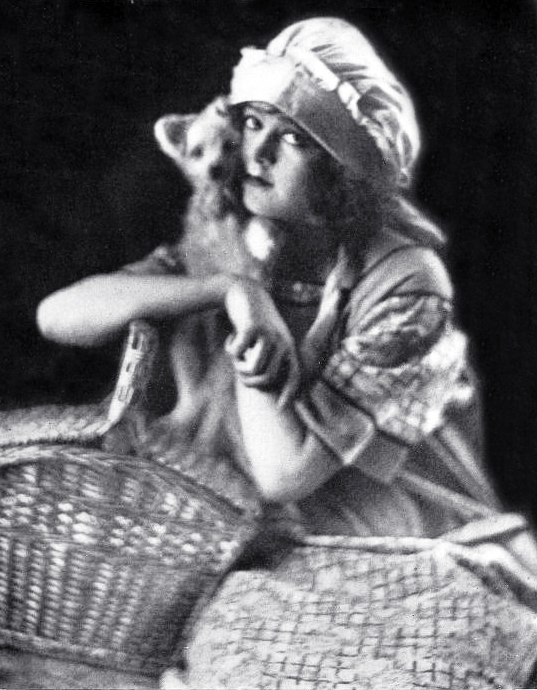 (Corliss Palmer & friend "The Conspirators" 1923 Photo: Eugene V. Brewster / SHADOWLAND)
Corliss Palmer came to live with the Brewsters at their Long Island home so she could be intensively coached by Eleanor in "fashion, beauty, and etiquette".
According to Southern Belle to Hollywood Hell: Corliss Palmer and Her Scandalous Rise and Fall (2018) author Jennifer Ann Redmond, Corliss began helping Eugene with film editing and they often worked late nights together.
The predictable happened; Eleanor herself had characterized her husband Eugene as "a periodical love drunkard." 
Although an argument ensued between Eleanor and Eugene Brewster over his involvement with Corliss, they reconciled quickly, and Corliss moved out, back to her family home in Georgia. Soon after that, Eugene persuaded Corliss to move back to New York. He set her up in a rental home in Morristown, New Jersey with her mother and siblings.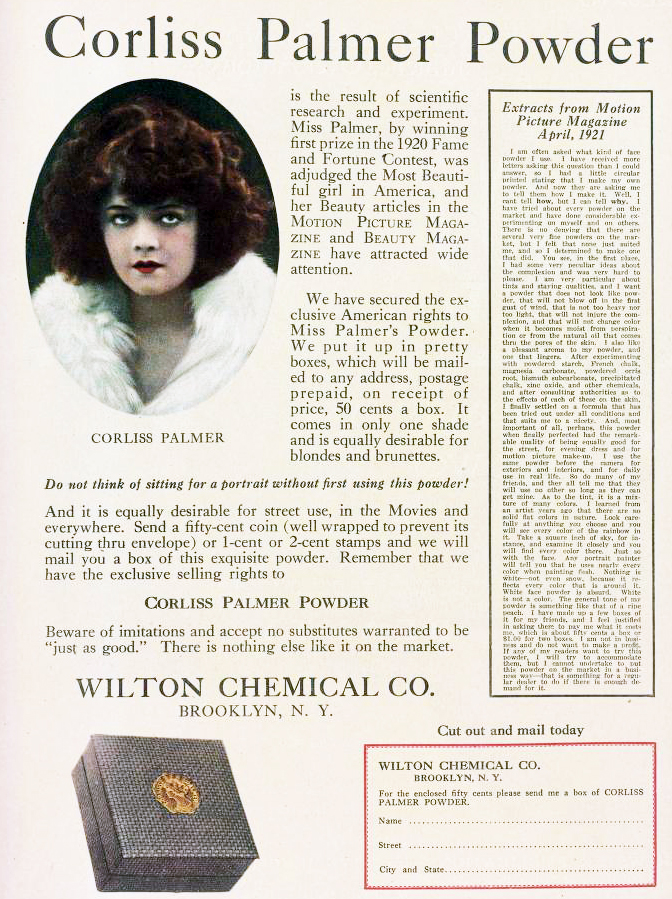 Eugene V. Brewster proceeded to spend several years promoting Corliss Palmer in all three of his magazines, beginning in February of 1921.
"In League With the Fairies" was the first of a series of beauty articles purported to have been written by Corliss Palmer, published in Motion Picture Magazine beginning in March 1921. 
Eight months after he'd first met Corliss Palmer, an infatuated Eugene V. Brewster left Eleanor and their son for good, in April of 1921.
The month after Eugene moved out of the home he'd shared with Eleanor Brewster, the new Corliss Palmer Peach Bloom Powder began being heavily advertised every month in SHADOWLAND, Motion Picture Classic, and The Motion Picture Magazine.
Eugene had created the product himself and sold it under the guise of Wilton Chemical Company. More beauty products bearing her name were soon developed and sold.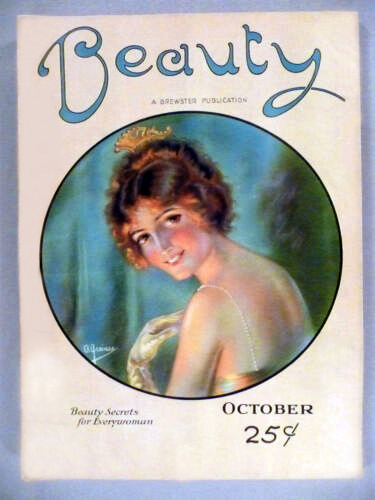 Brewster's promotion of Corliss Palmer included her acting forays in movies such as Ramon, The Sailmaker and Farm to Fame. She was promoted as having her own production company when a six-reel picture In the Blood, by Corliss Palmer Productions (no such movie title exists today) was advertised in June 1921.
In January 1922, Eugene launched another another magazine – Beauty.
Contributing writers to Beauty included film stars Dorothy Gish, Constance Talmadge, Lillian Gish, Norma Talmadge, Gloria Swanson, Alla Nazimova, Ruth Roland, and of course, Corliss Palmer.
By April of 1922, Eleanor Brewster was no longer listed as part of Brewster Publications.
Beauty magazine folded after a couple of years, and October 1923 was last issue of SHADOWLAND; it was folded into Motion Picture Classic in November of that year.
Losing Brewster's Millions
When Corliss Palmer expressed her admiration for it the massive "Cherrycroft" 15-acre estate in Morristown, New Jersey in 1924, Eugene V. Brewster bought for Corliss and her family to live in. Cherrycroft had been featured in Beautiful Gardens in America (1915) by Louise Shelton, and The Buffalo Sunday Courier described the estate in 1924 soon after Brewster purchased it:
"The gardens are laid out in symmetrical patterns which would delight the soul of a Renaissance monarch. There are exotic plants, pools and fountains, curing drives and sheltered nooks."
At the height of his publishing fortune in the early-mid 1920s, Brewster also had magnificent homes on Long Island, New York, and Hollywood, California, and estimated his wealth at $3 million (equivalent to $44 million in 2020). Corliss, her sister Ennie and brother Grady Palmer, were all listed on the corporate payroll of Brewster Publications beginning in 1924.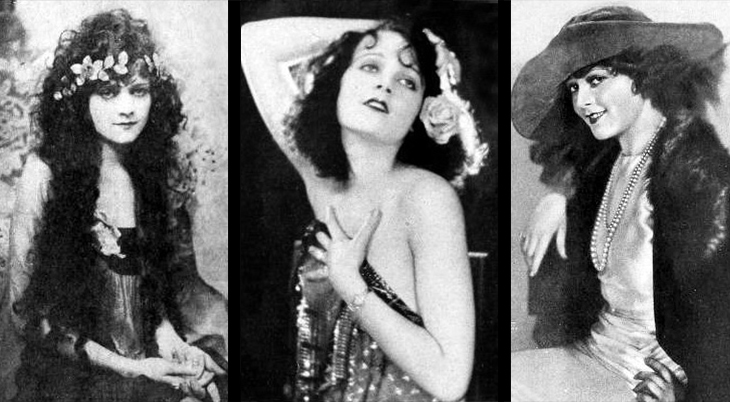 (Corliss Palmer in two 1922 ads & a 1923 ad: SHADOWLAND)
Eleanor Brewster had initially resisted a divorce, claiming that her religion made it impossible. Finally, likely seeing the purchase of Cherrycroft as the last straw, Eleanor filed suit against Corliss Palmer for alienation of affection in 1924, requesting hefty monthly alimony from Eugene V. Brewster, and for the business to be placed in receivership. As reported in Variety, Eleanor
"alleges that Brewster is squandering and dissipating money for his personal use and for gifts to Corliss Palmer, picture actress….Mrs. Brewster's greatest complaint is that large sums have been diverted from entry in the books of the company and spent in behalf of the Palmer woman."
Divorce proceedings dragged on for two years. In the meantime, Eugene and Corliss were still an item. Variety reported in July 1926 that he'd had a face-lift (later denied by Brewster) before the couple left New York for Los Angeles, because Brewster "feels that youth and beauty are essential if one wants to mix with the Hollywood and Beverly Hills picture set".
Eugene began writing a column "Impressions of Hollywood" that appeared in Motion Picture Classic and Motion Picture Magazine in 1926. Below, Eugene V. Brewster hobnobbing with some famous Hollywood silent film stars in 1926.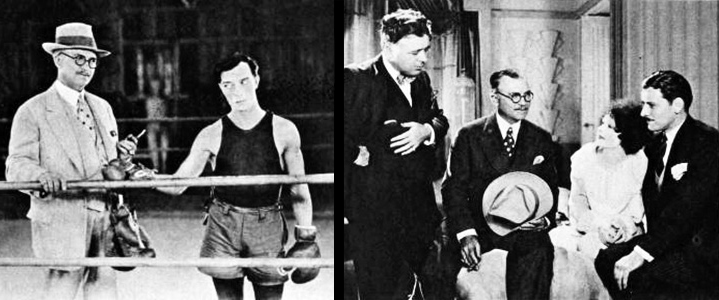 (Brewster with Buster Keaton | Brewster with Norma Talmadge & Ronald Colman)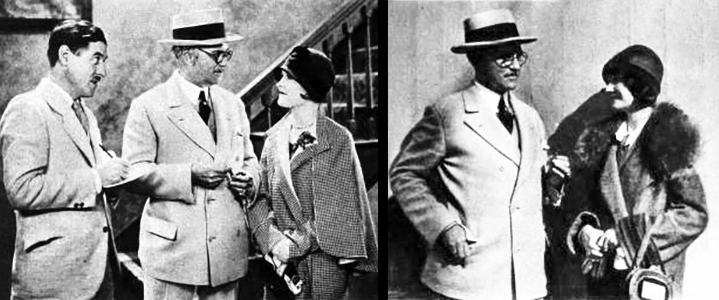 (Brewster with Laura La Plante | Brewster with Mary Philbin)
Brewster's fortunes began to decline in 1926 when Eleanor's suit was granted, and Variety reported she was awarded a $200,000 settlement in addition to weekly maintenance payments of $200 in the divorce. Brewster had to sell Cherrycroft and his two remaining magazines – his primary sources of income, Motion Picture Classic and The Motion Picture Magazine. 
Eugene V. Brewster married Corliss Palmer on October 27, 1926 in Mexico, the day after his divorce from Eleanor was finalized.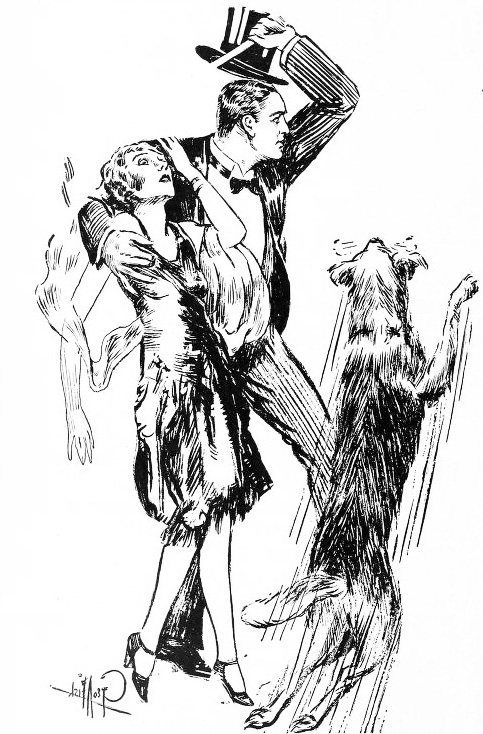 (Corliss Palmer, Raymond Glenn & Strongheart 1927 The Return of Boston Blackie)
Whether due to negative publicity over living with a man going through a divorce or simply a lack of talent, Corliss Palmer's film career had stalled while the Brewster divorce kept incurring negative publicity. Variety reported in June 1926 that Brewster had arranged a lucrative contract with MGM for Corliss in exchange for his fan magazines, but the deal was scuttled and backfired with more negative publicity, to the extent that she tried to be billed as Corliss Buckingham.
In January 1926, Hollywood Topics reported that Eugene V. Brewster had purchased a large mansion for his wife Corliss, and they would be moving in soon along with her mother and family. Now that the divorce was over and the couple was living in the heart of the movie industry, Corliss managed to appear in 13 undistinguished silent movies over the next 4 years.
She did co-star in two movies, appearing with Strongheart the Dog and Bob Custer in The Return of Boston Blackie (1927), and with George Jessel in George Washington Cohen (1928).
Other than that, the best Palmer could manage was minor supporting role in a few movies that had some "name" silent film stars:
Her Second Chance (1926), a romantic drama starring Anna Q. Nilsson.
Polly of the Movies (1927), starring Jason Robards Sr.
Honeymoon Hate (1927) starring Florence Vidor.
The Noose (1928) a drama starring Richard Berthelmess, with Thelma Todd and Alice Joyce.
Clothes Make the Woman (1928), historical romantic drama starring Walter Pidgeon and Eve Southern.
Into the Night (1928), a crime drama starring Agnes Ayres.
The Night Bird (1928), a comedy starring Reginald Denny.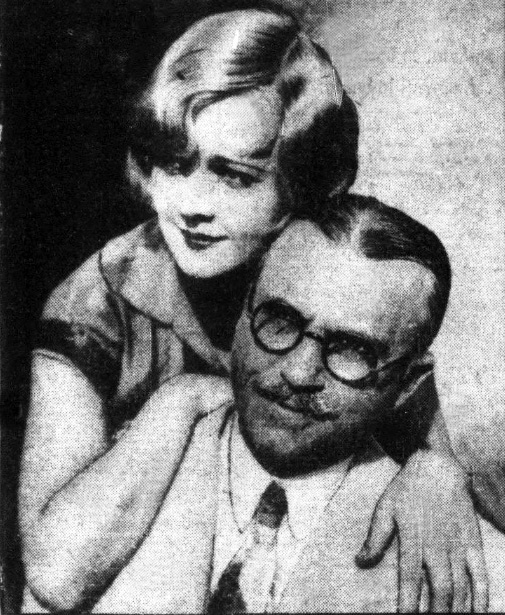 (Corliss Palmer and Eugene V. Brewster 1931 Photo: AP / The Evening Star)
Black Tuesday and the stock market collapse of October 29th, 1929 wiped out Eugene V. Brewster and his old pal J. Stuart Blackton, as well as many other ordinary investors and millionaires. In August 1931 The Evening Star article Brewster's Millions Gone advised readers that Brewster was bankrupt due to poor investments, with assets of $100 and liabilities exceeding $17,000. The couple was now living in a small Hollywood bungalow, and Corliss Palmer was "going to return to acting to do her bit." 
Corliss did make one final film, with a tiny role in the "talkie" Honeymoon Lane (1931), starring Eddie Dowling, June Collyer, Raymond Hatton, Noah Beery, and Walter Brennan. That was the end of her film career, although she did do some modeling. 
Soon after that, Corliss and Eugene V. Brewster separated. Corliss claimed in her November 1931 divorce suit that marriage to him had "ruined her career as a screen actress." The following year she was named in a divorce suit by Universal story editor Albert Cohen's wife.  
Their divorce was finalized in 1933. By the end of 1933 Corliss Palmer had been hospitalized for severe alcoholism under the assumed name of Edith Mason. She spent the next twenty years in and out of mental hospitals before dying in August 1952 at the age of 53. 
Eugene V. Brewster married for a fourth and final time, to writer Liane Hill in 1933. Ever the entrepreneur, The Film Daily reported that Brewster was "now putting out a dental hygiene preparation which he developed in a Brooklyn laboratory."
Motion Picture Daily and The Evening Star reported that Eugene V. Brewster died at the Long Island College Hospital of heart disease on January 1, 1939 at the age of 67. He was survived by all of his wives and children (Ruth, Marie, and Raphael from his marriage to Emilie, and Virgil from his union with Eleanor). Eugene's younger brother Carleton Brewster, who at one point had operated a string of movie theatres on Long Island, died 3 days later, when he was killed in a car accident in Florida.
J. Stuart Blackton's movie-making days had effectively ended in 1927, although he did make 1 more film in 1933. A millionaire many times over during his heyday, after the stock market crash Blackton had also declared bankruptcy. He spent most of the 1930s touring and lecturing about the early days of silent films. J. Stuart Blackton died on August 13, 1941 after being hit by a car and suffering a skull fracture. 
Eugene's first wife Emilie Brewster died in May 1948 at the age 75; nothing more is known of Eleanor Cator Brewster or Liane Hill Brewster. 
Other Resources: 
Who's Who of America, Volume 1
Media History Digital Library – Motion Picture Classic, The Motion Picture Story Magazine / Motion Picture Magazine, Shadowland
Inside the Hollywood Fan Magazine
Variety
The Film Daily
Motion Picture Herald