Folks, Facts & Fun From November 1931
News, Headlines, Movies & Trivia from November, 1931: The 4th Academy Awards Ceremony is held; Bing Crosby records Where the Blue of the Night; and a trio of Hollywood movie star weddings – Constance Bennett, Walter Huston, and Dorothy Mackaill all tie the knot.
4th Academy Awards Ceremony
On November 10, 1931, the 4th annual Academy Awards Ceremony was held at the Biltmore Hotel in Los Angeles, to recognize films released between August 1930 and July 1931. Only 9 awards were handed out, and the golden statuette had not yet been named "Oscar".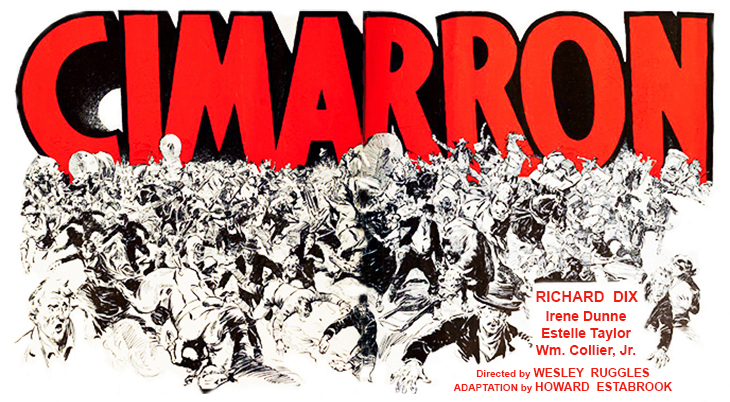 (Cimarron 1931 Best Picture Starring Richard Dix, Irene Dunne, Estelle Taylor & William Collier Jr.)
RKO Pictures Producer WIlliam LeBaron's western Cimarron (1931) won Best Picture, with movie veterans Marie Dressler and Lionel Barrymore winning Best Actress and Best Actor.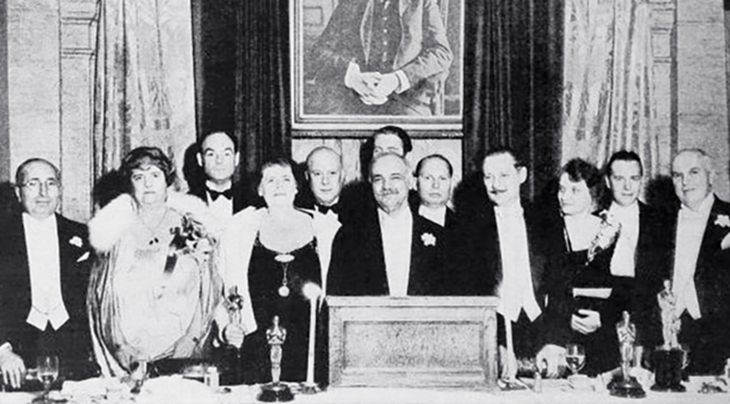 (Louis B. Mayer, Marie Dressler & Lionel Barrymore flank U.S. V.P. Charles Curtis, 1931 Academy Awards: Wide World)
Canadian actress Marie Dressler had co-starred in Min and Bill (1930) with Wallace Beery, and emerged triumphant over fellow nominees Ann Harding (Holiday, 1930), Marlene Dietrich (Morocco, 1930), Irene Dunne (Cimarron), and Norma Shearer (A Free Soul, 1931). Lionel Barrymore's much-lauded performance in A Free Soul was judged better than Jackie Cooper in Skippy (1931), Richard Dix (Cimarron), Fredric March (The Royal Family of Broadway, 1930), and Adolphe Menjou (The Front Page, 1931).
Cimarron also won Best Adaptation (Howard Estabrook, based on Edna Ferber's novel), and Best Art Direction (Max Ree). Cimarron's Wesley Ruggles was disappointed in his bid for Best Director, which went to Norman Taurog for Skippy; as was Edward Cronjager, who lost Best Cinematographer to Floyd Crosby for Tabu.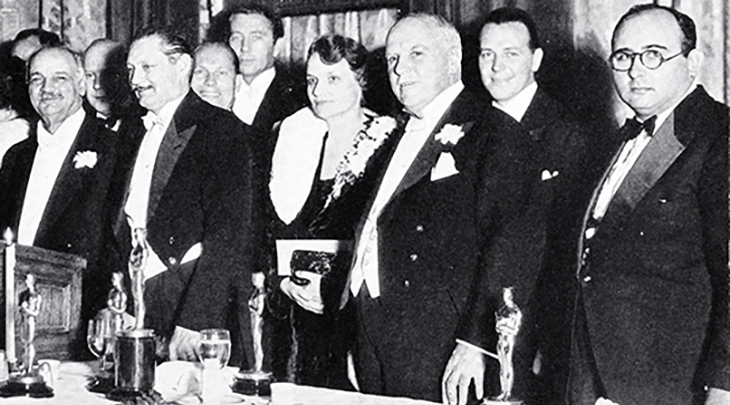 (V.P. Curtis, Lionel Barrymore, Mabel Walker Willebrandt, Governor James Rolph Jr., & Norman Taurog)
Screenwriter John Monk Saunders' The Dawn Patrol (1930) – based on his story The Flight Commander – won Best Original Story. None of the other crew or cast of The Dawn Patrol, including director Howard Hawks, and actors Richard Barthelmess, Douglas Fairbanks, Jr., or Neil Hamilton, received any nominations.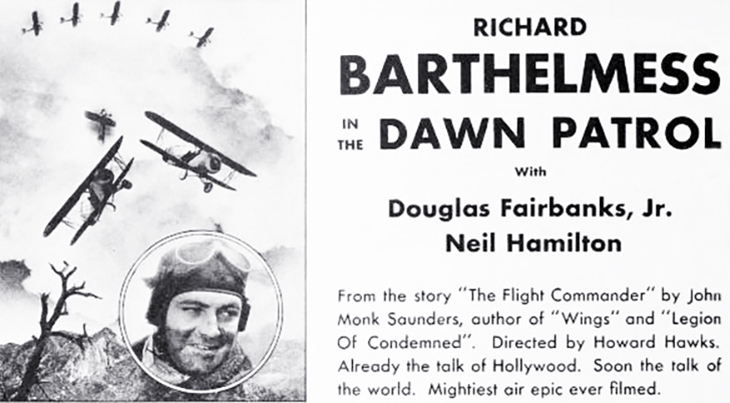 (Richard Barthelmess 1930 The Dawn Patrol)
Paramount Publix Studio Sound Department was recognized for Best Sound Recording. Paramount's films for this period that received other nominations included the afore-mentioned Skippy, The Royal Family of Broadway, Tabu, and Morocco (1930) directed by Josef von Sternberg, starring Gary Cooper, Marlene Dietrich, and Adolphe Menjou.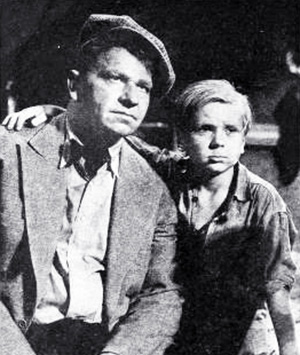 (Wallace Beery & Jackie Cooper 1931 The Champ)
While Vice-President Curtis was in Los Angeles for the Awards ceremony, he attended the L.A. premiere of director King Vidor's tearjerker classic, The Champ (starring Jackie Cooper, Wallace Beery & Irene Rich) at Grauman's Chinese Theater on November 13, 1931.
Beery's performance in The Champ resulted in a Best Actor tie with Fredric March at the next year's Academy Awards..
In other notable film news of that month, Director James Whale's classic monster flick Frankenstein premiered on November 19, 1931.
This first "talkie" movie version of Mary Shelley's novel stars Colin Clive as Henry Frankenstein, with leading lady Mae Clarke, supporting actor John Boles, and Boris Karloff as The Monster. 
Bing Crosby Records Where The Blue of the Night
On November 23, 1931, crooner Bing Crosby recorded his hit song Where the Blue of the Night (Meets the Gold of the Day), with Bennie Krueger and his Orchestra.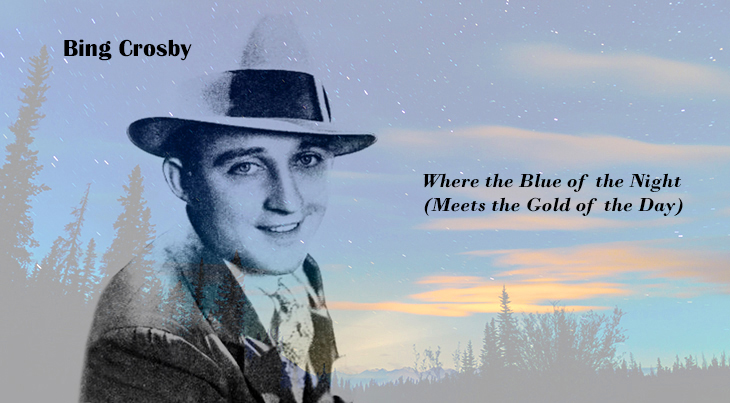 (Bing Crosby / Where the Blue of the Night Photo Blend: A. Hamilton*)
Written by songwriters Roy Turk and Fred E. Ahlert, with Crosby contributing to the lyrics, the tune was originally called When the Gold of the Day Meets the Blue of the Night. It wasn't until Bing Crosby recorded it for the first time in November 1931 that the title was changed. The next year, Where the Blue of the Night made it to #4 on the Billboard pop singles chart.
Crosby made it the theme song for his radio program:
"Crosby exudes romance. For one thing, his romantic signature song, the Blue of the Night, which he sings when he starts his broadcast and when he ends it, is dedicated to Dixie Lee. Dixie, to whom he sings it over the ether every night, is Mrs. Bing Crosby if you please – and even if you don't. They've been married a little over a year." – Bing! It's Mr. Crosby by Evelyn Ballarine, Screenland, January 1932
The song title was abbreviated for the Mack Sennett-produced 1933 romantic comedy film short Blue of the Night. Bing Crosby stars in the film, and sings (and whistles!) the title track to his co-star, Marjorie Kane. Franklin Pangborn, Ernie Alexander, Harry Barris, Alice Belcher, and Toby Wing are also in the cast.
Bing Crosby recorded Where the Blue of the Night three more times: In July 1940 with The Paradise Island Trio; in July 1945 with John Scott Trotter and his Orchestra; and finally in April 1954 with Buddy Cole and his Trio.
Where the Blue of the Night can be heard in the soundtracks of these notable feature films and documentaries:
The Big Broadcast (1932), a musical starring Stuart Erwin, Leila Hyams, and Bing Crosby. Performers appearing as themselves include George Burns, Gracie Allen, Kate Smith, Arthur Tracy (The Street Singer), Cab Calloway, and The Mills Brothers. 
Twenty Million Sweethearts (1934), a musical comedy with Dick Powell, Pat O'Brien, Ginger Rogers, and The Mills Brothers.
The Big Idea (1934), a Three Stooges musical comedy short with Larry Fine, Moe Howard, Curly Howard, and Ted Healy.
365 Nights in Hollywood (1934), starring James Dunn and Alice Faye, with Lynn Bari as a showgirl.
Strike Me Pink (1936), a musical comedy with Eddie Cantor, Ethel Merman, Sally Eilers, William Frawley, Brian Donlevy, and Jack La Rue.
They Got Me Covered (1943), a musical romantic comedy with Bob Hope and Dorothy Lamour. Supporting actors include Eduardo Ciannelli, Donald MacBride, and Otto Preminger.
Down Memory Lane (1949), a documentary with appearances by Steve Allen, Bing Crosby, W.C. Fields, Franklin Pangborn, and silent film legends Ben Turpin, Mack Sennett, Mabel Normand, and others.
Brother Can You Spare a Dime (1975), a documentary about the Great Depression. Footage and cameos by the Andrews Sisters, Bing Crosby, Fred Astaire, Wallace Beery, Constance Bennett, Brooks Benedict, Irving Berlin, Joan Blondell, Fanny Brice, Humphrey Bogart, Joe E. Brown, James Cagney, Cab Calloway, Charlie Chaplin, Gary Cooper, Joan Crawford, and many others.
Three Film Star Weddings
A trio of weddings took place in November 1931 involving Hollywood movie stars and in one instance, European royalty.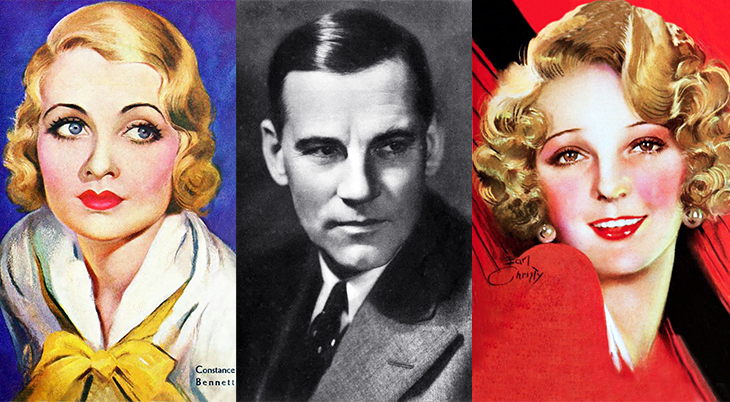 (Constance Bennett 1931 | Walter Huston 1932: Hurrell | Dorothy Mackaill 1931: Earl Christy) 
British-American film actress Dorothy Mackaill eloped to Yuma, Arizona to marry Hawaiian businessman-singer Neil Albert Miller on November 4, 1931.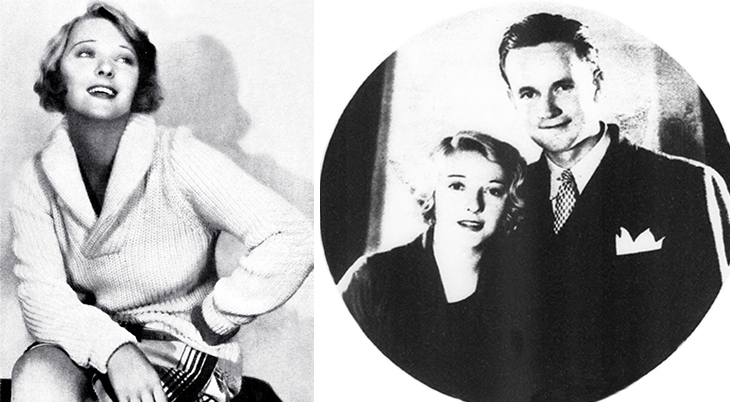 (Dorothy Mackaill 1931: Lisa | Dorothy Mackaill & Neil Miller 1931: Associated Press Photo)
Mackaill had several broken engagements leading up to her November wedding to Miller. In April 1931 her The Reckless Hour co-star and rumored fiance, Irish actor Walter Byron, saw her off when she set sail from Los Angeles for Honolulu, Hawaii.
Once in Honolulu, Mackaill met Neil Miller. A whirlwind romance and engagement were followed by a hurried application for a wedding license, and plans to marry in front of a judge the next day. Her 1928 divorce from previous husband Lothar Mendes caused a snafu with obtaining the license, but that obstacle had been overcome when Mackaill abruptly changed her mind and called off the wedding.
The press then linked Mackaill with film producer John McCormick, who had announced his retirement from film-making and gone to Hawaii while awaiting the finalization of his divorce from his first wife, actress Colleen Moore. 
Mackaill sailed back to Los Angeles alone in early May 1931, and John McCormick's married socialite Janet Gattis about a week later. When Neil Miller later made his way to Los Angeles, his romance with Dorothy resumed, culminating in their November 1931 wedding. They were divorced in February 1934 on Valentine's Day.
Dorothy Mackaill's last movie was 1937's Bulldog Drummond at Bay. She married Harold Patterson in 1947, but that marriage – her last – also ended in divorce in 1948. She moved to Hawaii and spent the last 35 years of her life there. Dorothy Mackaill died in her Royal Hawaiian Hotel room on August 12, 1990 of liver failure at the age of 87.
Walter Huston & Ninetta Sunderland Wedding
Canadian movie actor Walter Huston married stage actress Ninetta (aka Nan) Sunderland on November 9, 1931. This was the first marriage for the bride, and the third for the groom; it lasted  until Walter Huston's death in April 1950.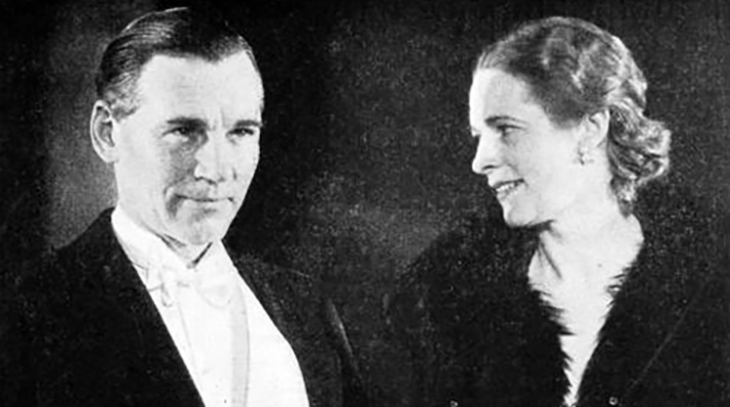 (Walter Huston & Ninetta "Nan" Sunderland 1931 Photo: Wide World)
Walter Huston had first been married and divorced from writer Rhea Gore (m. 1904 – div. 1912), with whom he had his only child, son John Huston (born August 5, 1906). His second marriage was in 1915, to actress Bayonne Whipple, 18 years his senior. Bayonne and Walter Huston performed as a vaudeville act until Huston began to achieve success on Broadway in 1924.
Huston and younger actress Sunderland had co-starred in the Ring Lardner & George M. Cohan Broadway play Elmer the Great, from September 1928 – October 1928. The next year they co-starred in the George Abbott-directed Paramount Pictures movie short The Carnival Man (1929). Filmed at the Kaufman Astoria Studios in Queens, it was the film debut for both actors, who until then had both been known solely for their stage performances.
"The mystery of Walter Huston…is solved. Divorced by his wife, Bayonne Whipple Huston, in Reno [2 weeks earlier, in October 1931], he's remarrying. The new Mrs. Huston will be Ninetta Eugenia Sunderland, an actress. She's 33, fourteen years younger than Walter." – Hot News, Modern Screen, November 1931
Nan Sunderland made only two more movies: Sweepings (1933) stars Lionel Barrymore, Eric Linden, William Gargan, Gloria Stuart, Alan Dinehart, Gregory Ratoff, Lucien Littlefield, and Helen Mack; and Unconquered (1947), featuring Gary Cooper, Paulette Goddard, Howard Da Silva, Cecil Kellaway, Boris Karloff, Ward Bond, Henry Wilcoxon, C. Aubrey Smith, Virginia Grey, and Katherine DeMille.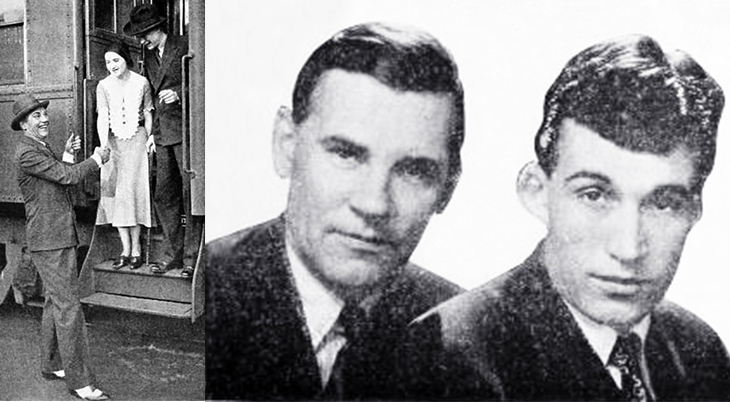 (Walter Huston, Ninetta Sunderland, and John Huston 1931 & 1932)
Walter Huston's film career had taken off in 1929, and he enjoyed a stellar film career for another 20 years. He won a Best Supporting Actor Academy Award for his role in The Treasure of the Sierra Madre (1948), directed and written by his son John Huston, and co-starring Humphrey Bogart, Tim Holt, and Bruce Bennett.
"Nan Sunderland, actress and widow of Walter Huston, who appeared opposite him in "Elmer the Great" and "Dodsworth" and who played Desdemona to his Othello in 1937, died yesterday at her home, 60 Sutton Place South. Miss Sunderland made her Broadway debut in "The Baby Cyclone" by George M. Cohan in 1927. She had also appeared in the motion picture "Sweepings". After her husband's death in 1950, Miss Sunderland was inactive in the theater but recorded textbooks for blind college students….surviving are a sister, Mrs. Pearl Schroeder, and a stepson, John Huston, the writer and motion-picture director." –  Nan Sunderland, Actress, Is Dead – The New York Times, November 24, 1973
Constance Bennett Marries Marquis Henri de la Falaise
Movie star Constance Bennett married Marquis Henri de la Falaise on November 22, 1931, just a few days after his divorce from Gloria Swanson was finalized. Swanson also promptly re-married Michael Farmer, whom she had first wed in August 1931 before her divorce to Henri was finalized, inadvertently committing bigamy.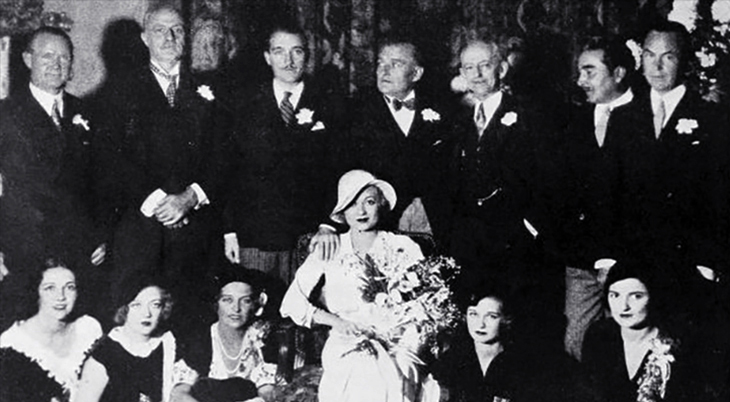 (Constance Bennett and Marquis Henri de Falaise Wedding Party, November 1931 – Clockwise from top left: Neil McCarthy, Henri Didot, Henri de la Falaise, Richard Bennett, Judge Lewis R. Works, George Fitzmaurice, Gene Markey, Barbara Bennett Downey, Joan Bennett, Constance Bennett, Eileen Percy, Marion Davies, Diana Kane / Mrs. Fitzmaurice)
"Screen Actress and Marquis Wed – Hollywood, Cal., Nov. 23 (U.P.) – Constance Bennett, the highest paid star of the motion pictures, and Henri Marquis de la Falaise de la Coudraye were man and wife today after a double ring wedding ceremony yesterday which climaxed a romance of more than a year. The ceremony was performed at the home of George Fitzmaurice, director, in Beverly Hills, with only the most intimate friends of the couple present. Henri Didot, french consul, was best man, and Eileen Percy, maid of honor. Neil McCarthy, Richard Bennett, father of the bride; Joan Bennett and Barbara Bennett Downey, her sisters; Gene Markey, Mr. and Mrs. George Fitzmaurice, Marion Davies and William Randolph Hearst were other members of the wedding party." – Imperial Valley Press, November 23, 1931
In October 1940, Constance Bennett flew to Reno to establish residency for six weeks, in order to divorce Henri. Henri de la Falaise had long since retreated to France, and when Constance did file suit for divorce in mid-November 1940, she charged that he had deserted her in 1937.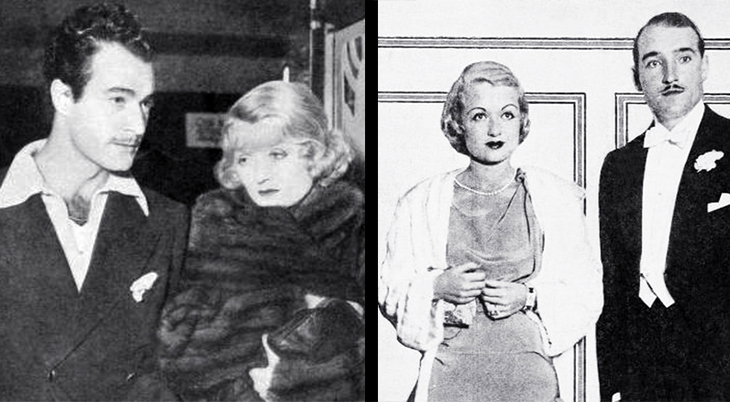 (Bennett & Gilbert Roland: 1934 Photoplay | Constance Bennett & Marquis Henri de la Falaise 1932 )
Meanwhile, Constance Bennett had moved on romantically with Gilbert Roland, her After Tonight (1933) & Our Betters (1933) co-star. They were married in 1941 and divorced in 1946. Bennett married USAF Colonel John Theron Coulter in 1947. She was 60 years old when she died of a cerebral hemorrhage in July 1965.
Additional Photo Credit
*Landscape photo for Bing Crosby photo blend – Joshua Woroniec via Unsplash
*Images are believed to be in the public domain, used by permission, or Creative Commons licensed & sourced via Wikimedia Commons, Vimeo, YouTube, or Flickr, unless otherwise noted*