When Valentine's Day Traditions Began
Valentine's Day has been celebrated on February 14th since 496 AD! I've (wrongly) always assumed it was either a relatively new, non-secular "holiday" – or an older holiday deriving from the ancient Roman god Cupid.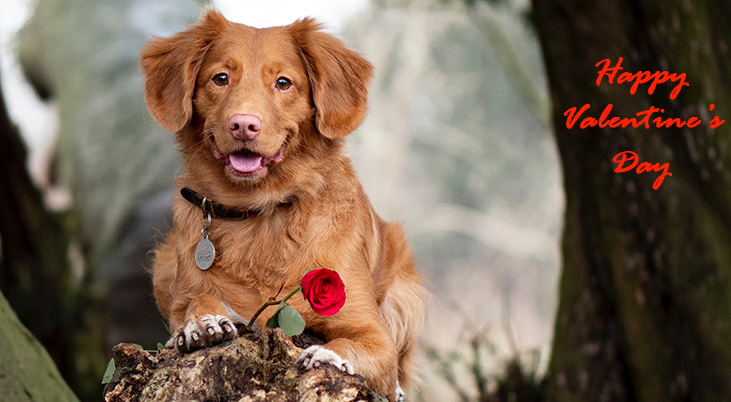 (Dog & Red Rose Source Photo: Jamie Street via Unsplash) 
Feast of Saint Valentine
The date of February 14th for the Feast of Saint Valentine was fixed by Pope Gelasius I, to honour Saint Valentine of Rome, an early Christian bishop who was martyred for his beliefs. He was executed by the Romans – who worshiped their own gods, of whom Cupid (the counterpart of the Greek god Eros) was one – on February 14, 269. To make matters more confusing, Valentine or Valentinius was a fairly common name in ancient Roman times, and according to Wikipedia there are at least 12 Catholic saints / martyrs named Valentine, who all died on different days (and years). 
For 1000 years after, Valentine's Day continued to be celebrated primarily as a religious / feast day. Localized legends and traditions gradually evolved around it in different countries.
Valentines Day is for the Birds
It wasn't until the middle ages and the advent of the notion of romantic love spurred by the poetry of Geoffrey Chaucer (1340s-1400 AD), that Valentine's Day came to be associated with romance. Chaucer and other poets from the middle ages spoke of birds mating on Valentine's Day. This is likely where the popular image of doves on Valentine's Day cards in later centuries came to pass.
This celebration of Valentine's Day as a day of feasting is the origin for the modern tradition of either giving chocolates, cooking a special meal, and/or going out for dinner at a restaurant with your preferred romantic partner.
Written Valentine's Day Cards & Verses
The first written valentine could be said to have originated in 1415, when Charles, Duke of Orléans and a prolific medieval Renaissance French poet, wrote in a rondeau to his wife:
"Je suis desja d'amour tanné
Ma tres doulce Valentinée"
Maybe their love was on the rocks, because it doesn't sound too romantic according to a Google translation: 
"I'm already tired of love
My very painful Valentine"
Charles could have been getting tired of being imprisoned in the Tower of London at the time, or perhaps centuries old poetry requires a more expert translation.
Poets and playwrights (William Shakespeare; John Donne) in the 1600's began referencing Saint Valentine's Day in a romantic context.
The nursery rhyme Roses Are Red dates back to 1784. Joseph Ritson's collection of nursery rhymes Gammer Gurton's Garland: Or the Nursery Parnassus, includes this verse:
"The rose is red, the violet's blue
The honey's sweet, and so are you.
Thou art my love and I am thine;
I drew thee to my Valentine…"
Singer Bobby Vinton's ultra-sentimental hit song Roses Are Red (My Love) is based on this poem and is perfect for romantic occasions.
By the mid-1700s, English couples would give each other flowers, candies, and exchanging hand-made Valentine's cards.
Modern-day commercialism crept in during the early 1800s. Paper Valentines were beginning to be produced by printers (some with lace & ribbons), and The Young Man's Valentine Writer (1797) had been published, with romantic verse ideas for rhyme-challenged lovers. The pace and popularity of exchanging mass-produced Valentines increased dramatically during the 19th century. 
Heart-shaped boxes of chocolates were first produced by Cadbury in 1868 in time for Valentine's Day giving. 
Modern Valentine's Day Traditions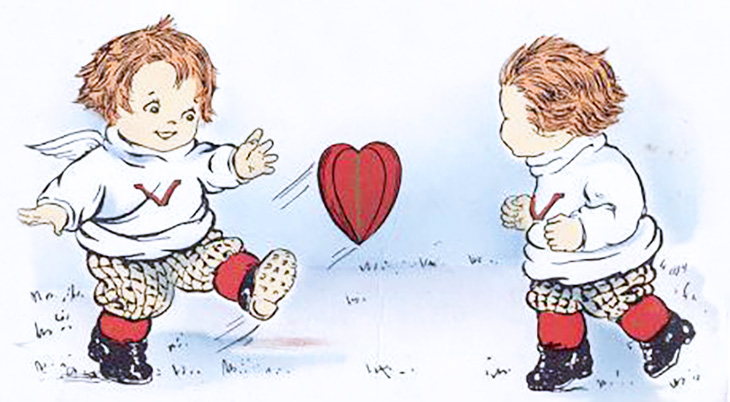 (A Valentine From 1900)
The notion of Valentine's Day as a celebration of romantic love expanded to include friends and family. As the cost of printing decreased and mass-production increased, it became more economically feasible for schoolchildren to give Valentines to each other (and their teachers), something that was common practice by the 1950s. 
Now in the 21st century, the old favourite traditions of sharing a meal, giving flowers and/or candies and chocolates, are still popular. Decorations on Valentines often include doves, hearts, or even the bow-and-arrow carrying Cupid/Eros, the ancient Roman/Greek gods that symbolized affection, attraction, and erotic love.
With the explosion of the digital age, easy internet access and the ability to send and receive digital Valentines or other greeting cards, we have new ways to say
Be My Valentine
    and
Happy Valentine's Day!
If you're in the mood to curl up on Valentine's Day and watch some movie & reminisce about some favourite films, or are looking for suggestions about what to do / how to celebrate / what to give, you may enjoy these articles:
Best Romance Films With Older Actors
Surviving Valentine's Day: Tips for 50+
Want to share a vintage Valentine's Day greeting card? Check out
Vintage Silent Film Stars Valentine's Day Cards
Vintage 1930s-1940s Film Star Valentines
1950s-1960s Vintage Celebrity Valentines
*Public domain and/or creative commons licensed photographs in this article were modified by A. Hamilton. This article is for general informational purposes only."