The Original Mr. Lonely, Bobby Vinton
Fresh-faced Bobby Vinton (nee Stan Robert Vinton), the Polish Prince of love songs such as Blue Velvet, Roses are Red (My Love), and Blue on Blue, was an unlikely pop star in the 1960s and early 1970s.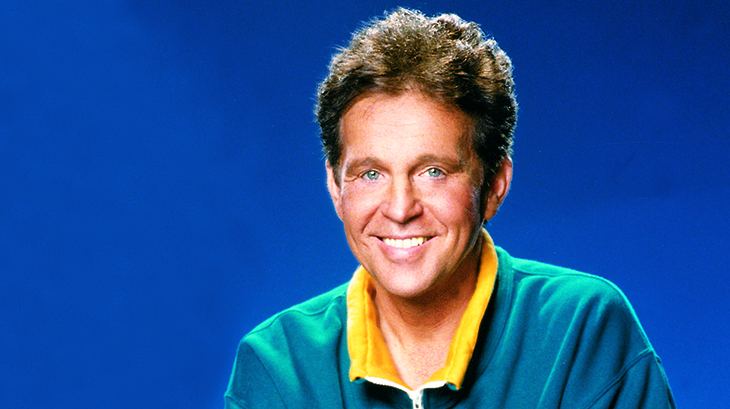 (Bobby Vinton Photo: BobbyVinton.Com)
Mom loved polka music and often played his songs. Thanks to my eclectic musical tastes and being a nerdy day-dreaming pre-teen at the time, I became a fan of his ultra-sentimental hits.
Roses Are Red For The Original Mr. Lonely
Stanley Robert Vinton was born April 16, 1935 in Canonsburg, Pennsylvania, to local bandleader Stan Vinton and his wife Dorothy.
The younger Vinton began performing in clubs around Pittsburgh at age 16 with the first band he formed. It was his father Stan who suggested use his middle name Robert "Bobby" to eliminate confusion between himself and his father.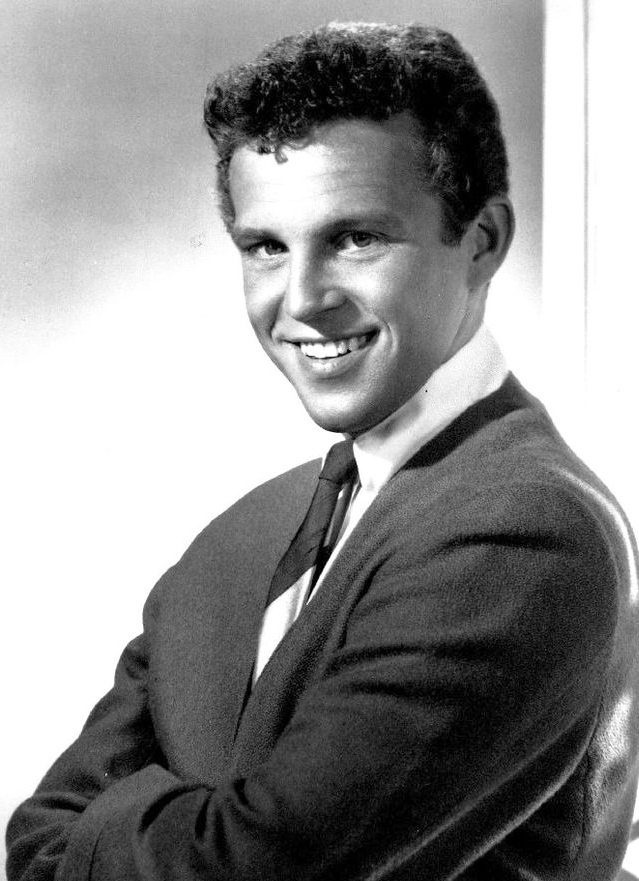 (Bobby Vinton 1964 Photo: William Morris Agency)
Bobby Vinton graduated from Duquesne University armed with a degree in musical composition and proficiency in piano, clarinet, saxaphone, trumpet, drums and oboe.
In the late 1950's he served as chaplain's assistant for two years in the US Army. His website biography confirms this Army service was his inspiration to write Mr. Lonely (1964).
Vinton told Cousin Brucie on his satellite radio show in 2018, that his sergeant used to tease him about one day being a star, and writing a song about a lonely soldier. Inspired to "show him", Vinton went back to the barracks and began writing what would turn in Mr. Lonely.
Bobby Vinton signed to Epic Records as a bandleader in 1960. His first couple of albums and singles went nowhere, but in 1962 the album and single  Roses Are Red changed all of that, and thrust him into the spotlight.
The album made it to #5, and the hit single Roses Are Red (My Love) was #1 on the Billboard Hot 100 for 4 weeks. Vinton promoted Roses Are Red (My Love) himself to local DJ's, by having a woman deliver a copy of the record and a dozen roses to them.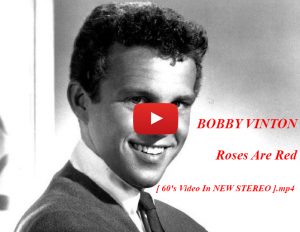 Vinton's performance of Roses Are Red can be heard in the 1990 mob film Goodfellas (1990), starring Robert De Niro, Ray Liotta, Joe Pesci, and Lorraine Bracco. 
1962 was a good year for Bobby Vinton – not only did it kick off a string of hit singles, he married Dorothy Dobbins ("Dolly") in December of that year. In a 2012 interview with the Catholic Herald, Vinton recounted meeting Dorothy in the first grade of Polish school, and fainting 3 times during their wedding ceremony.
Blue Velvet Phenomenon
Bobby Vinton followed up his Roses Are Red success the following year with Blue Velvet (1963), which also hit #1 on the charts.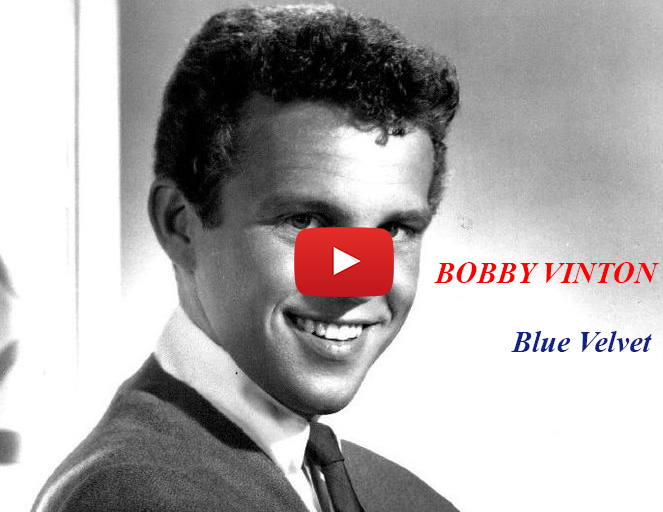 In 1986 the David Lynch movie Blue Velvet was named after the song, and the film features Bobby Vinton's performance of the hit single. Vinton's tune builds the quirky, haunting atmosphere of the move. The film stars Dennis Hopper, Kyle MacLachlan, Isabella Rossellini, Laura Dern, Hope Lange, and Dean Stockwell. Dennis Hopper later guest-starred on Saturday Night Live in 1987, and performed Blue Velvet with Roy Orbison..
In 1990 Bobby Vinton's Blue Velvet was reissued, featured in a Nivea commercial, and hit the top #5 lists again in the UK, Ireland, and Australia.
Vinton's performance of Blue Velvet can be heard on TV episodes (Cold Case, 2008) and in other films – Reaching for the Moon (2013), and Heaven Help Us (1985), starring Donald Sutherland, Andrew McCarthy, and John Heard.
Mr. Lonely The Hit Song
Mr. Lonely became a #1 US Billboard hit single for Bobby Vinton when it was finally released in 1964, along with his re-recording of There! I've Said It Again. This last song was only knocked out by the Beatles invasion and the song I Want To Hold Your Hand.
On the strength of his hit singles, Vinton appeared on the popular live music series Shindig! and American Bandstand in 1964, and sang his hits Roses Are Red and Mr. Lonely.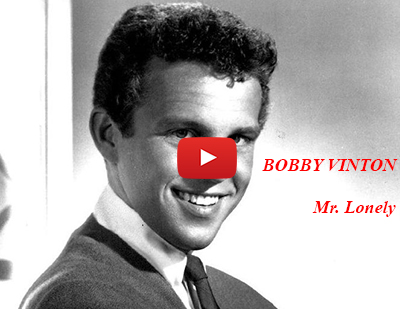 Years later, in 2018 when asked to pick from his extensive library of songs which one would he pick, Vinton immediately said, Mr. Lonely:
"A lot of guys relate to it, it's still a song that relates to a lot of G.I.'s even today…I think I recorded that in one take, in three minutes…Just to show you; I had nothing going for me. When I walked into that studio, I recorded Roses are Red and Mr. Lonely back-to-back…I had no idea they would be Number One records, and all these years later, we're still talkin' about it."
The nostalgic 1950s era feature film More American Graffiti (1979), starring Ron Howard, Paul Le Mat, Charles Martin Smith, Mackenzie Phillips, Cindy Williams, Candy Clark, and Harrison Ford, features a performance of Mr. Lonely sung by Bobby Vinton. Ditto for the animated movie Flushed Away (2006), with actors Hugh Jackman, Kate Winslet, Ian McKellen, Jean Reno, Bill Nighy, and Andy Serkis voicing characters.
Mr. Lonely can also be heard on the soundtracks of television episodes (The Fresh Prince of Bel-Air) and other movies (Mr. Lonely, 2007; Kajillionaire, 2020; Scoob!, 2020). 
More 1960s Song and Film Successes
All told, Bobby Vinton had a total of 16 top ten hits during the 1960's, despite the continued success of the British Invasion on the North American charts.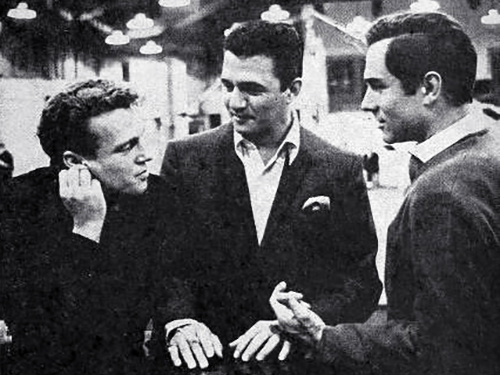 (Bobby Vinton, Buddy Greco & George Maharis 1963 Photo: TV Radio Mirror)
He also began an acting career, starring in the musical comedy beach flick Surf Party (1964). His romantic interests in the movie include actress Patricia Morrow (best known today for her long run as a Peyton Place regular) and singer Jackie DeShannon. 
In this clip from his 1964 American Bandstand appearances, Dick Clark interviewed the singer.
The biographical feature film Harlow (1965) stars Carroll Baker as the ill-fated actress Jean Harlow. Bobby Vinton's performance of Lonely Girl is the theme song for this star-studded movie, which also features actors Red Buttons, Raf Vallone, Angela Lansbury, Peter Lawford, Mike Connors, Martin Balsam, and Leslie Nielsen.
That same year, Vinton guest-starred on The Patty Duke Show.
Although most of his hit songs were remakes – Long Lonely Nights (1965), Please Love Me Forever (1967), and I Love How You Love Me (1968) – Vinton also had success with songs he wrote himself such as L-O-N-E-L-Y (1964), and Coming Home Soldier (1966).
Movies and Melody of Love in the 1970s
His hit singles began to slow down in the 1970's, but Bobby Vinton still appeared on the Top 40 charts consistently. Between 1970-1980, he released 13 studio albums.
Polkas and songs sung wholly or partially in Polish were featured on many of them albums, such as the single My Melody of Love (co-written and released in 1974).
My Melody of Love was Vinton's last song to break into the Top Ten. It became the theme song for his 1975-1978 variety show The Bobby Vinton Show, which featured Arte Johnson (Rowan & Martin's Laugh-In) as a regular cast-member
Baby boomers may also remember seeing Bobby Vinton on screen in two major feature films of the 1970s. He co-starred alongside John Wayne (they became friends) in the westerns Big Jake (1971) and The Train Robbers (1973).
In Big Jake, Bobby Vinton is Jeff, one of the sons of Jacob McCandles (John Wayne). His on-screen brothers are played by Patrick Wayne (John's son), and Christopher Mitchum (son of Robert Mitchum); Maureen O'Hara appears as their mother. When the family ranch is raided, Jeff kills some gang members but is badly wounded, and his nephew Jacob McCandles Jr. (Ethan Wayne, John's youngest son) is kidnapped. Richard Boone is the "heavy" as they used to call movie bad guys, and Bruce Cabot is an Indian scout.  Also in this movie are Glenn Corbett, John Doucette, Jim Davis, Harry Carey Jr., John Agar, and Gregg Palmer.
The Train Robbers stars John Wayne as a man bent on retrieving some gold that widowed Mrs. Lowe (Ann-Margret) says her husband stole during a train robbery. She wants to tell the railroad where to find it, but Wayne tells her to collect the gold and get the reward money for turning it in. The gang assembled for this retrieval mission includes characters played by actors Rod Taylor, Ben Johnson, Christopher George, and Bobby Vinton. Ricardo Montalban plays a Pinkerton detective on their trail.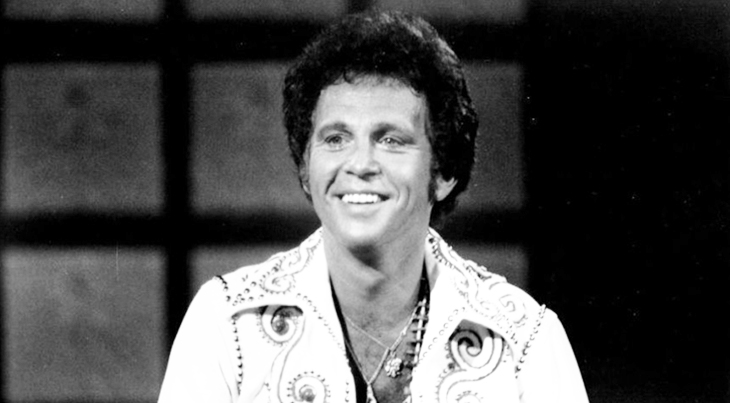 (Bobby Vinton, Miss USA Pageant Host 1977 Photo: CBS Television)
Despite some film and television successes during the 1970s, it has always been music that propelled Bobby Vinton's life and career, albeit aided by some songs and performances that found their way into film soundtracks:
Who Says I Can't Ride a Rainbow? (1971), a family drama starring Jack Klugman, with Morgan Freeman. Vinton performs the theme song/title track, Who Says I Can't Ride a Rainbow?
The Duchess and the Dirtwater Fox (1976), a comedy with Goldie Hawn, George Segal, Conrad Janis, and Richard Farnsworth. Bobby Vinton can be heard singing Lemon Drops, Lollipops and Sunbeams.
Branson Beckons
During the 1980s and 1990s Bobby Vinton continued to release albums and singles, but never regained his earlier chart-topping heights.
He co-starred in the fun made-for-TV comedy movie The Gossip Columnist (1980) with Robert Vaughn, Dick Sargent, Kim Cattrall, Joe Penny, Conrad Janis, Lyle Waggoner, and former classic movie star Sylvia Sidney. The film also features a number of celebrity cameos – Steve Allen, Jim Backus, Allen Ludden, Rip Taylor, Betty White, and Jayne Meadows. The Gossip Columnist was the last movie role for Vinton, although he did guest-star on a couple of TV series during the 1980s (Benson; Boone).
Despite not getting much screen time himself, Bobby Vinton could be heard singing in the soundtrack of the horror comedy An American Werewolf in London (1981). The movie stars David Naughton, Jenny Agutter, Griffin Dunne, and Joe Belcher, and Vinton sings Blue Moon.
The year after releasing his last album, Vinton opened The Bobby Vinton Blue Velvet Theater in Branson, MO in 1993. He performed there – often with his daughters, and backed by the Glenn Miller Orchestra – until selling the theater in 2002. 
More recently, fans of the singer could hear his voice in TV series episodes (P.S. I Love You – Mad Men, 2007; I Love How You Love Me – Gotham, 2015; Sealed With a Kiss – Snowpearcer, 2020) and films (Blue on Blue – Trailer Park Boys: Countdown to Liquor Day, 2009).
Vinton was still giving occasional live performances and his daughters still performed with him, in 2013. When asked in an interview by Broadway World what he considered to be his biggest accomplishment in his career so far, Vinton commented on his continued success at an older age: 
"That I'm still alive and doing this. That's the accomplishment. I mean, so many of my friends aren't with me anymore…to still be able to do it and feel good about it and have energy – and I saved my voice. "
Below, singer Lana Del Rey's 2012 cover version of Bobby Vinton's Blue Velvet:
A severe attack of shingles in 2015 resulted in Vinton finally retiring completely from live performances and recording, at the age of 80. Three years later, he said that the shingles had never gone away, and encouraged people to get vaccinated.
Vinton said he's "delighted to be alive" in 2018, and reflected on his natural optimism:
"I think of the positive side of life. My glass is not half empty, it's half full….I'm looking out at the Gulf of Mexico, my home is right on the beach….I had my run, I had my share of hits. I enjoyed every minute of it, but time changes, what could I say, the music scene today is different….My whole life has been a good memory."
Dorothy and Bobby Vinton had five children. More than 58 years after they got married, they live happily retired in Florida (as of the publishing of this article in 2021).
Note: This article was first published in 2015 with the title Celebrating Seniors – Bobby Vinton is 80. It has been updated with new & additional content.
*Images are believed to be in the public domain or Creative Commons licensed & sourced via Wikimedia Commons, Vimeo, YouTube, or Flickr, unless otherwise noted*