Happy Groundhog Day
Which groundhog do you trust to predict the arrival of spring?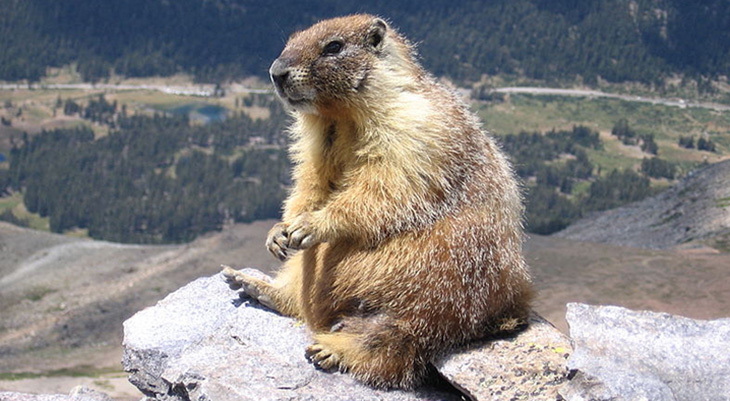 (Groundhog / Marmot Photo: Inklein at the English language Wikipedia)
Whether you celebrate Groundhog Day on February 2nd and/or believe in the predictions of six more weeks of winter or an early spring or not, this cute little guy will bring a smile to your face. 
There are numerous Groundhog Day celebrations in communities throughout America and Canada.
In the United States, Punxsutawney Phil reigns supreme on Groundhog day in Punxsutawney, Pennsylvania, as memorialized in the Bill Murray & Andie McDowall comedy film Groundhog Day (1993). In this clip from Groundhog Day, Phil Conners is finally learning to make the best out of every encounter.
A distant second in fame is pretender to the throne Staten Island Chuck, in New York City. 
In Canada, Wiarton Willie is the Ontario groundhog prognosticator from Wiarton, Ontario, while on the east coast, Shubenacadie Sam fills the bill in Nova Scotia. 
You may have seen the popular meme going around on social media of a groundhog standing and screaming…bad news, the vocals are not authentic, although the image is quite striking. Grounds do not scream although they can emit a loud squeaking noise.
Different species of the same family as groundhogs, marmots are found in Asia and Europe. It seems like marmots are pretty popular in France – enjoy these homage animated film clips of Rocky, Titanic, and other famous films, starring marmots.
Apparently, French groundhogs love music and are also quite musically inclined, as per this marmot video….
Not to mention being gifted athletes in all types of sports and track and field.
Have a great Groundhog Day wherever you may be on February 2nd.