Vintage Happy Independence Day Cards
Classic American movie stars and Hollywood celebrities inspired* these vintage Happy 4th of July Independence Day greeting cards to share with friends & family. 
Judy Garland
Judy Garland on a backdrop of red, white and blue stripes, as photographed by Paul Hesse for the 1942 July cover of Photoplay.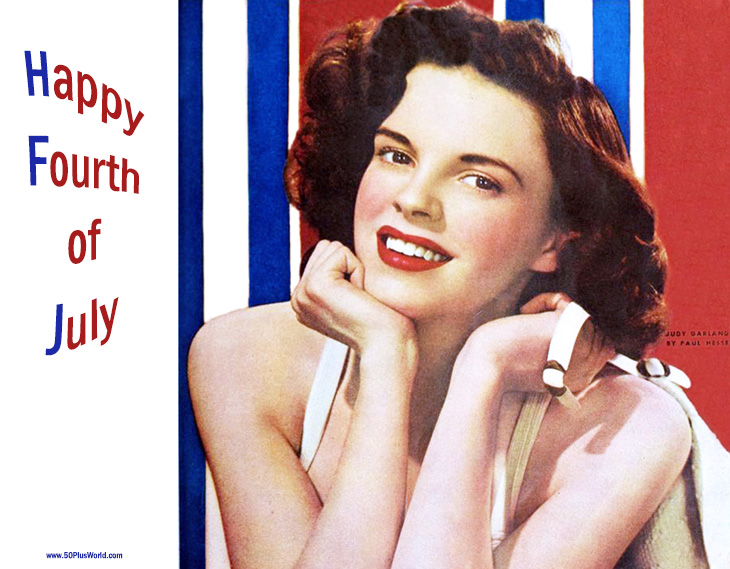 In 1942 Judy Garland (born June 10, 1922) was just 20 years old, and already married to 1st husband David Rose. She'd been acting in classic films since 1929 (she would have been 7!). Her big movie of 1942 was For Me and My Gal, a lavish movie musical co-starring Gene Kelly and George Murphy.
Anita Page
Anita Page is getting ready to celebrate the 4th of July holiday in this colorized photo, and stars and stripes costume. Her little dog is also in festive holiday wear. The original black & white image was in Broadway and Hollywood "Movies" in July 1932.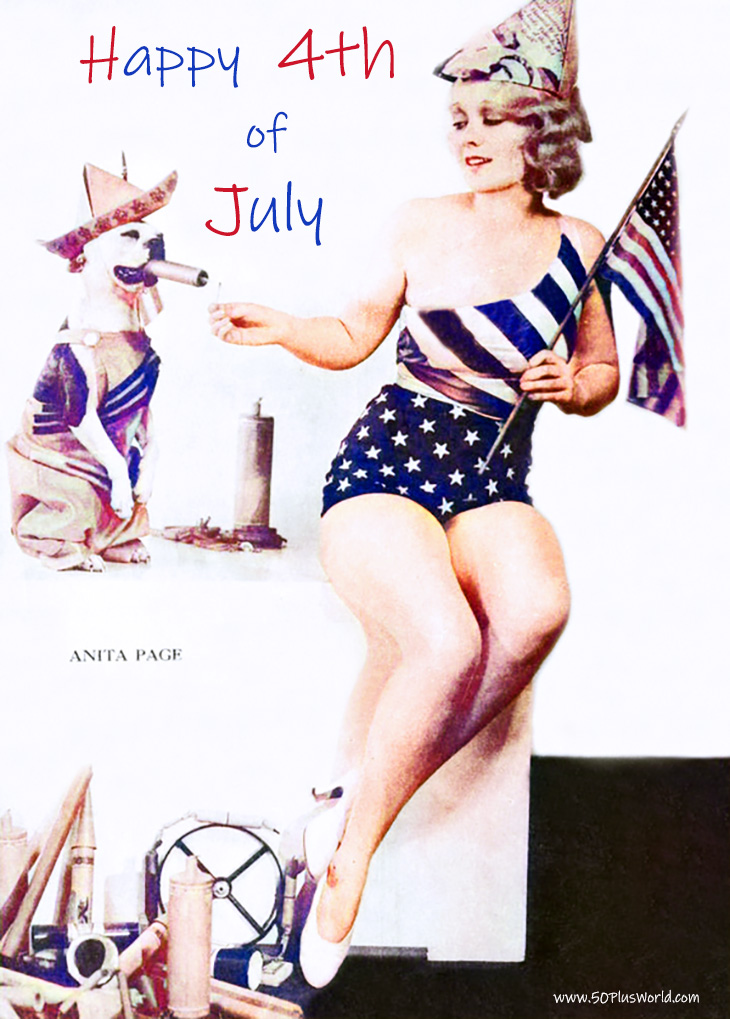 Anita Page (born August 4, 1910) got her start in the era of silent films and somehow found her way into virtually every movie studio photo opp of the 1920s and 1930s. Page appeared in 4 films in 1932 – Are You Listening? (a radio murder-mystery with William Haines & Madge Evans); Night Court (a film-noir co-starring Phillips Holmes and Walter Huston); Skyscraper Souls (a drama starring Warren William, Maureen O'Sullivan, Gregory Ratoff, and others); and Prosperity (a comedy starring Marie Dressler and Polly Moran).
Veronica Lake
Actress Veronica Lake (nee Constance Frances Marie Ockelman when she was born November 14, 1922) graced the cover of Screenland in July 1942, with the stars and stripes American flag prominently displayed.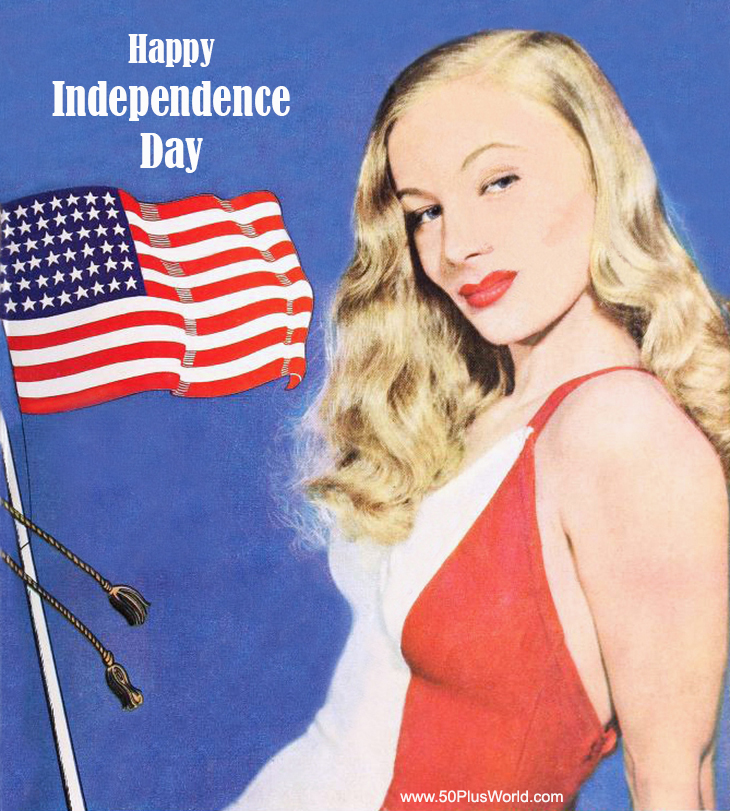 Most famous for her film-noir movies with co-star Alan Ladd, the diminutive Veronica Lake was a top box office star for most of the 1940s. Women rushed to copy her iconic peek-a-boo hairstyle. Three of Veronica Lake's four 1942 films also had Alan Ladd in the cast – The Glass Key (based on author Dashiell Hammett's best-selling novel); This Gun for Hire;  and Star Spangled Rhythm. In I Married a Witch, Lake's co-stars were Fredric March, Robert Benchley, and Susan Hayward. 
Dorothy Lamour
Dorothy Lamour's photo by Tom Kelly for the July 1943 cover of Movieland. had an American flag background with the stars and stripes prominently visible.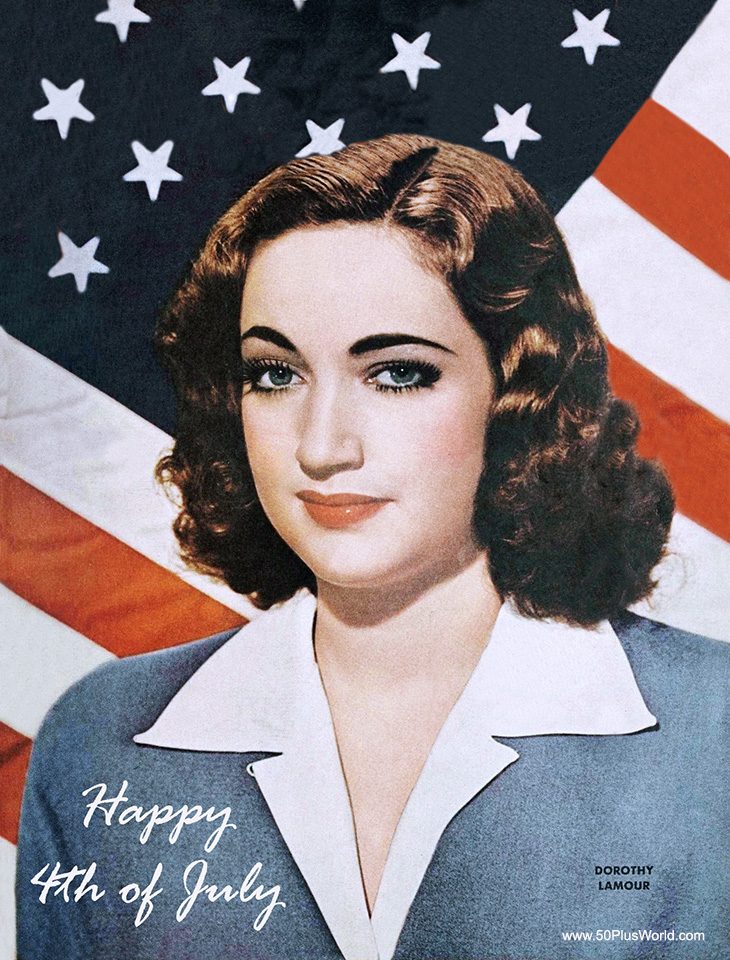 Dorothy Lamour (nee Mary Leta Dorothy Slaton when she was born December 10, 1914), married her second (and last) husband, businessman William Ross Howard III in 1943. She also starred in three movies – the comedy They Got Me Covered, with Bob Hope; Dixie, a musical comedy with Bing Crosby and Billy de Wolfe; and the comedy Riding High with Dick Powell.
Jeanne Crain
Jeanne Crain with infant son Michael – and a theme of red, white, and blue – was on the cover of July 1949 Modern Screen, courtesy of photographer Nickolas Muray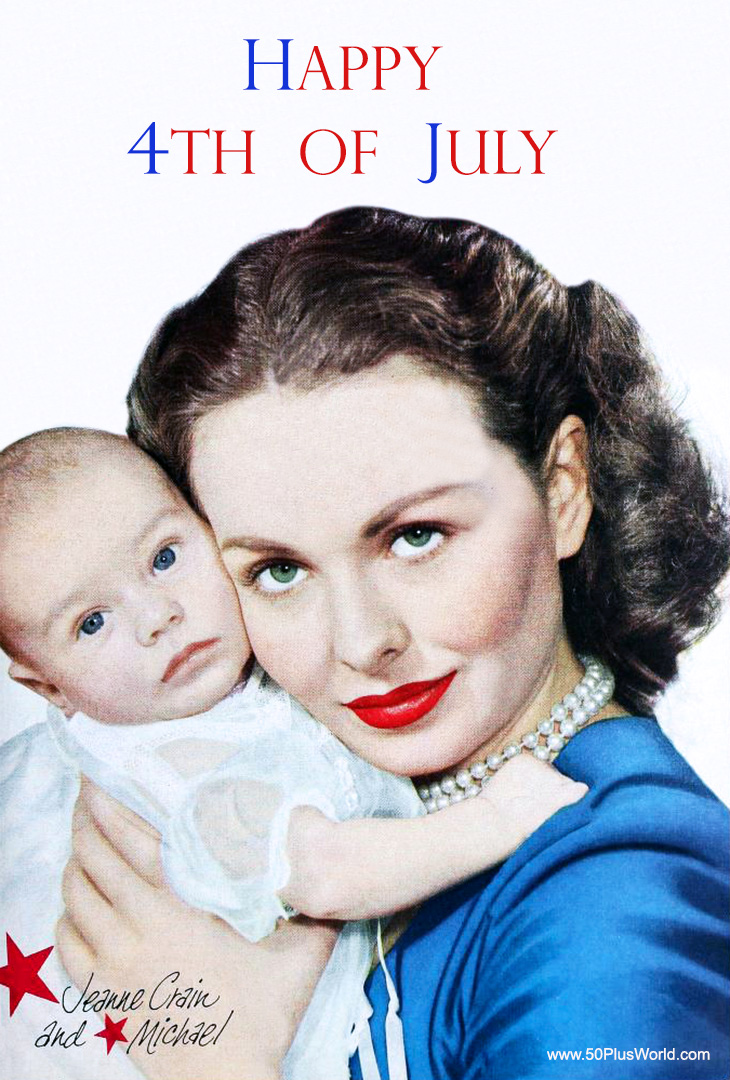 Is there anything more American than a beautiful movie star mother and baby? Like Anita Page, beautiful Jeanne Crain (born May 25, 1925) was a popular model for magazine covers. She can also be found on our Vintage Classic Film Stars Thanksgiving Cards. Crain married Paul Brinkman in 1945 and the couple had seven children. They remained married for the rest of their lives, although they lived separately (as friendly neighbours) towards the end (her death in 2003). 
Despite motherhood, Jeanne Crain starred in three movies in 1949 – the drama A Letter to Three Wives with Linda Darnell, Ann Sothern, Kirk Douglas, Paul Douglas, and Jeffrey Lynn; The Fan, a romantic comedy with Madeleine Carroll, George Sanders, and Richard Greene; and Pinky, a drama co-starring Ethel Barrymore, Ethel Waters, and William Lundigan.
Betty Grable
Betty Grable's July 1952 Photoplay magazine cover image is courtesy of celebrity photographer Tom Engstead. Red & white stars pop on a blue background.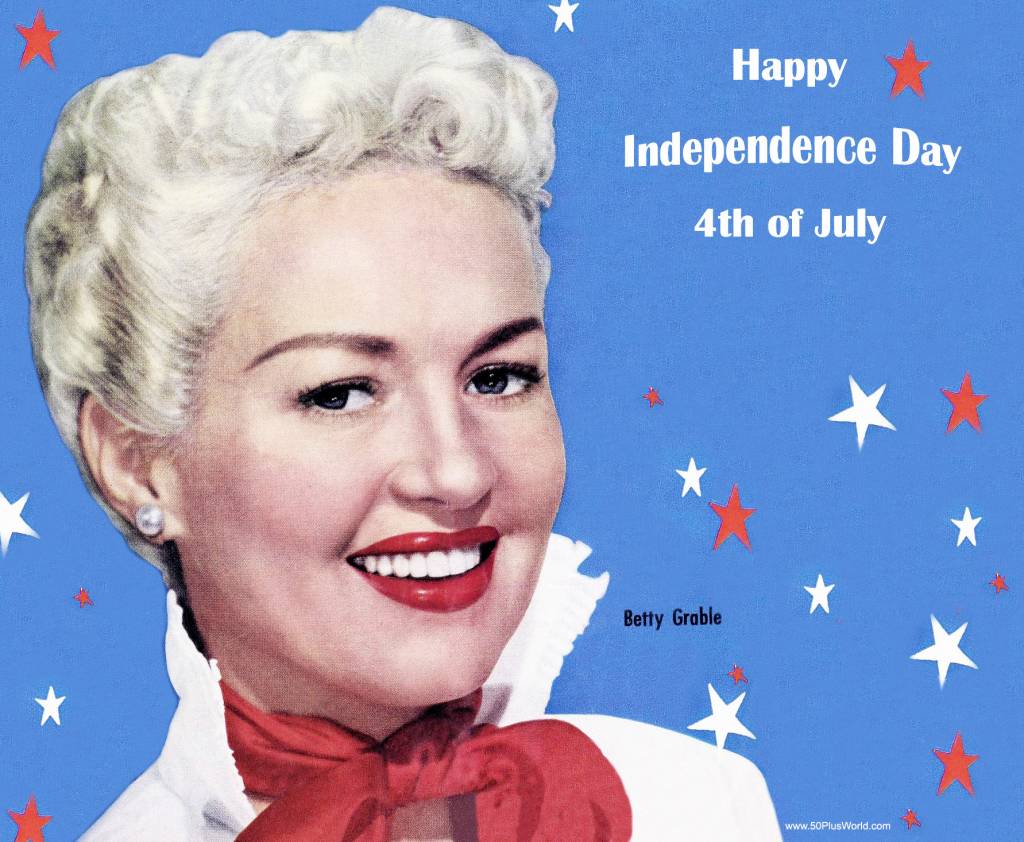 Popular WWII pin-up model, dancer, singer & actress Betty Grable was born December 18, 1916. When this photo was taken in 1952, Grable had been married to 2nd husband Harry James (the first was Jackie Coogan) for 9 years, and they had two daughters. Grable Had no movies released in 1952, but she didn't really need the work – she was a top box office star for most of the 1930s & 1940s. She went on strike in 1952 when Fox refused her request for a raise, and the option to pick what movies she'd appear in. She returned to work in 1953, but only made 4 more films – including the smash hit How to Marry a Millionaire (1953) with Marilyn Monroe.
Happy 4th of July!
These celebrity Independence Day greetings are suitable for sharing on social media (no link to www.50PlusWorld.com is required, but it is appreciated). 
More Independence Day / 4th of July stuff:
Happy Independence Day, America
*Source images believed to be in the public domain or creative commons licensed, have been modified & text added.