Celebrating Seniors - Nick Nolte Turns 75
Hardworking Academy Award-nominated actor, movie star and septuagenarian senior citizen Nick Nolte has 75 big-screen movies to his credit as he celebrates his 75th birthday today, February 8 2016.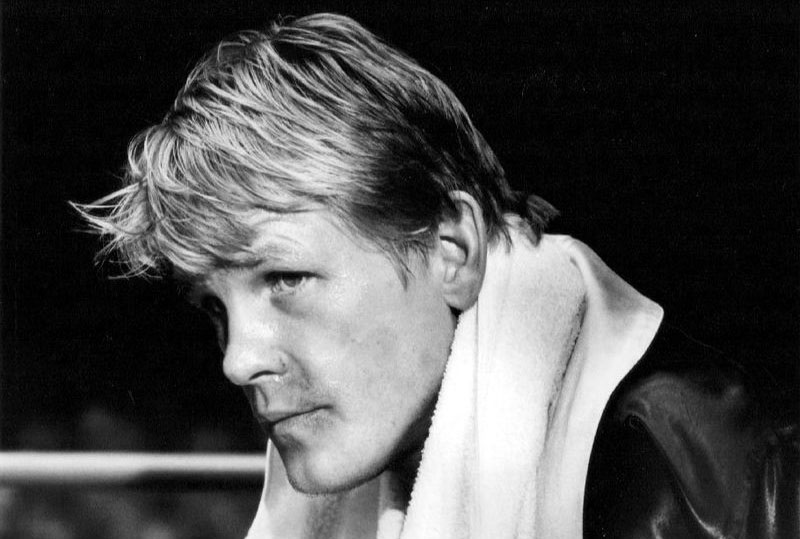 (Nick Nolte 1976 Rich Man, Poor Man Photo: ABC Television)
Born on Feb 8, 1941 in Omaha, Nebraska, Nicholas King Nolte was on his Omaha Westside High School football team and earned a football scholarship to Arizona State University in Tempe, Arizona; leaving there when poor marks ended his scholarship. He also attended Eastern Arizona College in Thatcher, Arizona, and earned 3 letters (in football, basketball, and baseball) while there. Nolte attended 2 more schools, before finally finishing his attempt at higher education at Pasadena City College in California in 1961.
According to a 1998 interview with Alex Simon for The Hollywood Interview, when low marks there finally ended his quest for higher education and an NFL career didn't pan out, 20-year-old Nick Nolte began to study theater at the Pasadena Playhouse.
Almost 20 years later, Nick Nolte played a football player in North Dallas Forty (1979), an early starring movie role for him near the beginning of his film career. His co-stars in North Dallas Forty included Charles Durning, Bo Svenson, Steve Forrest, Dabney Coleman, and country music singer Mac Davis. Below, a funny clip from North Dallas Forty featuring a laid back Nick Nolte and Mac Davis in the gym with their fellow football players.
In the 1960s Nick Nolte began traveling around the U.S. with various regional theater companies, including the Old Log Theatre in Minnesota for 3 years, and Cafe La Mama in New York. In between stage plays, during the remainder of the 1960's he found work as a model. By 1969 he'd scored a small role on an episode of the Walt Disney Wide World of Color television series.
Nick Nolte had by now also acquired a felony conviction and suspended sentence for counterfeiting draft cards, which prevented him from serving in the military during the Vietnam War. 
Nick Nolte married for the first time at age 25 in 1966 to older actress and divorced mother of two Sheila Paige; they divorced in 1970. A newly divorced Nolte, now 29 years old, began dating 39-year-old wanna-be actress Karen Louise Ecklund. Karen and Nick were living together in California when Nolte's career began to take off. He started getting more frequent television series episodic work in the early 1970's (Gunsmoke, The Rookies, The Streets of San Francisco, etc.) and small roles in movies.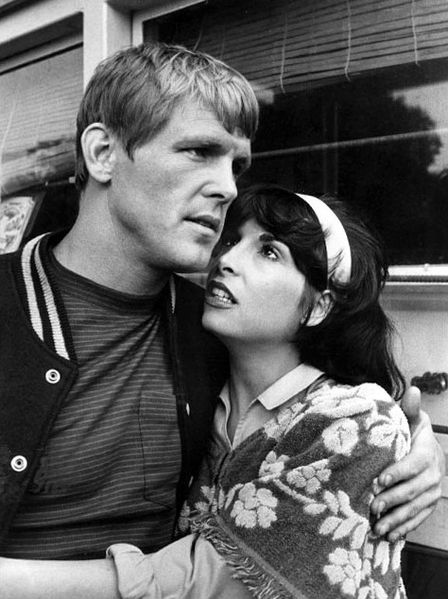 (Nick Nolte & Talia Shire 1976 Rich Man, Poor Man Photo: ABC Television)
His big break came when he starred in the 1976-1977 television miniseries, Rich Man, Poor Man. Nick Nolte's co-stars in Rich Man, Poor Man included Peter Strauss, Susan Blakely, Edward Asner, and Dorothy Malone (Peyton Place). Nolte was nominated for a Prime-Time Emmy Award for Outstanding Lead Actor in a Miniseries or a Movie, for his performance in Rich Man, Poor Man.
Baby boomers loved Nick Nolte in Rich Man, Poor Man and the following year, he co-starred with Jacqueline Bisset in the feature film The Deep (1977). The Deep ensured his movie career was fully launched.
Unfortunately, Nolte's private life was once again on the downturn that same year, when he and Karen Eklund underwent an unfriendly breakup; she sued him for palimony.
Nick Nolte was 37 when he married 23-year-old dancer Sharyn Haddad in Las Vegas in 1978. Nolte solidified his sex-symbol status and appeared on the cover of Playgirl in 1979. His marriage to Sharyn Haddad lasted 5 years; Sharyn and Nick Nolte divorced in 1983, the same year Nolte appeared in the thriller Under Fire (1983). His co-stars in Under Fire included Ed Harris, Gene Hackman, Jean-Louis Trintignant, Joanna Cassidy, and Richard Masur.
Nick Nolte has said that he was already battling issues with alcohol and substance abuse by the mid-1980's.
During his 1983 divorce from Sharyn Haddad, Nick Nolte met model Rebecca Linger. Nolte and Rebecca Linger lived together in New York before getting married in 1984. Their son Brawley King Nolte was born in June 1986. Brawley Nolte looks a lot like his famous dad and has done some acting himself.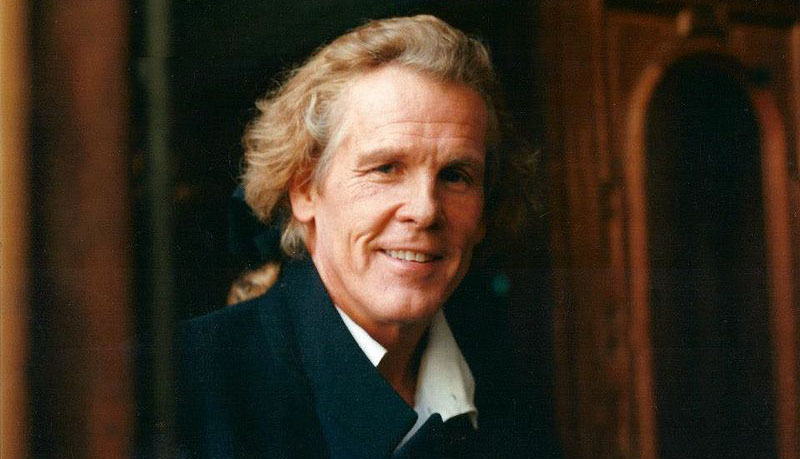 (Nick Nolte 1992-1993 Photo: Elisa3560 | Wikimedia CC 4.0)
Nolte entered his 50+ years in 1991 and looked good on the cover of People Magazine the next year, as 1991 Sexiest Man Alive.
He also scored his first Academy Award nomination that year, for Best Actor in The Prince of Tides (1992). His The Prince of Tides co-stars included Barbra Streisand and Blythe Danner. Below, a highlight video from Prince of Tides, featuring Barbra Streisand and Nick Nolte. 
Nick Nolte and Rebecca divorced the same year that he met new love actress Vicki Lewis, while filming the romantic comedy movie I'll Do Anything (1994). Below, the movie trailer for I'll Take Anything features Nick Nolte as an actor trying to keep his career alive in Hollywood. With Albert Brooks, Joely Richardson, and Julie Kavner. 
He earned his second Academy Award Best Actor nomination for his performance as Wade Whitehouse in Affliction (1997). Included in the Affliction cast were Sissy spacek, Mary Beth Hurt, James Coburn, and Willem Dafoe. Nolte's son Brawley King Nolte plays the younger Wade Whitehouse in Affliction. Below, a movie clip from Affliction featuring Nick Nolte and Mary Beth Hurt. (Warning: Some profanity)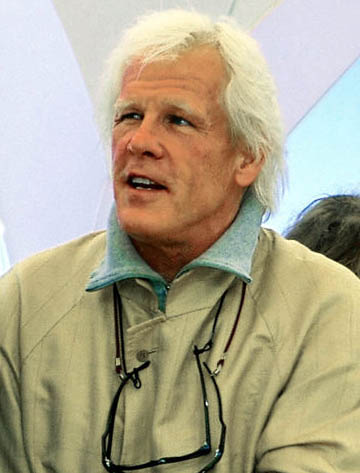 (Nick Nolte 2000 Photo: Rita Molnár | Wikimedia CC 2.5)
Alcohol and drug abuse continued to be a problem in his personal life. In 2002 Nick Nolte was convicted of a DUI and given probation; his arrest and mugshot made headlines and his alcohol and substance abuse problems were no longer private. He and Vicki Lewis split up the following year.
Nick Nolte has been with British citizen Clytie Lane since 2003. He was a senior citizen when he became a father again with his second child, daughter Sophie Lane Nolte (b. 2007).
Since becoming a senior citizen in 2006, Nick Nolte has appeared in over 25 feature films.
His performance in Warrior (2011) garnered septuagenarian senior Nolte a third Academy Award nomination, for Best Supporting Actor.
A run in the HBO television series Luck (2012) ended when three horses died and the series was cancelled. This was bad luck for Nick Nolte and the other actors co-starring with him in Luck – Dustin Hoffman, Dennis Farina, Jill Hennessy, Jason Gedrick, Joan Allen, Michael Gambon, and Jürgen Prochnow.
Most recently, Nick Nolte can be seen in the television mystery miniseries Gracepoint (2014), and the feature films A Walk in the Woods (2015) with Robert Redford, Emma Thompson, and Mary Steenburgen; and Return to Sender (2015). Below, a funny clip from A Walk in the Woods in which  Nick Nolte is propositioned by a fellow laundromat visitor.
In 2016 Nick Nolte could be seen in the Epix television series Graves, as President Richard Graves. His co-stars in Graves included Sela Ward, Ernie Hudson, Harry Hamlin, and Dennis Christopher.
*Images are public domain or Creative Commons licensed & sourced via Wikimedia Commons, Vimeo, YouTube, or Flickr, unless otherwise noted*