...And God Created Jean-Louis Trintignant
French screenwriter, director, and actor, Jean-Louis Trintignant was died June 17, 2022 in Gard, France, at the age of 91.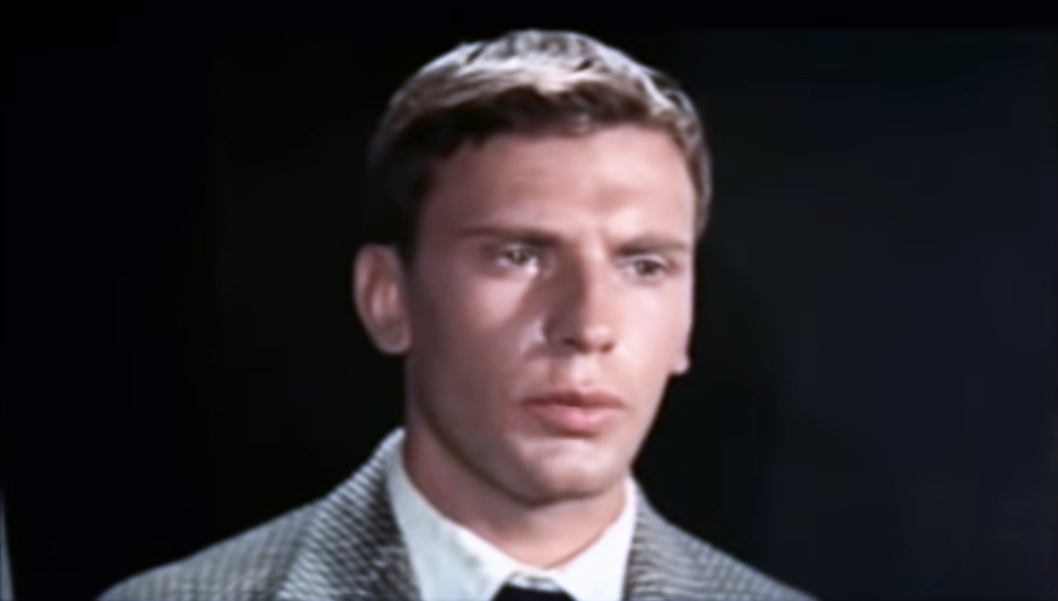 (Jean-Louis Trintignant 1956 …and God Created Woman)
Jean-Louis Xavier Trintignant was born on December 11, 1930 in Piolenc, France. Two of his paternal uncles were French race car drivers (Louis Trintignant and Maurice Trintignant). According to Films de France.com, Jean-Louis also harbored dreams of driving race cars, until he decided to become an actor at age 19. By age 20 he had moved to Paris, France and was taking acting classes from Tania Balachova and Charles Dullin. Trintignant began starring on French stages and screens beginning in 1951.
French actress Stéphane Audran (born Colette Suzanne Dacheville) and has said she also took acting classes from Tania Balachova. By the end of 1954, Jean-Louis Trintignant and Stéphane Audran were married.  
Jean-Louis Trintignant's first claim to fame came with a co-starring role opposite Curd Jürgens (Kurt Jurgens), Christian Marquand (as his brother) and Brigitte Bardot in …And God Created Woman (1956), directed by Bardot's husband Roger Vadim. 
An affair between Brigitte Bardot and Jean-Louis Trintignant began during the filming of …And God Created Woman. Bardot left her husband Roger Vadim, and Jean-Louis joined the French army and was shipped out to Algiers.
"She is a lost child, she has everything to make her happy and yet she is unhappy, I think I can lead her to happiness. It is not the star that people see on the screen that I love. I cannot bear it, when I'm embracing her, to think of all of the leering millions who would like to be in my place." – Jean-Louis Trintignant about Brigitte Bardot, 1962 Photoplay
Trintignant served in the military for 3 years. By the time he got out of the army, he was divorced from Stéphane Audran (approx 1956) and his affair with Bardot was also long over, as she moved on to her next lover(s). Stéphane Audran would go on to marry French director Claude Chabrol in 1964.
Throughout his career, Trintignant has said he chose movies based on the director. When he returned to acting after his army service was over, he worked frequently with both French and Italian film directors, including Bernardo Bertolucci (The Conformist, 1970).
In 1959 Jean-Louis Trintignant returned to making movies, appearing in another Roger Vadim film, Les Liaisons dangereuses (1959) with Jeanne Moreau. Jeanne Moreau and Trintignant would co-star again in the historical romance Mata Hara, agent H21 (1964).
By the end of 1960, Trintignant had married his second wife, Nadine Marquand. Nadine's brother Christian Marquand had co-starred with Jean-Louis in …And God Created Woman. In an interview with Paris Match in 2016, actress Anouk Aimée said that as a longtime friend of Jean-Louis Trintignant, she was a witness at his 1960 wedding to Nadine.
Nadine and Jean-Louis Trintignant had three children – daughter Marie Trintignant (b. Jan 1962), Pauline (who died as an infant in 1969), and son Vincent Trintignant (b. 1973). Nadine Trintignant became a screenwriter and director during her marriage to Jean-Louis. 
The historical film The Battle of Austerlitz (1960) about Napoleon, saw Jean-Louis Trintignant appearing for the first time in a movie with Claudia Cardinale, Leslie Caron, Orson Welles, Jack Palance, and Rossano Brazzi. The Battle of Austerlitz was directed and co-written by Abel Gance. Trintignant and three of his co-stars – Claudia Cardinale, Leslie Caron, and Orson Welles – would work together in other films. Cardinale and Trintignant were both in L'été prochain (1985). Both Orson Welles and Leslie Caron appeared with Jean-Louis Trintignant in the star-studded World War II historical movie Is Paris Burning? (1966), along with Jean-Paul Belmondo, George Chakiris, Alain Delon, Kirk Douglas, Yves Montand, and Simone Signoret.
French actor Robert Hossein and Jean-Louis Trintignant were in four movies together, beginning with the mystery La jeu de la vérité (1961), which Hossein also directed. Their next films together were La longue marche (1966), and Crime Thief (1969). Crime Thief was a family affair, as not only did it co-star Jean-Louis Trintignant and Robert Hossein, the movie was written and directed by Jean-Louis' wife, Nadine Trintignant.  
A popular romantic interest pairing for Jean-Louis Trintignant onscreen (and in some reports, off-screen as well) was German-French actress Romy Schneider. Schneider and Trintignant co-starred in 5 movies together between 1962-1980: Le combat dans l'île (1962), Inferno (1964), The Last Train (1973), Le mouton enragé (1974), and The Lady Banker (1980), which also co-starred Marie France Pisier. Romy Schneider was only 43 years old when she was found dead in her Paris apartment in May 1982 from cardiac arrest.
Italian actor Vittorio Gassman and Jean-Louis Trintignant's first movie together was the comedy Il Sorpasso (1962). Il Sorpasso was written and directed by Dino Risi, and co-starred actress Catherine Spaak. Il Sorpasso was quickly followed by another Italian comedy with Trintignant and Vittorio Gassman, Il Successo (1963). Il Successo was the first movie with Jean-Louis Trintignant and actress friend Anouk Aimée in it. 
The comedy Nutty, Naughty Chateau (1963) reunited director Roger Vadim with his …And God Created Woman co-stars, Curd Jürgens and Jean-Louis Trintignant. 
French actors and married couple Yves Montand and Simone Signoret (m. 1951-1985) both appeared in several movies with Jean-Louis Trintignant between 1965-1969. The first two movies starred all 3 actors – Signoret, Montand, and Trintignant – the thriller Compartiment tueurs (1965), and the historical film Is Paris Burning? (1966). Yves Montand and Jean-Louis Trintignant co-starred in the historical drama Z (1969); and Simone Signoret and Trintignant co-starred in the drama L'américain (1969). Simone Signoret died of pancreatic cancer in 1985 and Yves Montand was a septuagenarian senior when he died of a heart attack in 1991.
The thriller Trans-Europ-Express (1966) was the first of three movies to feature both Jean-Louis Trintignant and French actress Marie-France Pisier. The Lady Banker (1980) was their second movie together; and Boulevard des assassins (1982) their third and final movie. Trintignant's ex-wife Stéphane Audran also co-starred in Boulevard des assassins. Marie-France Pisier was a senior citizen when she was found dead in her swimming pool in 2011, believed to have been a victim of drowning.
Perhaps the movie most English-speaking, North American baby boomer and senior audiences will remember Jean-Louis Trintignant from, is the drama A Man and a Woman (1966). Anouk Aimée is Trintignant's co-star in A Man and a Woman, and it's been reported that since they were already friends, Trintignant suggested Aimée to director Claude Lelouch. A Man and a Woman was the 6th highest grossing movie in the U.S. that year, and won two Academy Awards, for Best Foreign Language Film and Best Original Screenplay.  
Trintignant's ex-wife Stéphane Audran co-starred with him in the erotic drama Les Biches (1968), which was directed by Audran's new husband Claude Chabrol. According to IMDB, Jean-Louis Trintignant was "a bit embarrassed" at filming the Les Biches love scenes with his ex-wife while Chabrol directed. Stéphane Audran and Trintignant co-starred again in the thriller Sans mobile apparent (1971). 
Other notable films for Jean-Louis Trintignant in the 1960's were:
The Libertine (1968), a sex comedy co-starring Catherine Spaak. 
Death Laid an Egg (1968), a romantic thriller co-starring Gina Lollobrigida.
The Great Silence (1968), a spaghetti western filmed in Cortina d'Ampezzo and Rome, with Klaus Kinski and Vonetta McGee. 
So Sweet…So Perverse (1969), a thriller co-starring Carroll Baker.
American actor Roy Schieder and Jean-Louis Trintignant co-starred in two movies in 1972. In the thriller The Assassination (1972), their co-cast included Jean Seberg and Philippe Noiret. In the crime drama The Outside Man (1972), they were joined by several actors familiar to North American baby boomers, including Ann-Margret, Angie Dickinson, Georgia Engel (The Mary Tyler Moore Show), Jackie Earle Haley, John Hillerman (Magnum, P. I.), Alex Rocco, and Talia Shire. 
All told, French actors Philippe Noiret and Jean-Louis Trintignant appeared in 5 movies together. The Assassination; The Secret (1974); Playing With Fire (1975); The Desert of the Tartars (1976) with Vittorio Gassman (his 3rd movie with Trintignant) and Max Von Sydow; and L'été prochain (1985). L'été prochain reunited Jean-Louis with co-star Claudia Cardinale, who had first appeared a movie with him in 1960's The Battle of Austerlitz. Philippe Noiret was a septuagenarian when he died of cancer at the age of 76 in 2006.
Jean-Louis Trintignant and the beautiful model-actress Catherine Deneuve were paired in 4 movies between 1975-1984. Catherine Deneuve and Trintignant co-starred in L'agression (1975); Other People's Money (1978); Je vous aime (1980) with Gérard Depardieu; and their last film (so far) Le bon plaisir (1984).
Catherine Deneuve's live-in partner of 4 years during the 1970's was actor Marcello Mastroianni. Marcello Mastroinanni and Jean-Louis Trintignant would also co-star in several films together: 
The Sunday Woman (1975), a comedy mystery with Jacqueline Bisset.
La terrazza (1980), a drama with Vittorio Gassman. La terrazza was the last of 4 movies co-starring Trintignant and Vittorio Gassman.
That Night in Varennes (1982), a historical drama with Harvey Keitel.
By 1980, Nadine and Jean-Louis Trintignant had separated and their divorce was finalized in 1976 after 16 years of marriage. Nadine remarried in 1998 but still goes by the last name of Trintignant. During the 1980's and 1990's in his 50+ years, Trintignant continued to act in movies. Some of his more notable films which North American baby boomers and seniors might remember seeing him in, include:
Under Fire (1983) starring Nick Nolte, Gene Hackman, Ed Harris, Joanna Cassidy, and Richard Masur. Under Fire was the first all-English movie for Trintignant.
Long Live Life (1984) co-starring Charlotte Rampling, Charles Aznavour, and Anouk Aimée. French singer-songwriter and actor Charles Aznavour and Trintignant had first appeared together in The Fabiani Affair (1962), 22 years earlier. 
 A Man and a Woman: 20 Years Later (1986), co-starring again with Anouk Aimée and Robert Hossein. A Man and a Woman: 20 Years Later, was the 4th movie for Robert Hossein and Trintignant, and his 5th and final movie (so far) to co-star Anouk Aimée.
Beginning in the 1990's Jean-Louis Trintignant shifted his acting focus to appearing on stage, and mostly voice-only acting in films such as Le Grand Pardon II (1992) with Christopher Walken, Jill Clayburgh, and Jennifer Beals.
The TV movie Rêveuse jeunesse (1994) was another voice-only role for Jean-Louis Trintignant. Rêveuse jeunesse was written and directed by his ex-wife Nadine Trintignant, and co-starred Jean-Louis's daughter Marie Trintignant, and Chiara Mastroianni, the daughter of Marcello Mastroinanni and Catherine Deneuve. 
Sadly, Jean-Louis Trintignant's 41-year-old daughter Marie Trintignant died in August 2003 after she was was badly beaten by her boyfriend, rock singer Bernard Cantat. Cantat served 4 years of an 8-year sentence. Marie had completed filming the feature film Janis and John with her father Jean-Louis Trintignant and Christopher Lambert before her death. Janis and John was released in October 2003.
As a septuagenarian senior citizen, Jean-Louis Trintignant's film roles virtually disappeared during the 2000's. His return to film was likely not helped by a leg injury he incurred in a June 2007 motorcycle accident. 
Trintignant's first movie after a 9-year absence from the screen was as retired octogenarian senior citizen Georges, married to Anne (Emmanuelle Riva) in Amour (2012). French writer and director Michael Haneke has said he wrote Amour specifically for Trintignant. Isabelle Huppert co-stars in Amour, which finds Georges and Anne's life and love tested when Anne has a stroke. Isabelle Huppert and Jean-Louis Trintignant had co-starred together 38 years earlier, in the fantasy thriller Successive Slidings of Pleasure (1974).
Always shy and somewhat reclusive, Trintignant lived in a remote French farmhouse in Uzes, in the Gard (France) with his wife Marianne. He told Gérontologie Pratique in 2013 that he met fellow car and rally enthusiast Marianne Hoepfner (some reports say they met as early as the 1980's), and they married in January 2000. He was passionate about photography, growing grapes for wine-making, his olive trees, and driving fast, telling Le Parisien in 1998 that in his newest car (at the time) "On the highway, at 200 km / h, there is no air noise." 
In a rare 2013 interview with SBS, Trintignant said that he wanted to be a theatre actor now, and it was his work that kept him young at heart
"As actors we don't say we go to work, we say we go to play. I think very often we have the soul of a child and it keeps us young and we're always marvellng at things."
Although Trintignant announced his retirement from acting in 2013, he returned to co-star in two final films with previous leading ladies: Happy End, (2017) a family drama with Isabelle Huppert; and The Best Years of a Life (2019) with Anouk Aimée, a sequel to their earlier films A Man and a Woman (1966) and A Man and a Woman: 20 Years Later (1986). A fitting end to a career on screen that spanned seven decades.
*Images are public domain or Creative Commons licensed & sourced via Wikimedia Commons, Vimeo, YouTube, or Flickr, unless otherwise noted*