Celebrating Seniors - Ann-Margret is 75
Actress, singer and dancer Ann-Margret (born Ann-Margret Olsson) was born in Valsjöbyn, Sweden on April 28, 1941. She and her mother moved to Chicago, Illinois in 1946 to join her father who had been working in the U.S. since 1942.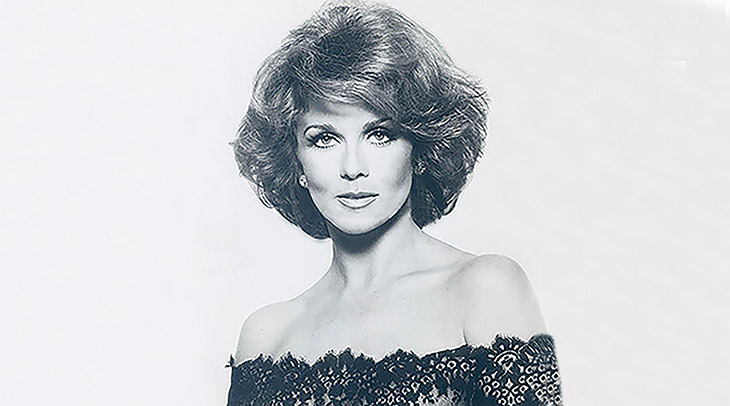 (Ann-Margret 1977 Photo)
Ann-Margret began taking dance lessons as a child and appeared on talent shows and in plays when she was a teenager. Her interest in riding motorcycles began at age ten and has never faded. 
Although Ann-Margret started at Northwestern University in 1959, she was side-tracked from university when a musical group she was in toured to Los Angeles and Las Vegas. While in Las Vegas, she auditioned successfully for comedian George Burns' holiday show.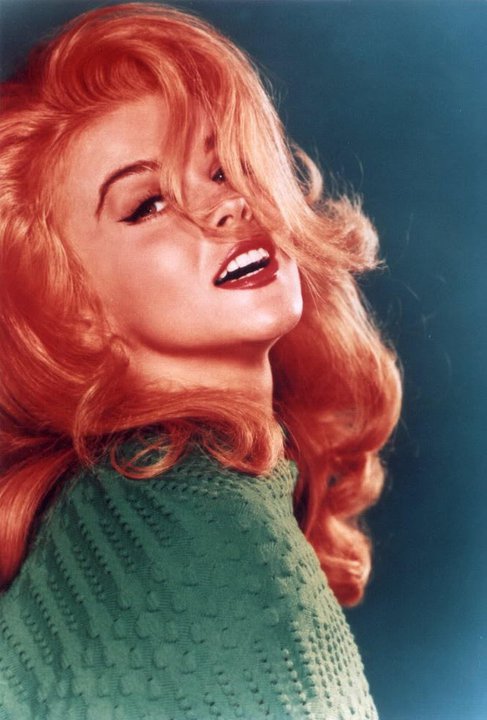 (Ann-Margret 1960s Photo: Film Star Vintage)
Her recording career began in 1961, with a 5-year contract for RCA Victor. RCA positioned her as "the female Elvis" and Ann-Margret was accompanied by Elvis Presley's backup singers the Jordanaires on her first record Lost Love (1961); she also sang a version of Heartbreak Hotel and Presley-like songs.
She appeared on The Jack Benny Program in 1961 and sang the Theme from Bachelor in Paradise at the 1962 Academy Awards.
Ann-Margret's singing career was overshadowed by her success in the movies, thanks to her baby boomer fans.
She was signed to a 7-year contract with 20th Century Fox in 1961 and made her movie debut in a Pocketful of Miracles with Bette Davis.
Roles in movie musicals like State Fair (1962) opposite Bobby Darin and Pat Boone, and Bye Bye Birdie (1963) with Dick Van Dyke, followed. Below, a clip from 1962's State Fair features Pat Boone and Ann-Margret.  
After a brief engagement to Hollywood businessman Burt Sugarman (February-March 1962), Ann-Margret was most frequently seen with actor Eddie Fisher for the next year. She was featured on the cover of Life Magazine in January 1963.
In July 1963 22-year-old Ann-Margret began recording songs with 28-year-old Elvis Presley for the movie Viva Las Vegas (1964). The chemistry on screen between Ann-Margret and Elvis Presley became a real-life romance as well, although an affair was never confirmed by either of them because Elvis was already secretly engaged to 18-year-old Priscilla Beaulieu. 
Below, the movie trailer for Viva Las Vegas features Elvis Presley and Ann-Margret.
In her autobiography Ann-Margret: My Story (1994) written with Todd Gold, Ann-Margret called Presley her soulmate and said he bought her a round pink bed for her Beverly Hills apartment "in a moment of tenderness".
Elvis Presley ended the romance with Ann-Margret in 1964 after the British press interviewed her and then reported they were talking about marriage. They remained lifelong friends until Presley's death in 1977, and Elvis came to all of Ann-Margret's Las Vegas openings.
Ann-Margret continued to act in movies, earning herself sex-symbol status in movies like Kitten With a Whip (1964) co-starring John Forsythe, The Pleasure Seekers (1964) with Tony Franciosa, and The Cincinnati Kid (1965) opposite Steve McQueen.
In 1964, while filming Once a Thief (1965) co-starring Alain Delon, Ann-Margret began dating 77 Sunset Strip actor Roger Smith (detective Jeff Spencer), 9 years her senior and separated from his wife. Roger Smith had recently recovered from surgery for a blood clot on his brain that had forced him to leave 77 Sunset Strip in the 1962/63 season.
Ann-Margret had 4 movies released in 1966 – she co-starred with Tony Franciosa again in The Swinger (1966), and with Dean Martin in Murders' Row (1966). Her co-stars in Stagecoach (1966) included Red Buttons, Mike Connors, Alex Cord, Bing Crosby, Robert Cummings, Van Heflin, Slim Pickens, Stefanie Powers, and Keenan Wynn.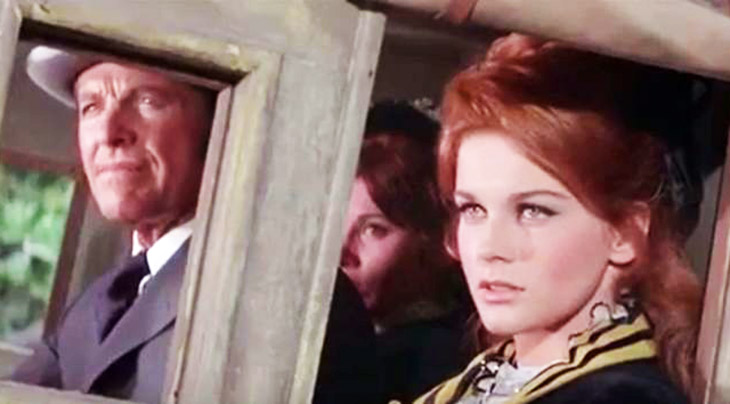 (Ann-Margret & Bob Cummings 1966 Stagecoach)
When Doris Day passed on the script for Made in Paris (1966), Ann-Margret was cast in the movie opposite Louis Jourdan and Chad Everett as her love interests.
Below, the trailer for Made in Paris, which showcased Ann-Margret's dancing and 1960's fashion.
After announcing her engagement to Roger Smith in 1966, the couple broke up in March the next year. Two months later, on May 8, 1967, Ann-Margret married Roger Smith. She became a step-mother to Roger's three children from his first marriage to Victoria Shaw, and Roger Smith retired from acting to serve as Ann-Margret's manager.
She filmed the romantic comedy The Tiger and the Pussycat (1967) in Rome and Cortina d'Ampezzo with co-stars Vittorio Gassman and Eleanor Parker.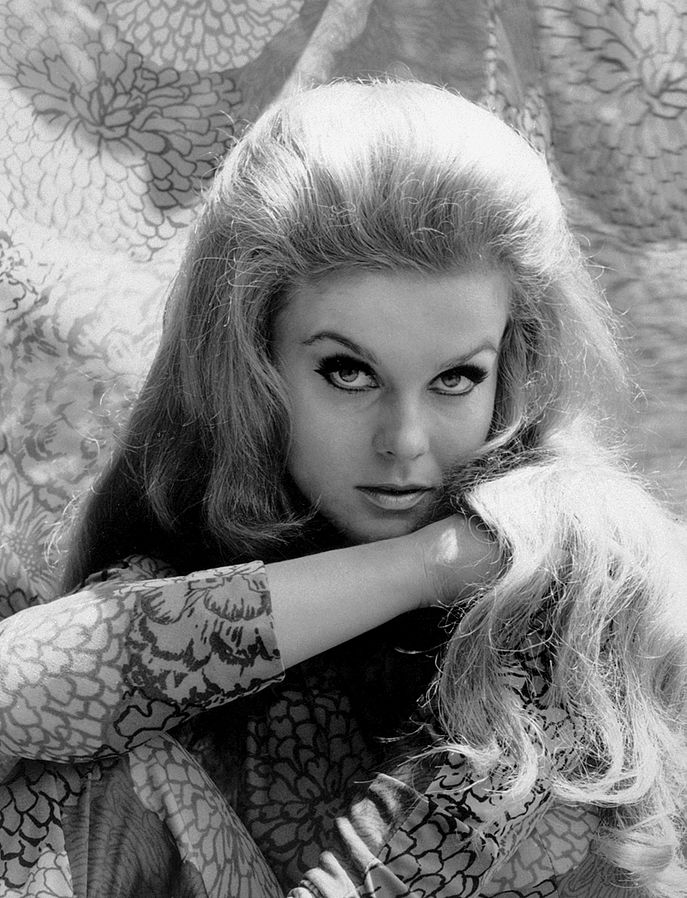 (Ann-Margret 1968 Photo: CBS Television)
Her movie career got a boost when she co-starred in Carnal Knowledge (1971) opposite Jack Nicholson, and earned an Academy Award nomination for Best Supporting Actress.
By this time, Ann-Margret had begun abusing alcohol and pills; she would win the battle eventually, she has said with husband Roger's help. 
Ann-Margret filmed the movie The Outside Man (1972) during 1971. Her co-stars in The Outside Man included French actor Jean-Louis Trintignant, Georgia Engel, Roy Scheider, Angie Dickinson, and Jackie Earle Haley.
The following year, Ann-Margret fell 22 feet from the Harrah's stage scaffold in Lake Tahoe and suffered a brain concussion, coma and 5 broken bones in her face, jaw, and arm. Within 3 months she had recovered from the resulting facial reconstructive surgery, which was done from the inside at Roger's insistence to prevent scarring, and was back on stage in Las Vegas.
Ann-Margret was awarded a star on the Hollywood Walk of Fame in 1973.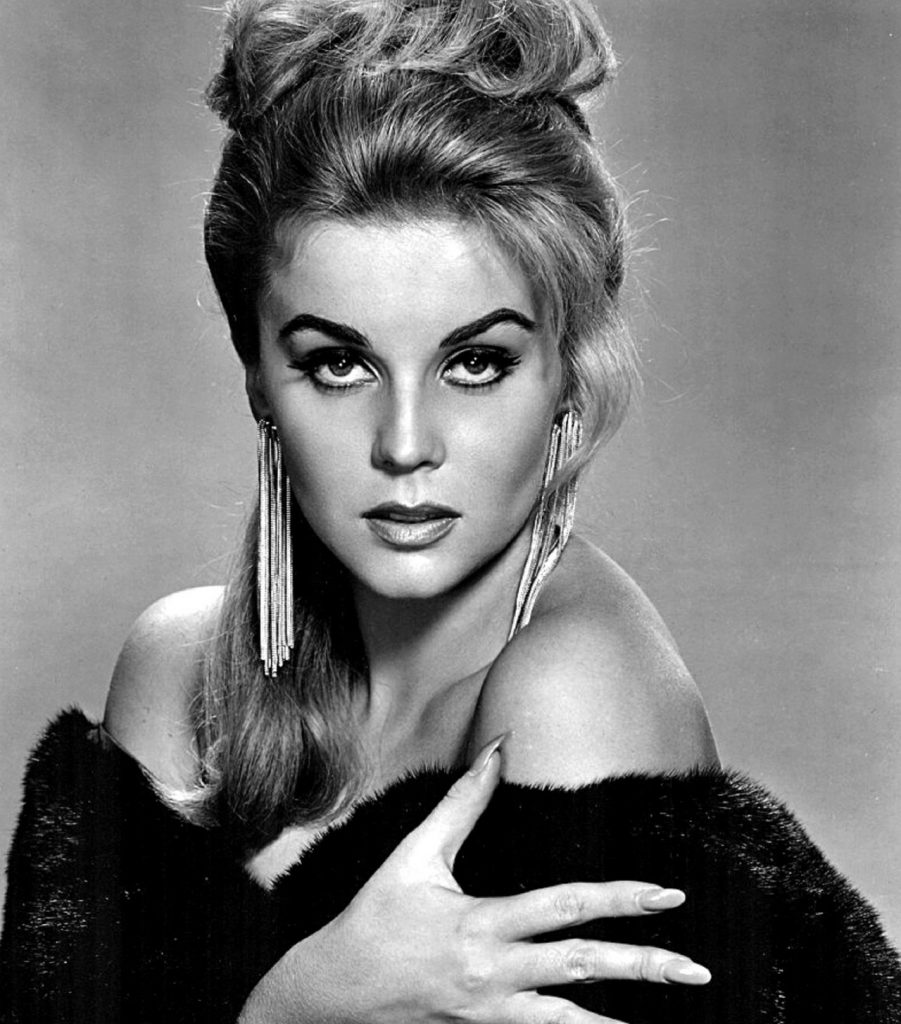 (Ann-Margret Photo: Pexels | CC0)
For the rest of the 1970's and 1980's, Ann-Margret alternated between live musical performances and shows in Las Vegas, and roles in television specials. She earned Emmy Award nominations for her performances in these made-for-TV movies and mini-series:
Who Will Love My Children (1983), co-starring with Frederic Forrest.
A Streetcar Named Desire (1984) with Treat Williams and Beverly D'Angelo
The Two Mrs. Grenvilles (1987) with Stephen Collins, Elizabeth Ashley, Alan Oppenheimer and Claudette Colbert. 
Some of Ann-Margret's big-screen movies during this era include The Train Robbers (1973) with John Wayne, Rod Taylor, and Bobby Vinton; Magic (1978) with Anthony Hopkins; The Cheap Detective (1978) with Peter Falk, Stockard Channing, Louise Fletcher, and Marsha Mason; The Villain (1979) with Arnold Schwarzenegger, Kirk Douglas, and country singer Mel Tillis; Middle Age Crazy (1980) with Bruce Dern; and 52 Pick-Up (1986) with Roy Scheider, Doug McClure (The Virginian), and Clarence Williams III (Mod Squad).
The star-studded cast of the rock opera Tommy (1975) included actors Ann-Margret, Oliver Reed, and Jack Nicholson. Rock & roll legends Pete Townshend, Roger Daltrey, Eric Clapton, Elton John, Tina Turner and others filled out the cast of Tommy. Ann-Margret was nominated for an Academy Award Best Actress for her performance in the movie.
In the early 1980's, Ann-Margret's husband Roger Smith became ill with the rare muscle disease myasthenia gravis, and Ann-Margret began turning down roles in order to help care for him. Although Roger Smith has had periods of remission from myasthenia gravis, in 2013 Ann-Margret disclosed to New York Post that he now has Parkinson's Disease. Ann-Margret and husband Roger Smith will celebrate their 49th wedding anniversary in 2016. Update: Roger Smith died in June 2017 at the age of 84. 
After turning the corner into her 50+ years in 1991, Ann-Margret continued to act on television. She appeared in:
The TV movie Our Sons (1991) co-starring with Julie Andrews and Hugh Grant.
The mini-series Alex Haley's Queen (1993) as Sally Jackson. Her co-stars in Queen included Tim Daly, Danny Glover, Martin Sheen, Halle Berry, and Dennis Haysbert.
In the mini-series Scarlett (1994) Ann-Margret played Belle Watling to Joanne Whalley's Scarlett O'Hara and Timothy Dalton's Rhett Butler in Scarlett. Annabeth Gish, Julie Harris, Sean Bean, and Jean Smart were also in Scarlett. 
The made-for-TV movie Life of the Party: The Pamela Harriman Story (1998) with Susan Ruttan and Joan Severance, earning two more Emmy nominations.
A role in the big-screen comedy movie Grumpy Old Men (1993) as a love interest for seniors Jack Lemmon, Walter Matthau, was continued in the sequel Grumpier Old Men (1995). Grumpy Old Men cast members Burgess Meredith, Daryl Hannah, Kevin Pollak also returned in Grumpier Old Men, and were joined by sexy senior Sophia Loren. 
Ann-Margret had a small role in the box office hit football drama Any Given Sunday (1999), starring Al Pacino, Cameron Diaz, Dennis Quaid, and James Woods, with Lauren Holly and Aaron Eckhart.
Despite suffering a fractured shoulder and broken ribs in a 2000 motorcycle accident, Ann-Margret returned to riding motorcycles. That year her baby boomer fans could see her in the TV mini-series The 10th Kingdom as Cinderella, accompanied by co-stars Dianne Wiest, Kimberley Williams-Paisley, John Larroquette, Ed O'Neill (Modern Family), and Rutger Hauer.
Since becoming a senior citizen in 2006, Ann-Margret has appeared in 7 movies, including the comedies The Santa Clause 3 (2006) with Tim Allen, Judge Reinhold, Martin Short, and Alan Arkin; and All's Faire in Love (2009). Both she and husband Roger Smith continued to enjoy taking their motorcycles on scenic drives in the countryside around Los Angeles.
Below, Christine Ricci, Ann-Margret, Owen Benjamin, and Matthew Lilliard are featured in the movie trailer for All's Faire in Love. 
Ann-Margret won an Outstanding Guest Actress in a Drama Series Emmy Award for her television appearance on an episode of Law & Order: Special Victims Unit in 2010 – her first Emmy win after 5 previous nominations. 
In 2016 she could be seen in Going in Style (2017) with Morgan Freeman and Michael Caine. Going in Style is about 3 seniors who rob a bank. This svelte septuagenarian senior citizen and grandmother doesn't look anywhere close to her age. How does she keep in dancer's shape? Ann-Margret told the New York Post  in 2013 that exercise was key:
"I work out three times a week with a trainer. And I go walking with three of my former dancers every Saturday morning in LA."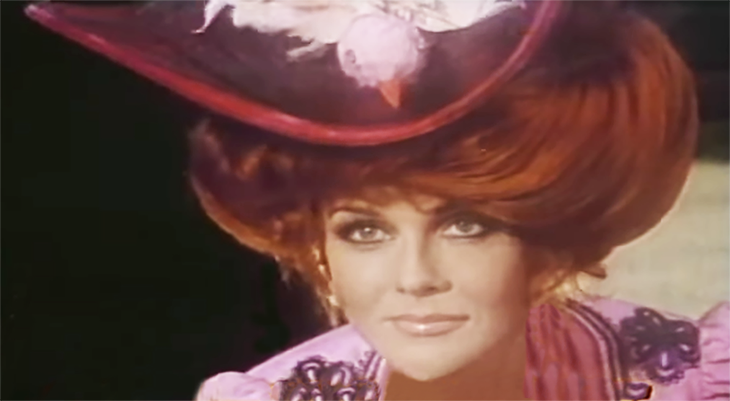 (Ann-Margret 1977 The Last Remake of Beau Geste Trailer)
*Images are public domain or Creative Commons licensed & sourced via Wikimedia Commons, Vimeo, or Flickr, unless otherwise noted*