Buzzing or Ringing in the Ears? Tinnitus Help
Tinnitus, which is defined as a phantom auditory sound such as a buzzing, ringing, hissing, or pulsating sound in the ear(s) affects 10-15% of the population in Canada, according to the Canadian Hearing Society; 5% of people in Canada have such severe tinnitus symptoms that it affects their day to day lives and activities.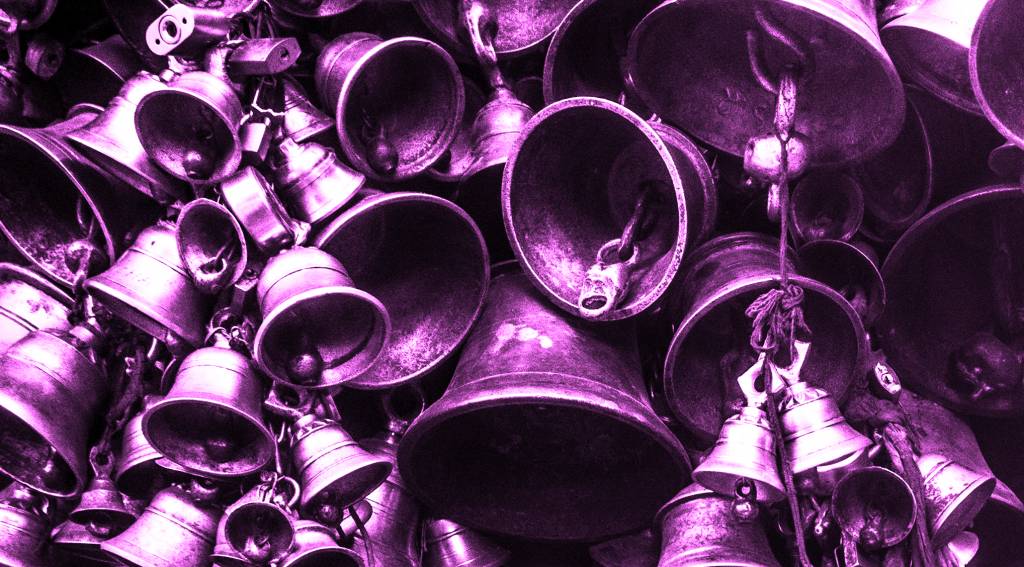 (Ringing Bells Photo: Shaouraav Shreshtha via Unsplash)
Tinnitus is a symptom of a disease, and hearing bells, ringing noises, or pulsating sounds, may or may not accompany hearing loss. There is no cure for tinnitus, although for some lucky people, the symptoms are short-lived and go away on their own.
Tinnitus sufferers are also prone to head, neck and jaw tension, poor concentration, anxiety, irritability and depression.
Tinnitus Risk Factors
injury to the ear or head, ie eardrum perforation
infection – ear infection(s)
ear wax buildup
barotitis – such as ear blockage after a flight
noise exposure
advancing age
teeth grinding
stress
medications (ie, aspirin in high doses)
medical conditions (ie, otosclerosis or abnormal bone growth in the middle ear)
Current research indicates that when tinnitus is accompanied by hearing loss, the dorsal cochlear nucleus portion of the central brain is a possible cause.
Tinnitus Treatments
There is help for tinnitus. To find the right treatment, consult your doctor and check out the website for the Canadian Hearing Society.
Tinnitus Retraining Therapy
Although there is no cure for tinnitus, Tinnitus Retraining Therapy (TRT) has proven effective in providing tinnitus sufferers with some relief from the symptoms, through a combination of counseling and sound therapy.
Through TRT, the subconscious part of the brain is retrained to ignore the sound(s) of tinnitus. The treatment period is usually between 18-24 months, although improvement may be seen as early as six months.
Sound Conditioners
Sound conditioners that create soothing sounds can make the tinnitus head and ear noises less disruptive and annoying.
Lifestyle Changes
Reducing or eliminating exposure to/intake of:
caffeine, cigarettes, alcohol, aspirin, salt
stress
environmental allergens
loud noises
Medications, alternative therapies  (acupuncture, chiropractic care, massage, etc.), dietary changes and supplements may also help. (Photo below: Canadian Hearing Society)
See your doctor if you are experiencing tinnitus symptoms, there is help! You are not alone – many people suffer from tinnitus and have learned to overcome the symptoms.
Barbara Streisand began suffering from tinnitus at age 9, long before she began her singing career.
Neil Young (who also has epilepsy) has said in addition to tinnitus he has some hearing loss, presumably from continued exposure to loud music at concerts.
Both William Shatner and Leonard Nimoy both suffered from tinnitus after they were exposed to the loud noise from a prop gun on the Star Trek set in the 1960's – Shatner still has tinnitus today but credits Tinnitus Retraining Therapy for helping him to overcome the symptoms.
Steve Martin had a similar incident occur while filming The Three Amigos in 1986 and has gotten used to his tinnitus symptoms.
**This article is for informational purposes only and is not intended as expert nutrition advice, nor is it a substitute for professional medical or nutritionist advice, diagnosis, or treatment. Always seek the advice of a qualified physician or nutrition expert with any questions you may have regarding a medical or other health condition. In the event of a medical emergency, call a doctor or 911 immediately. This website does not recommend or endorse any specific tests, physicians, products, procedures, opinions, or other information that may be mentioned on the Site or on other websites it links to. Reliance on any information provided by this website or other websites it links to, is solely at your own risk..**