Celebrating Seniors - Jaclyn Smith is 70
Baby boomer, new septuagenarian senior citizen and former Charlie's Angels actress Jaclyn Smith, was born October 26, 1945 in Houston, Texas.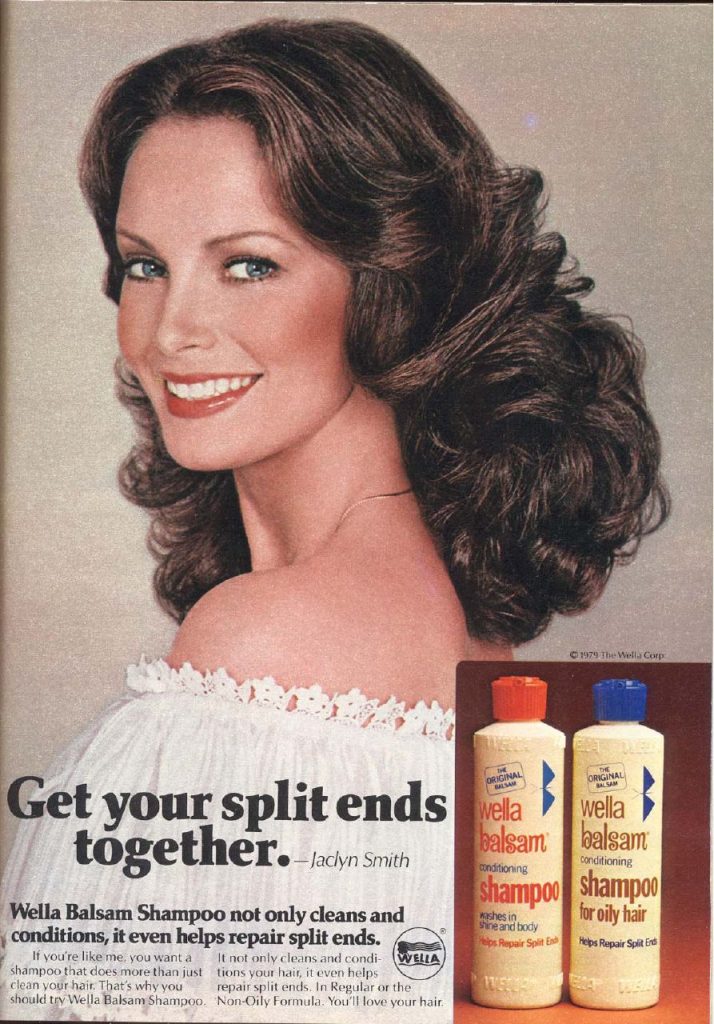 After graduating from San Antonio's Trinity University, Jaclyn Smith's first love of ballet was replaced when she found success in the world of modeling and acting in television commercials, finding fame as a Camay Soap girl and then a  Breck Shampoo model (and later, Wella Balsam shampoo).
(Jaclyn Smith 1970s Wella Balsam Shampoo Ad Photo: twitchery | Flickr Some rights reserved)
Jaclyn Smith married for the first time in 1968 to Roger Davis, a fellow actor; the marriage ended in 1975, before she landed a role in Charlie's Angels.
Prior to landing the role of angel Kelly Garrett in television's Charlie's Angels (1976-1981), Smith had begun finding work with small roles in movies and on television beginning in 1969.
Jaclyn Smith is the only original "Angel" on the Charlie's Angels television series to last the entire five seasons; her co-stars Farrah Fawcett left after the first season (she later returned in a guest-starring role), and Kate Jackson left after the third season.
The world-wide success and later syndication of Charlie's Angels meant a vast array of products with Jaclyn Smith's likeness (and the other Angels), was sold commercially to baby boomer children for several years – everything from dolls to a board game. Along with the other Angels, Smith appeared on the cover of Time Magazine in November 1976. Below from left, Jaclyn Smith, Farrah Fawcett, and Kate Jackson in 1976.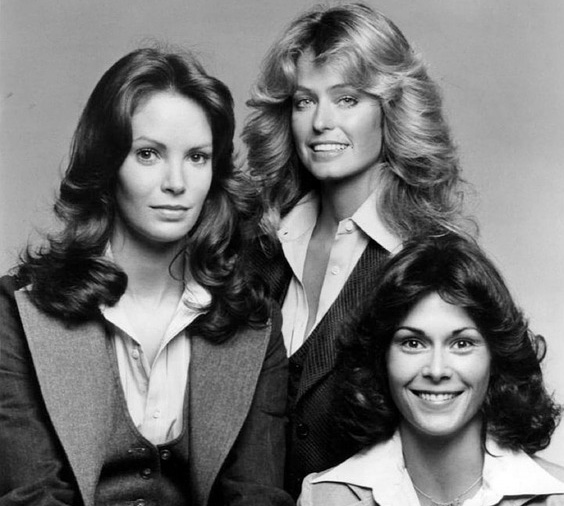 (Charlie's Angels circa 1976 Photo: Max Pixel | Public Domain)
While Smith was on Charlie's Angels, handsome young actor Dennis Cole appeared on a couple of episodes in 1977 and 1978. By the end of 1978 Dennis Cole and Jaclyn Smith were married. Their marriage soon faltered, and they separated in 1980. In a 2014 interview with Peter Sheridan published on express.c.o.uk, Jaclyn Smith reflected on her first two marriages:
"I don't even consider the first two marriages real. Both were annulled. I was too young, too naive, too romantic."
While Charlie's Angels was still on the air, Jaclyn Smith's television movie career continued and she scored a leading role in The Users (1978) with co-stars John Forsythe (the voice of Charlie on Charlie's Angels) and Tony Curtis. Also in the cast of The Users were Red Buttons, Joan Fontaine, George Hamilton, Darren McGavin, Michelle Phillips, and John Pleshette. Below, the ABC Sunday Night movie promo trailer for The Users features Jaclyn Smith, Tony Curtis, Michelle Phillips and John Forsythe.
Jaclyn Smith landed the role of Katherine Atwell in the big-screen movie Nightkill (1980), opposite Robert Mitchum. While shooting the movie in Arizona, Smith met British cinematographer/director Tony Richmond; they began dating and married in 1981. She was nominated for a Golden Globe Best Actress award for her work that year as Jackie Kennedy in the TV movie Jacqueline Bouvier Kennedy (1981).
Smith appeared regularly in television movies and mini-series over the next 20 years while she raised her family; son Gaston was born in 1982 and daughter Spencer in 1985. Husband Tony Richmond directed her in the big-screen movie Deja Vu (1985), and she also starred in a new television series Christine Cromwell (1989), which lasted only one season. According to Jaclyn Smith, Tony Richmond's battle with alcoholism was a contributing factor in the demise of their marriage in 1989.
Jaclyn Smith hit her business stride in her 40's, branding a line of women's clothing for Kmart beginning in 1985; in her 60's, this long-time business relationship with the retailer expanded into a branded line of home furnishings in 2008. Today her branding extends to an anti-aging skin care line, a wig line created with celebrity hair stylist Jose Eber, and more.
In her 50+ years during the late 1990's and early 2000's, Jaclyn Smith continued to find a niche with made-for-television movies such as Ordinary Miracles (2005) and parts in television series popular with the baby boomer generation, ie a recurring role in The District (2002-2004) and as host of the Bravo hair-styling reality series Shear Genius (2007-2008). Below, Jaclyn Smith, Corbin Bernsen, and Lyndsay Fonseca, are featured in the Hallmark movie trailer for Ordinary Miracles.
Her most recent big-screen foray was in Charlie's Angels: Full Throttle (2003), with a cameo performance as Kelly Garrett. Like fellow former Angel Kate Jackson, Smith is a breast cancer survivor. After a routine mammogram indicated breast cancer, she underwent a lumpectomy and radiation in 2003. Jaclyn Smith was featured in the 2010 documentary film about breast cancer, 1 a Minute. Olivia Newton John, Melissa Etheridge, Lisa Ray, Jaclyn Smith, and Diahann Carroll are among the women featured in the trailer for 1 a Minute, below. 
After taking a 5 year break from acting, as a new senior citizen Smith returned to acting with a guest starring role on Law & Order: Special Victims Unit (2010). She can be seen in the 2015 made-for-television move, Bridal Wave.
Today as Jaclyn Smith becomes a septuagenarian senior citizen, it appears that she may have finally found the lasting love she was looking for – she has been married to fellow Texan Brad Allen, a cardiothoracic surgeon, since 1997. The couple first met 8 years before that, when Smith's father underwent heart surgery and her mother got Allen to walk Smith to her car in the parking garage.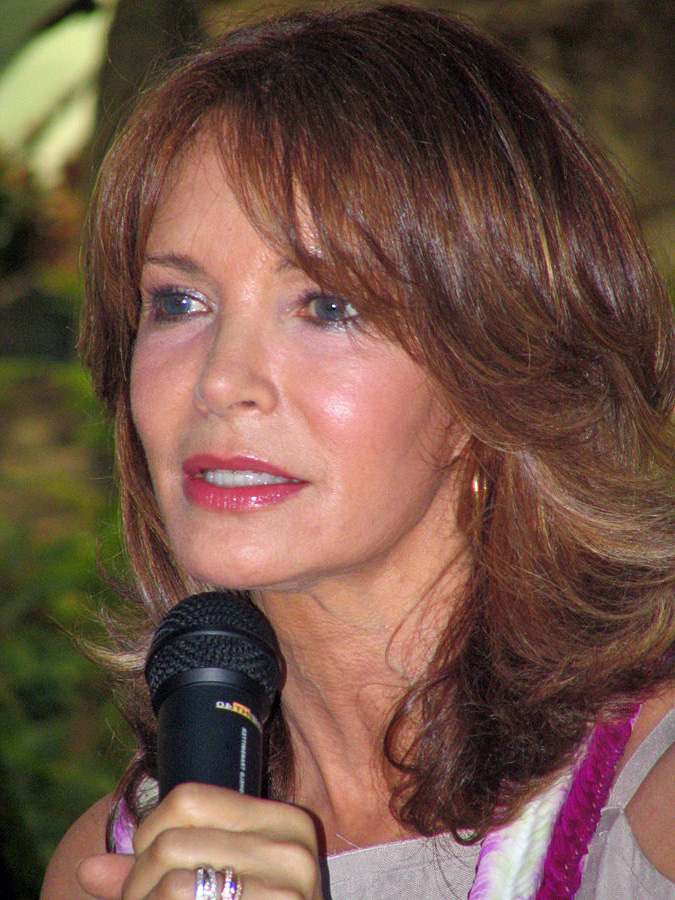 (Jaclyn Smith 2006 Photo: m j c | Wikimedia CC 3.0)
In a 2014 interview with Closer Weekly magazine, Jaclyn Smith said she was looking forward to being a grandmother and had this to say about aging:
"That's the hardest part of aging, losing the people you love so much." 
Jaclyn Smith credits having an easy maintenance skin-care routine, exercise, and taking time to relax…and avoiding smoking, alcohol and drugs, with keeping her looking young. Son Gaston Richmond is a cameraman with numerous film credits to his name since 2008; daughter Spencer married actor Fran Kranz (The Cabin in the Woods) this past August and recently modeled in a print ad campaign with her mother.