George Thorogood, Forever Bad to the Bone
Hard rocking bluesman George Thorogood started playing guitar at age 20, in 1970…almost 50 years later, he's still playing guitar (the electric Gibson 125 is his guitar of choice), harmonica, and singing.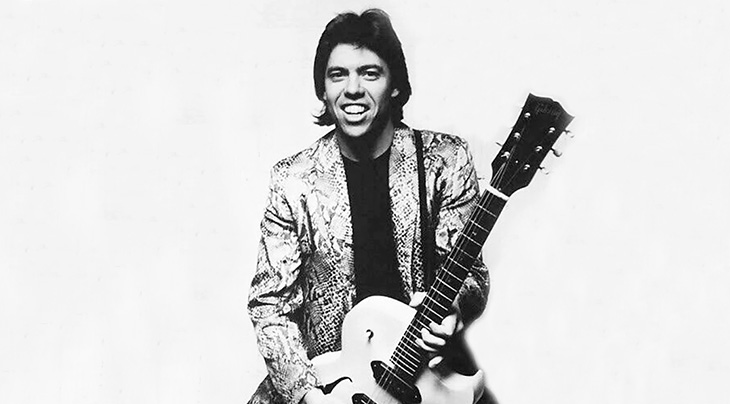 (George Thorogood 1980s Photo: Mark Mander, Rounder Records / the rosebud agency)
He's the lead vocalist of his band, the Delaware Destroyers (named after the state he was born in, on February 24, 1950. Together they've recorded over 20 albums and had numerous hits.
From their 2nd album of the same name – their first big hit:George Thorogood & the Destroyers in 1979, singing Move it on Over (a remake of the Hank Williams song). 
Before committing completely to music, George Thorogood played semi-pro baseball as a second baseman in Delaware's Roberto Clemente League, with centerfielder and eventual Destroyers drummer Jeff Simon on the same team. He's still a baseball fan and cheers for the New York Mets.
As George tells it in a 2013 interview for Rockcellar magazine, here's how he decided on a career in music vs baseball (or working for a living!):
"I was not good at manual labor. Every job I tried I was a failure; I was just not good at it. My parents said, "You can't work and you can't sleep in our basement for the rest of your life. You stay up all night; you look like a rock star.You dress like one and everybody thinks you're a rock star. The only problem is you don't play an instrument. If you can learn to play you can make it…You've got the lifestyle, you've got the look, you've got the attitude, and you're lazy as hell. You wanna party all night. Get that guitar and get going".
"A mediocre, washed up rock star gets more women than a baseball player at the peak of his game. Also, music has much longer longevity than professional sports."
George Thorogood opened for The Rolling Stones in the 1981 U.S. tour, but his biggest break came with the 1982 monster hit Bad to the Bone, and he has never looked back. Bad to the Bone can be heard in many big-screen movies, television shows, advertisements, and on video games. 
Albums have slowed since the 1990s, but his album 2120 South Michigan Ave. is a tribute to Thorogood's musical idols and Chess Records, with covers of artists like Willie Dixon, Bo Diddley, Chuck Berry, Hank William, Bob Dylan, John Lee Hooker, and others. The cover track 2120 South Michigan Ave. is from an early Rolling Stones instrumental. 
When he's not on tour, George Thorogood lives in southern California with wife Marla (they married in July 1985) and daughter Rio (b. 1999) who also sings and plays guitar. George's take on life and aging in a 2013 interview for musicnerd.ca:
"Every day I get up and am still in a vertical position is good. Anything on top of that is just a bonus," he laughs. "My wife is happy, my daughter is healthy and I got a gig. I have never been booed off a stage yet, I've never been in divorce court and my daughter tells me she loves me every day. I don't need to listen to anything else otherwise."
Most recently Thorogood released a solo acoustic cover album Party of One (2017). He's said in several interviews that like all artists, he started out on a solo path and always wanted to do an acoustic album – until fate stepped in and put an electric guitar in his hands and he formed a band (The Delaware Destroyers) to record One Bourbon, One Scotch, One Beer back in 1977. He's never looked back, at least not with any regrets.
Below, George Thorogood performing One Bourbon, One Scotch and One Beer (1984).
Still touring in the USA and Canada 2019 with plans to go to New Zealand in January 2020 and thrill fans there, he had this to say to Shawn of VintageRock.com in 2015 about why George Thorogood & The Destroyers keep on doing live concerts:
"The day I don't get excited about it Shawn, that's the day I'll stop doing it. That's what our act is all about…we're more like a party band."
That's the deal from a man who'll always be bad to the bone for his fans.
Note: This article was first published in 2015 with the title Celebrating Seniors – George Thorogood is 65. It has been updated with new & additional content.