Celebrating Seniors - Faye Dunaway is 75
Septuagenarian senior citizen and Bascom, Florida born actress (Dorothy) Faye Dunaway made her first appearance in the world on  January 14, 1941. Below, a young Faye Dunaway at the beginning of her film career in a 1965 episode of Seaway, "The 34th Man".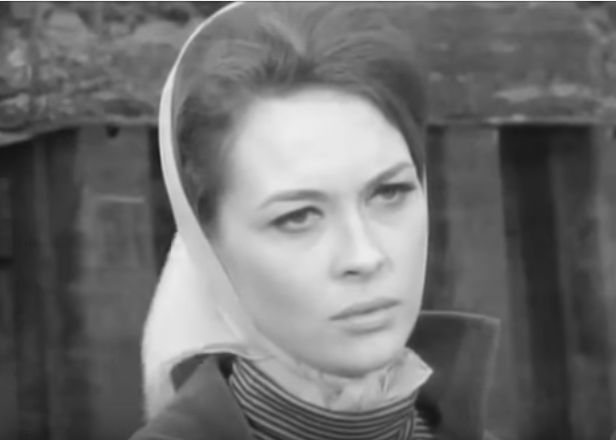 (Faye Dunaway Seaway)
Faye Dunaway's father was a cook in the Army and the family moved frequently; money was tight and her parent's marriage was troubled. In her 1998 autobiography Looking for Gatsby, Dunaway described her father's drunk driving conviction and how he would come home with "lipstick on the collar of his white shirt". Young Faye made a promise to herself;
"I would never allow myself to be in the position of needing financial support from a man."
Her parents separated when they returned to Florida in time for Faye to attend Leon High School in Tallahassee; she graduated in 1958. Faye Dunaway began her university studies at Florida State University but transferred to the University of Florida to be closer to her high-school boyfriend Gene. They broke up and she completed her theater degree at Boston University in June, 1962. Dunaway also took classes at the American National Theater and Academy, and was well on her way to a successful career in acting with a contract role in the play A Man for All Seasons (1962-1963).
Faye Dunaway met troubled comedian Lenny Bruce after seeing one of his performances. A romance began, but it ended in 1963 when his heroin addiction began to scare her.
Her next romance was with actor Michael O'Brien, with whom she felt a shared comradeship in the battle against depression (Dunaway has said she was in analysis for years). She continued to act steadily on Broadway until signing contracts for the movies. 
While in Florida preparing to shoot a movie in 1966, Faye Dunaway met freelance celebrity and fashion photographer (Vogue, Glamour) photographer Jerry Schatzberg, who was sent by Esquire to photograph her. Jerry Schatzberg and Faye Dunaway were a couple for a few years, and it was Jerry Schatzberg who talked to her about starring in his directorial movie debut, Puzzle of a Downfall Child (1970).
By then, Faye's movie career was progressing steadily and she was filming 2-3 movies a year. In the hippie comedy The Happening (1967), she co-starred with Anthony Quinn, Robert Walker Jr., George Maharis, Michael Parks, and Milton Berle.
The violent and bloody classic Bonnie and Clyde (1967) saw Dunaway co-starring with Warren Beatty, Gene Hackman, Michael J. Pollard, and Gene Wilder.
Faye Dunaway, Warren Beatty, and Gene Hackman are featured in this movie trailer for Bonnie and Clyde.
Faye Dunaway's next two movies lived up to the promise she'd shown in Bonnie and Clyde. In The Thomas Crown Affair (1968), she co-starred with another big leading man, Steve McQueen In The Arrangement (1969), she was paired with film legend Kirk Douglas. 
Faye Dunaway had met actor Marcello Mastroianni while filming A Place For Lovers (1968) in Cortina d'Ampezzo, Rome, Trentino – Alto Adige, and Bolzano. She left Jerry Schatzberg for Mastroianni the following year. 
They lived together for 2 years, until Dunaway left Marcello Mastroianni when he refused to divorce his wife so they could marry. 
All told, Faye Dunaway appeared in 16 movies in the 1970's, appearing alongside top male co-stars in successful films such as Little Big Man (1970) co-starring Dustin Hoffman; Chinatown (1974) with Jack Nicholson, Diane Ladd, John Huston, and Roman Polanski; After the Fall (1974) and Ordeal by Innocence (1984) with Christopher Plummer; The First Deadly Sin (1980) with Frank Sinatra; and The Champ (1979) with Jon Voight and Ricky Schroder.
Faye Dunaway and Jack Nicholson are featured in this movie trailer for Chinatown.
In The Three Musketeers (1973) and the sequel The Four Musketeers: Milady's Revenge, Faye Dunaway starred as the character of Milady. Dunaway's co-stars in each of these movies included Oliver Reed, Raquel Welch, Richard Chamberlain, Michael York, and Geraldine Chaplin.
The star-studded disaster flick The Towering Inferno (1974) was a box-office success. Co-starring with Faye Dunaway in The Towering Inferno were Paul Newman, William Holden, Susan Blakely, Richard Chamberlain, Jennifer Jones, Robert Vaughn, Robert Wagner, Susan Flannery, and Dabney Coleman. 
Robert Redford was Dunaway's leading man in the spy thriller Three Days of the Condor (1975). Three Days of the Condor supporting actors included Cliff Robertson, Max von Sydow, and John Houseman. Faye Dunaway and Robert Redford are featured in this clip from Three Days of the Condor:
Faye Dunaway and Max Von Sydow were cast members again in the WWII film Voyage of the Damned (1976), along with Lee Grant, Katharine Ross, Michael Constantine, and Julie Harris.
Eyes of Laura Mars (1978), the spooky thriller co-starring Faye Dunaway as a fashion photographer and Tommy Lee Jones as a police detective, was another box-office success.
Meanwhile, Faye Dunaway had met rock singer Peter Wolf (The J. Geils Band) in 1972 before a concert. They dated for 2 years before marrying in 1974. Peter Wolf and Faye Dunaway divorced in 1979 after 5 years of marriage. 
Faye Dunaway won a Best Actress Academy Award for her role in Network (1976) with Peter Finch, William Holden and Ned Beatty. English photographer Terry O'Neill took an iconic photo of her the morning after her win for Network. O'Neill told interviewer Angela Levin for The Daily Mail in 2011, that he'd first met Faye Dunaway when she was filming the Western Doc (1970); then met her again to take the picture.
"We were both married at the time, so it was complicated."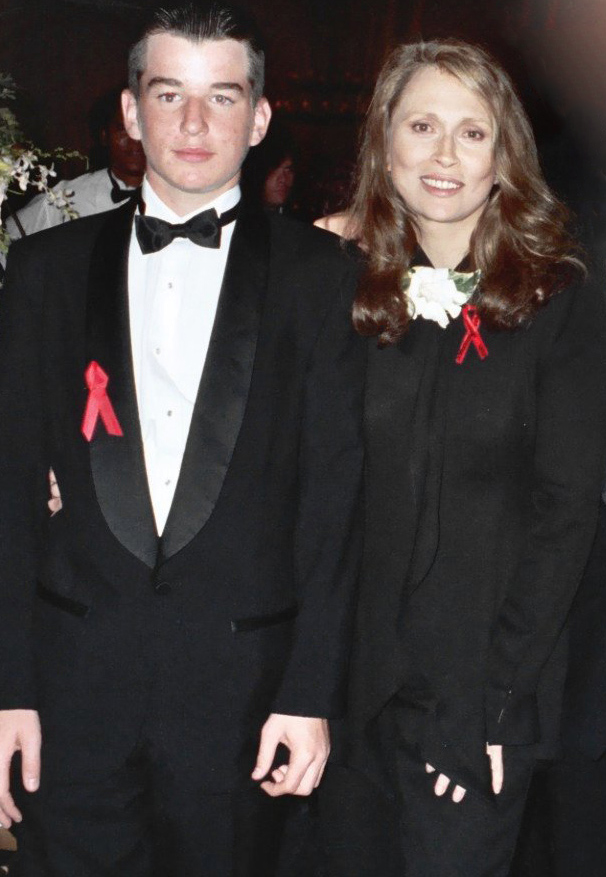 (Faye Dunaway with her son Liam Dunaway O'Neill in 1994 Photo: Alan Light)
Terry O'Neill and Faye Dunaway were married in 1983. 
Terry O'Neill has said they adopted son Liam O'Neill (born in 1980); Dunaway has said she gave birth to him. That does sound complicated!
Faye Dunaway and Terry O'Neill divorced in 1987; according to O'Neill, their relationship was already in difficulty while Dunaway was immersed in filming the role of Joan Crawford, in the movie flop Mommie Dearest (1981).
Below, Faye Dunaway in a courtroom scene from Mommie Dearest, bringing the spirit of Joan Crawford (and her feud with Bette Davis) to life on screen.
Faye's movie career continued with hits and (mostly) misses; all told, she appeared in 18 big-screen and television movies in the 1980's.
One movie miss was The Two Jakes (1990), which was a sequel to China Town, and starred Jack Nicholson, Harvey Keitel, Meg Tilly, Madeleine Stowe, and David Keith. In The Two Jakes, Dunaway is reduced to an off-screen voice-only role.
Faye Dunaway's movie career dive in the 80's may be partly attributed to living in Europe with husband Terry O'Neill for much of the early 1980's, and her focus on raising their son.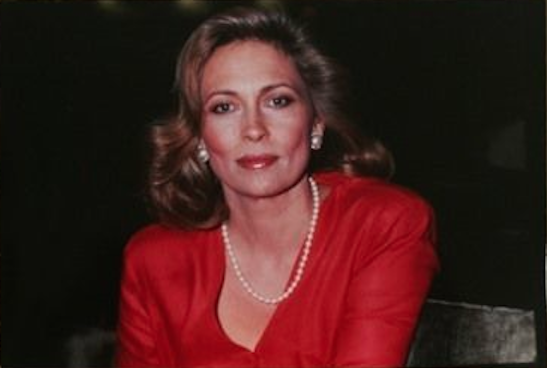 (Faye Dunaway 1986 Photo: Terry-open)
Dunaway appeared as Queen Isabella in the television mini-series Christopher Columbus (1985). Her co-stars in Christopher Columbus included Gabriel Byrne (as Columbus) and Max von Sydow as King John of Portugal.
A career resurgence in the 1990's during her 50+ years saw Faye Dunaway appearing in 18 movies; these movies tended to be more successful films. She also made a return to the stage in 1996 with Master Class.
She worked on a Columbo television movie with actor Peter Falk, and with Johnny Depp and Marlon Brando in Don Juan deMarco (1995).
Below, In the official movie trailer for Don Juan deMarco, star Johnny Depp is featured along with older lovers played by Marlon Brando and Faye Dunaway.
The Thomas Crown Affair (1999) movie remake starring Pierce Brosnan and Rene Russo, had Faye Dunaway playing a psychiatrist this time around.
Faye Dunaway's movie career continued as she turned the corner into her 60+ senior citizen years; she appeared in 28 movies between 2000-2010. These films didn't achieve the level of commercial success she'd enjoyed earlier in her career. Dunaway complained in 2008 that Hollywood does not treat older women well, compared to male movie stars.
"Why should I play sisters and mothers while guys like Jack (Nicholson) and Clint (Eastwood), who are older than me, have on-screen lovers half their age?"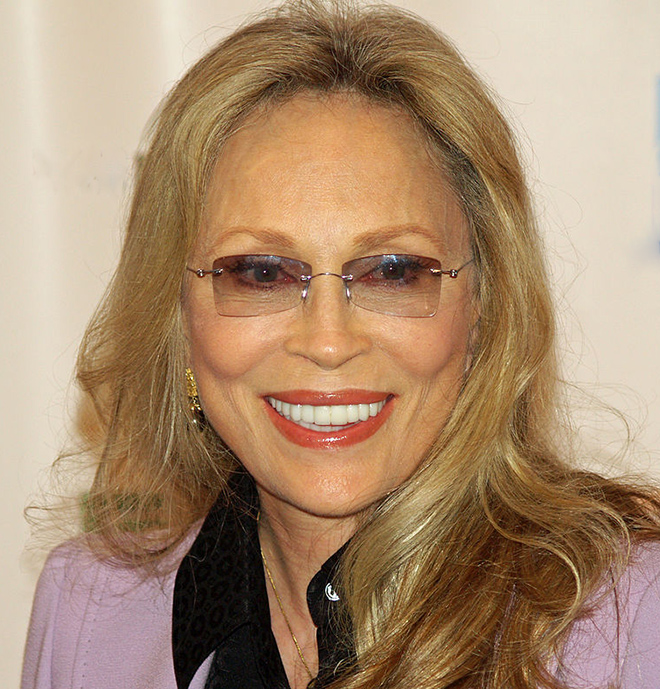 (Faye Dunaway 2008 Photo: David Shankbone)
Now a septuagenarian, Faye Dunaway can be seen in the more recent movies Blind Horizon (2003) with Val Kilmer, Sam Shephard, Neve Campbell, and Giancarlo Esposito, and the horror movie The Bye Bye Man (2017). Although her career is slowing down, it is not over.
Updated March 1 2017: To reflect that Faye Dunaway played Joan Crawford, not Bette Davis, in Mommie Dearest. 
*Images are public domain or Creative Commons licensed & sourced via Wikimedia Commons, Vimeo, YouTube, or Flickr, unless otherwise noted*