BFGW & Room 222's Michael Constantine
He was best known to baby boomers as Principal Kaufman on Room 222, or as nostalgic tourist Jack Harmon in If It's Tuesday, This Must Be Belgium (1969), but newer audiences and younger fans usually recognized Michael Constantine from the My Big Fat Greek Wedding movies & series.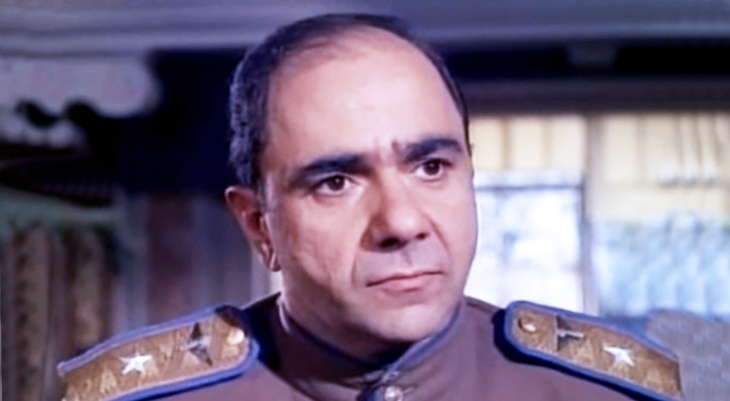 (Michael Constantine 1966 12 O'Clock High "Massacre")
Nee Gus Efstration, hardworking character actor Michael Constantine was born on May 22, 1927 to his Greek immigrant parents in Reading, Pennsylvania. A younger sister died from spinal meningitis when Constantine was 5, and Constantine told online health education and information magazine WiRED International, that "this stays with a family"; he's long had interests in and supported health-related causes.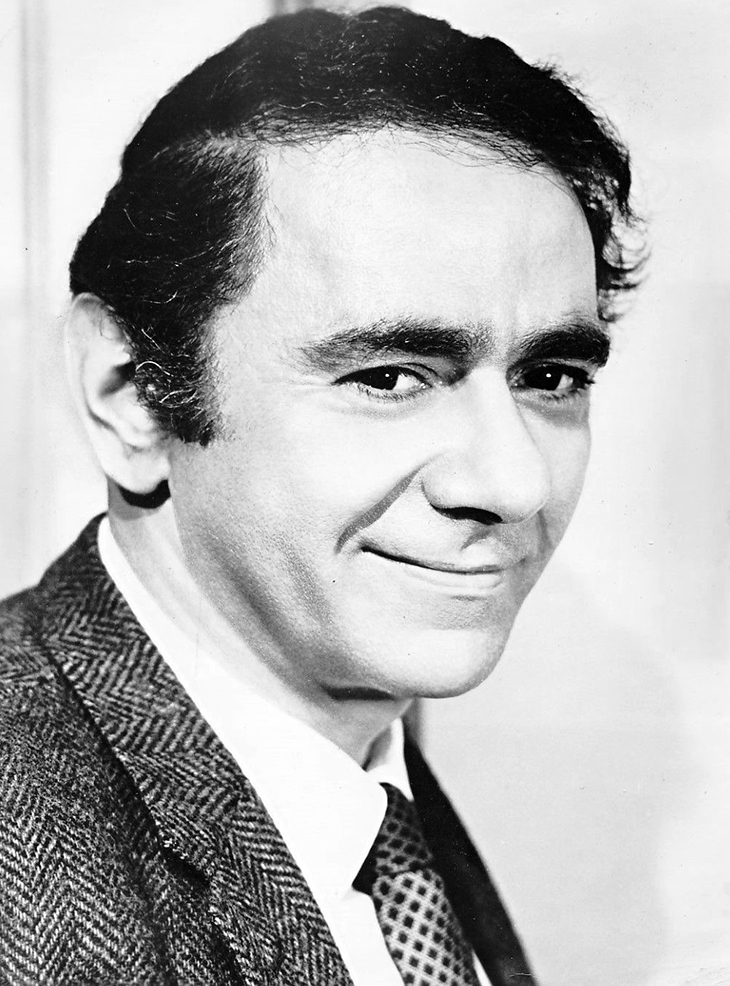 (Michael Constantine 1971 Room 222 Photo: CTV Network)
Michael Constantine's professional acting career began in New York City in Inherit the Wind. He understudied the play's lead, Paul Muni, and met actress Julianna McCarthy; they married in October 1953. While Constantine worked steadily on Broadway during the 1950's, he and Julianna had daughter Thea Constantine (b. 1956). 
Constantine's first big-screen movie role was a co-starring role as a convict in the prison break film The Last Mile (1959), with Mickey Rooney and Frank Overton. Supporting character actors Frank Conroy, Milton Selzer, Clifton James, Don "Red" Barry, and others rounded out the cast of The Last Mile.
In 1961 he played Big John in the classic pool hall movie, The Hustler (1961) starring Paul Newman, Jackie Gleason, George C. Scott, and Piper Laurie. Murray Hamilton, boxer-actor Jake LaMotta, and Michael Constantine had strong supporting roles in The Hustler. 
Michael Constantine's other early 1960s movies included the comedies Island of Love (1963), starring Robert Preston, Tony Randall, and Walter Matthau; and Quick, Before It Melts (1964), with George Maharis, Robert Morse, Anjanet Comer, James Gregory, Norman Fell, Bernard Fox, and Yvonne Craig, among others.
He'd begun acting in episodes of television series during the 1950's, but the pace picked up in the first half of the 1960's.
Michael Constantine appeared in episodes of popular baby boomer television series like The Untouchables, The Virginian, The Dick Van Dyke Show, Dr. Kildare, Perry Mason, The Richard Boone Show, Death Valley Days, The Twilight Zone, and My Favorite Martian.
The 1960s fighter pilot series 12 O'Clock High is set in World War II, and when Constantine guest-starred on an episode titled "Massacre" in 1966 the series starred regulars Paul Burke, Chris Robinson, and Frank Overton. Overton and Constantine had been co-stars in The Last Mile (1959). Michael played Russian General Nikolai Vorodenko, who holds the American fighter pilot crew hostage.
Below, the 12 O'Clock High "Massacre" episode also features guest stars Kevin McCarthy as Major Baladin, Kathleen Widdoes as Lt. Irina Zavanoff, Barney Phillips as Doc Kaiser, Jan Merlin as Colonel Grulov, and John Zaremba as Lt. General Owen.
Constantine was a regular cast member on Hey, Landlord (1966-1967), a television series that lasted one season, and worked steadily in movies as well, acting in Hawaii (1966) with Julie Andrews, Max von Sydow, Richard Harris and Gene Hackman. He co-starred with Richard Anderson and Anne Jeffreys in Ghostbreakers (1967).
By the time son Brendan Constantine (b. 1966) came along, Julianna and Michael Constantine had moved their family to Los Angeles so they could both pursue acting in films and television. In 1969, they divorced after 16 years of marriage.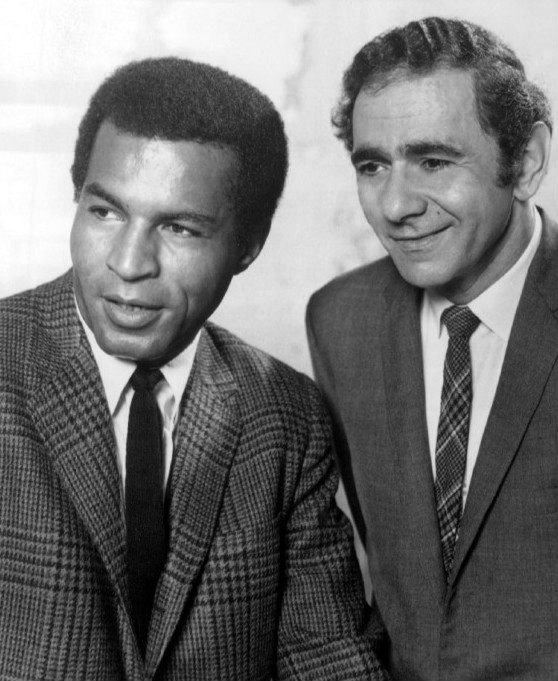 (Lloyd Haynes and Michael Constantine 1969 Room 222 Photo: ABC Television)
Most baby boomer fans will remember Michael Constantine best from the 1960s television series Room 222 (1969-1975) . He landed a regular cast member role as Principal Seymour Kaufman in the popular high school drama, opposite co-stars Karen Valentine, Denise Nicholas, and Lloyd Haynes. Constantine won a Best Supporting Actor Emmy Award in 1970 for his role as Kaufman on Room 222, and was nominated again the following year for it as well.
Prior to landing a leading role on Room 222, he had a recurring role from 1966-1967 on the Hey, Landlord sitcom, which starred Will Hutchins and Sandy Baron. He appeared in episodes of Hey, Landlord with guest stars John Astin, Richard Dreyfus, Rob Reiner, and Marlyn Mason. 
In addition to 12 O'Clock High, Constantine's many other guest-starring episodic TV gigs between 1966-1969 included these popular series: 
I Spy, a spy comedy starring Robert Culp & Bill Cosby.
Combat!, a WWII drama with stars Rick Jason and Skip Homeier, and Margaret O'Brien in a guest-star gig.
Iron Horse, a western drama starring Dale Robertson and Gary Collins.
Ironside, a police/crime series starring Raymond Burr, with Don Galloway, Don Mitchell, and Barbara Anderson. He appeared in a episode with guest stars Guy Stockwell, Marcia Strassman, Barbra Rhoades, and George Furth.
Slattery's People, starring Richard Crenna, in an episode with Ed Asner, Arthur Hill, Joan Blackman, and Steve Ihnat.
The Flying Nun, a comedy with Sally Field, Madeleine Sherwood, Alejandro Rey, Marge Redmond, and Vito Scotti. 
2 episodes of the western drama Gunsmoke, starring regulars James Arness, Milburn Stone, Amanda Blake, and Burt Reynolds. Other guest stars and regulars in these episodes with Michael Constantine were Edgar Buchanan (Petticoat Junction), H.M. Wynant, Dabbs Greer, and Roy Roberts. 
3 episodes of star David Janssen's hit series The Fugitive, in 1965-1967 episodes with fellow guest stars Jack Klugman, Fritz Weaver, Dabbs Greer, Richard Anderson, Barry Morse, and Joseph Campanella.
Mission: Impossible, a spy thriller with then-stars Peter Graves, Leonard Nimoy, Greg Morris, Peter Lupus, and guests Harold Gould, and A Martinez.
Michael Constantine had supporting roles in two Jackie Gleason comedy films. Skidoo (1968) is a star-studded mobster flick starring Gleason and Groucho Marx. Carol Channing, Frankie Avalon, Fred Clark, Frank Gorshin, John Phillip Law, Peter Lawford, Burgess Meredith, George Raft, Cesar Romero, Mickey Rooney, Slim Pickens, Robert Donner, Richard Kiel, and Austin Pendleton played supporting character roles in Skidoo. In Don't Drink the Water (1969), he co-starred with Estelle Parsons, Ted Bessell, and Avery Schreiber. 
Other 1960s movies of note for him include several star-studded films:
He was a sailor in the epic drama Hawaii (1966), with Julie Andrews, Max von Sydow, Richard Harris, Gene Hackman, Carroll O'Connor, John Cullum, and Lou Antonio.  
If It's Tuesday, This Must Be Belgium (1969), a rom-com with Suzanne Pleshette, Ian McShane, Vittorio De Sica, Murray Hamilton, Norman Fell, Mildred Natwick (The Snoop Sisters), Robert Vaughn, Anita Ekberg, and others. Michael Constantine plays a tourist who returns to Italy on a group tour and nostalgically recalls his WWII memories of that country to his wife.
In Enemy Country (1968), a WWII dramatic adventure film starring Anthony Franciosa, Anjanette Comer, Guy Stockwell, John Marley, Milton Selzer, and Tige Andrews. 
Justine (1969), an Anouk Aimee & Dirk Bogarde dramatic film set in pre-WWII Greece. Robert Forster, Philippe Noiret, Michael York, John Vernon, Jack Albertson, Cliff Gorman, and Barry Morse also appear.
The Reivers (1969), a fast-paced dramatic comedy starring Steve McQueen, Sharon Farrell, Lonny Chapman, Rupert Crosse, and Mitch Vogel. Also in the cast of The Reivers were Ruth White, Clifton James, Will Geer (The Waltons), Diane Ladd, and Ellen Geer.
Michael Constantine married again, to Kathleen Christopher in September 1974.
He made guest appearances on popular 1970s TV shows such as The Mary Tyler Moore Show, The Streets of San Francisco, Kojak with his friend Telly Savalas, The Odd Couple, McMillan & Wife, Ellery Queen, and Police Woman (starring Angie Dickinson).
In the late 1970's as Constantine entered his 50+ years, he appeared in two miniseries – 79 Park Avenue (1977) and Roots: The Next Generations (1979) – and the television movie Summer of My German Soldier (1978), starring Kristy McNichol and Bruce Davison. 
Michael Constantine had his own television series again in the mid-to-late 1970's, as Judge Matthew J. Sirota in the NBC sitcom Sirota's Court (1976-1977).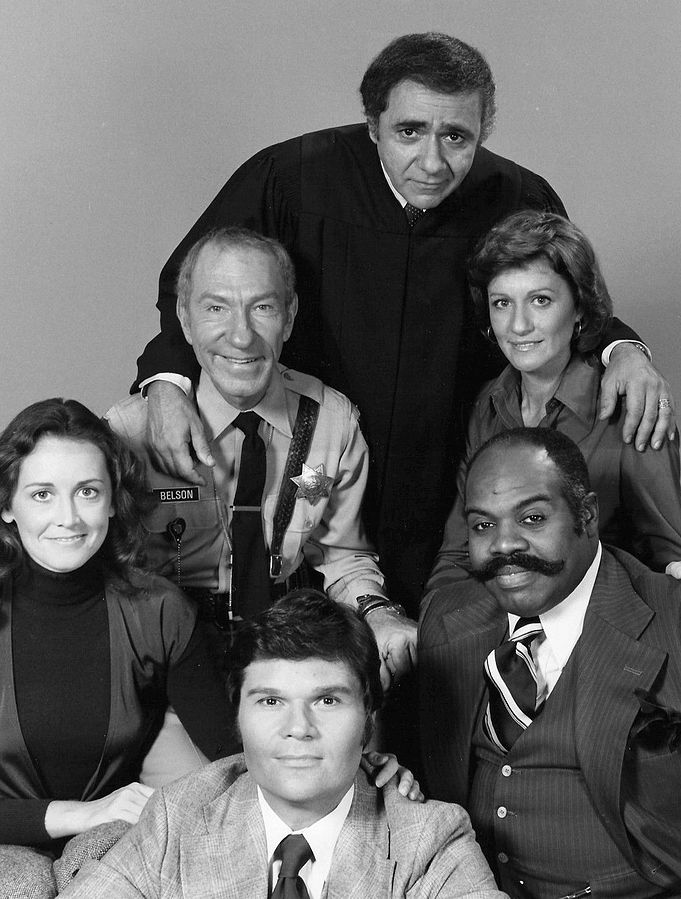 (Clockwise from far left, the cast of Sirota's Court in 1976: Kathleen Miller as Gail Goodman, Owen Bush as John Belson, Constantine, Cynthia Harris as Maureen O'Conner, Ted Ross as Sawyer Dabney, and Fred Willard as H. R. 'Bud' Nugent).
Along with Canadian actress Susan Clark, Barbara Harris, Karen Valentine (a former co-star in Room 222), Cloris Leachman, Alan Hale, Jr. (Gilligan's Island), and Laugh-In's Ruth Buzzi, Michael Constantine appeared in The North Avenue Irregulars (1979) Disney movie.
During the 1970s although his movie roles dwindled, he could still be seen in these other films:
Kathleen and Michael Constantine divorced in August 1980. Throughout the 1980's and his 50+ and early 60's years, Constantine continued to act in feature films and television. He guest-starred on TV series such as Murder, She Wrote, Simon & Simon, MacGyver, Magnum P.I., Remington Steele, The Love Boat, Trapper John, M.D., Lou Grant, The Fall Guy, The Love Boat, Hotel, Matt Houston, Highway to Heaven, and several episodes of Quincy ME.
Constantine was Santa in the Christmas movie Prancer (1989), his biggest film role of the 1980s. Prancer co-stars Sam Elliott, Cloris Leachman, Abe Vigoda, and a very young Johnny Galecki (Leonard on The Big Bang Theory).
Michael Constantine told WiRED International that he turned to writing as a past-time in the mid-1980's, and began writing screen plays.
The 1990's and the advent of his senior citizen years did not see him retiring from acting. He appeared on television series such as Law & Order and Cosby, and in big-screen movies:
My Life (1993), a drama with Michael Keaton as a dying man; his wife (Nicole Kidman), and supporting actors Bradley Whitford, Queen Latifah, and Rebecca Schull.
Deadfall (1993), a crime drama starring Michael Biehn, Nicholas Cage, James Coburn, Peter Fonda, Charlie Sheen, Talia Shire, J. Kenneth Campbell, and Micky Dolenz.
The Juror (1996), a courtroom thriller with Demi Moore, Alec Baldwin, Joseph Gordon-Levitt, James Gandolfini, Lindsay Crouse, Anne Heche, Tony Lo Bianco, and Matt Craven.
Thinner (1996) was a rare horror film for Constantine. Thinner's cast included Joe Mantegna, Bethany Joy Lenz, and Kari Wuhrer.
Michael Constantine's scene-stealing role as father Gus Portokalos in the box-office smash independent film My Big Fat Greek Wedding (2002), came when he was a septuagenarian senior citizen. 
This official trailer for My Big Fat Greek Wedding features Michael Constantine, Nia Vardalos, Lainie Kazan, Andrea Martin, John Corbett, and others from the cast.
My Big Fat Greek Wedding upped Constantine's visibility level with aging baby boomers and new generations alike, and brought more television guest-starring roles on series like Cold Case. He was a regular cast member role in a short-lived TV series produced by Tom Hanks and Rita Wilson – My Big Fat Greek Life (2003). 
The 89-year-old Constantine was back on the big screen after a 15 year absence, reprising his role as Gus Portokalos in the sequel movie My Big Fat Greek Wedding 2 (2016). 
In a 2016 interview with 69 News WFMZ-TV, Constantine said that people often asked him to sign their Windex bottles, or give him a gift of a bottle of Windex, in tribute to his My Big Fat Greek Wedding character.
Although he didn't retire from acting per se, he was more focused on writing after 2003, and completed a historical fiction book Sins of Holy Men. Constantine said he loved researching and used the internet for that. In 2016 he was in the midst of researching a new book on the life of Irish nationalist William Smith O'Brien, and had also started writing a memoir.
In a 2017 interview with Hellenic News, Constantine recalled meeting up with his own extended family in Greece for the first time while filming a movie there (My Palikari, 1983) with "my pal Telly" (Telly Savalas) and noted how moving the experience was.
Telly Savalas and Michael had been onscreen adversaries in the  adventure film Beau Geste (1966), which starred Guy Stockwell, Doug McClure, Leslie Nielsen, and a strong supporting cast. Below, a look back at a younger Michael Constantine, in Beau Geste.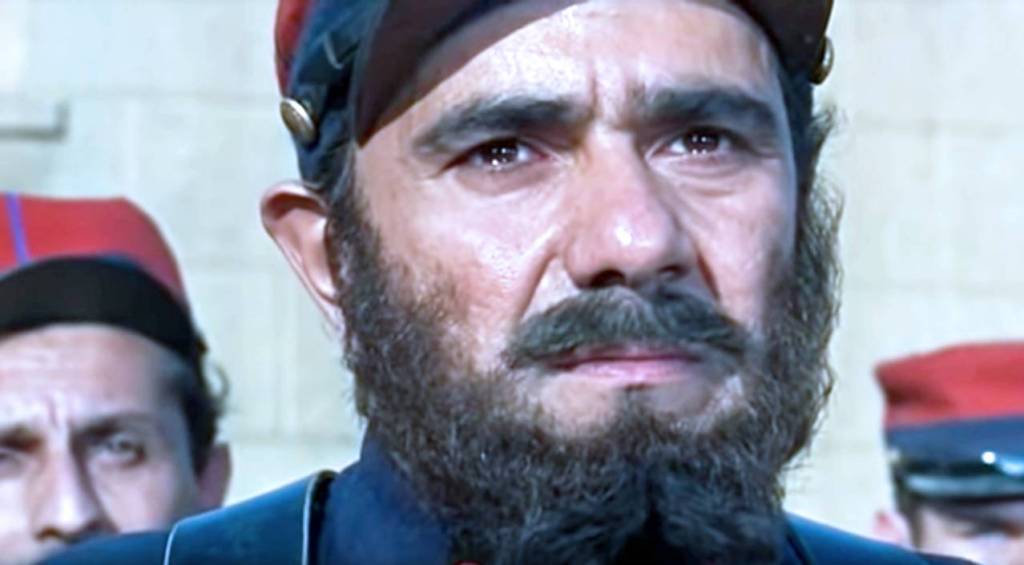 (Michael Constantine 1966 Beau Geste)
Constantine commented that he lovedto spend time with his children and two sisters, and divided his time between California and his home town of Reading, Pennsylvania. In an interview with Media Personality Brad Dalius, octogenarian senior citizen Michael Constantine said:
"I love life…I love getting up in the morning and looking out the window and seeing trees and greenery."
Michael Constantine died on August 31, 2021 at the age of 94.
Note: This article was first published in 2016 under the title Celebrating Seniors – Michael Constantine is 89. It has been updated with new / additional content.
*Images are public domain or Creative Commons licensed & sourced via Wikimedia Commons, Vimeo, YouTube, or Flickr, unless otherwise noted*