Celebrating Seniors - Joseph Campanella is 92, Part 1
Update: Joseph Campanella died on May 16, 2018 at the age of 93 from Parkinson's disease complications
Joseph Campanella, Part 1: The Bold Ones to One Day at a Time (1924-1985)
Joseph Campanella was born on November 21, 1924 in New York City, New York.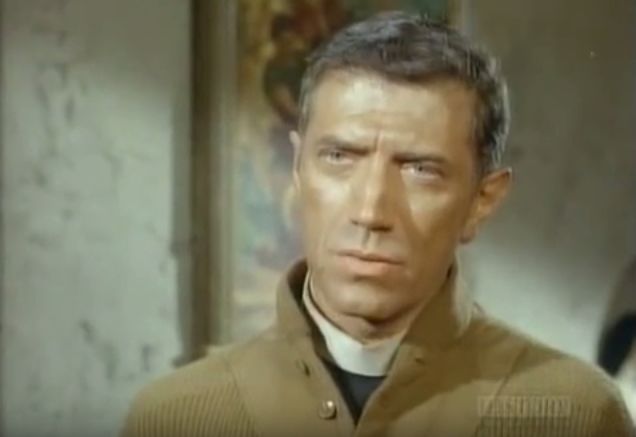 (Guest star Joseph Campanella as Father Roman, 1966 12 O'Clock High)
Joseph and his older brother Frank Campanella grew up speaking Italian at home and the family were staunch Catholics. Both Joseph and Frank Campanella served during World War II (Joseph in the U.S. Naval Reserve from 1944-1946) and attended Manhattan College. Frank studied drama and graduated from Manhattan College in 1940 as WWII was beginning, and Joseph graduated in 1948 after the war ended. Joseph Campanella told the Los Angeles Times that he loved baseball as a kid and always had a glove in his back pocket.
"Just in case I ran into a game anywhere".  
Upon graduating from Manhattan College in 1948 with a B.A., Joseph Campanella enrolled at Columbia University in New York for graduate studies. He told Variety about his brother Frank Campanella.
"He always wanted to be an actor and kind of influenced me." 
During the 1950's, Joseph Campanella found announcing and acting work on the radio as a sportscaster, in commercials, on television, and on stage. His first listed film credit is an April 1952 episode of Studio One in Hollywood, in an episode with Philip Abbott (The F.B.I.) and John Forsythe (Dynasty) – he'd work with both actors again later in his career. More episodic television work followed, and Campanella's senior and baby boomer fans may recall having seen him in episodes of New York based TV series, such as:
Robert Montgomery Presents, with Edward Andrews.
The United States Steel Hour, with Burgess Meredith. 
The Guiding Light, with Charita Bauer; Campanella played Joe Turino and was a regular on the series (1959-1960).
In the late 1950's, Joseph worked with his brother Frank Campanella on screen again, in episodes of New York Confidential, and Decoy, with Beverly Garland and Barbara Barrie. He'd work again with Beverly Garland several more times, including in an episode of Lancer in 1969.
The biographical crime drama Murder, Inc. (1960) starring 32-year-old Stuart Whitman, Henry Morgan (M*A*S*H), Peter Falk (Columbo), and Morey Amsterdam (The Dick Van Dyke Show), was 36-year-old Joseph Campanella's first big-screen movie role. Both Campanella and actress Diane Ladd had uncredited roles in Murder, Inc.; Murder, Inc. co-stars Stuart Whitman and Joseph Campanella were in their 50+ years when they were reunited 29 years later on an episode of Superboy in 1989.
Joseph Campanella alternated stage plays with television work in the early 1960's, and was nominated for a 1962 Tony Award as Best Supporting or Featured Actor (dramatic), for his performance on Broadway in A Gift of Time. A Gift of Time was written and directed by Garson Kanin, and starred Henry Fonda and Olivia deHavilland.
As much of the television acting work had shifted to California from New York, Campanella commuted from New York to Hollywood during the 1960's for guest-starring gigs on television series like: 
Startime (1960), in an episode with William Hickey, Audie Murphy, Michael J. Pollard, and Thelma Ritter.
Run For Your Life (1960) starring Ben Gazzara.
Naked City, in 3 appearances from 1961-1962, with Paul Burke, Lee J. Cobb, Barry Morse. Joseph Campanella guest-starred in another series starring Paul Burke and Chris Robinson in 1966 – 12 O'Clock High, with Richard Anderson and Edward Mulhare (The Ghost and Mrs. Muir).
The Untouchables in 1962 with Robert Stack and Dorothy Malone (Peyton Place). Campanella guest-starred twice on another Robert Stack series in the 1970's, The Name of the Game, in episodes with Susan Saint James and Anthony Franciosa.  
Route 66 starring Martin Milner and George Maharis in 1962, and again in 1963; Campanella appeared in an episode of Route 66 with Alan Alda. 
East Side, West Side, starring George C. Scott and Cicely Tyson; the 1962 episode Campanella appeared in had Lois Nettleton in the cast as well. Although this was the first Joseph Campanella and Lois Nettleton had appeared in the same production, it wouldn't be their last; they co-starred in the TV movie Any Second Now (1969) with Marion Ross, Dana Wynter, and Bob Hastings; and on an episode of Charlie Grace in 1996.
For the People, a 1965 episode starring William Shatner, Jessica Walter, and Nehemiah Persoff. Nehemiah Persoff and Joseph Campanella had co-starred in an episode of Kraft Theater in 1956.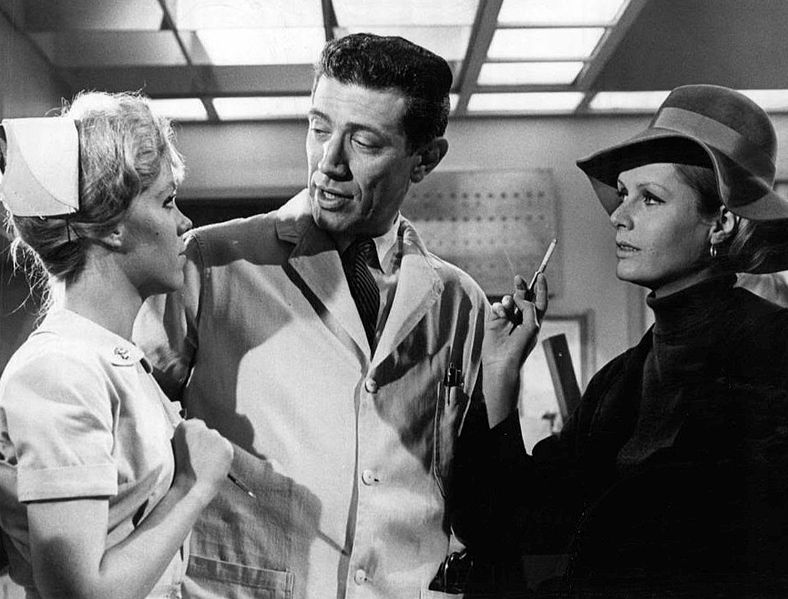 (Zina Bethune, Joseph Campanella, & Diana Hyland 1965 The Doctors and the Nurses 1965 Photo: CBS Television)
Joseph Campanella had a recurring role as Dr. Ted Steffen on The Doctors and The Nurses from 1962-1965.
While appearing as the leading man on Broadway in Hot Spot in 1963, Joseph Campanella met singer-dancer (Kathryn) Jill Bartholomew. They got married in May 1964 and over the next 15 years, Jill and Joseph Campanella had 7 sons, according to a Days of Our Lives Former Cast Biographies: Philip Campanella b. 1965, Robert Yale Campanella b. 1966, Joseph Anthony Campanella Jr. b. June 1967, Dominic Peter Campanella b. Dec. 1969, Anthony F. Campanella b. Sept. 1974, John Mario Campanella b. Dec. 1977, and Andrew Michael Campanella b. Oct. 1979.
Brothers Frank and Joseph Campanalla continued to work together periodically on television and the movies; they were both in the same 1964 episode of Suspense starring Vic Morrow, and were both in the Vic Morrow TV movie Death at the Stock Car Races (1964). Joseph Campanella had first worked with Vic Morrow on screen when he guest-starred twice on Morrow's series Combat! in 1963-1964.
The feature film The Young Lovers (1964) starred Peter Fonda and Deborah Walley as students. Joseph Campanella played their art professor in The Young Lovers.
In the latter half of the 1960's and early 1970's, he guest-starred appeared on episodes of popular baby boomer TV series like The Doris Day Show, The Wild Wild West, and Gunsmoke (below).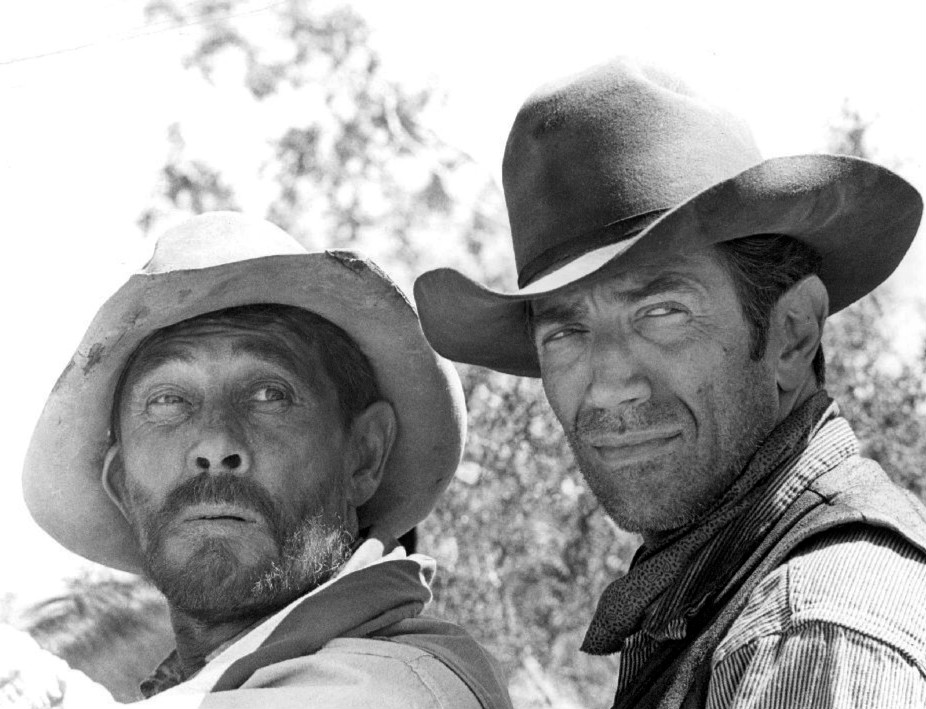 (Ken Curtis & Joseph Campanella 1968 Gunsmoke Photo: CBS Television)
Campanella also guest-starred with familiar faces on these 60s TV series:
The Invaders 1967 starring Roy Thinnes and BarBara Luna. 
The Fugitive starring David Janssen. Campanella guest-starred 4 times on The Fugitive between 1964-1967, in episodes with Barry Morse, Clint Howard, Beau Bridges, Richard Anderson, and Michael Constantine. He had been on the same episode of 12 O'Clock High with Richard Anderson, and over 10 years later, Campanella and Michael Constantine worked together again when they guest-starred on Quincy M.E. 
In 1966 & 1967, Campanella guest-starred twice on The Big Valley starring Lee Majors, Peter Breck, Linda Evans, and Barbara Stanwyck. 
2 episodes of Mission: Impossible in 1967 and 1968, starring Barbara Bain, Martin Landau, and Peter Graves.
The Virginian starring James Drury, Lee J. Cobb, and Doug McClure. Joseph Campanella guest-starred 3 times on The Virginian between 1963-1968, appearing in episodes with David Hartman, and Harry Dean Stanton.
The St. Valentine's Day Massacre (1967) feature film starred Jason Robards as Al Capone. Also in the cast of The St. Valentine's Day Massacre were George Segal, David Canary, Bruce Dern, Tom Reese, Joseph Campanella as Albert Wienshank, and Jack Nicholson in an uncredited role as hit man Gino.  
Joseph Campanella had a recurring role as Detective Joe Mannix's (Mike Connors) Intertect boss Lew Wickersham, on Mannix from 1967-1968. He later returned to Mannix as a guest-star in a 1972 episode, as a surgeon whose life is in danger.
Campanella earned a 1968 Emmy Award nomination for Outstanding Performance by an Actor in a Supporting Role in a Drama, for his work on Mannix. 
Joseph and Jill Campanella moved their family to California in 1969, and settled in the Toluca Lake area north of Los Angeles. All of their sons played Little League baseball in Toluca Lake, and Joseph Campanella was even named an Honorary Sheriff of Toluca Lake. His brother Frank Campanella also lived in Toluca Lake area, until his death in December 2006.
Joseph Campanella was signed to star in The Bold Ones: The Lawyers TV series as Brian Darrell in 1969. His co-stars on The Bold Ones: The Lawyers from 1969-1972 were Burl Ives and James Farentino. Campanella told the Chicago Tribune that he had an arrangement with Universal Studios that all of his The Bold Ones episodes be filmed in 4 months, and a guarantee of a minimum of 2 guest-starring roles per year in other Universal series such as Ironside, and Marcus Welby, M.D. starring James Brolin. This contract Campanella free to work on other film and stage projects, and he also guest-lectured in drama classes.  
Other TV series that Joseph Campanella appeared in during the early 1970's were McCloud, and Medical Center (in an episode with Cyd Charisse). He worked with familiar names for baby boomer fans of other series, such as: 
George Hamilton, when he guest-starred in a 1970 episode of Paris 7000.
Ben Murphy, when he guest-starred in Alias Smith and Jones.
Vera Miles, William Shatner, Tim Matheson, Bruce Davison, Dana Wynter, Lee Majors, Peggy Lee, and Mark Hamill, when Joseph Campanella guest-starred in 2 episodes of Owen Marshall, Counselor at Law. He had worked with William Shatner before, in 1965 on an episode of For The People; and with Lee Majors, on The Big Valley.
Mary Tyler Moore, Valerie Harper, Edward Asner, and Gavin MacLeod, on The Mary Tyler Moore Show in a 1973 episode.
Kate Jackson and Michael Ontkean, when he guest-starred on The Rookies in 1973.
Campanella was also kept busy with feature films like Ben (1972) with Meredith Baxter, and in TV movies:
A Clear and Present Danger (1970), with Hal Holbrook, Jack Albertson, and Pat Hingle. Pat Hingle and Joseph Campanella had co-starred in an episode of Kraft Theatre in 1957. 
Murder Once Removed (1971), a thriller starring John Forsythe, Richard Kiley, and Barbara Bain. Barbara Bain and Campanella had worked together on a couple of Mission: Impossible episodes in the late 60s, and a few years later, John Forsythe and Joseph Campanella starred in another TV movie, Terror on the 40th Floor (1974), with Bob Hastings (Campanella's co-star in 1969's movie Any Second Now)
And Then They Forgot God (1971), a sci-fi drama with Adam West and Beverly Garland; this was Campanella's first television appearance with Beverly Garland.
You'll Never See Me Again (1973), a mystery with David Hartman, Jess Walton, George Murdock (Banacek), and Ben Gazzara. Campanella had guest-starred on Ben Gazzara's 1960's series Run For Your Life, and worked with David Hartman on The Virginian.
The President's Plane is Missing (1973), starring Buddy Ebsen (Barnaby Jones), Rip Torn, and Dabney Coleman.
In 1974 alone, a now 50+ Joseph Campanella appeared in 10 television and film projects. This frantic pace of work continued throughout the remainder of the 1970's and 1980's. 
He appeared in 2 TV thrillers with Stefanie Powers – Skyway to Death (1974) with Bobby Sherman, Tige Andrews (The Mod Squad), and John Astin; and Sky Heist (1975) with Larry Wilcox and Shelley Fabares.
Angie Dickinson and Joseph Campanella worked together twice, beginning when he guest-starred on a 1974 episode of Police Story with Dickinson, Bert Convy, and Cesare Danova;. Campanella then guest-starred on Angie Dickinson's series Police Woman in 1976, in an episode with Brooke Adams and Earl Holliman.
Joseph Campanella and Beverly Garland were reunited in the TV movie Unwed Father (1974). Their co-stars in Unwed Father included Kay Lenz, Joseph Bottoms, Willie Aames, and Richard Gilliland.
Campanella's Canadian baby boomer fans may remember him best as the host of the educational series Science International / What Will They Think of Next?, from 1976-1979.
Made-for-TV movies of note for Joseph Campanella's baby boomer fans during the 1970's included:
Hit Lady (1974), a TV thriller starring Yvette Mimieux and Clu Gulager. 
Mission to Glory: A True Story (1977), a western with Ricardo Montalban. The following year Joseph Campanella guest-starred on Ricardo Montalban's series Fantasy Island, in the star-studded Return to Fantasy Island episode with Adrienne Barbeau, George Chakiris, Joseph Cotton, Pat Crowley, George Maharis, France Nuyen, and Karen Valentine. 
Ring of Passion (1978), a TV drama co-starring with Stephen Macht and Britt Ekland. 
From 1976-1982, Joseph Campanella had a recurring role as Ann Romano's (Bonnie Franklin) ex-husband Ed Cooper on One Day at a Time. On One Day at a Time his other costars were Richard Masur, Shelley Fabares, Boyd Gaines. Valerie Bertinelli and Mackenzie Phillips played his children on the series. Shelley Fabares and Campanella had co-starred in the 1975 movie Sky Heist.
In this scene from One Day at a Time, Joseph Campanella (as Ed Cooper) walks Valerie Bertinelli (as daughter Barbara Cooper), down the aisle at her wedding.  
Joseph Campanella remained a popular guest star on television series, and his baby boomer and senior citizen fans might recall seeing him on episodes of Vega$, Trapper John, M.D., Hotel, The Love Boat, Murder, She Wrote, Dallas, and 21 Jump Street. He also appeared on episodes of:
Petrocelli, starring Barry Newman, with Susan Howard and Rose Marie.
Barbary Coast starring William Shatner and Doug McClure. He had worked with both actors before, when he appeared on Owen Marshall, Counselor at Law with William Shatner; and with Doug McClure when he had guest-starred on The Virginian in the 1960's.
Matt Helm, starring Anthony Franciosa, with Juliet Mills and Bert Convy.
Greatest Heroes of the Bible, a 2-part episode called The Story of Moses in 1978. Campanella played Pharaoh and his co-stars included Julie Adams, Lloyd Bochner, Ron Rifkin, and Peter Mark Richman. He had worked with Lloyd Bochner previously, when they were on the same episode of Insight during the late 1960's.
The sci-fi feature film Meteor (1979) saw Joseph Campanella starring in a thriller with Sean Connery, Natalie Wood, Karl Malden, Brian Keith, Martin Landau, and Henry Fonda. Meteor reunited stars Henry Fonda and Joseph Campanella, who had been on Broadway in A Gift of Time 17 years earlier, in 1962. 
Movies of note for Joseph Campanella in the 1980's include:
Defiance (1980) starring Jan-Michael Vincent, Theresa Saldana, Danny Aiello, and Art Carney (The Honeymooners). Campanella later guest-starred on Jan-Michael Vincent's series Airwolf in 1984.
Hangar 18 (1980), a sci-fi thriller starring Darren McGavin, Robert Vaughn, Gary Collins, Philip Abbott and Pamela Bellwood. Robert Vaughn and Joseph Campanella co-starred again in The WWII drama Veliki transport (1983) with James Franciscus (Longstreet) and Steve Railsback. 
My Body, My Child (1982), a TV drama starring Vanessa Redgrave, Jack Albertson, James Naughton, and future Sex and the City co-stars Sarah Jessica Parker and Cynthia Nixon. Jack Albertson and Joseph Campanella had both appeared in the TV movie A Clear and Present Danger in 1970.
Next: Joseph Campanella, Part 2: The Colbys to The Bold and the Beautiful (1986-2016)
Updated May 2017: Correction of dates for Joseph Campanella on Mannix.
*Images are public domain or Creative Commons licensed & sourced via Wikimedia Commons, Vimeo, YouTube, or Flickr, unless otherwise noted*