Celebrating Seniors - Britt Ekland is 74
Septuagenarian senior citizen, Swedish actress and singer Britt Ekland was born on October 6, 1942 in Stockholm, Sweden. Ekland has said of her childhood that "I always tried to be funny to make up for the fact that I was fat and ugly." She quit school to go on the road with a theatre company and ended up in London with a film audition. 
(Britt Ekland 1967 The Bobo Trailer)
An early, uncredited role as Britta in the musical G.I. Blues (1960) starring Elvis Presley and Juliet Prowse was followed by small roles for Britt Ekland in Swedish, British, American, and Italian movies with big-name actors, such as: 
The Happy Thieves (1961) starring Rex Harrison and Rita Hayworth.
Kort är sommaren (1962) starring Bibi Andersoon and Liv Ullman.
The spy movie The Prize (1963) starring Paul Newman, Elke Sommer, and Eward G. Robinson, with Kevin McCarthy was set in Sweden; Ekland played an unnamed nudist.
The western comedy Advance to the Rear (1964) starring Glenn Ford and Stella Stevens, with Jim Backus, Alan Hale, Jr. and Joan Blondell, was filmed in the summer of 1963. Ekland was uncredited as Greta; also in the cast of Advance to the Rear in an uncredited was Peter Ford, actor Glenn Ford's son.
English actor Peter Sellers was a 38-year-old divorced father of two when he saw a picture of 21-year-old Britt Ekland in the newspaper in early February 1964. Ekland was in London to begin filming a movie, and was staying at the same hotel Peter Sellers (The Dorchester). She told Wales OnLine that she got a call from Sellers valet, asking her to meet Peter Sellers for a drink in his suite.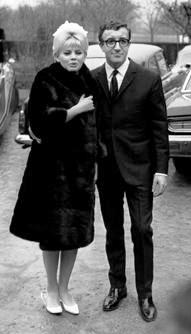 The following day Sellers took her to Kensington Palace and introduced her to his friends Lord Snowdon and Princess Margaret. Britt Ekland and Peter Sellers were married 10 days later, on February 19, 1964.
(Britt Ekland & Peter Sellers 1964 Wedding Day Photo: Scanpix) 
The 17 year age gap proved to be the least of the problems during the Ekland-Sellers marriage, although Ekland has said she was in no way prepared for a relationship. She also became an instant step-mother to Peter's son Michael Sellers and daughter Sarah Sellers. By all accounts Peter Sellers was an anxious, jealous and insecure man, difficult to work with; Ekland has also said he was mentally ill and today would be called bipolar.
On April 5th, 1964, Peter Sellers took amyl nitrate as a sexual stimulant in preparation for sex with Ekland; they were drinking champagne when he had a heart attack. In her autobiography True Britt (1980), Ekland says that the next day Sellers had 7 more heart attacks. By the end of April 1964 Ekland had discovered she was pregnant; the couple argued frequently due to Peter's jealous paranoia, and at one point Sellers told her to get an abortion (she refused). 
Peter Sellers recovered from his heart attacks and returned to work in the fall of 1964 to film the TV movie A Carol for Another Christmas (1964), which he starred in; Sellers arranged for Britt Ekland to have a role in it as a mother. Also in A Carol for Another Christmas were actors Eva Marie Saint and singer Steve Lawrence. That same year, Sellers wrote and directed the short comedy I Say I Say I Say (1964) starring his friends Lord Snowdon, Princess Margaret, and his wife Britt Ekland as themselves.  
Victoria Sellers, Britt Ekland's daughter with Peter Sellers, was born in January 1965. Britt Ekland returned to filming movies and appeared as an uncredited Party Girl in the romantic comedy Do Not Disturb (1965) about a married couple (Doris Day and Rod Taylor) that relocate to England. Twenty years later, a now 40+ Britt Ekland co-starred with 55+ Rod Taylor in the Spanish caper film Marbella, un golpe de cinco estrellas (1985).
Peter Sellers co-starred with Victor Mature in the British-Italian crime caper After the Fox (1966). After the Fox was playwright Neil Simon's first screenplay; according to Simon, Peter Sellers demanded that Britt Ekland be cast as his sister Gina in the movie. Burt Bacharach composed the score for After the Fox, and Bacharach and Hal David wrote the movie's title track. Ekland's third and last movie appearance with Peter Sellers was in the British comedy The Bobo (1967), co-starring Rossano Brazzi. The movie trailer for The Bobo features Britt Ekland, Adolfo Celi, and Kenneth Griffith.
During 1966-1967, Britt Ekland appeared in several movies and co-starring roles in Too Many Thieves (1967), an American crime movie with Peter Falk, Joanna Barnes, and David Carradine. Ekland had worked with both Peter Falk and David Carradine before, in a two-part episode of the TV series The Trials of O'Brien in 1966. She worked with Peter Falk again in Machine Gun McCain (1969), as well as John Cassavetes and Gena Rowlands.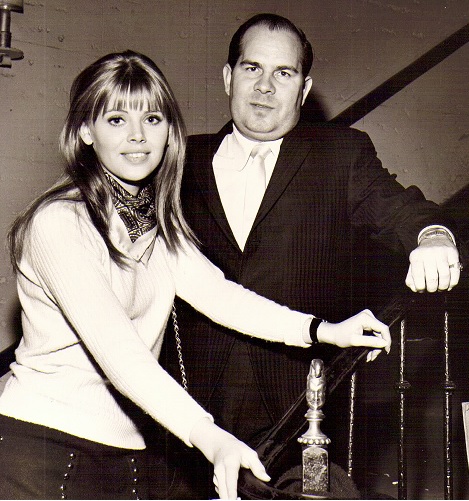 Right, Britt Ekland and The Night They Raided Minsky's producer on the set in 1967. (Photo: Nuitetjour)
Britt Ekland appeared as innocent Amish girl Rachel Schpitendavel in the musical comedy The Night They Raided Minsky's (1968), produced by Norman Lear and co-starring Jason Robards, Denholm Elliott and Elliott Gould.
Ekland's divorce from Peter Sellers was finalized the week before The Night They Raided Minsky's was released, in December 1968. 
Britt Ekland bought a home in Sweden after her divorce from Peter Sellers, and sent her daughter Victoria to live with her mother in Sweden while she continued working in the movies. Peter Sellers died in Feb. 2002 from a heart attack.
Ekland appeared in the Harold Robbin's crime movie Stiletto (1969) with Patrick O'Neal and Roy Scheider, and co-starred in several Italian and Swedish movies such as The Conspirators (1969) with Claudia Cardinale and Robert Hossein. 
Now-single Britt Ekland began a string of romances with famous lovers. She was shocked when actor Warren Beatty took her to a porno movie on their first date, and walked out; their romance lasted six weeks. 
Ekland told Mail OnLine that she met photographer Patrick Anson, 5th Earl of Lichfield (Lord Lichfield, cousin to Queen Elizabeth II) at a movie premiere she attended with ex-husband Peter Sellers. Ekland ended her relationship with Lord Lichfield after two years; he died in November 2005. She also had a two-week fling with actor George Hamilton. 
Starring roles in small movies followed for Britt Ekland in 1971. She was in the comedy Percy (1971), her second movie with both star Elke Sommer (The Prize) and Denholm Elliott (The Night They Raided Minsky's). 
She appeared onscreen twice with singer Marianne Faithfull, in the TV movie The Stronger (1971) and in an episode of Aquarius. Britt Ekland was the leading lady in the British gangster movie Get Carter (1971) starring Michael Caine. 
Britt Ekland co-starred in 3 British horror movies in the early 1970's. In What the Peeper Saw (1971), Mark Lester was disturbed schoolboy Marcus, and Britt Ekland the stepmother he takes a sexual interest in. Endless Night (1972) was based on Agatha Christie's crime novel and starred Hayley Mills, George Sanders, Lois Maxwell (Miss Moneypenny in the James Bond movies), and Hywel Bennett in his second movie with Britt Ekland (Percy, 1971). In Asylum (1972) her co-stars included Charlotte Rampling, Herbert Lom, and Barry Morse.
Below, Britt Ekland, Mark Lester, Hardy Kruger, and Lilli Palmer are featured in the creepy movie trailer for What the Peeper Saw.
After moving to Los Angeles in 1971 to pursue a career in film, Britt Ekland's agent introduced her to music producer Lou Adler. Ekland's four-year relationship with Lou Adler resulted in the birth of son Nic Adler in June 1973. Ekland has said Lou Adler was a loving father and they remained on good terms. Even after their 1974 split, Britt lived with her children Victoria and Nic in a Bel Air, California home owned by Adler.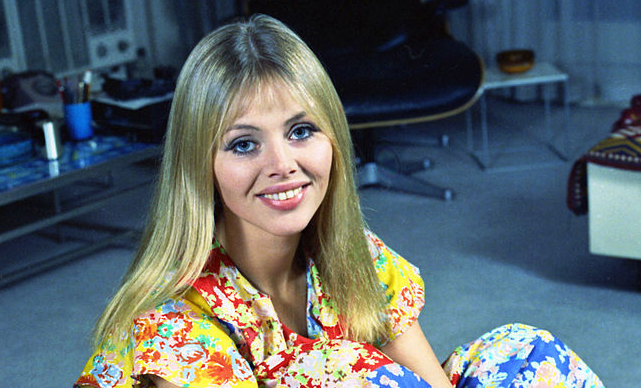 (Britt Ekland 1972 Photo: Allan Warren | Wikimedia CC 3.0)
Britt Ekland's film career had picked up after her move to L.A., and among the movies she starred in was the comedy-drama A Time for Loving (1972) with Mel Ferrer, Joanna Shimkus (before she became Mrs. Sidney Poitier), and French actor Philippe Noiret. She was reunited with her Stiletto (1969) co-star Patrick O'Neal in a 1972 episode of McCloud, and appeared in the British drama Baxter! (1973) with co-stars Patricia Neal and Scott Jacoby.
The Wicker Man (1973) was yet another British horror-mystery movie in which Britt Ekland co-starred, this time with actor Edward Woodward. When filming began Ekland was already pregnant with son Nic; body doubles were used for her naked scenes her voice was dubbed by singer Rachel Verney. Despite her professed dislike for the filming experience of The Wicker Man, the movie has become a cult film.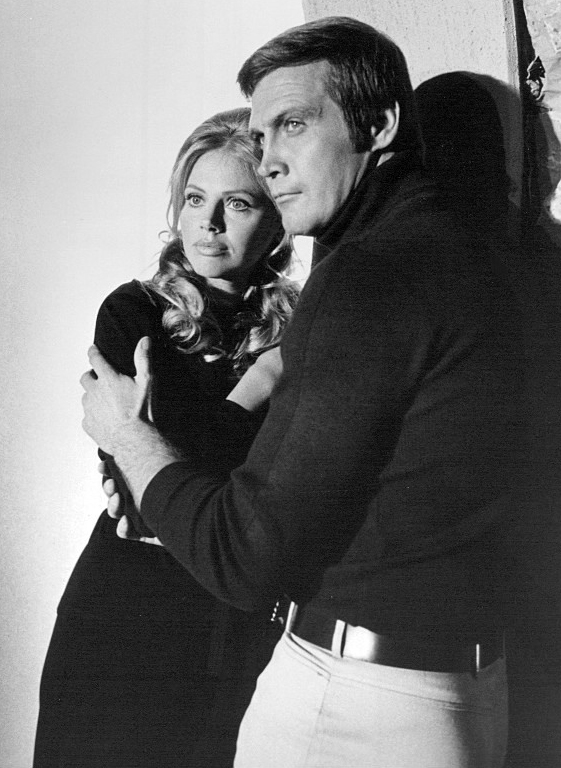 The TV movie The Six Million Dollar Man: Wine, Women and War (1973) starring Lee Majors, Richard Anderson, Alan Oppenheimer, and David McCallum and Eric Braeden in their first movies with Britt Ekland.
She appeared again with Eric Braeden the next year in The Ultimate Thrill (1974); and with David McCallum in the the fantasy adventure King Solomon's Treasure (1979).
Britt Ekland and Lee Majors in a scene from The Six Million Dollar Man: Wine, Women and War. (Photo: ABC Television | Wikimedia Commons / Public Domain)
Around this time, Britt Ekland and Ryan O'Neal had a series of sexual encounters; Adler had also been unfaithful to her.
Ekland had first met Ryan O'Neal when she was married to Peter Sellers and O'Neal was married to Leigh Taylor-Young. Their affair went nowhere, possibly because according to Ekland, O'Neal was having a simultaneous affair with Bianca Jagger, Mick Jagger's wife.
Most baby boomers will remember Britt Ekland best from her role as one of two Swedish "Bond girls" (Maud Adams was the other) in The Man with the Golden Gun (1974). Roger Moore replaced Sean Connery as James Bond, Britt Ekland was Bond's assistant Mary Goodnight, and Lois Maxwell (who had co-starred with Ekland 2 years earlier in Endless Night) returned as Miss Moneypenny. Ekland had wanted to be a Bond girl  and got the role after she called the producers and asked for the part.
Roger Moore, Maud Adams, Britt Ekland, and Christopher Lee are featured in this movie trailer for The Man with the Golden Gun.
In 1975, Britt Ekland's private life was in the news once again. Her relationship with Lou Adler ended and friend Joan Collins (who had been good friends with Peter Sellers) introduced Ekland to rocker Rod Stewart at a party at Cher's house that year.
While Rod Stewart and Britt Ekland lived together from 1975-1977, Ekland put her career on hold. She has been said to inspire two of Rod Stewart's hit song – You're in My Heart (1977) and Tonight's The Night (Gonna Be Alright) (1976) – and appeared in the video for Tonight's the Night, speaking in French. Ekland has said her relationship with Rod Stewart was physical and passionate in many ways, from sex four times a day to slapping each other in arguments. She also said in her autobiography that Stewart was cheap and charged her $100 month for her keep when they lived together; meanwhile, she ran his household.
Below, a promo for Rod Stewart's Tonight's The Night has Britt Ekland applying Stewart's makeup.
Britt Ekland said that Rod Stewart broke her heart when George Hamilton told her that Stewart had cheated on her with George's ex-wife Alana Hamilton in 1977. She moved out and filed a palimony suit for $12 million (they settled for less than 1/2 million). A period of anorexia and cocaine use began for Ekland, and she cut her hair short in an attempt to get begin anew.  
The soft porn comedy Some Like It Cool/Casanova & Co (1977) starring Tony Curtis, signalled Britt Ekland's resumption of her acting career. More TV roles followed including the dramatic TV movie King of Passion (1978) co-starring Stephen Macht and Joseph Campanella, and a two-part episode of Battlestar Galactica (1978) starring Richard Hatch, Lorne Greene, Dirk Benedict, and Roy Thinnes.
In The Hostage Tower (1980), a spy thriller starring Peter Fonda, Billy Dee Williams, Douglas Fairbanks Jr. and Keir Dullea, Ekland was reunited with her fellow Swede and Bond girl from The Man with the Golden Gun, Maud Adams.
She moved on in her private live as well, dating singer Phil Lewis from 1979-1981 (they were briefly engaged). 
In the early 1980's Britt Ekland was a frequent guest star on baby boomer favorite ensemble series The Love Boat starring Gavin Macleod, and Fantasy Island starring Ricardo Montalban. She appeared with Get Smart star Don Adams on The Love Boat, and in 4 different episodes of Fantasy Island her fellow guest stars were George Maharis, Maureen McCormick (twice), Belinda Montgomery, Don Stroud, Troy Donahue, Richard Anderson, Bob Denver, and Peter Mark Richman, among others.  
Jacqueline Susann's Valley of the Dolls (1981) TV mini-series saw Britt Ekland playing Francoise and co-starring with Catherine Hicks, Lisa Hartman, Veronica Hamel, David Birney, Jean Simmons, James Coburn, and Gary Collins. That same year, in yet another British horror movie called The Monster Club (1981), she co-starred with Vincent Price, Donald Pleasence, John Carradine, Stuart Whitman, and her Asylum (1972) co-stars Patrick Magee and Geoffrey Bayldon. 
During the early-mid 1980's, Britt Ekland continued to appear in occasional TV episodes such as Matt Houston and Simon & Simon, and starred in "B" movies such as the Canadian film Satan's Mistress (1982), Doctor Yes: The Hyannis Affair (1983), Fraternity Vacation (1985) with Tim Robbins. In the TV drama Az aranyifjú (1986), Britt Ekland was reunited with previous co-star David McCallum (1973's The Six Million Dollar Man: Wine, Women and War, and 1979's King Solomon's Treasure).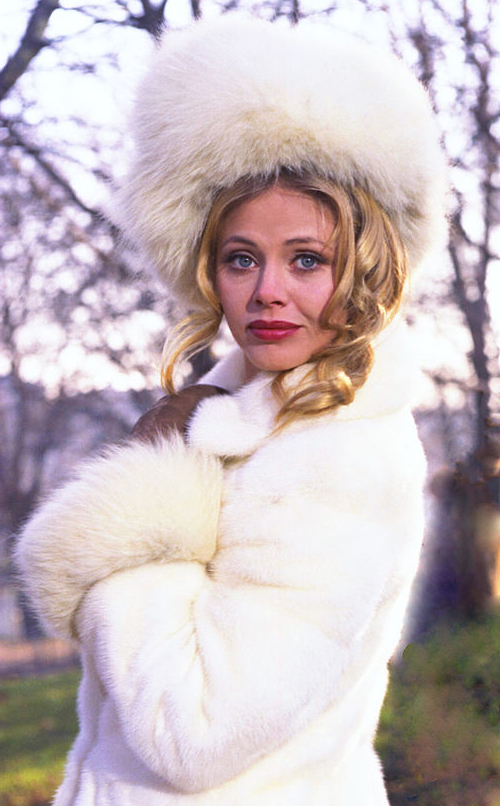 Britt Ekland's autobiography True Britt was published in 1980, and the hair, body and make-up guide Sensual Beauty (1984). 
(Britt Ekland 1986 Photo: Allan Warren)
In 1982 while in London, a friend introduced Britt Ekland to Stray Cats drummer Slim Jim Phantom (Jim McDonnell) who said in his autobiography A Stray Cat Struts: My Life as a Rockabilly Rebel, that despite their age difference (he is 17 years younger) "There was an immediate, deep connection" at first sight. They got married in 1984, bought houses in London and L.A., and had son Thomas Jefferson (TJ) in 1988.
Ekland's film projects in the latter half of the 1980's included two movies with co-star John Phillip Law – Moon in Scorpio (1987) and the thriller Cold Heat (1989).
Britt Ekland was Mariella Novotny in Scandal (1989) which was based on the Profumo Affair. Scandal starred Joanne Whalley as Christine Keeler, John Hurt as Stephen Ward, Ian McKellen as John Profumo, and Bridget Fonda as Mandy Rice-Davies. She was in good company in the drama The Children (1990) starring Ben Kingsley, Kim Novak, Geraldine Chaplin, Karen Black, and Joe Don Baker. 
A septuagenarian Ekland told MailOnline in 2016 that it was a combination of the difference in their ages and goals, and a sharp decrease in her sex drive after she turned 50, that lead to her separation and divorce from Jim McDonnell in 1992. 
"I left him on my 50th birthday, just like my mother left my father on her 50th birthday…It was very sad, I love Jim, and we are wonderful friends, but I couldn't stay with him, it wasn't fair. If you can't fulfill all of your wifely duties, it is not a real marriage. I'm not just talking about sex, I mean intimacy of any kind. I really wanted to be alone."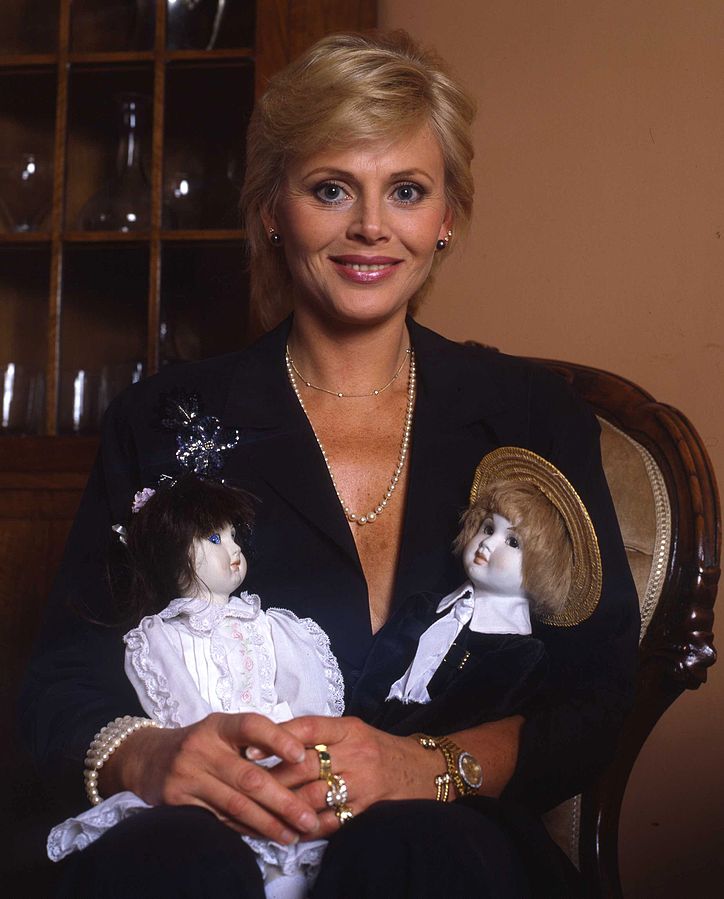 (Britt Ekland 1992 Photo: Allan Warren | Wikimedia CC 3.0)
By this time, her acting career was in decline, and although she didn't retire Britt Ekland was rarely seen onscreen after 1992 for many years, although she did produced Britt Fit (1993) a workout video at the age of 51. She had botched cosmetic surgery to plump her lips in 1994 when she was 52; a U.K. cosmetic surgeon injected all around the rim of her lips with Articol, a rarely-used filler that has never been approved in the U.S. What followed was 20 years of painful corticosteroid injections to try and ameliorate the effects of the Articol. Ekland has urged friends not to have plastic surgery and said that it was the worst thing she ever did.
"If it is done right, it can be amazing, uplifting. Sharon Stone, Christie Brinkley, Jane Fonda? All beyond unbelievable. But they are women with millions and millions in the bank. The average woman with a normal income is not going to get what they get. It just will not happen."
Ekland broke her wrist and ankle at an awards show and at the age 53, was diagnosed with osteoporosis. She has since become a spokeswoman for osteoporosis organizations. Britt Ekland is also a spokeswoman for the Alzheimer's Society, after Alzheimer's Disease claimed her mother, who lived with it for 28 years after being diagnosed in her 50's. Septuagenarian senior citizen Britt Ekland told The Telegraph in 2013 that when she was in her 30's, she "Never thought I'd live beyond 40 because I thought 40 was very old. I never expected my life to go this far." Ekland also said she worried about getting a similar illness to her mother's, that she can't control, and that she would want to die.
"My mum's illness was too horrible for words. It would be horrifying if my kids kept me alive like we kept my mum alive." 
Although Britt Ekland appeared as herself occasionally on television, mostly in documentaries about the James Bond film franchise, her acting appearances in her 50+ and senior citizen years after 2007 have been confined to a couple of episodes on different TV series. In the biographical film The Life and Death of Peter Sellers (2004), Britt Ekland was portrayed by Charlize Theron. At the Cannes Film Festival, Ekland accompanied Theron to the screening and found the movie very moving. In 2010 she was in the reality TV series I'm a Celebrity, Get Me Out of Here! and I'm a Celebrity, Get Me Out of Here! NOW!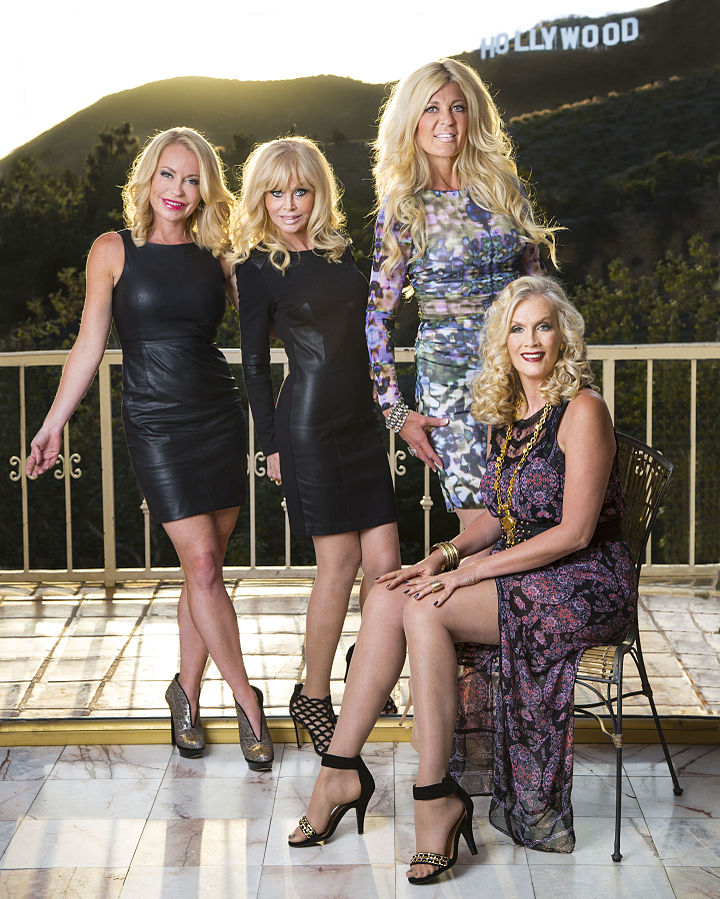 Septuagenarian senior citizen Britt Ekland was a regular on Svenska Hollywoodfruarm in Season 6 & 7  (2013-2014) a Swedish reality program that follows the lives of select Swedish women living in Hollywood. This led to a spin-off series called The Eklands. 
From left, Åsa Westerlund, Britt Ekland, Maria Montazami, and Gunilla Persson from Svenska Hollywoodfruarm. (Photo: Thomas Engström)
Ekland has said that she celebrated her 70th birthday by getting a tattoo of three roses on her stomach. Britt Ekland claims to have not been interested in sex for the past 20 years, and is not looking for a relationship either. Her take on senior sexuality is that it is a myth, or should be:
"Women of my age? I don't believe that it does happen very much and I think women should be truthful about this. I have enough girlfriends around my age who are married and who do not want sex, either…Joan Collins? Somehow she feels the need to be sexy at 83. I love Joan, but this is an image, an illusion. Just like her wigs, it is not reality. I'm not like her. I don't try to portray myself as sexy. If you call me "sexy Britt", I will puke. I am going to be 74 years old, how can I be sexy?…God had a plan about sex; he made men incapable and women disinterested at a certain age. But then, human interference changed that with Viagra. In America, Viagra is advertised on television, warning: "If your erection lasts more than four hours, see a doctor." What is the point? By then the poor woman would be dead! " 
In her septuagenarian years, Britt Ekland does pilates, weight lifting, power walking, and runs backwards to keep fit. She's a grandmother now and lives alone with her Chihuahua Tequila. 
*Images are public domain or Creative Commons licensed & sourced via Wikimedia Commons, Vimeo, YouTube, or Flickr, unless otherwise noted*