Alfie's Michael Caine Has Matured
Octogenarian senior citizen, author, and prolific movie actor – he's been in 124 movies so far – Sir Michael Caine was born Maurice Joseph Micklewhite Jr. on March 14, 1933 in London, England.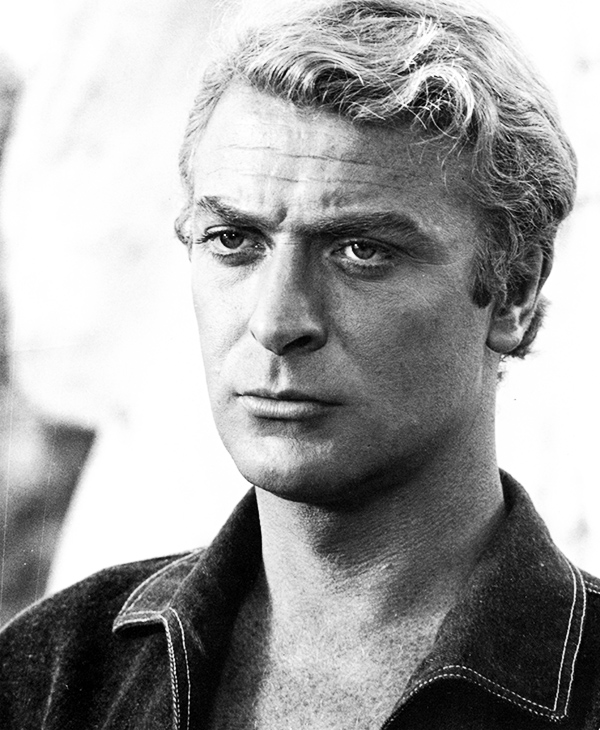 (Michael Caine Photo: kate gabrielle)
During World War II, Michael Caine and other children were evacuated out of London to the countryside. During school Caine joined a drama class and was bitten by the acting bug. He left school at age 16 and worked for a while, until joining the British Army (Royal Fusiliers) in 1952. Michael Caine served in Germany and then was on active duty during the Korean War (he left the army in 1954).
While still in the Army, at age 20 in 1953 Caine adopted the stage name of Michael Scott at age and began acting in walk-on parts and small roles for the Westminster Repertory Company in Sussex, England.
The name change to Michael Caine took place when he moved to London for work and discovered there was already another actor named Michael Scott; Caine is taken from the movie The Caine Mutiny (1954) playing in theatres at the time.
In 1955, 22-year-old Michael Caine began working for the Lowestoft Repertory Company in Suffolk and met actress Patricia Haines. In an interview with contactmusic.com in 2012, then-septuagenarian Caine reflected on that time in his life:
"I wish I'd known that if you fall in love, you don't have to marry. I fell in love with Patricia Haines and we were married a few weeks later. I sometimes got small jobs on television – just walk-on parts, no dialogue – but gave up acting work because Pat was more talented and had more chance of success. I began a long line of soul-destroying jobs. I worked in a laundry, I washed up in a restaurant and had a stint as a plumber's mate…Pat became pregnant and we had our wonderful daughter Dominique (1956)…it was the wonderful straw that broke an already weak camel's back. I walked out of the marriage. The marriage breakdown was entirely my fault. I was too young and immature to take on the poverty and personal and professional failure…I was out of work, had no money and was forced, at the age of 23, to return to the council house where I'd lived with my mum and dad and rely on their generosity again."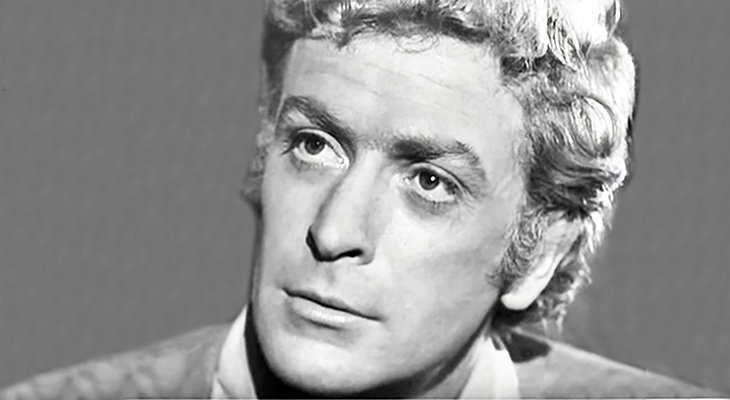 (Michael Caine 1964 Hamlet at Elsinore)
Michael Caine began to get occasional television parts and scored a small role in the 1956 movie A Hill in Korea, where he met one of the stars, Welsh actor Stanley Baker. Caine has said he found it "really, really, brutal" his first 9 years in the acting business; like friends Sean Connery, Albert Finney and Robert Shaw, he struggled to find acting jobs.

Michael Caine's first big break came in 1959 when he was understudying actor Peter O'Toole in the play The Long and Short and the Tall; O'Toole went off to shoot the movie Lawrence of Arabia and Caine stepped into the role and went on tour for 4 months. 
During the 1960's Michael Caine's divorce from Patricia Haines was finalized (in 1962); he began to get bigger parts in stage plays, and to act in radio plays. His next big break was a role in the stage comedy Next Time I'll Sing To You (1963), which generated some press for him and led to a re-acquaintance with actor Stanley Baker from A Hill in Korea.
It was Stanley Baker that suggested Michael Caine to film director Cy Endfield; Endfield cast Caine as a British officer in the movie Zulu, which filmed in in South Africa in 1963 and was released in 1964. Michael Caine's movie career was truly launched.
Around this same time, Michael Caine met 19-year-old Nicaraguan Bianca Pérez-Mora Macias in Paris. Bianca moved to England with Caine soon after they met, and they lived together for a couple of years before she moved on to another relationship; in 1970 Bianca married Mick Jagger and acquired the name she is more well-known by today, Bianca Jagger.
Bigger roles in the movies for Michael Caine followed his debut in Zulu, including his first gig as spy Harry Palmer in The Ipcress File (1965), and as the leading man in Alfie (1966). Michel Caine received his first Academy Award nomination for Best Actor for his performance in Alfie. Below, Michael Caine is featured in the movie clip and opening scenes from Alfie.
In Sir Michael Caine: The Biography by William Hall, Hall says that when actress Shirley MacLaine asked for Michael Caine to star opposite her in Gambit (1966), Caine broke up with his then live-in girlfriend Edina Ronay before leaving for America, as he felt a steady girlfriend would be bad for his image. Once he arrived in Los Angeles, Shirley MacLaine threw a party to introduce Michael Caine to the Hollywood elite. Below, Michael Caine and Shirley MacLaine in a clip from Gambit. 
He co-starred with playwright-actor Noël Coward in the action-thriller comedy The Italian Job (1969). The Italian Job filmed in London, Dublin, and several locations in Italy – Trento, Turin, and Valle d'Aosta – with supporting actors Raf Vallone, Benny Hill, Rossano Brazzi, and Maggie Blye. Popular at the box office, this 1969 film inspired a 2003 remake.
While in Los Angeles to film Gambit, Caine met uber-agent Swifty (Irving) Lazar and movie star John Wayne; both became lifetime friends. Michael Caine's presence on the Hollywood social scene was firmly established and his name was often linked with various models and actresses for the next several years.
As the 1970's began, Michael Caine began to ride a wave of personal and professional success. He quit his 80-cigarette a day smoking habit in 1971 after actor Tony Curtis gave him a warning about it. That same year he saw beautiful 23-year-old Indian model Shakira Baksh in a coffee commercial, and wasted no time asking her out on a date. Michael Caine married Shakira Baksh in 1973 and their daughter Natasha Haleema was born that same year.
(Shakira & Michael Caine 2014 Venice Photo: Wikimedia Commons | ShakiraCaine.com)
Shakira and Michael Caine celebrate their 45th wedding anniversary in 2018. Caine has said in interviews that the secrets to his long happy marriage include the fact that he did a lot of drinking and womanising when he was young and got it out of his system before getting married; and that, and once married to the right woman, he took his wife and family with him on location. 
Michael Caine worked steadily in the movies during the 1970's, often times with his fellow British actors and friends. Sleuth (1972) gave Caine his second Academy Award nomination as Best Actor. His Sleuth co-star Laurence Olivier was also nominated (they both lost to Marlon Brando, in The Godfather). Below, the movie trailer for Sleuth features Michael Caine and Laurience Olivier.
The Man Who Would Be King (1975), saw Caine sharing the screen with old pals Christopher Plummer and Sean Connery, while A Bridge Too Far (1977) included both Sean Connery and Laurence Olivier in the cast. He appeared with Donald Sutherland in the World War II movie The Eagle Has Landed (1976).
In the late 1970's Shakira and Michael Caine moved to the United States to avoid the high British tax rate; they moved back to England in the late 1980's. During the 1980's, Michel Caine alternated critically acclaimed, successful movies with "bad" movies…although as he has said,
"You get paid the same for a bad film as you do for a good one."
One such movie might be Water (1985), in which he co-starred with Valerie Perrine, Brenda Vaccaro and a host of other familiar faces from the world of film and music. Below, the movie trailer for Water features Michael Caine, Brenda Vacarro, Billy Connolly, Dennis Dugan, Jimmie Walker, Dick Shawn, Fred Gwynne, Alfred Molina, Valerie Perrine, Eric Clapton, George Harrison, and Ringo Starr.
In his 50+ years, Michael Caine, sporting a beard, earned his third Academy Award nomination as Best Actor for Educating Rita (1983). Blame it on Rio (1984), co-starring Joseph Bologna and Michelle Johnson as the love interest, was a box-office success for. Below, Michael Caine in Blame it on Rio. 
Michael Caine received his fourth Academy Award nomination and first win – Best Supporting Actor – for his role in Hannah and her Sisters (1986). He also returned to television with a Golden-Globe winning performance in the two-part made-for-TV movie Jack The Ripper (1988), and followed that up with Emmy Award nominations for his work in more made-for-TV movies – Jekyll & Hyde (1990), World War II: When Lions Roared (1994), and Mandela and de Klerk (1997).
His movie career languished slightly during the early 1990's and, thinking his career was over, Michael Caine was prompted to write his first memoir, What's It All About? (1992). He mentions this time in his subsequent 2010 autobiography, The Elephant to Hollywood: 
"So this is the story of a man who thought it was all over, and found out it wasn't."
A stellar performance in the movie Little Voice (1998) earned Michael Caine a Golden Globe Award and rejuvenated his movie acting career as a new senior citizen in the late 1990's. The next year Caine won his second Academy Award, as Best Supporting Actor for The Cider House Rules (1999), co-starring Tobey Maguire, Charlize Theron, Paul Rudd, Jane Alexander, Kathy Baker, and Kate Nelligan. Below, Michael Caine and Tobey Maguire in a clip from The Cider House Rules. 
Michael Caine, James Spader, Polly Walker, Sam Shepard, Maggie Smith, Buck Henry, Frank Whaley, Marcia Gay Harden, and Frances Sternhagen were co-stars in the fantasy comedy It All Came True (1998). Maggie Smith and Michael Caine play the ghosts of a theatrical couple haunting a house in It All Came True.
His acting career revival has continued unabated since then; in fact, since becoming a senior citizen 18 years ago, Michael Caine has appeared in 38 movies. The Quiet American (2002) earned him his sixth and most recent Academy Award nomination, as Best Actor. 
In his 70's, when many people are already retired or thinking seriously about it, Michael Caine gained new acting energy with his scene-stealing turns as the grandfatherly loyal butler Alfred Pennyworth to Christian Bale's Bruce Wayne, in the Batman trilogy movies.
Septuagenarian senior citizen Michael Caine was critically acclaimed for his appearances in the popular movies Batman Begins (2005), The Dark Knight (2008), The Dark Knight Rises (2012), starring Christian Bale. Below, Michael Caine and Morgan Freeman chat about their experience filming The Dark Knight Rises, which filmed partially in Florence, Italy.
Michael Caine became a grandfather for the first time in 2009, thanks to daughter Natasha. Critical acclaim followed again the next year, for his role as the professor in Inception (2010). 
Since becoming an octogenarian senior citizen in 2013, Caine has acted in 9 movies – that's 3 movies a year, something far younger up and coming actors would be envious of. He was once again praised for his role as Fred Ballinger in Youth (2015), and can next be seen in two movies slated to be released in 2016, Going in Style and Now You See Me 2.  Below, Michael Caine and Harvey Keitel are featured as senior citizen friends in the movie trailer for Youth. 
Not content with his success on screen, Michael Caine has written numerous books. In addition to his two memoirs, he has written a "how-to" book for aspiring actors – Acting in Film: An Actor's Take on Movie Making (2000), and proceeds from the 4 trivia books he's written – Not Many People Know That (1986), And Not Many People Know This, Either! (1986), Not Many People Know This is 1988 (1987), and Michael Caine's Moving Picture Show (1989) – go to the UK charity National Playing Fields Association, promoting open spaces for sports and recreation.
How does Michael Caine continue to be able to entertain us as an octogenarian senior? His post-smoking healthy lifestyle, a long and happy marriage, and a sense of humour, must all help. When interviewed by Express.co.uk in 2008 and The Daily Mail in 2009, Michael Caine shared these "tips" when asked about the following:
His secret to having a long marriage? "Separate bathrooms."
Being nominated for a Razzie as Worst Supporting Actor in Jaws: The Revenge (1987)? "I have never seen it, but by all accounts it is terrible. However, I have seen the house that it built, and it is terrific." 
His future goals, when he reached his 70th birthday? "To be 80 is the first one that springs to mind."
Although anxious about getting older, "Since the alternative is being dead, it's not that bad really.'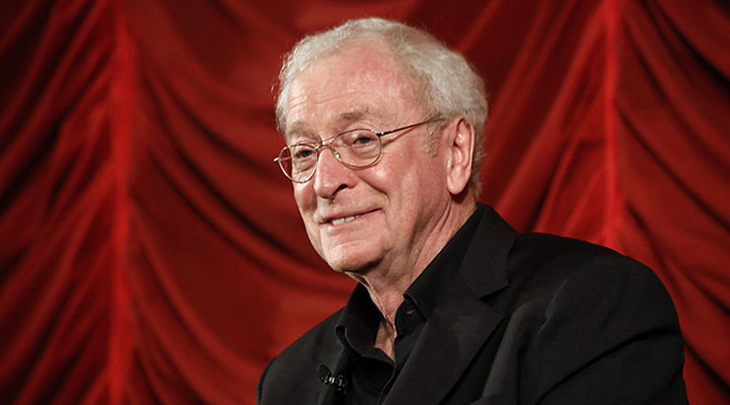 (Michael Caine 2012 Photo: Manfred Werner / Tsui)
The shallow character Michael Caine portrayed in Alfie so convincingly was merely a tribute to his acting genius; Michael Caine the man has matured, and kept the sharp wit that won him those movie fans.
*Images are public domain or Creative Commons licensed & sourced via Wikimedia Commons, Vimeo, or Flickr, unless otherwise noted*